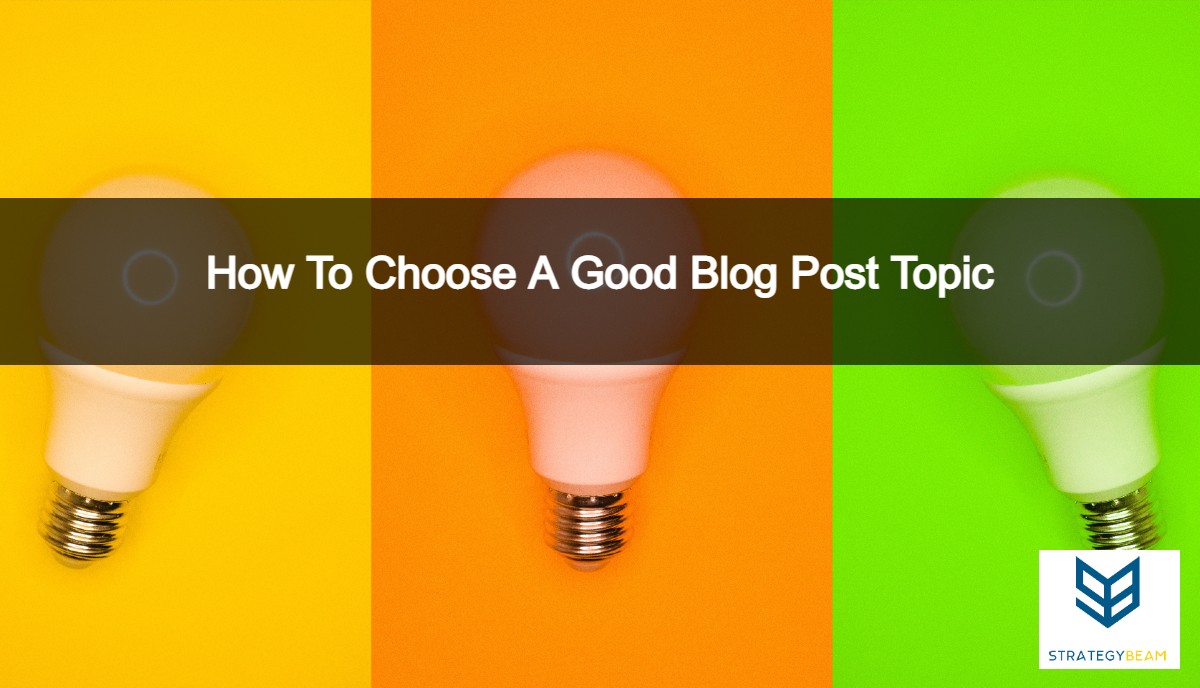 A Popular Blog Post = Better SEO
Your blog is an essential part of your SEO strategy. No matter the industry you serve or the business you run, you need to drive highly-qualified readership to fill your sales pipeline.
Search Engine Optimization (SEO) has changed a lot in recent years. Rewind a decade or so, and most companies were able to get found by pumping up their sales pages. This made sense at the time as consumers used the Internet differently than they use online search today.
As online users have become savvier and search trends changed, companies have seen most of their traffic generated by educational search terms. This is the main reason why you need to start blogging for your business so you can capture the attention of potential customers searching for the products and services that your business offers.
This change results from changes to Google's business model to promote content that helps a wider audience, plus online searchers using search engines throughout the Customer Journey.
A successful blog can support your content marketing strategy by driving qualified traffic throughout the Customer Journey. The only way to experience these benefits is by choosing suitable blog topics to find online and align your content based on your customer needs.
Let's take a look at choosing the right topic ideas to build the best blog in your industry and drive more sales today!
What Blog Post Ideas Make Sense For Your Business?
Choosing the right blog post idea based on the needs of your audience and your business goals is the starting point to build a great blog at a low cost. Your content needs to answer your customers' questions and provide insight to drive lots of traffic to your site.
Popular topics tend to get more clicks than topic headlines that are irrelevant or not trending. If you choose the wrong blog topic, you could end up writing a blog post that Google won't show up in SERPs, or your target audience won't click on your content.
Building your blog is an investment, so you need to make sure you write about particular topics based on what your customers are searching for and your business goals.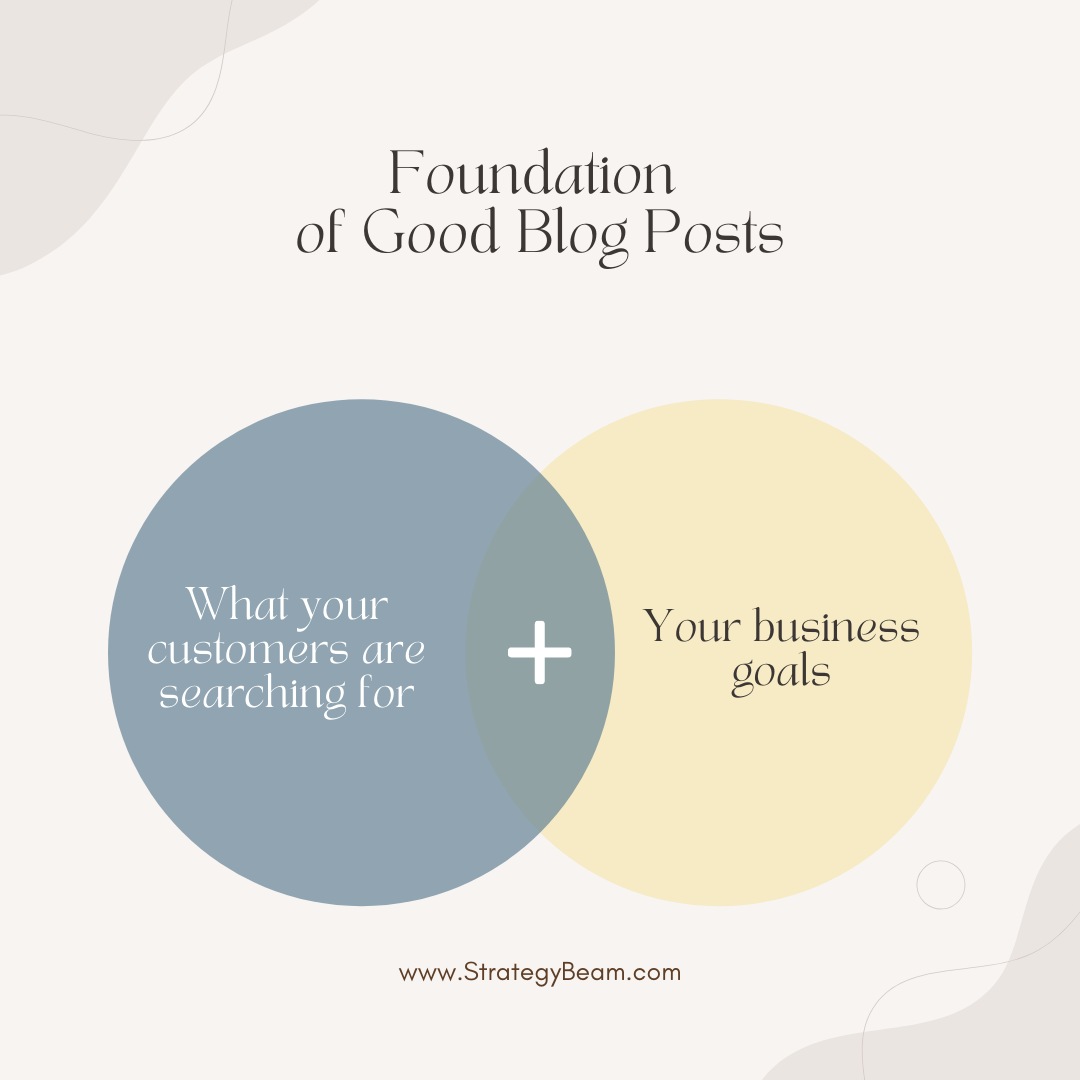 A great article will get you found in Google, address the needs of your audience, and how a blog supports your business goals. But there are so many different topics that you could write about, so where do you start?
Let's take a look at four ways you could identify specific topics to write about while ensuring your content marketing will hit the mark on every post you publish.
How To Find The Right Blog Post Topics
1. Search Competitor Blog Content
One of the best ways to choose topic ideas that will get you lots of traffic is to look at the blog topics that your competitors use. Why gamble on a particular topic when you can look at what works for your competitors before putting the time and effort into a new blog post?
It's pretty easy to use this strategy and won't require expensive marketing tools or lots of manual research. You can generate lots of topic ideas that are sure to resonate with your target audience by taking a few easy steps:
Write down 3-5 competitors in your market that have a blog.
Look through blog posts from the past 1-2 years. Pay special attention to the frequency they post and the products/services they focus on.
Create an Excel spreadsheet to record their article headlines, topic, and target audience.
This process might take you a few hours to complete, but once finished, you will be able to identify blog topics that your competitors have not covered.
2. Gain Inspiration From Social Media
You already know that you need to publish content that answers questions and addresses your customers' needs. Social media and other online tools can help you understand customer questions and needs without requiring expensive marketing tools.
Reddit: Reddit is a gold mine for your company's marketing needs. You can find information about what people care most and how they want it, as well as specific communities that follow each other's conversations online.
Quora: Quora is a great way to get answers to your customers' most pressing questions. By answering these queries, you can provide them with valuable information to build a relationship with them and help drive high-quality traffic to your site.
Amazon Reviews: To find out what problems your target audience is having with products similar to those you offer, search for them on Amazon.com and read reviews from people who have bought those items before!
Twitter, LinkedIn & Facebook: You can look at social media networks like Twitter, LinkedIn, and Facebook to understand what your target audience talks about and what they are interested in.
Industry Forums: Another way to understand the questions and problems that your customers experience is by looking through industry forums. The most passionate and outspoken audience will frequent these areas, and you can take not on common questions and issues people face when looking for the products/services you sell.
Brainstorming the right blog topics can be a difficult task, but as you can see, there are lots of ways to use social media to research your customer base.
You'll be amazed at how much a little research will help you before you dive into a new post. Use a few of the recommendations above to gain valuable insight about your customers so you can choose the right blog post topics today!
3. Use Content Tools For Suggestions
As we looked at above, there are many ways to use social media and public forums to learn about your customers before writing a new blog post. However, these strategies require manual work, and you might want to automate the process with a few content marketing tools.
Here are a few of the best tools to help you choose a topic for your blog today!
Alltop: Alltop is a fantastic site that will give you the most popular articles on anything from health and wellness, technology updates to the news. All of this information can help save time spent researching for your next article or blog post!
Google Trends: Google Trends is a tool that shows you how many people are looking for specific terms over time. In addition, Google classifies trends as "trends" when they spike more prominently than other searches processed on a particular topic.
Buzzsumo: With the help of BuzzSumo, you can quickly identify popular articles on any given website. It also generates quality guest posts for this site to boost traffic and recognition!
4. Find Specific Topics Based On Your Target Audience
Bloggers often wonder what the "best possible blog topics" you can write about are the topics that matter to your audience. You need to know the questions and pain points that your customers are trying to solve before you can write a successful blog post.
There are many ways to understand the needs of your target audience, like:
Keyword Research: This approach to customer research means that you look at what your customers are typing into Google and other search engines. This information can help you understand what people need based on what they are searching for.
Talk With Your Sales Team: There's no better starting point to understand your customers' needs than to talk with your sales team. Getting direct input from your sales team can help you align your content marketing strategy with business goals throughout your company.
Historical Website Traffic: All industries experience seasonal trends, and you plan different topics based on past historical data. This information can help you prepare for the coming months and invest time to build a great blog around the seasonal needs of your customers.
Relevancy is a lot more focused than the popularity of a particular topic. Your blog's niche will be built around your customers' needs, so your blog post topics and content need to be based on the interests and challenges that your target audience faces.
When we talk about relevance in terms of SEO, this means being found when someone searches for something related by keywords relevant at any given time. You will need to find the best blog post topic and content based on the needs of your readers because these are the most critical parts of relevant blog content.
Write A Great Article With The Right Topics For Your Audience
In the modern-day, SEO is more important than ever. It's not enough to be found—you need your blog posts and other online content to rank high on search engines so you can generate leads for your business or organization.
To get started with a content marketing plan that will position you as a leader among competitors in any industry, reach out today!
We know how SEO has changed over time. We have the experience needed to help you create an effective digital strategy that drives traffic from qualified readership while also boosting conversions for sales pages.
How To Choose Blog Topics FAQs
When you know where your ideal buyers hang out online, social media is a powerful tool that can be used to improve SEO.
Blogging is just as relevant as ever. In fact, nearly 409 million internet users read about 20 billion blog pages monthly! Be sure to write content based on the needs of your customers and target the right blog length for each post!
If you struggle to produce high-quality content and you don't want to take on the hassle to hire a full-time writer then you should look into outsourcing your content needs.