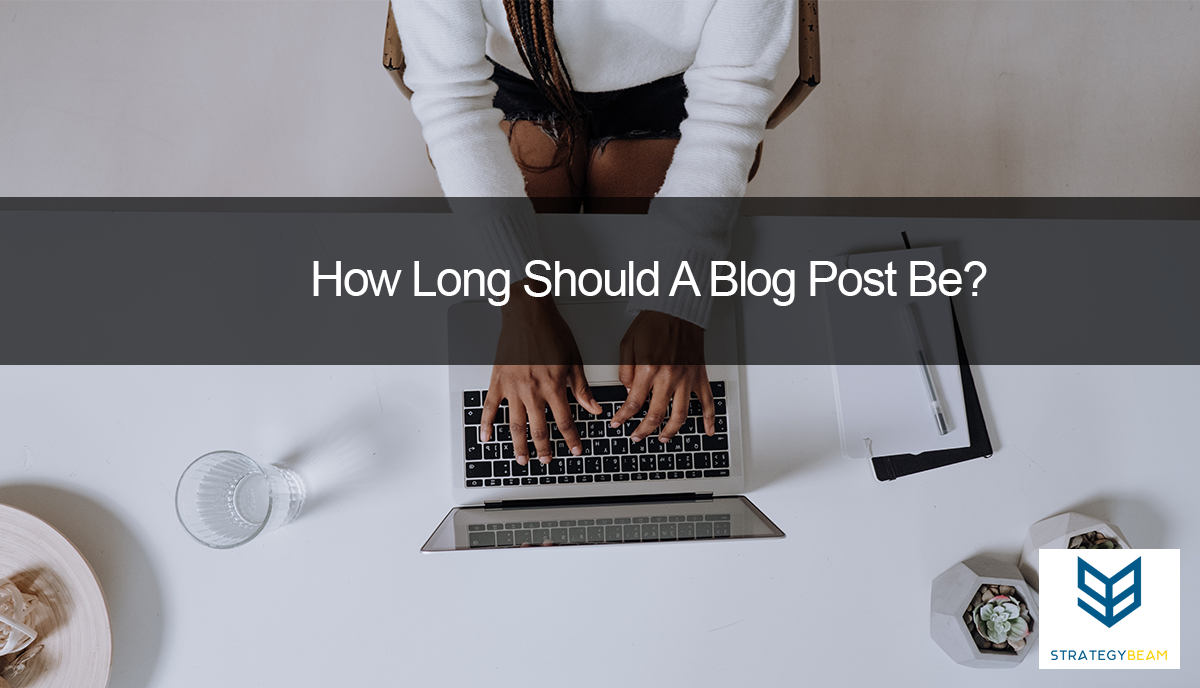 Does Blog Post Length Matter?
Before we jump into answering the question of "how long a blog post should be," let's nail down the truth.
Your blog post should only be as long as it needs to be. While this is a vague statement and doesn't offer much clarification, I think it's important to state this fact at the beginning because lots of people want to draw out blog posts just for the sake of word count.
It's also important to note that different types of content require different lengths to accomplish their intended goal.
The average word count of a blog post doesn't necessarily matter since short posts can deliver value to your target audience when appropriately used, and longer content can provide lots of benefits when implemented in the right way.
The quality of your content needs to be the first thing you consider when determining the ideal length of a blog post, but here are some benefits longer blog posts have over short blog posts:
More Room To Work: Long-form content provides you with more space to work. Similar to a painting, a larger canvas provides more room for the artist to paint their picture. Longer blog posts provide you with more room to include keywords, structured data and flesh out the topic.
Implement Keyword Research: Similar to the previous point; longer content length offers more opportunities for you to add keywords into the blog content in a natural manner. While you still need to avoid keyword stuffing, it's much easier to hit your target keywords in a lengthy post than a short one.
Add More Supplementary Content (SC): Google search looks at several factors to determine quality content, and one of these factors is the presence of Supplementary Content (SC) (see section 2.4.2 of Google's Search Quality Guide). While SC does not directly influence the content quality, images, video, and graphs can impact content quality. Longer content offers more room for you to add these elements throughout the piece of content.
Avoid Thin Content: Google looks at the amount of HTML text present on a page to understand the type of content of a page or post. This means the content length can "move the dial" search engines like Google use to identify high-quality content. When appropriately used, long-form content avoids the risk of getting flagged as thin content.
It needs to be repeated that longer posts do not automatically result in better SEO or higher rankings in search engines.
However, it's essential to consider the above benefits that long-form posts offer when deciding on the ideal blog post length for your blog content.
What Are The Most Common Blog Post Lengths?
It's difficult to say with total certainty the ideal blog post length for you to aim for when writing content. This is because each blog post has its purpose and goal, so your blog content and average word count will vary based on your long-term and short-term content marketing strategy.
You can significantly impact your audience whether you choose a short post or a longer post, but the type of content you create needs to be based on your audience and your business goals.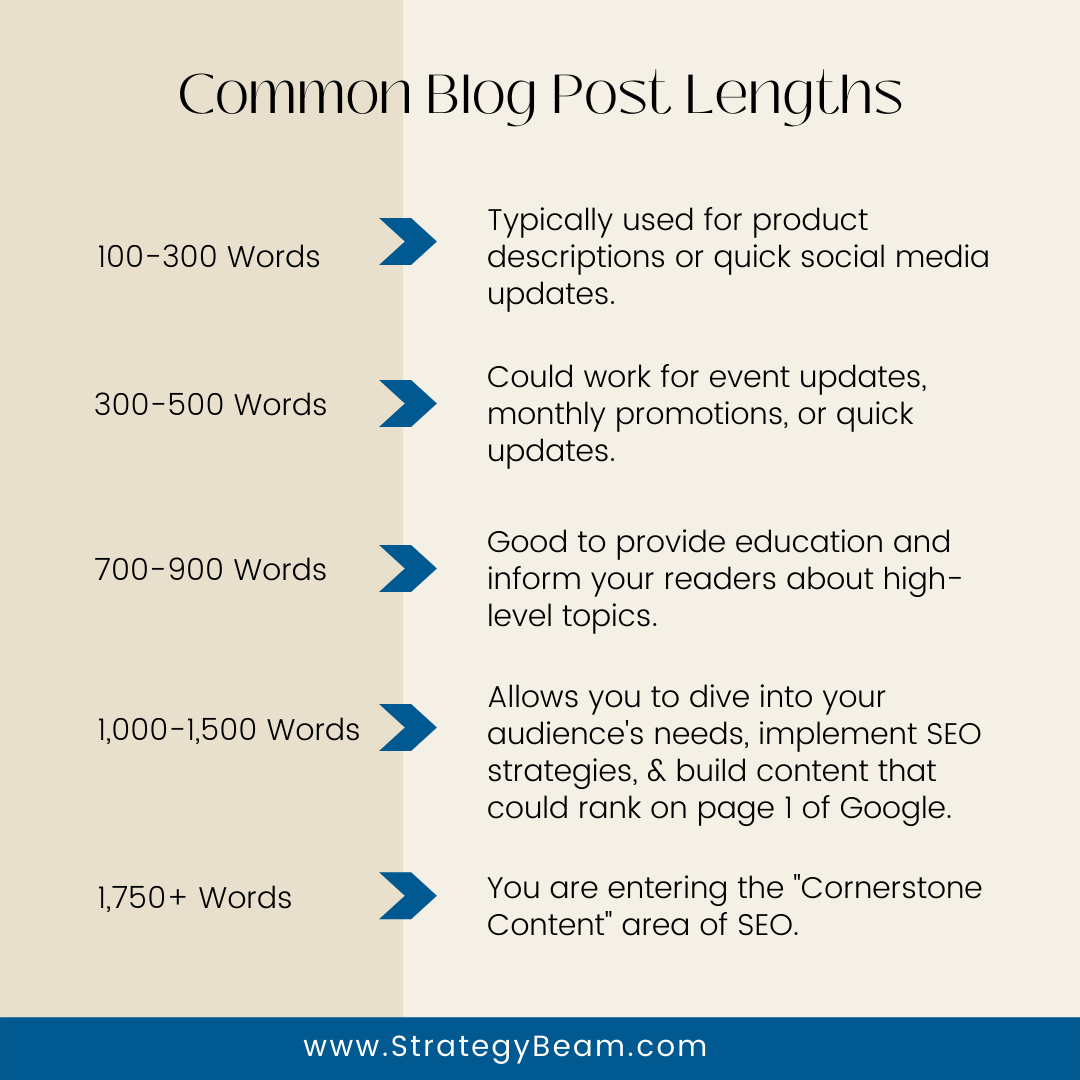 Regardless of how long your article is, the most important thing to remember is that you need to make every word count.
Be sure to tie the questions your customers ask online to your business goals to make your blog content shine. Your content needs to be concise, relevant, and informative to make sure your content shines.
Here are a few of the most common blog post lengths to consider as you figure out the ideal blog post length for each piece of content.
100-300 Words
Short-form text of 100-300 words is typically only used for product descriptions or quick updates meant for social media. You usually won't find blog posts at this length because there is not enough content to help you rank in search engines.
A few situations where this short-form content could be used to significant effect are with eCommerce stores, lifestyle brands, and even fashion sites.
300-500 Words
At this length, you start to move into the low-end of short posts. This word count was typical among many bloggers throughout the 2010s, but as Google's algorithm has changed, industry experts have seen blog posts of this length fall off SERPs in favor of longer content.
This short-form blog content could work in a few situations like event updates, monthly promotions, or quick updates. These are not long enough to create educational posts, but you can use shorter posts for transactional messages.
750-900 Words
At this point, you can start to cover general subject matters while also implementing some SEO strategies to rank higher in SERPs. Blog posts at this length offer a decent number of words to provide education and inform your readers about high-level topics.
Several companies in various industries use blog content at this length to support their content marketing efforts to implement "News Jacking" tactics since they can publish blog posts relatively quickly.
1,000-1,500 Words
Long-form blog posts begin to allow you the opportunity to dive into the needs of your audience, implement SEO strategies, and build a great piece of content that could rank on the first page of Google.
Since long blog posts take longer to write, you should expect to publish fewer each month. However, while you can't publish as many long articles as you could with short posts, long articles begin to offer more opportunities to drive organic traffic to your site and boost conversions.
1,750+ Words
At this word count, you are starting to enter the "Cornerstone Content" area of SEO. Blog posts with an average word count of 1,750 or more typically receive more social shares, more backlinks, and rank higher in Google.
Search engines want to deliver the best content available based on the needs of their users, and long-form content checks all the boxes for SEO, readability, and information for your readers.
| | |
| --- | --- |
| Word Count | Content Used For |
| 100 – 300 Words | Typically, used for product descriptions or quick social media updates. |
| 300 – 500 Words | Could work for event updates, monthly promotions, or quick updates. |
| 700 – 900 Words | Good to provide education and inform your readers about high-level topics. |
| 1,000 – 1,500 Words | Allows you to dive into the needs of your audience, implement SEO strategies, and build content to help you rank on page 1 of Google. |
| 1,750+ Words | You are entering the "Cornerstone Content" area of SEO. Deep dive into the needs of your audience and |
What Factors Determine How Long Your Blog Posts Should Be?
Now that we looked at the most popular average blog post length and when you should use each one in your content marketing strategy, let's look at some factors that influence blog post length.
Your Target Audience: You need to think about your customers' needs and questions whenever you write a blog post of any length. The length of your blog post will be based on how much information your audience needs about a given topic, the type of content they are used to reading, and how they consume content.
Your Competition: Take a look at the average length of competitor blog posts to help you determine how long your blog posts should be. You won't see much success with 500-word blog posts if your competitors publish total posts. Be sure to research your competitors to determine the ideal blog post length!
Content Results In SERPs: Search engines are a mix of results from your competitors about a specific topic. Some industries are more competitive than others, and you will need to produce longer posts that go more in-depth and use SEO tactics to help you rank in Google search.
Your Industry: Some industries like medical, legal, and technical markets require comprehensive information to earn the trust of customers and Google. As you research your market and competitors, be sure to consider your industry as you determine the ideal blog post length for your marketing strategy.
When it comes to your blog, you need to think about several factors to ensure your content is relevant and optimized for search engines. Be sure to think about your target audience, your competitors, SERPs, and your industry before you produce high-quality content for your readers.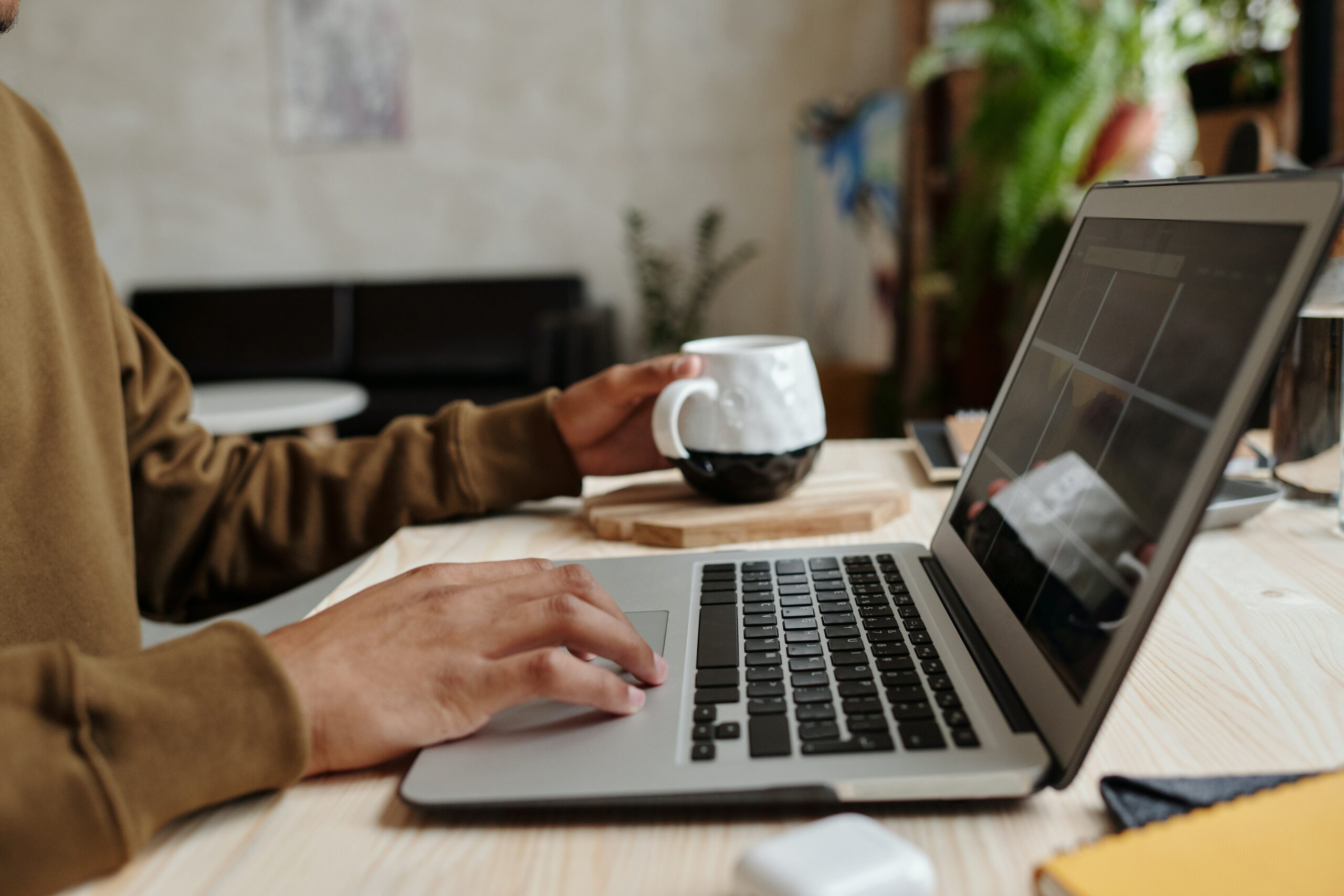 It can be challenging to balance readability and maintain reader engagement when you write longer posts. Let's look at a few tactics that you can use today to make your blog posts easy to read, even as your posts reach a high average word count.
How Can You Break Up Longer Posts?
At this point, you know how to determine the ideal length of a blog post, but you might be wondering how to break up long posts and make them easier to read.
The good news is that you can make the perfect blog post for your readers by using a few tried-and-true strategies to break up your blog posts. Let's take a look at a few of the best ways to improve the readability of your blog posts while also hitting a higher average blog post length.
Use Subheadings: Headings and subheaders are potent tools for blogging because they break blog posts into shorter sections. In addition to making long-form content easier to read, they also improve SEO because Google and other search engines look at <H2> and <H3> tags to understand the context of a piece of content.
Breakup Large Chucks Of Text: Most of your audience likely consumes your content on a mobile device. Be sure to add paragraph breaks every 2-3 sentences to make it easy to read your content on any device.
Add Images & Videos: Be sure to add several images or videos throughout your blog post because this type of media can convey relevant information quickly and easily. In addition to adding Supplementary Content (explained above), images and videos also break up your content so readers can consume your text with less effort.
Use Bullet Points: Bullet points are an excellent tool for any blogger because they let readers quickly scan information like prices, benefits, and services. In addition, bullet points feed Google with structured data that can be used for Featured Snippets and other SEO elements.
As you can see, there are many strategies that you can use to break up a long blog post to keep your readers engaged. When done right, you can get all the benefits of longer content while also enjoying the benefits of a shorter blog post as you divide your post into smaller sections.
Find The Right Word Count For Your Blog Posts
Blogging is a vital part of any SEO strategy, and different marketing goals require blog posts of varying lengths. Sometimes short-form content is the right choice, but other times you will need to go with long-form content to ensure you get found in SERPs and meet the needs of your readers.
When push comes to shove, you should err on the side of longer blog content because they provide more opportunities to get found in search engines and help you address the questions and needs of your customers.
Blogging takes a lot of time, and you can free up your time to focus on high-value tasks to grow your business instead of writing content for your blog.
Partnering with a professional blog copywriting service like StrategyBeam means you get perfect content that's optimized for your target audience and search engines.
Let's talk to help you take care of your business blogging, and other content marketing needs today!
How Long Should A Blog Post Be FAQs
We recommend writing 3-5 posts before you launch so that your blog is not a blank slate. You need something for people to read right away and it will also give time to brainstorm more ideas, as well as giving yourself a sense on how long each post takes from start to finish!
When it comes to ranking websites on Google's search engine, more content is often better. The algorithm prefers longer posts with shorter ones doing less well in comparison- so if you have a long blog post that covers several topics or individual articles then this article will be helpful for your SEO efforts!