What's The Value Of A Blog Post?
Companies of all sizes understand the value of digital marketing, and many marketing teams are turning to Search Engine Optimization (SEO) to ensure the long-term success of their marketing efforts.
While SEO consists of many variables, blog content is the best way to rank in Google search for questions that your customers are asking online.
Blog writing is a marketing strategy built around your customers' needs because you can use each piece of content to build a relationship and trust with your readers throughout the Customer Journey.
While you might know the power of content strategy, you might be in a position where you don't know how much to pay for writing services or what to expect for your investment.
How Should You Pay A Blogger?
If you and your business are not familiar with how professional writers charge for content creation, then it can be nearly impossible to know if any offer you receive is a fair one.
There are three main ways you can expect to pay for freelance writing: by word count, hourly rate, and a flat rate per blog post.
Each of these options is entirely acceptable, but each introduces its risks to the consumer. Here are the three main ways that you can expect to find when searching for blog writing services.
By The Word
Paying by word count for each blog post is one of the most common ways to work with a content writer. Using this method can reduce the cost of a blog post because you only pay for the length of blog post you receive, and it is often the fairest way to price out a blog post with experienced writers.
The great thing about this approach to pricing out a blog post is that you and the blogger know precisely the cost and deliverables before the project begins. This means that you can easily control your budget while the freelance writer understands the scope of the project upfront.
Be sure to research the experience, reputation, and quality of work before you hire a writing service. Depending on the topic and other factors, you should expect to pay anywhere from $.10/word to $3/word.
Hourly Rate
Many businesses are used to paying an hourly rate for services, so outsourcing with a copywriter on an hourly basis makes sense.
When choosing this route, the only thing to keep in mind is that it can be difficult for a freelance writer to anticipate how long it will take to write your blog content.
If you choose this route, you risk the freelance writer "cutting corners" to meet the agreed-upon timeframe to complete your content, and you risk dishonest bloggers padding their time to increase the amount you pay for their work.
We don't recommend going this route because hourly costs can be unpredictable for you and the blogger. Some articles take several hours to complete, while others go faster based on the industry, topic, scope of work, etc. You also need to consider the time required for revisions, edits, and other corrections, so paying by word count is usually a better option.
By The Blog Post
Some blog content is priced at a flat rate agreed between you and the copywriter. This approach to blog writing introduces several drawbacks for you and the blogger since freelance writers want to get each blog post done as quickly as possible.
Be wary of blog writers looking to charge you by the blog post because this avenue of blog payment places most of the risk on you as the consumer.
Some dishonest (or amateur) blog writers will rush through your job because they know how much they are making on each blog post. This can result in content for your blog that is not creative and low-quality.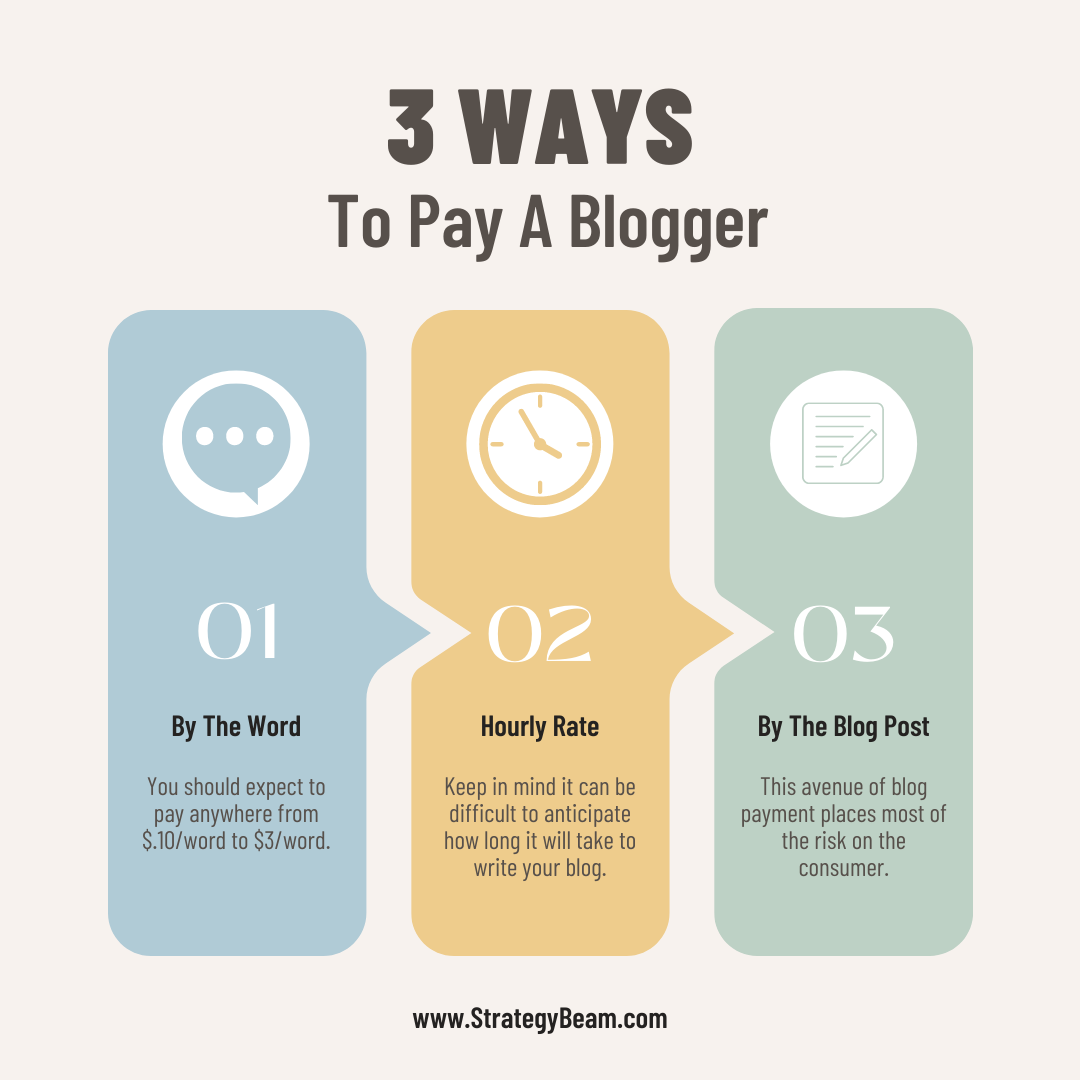 What Factors Influence The Cost Of A Blog Post?
A blog post can be a great way to share your expertise with an audience and generate leads. But how much does it cost? Factors influencing the price of a blog post include word count, topic, style, research required, time spent on writing the post and more. In this article we'll explore some factors that will help you determine how much a blog post might cost for you or your business.
Consistent Point Of Contact
You have more important things to think about than managing a content writer, so you should only hire freelance work that provides a point of contact you work with throughout the entire lifespan of your projects.
Outsourcing with a professional writer or a team of bloggers with a point of contact can save you a lot of time in the long run.
Be sure to search for a freelance writing team or marketing team that assigns you a person who will work with you throughout the project. Otherwise, you could be left managing a blogger, which can add up to lots of wasted time and resources.
Target Audience & Keyword Research
If you want your blog content to drive qualified traffic and boost conversions, then your blog posts need to focus on the needs of your audience and get ranked in search engines.
Professional blog writers know the tools and processes required to understand the needs of your customers and keyword research to get you found in Google search and other search engines.
Cheap bloggers don't have this knowledge or experience, so be sure to work with a copywriter who knows how to build blog posts around your customers' needs and get you found in SERPs.
Content Optimized For Search Engines
Blog post optimizations go beyond keyword research, so you should look for a copywriter who knows how to produce high-quality content with necessary SEO improvements.
Sure, any half-decent blogger knows how to put words on a page, but do they know how to add extra value to your project with things like headers, FAQ Schema, or structured data?
Most freelance writers usually overlook these technical aspects of content creation (or just not understood). Your marketing strategy revolves around the needs of Google and your target audience, so make sure you hire a content writer who understands SEO and how to improve your blog posts for improved results.
Proofreading & Edits
Even the most experienced writers can make mistakes during the writing process. You don't want to publish blog content on your blog with spelling or grammatical errors, so make sure the writing services you go with include editing and proofreading as part of the cost of a blog post.
This extra layer of work can make a world of difference regarding the value of blog writing. Your blog posts need to reinforce your brand, and misspelled words, and poor grammar can undercut your online reputation.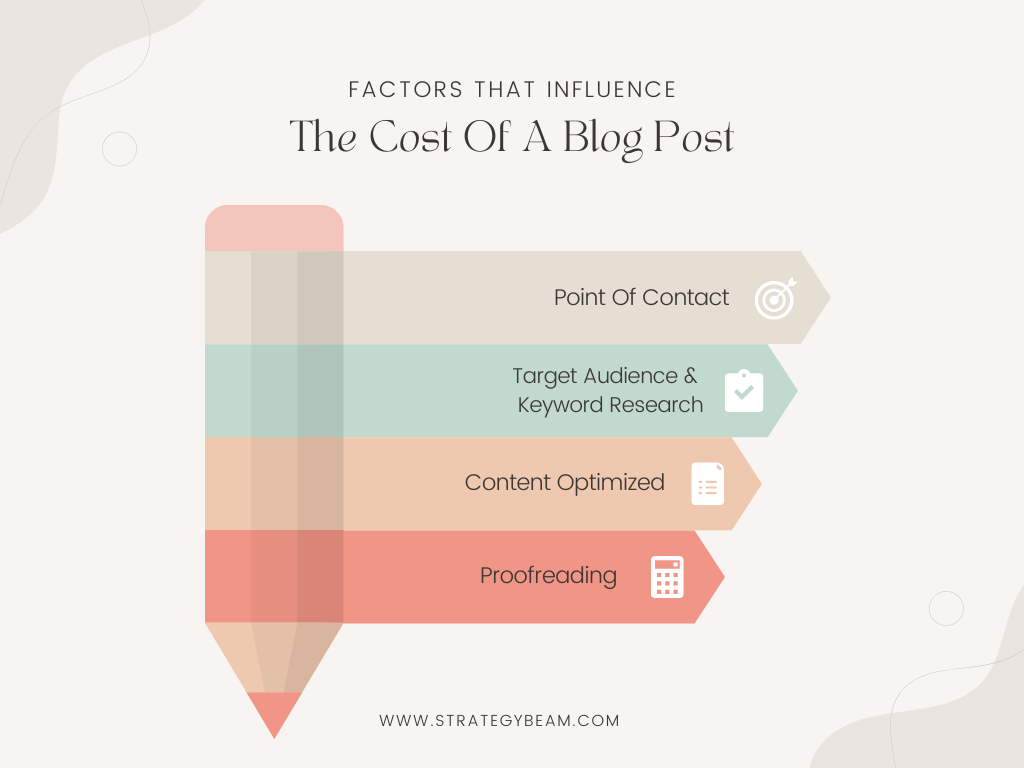 So, How Much Does A Blog Post Cost?
When you buy blog content for your blog, you are not just buying many words on a page. You are investing in the experience, abilities, and time of an experienced writer.
You can imagine a wide price range that you can expect to pay for a professional writer to work on your blog content. There are lots of elements that go into the price of quality blog content (see above),
Low-Level Copywriters
Every industry has its cheap options, and blog writing services are no different.
You can find lots of freelancing sites that offer blog content at rock-bottom prices. These sites usually farm out their freelance work to off-shore bloggers who use writing tools to spin content for each order.
Be very cautious with content creators who offer blog posts for $5-10 because you will find:
Most cheap bloggers are not native English speakers, so they won't correct the tone or phrases.
Your post will likely have lots of spelling and grammatical errors.
These bloggers are farming out content, so your writer won't experience your industry or market.
Mid-Level Copywriters
If you are looking for above-average content to put on your blog, then mid-level copywriters might offer the solutions you need. You should not expect an expert to write your blog content at this level because most writers at this tier are just getting started in freelance writing.
Most companies shouldn't use a writer at this price point because the content you receive will likely be general, poor tone, and unpolished with issues like:
You will receive a pretty well-rounded blog post, but the content will have spelling, grammar, and overall tone issues.
Blog posts at this level are not very creative since the writers don't have the time or incentive to dive deep into your content needs.
You won't find many blog writers who deliver long-form content (1,000 words or more) at this price point since short-form content (500 words) makes more sense from the writer's interests.
High-End Copywriters
​If you have a solid online brand, you work in a highly technical field (legal, finance, etc.), or your customers have high expectations, then you should consider hiring this tier of blog writing services.
Bloggers who charge high-tier blog posts are experienced writers who know how to blend SEO basics with fantastic content to connect with your target audience.
Blog post costs vary based on the experience and skill of the writer, and if your business needs perfect content, then you need to look at a top-tier blog writing service. At these prices, you should expect high-quality content that hit all the boxes like:
Original copy that connects with your readers at all levels.
Clear and concise writing with a conversational tone.
You will receive content that hits all the SEO best practices like keyword research, structured data, and FAQ schema.
Content Marketing With Reasonable Blog Post Costs
Are you looking for a way to publish high-quality content on your blog without having to spend time writing your content? If so, then you should consider outsourcing your blog content needs with a professional blog writing agency like StrategyBeam.
Be sure to choose professional writers who know how to embed SEO into each piece of content and write in a way that connects with your readers.
Feel free to reach out if you want great content to help your business reach its full potential today!
How Much Should A Blog Post Cost FAQs
The cost to post a blog article on average is $200. More technical posts can command higher rates, with writers quoting anywhere from $.20 – $2 dollars per word for these more complicated pieces of content.
YES! Blogging for your small business on a frequent basis is an excellent way to enhance inbound marketing efforts, drive traffic to the site, and attract more prospective customers.
With blogs, you can reach the billions of people that use the Internet. Blogging is one way to promote yourself or your business online and gather valuable information about what interests them!