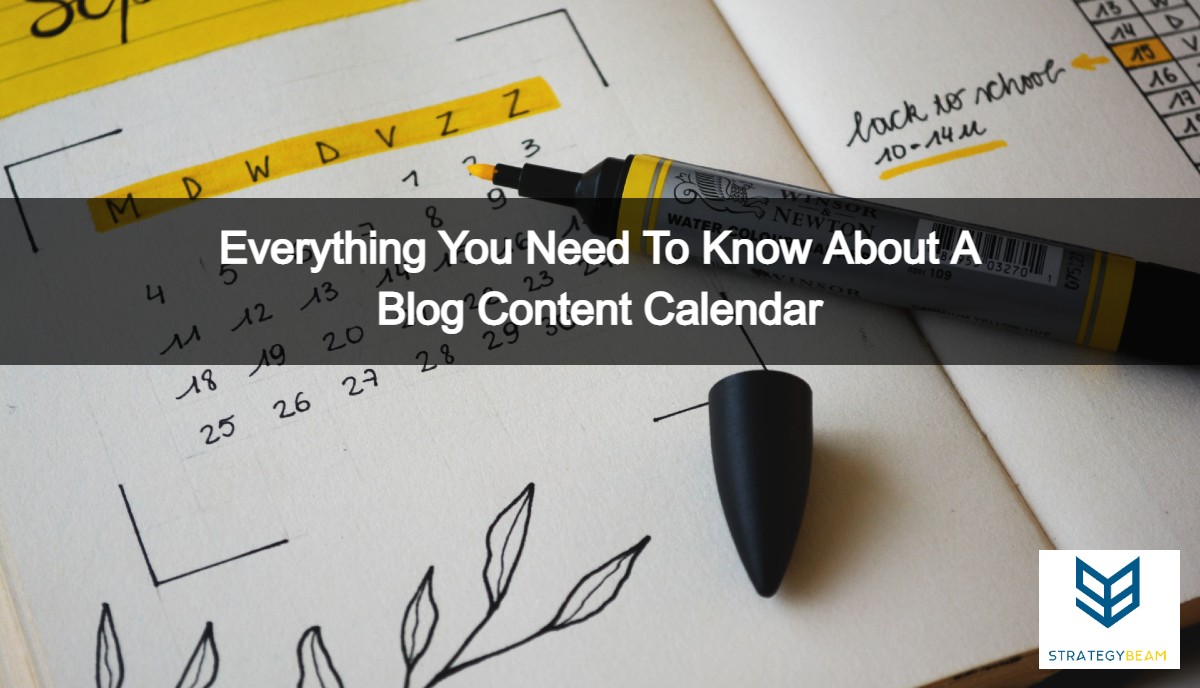 What Is A Blog Content Calendar?
As a successful blogger, you know that brainstorming content can either feel like a walk in the park or like rocket science. Not to mention juggling your content ideas, your marketing plan, and actually posting the content can make everything muddled.
And if your content passes through a few different hands, how do you keep your workflow organized? How do you keep track of all the ideas and publish dates and still produce quality content for your blog?
Whether you have to manage multiple social media channels, different projects across different clients, or just your own blog, planning your content with a well-kept schedule is the key to scaling your success.
For content creators, there's no better organizational hub than a well-planned content calendar.
A content calendar, also known as an editorial calendar, is a calendar where all your upcoming content is scheduled so you and your team know the publish date and the platform that you will be posting on.
These calendars are vital for content marketers in order to stay organized and maintain a professional posting schedule that your audience can look forward to each week.
Keeping a content calendar that helps you manage your blog posts, your projects, and even your social media posts can optimize your workflow and take your blog to the next level.
In this guide, we're going to look at what makes a great content calendar, the benefits of having one, what you should include in your calendar, and how to build one. We'll also be providing a free content calendar template below, so stay tuned to grab it and get a head start on your calendar today!
Let's explore what makes a great editorial calendar and how having one can benefit you, your team, and your content strategy.
What Is A Great Content Calendar?
Just picture this: You have a versatile content calendar that can help you organize all of your campaigns, track your projects, and easily collaborate with your team.
By keeping your content plan scheduled, you and your digital marketing team can take your blog from being off the radar to ranking consistently on Google through well-maintained Search Engine Optimization (SEO) and routine posts.
But how do you know if you need an editorial calendar?
You should consider creating a content calendar template if:
You struggle to publish consistent content.
You are writing blog posts the same day you publish them.
You don't plan out your content for seasonality or special events.
You and your team both create content to post for your organization
You have other parts of your business or blog to worry about
An editorial calendar is essential for your blog to scale up in success, earn more readership, and rank above your competitors in search engines. Your content strategy, and your team's project management workflow, will thank you.
Check out all the ways that a content calendar will benefit you and your content marketing strategy!
What Are The Benefits Of A Blog Content Calendar?
Every business has a set of procedures and a schedule in order to keep everything running smoothly. Your blog should be the same.
If you are keeping a professional blog, you need to think of it like it's a business, not just an extension of you or your goods and services. Seasoned bloggers know that creating and posting high-quality content needs structure to stay consistent.
To turn your readers into more leads, you need to keep them engaged and coming back. And to do that, you need to have a posting schedule that stays consistent and a steady stream of content creation ideas.
Let's look at the benefits of using an editorial calendar to keep your content creation fresh and on schedule in order to boost your conversion rates.
1. Keeps Your Marketing Efforts Organized
Every blogger needs a good content marketing plan, no matter what kind of blog they're running. If you don't have a digital marketing strategy yet, consider reaching out to a marketing agency or researching how to build your own.
Developing a content marketing plan will help you get more traffic to your website, nail your brand down, and engage your target audience to get more conversions.
But how are you going to keep all of this organized?
A blog content calendar not only helps you and your team maintain a content plan but also makes sure all the ideas you brainstorm and turn into content are posted to social media on time and on the right channels.
Along with helping you and your team members stay organized, an editorial calendar can help you find new content ideas and industry niches to keep your content relevant and promote better SEO in your blog posts.
When you see certain types of content doing better on your blog, you can plan more high-quality posts that stay in that particular niche or topic. If you find that other pieces of content are not garnering views from your audience, you know you need new post ideas that will engage them differently.
Using a blog editorial calendar can strengthen your content strategy and help your blog find even more success.
2. Helps You Stay Consistent
One of the biggest ways to drive traffic to your blog and to keep your readership loyal is to post content consistently.
Your target audience comes to your blog to learn more about specific topics. If they like your content enough to stay, then they're going to want more. You have to be able to provide that.
As your blog scales and your audience grows, their demand for high-quality content is going to follow. Not only does this mean you have to come up with new types of content, but you also need to post to your blog and social media channels on the same days and times you choose each week.
You know that when it comes to project management, due dates are your friend. With a content calendar, you can easily assign due dates to pieces of content that you or your team members have created!
This will keep both you and your marketing team on the same page, ensure your content production doesn't fall short, and guarantee your audience gets the content they come back for every week.
3. Plan Content Throughout The Year
If you're anything like me, Christmas in July gives you whiplash. Where does all the time in the year go?
But both seasons and holidays are especially important for new blog content depending on what industry or niche you're in. For example, if you're running a recipe blog, you're going to want to nail down a Thanksgiving blog post idea well in advance to capitalize on the returns it will bring.
Instead of letting the seasons sneak up on you, have your content plan ready to go with a blog editorial calendar.
Having the dates and holidays important to your blog at your fingertips will help you strategize different content types to post and know when to start the content production process to maximize your time.
Having a content calendar also allows you to take advantage of seasonal SEO. Because some goods and services sell better in different seasons, such as winter jackets or beach towels, you can use a calendar for planning content that drives sales in those particular seasons.
Don't get caught off guard. Use a calendar tool, like Trello or Google Sheets, to plan your content and make the most out of seasonal SEO.
What Should You Include In A Blog Content Calendar?
To make an editorial calendar that has both flexibility and functionality for your content marketing strategy, you need to keep everything in one place.
This means all the information that goes along with your blog post or social media content needs to be kept in an organized place along with your calendar. You will need to include things like:
Blog topics or new ideas
Types of content
SEO title and description
Target audience
Content outline
Keywords
Images, videos, or other creatives
Call to action
Editor and first edits
Due date and final published date
A space for other members of your team to comment, discuss or add suggestions
Some of these categories you won't need, but it's better to be safe than sorry. Make sure that your content calendar template has everything you need to successfully keep on top of your posting schedule.
And don't forget—If you are using social media to promote your blog, you need to plan your social media content in your calendar as well!
If you don't know where to start when making a content calendar, don't worry. There are tons of templates out there, including ours down below.
But here are a few calendar tools that will help you plan your content easier today!
Tools To Build A Blog Content Calendar
Building an editorial calendar on your own, when you've never used one before, can be tricky or feel like a hurdle to overcome. Fortunately, there are free templates and calendar tools out there that will help you create something that works for you and your marketing team.
Let's go over a few of these tools and learn the benefits and intricacies of each in order to help you choose which one will work best for your content management strategy!
1. Google Sheets
While using a calendar application such as Google Calendar might work for some smaller blogs, if you plan on using a calendar for blog content and social media content, you're going to need something much more customizable.
Luckily, Google has more tools up its sleeve for you to use that will help you in organizing new blog content.
Using a spreadsheet application, such as Google Sheets, allows you to have full control over what information you're using to categorize your calendar, how your content is filtered, and the visual aspect as well.
Since a spreadsheet has almost infinite (not quite!) cells, you can use it over and over without having to create a new sheet. This means you can keep all your months for planned blog content on one document, or you can create different sheets for various social media channels to keep your post ideas separate from each platform.
We've gone ahead and created a template for you in Google Sheets, which you can access here. Use our content calendar to get ahead of your competition and stay consistently ranking on top in Google!
2. Trello
Trello is a free project management tool that uses a board system to keep your workflow managed the way you want. It can be used to collaborate with your team as well!
If you have several types of content that you want to create, you can create a board for each. Then, you can break each piece of content down and make a list out of cards, assign these cards to team members with due dates, and move the cards into a "Published" list.
The great thing about Trello is that you can view it as a calendar, not just as a board with lists and cards. On the calendar, you will see each card and when it is due, allowing you to manage your time and optimize your content production easily.
Similar to how you can highlight text and fill cells with color, Trello uses color coordination to keep your content calendar organized. While it may not have as many tools for customization as Google Sheets, it has a large visual and aesthetic appeal.
Try out Trello today to keep on top of your blog posts and social media marketing!
3. Loomly
If you are just as much a social media content creator as you are a blogger, you're going to love using the calendar tool Loomly.
Loomly markets itself as a "brand success platform," or a content management platform that allows you and your team members to collaborate via social media calendar. It's a true all-in-one program that keeps your content production and posting highly organized.
Like Trello, Loomly has both a list view and a calendar view so your team can work more efficiently. It gives you the ability to work on the content you've already planned, but also see the gaps in content that you have on the calendar.
In Loomly, not only can you plan your content, but you can also schedule it to post at consistent times. This allows you to set it and forget it—but only after everyone has discussed and improved on your content!
Take Loomly on a spin and keep your social media workflow optimized and organized through this great tool!
Conclusion
No matter what type of blog content you're writing, you need a content plan to stay organized. Like any business, managing your projects and content is a must to continue on the path to success.
Having a content calendar allows you to stay up-to-date on what you and your team are working on, posting, and where you can do better.
It's the best way to keep your marketing strategy organized, ensure that you are posting consistently and keeping your readers engaged, and help you plan out your content goals for the year to take advantage of seasonal SEO.
These are all huge benefits that will help drive your conversion rates up and retain a loyal following.
There are so many templates and tools that can help you build an editorial calendar, including this guide. But we've gone ahead and made what we think is a useful calendar for blogs of all sizes, and we're giving it to you FOR FREE!
Check out our template and start using a content calendar to scale your blog to new heights!