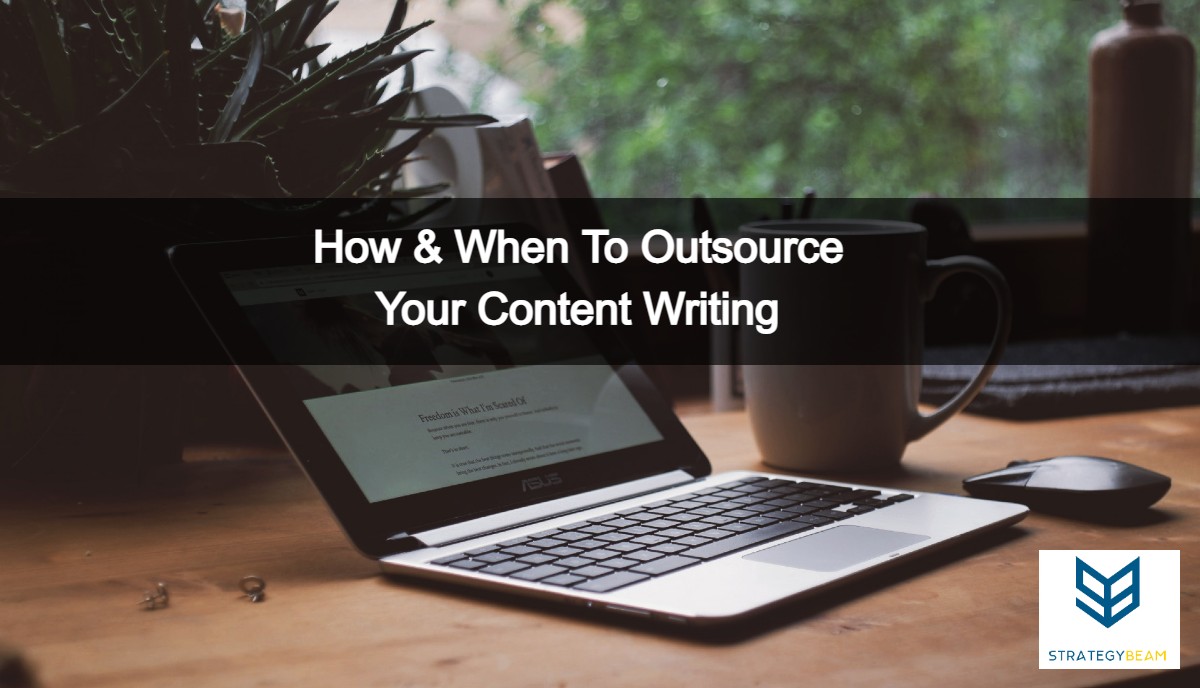 Streamline Your Content Creation Process
Outsourcing is often the last resort for many companies, but it does have its benefits. Outsourcing can be a great way to bring new ideas and fresh perspectives to your team.
But the process isn't always simple, and there is always the risk that you will waste time and money as you find, test, and hire the wrong writers for your content creation needs.
However, this doesn't have to be the case.
When done right, outsourcing your content needs to a professional content marketing agency can deliver high-quality content without the risk of working with random freelance writers around the web.
Content marketing can prove to be difficult if you are not used to managing writers on your own. Let's look at some points that you should think about as you consider outsourcing your content needs.
When Should You Outsource Content Creation?
Running a business is no easy task, and as a business owner, you have to oversee all your business operations each day. From finances, marketing, and HR, you have a lot to think about.
You need content that is relevant and optimized if you want to convert prospects to paying customers. It's almost impossible for business entrepreneurs and business owners to manage everything needed to build a great content marketing strategy. Here are some reasons many companies look to outsource content creation.
You're Too Busy: You have a business to run. Do you have the time to write your content? A high-quality blog post can take several hours to research, write and edit. Can you afford to remove yourself from your business operations each month?
You Can't Write: Not everyone is a good writer. You might be an industry expert, but do you know how to format content and optimize it in a way to get found in search engines? Great writers know how to write for their target audience while serving up engaging content to support the goals of your business.
You Don't Know SEO: Search engines are constantly evolving, and you need to know how to hit the right SEO metrics to get Google and other search engines to notice your content online. Every piece of content needs to be optimized for your target audience, or you could be wasting time and money and leaving a lot of money on the table.
You Have A Budget: Content marketing can deliver enormous benefits for your brand, but you don't have unlimited funds to support your digital marketing efforts. Outsource content creation can deliver the high-quality content you need without having to break the bank.
Identify The Type Of Writers You Need
There are different types of content writers, with each one specializing in different areas of content marketing. While not widely understood by many business owners, there is a big difference between a journalist, a blog writer, and a technical writer.
Since there are different types of content writers on the market and each specializes in different types of content, you need to clearly understand what you want before you look for a copywriting partner.
Here are a few questions you should consider to help you find the right professional for your content needs.
What Is Your Budget? One of the first questions you need to ask yourself when outsourcing your writing is how much money you have available for the project. Different writers are available at different prices, but your budget will determine the quality of each piece of content you create.
What Type Of Content Do You Need? Are you looking for a blog post, whitepaper, or a how-to guide? Different types of content will cost you varying amounts of money, so make sure you have a firm understanding of the type of content you need so you can find the right type of content writer.
Do You Need A Content Creator With Expertise? Some industries like law, medicine, and trade will require content writers who are experts in the field and have a firm understanding of the nuances of each subject. In general, you should expect industry experts to require higher costs.
Take some time to understand the type of content you need to produce, and think about the type of writer you need.
Don't rush the hiring process because you could waste lots of time and miss your deadlines if you outsource content creation to a content creator who is not professional or doesn't understand how to produce great content for SEO and your readers.
What Are The Benefits Of Outsourcing Content Production?
By now, you already know that content writing is the backbone of your online success.
Outsourcing your content writing to a content writing service frees up your time, reduces overhead, and gets you the content you need to support your content marketing strategy.
Let's look at a few benefits that you will enjoy when you don't have to worry about writing your content.
1. Save You Time
Content marketing is a must-have for today's companies, and every piece of content needs to be built around the needs of your business and customers.
Copywriting takes a lot of time because you need to do research, formatting, content writing, editing, and revisions for each piece of content. This can all take hours each week to accomplish, so you can end up saving lots of time when a professional copywriter handles the work.
Outsourcing writers frees up your time to focus on your business instead of content creation. Along with saving you lots of time, our content marketing agency also reduces the time you'd have to spend finding, training, and managing in-house writers.
2. Save You Money
As discussed in the above section, you can enjoy several time-saving benefits from outsourcing your content to dependable content writing services. At the same time, this approach to content production can also offer substantial cost-effective opportunities to help you improve your bottom line.
While you could try your luck with freelance writers, content writing services from a dependable content marketing agency like StrategyBeam means that you gain access to an entire marketing team to support your digital marketing efforts.
3. Dependable Content Production
Many business owners shy away from outsourcing their content production because they have heard that freelance writers are not dependable. In many cases, this is true because many content writers don't care about building a long-term relationship with their clients and only think about the projects they are currently working on.
The good news is that this doesn't have to be the case for you. Instead of relying on many inexperienced freelancers, you could fulfill all of your content creation needs with the trusted content writing services at StrategyBeam.
Unlike other options, you will be paired with a single point of contact who will communicate with you at each stage of content production. This point of contact will communicate with our marketing team to research, write, and edit your content.
4. Access To Expert Content Writers
You already know that you need high-quality content to support your digital marketing and content marketing strategy. But how can business owners attract the best writers at a fraction of the cost of hiring a team of in-house writers?
The best answer is to hire a blog writing service for flexibility with consistent content writing services.
Flexibility is a significant benefit for many business owners because a good writer can write about different topics across various industries.
At StrategyBeam, your writing needs will be handled by a team of SEO experts, editors, and expert writers. Our marketing team has produced content for thousands of projects, and we are here to partner with you as your go-to writing company.
5. Scale Your Content Marketing Strategy With Ease
By now, you already know that professional content creators offer a host of time and cost-saving benefits for your business, but did you know that outsourcing is also a great way to scale your writing needs?
​Since each project pairs you with team members who are professionals in their respective fields, you get a comprehensive marketing team to support your content strategy.
Our content writing services not only deliver excellent results with each piece of content, but we can scale your digital marketing efforts because:
Minimal Oversight: Your Project Manager will handle all of the heavy liftings. You won't have to worry about anything along the way from keyword research, copywriting, and editing!
Drive Your Content Strategy: Our team members know how to build content around the needs of your business. We dive into metrics in Google Analytics, Google Search Console, and other tools to determine the best direction for your business goals!
Qualified In-House Team: We don't just have the best writers around, but we also offer editing and other services to ensure each piece of content is optimized for search engines and your readers.
We work with a small pool of trusted content writers who specialize in various topics and industries. Instead of farming out your content to unknown writers worldwide, we only work with a handful of vetted and proven writers with whom we have worked over the years.
Our unique content writing services mean that several people will review and analyze your content before receiving the final product.
This approach allows us to deliver high-quality content in less time and at a fraction of the cost compared to if you had to hire full-time in-house writers for your business!
Grow Your Business With Our Content Writing Services
Since you've read this far, you now understand the benefits of outsourcing content to a professional writing company like StrategyBeam.
Instead of trusting your brand and online success to random freelance writers on UpWork or other content farms, you can get all the benefits of an in-house marketing team at a fraction of the cost.
Hopefully, you see that it is pretty easy to outsource your content needs to a trusted content marketing agency like StrategyBeam. Let us know if you have any questions, and we'd love to talk with you about upcoming projects!
Outsource Content Writing FAQs
Your business is complex, and a professional copywriter can help you produce great content to drive qualified traffic to your site and close more leads without having to hire an in-house writer.
Content outsourcing is a common tactic used by companies to publish great content for your business without having to worry about research, production, or optimizations.
If you struggle to produce high-quality content and you don't want to take on the hassle to hire a full-time writer then you should look into outsourcing your content needs.