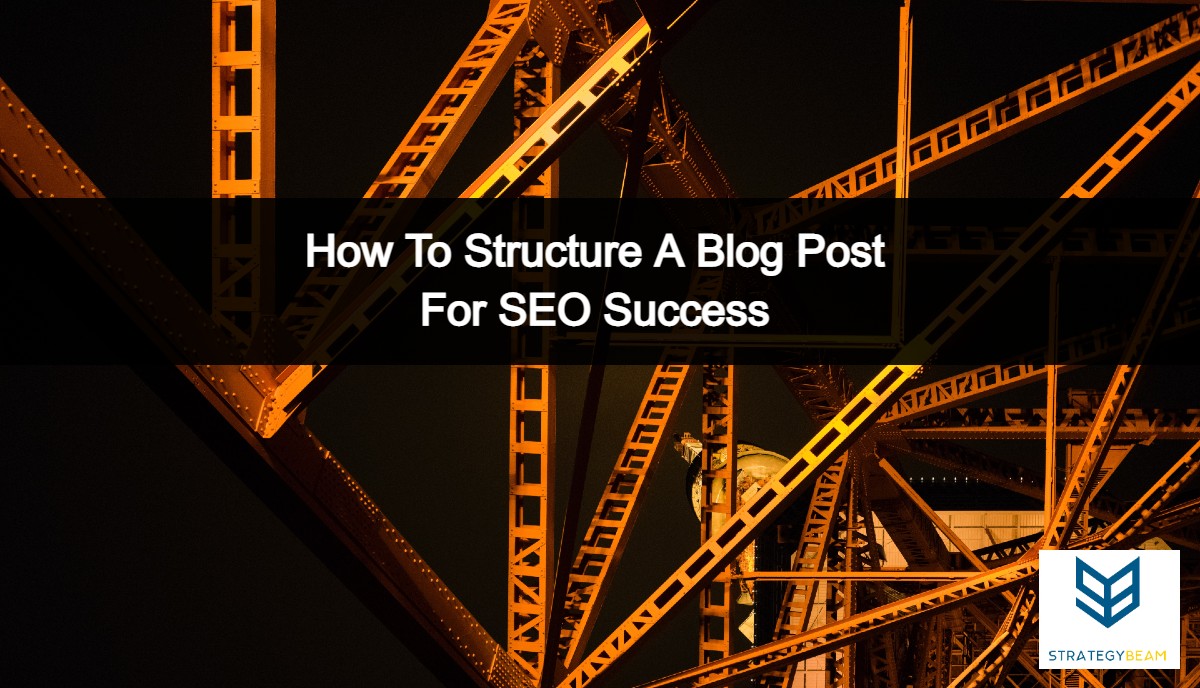 How To Structure A Great Blog Post
Writing a blog post is more than just a collection of words because a great blog post can get your site ranking in Google for competitive terms and drive more qualified traffic to your site.
Not all blog posts are created equal, and figuring out how to structure great content is one of the hardest things new bloggers need to learn. You could use the right keywords and write for your target audience, but Google might not reward your efforts if you don't implement the proper blog structure in each post.
Your writing skills are just one part of a good blog post, and the perfect blog post will bring together the needs of your customers in a format that is easy for humans and robots to understand.
But how can you accomplish all of these goals? One of the first ways to set your blog post up for success is to write the content using a tried and true blog post structure.
Let's look at the features that a successful blog post needs to help you reach the top of Google and engage with your readers to drive more conversions.
1. Meta Title & Meta Description

One of the essential parts of the writing process is crafting a compelling meta title and meta description for your post. These pieces of information help Google and your audience understand what your content is about and help your content stand out in the Search Engine Results Page (SERPs).
Search Engine Optimization (SEO) is all about making your content more appealing and visible for the search engines. You can do this by using meta tags, which act as mini-blurbs that show up on Google and other search engines.
What Is A Meta Title & Meta Description?
A meta title is the text that links to your site from Google and other search engines. This text is typically around 60 characters, and you can use keywords in the meta title to stand out and drive more traffic.
Meta descriptions are 150-160 character extended snippets that Google and other search engines show in SERPs, and this information is critical because they provide a preview of what your content is about.
Your meta description is like a quick summary that many people read before they click on your page.
What Is The Main Use Of A Meta Title & Meta Description?
The meta title (which is also your post title) is a crucial part of SEO for Google to index your information. While this information is not included in the on-page blog structure of your content, they are an essential piece of your SEO strategy.
The meta description is the short blurb that the search engine summarizes in SERPs, making it more likely to show up when someone searches with those keywords or phrases in mind.
These unique labels summarize vital topics and points covered by web pages–and make them easier to browse via computer algorithms responsible for managing results online (like on Google and Bing).
2. The Featured Image
A picture is worth a thousand words, especially when building the perfect blog post length and quality.
The featured image can set the tone of the entire blog post, plus this image can grab the attention of searchers and build trust with readers when they land on your blog post.
What Is A Featured Image?
The featured image is a simple yet powerful graphic that speaks volumes about what you want to convey at that moment – either mood or message of your blog post.
What Is The Main Use Of A Featured Image?
Not only does this image appear at the top of your blog post, but many Content Management Systems (CMS) use this image as a preview in your blog roll.
In addition to appearing on your blog, the featured image can also appear as a thumbnail in Google's mobile search results.
This means that the image can help you stand out from your competitors, and if you use a relevant image, it will provide a preview to your readers before they click on your content.
3. A Brief Introduction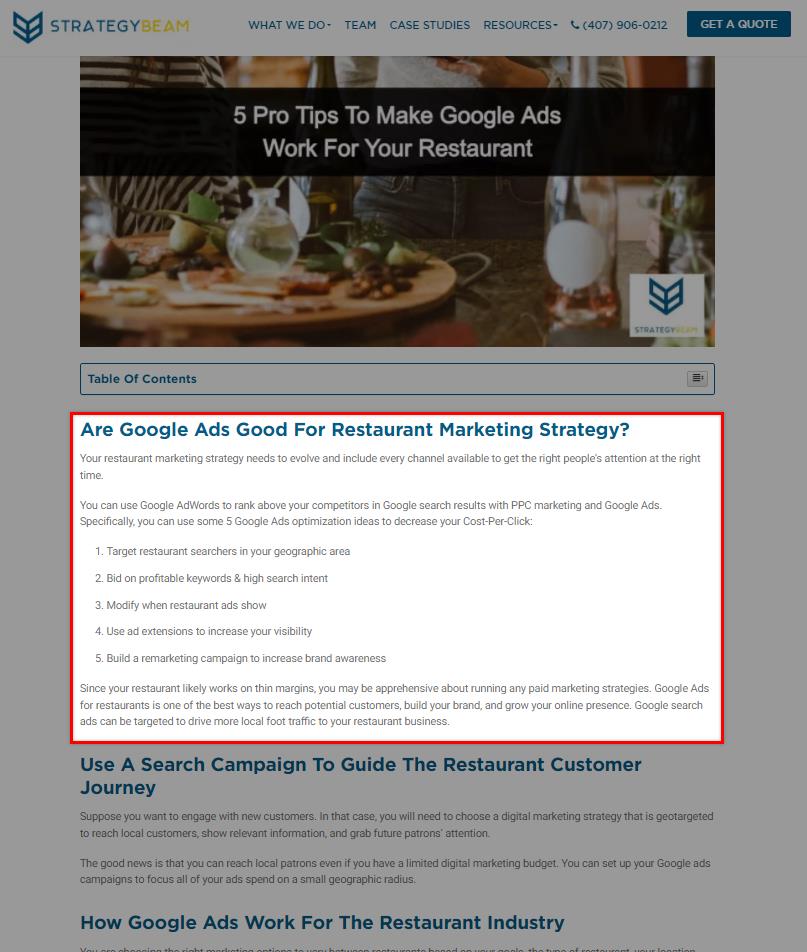 A good blog post needs an intro to grab your readers' attention, drive conversions, and get found in search engines. It can be challenging to accomplish these goals simultaneously, but a solid introduction to every blog post can help your content get found by search engines and hook your audience.
What Is A Blog Post Introduction?
A strong blog introduction is like a helping hand that guides your readers from the moment they land on your blog post.
When done correctly, your introduction will provide vital information your readers need to understand if the blog post contains the information they need to learn while also telling Google and other search engines about the context of your post.
What Is The Main Use Of The Introduction?
A blog post introduction serves several purposes for your audience and SEO, and a substantial introduction can help all bloggers reach their goals. A few ways an introduction helps your blog posts include:
Capture Featured Snippets: Featured snippets are "bite-sized" pieces of text that show up above organic listings based on specific search queries. You can capture these valuable placements in Google by writing concise information that answers the central questions of your target audience near the top of your blog post.
Grab Your Reader's Attention: One of the most complex parts of writing blog posts is catching your audience's attention. A strong blog post introduction needs to be specific, brief, and enjoyable if you want to increase the number of time readers spend on your post.
Show What Your Post Is About: You need to summarize your blog post in the introduction to help readers understand that it will address their needs and questions.
As a blogger, you are constantly striving to keep your readers engaged, and an introduction that hooks them immediately is one way of doing it.
4. H2 & H3 Sub Headers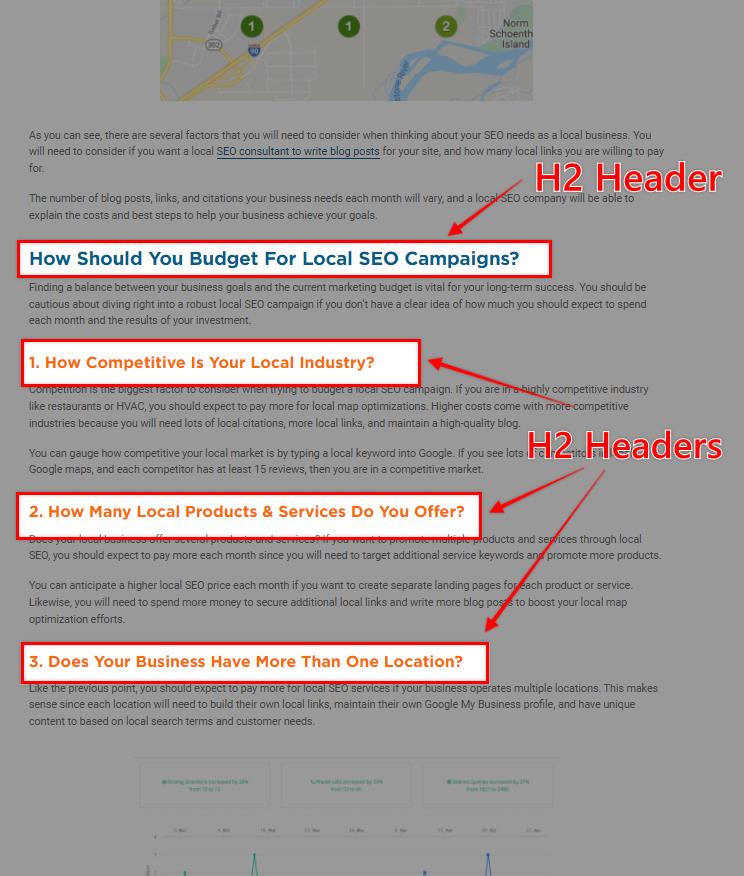 One of the first things you can do to improve on-page SEO is adding H2 headings with keywords. These headers help with technical aspects such as keyword discovery and make it easier for readers scanning through your content.
What Are Subheaders?
Subheaders are an essential part of blog content because they highlight key points, allow readers to scan your content, and help SEO because you can weave keywords into your headers.
What Are The Main Use Of H2 & H3 Subheaders?
Making your content easy to read and consume is a vital part of your blog post structure. You need to structure your blog content to get specific keywords found by Google and break up content for your audience.
While you have lots of tools at your disposal to improve your content, subheaders help bloggers in a variety of ways, like:
Break Posts Into Sections: Your readers want to consume content that is easy to follow and broken up logically. You can use subheaders to break your post into smaller sections focusing on a specific theme within the more extensive article.
Include Exact-Match Keywords: Be sure to use targeted terms from your keyword research in the subheadings. Google and human readers will gravitate towards blog post sections that include keywords that match their needs and questions.
Short Paragraphs: No one likes to read large blocks of text, and you can break your blog post into smaller pieces that are easier to consume by using short paragraphs in subheaders. I like to add a new H2 subheading every 300-325 words so that a typical 1,000-word blog post will have 4-5 subheadings in all.
Compelling subheads will keep your readers on the page, revealing to them that you're a writer worthy of their attention. It's essential to optimize your subheadings for SEO with keywords while also enhancing the User Experience with descriptive text.
5. Main Blog Post Content
A successful on-page SEO strategy is more than just mechanically optimizing your content for keywords.
It's about understanding how to write engaging and memorable copy that will keep readers engaged and interested in what you have to say without sacrificing the quality or relevance of your blog post idea.
Here are some ways to write great content that gets found by search engines and Google:
Internal Links: Internal links are among the most powerful tools at your disposal, but many bloggers fail to implement internal links in their blog content. Be sure to add 3-5 links to relevant content on your blog with exact-match keywords as the link anchor text to get the most out of your SEO efforts.
Add Bullet Points & Structured Data: You can improve the readability of your blog content with bullet points that summarize important information. Be sure to add bulleted lists in several sections of your blog post to capture featured snippets and help your readers understand your core message.
Use Short Paragraphs: Writing a giant wall of text is one of the worst sins of blog copywriting. Large blocks of text make it difficult for your audience to follow your main points, and this format looks terrible on mobile devices. Try to keep each paragraph to 2-3 sentences each to retain your reader's attention and drive more conversions.
6. Multimedia Like Images, Social Embeds & Videos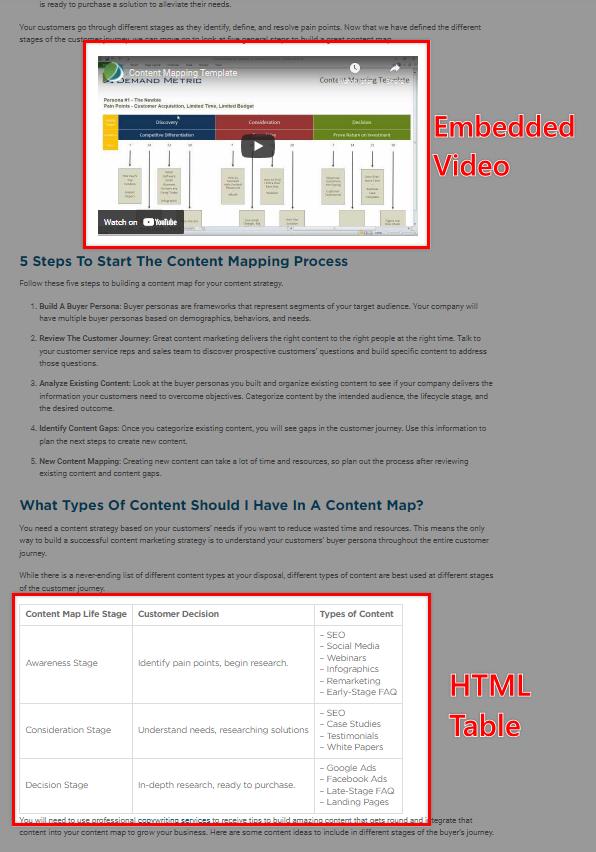 Google is a complex algorithm that considers many variables when ranking content. One of the items it considers when grading a piece of content is if that content contains Supplementary Content. This is defined in Part 1, Section 2.4.2 of Google's Search Quality Evaluation Guidelines.
Images, videos, and embedded social media posts can help make blog posts more interesting and engaging. There are lots of ways to include multimedia in your posts like:
Custom Graphics
Charts & Tables
Screenshots
Infographics
When readers see how you've combined text with graphics, they know that the post is not just about reading words. You want them to take something away from it too!
That's why infographics and diagrams are so valuable in creating an engaging experience for your audience – especially if those visuals also look good without any effort at all (making their design skills stand out).
What Are Multimedia & Videos In Blog Posts?
When you use images in your blog posts, it's easier to divide the text into some logical parts so that people can read through all of them without having trouble understanding what is going on with each part individually. I usually don't bother reading blogs if there are long blocks or paragraphs.
What Are The Main Uses Of Images & Videos?
When you are blogging, the use of images is crucial. This can be seen in many ways, like providing related articles with pictures or videos that help readers get what they need when reading content on your site.
In addition to helping readers consume your content, images can also help get your blog posts shared on social media networks like Facebook, Twitter, and Pinterest.
7. The Conclusion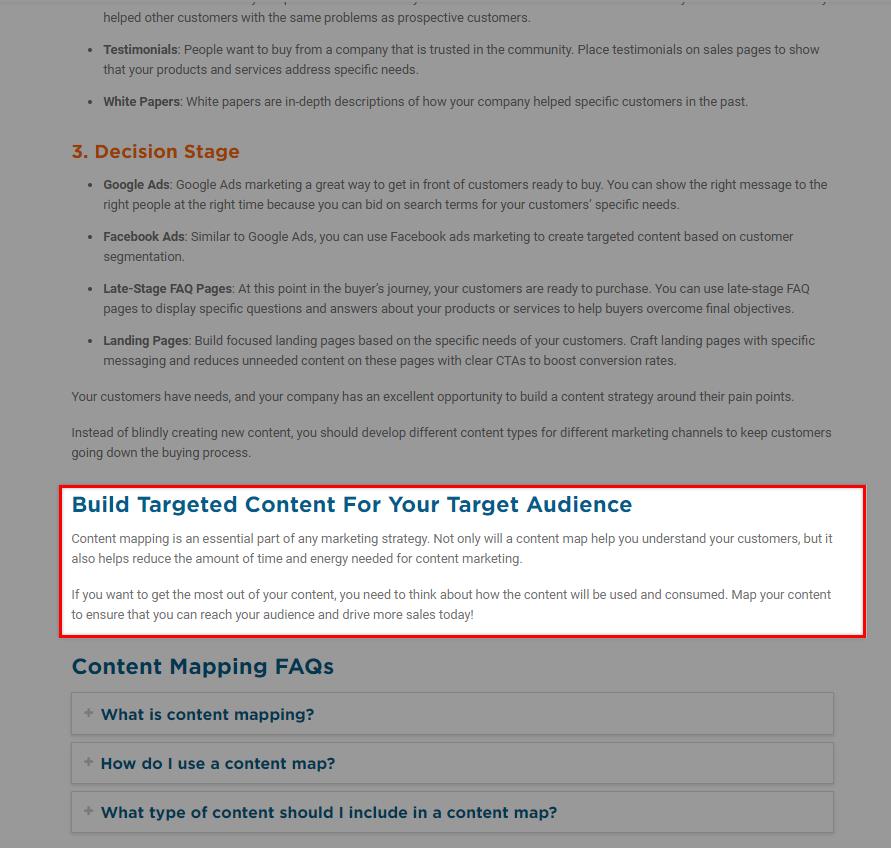 One of the last pieces of a great blog post is to include a strong conclusion. Your blog post structure is tied together and gets your audience on board with what you're selling.
The blog post conclusion needs to summarize what you shared in the blog post and encourage your readers to take action.
The best blog conclusions are optimistic, affirmative, and inspiring. They should leave readers energized with a sense that anything is possible for them too, and eager to take action!
8. Final Call To Action (CTA)
The call to action is where your blog makes money. All of the hard work you do towards generating new content, researching topics for later posts, and writing them up with excellent grammar or spelling, because it all comes down to the CTAs that you use in your blog posts.
It would be best to place CTAs throughout your blog post, but it is essential to include a strong CTA at the end of each post. Readers who go through the entire blog post are highly engaged, and you don't want to leave them stranded.
It's essential to include a CTA that drives readers to a strong landing page or sales page.
9. FAQs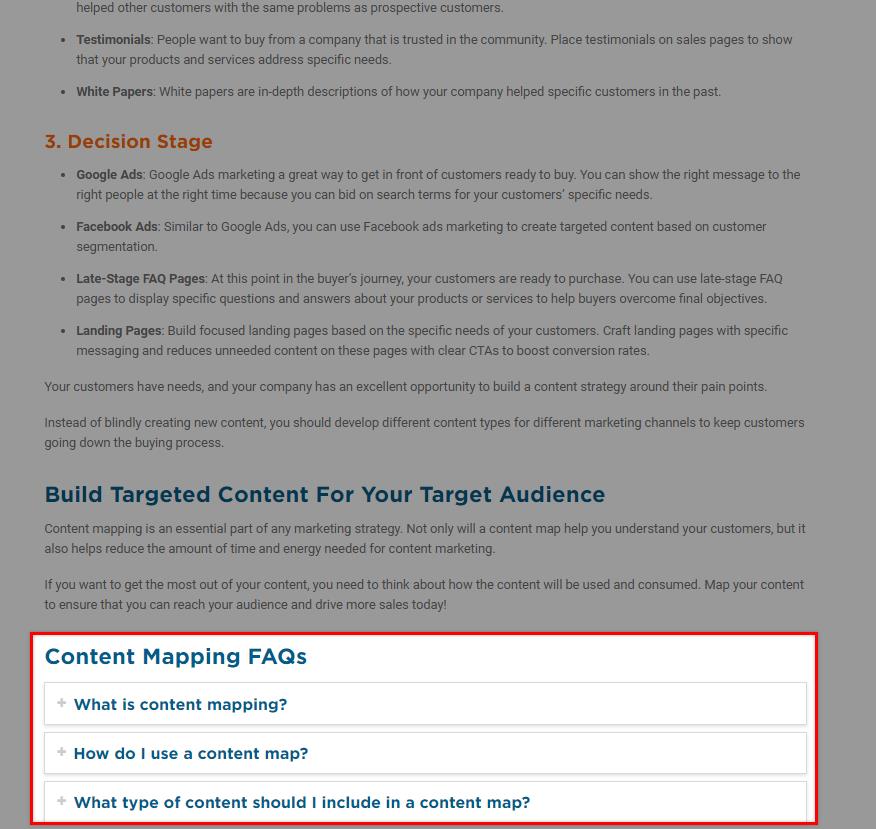 FAQs are one of the last pieces of content you need to add to the end of your post. These simple questions and answers can add a lot of value for your customers, plus you can use the FAQs to supercharge your SEO.
There's nothing too special to power your SEO efforts with FAQs. Create 3 FAQs that are around 25 words each. Add a link to other blog posts in 2 of the FAQs.
Once you add the FAQs, you go one step further by adding FAQ Schema to the blog post. This data is a way to add additional information in SERPs, and the FAQ Schema uses the HTML that you built on your page.
How To Structure A Blog Post FAQs
You have to know what kind of blog post you want. A good one is about a topic that your audience cares about, with an interesting title that tells people in the intro section why they should read on – this helps them get excited for reading more!
A blog post is usually written from a personal perspective with an opinion based on experience, facts or information. An article typically conveys newsworthy events without being biased towards any particular side of the story it's covering.
Good content is written with a specific group of people in mind. It's not general, it only works for one audience and should be tailored to their needs!