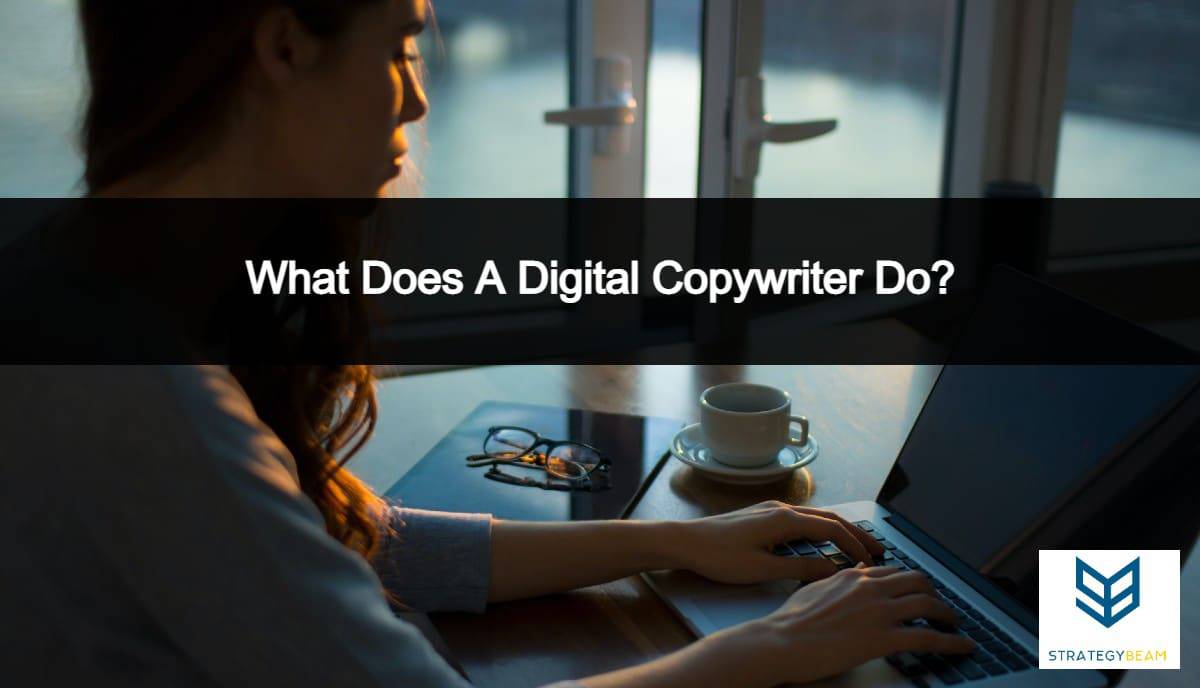 What Is A Digital Copywriter?
A digital copywriter is a person who writes to promote the sales of a service or product in an exclusively virtual environment. This particular group of copywriters never put pen to paper, because they create digital content for content marketing campaigns.
You can hire a freelance copywriter to help you plan, publish, and optimize content such as text for webpages, blogs, and social media posts.
Essentially, a digital copywriter specializes in the promotion of your business through a digital platform, which can be tricky and time consuming to maneuver. Content writers know how to blend the science of Search Engine Optimization (SEO) with the art of content writing to engage and convert potential customers.
What's the first thing you imagine when you think of a copywriter? Do you picture someone from Mad Men sitting at a desk with a pen in hand, writing away? Or do you imagine an engineer who crafts marketing campaigns around competitive data and expert online content that gets results?
How Much Should You Pay For Copywriting?
Need website content on a budget? See how much freelance copywriting services cost so you know how much to budget!
Unlike writing copy in the past, today's copywriters need to have a range of knowledge beyond just great copywriting skills. Sure, online copywriting requires great content that sounds good and connects with readers, but successful copywriters need a host of skills like proofreading, editing, and SEO knowledge to get online content to rank and sell.
These secret weapons of the copywriting world have all the skills their traditional copywriting counterparts possess- and more. Let's take a look at what a copywriter actually does so you can understand the type of writer you need for your projects.
What Does A Digital Copywriter Do?
A digital copywriter is much more than an individual who just "writes copy." Aside from crafting clever and eye-catching text to draw customers to your product or service, a digital copywriter has multiple responsibilities and abilities.
Regardless of the type of copywriter you need, all successful copywriters offer services as part of their copywriting jobs like:
End-to-end communication: from inception to publication, a digital copywriter will communicate with clients through email, phone calls, and Zoom meetings.
Editing/Proofreading: whether it is their writing or colleagues, digital copywriters have extensive grammar skills
Creating a more transparent brief: they can ensure you understand the desires of your client.
Identify and understand your target audience and their desired message: remember, digital copywriters understand copy is not for the client, but for the readers, they want to attract. They can tailor their text to attract the clientele you are targeting.
Collaborate with creative teams to ensure visuals used compliment their words: Digital copywriters make sure any images align with the text. This creates cohesion, making your digital content more attractive.
Researching your client's industry and readers: Digital copywriters will do extensive research to identify the audience and present the most attractive content.
Write for various digital media: Digital copywriters can produce blogs, social media content, e-books, slogans, and scripts for videos. Anything needed for a virtual presence!
What Type of Content Does A Digital Copywriter Produce?
There are different types of copywriters that you will need to consider when building out a marketing campaign. To help you understand the difference between copywriters we put together a quick list of online copywriting deliverables that you may be looking for.
Your Boring Content Is Losing You $$
Need website content on a budget? We deliver the copywriting you want at a price you can afford!
Some copywriters excel at different types of content marketing like:
Sales copy on landing pages.
Blog content to help you get found in Google.
White papers to help you close more sales.
Social media networks like LinkedIn to get found and build a relationship with potential customers.
Ad copy for paid search ads like Google Ads and Facebook Ads.
Ecommerce copywriting like product descriptions.
As you can imagine, there are dozens of other ways writing copy can be used in a campaign and each type of copywriter has their own copywriting skills to help you along the way. From case studies, advertisements, social media posts, online magazine copy, emails, and much more.
This sets them apart from their traditional copywriting counterparts: digital copywriters know what works in an online environment!
The written word is crucial when considering search engine optimization, or SEO, and online marketing. Digital copywriters understand the customer journey for your specific industry and can produce a variety of meaningful content.
Let's take a quick look at a few ways that a digital copywriter to help with your content marketing strategy today!
1. Blog Articles
It's no secret that blogging is a tried and true marketing tactic. Blogs turn strangers into subscribers. They start a conversation that can turn traffic into leads.
Unprofessional copy can cause your message to get lost, and the reader loses interest, thus clicking away from your content. To utilize this tool most efficiently, a digital copywriter researches their client's industry and chooses words and phrases that will drive your site to the top of a search engine.
Blogs also build relationships with clients, who can subscribe and revisit with each new post. A customer may land on your site looking for advice on a specific topic.
If they find that advice useful and trustworthy, they will stay for more information from a source they can rely on. Digital copywriters can pinpoint these readers and build a relationship that can bring a new visitor through the customer journey stages.
2. Website Landing Pages
The landing page is essentially your storefront: it is the first attempt at convincing the web visitor that you and your product are up to snuff. If your storefront is bland and does not communicate clearly what is inside, the customer may never stop in. The same goes for your website's landing page.
Digital copywriters are experts at making SEO friendly landing pages. They can craft a concise, bloat-free copy that will stand a more substantial chance at conversions. The exceptional digital copy has a conversation with the reader. Their choice of words also impacts sales and your site's ranking in Google.
Digital copywriters can also optimize your landing page to suit the ever-changing search engine algorithms that drive your content to your target audience. When a visitor lands on your page, they quickly judge what you are all about.
Clear and concise copy will speak directly to your potential client and communicate what your product or service is all about. If the visitor can quickly identify what your business is about, they can decide if your business is a good fit for their needs.
3. Google Ads & Facebook Ad Copy
Look, when all is said and done, a customer needs to click on your virtual ads. Not only that, you need the right people to click on your ads. You don't want users clicking your ads unless there is a strong possibility they will be converted to a client. This is where a digital copywriter comes in to play.
Digital copywriters know how to choose the correct copy and use the limited space to make the enormous impact possible. Not only do they work to choose the best words and phrases to attract potential clients, but they also choose images, fonts, and other aesthetics that will catch the eye of your target audience.
Grow Your Business With A Freelance Digital Copywriter
As you can see, a digital copywriter is crucial to any business looking for a robust online presence. Outsourcing your copywriting needs to freelance copywriting is a safe bet since you get quality content marketing at a fraction of the cost. Plus, outsourcing your copywriting needs means that you won't have to take on additional costs like benefits, computers, and sick time.
When you put your content into the qualified hands of a digital copywriter, they produce copy that will increase traffic to your site and convert strangers into clients.
Just imagine all of the other tasks you can accomplish while a freelance digital copywriter works to produce a quality copy!
Ready To Make More Sales?
Need website content on a budget? We deliver the copywriting you want at a price you can afford!