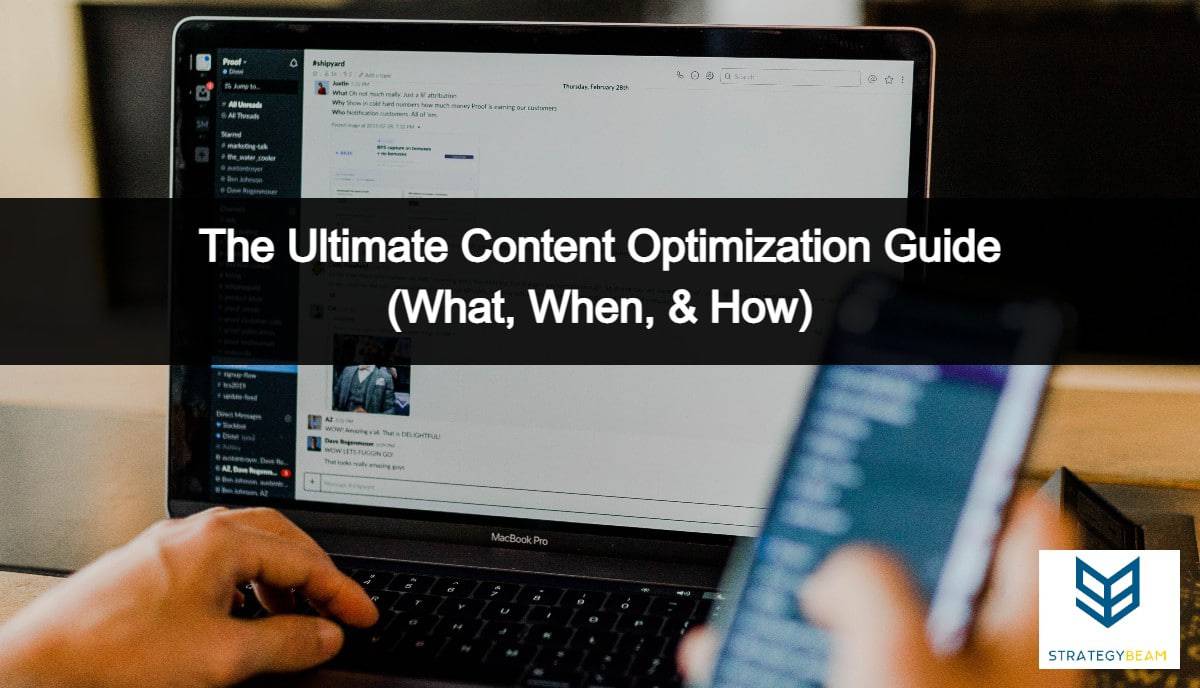 What Is Content Optimization?
Content optimization is a process to tune up and improve existing content that's already on your site. This process can be difficult, but it's an essential part of your SEO marketing and content marketing strategies.
Optimized content must include target keywords, internal links, meta tags, meta titles, images, and other features to hit specific ranking factors in search engines and trigger your page to show in SERPs.
You already put a lot of time and effort to create great content, and you need to put an equal amount of time and resources to keep your content relevant for your readers after you hit "Publish." If you forget about your content after it's published you risk getting outranked by your competitors and wasting your marketing budget!
The process of content optimization can have a significant impact on how your content appears in SERPs. Still, this approach to content marketing can take a lot of time, so you should only optimize content based on your customers' needs, competitor actions, and business goals.
Now that we know what content optimization is let's take a look at how to choose what blog posts and landing pages on your website should be optimized.
When Should You Optimize Blog Posts and Website Content?
As we discussed above, content optimization is a vital part of your content marketing strategy. Search engine algorithms change, the market changes, and how your customers search for information will also change throughout the year. Digital marketing is in a constant state of dynamic flux, and optimizing content after it's published can help you stay at the top of SERPs and boost sales.
However, you do run the risk of over-optimizing content if you try to improve it too often. Not only will this approach to content optimization confuse search engines, but optimizing content too often will waste valuable time and resources that could be used in other marketing efforts.
It can be tough to find a balance of how often to update a site and check your content's SEO health is not something that comes with a specific time frame, and your cadence will vary based on your industry and customer base.
Some industries are more competitive, and this is true for both local businesses and online-only merchants. Here are three clear-cut ways to identify content to update on your blog and website!
Holiday, Events & Seasonal Changes
As seasons change, the buying patterns of your customers change. This means that your content must be updated based on what search queries your customers use during specific periods of time.
If your business relies on holiday purchases, it may be a good idea to update content and seasonal SEO to support search queries around Valentine's Day, Father's Day, and Christmas. It would help if you looked at how customers interact with your seasonal content year-over-year and optimize content based on your business needs.
Your blog posts should be updated in the months leading up to the holiday season to address questions your customers ask about your products to ensure customers can find the information they need to purchase from you.
Seasonality also plays a significant role in how people search for products and services online. People don't look for winter gloves in the Summer, so if you sell winter clothing, you should optimize relevant content during the months leading up to your peak season.
When people's buying needs change at the start of a season or before a holiday, it is essential to change or update content correctly and strategically.
Finding seasonal keywords is tough, but one way to find some right seasonal keywords is to search the URLs of top competitors that rank for the same desired keywords in a free third-party analysis tool. It may be possible to see some of the competitors' hidden keywords in addition to the desired keyword.
Trying to also rank for those target keywords is a good goal since you want to outrank your competitors and drive more organic traffic to increase sales. Additionally, it helps to add optimized images for the season that are tied to essential keywords.
Fluctuations In Search Engine Results
Search engines are continually updating their algorithms, so you need to keep a close eye on where your content sits in SERPs. You might see slight shifts in rankings, but if you start to see your content slip for extended periods of time, then you may want to look at optimization ideas to improve great content.
You can use content optimization tools like Ahrefs and SEMrush to track your content ranks in SERPs over some time. These tools can help you identify specific pieces of content to improve based on their ranking in SERPs. You can also use these tools to understand ranking factors that might impact your rankings, like user intent, content formatting issues, and even user experience problems on your site.
You might need to work with a developer to address HTML or coding issues on the site, and you can talk with a designer to improve the layout and visual look of your content. Hire a writer to help build out content and make your online presence stronger with SEO copywriting to trigger search engine results.
Changes In Impressions And Clicks
SEO is a dynamic part of digital marketing because you need to publish different types of content marketing to trigger search engines and meet your customers' needs. Balancing the needs of robots and readers is tough, and you can use content optimization tools like Google Analytics and Google Search Console to understand how many people engage with your content.
You should expect small fluctuations from seasonality (as discussed above). Still, when the changes in impressions or clicks are drastic or trend downward over time, it is time to start reevaluating the optimization of content in Google Search Console.
Now that we looked at a few reasons to optimize your content, let's take a look at nine tips to help your readers optimize content!
Nine Content Optimization Tips That You Can Use Today
Optimizing your content is tough, and this aspect of content marketing and SEO can take a lot of time and energy. But when done correctly, you can see significant gains in where you rank for valuable keywords in SERPs, improve your position against your competitors, and make your content more engaging with customers.
You want your content to appear at the top of organic search, and this requires that you continuously optimize content based on algorithm changes, market trends, and the needs of your business.
Here are nine of the best ways to optimize your content and transform good content into the web's highest quality content!
1. Increase Content Depth
This is at the top because it's one of the most critical pieces of your optimization strategy. You need to provide rich, meaningful content that delivers genuine value to your readers.
High-quality writing is essential to reaching SEO rankings, and more times than not, you can dive into themes and subtopics through the content creation process. Look at Google Search Console and other content optimization tools to find opportunities to build out your content sections to improve relevancy, depth of knowledge, and weave in keyword research for your target audience.
Add graphs, images, and embed video clips to make your content more engaging.
Expand articles to 1,000 or 2,500 words to give yourself more room to add keywords and expand your thoughts.
Hire copywriters to produce high-quality content quickly.
Provide genuine value to your readers with impressive statistics.
Your readers' value can be the information you provide, the usefulness of your tips, and even a fresh perspective that can help you optimize your content to overtake your competitors in SERPs.
2. Write High-Quality Content
While most marketers only think about SEO, your content optimization strategy also needs to think about your target audience's needs when they engage with your content. Searchers need to find relevant information based on specific search queries.
Google's algorithms are sophisticated enough to filter out particles that are difficult to read, have lots of grammatical errors, and poorly organized. An engaging, content-rich article will rank high in search engine results, plus high-quality content tends to receive more social shares and makes it easier for customers to convert.
With the move to longer articles, readability becomes even more critical. Several factors make some articles more readable than others. Be sure to add these elements to your articles.
Break Up Your Text: Break up the text with headings, subheadings, and charts. Add bold text, callouts, and bullet lists to make it easy to scan for the key information.
Add A Table Of Contents: You have to think about your readers to optimize blog posts and web pages. Longer pieces of content can be challenging to read on a mobile device, and a Table of Contents will help readers find the information they need in less time.
Reading Ease Score: Are you familiar with the Flesch readability score? It lets you know how easy your content is to understand. It also ranks the age range that can quickly grasp the material. You can check all your content on the Yoast Flesch Score plugin.
Mix Of Media Types: Besides photos and graphics, you can add YouTube videos, infographics, and other types of content to meet ranking factors and make each piece of content easier to understand.
Related Keywords & Entities: Long-tail keywords are an essential part of meeting user intent and rank high in search engine results. Using related keywords and entities improves the readability and on-page SEO to drive more qualified leads to your site and increase conversions.
Your content needs to sound natural and speak to your target audience if you want to get the most out of your content marketing strategy. This means that you need to ensure your content is concise, has a friendly tone, and speaks to your readers.
There are several content optimization tools like Grammarly and Hemingway Editor. Both of these tools can help clean up grammatical and spelling errors. Today, Google's algorithms prefer fully developed articles with a natural flow. That means more text and longer articles.
Today's blog posts and landing pages should have enough content to get found by search engines and display helpful information for your readers. This means, in general, your content will be about 1,000 words in length. You're also starting to see an increase in long-form articles, which usually have around 2,500 words.
3. Weave Relevant Keywords Into Your Text
Are you optimizing your content because you want to improve your rankings in Google and other search engines? The likely answer is yes- and if you want to improve your search engine rankings, you need to optimize content around different ranking factors to appear for your target keywords.
There are several keyword research tools that you can use to identify a target keyword, related keywords, and entities to improve your content's visibility in search results.
You don't have to become an SEO expert to get your content to rank with keyword research. Fortunately, there are many tools you can plug into your website to analyze your keywords like:
Ahrefs: Ahrefs is an all-in-one SEO toolset that includes a site audit and keyword explorer. This is a go-to tool for marketers looking for competitive research, keyword research, and content marketing ideas.
Moz Pro: Moz is the gold-standard keyword research tool that can help webmasters find the best keywords for their site. Similar to other keyword tools, you can use Moz to understand how keywords fit into the context of your content optimization strategy.
SEMrush: A great content marketing toolkit with everything digital marketers need to optimize content. SEMrush is an online tool that offers marketers a robust set of content marketing, content writing, and keyword research tools.
Yoast SEO: Yoast SEO is a WordPress plugin that you can use on your site to understand critical metrics when you want to reach your target audience.
While third-party keyword tools are excellent for keyword research, you can take direction from your competitors. This is called competitive research, and it's a great way to understand the direction, depth, and types of content you should build to outrank your competitors for specific search queries.
4. Improve the User Experience
The term UX measures the user experience of your site. Is your website easy and engaging for visitors to use? Specific characteristics will optimize the UX levels of your site. You can do all the keyword research you want, but your content needs to hit several other ranking factors that revolve around how your audience interacts with your content.
For example, Google and other search engines will penalize your site if it loads slowly, is not optimized for mobile devices, and doesn't have an appealing design.
Make Your Website Load Quickly
Page loading time is one of the most important factors that go into a strong, positive UX. If you have to wait for a page to load, you're less likely to stick around to read its great content or follow its links. You're more likely to move onto a site that loads instantly.
Importance of Mobile-Friendly Design
These days, your site must also be mobile-friendly. The best website designs include automatic resizing and layout changes when users switch from desktop mode to mobile mode.
Your mobile design should be adaptable to various device screens. The modification should affect all your content, including text, page layout, images, photos, videos, and links. It should be easy to see everything at a glance, whether you use a website on a phone or tablet.
Precise, easy-to-read content adds to a positive user experience. Organize your articles with headers, numbered lists, and summaries. Use brief sentences and explicit language to capture the attention and engage with your customers as they look at mobile devices.
Use An Appealing Design
Visually attractive elements like graphics, photos, videos, and an eye-catching layout contribute to an enjoyable experience that keeps visitors on the page and engaged with you.
Different types of websites need to be designed differently. For example, e-commerce sites have a different design than educational sites. Think about the type of content you publish on landing pages and blog posts, and design your website around the type of content you produce and your target audience's needs.
5. Update Your Meta Title & Meta Description
With all the focus on flashy tools and marketing "growth hacks," many digital marketers and business owners forget about the basics. Even with the complexity of ranking factors, you need to pay attention to your content's meta title and meta description.
While they are not as exciting as other marketing strategies, these pieces of metadata are essential to make the most of your content optimization and SEO marketing strategies. Your title and descriptions significantly impact your content strategy because these pieces of data are the first things your readers see on SERPs.
Increase Click Through Rate (CTR): While a meta description does not directly impact rankings, this snippet of content gives searchers a preview of what to expect on the piece of content.
Boost Organic Traffic: Your customers don't want to waste time, so you can use your title and meta description to drive qualified readers to your site.
Align Content With Audience Needs: Include target keywords in your title and a strong CTA in the meta description to capture search engine rankings and meet your target audience's needs.
Increase Links & Social Shares: Content creators are looking to add relevant sources to their content. Many digital marketers build their marketing strategy around copy/pasting links to other content right from SERPs. A great title and meta description can generate lots of links and social shares.
6. Use Headers To Make Great Content
As we discussed above, user experience goes hand-in-hand with SEO and content marketing. You can fuel your content strategy by breaking up large sections of content with title tags. Not only are title tags a great place to add target keywords, but they also improve the formatting and flow of content.
These tags help you guide the search algorithms to the crucial sections of your website. Be sure to use Google Search Console to identify valuable keywords and then add relevant keywords to each piece of content to get the most of your search engine rankings.
Here are a few tips to supercharge your SEO strategy and content optimization efforts with headers:
Use H1 Tag: Include one H1 tag on every page (don't use more than one H1 heater tag). Search engines look for the H1 tag to figure out the main topic of the page.
Format Content: Break up the text into smaller headlines using the H2, H3, and H4 tags. These headers make it easy for your readers and search engines to follow your content's flow and structure.
Expand Sections: Write at least 200 words in each section of an H2 title. Sections that are too thin will look weak, and this risks pushing your readers and search engines away from engaging with your content.
7. Add Links To Establish Your Authority
You put a lot of time into the content creation process, and now that you are optimizing your content, you need to focus on ways to supercharge content to reach more searchers. Google and other search engines use links as a decisive ranking factor to grade content on the Internet.
Even with the best keyword research and user experience, your content could fall flat if it does not generate enough links from sites with a high authority around the Internet. Here are some tips to power-up your content with link building:
Build Interlinking: Adding links to connect different blog posts and webpages on your site is an easy and powerful way to help search engines and people navigate your site. These internal links provide context to robots and readers about your content, and these links help spread authority around your website.
Use Social Media: You can publish articles on LinkedIn, Medium, and Reddit and then link back to your site. New content on social sites that link back to your site helps searchers find you and provide signals to help you rank in search engine results.
Use Keywords In Anchor Text: Anchor text is the text a user clicks on to open the link. It's usually highlighted or colored to stand out from the rest of your text. However, be careful not to use the same keywords too often because Google will penalize your site if you use the same keywords too often in the anchor text.
8. Add Strong CTAs To Your Optimized Content
After you optimize your content, you must add calls to action (CTA) if you want to drive more conversions to generate leads and close more sales.
Going through the process to optimize your content is to get more organic traffic, improve your rankings in search results, and generate more conversions.
You might ask your readers to comment on articles and share them. You might ask them to follow your social media accounts, sign up for a free newsletter, download a free e-book, or contact you through a contact form.
Finally, you can ask them to make a purchase or book an appointment. Most successful websites include a combination of CTAs at varying levels of customer engagement.
9. Add an FAQ Section To the Bottom of Each Page and Post
Adding an FAQ (frequently asked questions) section to your website is an excellent way to update your content and markup your blog posts with additional information for readers. Adding an FAQ section at the bottom of each blog post and landing page will help you rank in search results, plus this markup language will show more information to readers in SERPs.
You might want an FAQ that describes how to use a particular product. Divide up your FAQs to make it easy for readers to get the information they need.
Content Optimization FAQs
Content optimization is the process to make existing content in blog posts and web pages more attractive to your customers and search engines. There are lots of content optimization tools to help you make the best content possible!
Search engines use keywords to display different types of content in search results based on the needs of your customers. You need to build content to address the needs of customers to show up in SERPs.
Think about how to optimize content with content mapping, and use these 9 tips to optimize content:
Increase Content Depth
Weave Relevant Keywords Into Your Text
Improve the User Experience
Update Your Meta Title & Meta Description
Use Headers To Make Great Content
Add Links To Establish Your Authority
Add Strong CTAs To Your Optimized Content
Add an FAQ Section To the Bottom of Each Page and Post