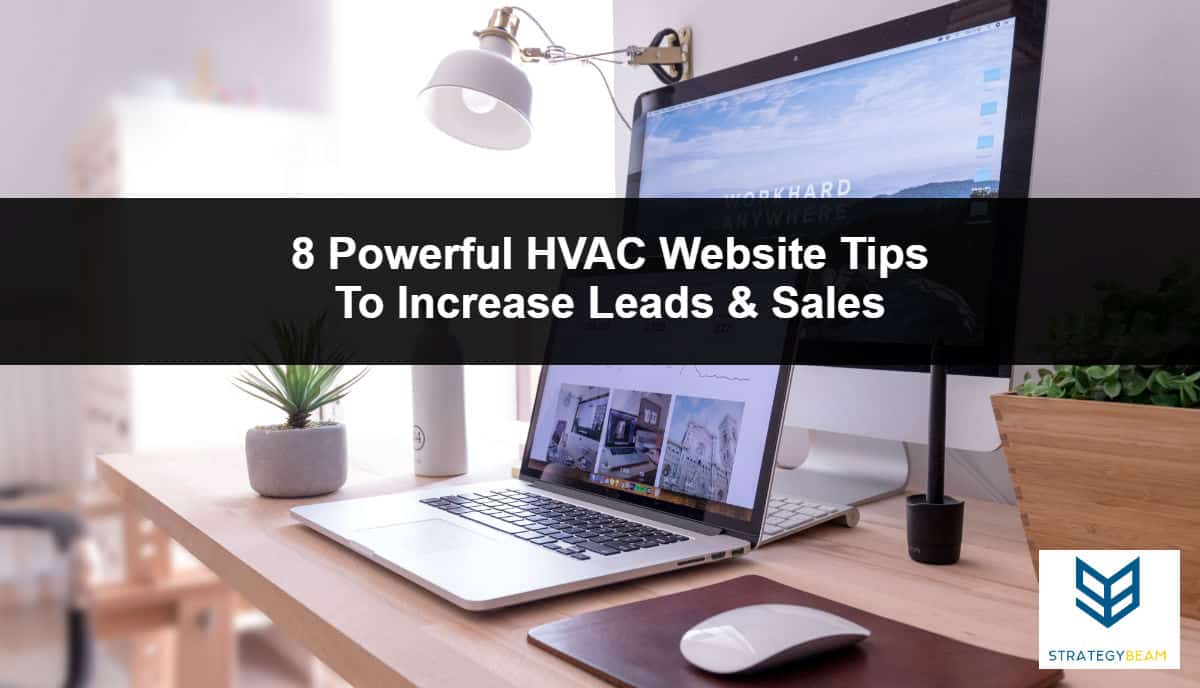 Building An HVAC Lead Machine With Your Website
You already know that leads and calls keep your technicians busy, and you need more leads to grow your business. But how can you secure a steady stream of leads?
Having a robust website design is key to your HVAC marketing strategy because it is the best way to ensure your business is found in Google and your customers call you.
Your HVAC website design will need to have eight vital elements to ensure your success:
Make your HVAC website mobile-friendly
Include contact information in your header
Collect more leads with a contact form on all pages
Build authority with testimonials
Use photos of past projects
Place specials & promotions for urgency purchases
Add visuals & spacing to break up the text
Use video to connect with your customers
Your consumers are using technology to find answers and solutions for their needs. Since your customers are looking on search engines like Google to find local HVAC companies, so your company needs to have a strong online presence to secure more leads and close more sales.
There is no better way to have an online presence than to maintain a top-notch website that contains essential information about your business, engaging content and trust-building offers. The best HVAC website design incorporates below eight powerful tips to help you increase and business leads, so let's jump right into how you can boost sales and leads with a great HVAC site design.
1. Make Your Website Mobile-Friendly
In a world where smartphones have become a part of everyday life, it's more important than ever before that your website is ready for mobile devices. As of 2018, over 50% of people who searched for HVAC services online for both home and commercial properties used mobile phones.
That is an incredible statistic, and trends show that customers will use mobile devices to look for HVAC services more in the future!
How can you ensure more customers on mobile devices engage with your website? Well, you can build an excellent foundation for your growth and online success by making your HVAC website mobile-friendly.
Having a mobile-friendly site is more than making the site look good on all devices. This approach to website design means that your information will display, images will render, and formatting will position properly to help you reach more potential clients!
2. Include Contact Information At The Top Of Your Site
An HVAC website without contact information is useless. People are looking for a quick way to contact you when their AC or furnace breaks, and you need to make it as easy as possible for those potential customers to contact you.
The only way to give people a quick way to contact you in their time in need is to include basic contact information at the top of your website. The contact information that you need to place at the top of your HVAC site include:
Your physical address: Your address not only provides a way for customers to come to visit your store, but it also builds trust and shows relevance by telling potential customers how close you are to their home or business.
Your phone number: Most HVAC companies rely on customers calling their team to schedule leads.
Your hours of operation: Your customers need to know when you are available to service their HVAC needs, so you should list your hours of operation.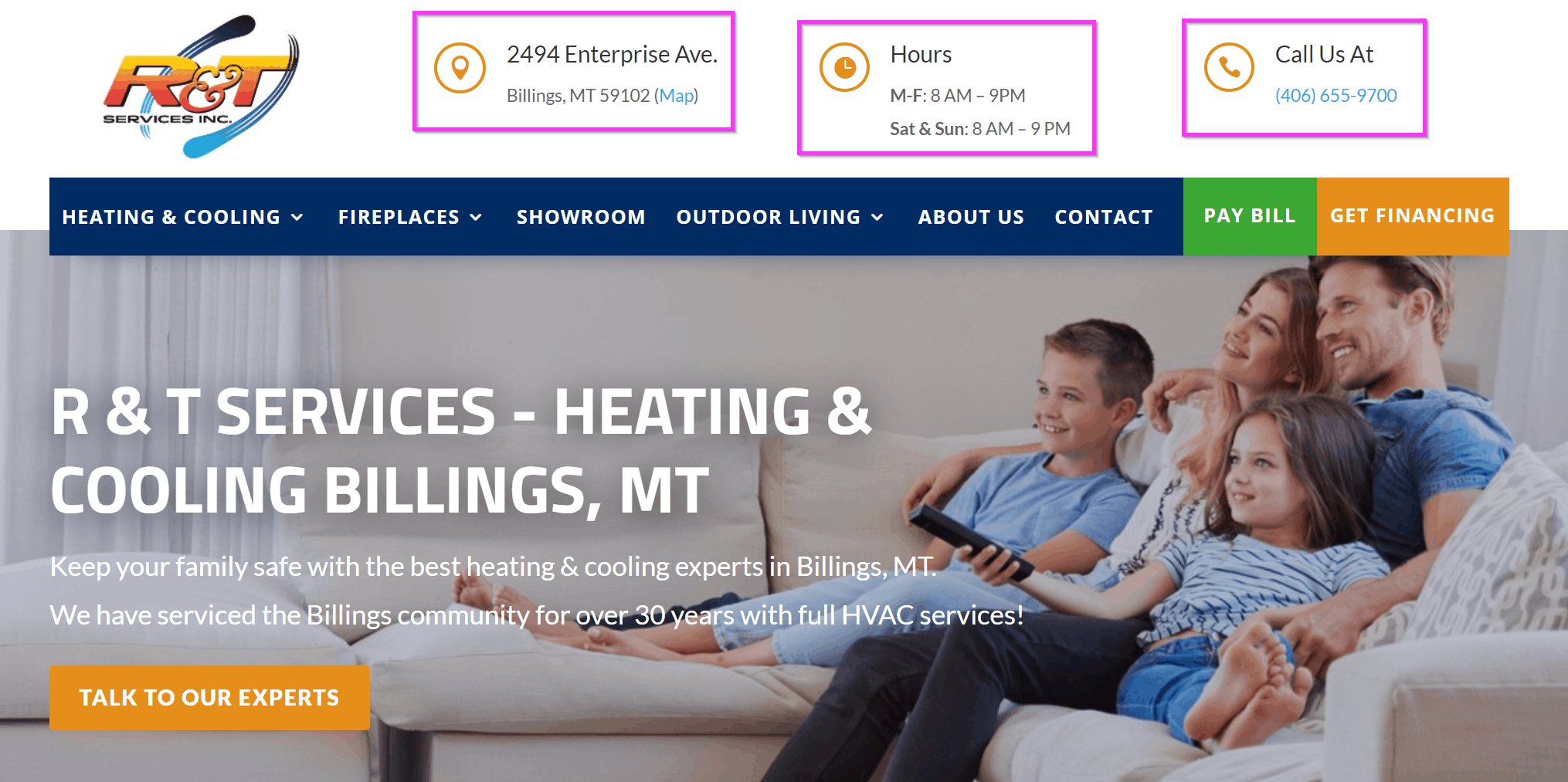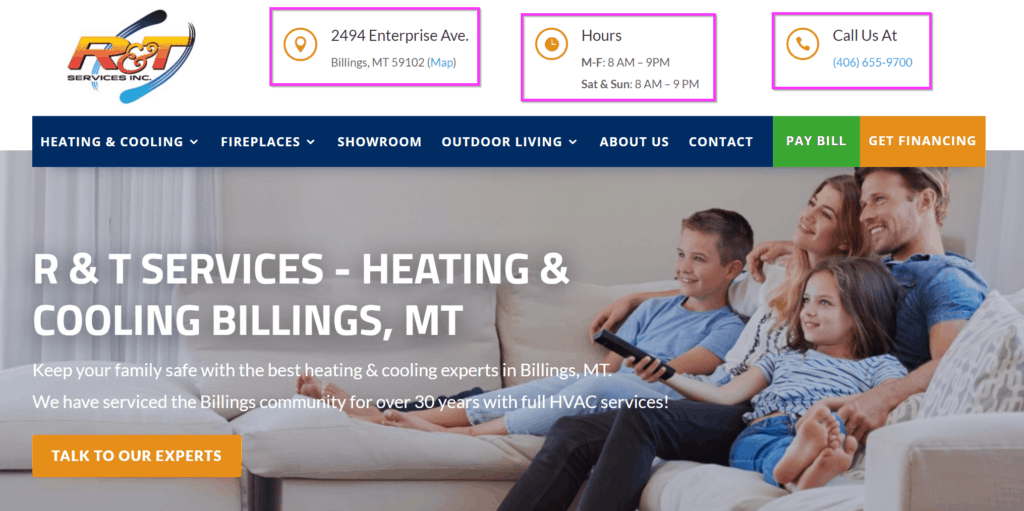 Besides having your contact information prominently displayed at the top of your site, you should also include your social media accounts at the bottom of your website. Having an online presence builds trust with your customers. Your social media sites are great ways for potential customers to learn more about your business and find social proof that you are the best HVAC service provider in your area.
Having a presence in platforms like Pinterest, Facebook, Twitter, and Instagram helps you engage with your customers. Use social media to share blog posts from your HVAC website. If your business already has social media pages, link them to the site, preferably in the footer or header of each page.
3. Include Contact Forms On All Pages
We already discussed how important it is to design your HVAC site to minimize obstacles to contact your company. Having a contact form prominently displayed on each page of your website helps customers reach your team with little effort right when they see your site.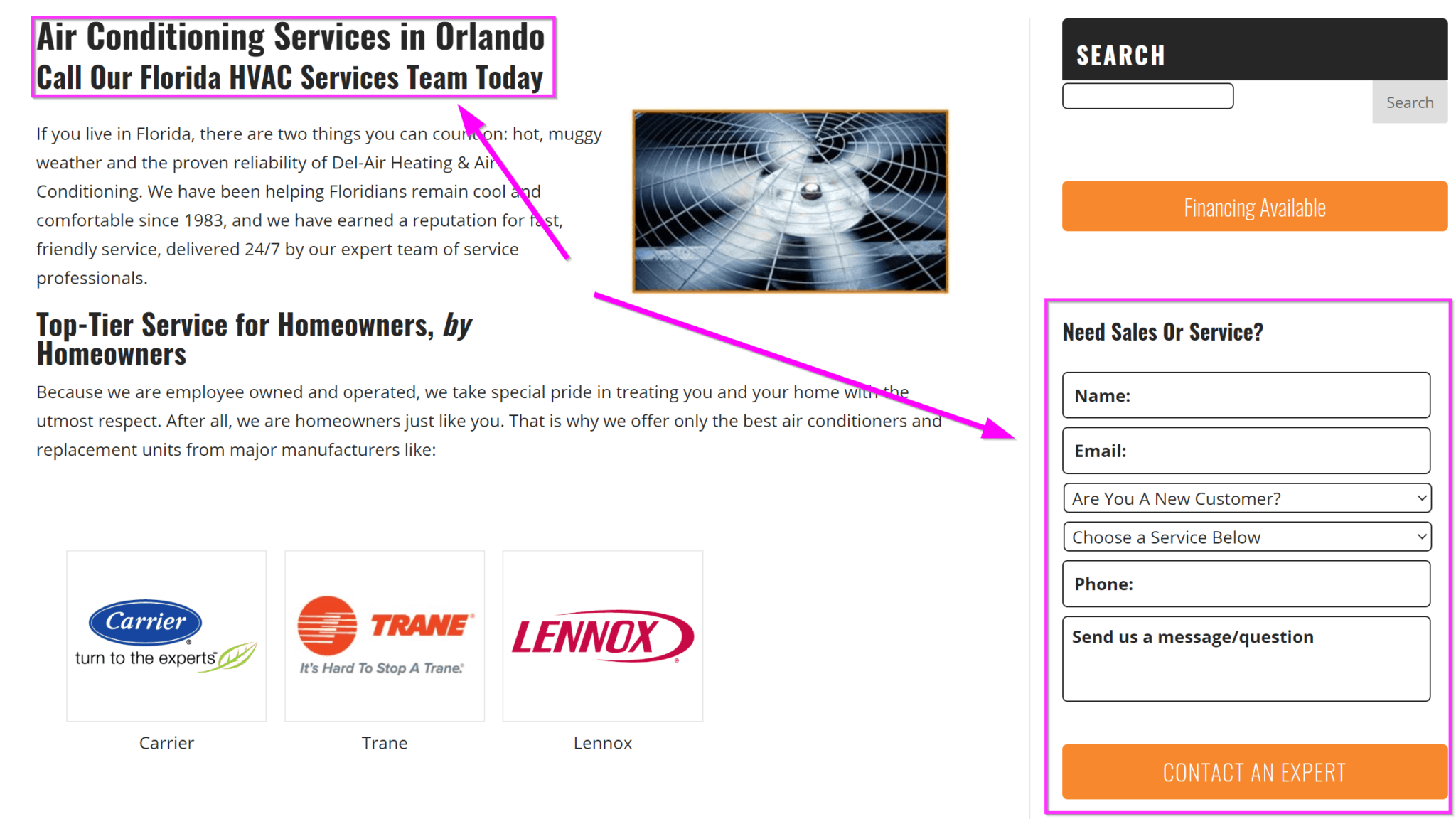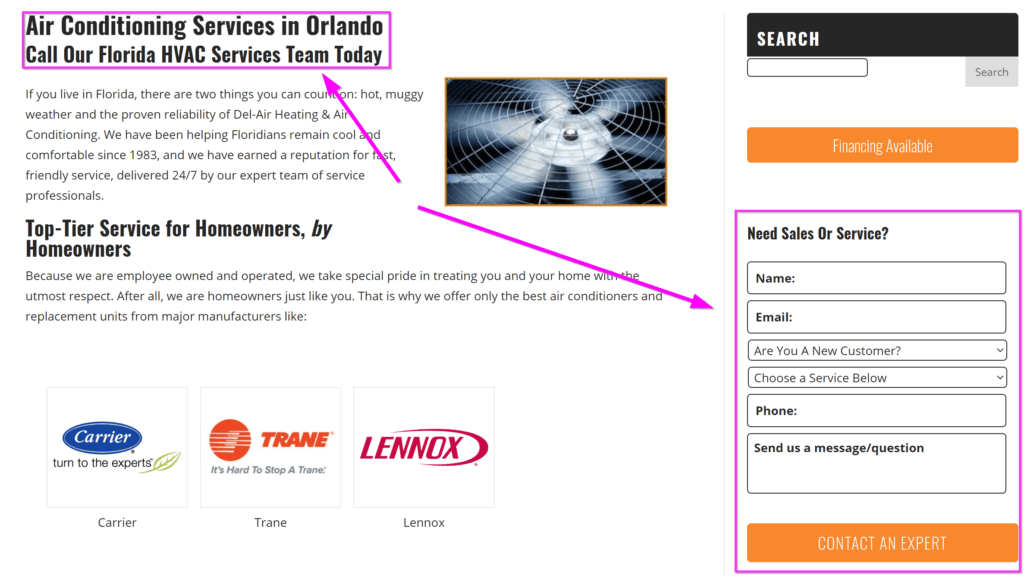 Contact forms play an essential role in generating potential client leads from your website placed properly on your site, your contact forms will help customers reach out to your team. Aside from calling your reps, an online contact form offers the easiest way from the client to get in touch with you.
Make your website contact form stick out while making it personal and straightforward. Ensure you only collect the information you need, such as customer name, contact information, and which services they are looking for on your website.
4. Build Authority With Testimonials
Any old "Chuck In A Truck" can say they are a great HVAC company. This means that your customers are apprehensive about trusting a local company. You can overcome suspicion and doubt when choosing a contractor.
A study conducted by Bright Local revealed that 91% of customers between 14-34 years trust online reviews as much as they trust personal recommendations. The study also revealed that 68% of all consumers are more likely to buy from companies with positive reviews.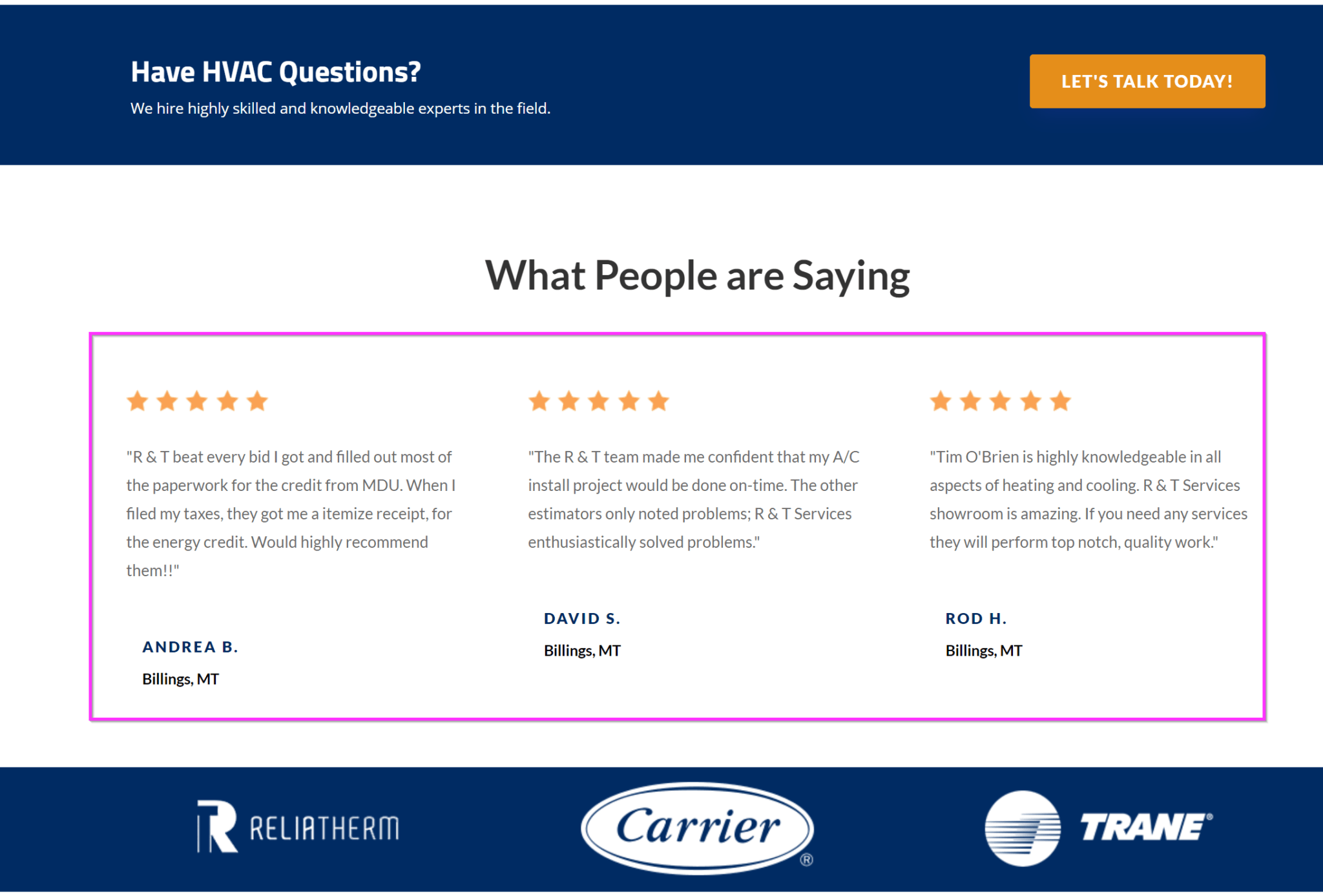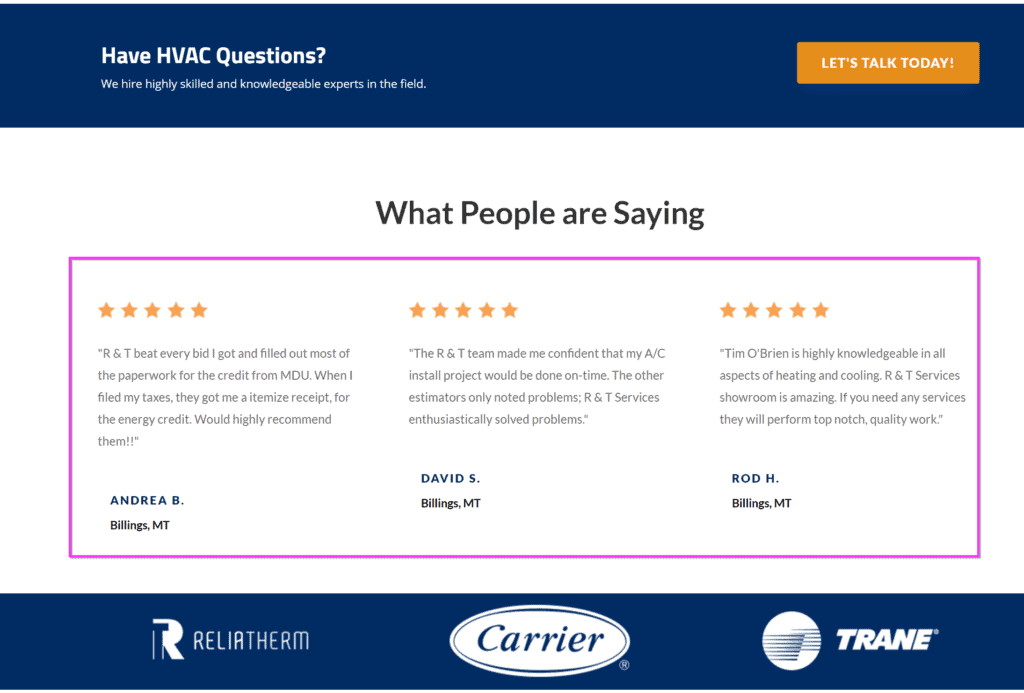 Previous customer reviews and testimonials help potential clients make a purchase decision because testimonials give real-world examples of what actual customers think about your HVAC services. It's easy for companies to say they are the best, but there is more power in a positive statement when it comes from a customer who used your services.
You can harness testimonials' power by inserting customer testimonials and reviews near Call To Actions and lead forms throughout your website design.
Testimonials and reviews also help improve your website's rankings because you can connect the reviews to services like Google My Business, Facebook, and Yelp. In addition to the social proof provided by the testimonials, these connections add up to a powerful push for customers when viewing your site.
5. Use Photos of Past Projects
"A picture is worth a thousand words" is a cliche, but in website design, this motto stands true. You can use images to break up blocks of text, improve the flow of content on a page, and highlight important information by positioning an image in the right place.
People love to see the story behind a review or a testimony. Using imagery storytelling as a marketing strategy by adding before, in progress, and after photos will increase potential customers' faith in your work and help them during their purchasing decision process.
You should always take before and after pictures of your HVAC projects whenever possible. Once you have a collection of these images, you can place them on your site with "Project Galleries," "Our Work," and insert past projects on relevant sections of your pages.
6. Highlight Promotions & Discounts
Just like any other industry, your customers want to know they are getting the best price for the HVAC services they need. While physical stores can put signs out by the road for customers to see as they drive, you can position promotions and discounts on your home page and at the top of other pages throughout your site.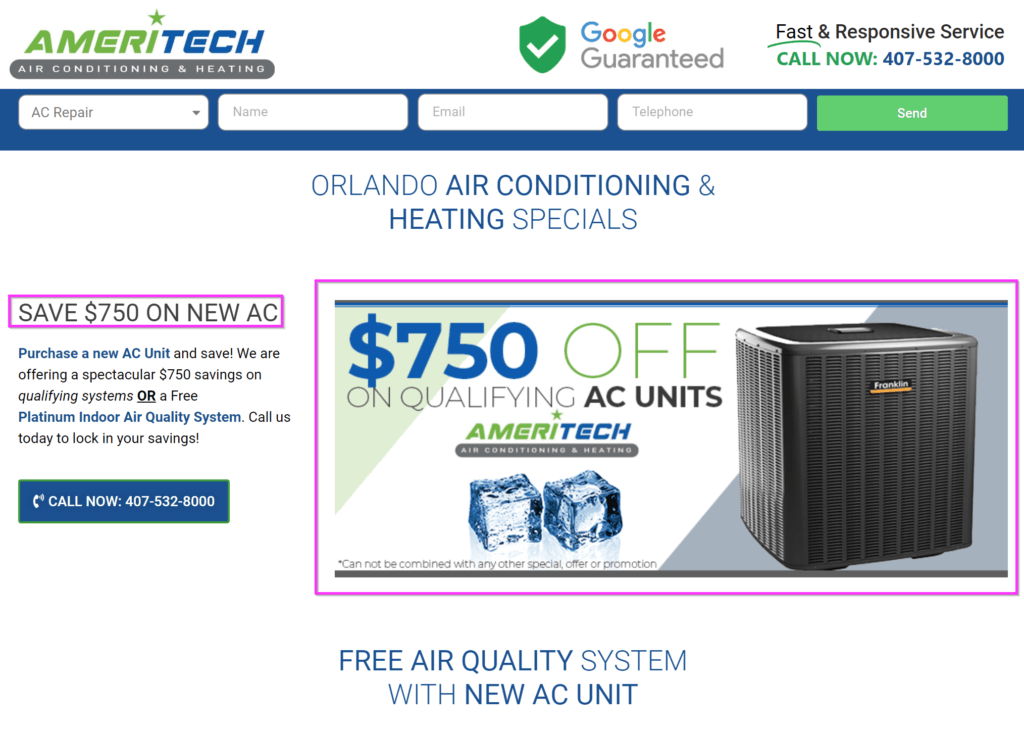 You want to create a sense of urgency because your customers are likely looking for your services now. Instead of losing potential customers because your site doesn't highlight deals or urgency, you can satisfy your customers and increase leads by placing discounts, specials, and HVAC consulting offers.
Having urgency promotions gets customers to take action and make a decision immediately. You can use popups to remind customers of limited time offers or offer free HVAC consultation services for a limited amount of time. Ensure to be subtle and not too pushy as this could turn off potential clients.
7. Break Up Text & Add White Space
As we discussed in past points, your customers view your website on different devices. This means that your website design needs to be developed in a way to make your site look great and easy to read on mobile devices along with laptops.
Your site should use formatting that allows your customers to find the information they need quickly, and a website with large blocks of text is difficult to read.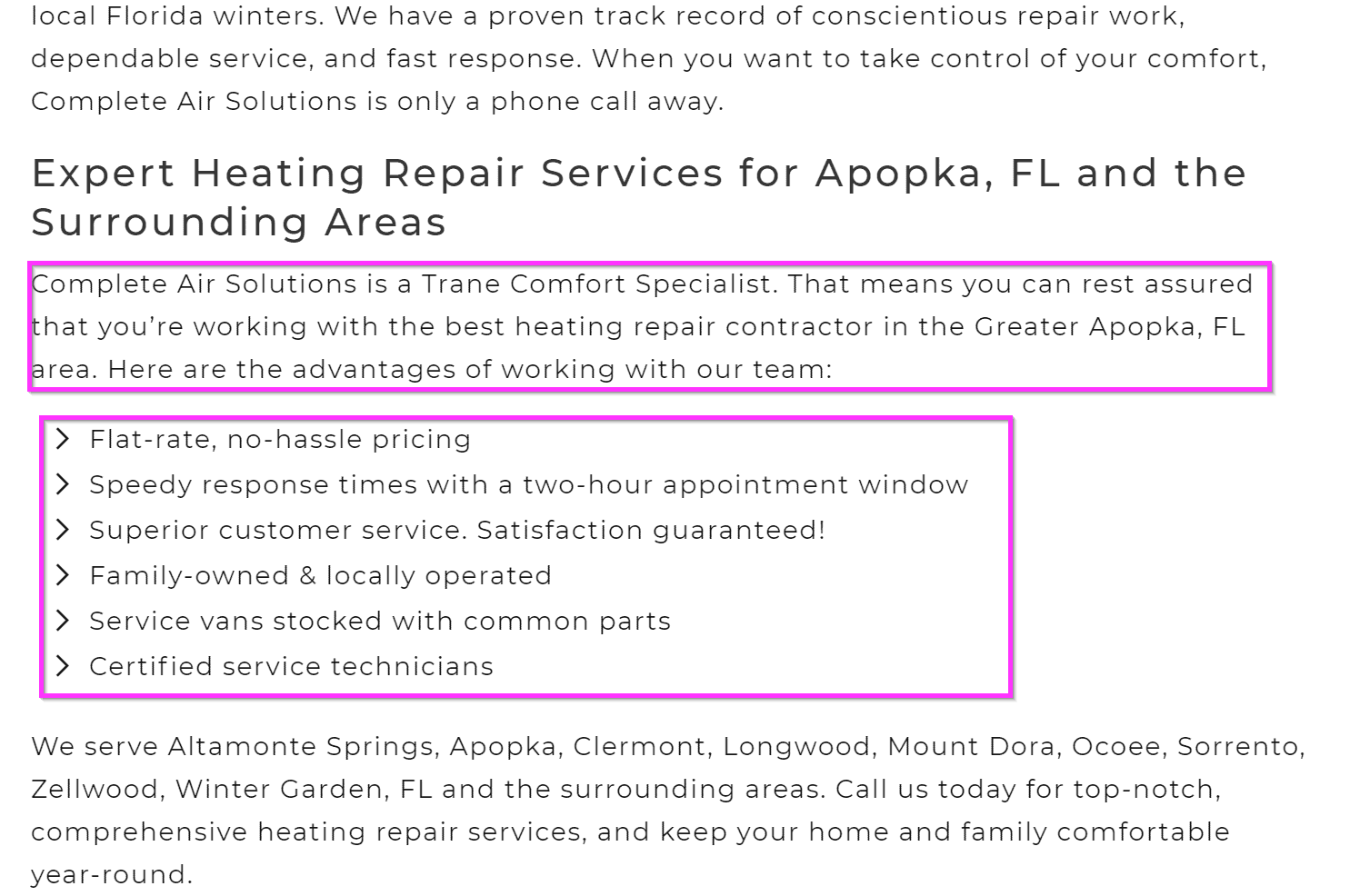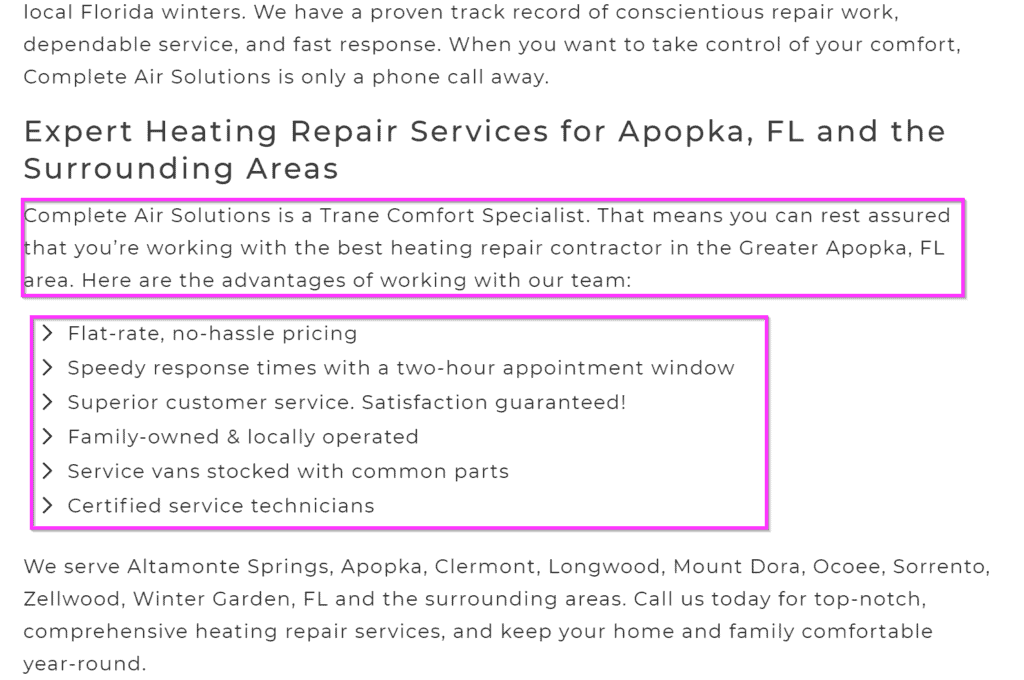 You can break up text blocks and make your content easier to ready by using some easy formatting tips:
Write 2-3 sentence paragraphs: This will ensure your paragraphs are easy to read on mobile devices.
Use bulleted lists: Bulleted lists are a great way to highlight important information and help your customers focus on the content that matters. Plus, lists are easy to read, and they break up large chunks of text.
Bold words as needed: You can break up chunks of text by bolding words throughout a sentence.
You can also use images of your team, past projects, or other graphics to break up large chunks of text and improve your website's readability. Using pictures will grab visitors' attention as they scan through your page and hopefully entice them to stop and read the text.
Incorporate visual hierarchy into your HVAC website design and pair it with a strategic contact form or a call-to-action. This action will get you closer to converting visitors to clients.
8. Use Video to Connect With Your Customers
Consumers love videos. Videos "connect the dots" with HVAC services and customer needs, but they also help build trust and authority. You can use videos to introduce your team, highlight your knowledge in specific areas, and tell a meaningful story about your company's history.
You can take video marketing one step further by using videos to provoke consumer reactions, tell a story, and explain how different HVAC systems work or entertain your clients. Video marketing, considered the hottest current marketing trend, will make your HVAC company standout.
You can use videos to introduce your teammates and visually arouse your audience behind the scene footage of your team. Create mini-stories around your HVAC systems, the installation processes, and focus on important key points while highlighting your clients' benefits.
Increase Local Leads With A Great HVAC Website Design
You already know that having an HVAC site is essential for your company's success, but not all websites are created equal. You need a site designed around the needs of your customers positions you as an authority in the market and engages your customers, so they contact you.
The best HVAC website design brings all the elements together in a seamless manner, so your customers find the information they need and builds trust, so they take action. Website design goes beyond just colors and shapes on your site- you will need a professional HVAC website company to help you capture as much market share as possible.