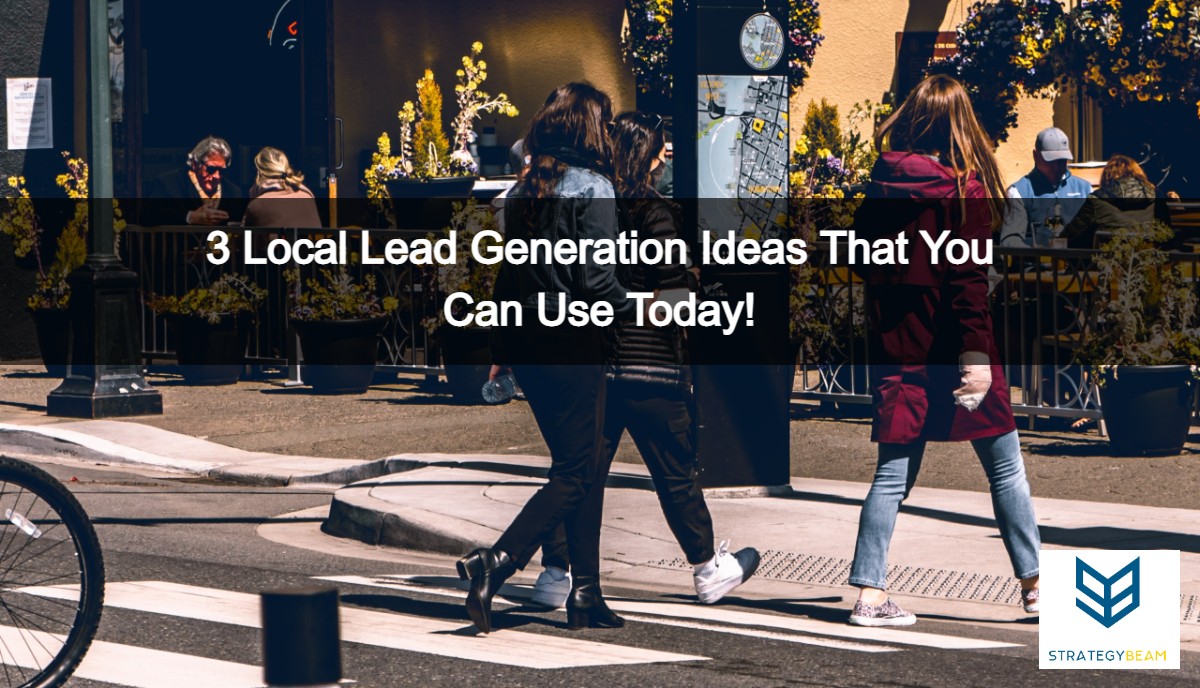 Local Lead Generation To Compete Against Giants
Many local businesses are feeling the strain from giants such as Amazon and Walmart that currently dominate the eCommerce and brick-and-mortar commerce areas. Most small business owners think it's too expensive to compete with their largest competitors. The truth is that small business owners can reach new customers by focusing on a local online presence instead of trying to rank in search engine results (SERPs) for generic terms.
Many local businesses find themselves thinking outside the box and searching out different methods and strategies that will allow them to obtain lead generation and get found in search engines with local lead gen.
Without sufficient lead generation, many local businesses will not compete with the big names in their local area. This is the main strength that your small business has compared to the largest competitors because local business owners have the ability to be flexible and dominate local search results.
What Are Local SEO Marketing Campaigns?
With effective local marketing efforts, you will be able to reach your local audience and grow your lead gen efforts without investing lots of money or resources. Instead, you will need to use your time, connections, and imagination to fuel your online marketing strategy and drive your local marketing efforts.
The advantage of this concept is that, unlike the current digital marketing strategies that only serve to put their business in touch with the world, lead generation strategies are more targeted to your local community. Therefore, when you need your small business to reach local customers, you should base all of your marketing strategies on local SEO, like:
Local Content Marketing: You want to appear in organic search when customers look for specific products or services in their immediate area.
Local Citations: You want to appear in Google Maps when people look for your business or products. This is a vital part of local SEO, and you need to do everything you can to ensure you secure a top position in Google Maps.
Optimize Your Google Business Profile: Formerly known as Google My Business, your Google Business Profile is a critical part of your local marketing strategy. Make sure you optimize everything on your listing to get found in Google.
Local PPC Ads: You can save a lot of money by focusing your Google Ads budget on a specific geographic area. You can do the same with Facebook Ads, LinkedIn Ads, and other advertising platforms.
This means that your time and resources will focus on lead gen strategies in your local area instead of trying to compete with competitors who have deep pockets.
Top 3 Local Lead Generation Strategies For Your Small Business
Small businesses are always looking for new ways to attract customers. Local lead generation is one way they do this by developing interest in their product or service based on the needs of their local community.
Let's take a look at how your business can optimize your online marketing strategies around local lead generation today!
1. Local Contests and Giveaways
Everyone loves to get something for free, and your customers are not different.
One of the best means of generating local leads for your business is through a contest or giveaway targeted to your area. Contest and giveaways are a great way of providing a reason for a prospective customer to provide essential contact information to your business.
The benefit for them providing this information is that they have a chance at winning a prize, which most of all one that they want to win.
When running a contest or giveaway for your local business, the one caveat is that you need to make sure that the prize offered is related to either your product or your service.
If the prize is random, then it will not be in your business's best interest to offer.
It is important to remember that giving away a prize related to your business or product may only receive you a few leads, but the leads obtained will always be worth it to your business. Therefore, when developing your contest page for your local giveaway, a few areas need to be kept in mind:
Add A Countdown Timer To Your Site: By using a timer, you create a sense of urgency in the viewer concerning your promotion. Timers have been shown to increase the conversion rate by as much as 332%. In addition, they are a highly effective tool for use in giveaways because they let the viewers know that they have to enter in a given timeframe if they want the chance to win.
The Headline: A headline needs to be upfront, center, and above all, large.  The headline will make it clear precisely what the viewer can win, as well as the value of the item.
Prize Value: In many cases, the customer does not automatically understand the item's value. By placing a dollar value on the item given away, your viewers will know upfront what they can win.
Form Fields: Make sure that your contest asks for only the entrant's name and email address. The rule of thumb in the industry is to only ask for enough information from the entrant to make it possible for you to contact them if they win.
Call To Action (CTA): It is imperative is that you make sure your call to action button is visible and stands out on the page. It should be eye-catching, eliminating any possible confusion for the customer as to where to click to enter your contest.
2. Targeted Facebook Lead Ads
With the number of potential customers that utilize Facebook being an estimated 2.4 billion and growing every day, this social media platform is currently the best means for a local business to speak to its people with targeted Facebook Ads.
When it comes to utilizing Facebook Ads for lead generation, a local business will have a couple of options to consider:
When running a Facebook Ad, make sure to choose "Conversion" as your primary objective. By choosing this type of posting, anyone who decides to click through to your landing page on your main website will be prompted to submit a contact form containing their information.
Another option is to run a lead ad on your Facebook page.
While scrolling through your page's news feed on Facebook, a prospective lead will see your ad, and for more information, will need to click the call to action button.
A separate form opens in the news feed, inside the ad itself.
When the information from the lead is submitted, it will automatically be transferred to your integrated CRM.
The best part of using a Facebook Ads lead gen strategy is that they have proven to work. In a study by Wordstream, as many as 19.77% of people who clicked on a lead ad on Facebook converted more effectively than other types of advertisements that send viewers to a website landing page.
For the best results from your Facebook lead ads, make sure to have your account connected directly with your CRM software, allowing any new leads to be directed there automatically.
3. Take Your Lead Generation Offline
There seems to be a superior type of complexity in today's digital world, making it hard for many digital marketers to look out their windows.  However, there are offline options for quality lead generation and building solid, dependable relationships from conferences and trade shows.
When it comes to generating leads offline, there are a few tips that can prove to be helpful:
Be choosey about your trade show or conference.  Both can prove quite expensive, so you will want to ensure that you will receive a positive return on your investment and attendance. Therefore, it would better serve you to test out one or two, and after evaluating the results go from there.
Determine your KPI and if it indicates success. You will need to determine if your goal will be focusing on generating leads exclusively or are you also interested in other areas such as employees, feedback on products, etc.
Bigger isn't always better.  Much like a contest or giveaway, you will be best served to choose a highly-targeted tradeshow or conference when possible. For local businesses, it's not always a good idea to dive headfirst into the most extensive offerings available. Instead, find out where your targeted individuals are and direct your efforts there.
Giveaways such as merchandise can prove to be valuable incentives. Remember your goal is to generate local leads. Unless you gather lead information on prospective customers and clients, you can consider yourself wasting both your money and your time. In exchange for contact information, offer such incentives as free merchandise or deep discounts.
Always remember to follow up on your leads. Taking the time to generate leads is money out the door if you don't take the initiative to follow up.
Take Lead Generation Strategies To The Next Level For Your Small Business
And there they are, three of the easiest, economical, and high-impact strategies for lead generation that you can start using right away today. A local business can find significant success with these forms of strategies much in the same way a SaaS can.
If you are interested in generating more local leads for your business then feel free to reach out to our team. We are standing by to talk with you about your company and help you reach your customers today!