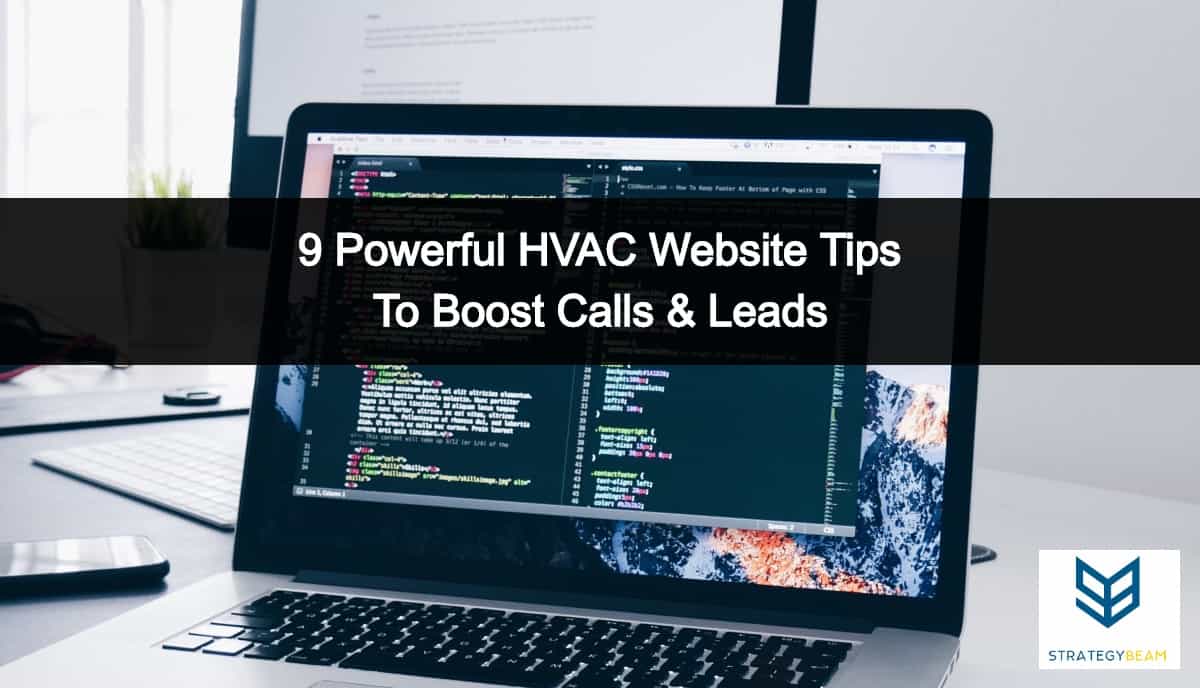 Grow Your Business With A Winning HVAC Website
As an HVAC contractor, plumber, and home service contractor, you already know that you need to generate leads to grow your business. While you are an expert with air conditioning, home heating, and home plumbing repairs, do you have a website that works as hard as you do for your HVAC company?
If you don't invest the time and resources to build the best HVAC website, you fall behind your competition. Your HVAC website is the digital storefront of your business, and it's where you display your expertise and services to build trust with potential customers.
Your contractor website will serve as the "hub" for your HVAC marketing strategy, and your website needs to be optimized for people and search engines. A robust online presence can help you grow your local business and reach your goals, and a great-looking website optimized for readers and robots is the best way to ensure your success through any economy.
Why Is Your HVAC Website Important?
The HVAC industry is riddled with "bad actors" and has the reputation of ripping customers off. You can overcome the negative stereotypes by updating your site with the best HVAC website design tips and tricks to help your business stand out from the competition.
This means that your HVAC company could benefit from a new website or an update to existing content to help you rank higher in Google and engage with customers once they reach your site. If done correctly, you will be amazed by the immediate benefits a professional HVAC website can have on your growth and bottom line.
The best HVAC website design incorporates below nine powerful tips to help you increase and business leads, so let's jump right into how you can boost sales and leads with a great HVAC site design.
9 HVAC Website Tips To Boost Leads & Conversions
Your consumers are using technology to find answers and solutions for their needs. Since your customers are looking on search engines like Google to find local HVAC companies, your company needs to have a robust online presence to secure more leads and close more sales. Whether you are trying to get found with HVAC SEO, you want to increase the number of visitors to your site, or you just want to land more sales with HVAC ads, your website plays a vital part in your business strategy.
There is no better way to have an online presence than to maintain a top-notch website that contains essential information about your business, engaging content, and trust-building offers.
Let's take a look at the design and other tips to help you build the best HVAC website in your service area to overcome your competition and generate more leads today!
1. Easy Navigation
Web design plays a big part in how customers engage with your site, and your navigation menu impacts how people interact with your site.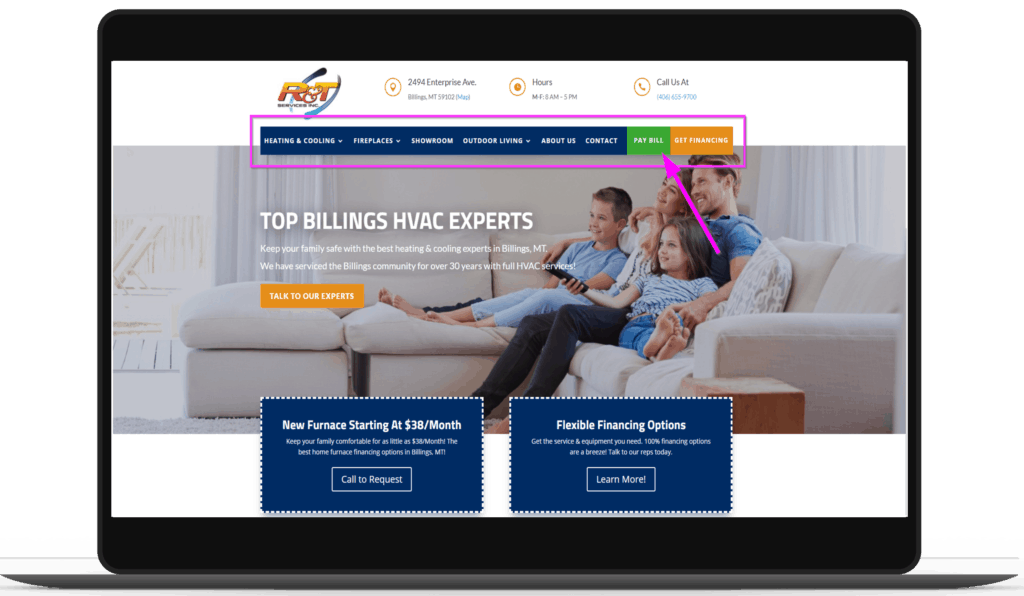 Your navigation menu is one of the first things people look at and interact with on your site, so you need to structure the navigation menu to encourage people to click around and find the desired HVAC services. Here are a few tips to help you build a navigation menu that's easy to use for your audience:
Be Descriptive: A descriptive navigation helps potential customers understand the services your HVAC business offers. Use descriptive navigation items like "Home Cooling" and "Home Heating" instead of "Services."
Simplify: A cluttered website navigation menu hurts potential customers' experience and prevents readers from finding the information they need. Keep your navigation menu to seven items or less.
Organization: Organize the navigation bar based on your business goals by placing essential items near the beginning of your menu. You can make services more prominent by placing them at the beginning or end of your menu.
Make your website navigation mirror your business and audience's needs with a web design and architecture that is visually appealing and easy to understand.
You can fine-tune your website navigation to deliver your target audience's best experience and support your business goals.
2. Optimized Content
Content is the backbone of your HVAC business. You need to trigger search engines while engaging potential customers to drive organic traffic to your site through Google. There's an art and science to copywriting for contractor websites because you need to balance between keywords while also making your website easy to read by human readers. This balance is called SEO copywriting, and your website will need to implement amazing content that gets found and clicks.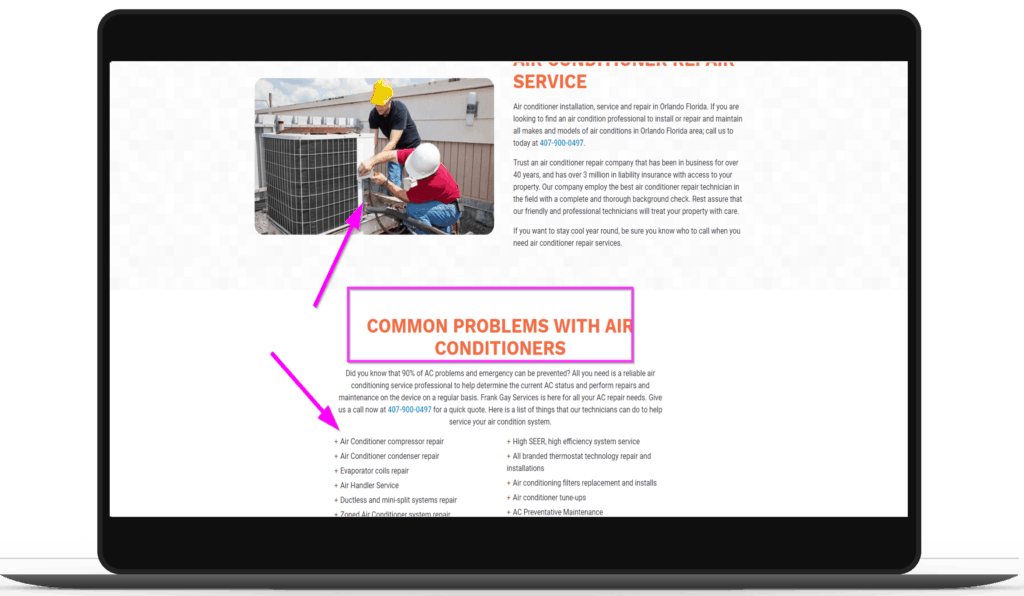 The ultimate goal of website copywriting is to get your content found in search engines like Google while also converting customers when they reach your site. Here are a few tips to help you super-charge your HVAC marketing strategy with unique website content:
Use Keyword Phrases: Potential customers are looking for HVAC services in your area. You can build Search Engine Optimization with content that uses valuable keywords on each page of your site.
Focus On Readability: Don't obsess on Google because you can over-optimize content at the expense of your readers. Always write content that reads well so you can convert your website visitors.
Adjust Seasonality: Potential customers are looking for different HVAC services based on the weather and seasonality. Be sure to adjust website content to reflect the needs of your customers throughout the year.
On-Page SEO Tactics: There are several on-page SEO tactics that you can use to improve content for readers and robots. Use techniques like headers, subheaders, formatting, and lists to make copy more comfortable to read and more accessible for search engines.
Unique Page Content: Each page on your site has a specific job, and you need to cater content on each page to the specific product or service.
As you can see, it can be challenging to walk the link between showing off your know-how of HVAC services while also grabbing search engines' attention. You can grow your bottom line with SEO copywriting tips to get you to rank in search engines while also helping your target audience at each stage of the Customer Journey.
3. Mobile-Friendly
In a world where smartphones have become a part of everyday life, it's more important than ever before your website is ready for mobile devices. Here are a few ideas to make your website design approachable for people on a mobile device:
Write 2-3 sentence paragraphs: This will ensure your paragraphs are easy to read and deliver your message on mobile devices.
Use bulleted lists: Bulleted lists are a great way to highlight important information and help your customers focus on the content that matters. Plus, lists are easy to read, and they break up large chunks of text for an improved customer experience.
Bold words as needed: Bold text is a great way to style and format your website content. Use bold text to highlight important concepts, but be careful not to overuse this formatting tool.
Avoid Pop-Ups: Pop-ups are a standard marketing tool that pushes a coupon or select on a reader's screen. While pop-ups force readers to notice your message, these elements also obstruct your customers' experience on a mobile device.
4. Contact Information
You need to generate calls, so your HVAC website needs a way for people to contact you when their AC or home furnace breaks. You can capture a lot of business for emergency services by placing your phone number at the top of your website and other areas to make your team easier to contact.
Here are some web design tips to get your contact information in front of interested buyers:
Homepage Contact Form: One of the best ways to generate more leads is to put a contact form near the top of your homepage. Be sure to place a contact form on every page of your site, but you can capture many leads by putting a contact form near the top of your homepage.
Physical Address: Your address provides customers and search engines valuable information about your HVAC business. Add your address in your website's header and footer to build trust with potential customers in your service area.
Phone Number: Most HVAC companies rely on customers calling their team to schedule a maintenance call or receive a quote. Place your phone number in the header and foot areas, and put the phone number in CTA buttons throughout your site to generate more phone calls.
Hours Of Operation: Your customers need to know when you are available to service their HVAC needs, so you should list your hours of operation in the header and footer areas of your site.
Social Media Links: Build trust with potential customers by showing them that you are active on social networks. You can place links to your social sites to help readers learn more about your business and offer social proof that you offer the best HVAC services in the area.
Getting website visitors to your site is just one part of your HVAC marketing strategy because you need people to email, call, or visit your store to convert. This means that you need to place your contact information in strategic places around your site to boost online conversions and calls.
5. Contact Forms On All Pages
Do you want to generate more leads and boost conversions? If so, then you need to include a contact form on each page of your HVAC website.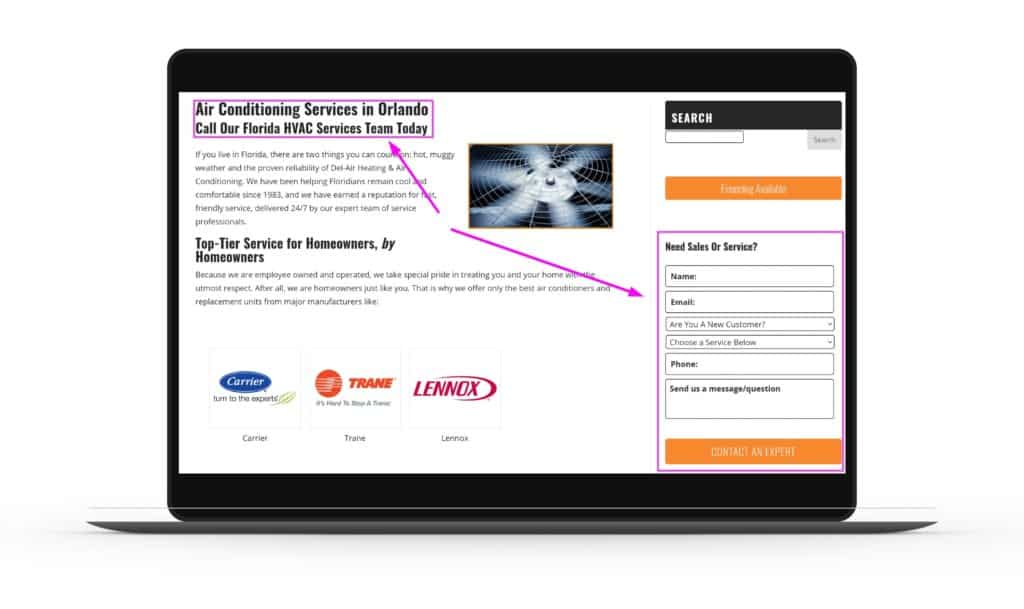 You'll generate more leads by positioning a contact form on your website's page to help customers reach your team. While this may sound overwhelming, you can find the right balance by implementing some tips for excellent HVAC website design like:
Placement: Position a contact page at the top of your homepage, at the bottom of each page, and in relevant sidebars.
Customize Messaging: Customize the message and CTA on each contact form to match the central message of each page it's appearing on. For example, tailor the contact form to talk about "Air Conditioning Quote" on pages that talk about your company's air conditioning services.
Minimize Fields: Form fields overwhelm potential customers, and having too many fields can push readers away from contacting you. This means that you should only use 4-5 fields that genuinely help you capture the information you need to engage with your target audience.
Provide Other Forms Of Contact: Potential customers want to contact you in different ways. Add your phone number, address, and hours of operation to help customers contact you.
Confirmation Page: Be sure to customize the landing page that readers are directed to after submitting a form to you. This page can include next steps, blog posts, or discounts to encourage potential customers to take other actions.
Position your contact forms throughout your website design and customize each form's message to make it relevant and appealing to readers. Ensure you only collect the information you need, such as customer name, contact information, and which services they are looking for on your website.
6. Build A Helpful Blog
Blogging is a great way to build authority and improve your ranking in Google. Digital marketing with blog posts can help HVAC small businesses contend with big companies in the region.
Here are a few ideas to help you win with blogging for your contractor website:
Answer Customer Questions: Blog posts are a great way to position your HVAC business as the go-to source of information for common HVAC issues. Capture Search Engine Optimization and engage qualified leads with optimized blog posts.
Publishing Schedule: Plan your blog content around seasonality to hit the needs of customers. You should also plan to publish 1-2 new blog posts each month to build trust with Google and readers.
Tie Back To Your Business: Your blog posts need to tie back to your HVAC services. You want to get found in Google, but the blog posts need to point back to a relevant product or service you offer to boost conversions.
Publishing excellent content on your HVAC business blog can help improve your website's ranking and drive more qualified website visitors to your site throughout the month. Blog posts address needs throughout the entire CustoCustomerey, and this type of content can help you build a relationship with local customers who need your services.
7. Highlight Testimonials
The HVAC industry is riddled with "Chuck In A Truck" pop-up scammers who give HVAC companies a bad name. You can overcome potential obstacles by building trust with potential customers through testimonials.
Keep It Short: Your readers don't have time to read a lengthy testimonial. Keep testimonials to 30-50 words to make the content scannable and easy to read on mobile devices.
Be Authentic: The best testimonials are personal, so ask your customers to provide unique & personalized reviews of recent work.
Be Direct: Pull out the words and phrases from each testimonial for validation purposes.
Ask For Reviews: Send a follow-up message to each custoCustomerr a job is completed. In this message, be sure to ask the customers to consider giving you a review on Google My Business and Facebook.
Testimonials and reviews are an essential piece of your HVAC marketing strategy because these reviews build social proof that your company is legit and trustworthy. All of these benefits add up to help you engage with prospective clients and boost conversions!
8. Promotions & Discounts
Your customers want to know they are getting the best price for the HVAC services they need. While physical stores can put signs out by the road for customers to see as they drive, you can position promotions and discounts on your home page and at the top of other pages throughout your site.
Here are a few tips to consider when you publish discounts and promotions for home services on your website:
Urgency: You need to build urgency around your promotions and discounts. This means you'll want to have discounts expire within a short time to encourage potential customers to take action and not wait until the last second.
Seasonality: Run promotions for specific HVAC services based on the upcoming season. For example, you can generate more AC repair phone calls by running a 10% off sale for AC maintenance leading up to summer.
Free Estimates: Build trust with customers with promotions like "free estimates." This approach to discounts and sales can help build authority with your local service area and get your technicians in front of customers, leading to more work.
No matter how successful your HVAC company is, it would help if you always looked for ways to add promotions and discounts to your site. There are different types of promotions that you can use to build trust with potential customers and add value to your HVAC services.
9. Build Important Pages
Your website is a collection of individual pages, and each page has it's own job. If you want to promote your home services and improve your Search Engine Optimization, you need to publish the right content on your site's most essential pages.
It's easy to miss pages on a contractor website, so here are a few pages that you need to have on your HVAC website:
Homepage: Your HVAC website's homepage is the most popular and influential page of your entire website. Your homepage aims to direct people to other pages on your site, so your homepage needs to have easy navigation and a slick website design to direct people to relevant service pages.
About Page: This page will build trust and show your company's history. Showcase your company's experience, awards, and build a personal connection with team member information.
Services: Build out detailed service pages like AC services, fireplaces, and home heating services to help customers find the HVAC services they need. This structure not only helps your customers, but it also helps SEO to drive more website visitors.
Specials: This page is a great way to highlight special pricing and discounts for budget-conscious customers. You'll want to spread promotions throughout your site, but you can use the specials page as the central hub for coupons and discounts.
Contact Us: When potential customers want to contact you, they will either call you or fill out a contact form. You can build a great-looking contact page to generate more calls and emails.
The best HVAC websites have the information your customers are looking for with proper web design to make each page of the site look great. You can add different pages to your contractor website, but you should have the five pages listed above as a minimum starting point.
Grow Your HVAC Business With A Great Website Today!
Your HVAC website is a vital part of your overall marketing strategy. Your site needs to get found by search engines, look great for customers, and facilitate conversions through phone calls, emails, and store visits.
The best HVAC website design brings all the elements together seamlessly, so your customers find the information they need and build trust, so they take action. Website design goes beyond just colors and shapes on your site- you will need a professional HVAC website company to help you capture as much market share as possible.
Bringing all of these elements together can be difficult, but following the nine HVAC web design tips listed above, you will be on your way to generate more leads and grow your sales!
HVAC Website FAQs