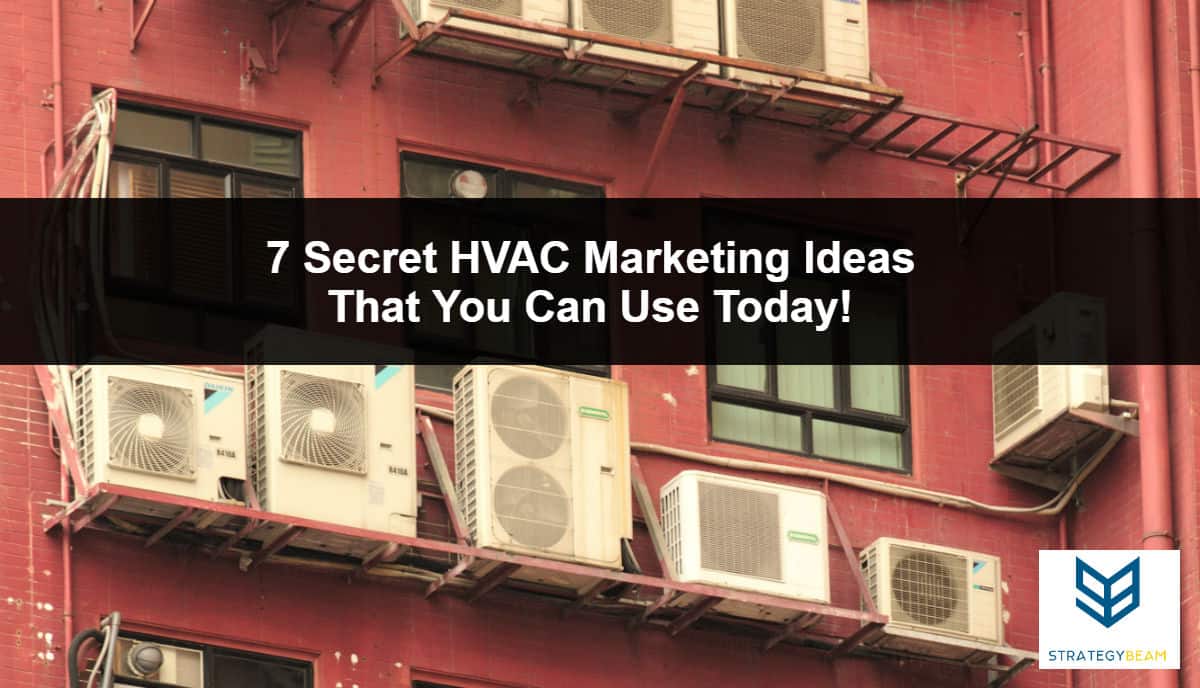 As an HVAC business owner, you're no stranger to the challenges of drumming up new business. You've poured your heart and soul into servicing your area and doubled down on every strategy to gain an edge over your competition.
However, many HVAC contractors find it increasingly difficult to stand out against their competition, especially when dealing with products that customers often buy reluctantly.
You invest in ongoing training for your team and spend a lot of time and resources to keep your financials in check. But if you find yourself constantly thinking that you are missing out on leads, you should think through ways to improve your marketing strategy.
With that said, let's look at some of the best HVAC marketing strategies you can use to grow your business today!
What is HVAC marketing?
HVAC marketing is all about promoting your heating, ventilation, and air conditioning services to the right people at the right time. It's about making sure your business is the first one that pops into people's minds when their AC breaks down on a hot summer day or their heating system fails in the middle of winter.
This involves many strategies, from traditional methods like print ads and direct mail, to digital tactics like SEO, social media, and email marketing.
The key is understanding your customers, their needs, and how they search for HVAC services. Then, you tailor your marketing efforts to reach them effectively. It's not just about selling, it's about building relationships and trust. Here is a quick look at a description of different marketing channels and how each once can help your HVAC business:
| | | |
| --- | --- | --- |
| HVAC Marketing Channel | Marketing Channel Description | Problems Addressed & Customer Reach |
| HVAC Website | A well-designed website serves as your digital storefront, showcasing your services, expertise, and customer testimonials. | It addresses the need for online visibility and credibility. It reaches customers who search online for HVAC services. |
| Google Ads | Paid Google Ads help you appear to users searching for HVAC services on Google. | It addresses the need for immediate visibility in search results. It reaches customers actively searching for HVAC services. |
| Local Service Ads | Google's platform for local businesses, where you only pay for leads related to your HVAC services. | It addresses the need for local visibility and lead generation. It reaches customers in your service area. |
| Google Business Profile | A free tool that lets you manage how your business appears on Google Search and Maps. | It addresses the need for local visibility and reputation management. It reaches customers searching locally for HVAC services. |
| SEO Marketing | Techniques to improve your website's ranking in organic search results for HVAC-related queries. | It addresses the need for long-term online visibility. It reaches customers who use search engines to find HVAC services. |
| Social Media Marketing | Using platforms like Facebook, Instagram, and Twitter to engage with customers and promote your services. | It addresses the need for customer engagement and brand awareness. It reaches a broad range of customers, especially younger demographics. |
| Direct Mailers | Sending physical mail, like postcards or flyers, to potential customers in your service area. | It addresses the need for local visibility and direct marketing. It reaches customers in your service area, especially those less active online. |
| Email Marketing | Sending promotional or informational emails to a list of customers and prospects. | It addresses the need for customer retention and repeat business. It reaches customers who have already shown interest in your services. |
| YouTube Videos | Creating and sharing videos about your HVAC services, tips, and customer testimonials. | It addresses the need for customer education and engagement. It reaches a broad range of customers, especially those who prefer video content. |
Understand how your customers search for you
Understanding how your potential customers search for services is crucial in choosing the right marketing strategy.
It's important to understand who you want to reach and how they search for your HVAC services before you invest in a marketing strategy because this information allows you to meet your customers where they are and provide them with the information they need, when they need it.
Consider what platforms your customers use so you can invest in those channels for your marketing plan. Are they more likely to search on Google, ask for recommendations on social media, or respond to direct mailers?
Once you understand these behaviors, you can tailor your marketing strategy to match. For example, if most of your customers search on Google, invest in SEO and Google Ads.
If they're active on social media, focus on building a strong presence there. Remember, the key is to be where your customers are.
Foundations of any HVAC marketing plan
The cornerstone of any HVAC marketing plan lies in fostering trust with potential customers, allocating a realistic marketing budget, and prioritizing swift response times.
These fundamental elements create a solid base, setting the stage for a successful, customer-centric marketing strategy without delving into specific tactics.
Build trust with potential clients
Building trust with potential customers is a cornerstone of any successful HVAC marketing plan. Everything you do in your marketing plan needs to focus on building trust with potential customers to encourage them to call, visit, or email your business.
Trust is built through consistent, high-quality interactions at every touchpoint. From the moment a potential customer lands on your website, reads a review, or sees an ad, they're forming an impression of your business.
Your marketing plan should focus on showcasing your expertise, reliability, and commitment to customer satisfaction. Highlight your certifications, share customer testimonials, and provide valuable content that helps customers understand their HVAC systems better.
Your customers will need to spend a pretty penny to repair or replace their HVAC unit, and they want to know that they are getting the best deal possible. You can present your business in the best light by investing in the right marketing channels (as we discussed in the previous section) with high-quality content that connects with your customers.
Set a marketing budget
Since you don't have unlimited money and resources you need to invest your marketing dollars in a way that will maximize return on your investment (ROI). This means that you need to understand how much you can spend in total, and then divide that amount up between various marketing channels that you think will reach the right people at the right time.
Your marketing budget will vary based on a number of factors like the size of your operating area, services, and target audience, but a good place to start is by determining what percentage of your revenue you're willing to invest in marketing.
For many businesses, this ranges from 5-10%. However, if you're a newer business looking to establish your brand, you might consider allocating a higher percentage.
Next, consider your marketing goals. Are you looking to attract new customers, retain existing ones, or both? Different goals may require different budget allocations.
Then, look at the cost of different marketing channels. Digital marketing strategies like SEO and social media might require less upfront cost but more ongoing effort, while traditional marketing like direct mailers might have higher initial costs but less maintenance.
Finally, remember that your budget isn't set in stone. You will need to adjust your marketing budget based on seasonality and if you need to shift funds between marketing channels.
Focus on quick response times
when a customer's AC or heating system breaks down, they need help fast. The quicker you respond, the more likely you are to win their business.
Now, how does this tie into your HVAC marketing strategy? Well, it's all about positioning your business as reliable and responsive. This can be achieved through various marketing channels.
For instance, on your website, highlight your commitment to fast response times. Use customer testimonials that praise your quick service. In your Google Ads or Local Service Ads, include phrases like "rapid response" or "immediate service."
Also, consider investing in digital tools that can help you respond faster. This could be anything from an online booking system to a chatbot on your website.
It's important to remember that no matter how good your marketing strategy is you will lose money if you don't respond to your customers immediately. You and your sales team will need to respond to leads that you generate, so there will be shared responsibility with your sales team to close leads that your HVAC marketing strategy generates.
What is the most effective marketing strategy for HVAC?
The most effective marketing strategy for HVAC businesses hinges on understanding your target audience's needs and preferences. It's about crafting a compelling message that resonates with them, and delivering it through the right channels at the right time.
Let's look at the 7 best HVAC marketing strategies that you can use today to generate more leads and improve your online presence.
1. Reach local customers with your Google Business Profile
Local HVAC marketing is key to running a successful HVAC marketing campaign. While most other industries want to reach as many people as possible, your HVAC marketing ideas need to be focused on grabbing your local customers' attention.
Your HVAC company likely serves your local community, making local SEO the perfect marketing channel to generate more leads. Local SEO is a specialized type of Search Engine Optimization (SEO) that helps you reach people close to your business and service area.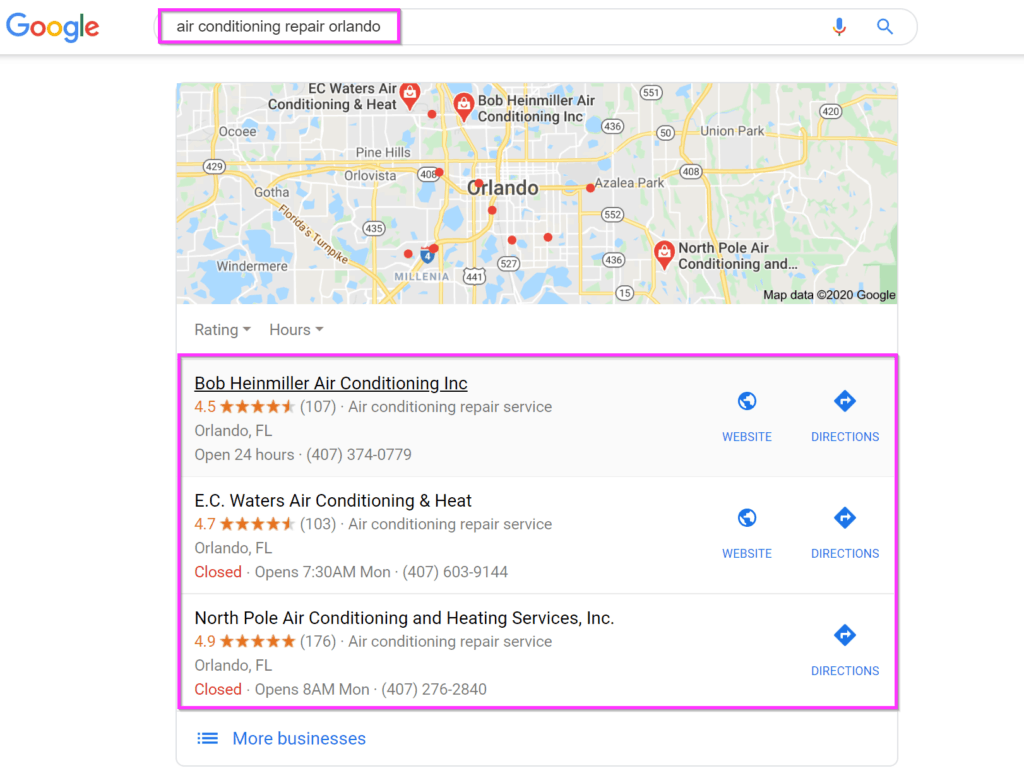 You will need to do the following if you want to enjoy the benefits that come from local SEO:
Add contact information to all pages: Google and other search engines use your Name, Address, and Phone Number (NAP) to list your company on local SEO directories. Make sure each page on your website has your correct contact information.
Add your business to local directories: Search engines use citations from local directories to list your information in local SEO listings. Be sure you claim your listings and generate citations in the top local directories for the best results.
Setup and optimize google my business: Google My Business (GMB) is one of the best ways to experience the benefits of local SEO for your HVAC marketing strategy. GMB allows your business to appear near the top of search results and is a great way to get found by local customers
Use Local Business Schema: Schema markup code is a way to help customers find your business by providing search engines with descriptions of your company. This information is interpreted by search engines and can help you stand out from your competition.
Create local content: Your HVAC company serves your local community, and you can use your area of operation to your advantage by creating local content in your HVAC marketing strategy. Local content is similar to general content, but this type of content uses specific terms and information relevant to your local customer base.
What does GBP do for an HVAC company?
GBP is a free tool that helps HVAC companies manage their online presence across Google, including Search and Maps. It allows you to display crucial business information, respond to reviews, and share updates. GBP can enhance your local visibility, build credibility, and attract more customers.
What are the benefits of local SEO for HVAC contractors?
Local SEO helps HVAC contractors increase their visibility in local search results. It's beneficial for attracting customers in your service area who are searching for HVAC services.
Local SEO can improve your online presence, drive more organic traffic to your website, and ultimately lead to more service calls and bookings.
What does it take for local SEO to work for HVAC?
Reviews are essential for any business selling a product or service. Think about how you shop online or choose a show to watch online- you likely check out the number of reviews and the number of stars they have. Reviews and testimonials show that your company is trustworthy, and you can use these reviews to fuel your local HVAC marketing strategy.
It's also been shown that HVAC advertising campaigns with more reviews boost engagement for local SEO and other HVAC marketing strategies.
You can use local SEO to show up at the top of organic listings in the Map Pack, along with reaching local customers. This is a coveted area of SERPs because it shows business locations near you and helps you stand out from your competition.
Local SEO is an integral part of HVAC advertising for your local HVAC business. Even if you serve several areas, you can use local SEO to place your business at the top of search engines, improving your visibility for your audience.
2. Run Google Ads for HVAC advertising
Most owners don't know how to find HVAC jobs regularly, but that doesn't have to be the case. You can build targeted HVAC ads through Google Ads to supercharge your HVAC marketing strategy, and this platform is a proven way to generate more HVAC leads.
Your HVAC advertising strategy needs to be based on generating more HVAC leads from qualified & local customers. Having someone contact your company who lives hundreds of miles away doesn't make much sense because your team won't help that HVAC lead. This means that your HVAC marketing ideas should work with geotargeting strategies to limit the HVAC marketing budget only to push your advertising to recipients near you.
Google Ads and Google Local Service Ads are some of the most effective parts of any HVAC marketing strategy.
Google Ads is a Pay Per Click marketing platform that allows you to tailor a unique message based and target your ads based on several variables like specific keywords, audience demographic, and geographic location.

Google Ads offers a wide range of benefits for HVAC marketing, and HVAC contractors can use Google ads to drive more sales and calls. Here are a few of the benefits that HVAC companies enjoy with Google Ads:
Efficient cost & high roi: You only spend money when someone clicks on your HVAC ads. This means that you won't waste money on unqualified leads, and you can optimize HVAC PPC ads to reach and convert.
Level the playing field: Unlike other HVAC marketing strategies, Google Ads offers you a level playing field with larger competitors. You have the opportunity to outrank the most prominent HVAC players in your area with an optimized Google Ads campaign.
Excellent data: HVAC contractors have access to fantastic analytics and data sets that can help you optimize your campaigns.
Targeted ads: Since your HVAC business serves specific areas, you can use Google Ads to deliver specialized messages to specific geographic areas. This means that you can allocate resources only to reach the audience that is likely to convert.
Ad Extensions: Along with customized ad messages, you can also use specific snippets called Ad Extensions to increase your ads' visibility. HVAC contractors can use Ad Extensions to help reach more customers and generate more HVAC leads.
One of the best features for Google Ads with HVAC advertising is that you can insert your phone number, location, and specific messaging on each ad. These factors give you an unbelievable amount of control over what you say and who you say that message to.
How much does Google Ads cost for an HVAC company?
The cost of Google Ads for an HVAC company varies based on factors like competition, keywords, and geographic location.
On average, cost-per-click in the HVAC industry can range from $10 to $50. However, remember that you only pay when someone clicks on your ad. It's important to work with a PPC specialist to help you build the best Google Ads possible since you pay Google each time someone clicks on your ads.
What should you include in your HVAC Google Ads?
Your HVAC Google Ads should include relevant keywords, a compelling headline, a clear description of your services, and a strong call-to-action.
Also, consider using ad extensions to provide additional information like your location, phone number, or special offers.
What types of services do best with Google Ads for HVAC?
Emergency services, like AC repair or furnace repair, often do well with Google Ads.
These are services that people need immediately and are likely to search for online. Seasonal services, like AC installation in the summer or furnace maintenance in the fall, can also be effective.
3. Use HVAC Google Local Service Ads
As we discussed earlier, your HVAC marketing strategy needs to focus on how to get your company in front of qualified local prospects. While Local Service Ads are not offered in all markets, you can use Google Local Service Ads to generate more local HVAC leads and drive your HVAC advertising on a modest budget.
Google Local Service ads are another HVAC marketing idea offered by Google to help HVAC contractors reach their customers. This ad type is only offered in specific areas, and for particular industries, with HVAC being one of the few industries this marketing tactic is available for.
Like traditional HVAC ads, Google Search ads appear whenever a customer types in a specific search query. These ads can be difficult to set up, so you will want to work with an HVAC marketing company to help you complete the process. Once established, you will find that Google Local Service Ads are a cornerstone of your local HVAC marketing strategy.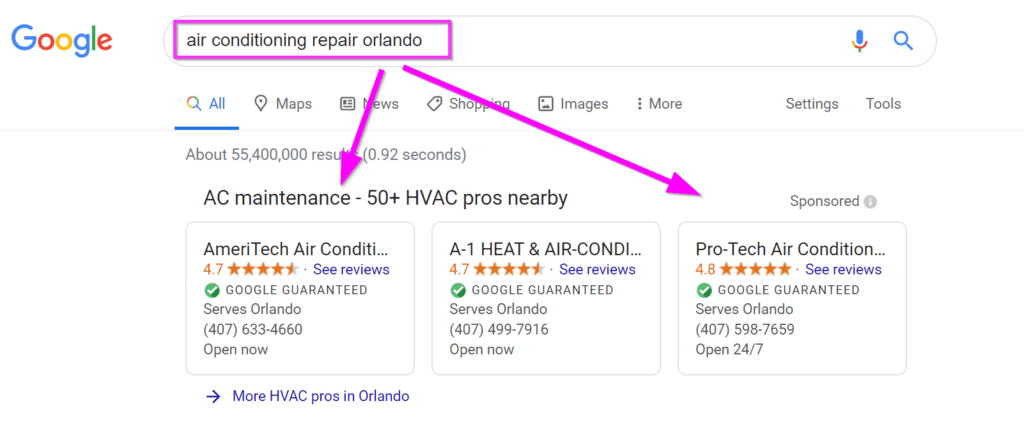 This advertising platform positions your company above traditional PPC ads. Google Search ads are an excellent way for HVAC contractors to drive more leads because each ad shows critical information to drive a conversion like:
Business Name
Phone Number
Operating Hours
Number of Ratings & Customer Reviews
You will have to check if your geographic area is available for Google Local HVAC ads, and it is essential to know that the process to set these ads can be difficult.
However, if you power through the tedious steps to activate your account, you will see that these ads can help you drive qualified leads and find more HVAC jobs!
Why should an HVAC company run Local Service Ads?
Local Service Ads help HVAC companies reach customers in their service area who are actively looking for HVAC services. These ads are designed to generate leads, making them a valuable tool for businesses seeking to expand their local customer base.
You can use local SEO to show up at the top of organic listings in the Map Pack, along with reaching local customers. This is a coveted area of SERPs because it shows business locations near you and helps you stand out from your competition.
Are Google Local Service Ads worth it for your HVAC business?
Google Local Service Ads can be a cost-effective way to generate leads. You only pay when a potential customer contacts you directly through the ad, making it a high-value investment for your HVAC business.
What are the benefits of Google Local Service Ads?
The benefits of Google Local Service Ads include increased visibility in local search results, the ability to connect directly with potential customers, and the Google Guarantee badge, which can enhance your business's credibility. Plus, you only pay for valid leads, making it a cost-effective advertising option.
4. Build a better HVAC website
Your HVAC website is your digital storefront, the first impression for many potential customers. It's crucial to make it user-friendly, informative, and visually appealing.
A well-designed, user-friendly website can effectively showcase your expertise, highlight your services, and provide valuable information. It also aids in building credibility, improving visibility, and facilitating customer engagement, all of which are essential for driving business growth and success.
What should every HVAC website have?
Every HVAC website should have clear information about services offered, contact details, and areas served. It should also include customer testimonials, certifications, and a compelling call-to-action to encourage potential customers to contact your team and schedule an appointment.
How can you design a good HVAC website?
Designing a good HVAC website involves a balance of aesthetics and functionality. Use professional images, easy-to-read fonts, and a color scheme that aligns with your brand.
Ensure the site is easy to navigate, with a simple menu and intuitive layout. Lastly, make sure it loads quickly – a slow website can turn potential customers away.
Make your website mobile-friendly
The majority of your potential customers use their cell phones and tables to search for HVAC services, so you need to make sure that your HVAC website is mobile-friendly.
Building your website with a focus on mobile use will enhance user experience, increases accessibility, and can significantly boost your search engine rankings, thereby attracting more potential customers.
Include social proof throughout your website
Showcasing testimonials, reviews, and case studies on your website can build trust and credibility. This social proof can influence potential customers' decisions, making them more likely to choose your HVAC services.
5. Publish great HVAC blog content
Blogging is one of the least used HVAC marketing tactics, and this means that you can use blogs to help you stand out from your competition, get found in Google, and increase trust with customers. You should write about specific HVAC-related topics that matter to your local market. Think about what your customers already do, where they shop, and their actions based on the season, and write content to help them!
SEO copywriting is vital to blog writing because you want to write content that engages with your audience and triggers search engine algorithms. This is not an easy task, but with some practice, you can hit the goal. However, you may want to hire a writer to help you get to your goal faster while focusing on your business.
If you want to take blogging one step further, you should add local keywords to each post and connect that blog to other content on your HVAC website.
This will help you get found by your local audience, which can help lead to more local HVAC leads. It can take time to maintain an HVAC blog, but if you pull it off, then you will enjoy lots of benefits like:
Improve your authority and trust among HVAC clients.
Answer specific questions that your customers are searching for.
Increase Organic Traffic with keywords and relevant content.
Complements your social media efforts.
Include blog content into your HVAC local SEO strategies.
You can use content marketing and blogging to drive your HVAC advertising because you can write content around your customers' questions about HVAC services. You can blog about topics related to your products and services and then tie connect the answers that your customers are looking for with your solutions.
Since your customers turn to search engines to answer specific questions, you can write content to address their needs and questions. As an HVAC contractor looking to find more HVAC jobs, you can use blogging to attract qualified leads by showing that you have experience and knowledge in the areas that your audience is looking for.
It is important to know that blog writing can be difficult for many business owners. Instead of spending hours writing blog content, you could hire a professional blog writer to produce and optimize content for you. The choice is yours, but you choose to run an HVAC blog, you will see long-term benefits that you would not see otherwise!
6. Use YouTube to build your brand & trust
Female partners in a household make most HVAC-related decisions, and you can use YouTube and short videos to help build your brand and generate more local HVAC leads. Videos are a great way to build trust with prospective customers, and depending on your budget and goals, you can integrate YouTube into your HVAC marketing strategy.
YouTube is one of the world's largest search engines, and you can use its reach and popularity to help drive your HVAC advertising strategy. Over 80% of U.S. consumers use YouTube daily, and you can use YouTube to get in front of your audience.
Not only is video a great way to share information with your customers (similar to HVAC blogging), but you can also use this visual medium as a way to build trust and authority with your customers. The great thing is that your YouTube videos can be used in other areas of your business- this means that each video you make has even more value, and you can place videos in areas like:
Add YouTube videos to your HVAC blog posts.
Upload videos to YouTube, Vimeo, and even directly to your website for maximum exposure.
Use video content in social media posts, Google My Business, and other advertising platforms.
Place videos on popular service pages, About Us pages, and Contact pages. These help build a relationship with viewers.
Most HVAC contractors use YouTube to share short videos about their staff, their products, and even complete HVAC jobs. Along with traditional YouTube videos, you can also use paid YouTube ads to reach a targeted audience based on demographics, location, and interest.
YouTube is a relatively inexpensive HVAC marketing idea that you can use to grow your business. While this medium is not as direct as Google Ads, you can integrate YouTube into your larger marketing strategy and approach this channel like you would T.V. commercials.
If you have not tested or looked at your HVAC company's YouTube marketing, then now is the time to see if this marketing channel is good for your needs!
7. Use email marketing to build recurring HVAC jobs
You put a lot of time and energy into marketing your HVAC company, and you need to put just as much effort into keeping your current customer base engaged. While email marketing is not one of the sexiest or most exciting HVAC advertising ideas, it is one of the most cost-efficient and effective marketing strategies that an HVAC contract can use.
You should gather contact information about each customer as you close HVAC jobs and get leads. This information is priceless because it allows you to reach out directly to each client before and after completing the job.
Since your customers will need HVAC services each year, like A.C. maintenance, you can set customers up in special mailing lists based on your provided original job and service.
For example, if you recently installed a new A.C. unit for a customer, you can set them up on an email list that will send them helpful information about new A.C. maintenance. Plus, you can also send them an email automatically at the same time next year, reminding them about your A.C. maintenance plans and the benefits.
If you really want to bring your HVAC marketing strategy to the next level with email marketing, then you can send out monthly emails to all of your clients (or select customers based on their needs) with relevant information, guides, and links to recent blog posts.
All of these ideas are powered through email marketing, and this marketing strategy is a great way to boost your bottom line and engage with your audience naturally and beneficially!
Power up your HVAC marketing strategy today!
It can be hard to generate new HVAC leads and close sales in the HVAC industry. We work with HVAC companies around the U.S., and each company is unique. Whether you are a small, independent HVAC company, or a more significant business with multiple locations, you can use the above HVAC marketing ideas to drive more business and grow your company.
Unlike traditional advertising like newspaper and radio (which are excellent HVAC lead generators by the way), you can use digital marketing ideas to advertise your HVAC company in a low-cost and high-impact manner.
The Internet is always changing, along with the needs of your customers. Be sure to use some of the above HVAC marketing ideas to help your company grow and outpace the competition!
HVAC Marketing FAQs
Even if you have a limited marketing budget, you can use 7 easy HVAC marketing strategies:
Use Local Search Engine Marketing
Run Google Ads For HVAC Advertising
Use HVAC Google Local Service Ads
Gather Lots Of Customer Reviews For Trust & HVAC Marketing
Publish Great HVAC Blog Content
Use YouTube To Build Your Brand & Trust
Use Email Marketing To Build Recurring HVAC Jobs
You should focus your HVAC marketing on reaching local customers. This means that you can use Google Ads, Facebook Ads, and local SEO to drive qualified leads and calls even on a limited budget!
Growing a small HVAC company can be difficult, but if you focus on your local audience, improve your sales process, and customize your offers in different seasons, you will find lots of success!