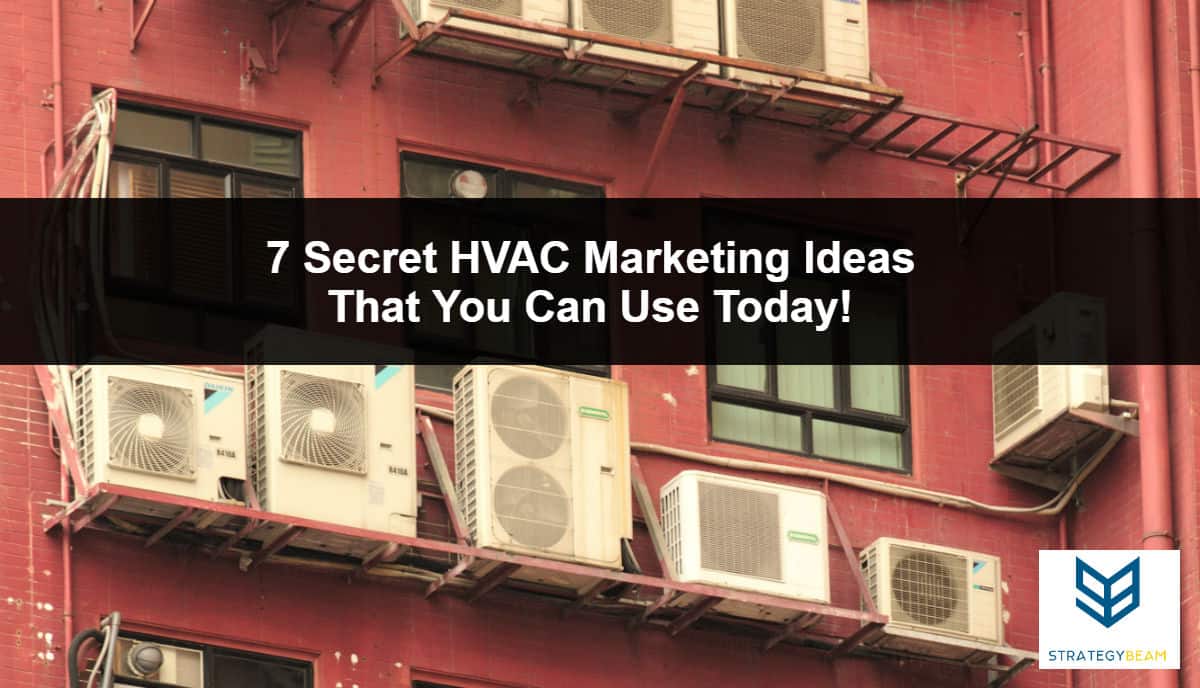 Proven HVAC Marketing Strategies To Boost Leads & Sales
Running an HVAC business is no easy task, but the good news is that HVAC is one of the best type of business that you can have. Whether the economy is booming, or through an economic recession, HVAC companies tend to do well if they have a strong brand presence and use HVAC advertising ideas to dominate their market. We will cover seven of the best HVAC marketing ideas that you can use today to land more HVAC lead, including:
Use Local Search Engine Marketing
Run Google Ads For HVAC Advertising
Use HVAC Google Local Service Ads
Gather Lots Of Customer Reviews For Trust & HVAC Marketing
Publish Great HVAC Blog Content
Use YouTube To Build Your Brand & Trust
Use Email Marketing To Build Recurring HVAC Jobs
While you need to have excellent technicians and offer a quality service, you can use various HVAC marketing strategies to improve your online presence, generate more leads, and close more sales.
If you are only using the Yellow Pages or phone book to generate leads, then you are missing out! There are so many (free or cheap) HVAC marketing ideas that you can use right now to increase the reach of your business.
Let's take a look at the 15 best HVAC marketing ideas that you can use to grow your business today!
1. Use Local Search Engine Marketing
Local HVAC marketing is key to running a successful HVAC marketing campaign. While most other industries want to reach as many people as possible, your HVAC marketing ideas need to be focused on grabbing the attention of your local customers. There are a number of aspects that go into affordable local SEO packages, but you can generate lots of qualified calls and more foot traffic with local HVAC marketing campaigns.
Your HVAC company likely serves your local community, and this makes local SEO the perfect marketing channel to generate more leads. Local SEO is a specialized type of Search Engine Optimization (SEO) that helps you reach people within close proximity to your business and service area.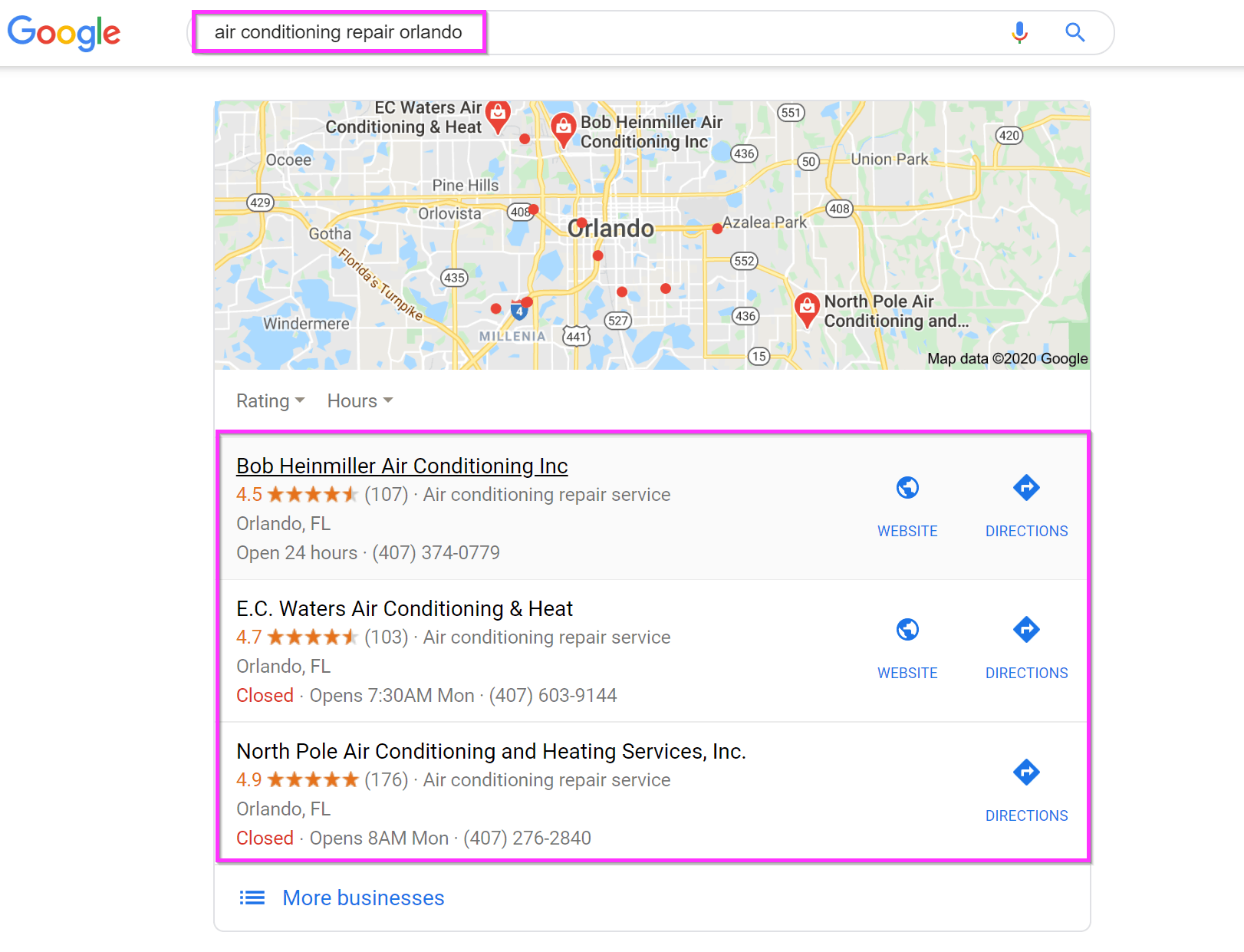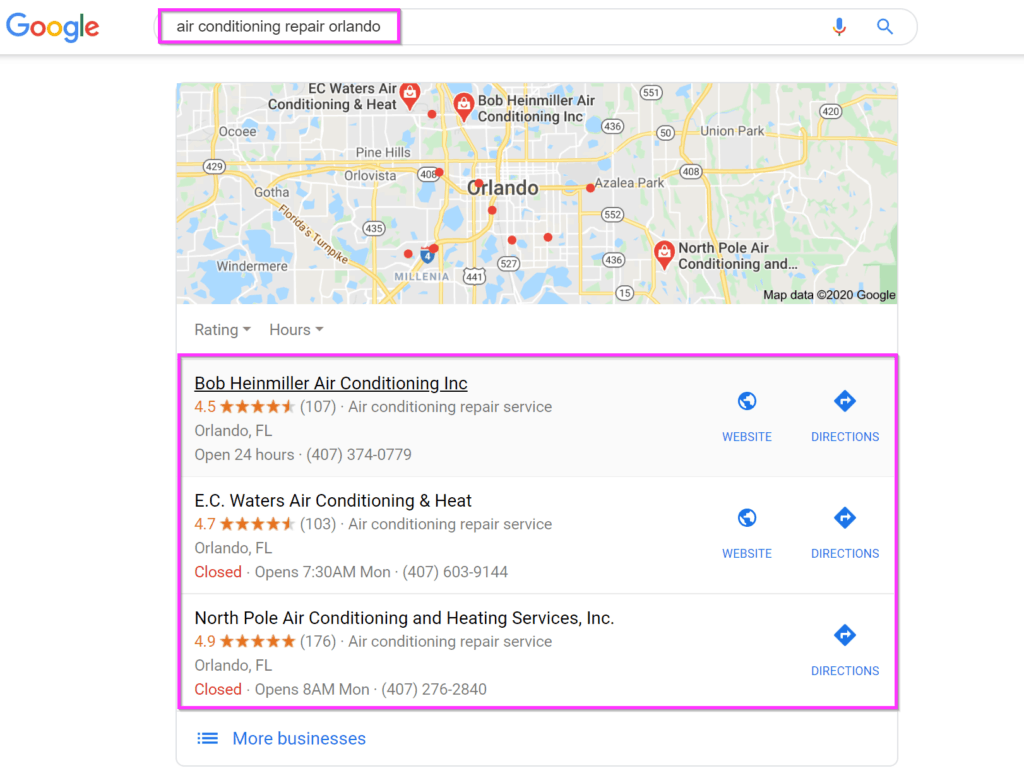 Along with reaching local customers, you can use local SEO to show up at the top of organic listings in the Map Pack. This is a coveted area of SERPs because it shows business locations near you and helps you stand out from your competition.
You will need to do the following if you want to enjoy the benefits that come from local SEO:
Add Contact Information To All Pages: Google and other search engines use your Name, Address, and Phone Number (NAP) to list your company on local SEO directories. Make sure each page on your website has your correct contact information.
Add Your Business To Local Directories: Search engines use citations from local directories to list your information in local SEO listings. Be sure you claim your listings and generate citations in the top local directories for the best results.
Setup and Optimize Google My Business: Google My Business (GMB) is one of the best ways to experience the benefits of local SEO for your HVAC marketing strategy. GMB allows your business to appear near the top of search results and is a great way to get found by local customers
Use Local Business Schema: Schema markup code is a way to help customers find your business by providing search engines with descriptions of your company. This information is interpreted by search engines and can help you stand out from your competition.
Local Link Building: One way to help your HVAC company stand out in SERPs is to build links from local publications. These links help search engines understand the services you offer, and local links provide context for the geographic area that you operate in.
Generate More Reviews: Gathering lots of user reviews should be the foundation of your HVAC marketing strategy. Not only do reviews help you rank in local SEO, but reviews also help you build trust and social proof that can be a deciding factor when closing more HVAC leads.
Create Local Content: Your HVAC company serves your local community, and you can use your area of operation to your advantage by creating local content in your HVAC marketing strategy. Local content is similar to general content, but this type of content uses specific terms and information that is relevant to your local customer base.
Local SEO is an integral part of HVAC advertising for your local HVAC business. Even if you serve several areas, you can use local SEO to place your business at the top of search engines, and this can improve your visibility for your audience.
2. Run Google Ads For HVAC Advertising
Most owners don't know how to find HVAC jobs on a regular basis, but that doesn't have to be the case. You can build targeted HVAC ads through Google Ads to supercharge your HVAC marketing strategy, and this platform is a proven way to generate more HVAC leads.
Your HVAC advertising strategy needs to be based on generating more HVAC leads from qualified & local customers. Having someone contact your company who lives hundreds of miles away doesn't make much sense because your team won't be able to help that HVAC lead. This means that your HVAC marketing ideas should work with geotargeting strategies to limit HVAC marketing budget to only push your advertising to recipients near you.
Google Ads and Google Local Service Ads are some of the most effective parts of any HVAC marketing strategy.
Google Ads is a Pay Per Click marketing platform that allows you to tailor a unique message based and target your ads based on a number of variables like specific keywords, audience demographic, and geographic location.


Google Ads offers a wide range of benefits for HVAC marketing, and HVAC contractors can use Google ads to drive more sales and calls. Here are a few of the benefits that HVAC companies enjoy with Google Ads:
Efficient Cost & High ROI: You only spend money when someone clicks on your HVAC ads. This means that you won't waste money on unqualified leads, and you can optimize HVAC PPC ads to reach and convert.
Level Playing Field: Unlike other HVAC marketing strategies, Google Ads offers you a level playing field with larger competitors. You have the opportunity to outrank the most prominent HVAC players in your area with an optimized Google Ads campaign.
Excellent Data: HVAC contractors have access to fantastic analytics and data sets that can help you optimize your campaigns.
Targeted Ads: Since your HVAC business serves specific areas, you can use Google Ads to deliver specialized messages to specific geographic areas. This means that you can allocate resources to only reach the audience that is likely to convert.
Ad Extensions: Along with customized ad messages, you can also use specific snippets called Ad Extensions to increase the visibility of your ads. HVAC contractors can use Ad Extensions to help reach more customers and generate more HVAC leads.
One of the best features for Google Ads with HVAC advertising is that you can insert your phone number, location, and specific messaging on each ad. These factors give you an unbelievable amount of control over what you say and who you say that message to.
While Google Ads is one of the best HVAC marketing ideas you can use to generate calls, leads, and sales, you should be aware that the value of Google Ads is how you set up and optimize your campaigns.
3. Use HVAC Google Local Service Ads
As we discussed earlier, your HVAC marketing strategy needs to focus on how to get your company in front of local qualified prospects. While Local Service Ads are not offered in all markets, you can use Google Local Service Ads to generate more local HVAC leads and drive your HVAC advertising on a modest budget.
Google Local Service ads are another HVAC marketing idea offered by Google to help HVAC contractors reach their customers. This ad type is only offered in specific areas, and for particular industries, with HVAC being one of the few industries this marketing tactic is available for.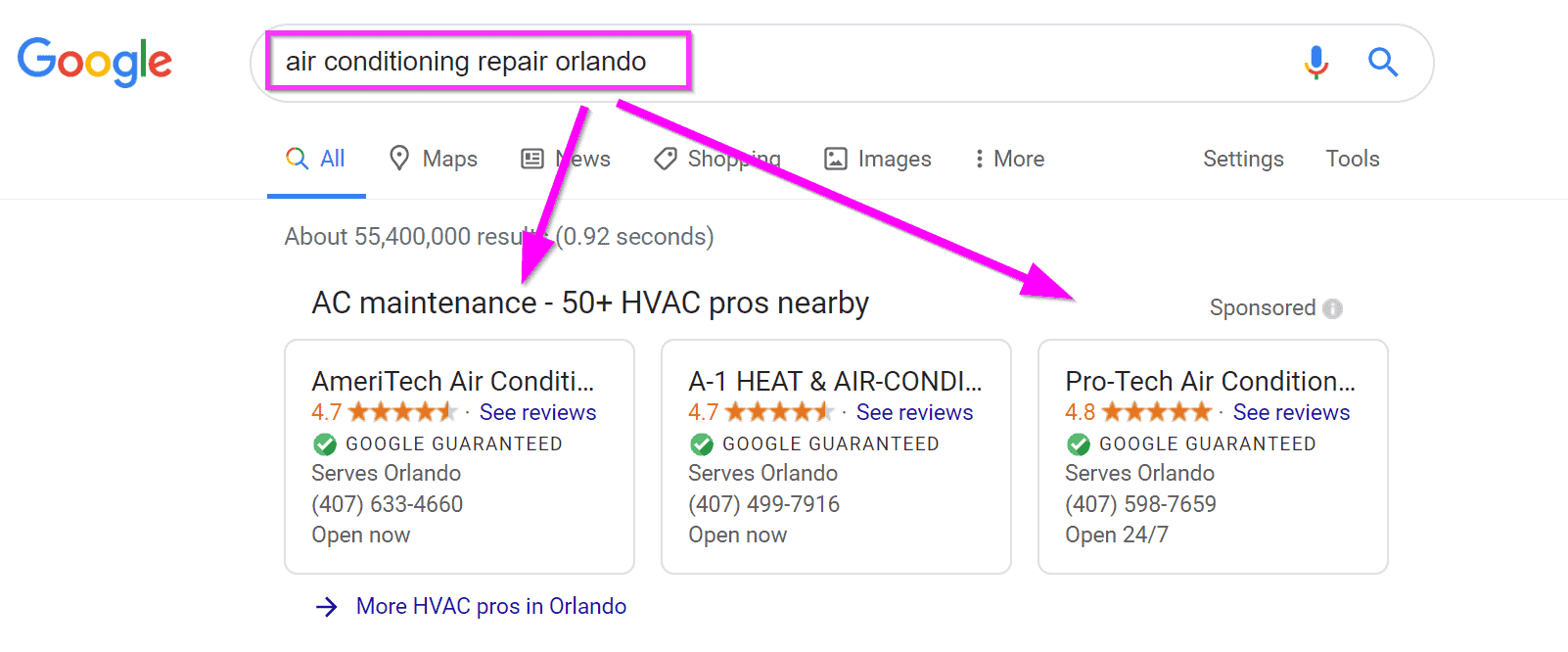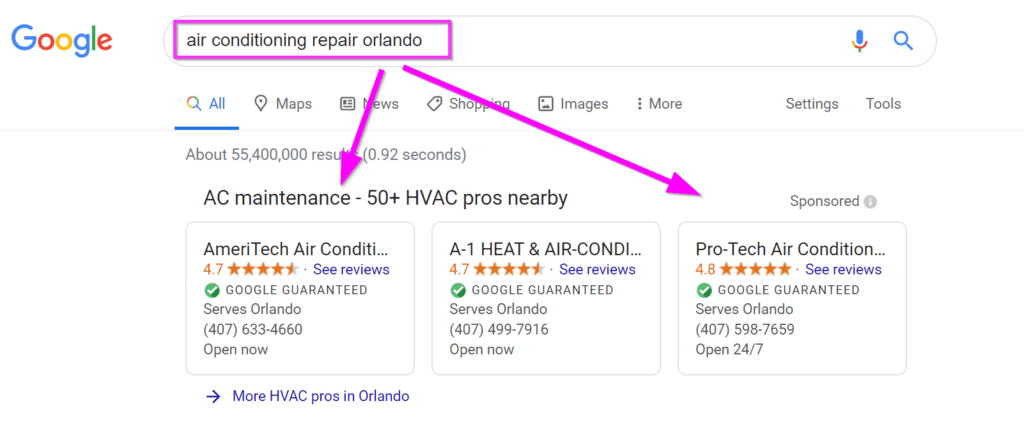 Similar to traditional HVAC ads, Google Search ads appear whenever a customer types in a specific search query. These ads can be difficult to set up, so you will want to work with a HVAC marketing company to help you complete the process, but once established you will find that Google Local Service Ads are a cornerstone of your local HVAC marketing strategy.
This advertising platform positions your company above traditional PPC ads. Google Search ads are an excellent way for HVAC contractors to drive more leads because each ad shows critical information to drive a conversion like:
Business Name
Phone Number
Operating Hours
Number of Ratings & Customer Reviews
You will have to check if your geographic area is available for Google Local HVAC ads, and it is essential to know that the process to set these ads can be difficult.
However, if you power through the tedious steps to activate your account, you will see that these ads can help you drive qualified leads and find more HVAC jobs!
4. Gather Lots Of Customer Reviews For Trust & HVAC Marketing
Reviews are essential for any business selling a product or service. Think about how you shop online or choose a show to watch online- you likely check out the number of reviews and the number of stars they have. Reviews and testimonials show that your company is trustworthy and you can use these reviews to fuel your local HVAC marketing strategy.
Unlike other HVAC marketing ideas on this list, you will use reviews to support your other marketing efforts. The reviews won't be able to generate more HVAC leads on their own, but you can insert reviews and testimonials on your site, PPC ads, and other areas to speak volumes. It's also been shown that HVAC advertising campaigns with more reviews boost engagement for local SEO and other HVAC marketing strategies.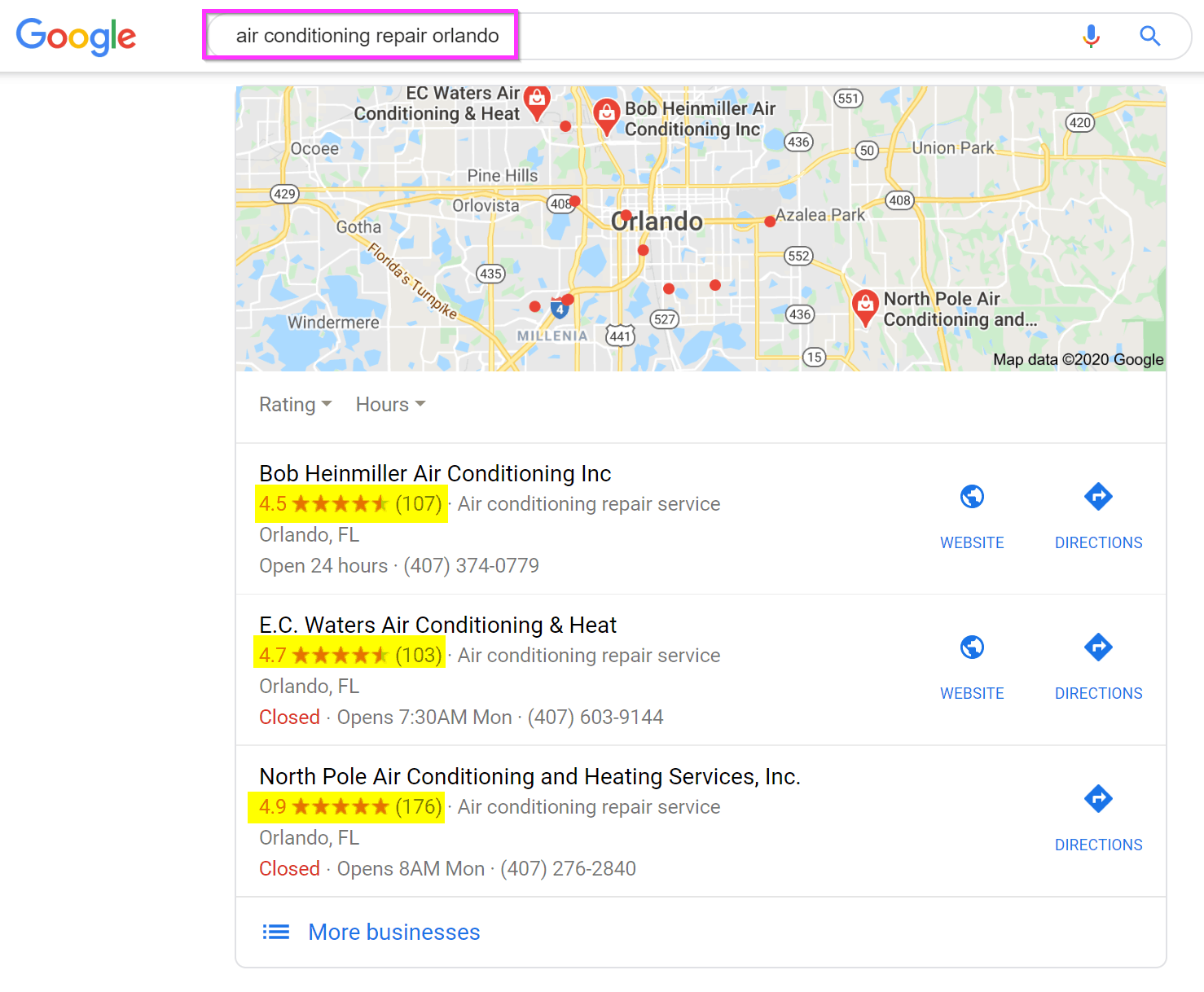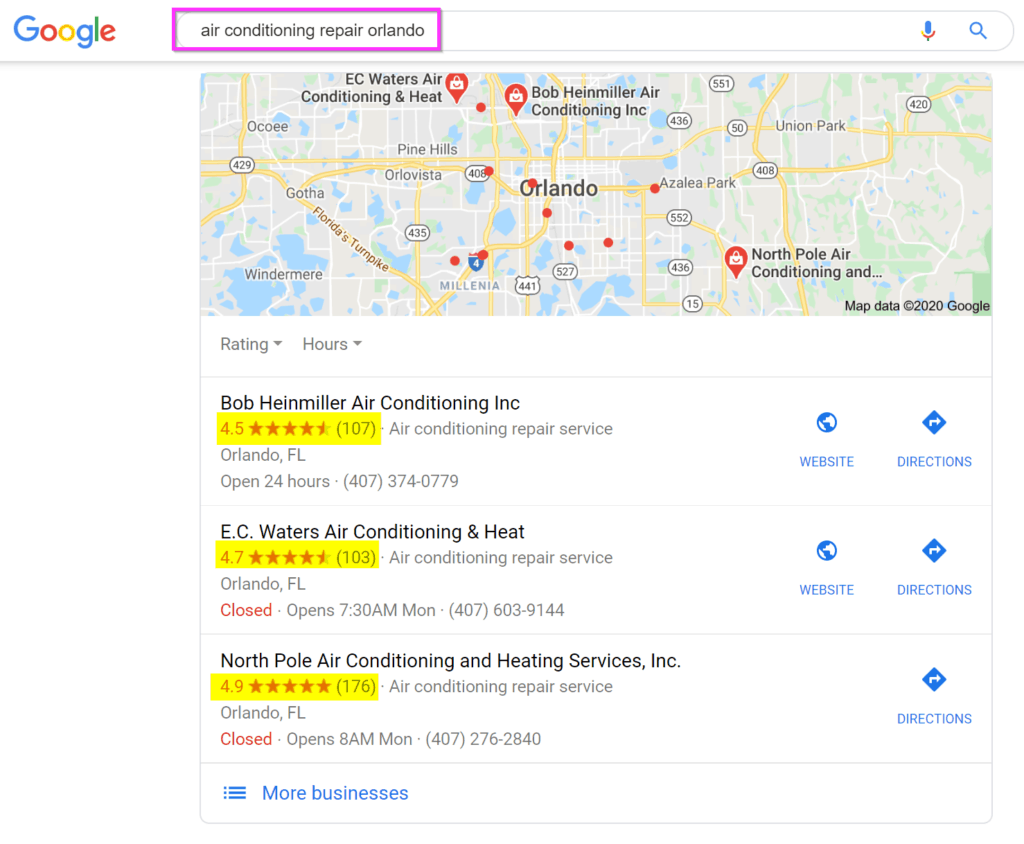 This is even more important for HVAC contractors because about 85% of customers look at online reviews to make a purchasing decision. As you can see, reviews are an essential part of your HVAC marketing strategy, and you can use customer reviews to show the value you offer and help customers choose your HVAC services over your competition.
One of the best ways to generate more customer reviews is to reach out to past and current customers to discuss their experience. Many HVAC companies have automated reputation management that sends out emails once a project is completed.
No matter how you communicate with your customers, you should get as many customer reviews as possible on Google and other platforms to help your company stand out today!
5. Publish Great HVAC Blog Content
Blogging is one of the least used HVAC marketing tactics, and this means that you can use blogs to help you stand out from your competition, get found in Google, and increase trust with customers. You should write about specific HVAC-related topics that matter to your local market. Think about what your customers already do, where they shop, and the actions they take based on the season and write content to help them out!
If you want to take blogging one step further, you should add local keywords to each post. This will help you get found by your local audience, and this can help lead to more local HVAC leads. It can take time to maintain an HVAC blog, but if you pull it off then you will enjoy lots of benefits like:
Improve your authority and trust among HVAC clients.
Answer specific questions that your customers are searching for.
Increase Organic Traffic with keywords and relevant content.
Complements your social media efforts.
Include blog content into your HVAC local SEO strategies.
You can use content marketing and blogging to drive your HVAC advertising because you can write content around questions that your customers have about HVAC services. You can blog about topics that are related to your products and services, and then tie the connect the answers that your customers are looking for with your solutions.
Since your customers are turning to search engines to answer specific questions, you can write content to address their needs and questions. As an HVAC contractor looking to find more HVAC jobs, you can use blogging as a way to attract qualified leads by showing that you have experience and knowledge in the areas that your audience is looking for.
It is important to know that blog writing can be difficult for many business owners. Instead of spending hours writing blog content, you could hire a professional blog writer to product and optimize content for you. The choice is yours, but however, you choose to run an HVAC blog, you will see long-term benefits that you would not see otherwise!
6. Use YouTube To Build Your Brand & Trust
Most HVAC-related decisions are made by female partners in a household, and you can use YouTube and short videos to help build your brand and generate more local HVAC leads. Videos are a great way to build trust with prospective customers and depending on your budget and goals, you can integrate YouTube into your HVAC marketing strategy.
YouTube is one of the largest search engines in the world, and you can use the reach and popularity to help drive your HVAC advertising strategy. Over 80% of U.S. consumers use YouTube on a daily basis, and you can use YouTube to get in front of your audience.
Not only is video a great way to share information with your customers (similar to HVAC blogging), but you can also use this visual medium as a way to build trust and authority with your customers. The great thing is that your YouTube videos can be used in other areas of your business- this means that each video you make has even more value, and you can place videos in areas like:
Add YouTube videos to your HVAC blog posts.
Upload videos to YouTube, Vimeo, and even directly to your website for maximum exposure.
Use video content in social media posts, Google My Business, and other advertising platforms.
Place videos on popular service pages, About Us pages, and Contact pages. These help build a relationship with viewers.
Most HVAC contractors use YouTube to share short videos about their staff, their products, and even how to complete HVAC jobs. Along with traditional YouTube videos, you can also use paid YouTube ads to reach a targeted audience based on demographics, location, and interest.
YouTube is a relatively inexpensive HVAC marketing ideas that you can use to grow your business. While this medium is not as direct as Google Ads, you can integrate YouTube into your larger marketing strategy and approach this channel like you would T.V. commercials.
If you have not tested or looked at YouTube marketing for your HVAC company, then now is the time to see if this marketing channel is good for your needs!
7. Use Email Marketing To Build Recurring HVAC Jobs
You put a lot of time and energy to market your HVAC company, and you need to put just as much effort into keeping your current customer base engaged. While email marketing is not one of the sexiest or exciting HVAC advertising ideas, it is one of the most cost-efficient and effective marketing strategies that an HVAC contract can use.
You should gather contact information about each customer as you close HVAC jobs and get leads. This information is priceless because it allows you to reach out directly to each client before and after the job is complete.
Since your customers will need HVAC services each year like A.C. maintenance, you can set customers up in special mailing lists based on the original job and service that you provided.
For example, if you recently installed a new A.C. unit for a customer, you can set them up on an email list that will send them helpful information about new A.C. maintenance. Plus, you can also send them an email automatically at the same time next year, reminding them about your A.C. maintenance plans and the benefits.
If you are really want to bring your HVAC marketing strategy to the next level with email marketing, then you can send out monthly emails to all of your clients (or select customers based on their needs) with relevant information, guides, and links to recent blog posts.
All of these ideas are powered through email marketing, and this marketing strategy is a great way to boost your bottom line and engage with your audience in a natural and beneficial manner!
Power Up Your HVAC Marketing Strategy Today!
It can be hard to generate new HVAC leads and close sales in the HVAC industry. We work with HVAC companies around the U.S., and each company is unique. Whether you are a small, independent HVAC company, or a more significant business with multiple locations, you can use the above HVAC marketing ideas to drive more business and grow your company.
Unlike traditional advertising like newspaper and radio (which are excellent HVAC lead generators btw), you can use digital marketing ideas to advertise your HVAC company in a low-cost and high-impact manner.
The Internet is always changing, along with the needs of your customers. Be sure to use some of the above HVAC marketing ideas to help your company grow and outpace the competition!