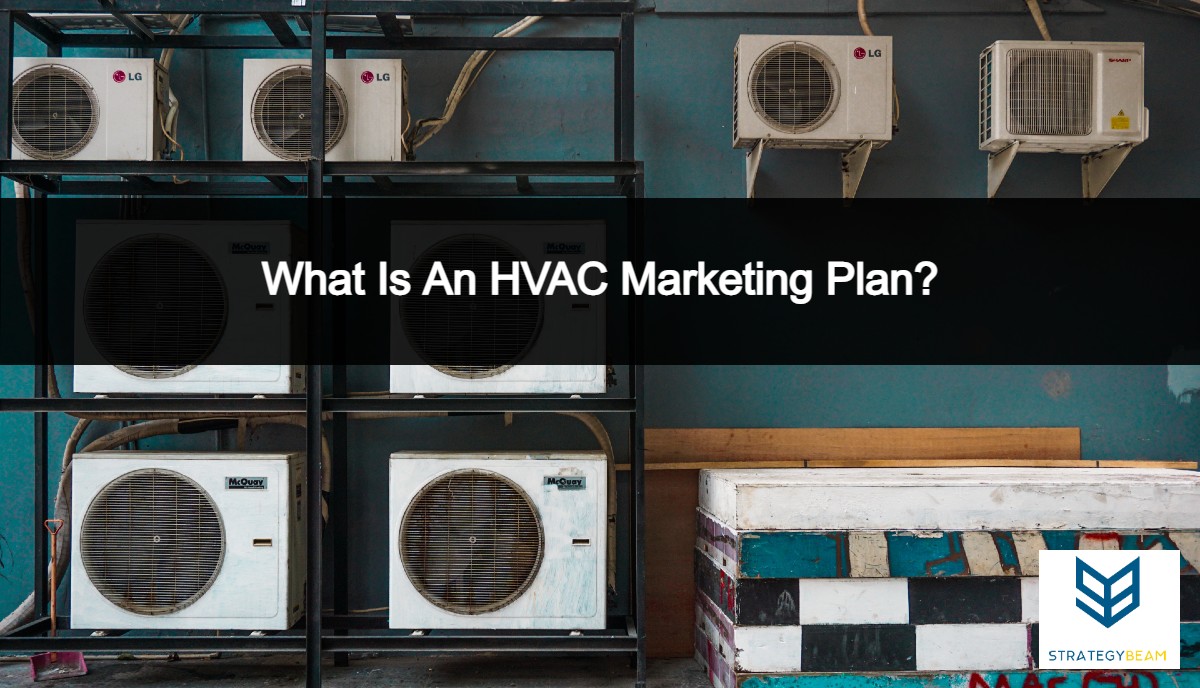 In this blog post, we will talk about the importance of marketing for HVAC companies, and how a marketing plan can help you increase leads and sales throughout the year.
You may not think that your company needs to make a significant investment in marketing because you are already established and have built up loyal customers over time.
However, it is challenging to grow your business and keep up with the competition without a well-crafted marketing plan. With our help, you can develop an effective strategy for all areas of your HVAC business!
What Is An HVAC Marketing Plan?
An HVAC marketing plan is a set of guidelines that will help you reach your goals. It includes what to expect and how much money and time it may take to see results from the strategy. There are many reasons to focus on HVAC advertising, like:
You want to engage with more customers for a specific product/service that you offer.
You want to attract more qualified leads from a specific geographic area (town, city, state, etc.)
You want to level out slow seasons with additional offers or services.
Identify different HVAC marketing ideas and channels to use throughout the year.
Gone are the days where your HVAC business can rely on a phone book or Yellow Pages to drive customers to call your sales team. Your company will need a marketing plan that includes traditional advertising, social media, and other online avenues in this digital world.
How Can I Develop A Marketing Plan?
An HVAC marketing plan is an essential part of your company's growth. To start, think about the goals you want to accomplish and when you would like them to happen.
Then break down how much money should be budgeted for each aspect of the marketing process (ads, social media) to meet those goals and what type of time commitment it will require from employees or on-demand freelancers. Depending on the complexity of your campaign, you can expect the cost to run an advertising campaign is often as much as it costs to manage that campaign.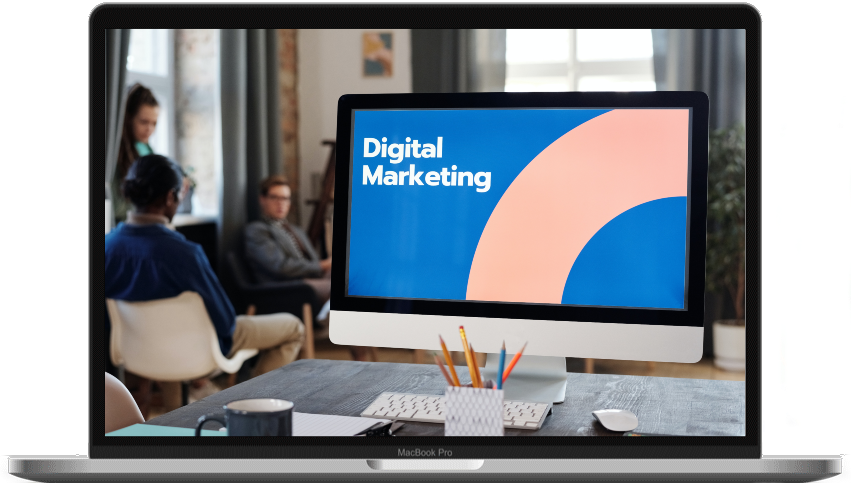 Your HVAC company needs to remain at the top-of-mind of homeowners with content marketing, email marketing, and Google Ads to drive more HVAC leads throughout the year.
Your online presence will get a boost with the right HVAC marketing ideas, plus you will build a customer base that will need your services throughout the year.
Let's look at a few ways your local business can generate more high-quality referrals and leads with the right HVAC marketing strategy today!
1. Optimize Your HVAC Website To Rank Higher
An excellent HVAC website can be your best salesperson. It's not enough to just set up a site with HVAC SEO keywords on it and wait for customers to find them. You need to appear at the top of a Google search for specific terms based on your HVAC services and customers' needs in your service area.
To get in front of more potential clients, ensure that your company has at least one page explicitly dedicated to each HVAC service you offer (air conditioning repair, air conditioning installations, furnace installations, etc.). These pages can help drive lead generation efforts by making your site easier to read for search engines and potential customers.
No marketing campaign is complete without a robust website with the right content to get found in organic searches. Ensure your HVAC website and content marketing efforts are optimized to get the most out of your marketing efforts today!
2. Get Your HVAC Company On Social Media
Social media is a great place to stay connected with your current & potential customers! You must take advantage of any HVAC company social media profiles, as well as other online marketing opportunities.
You can use social media marketing to share information about the variety of services offered at your business, online feature reviews, and publish pictures to gain the trust of potential customers. Adding testimonials to your social media pages is a great way to build your business listings and bolster your digital marketing strategy throughout the year.
Marketing for HVAC businesses seems like an overwhelming task – but if you break it down into smaller pieces and work through each step one by one before moving onto the next, then success will be yours in no time.
3. Drive Qualified Leads With PPC Ads
Pay-per-click advertising is another great way to get more leads coming in for your HVAC business. Google Ads appear at the top of search results, and these text ads help you stand out from your competitors, and they can help you secure more HVAC clients throughout the year.
This type of digital marketing allows you to select the keywords that people are using when they're looking for HVAC related services, and then bid on those terms so every time a person searches for them online (within Google), your company will show up at the top of their search results.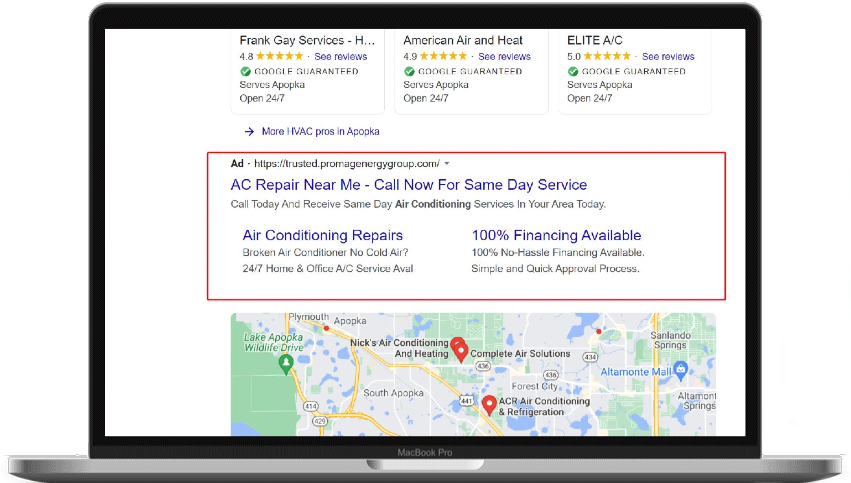 While you have to pay for each click when appropriately managed, HVAC PPC marketing can deliver a high return on investment, so be sure to hire a professional to ensure you don't waste any ad budget throughout the year.
The only thing with this approach is that it takes some trial and error – there are no one-size-fits-all solutions! So be sure to try out different ads until you find what brings in qualified new clients most effectively; otherwise, like any other marketing strategy, PPC will eventually stop being effective if visitors don't click through or convert as desired.
4. Google Local Service Ads
Local service ads are another excellent way to get more qualified leads coming in for HVAC businesses. These particular types of ads appear to people in your service area and help your small business stand out from the competition.
You can include a trackable phone number in each ad to drive traffic to your business page. The ads are only available for specific industries, and they are not available in all markets, so be sure to talk to a professional to see your options.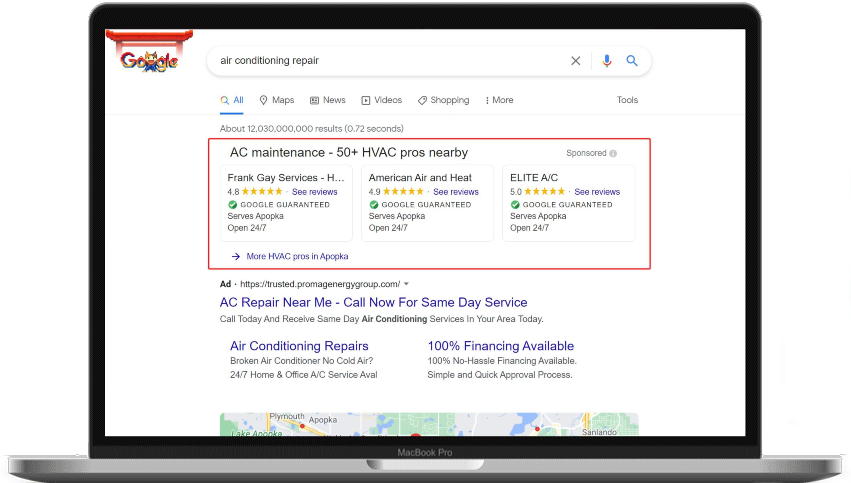 5. HVAC Local SEO Strategies
Local SEO is an excellent way to generate leads for your HVAC business because this type of digital marketing strategy puts a primary focus on the needs of potential customers in your service area.
You can use various tactics on social media platforms and business directory sites to power up your Google My Business profile. A strong GMB profile will get you found in Google Map Pack, which can improve your online presence and drive more qualified leads to your business throughout the year.
Seasonal Peaks & Valleys In The HVAC Market
You need to consider many factors to build a solid digital marketing strategy throughout the year. Seasonality may not be the only thing that affects your HVAC business or directs your customers' needs. There are also peaks and valleys in demand for heating, cooling, plumbing services, and electrical work.
I am building an effective marketing plan that takes trends into account to help prepare company resources like funds and HVAC contractor availability.
For instance, during peak season, marketing requires you to have enough personnel on standby so there won't be any lapses in customer service when it's time for busy periods with many new customers coming through the door.
The same goes for a low season. It's essential to have marketing strategies to help attract your target audience when they are most receptive and interested and how you will get the word out about any seasonal specials or promotions available during this time of year.
Build An HVAC Marketing Budget That Makes Sense
It doesn't matter what your marketing goals are – if you don't have the budget to cover them, then it isn't going to happen! It's essential that when creating a marketing plan for HVAC, business owners take into account how much money they want their company to spend on advertising and related efforts.
Suppose there is not enough budget allocated in an early part of the year, for instance. In that case, this could become very problematic during peak times where more customers are calling or visiting stores looking for AC services.
Due to seasonality shifts, you likely won't need to spend the same amount of money on your marketing strategy each month throughout the year. Some months will require you to spend more money promoting a specific product/service, while others won't require as much money as your messaging and target audience shifts.
An intelligent marketing strategy goes beyond simply writing PPC ads or posting a blog post because your HVAC marketing strategy should be built around the needs of your business and customers.
Constantly Monitor Your HVAC Marketing Plan Throughout The Year
Monitoring your marketing plan is crucial to make any necessary changes if they're needed. For example, you must constantly monitor the conversion rate on PPC ads, check for new opportunities, and ensure that your advertising budget equates to more sales.
The best HVAC marketing strategies are those that work for your company's specific goals and objectives. That means it might be necessary to test various ideas before coming up with one that works (or at least better than what was happening before).
It is also essential to constantly monitor your plan throughout the year – monitoring conversion rates, analyzing website traffic stats, looking for new opportunities, etc. That way, you can make any necessary changes if they're needed!