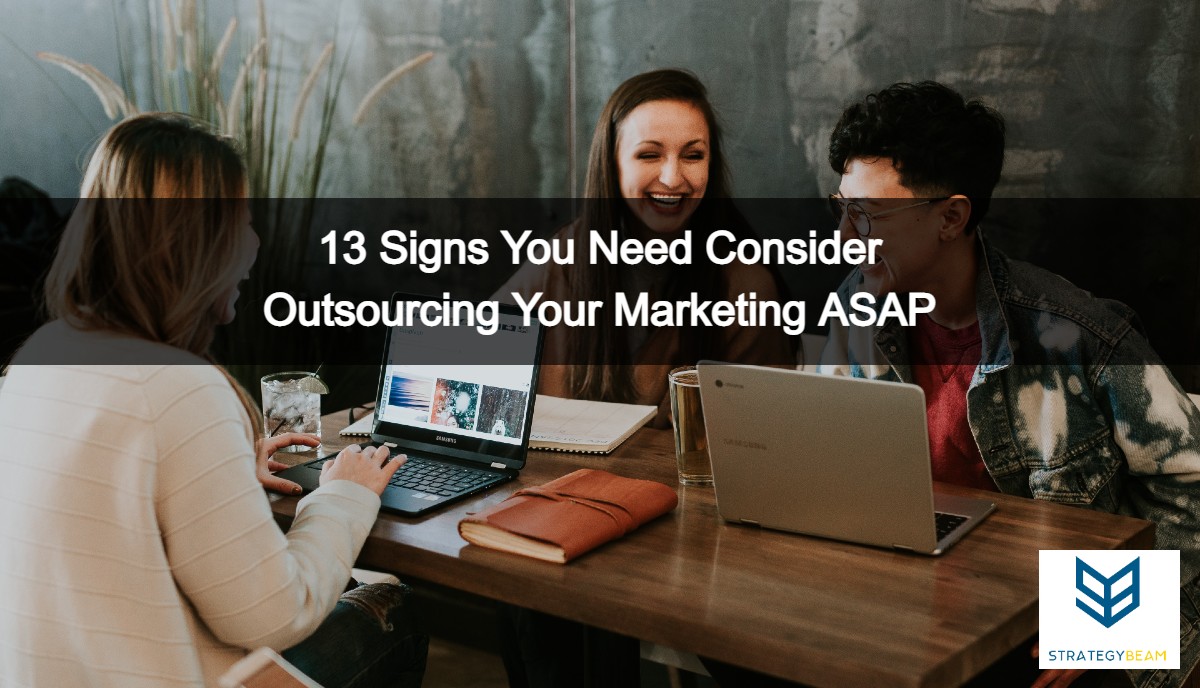 What Is Outsourced Marketing?
If you're a marketing director or small business owner, you might consider outsourcing your marketing department instead of building a traditional in-house team of marketing experts.
There are a lot of factors to weigh when making this decision, but ultimately it comes down to cost and efficiency.
Marketing is a critical part of any business, but it can be expensive to keep an in-house team. Outsourced marketing can save you money and help you get the best results.
However, choosing a reputable outsourced marketing firm that will work with you to achieve your goals is essential.
Hiring content writers, social media managers, or graphic designers is one way to outsource your marketing. These external parties are experts at what they do.
They are available to take marketing responsibilities off your hands and even give you more control over your business success when compared to full-time employees.
Freelancers and outsourced content marketing agencies are excellent sources of knowledge and experience for any marketing project, big or small. You can decide how much or how little you'd like to outsource.
With an outsourced content marketing agency, you're in great hands! You can partially or fully outsource, which means they'll take over your entire marketing strategy and keep you on the right path.
In the past, we've discussed the benefits of outsourced marketing and how to pitch outsourced marketing to your leadership. But today, we want to discuss ways to determine if you need to consider outsourcing your marketing ASAP.
What Type Of Businesses Usually Outsource Marketing?
As a marketing director or small business owner, you must take every competitive advantage to get ahead of the competition. One way to do this is with outsourced marketing solutions to reduce costs, improve competitiveness, and drive sales.
The fact of the matter is that your small business may not have the resources that your large competitors have to hire an entire in-house team, so how can you compete with the "big guys" in the market?
Sure, you can try to take on all marketing initiatives yourself, but you run the risk of burnout and failing to meet your goals.
Neither option is a good one.
Instead, you can turn to outsourced marketing solutions and freelancers to control your company's costs by paying for the services you need–and nothing more. A marketing agency will help you find the best strategy for your brand's needs and budget.
Think about it… when you outsource your marketing projects to a professional, you save a lot of money and resources compared to an in-house employee, like:
You're reducing the costs of facilities and technology you would otherwise use for an in-house team.
Hiring in-house also means you're looking at paying more for employee benefits such as insurance and 401 K.
You need additional staff like HR and payroll to oversee various aspects of in-house employees.
In addition, you will likely need to hire a marketing manager to oversee the marketing department.
How Do You Know It's Time To Outsource Your Marketing?
If you're looking to boost your marketing efforts without exceeding your budget, this article is precisely what you're looking for. It's a big decision to make. How do you know you should be outsourcing?
These 13 indicators can tell you it's time to outsource your marketing efforts.
At the very least, if you say "yes" to more than three of these indicators, you should seriously consider talking to a freelancer or outsourced marketing agency to see how they can help you.
1. You Are A One-Person Team
We can all agree there's nothing better than taking a step back and admiring a hard day's work.
It's fantastic to see our skills flourish and our hard work to finally pay off, but sometimes, there's a lot of work to be done, and more than one person can handle it all by yourself.
Most marketing directors and small business owners are solopreneurs and love getting their hands dirty while also cutting costs.
While it's great to have a well-rounded set of skills and experience, running everything by yourself isn't sustainable in the long run.
Did you know that 92% of business owners feel guilty about their poor work-life balance? It's a good chance that you are part of this statistic, and if that's the case, then your business and family are suffering because you are trying to take on all the work in your business.
Even knowing this statistic, many business owners are too afraid to have other parties step in and take on tasks.
Hiring an outsourced marketing agency isn't a sign that you don't have the necessary skills or experience to tackle marketing challenges solo—it's a sign that you're using excellent external resources to build your success. While there are some risks, there are several ways to make hiring outsourced marketing services safer for your core business!
It's a sign that you prioritize your family and business over your ego and will stop at nothing to get the marketing expertise you need to reach your goals.
Outsourced marketing gives you more time to focus on running a business instead of stressing over the hands-on keyboard work that needs to be done.
Remember that your company can't grow if you're the only one working on it.
It would be best if you had a team to help you achieve great things; there's no shame in admitting that. Outsourced marketing solutions are a great way to help you reduce overhead, improve your efficiencies, and help you get the results that you need.
2. You Don't Have A Marketing Strategy
All businesses and marketing departments should have a marketing strategy to keep customers, attract potential customers, and stay ahead of competitors.
Think of a marketing strategy as the blueprint that tells the engineers, carpenters, and masons how to build a house.
Without a central strategy directing everyone along the way, your project can quickly devolve into chaos as everyone starts working out of sync.
Like an accountability buddy, a marketing strategy allows you to stay consistent in your work. Your marketing strategy should be carefully crafted and adaptable for the future while giving you a firm outline.
It can be challenging to develop a well-detailed marketing strategy if you aren't sure about trends or your audience's needs, but that still doesn't mean you should "wing it."
A marketing strategy helps keep your marketing consistent, helps you measure your ROI, and helps you use your marketing budget wisely. The bottom line is that if you want to succeed, you need to plan.
That's where the outsourced marketing agencies and hiring a freelancer come in!
Outsourcing your marketing strategy ensures that all your I's are dotted, and all your T's are crossed. Keep it consistent and make the most of your marketing efforts with their guidelines and expertise.
Freelancers and marketing agencies have the expertise and experience to build a marketing strategy and produce the content you need to fuel that strategy.
3. You Have A Limited Marketing Budget
Starting a business and growing a marketing department can be scary. And expensive…
On average, your marketing budget should be just below 10% of your total business operating budget. While it's possible to do the bulk of your marketing for free, it's not sustainable in the long run, and it can leave you scrambling to get ahead later down the road.
Your budget will be stretched thin on other requirements, like office space, utilities, and equipment needed to get the job done. Payroll takes up 25% to 50% of your budget, which can be a lot when trying to push a small business to success.
Outsourcing your marketing can address limited budgets for marketing directors and small business owners. Marketing outsourcing can provide a cost-effective solution for businesses that want to stay within their budget while still getting the professional services they need.
When you outsource your marketing, you hire another company or individual to handle all or part of your marketing tasks.
This can free up time and money you would otherwise spend on marketing projects. Outsourcing your marketing also allows you to focus on other aspects of running your business, such as developing new products or services or expanding into new markets.
In addition, outsourcing your marketing can help you to avoid the cost and hassle of hiring and training in-house staff. Ultimately, outsourcing your marketing needs can be a wise decision for businesses that want to save money and time.
4. You're Not Ready To Hire A Full-Time Employee
If you're a small business owner, chances are you're still too small to hire a full-time employee—or at least enough of them to build a dependable in-house team.
That's OK- you should grow your business at your own pace. It can be scary to hire a full-time employee since they tend to cost your business 1.25-1.4 times their salary.
This is an expensive undertaking, even for the most financially stable companies.
Outsourcing your marketing needs can be a great way to get the help you need without committing to a full-time employee.
There are several benefits to outsourcing your marketing, including access to a broader range of skills and experience and the flexibility to scale up or down as needed. Outsourcing can also save you money, as you won't have to pay for benefits or overhead costs associated with full-time employees.
This is because freelancers and outsourced marketing agencies don't require you to invest in different things like:
Background checks
Onboarding tools, software, and oversight.
Computers, cubicles, and office space.
Managers, HR, and other personnel to manage the individual contributors.
Time management software for sick time or vacation hours.
If you are worried about the financial risks associated with hiring full-time employees (and if you are, know that you're not alone), you need to consider outsourcing your marketing needs.
You can always slow down your marketing efforts when business is slow and launch another campaign when the pace picks up again. This flexibility will help you achieve long-term goals without significant issues.
5. You're Not Doing Any Marketing Activities
Time flies when you're running a business!
It can leave little to no time for other tasks that may seem simple but still need to be done.
One of those tasks is marketing. You need to constantly work on some form of marketing to ensure potential customers see your business. If you're not, then you're missing out on opportunities.
You may think that you don't have the time or resources to commit to marketing, but the truth is, if you're not doing any marketing activities, you will not see results.
Marketing activities may be the last thing on your mind when you're focused on a startup. Can you dedicate enough time to a successful marketing strategy as a business owner?
Of course, every business owner will answer differently depending on their schedules. Consider hours of operation, personal obligations, traveling plans, and anything else in your schedule that could keep you from devoting time to marketing.
Not sure where to start? That's where outsourcing your marketing can be a lifesaver.
When you outsource your marketing, you can choose which marketing activities to focus on and leave the rest to the professionals. This way, you can be confident that your
Outsourcing your marketing strategy allows you to focus on other tasks while your marketing strategy is handled by someone with only one task—marketing.
We can break that down into specifics, but the point is that a strategist or outsourced agency is devoted to your marketing strategy and will give you more space in your busy schedule.
6. Your Team Has A Skill/Knowledge Gap
Even if you have a marketing team that you are happy with, I am sure that you have identified several areas where the team lacks knowledge or specific skills that hinder your company's growth.
This is normal, and you can outsource some of your marketing needs by hiring a freelance copywriter or outsourced marketing agency to fill in the gaps.
By outsourcing, you can tap into a pool of experts who can provide the skills and knowledge you need to support your marketing initiatives. This can be especially beneficial if you're trying to implement a new marketing strategy or campaign.
Outsourcing your marketing allows you to select the exact skillset and expertise needed to keep your business growing and reach your marketing goals.
Hiring a new employee to fill in any blanks could leave you too much overlap, stretch your company's resources, and put you in a vulnerable position, especially if you need the skills and knowledge to address seasonal campaigns that won't run throughout the year.
When you bring in a freelancer or an outsourced marketing agency, you cover all your bases and give your team members the extra knowledge they need. It's an excellent opportunity for the internal team to learn something new without the expense of extra training.
7. Your Marketing Activities Are Inconsistent
When you post consistently on your blog or social media, you're building and strengthening a relationship with all customers. Building this sense of brand loyalty will allow your company to stand out from the competition and increase relevant traffic, which can result in more leads and sales.
If your marketing activities are inconsistent, you risk damaging the relationship with your target audience and losing out to your competitors.
An outsourced marketing agency will help you develop a content calendar and social media posting schedule to focus on other areas of your business while remaining active on all channels. This way, you'll never have to worry about inconsistency again.
A solid business marketing strategy and different marketing plans will help keep you on track, which an outsourced marketing agency can help with.
Marketing strategies should be kept consistent, whether it's digital or not. It's much easier to stick to a schedule with an outsourced marketing agency or freelancer in your corner to keep things neat.
Your target audience will appreciate this effort, and you'll see the payoff in your insights!
8. You Can't Take On Marketing By Yourself
A one-person marketing team could work in theory. That is, of course, assuming there are no other responsibilities to tend to outside marketing.
Marketing requires a lot of attention to detail. Creating a marketing strategy and establishing marketing goals may be a hefty task, especially without someone else to rattle ideas.
Social media management itself can eat up a lot of your time! It's essential to post at the right time, schedule posts ahead of time, and follow trends and insights to ensure you're reaching your target audience as planned.
The extended responsibilities can pile up, leaving you with inconsistent marketing and a dwindling audience.
As the leader, you should focus on KPIs and your strategy for the growth of the business. Partnering with an outsourced marketing agency lets you rest assured, knowing your marketing strategy is in good hands while you take a step back from the hands-on keyboard work.
9. You Don't Know What Your Marketing ROI Is
When was the last time you evaluated your marketing strategy? If it's been a while (or ever), consider outsourcing your marketing to get objective advice and a fresh perspective.
A new set of eyes can help identify any areas that need improvement and make necessary changes to improve the effectiveness of your marketing strategy.
A marketing ROI is a return on investment. This calculates how certain marketing projects and campaigns make money for the business.
It's essential to understand your numbers before launching any campaigns.
You can calculate your ROI by looking at the efficiency ratio, also known as the cost ratio. This is shown in terms of money generated: money spent.
If your cost ratio is 3:1, your company generated $3 for every $1 spent. An ROI ratio of 10:1 is exceptional, though the average is 5:1.
That makes sense, right?
If you're unsure of your ROI, planning efficient and successful campaigns may be a little more challenging. Knowing your ROI allows you to justify the budget and resources requested for future campaigns and other business goals.
Many factors play into calculating the ROI, meaning attention to detail is very important.
For example, if you're trying to justify the cost of new software, you're not looking at it simply as the purchase price. The actual cost was the purchase price plus any associated costs, including the time it took to train employees and the time it took to transfer any necessary data.
Because of the attention to detail, an outsourced marketing agency may be your best bet. Let an expert calculate your significant numbers and keep your marketing budget on track.
10. You Want To Try New Marketing Activities
Technology and buyer preferences are constantly changing. What worked in 2002 doesn't work today, which means we all—especially marketing managers and business owners—need to adapt.
Did you know that short-form videos have the highest ROI from any social media marketing strategy? Instagram Reels are especially popular, and 30% of social media marketers have planned to invest in this trend over any other—for the time being.
Trying a trend may be a significant investment, but what happens when you don't have the right technology? For example, let's say you're a photographer looking to branch out with your social media marketing efforts and see the trend of short-form videos.
Investing in all the tools for capturing consistent content in the form of videos may be a risk that pays off, or it may fall flat due to another trend surfacing and changing the market altogether.
Leave it to the outsourced marketing team or freelancer!
They will have the tools and necessary equipment to tackle the jobs you need to be done. Instead of paying for brand new tools and technology, trust the experienced marketer willing to partner up for projects.
11. You're Experiencing High Employee Turnover
Are you experiencing high employee turnover in your business or marketing department? If so, it may signify that you need to outsource your marketing efforts.
High turnover can be costly and time-consuming. It takes an average of 42 days to fill an open position, and the cost of a bad hire is estimated to be 30% of that person's first-year earnings.
It's essential to find the root cause of the high turnover. Is it the company culture, poor management, or unrealistic expectations?
Outsourcing your marketing may help you avoid high turnover rates and ease some tension in the workplace. You can use this opportunity to interview a few candidates and find the right fit for your business without breaking the bank.
12. You're Not Seeing Results From Your Marketing Efforts
Are you putting in the time and energy but not seeing results from your marketing efforts? If so, it may be time to outsource your marketing to someone who can help get things back on track and produce tangible results.
Many factors go into a successful marketing campaign, and it can be difficult to keep track of everything while also trying to grow your business. outsourcing your marketing efforts to a team of experts can help ensure that all the necessary elements are being taken care of and that you're seeing a return on your investment.
A good marketing agency will be able to provide you with regular reports and updates on the progress of your campaigns as well as any results achieved. This transparency will allow you to see precisely what is being done and how it benefits your business.
13. You're Ready To Grow Your Business
If you're ready to take your business to the next level, outsourcing your marketing may be the best way. Working with a marketing agency or freelancer can help you develop and implement a growth strategy that will take your business to new heights.
When you outsource your marketing, you'll have access to a team of experienced professionals who can help you with everything from market research to creating and executing a comprehensive marketing plan. They can also provide guidance and support as you implement new initiatives and change your business.
Outsourcing your marketing is an investment in your business and can be the key to taking your company to the next level. If you're ready for growth, then now is the time to consider outsourcing your marketing efforts.
Typical Outsourced Marketing Services
Are you looking for a cost-effective way to meet your marketing needs?
StrategyBeam offers outsourced marketing services that deliver the same results as an in-house marketing team, all at a fraction of the cost!
StrategyBeam doesn't just offer marketing services from blog writing and SEO, to website copywriting to PPC management. We offer business solutions to keep your brand on a path to success.
Let us deliver high-quality content to build and maintain brand loyalty while you focus on KPIs and managing your business.
Our services come wrapped in holistic strategy with regular meetings and expert guidance. With 25 years of combined experience, StrategyBeam always hits the mark in marketing.
Reach out today to witness the benefits of outsourcing firsthand!