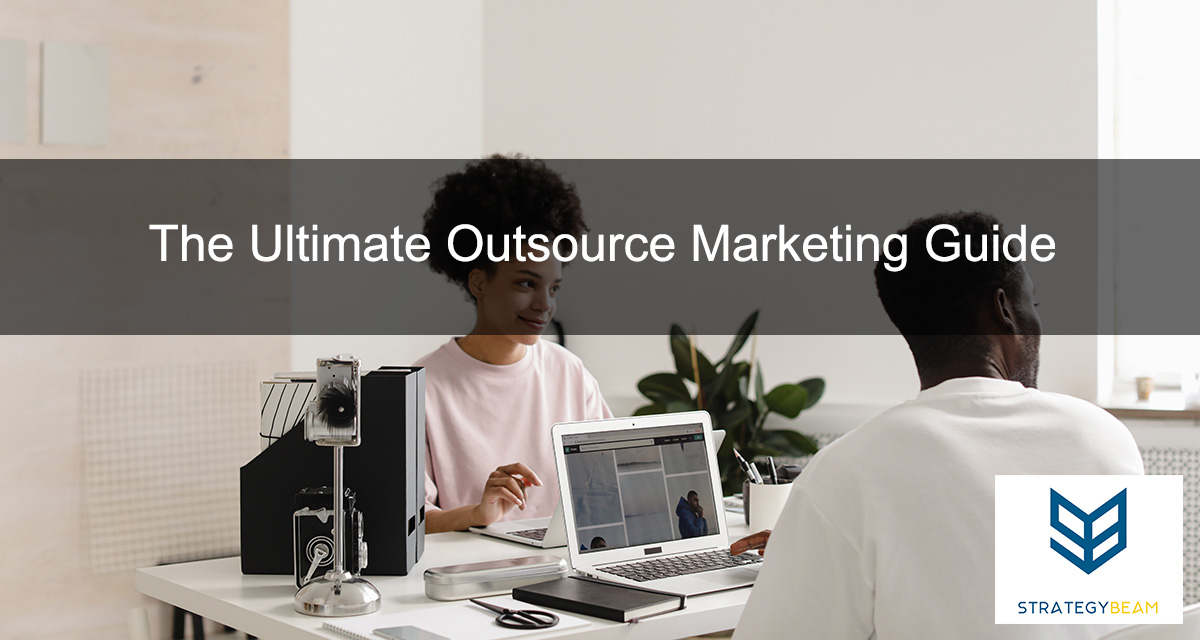 What Is Outsourced Marketing?
Outsourced marketing is an innovative approach to marketing where a company or marketing department outsources its marketing initiatives to an outside marketing agency.
Marketing Directors and small business owners typically outsource their marketing needs when they want to limit their financial risk by outsourcing their marketing needs instead of hiring in-house employees.
Marketing initiatives like social media, blog writing, and paid advertising can be outsourced to a trusted marketing agency. You can also outsource your marketing strategy to an agency, and they will direct all marketing efforts across your business instead of individual deliverables.
Outsourced marketing opens up several business opportunities for your marketing department or business that would not otherwise exist due to limited time and resources.
Now that we have a basic understanding of outsourced marketing let's look at how you can determine if it can benefit your business.
Is Outsourcing Marketing Right For Your Business?
Whether you are a Marketing Director who needs to grow your team without the headaches of hiring full-time staff, or a small business owner who lacks the resources to support an entire marketing team, you can get the same results at a fraction of the cost with outsourcing digital marketing.
As we saw in the previous section, outsourcing your marketing needs is a great way to free up capital and improve your operations simultaneously.
If you are trying to grow your marketing efforts in less time and with less capital investment, you should consider outsourced marketing over hiring in-house employees. In addition, you should outsource your marketing if you don't have the support staff to oversee a team of in-house marketers.
Outsourced marketing is ideal for businesses that want to remain as lean and competitive as possible.
Let's look at the top three reasons companies outsource their marketing efforts so you can understand where your business or marketing needs fit into this solution.
Learn what's driving your traffic
Go beyond just great content. Start ranking higher today with our comprehensive content strategy session. No obligation necessary!
Let's Go!
1. Hiring An In-House Marketing Team Is Costly For Your Business
Researching, hiring, and training a full-time employee can significantly drain your time and resources. This is especially true if you are a Marketing Director of one or you are a small business owner who can't commit time to training a marketing team as you try to drive sales and grow your business.
Along with draining your time as you try to find and onboard an in-house employee, full-time staff costs your business more than you think. Many business owners only consider an employee's salary or hourly pay and forget the additional overhead those employees incur.
Things like computers, sick time, and 401k are "hidden costs" of in-house marketing teams that most Marketing Directors and business owners overlook when considering the actual cost of hiring in-house employees.
A recent SBA report found that most employees cost a company 1.25 to 1.4 times their salary. This means that for an employee that gets paid $43,750, your business is paying that person is costing your company $49,000.
When hiring an in-house marketing team, you need to consider the additional overhead costs that employees will incur and the wasted time and resources through the onboarding process.
Hiring an employee brings many material and opportunity costs with it. Outsourced marketing is an ideal solution if you are not in a position where you want to incur those costs but still need to achieve your business goals.
2. Your Current In-House Marketing Strategy Doesn't Work
Another way to know that you should outsource your marketing initiatives is if your current marketing strategy is not working. Ask yourself if you consistently achieve your sales goals, drive qualified leads to your site, and if your marketing campaigns are paying for themselves.
While your current marketing team is excellent, you might find they are missing a few pieces of knowledge or skills to deliver the performance you need your content to achieve.
This is one of the main reasons why Marketing Directors and small business owners outsource marketing campaigns. They want to keep their in-house team but know that hiring a full-time Content Strategist or a more specialized role like a freelance copywriter can achieve their goals.
Look at your Google Analytics account to see if your content delivers the expected results. Browse your business social media accounts to see if people engage with your content. If you notice the traffic is lower than expected or conversion is sluggish, you may want to outsource your marketing needs to a marketing agency to fill in the gaps of your current team.
3. You Want To Shift Your Focus To Maximizing Growth
If you are a Marketing Director, you know that you are under constant pressure to deliver results to your leadership. Many Marketing Directors I have talked with have told me how they inherited a small team (sometimes only themselves), and they are expected to deliver immediate results with a limited (or non-existent) marketing budget.
This forces the Marketing Director or Marketing Manager to do all the work. Everything from the content strategy to the hands-on keyboard work. While this might look great to some business leaders, this is a receipt for failure because the Marketing Director's efforts will neither be effective nor efficient.
The only way to deliver results is to build and execute a marketing strategy promptly and efficiently.
Outsourced marketing is ideal for most business owners and Marketing Directors because it gives you access to experts at a fraction of the cost of hiring in-house staff.
Plus, hiring a freelancer is less involved than trying to hire a full-time employee.
This means that you can offload a lot of the tedious work of a marketing plan to professionals, so you can focus on building your strategy and driving conversions.
Outsourcing marketing services are excellent for everything from short-term projects to ongoing operational support and even supplementing your current marketing team.
It goes without saying that outsourcing your marketing needs is one of the best ways to protect your business from financial hardship while also ensuring you get the content you need to improve your online presence.
Are you struggling to grow your business?
Receive actionable advice on how to improve your website as we uncover hidden opportunities. Don't miss your chance today!
Let's Talk
How Does Outsourced Marketing Work?
Outsourced marketing is a simple principle where companies and marketing departments outsource their marketing efforts to an external marketing agency.
This external marketing agency acts like the brains and hands of its clients to ensure they get the best content possible at a great price. Some of the benefits of outsourcing your marketing needs are:
Gain access to a team of expert marketers.
Reduce overhead costs since you won't have to pay a salary or benefits to an in-house employee.
Increase the efficiency and productivity of your team since you won't have to onboard and train full-time staff.
Get more leads and customers with a coordinated marketing strategy.
Increase the ROI of your marketing campaigns as you focus on running your business.
The most common is for the outsourced company to handle all of the marketing for the original company. They'll create and execute campaigns, track results, and report back to the original company on what's working and what isn't.
There are countless benefits associated with outsourcing marketing, but you might think that all outsourced marketing agencies are sleazy, right? Besides, there are so horror stories of companies getting ripped off by unrepeatable agencies… how can you ensure that you won't get scammed by a marketing agency?
It's true.
Outsourced marketing has received a bad reputation recently as low-quality, scummy marketing agencies trick honest companies by overselling and underdelivering on promises.
This is similar to other industries like car sales, where a few bad actors have tainted the entire industry.
The good news is that there are plenty of places to find freelancers, and you will be well on your way to success if you know how to hire a freelancer.
Basic Outsourced Marketing
As the name suggests, essential outsourced marketing services are used by marketing departments and small businesses when they need specific types of content to meet their marketing strategy.
This type of outsourced marketing does not include holistic content strategy, market research, or reporting. Instead, it is generally used when you only need a specific part of your marketing strategy completed while you or your team plan your overall marketing strategy.
While basic outsourced digital marketing services won't deliver a holistic marketing plan for you to follow, this type of strategy will deliver several benefits like:
Gain access to high-quality, specialized marketers and services.
Shortened project timelines and got content delivered in less time.
Quick turnaround for specific deliverables.
Outsource one task or an entire project to a freelance specialist.
Supplement staff for short-term projects or gaps in coverage.
Essential outsourced marketing services are usually best for short-term projects or specific deliverables. Companies use outsourced marketing services to supplement their team's specific parts or cover content gaps.
For example, you might hire a freelance copywriter for a few blog posts each month, a graphic designer to update landing page templates, or a developer to place Schema on your website.
If you are looking to supplement your current marketing team or need specific marketing tasks completed, consider hiring a marketing agency to take on basic outsourced marketing needs.
Full Outsourced Marketing Department
Complete outsourced marketing department services offer end-to-end support for all of your marketing needs. With these services, a marketing agency will support you in all areas of marketing activities, from planning to production.
Instead of focusing on only delivering blog posts, PPC ads, or local SEO, an agency that provides full outsourced marketing services will help you create a complete content strategy and coordinate all of your marketing activities to help you achieve your goals.
This is a cost-effective way to get all the benefits of in-house marketing staff without building a marketing program from scratch.
Full outsourced marketing department services are more expensive than their essential outsourced marketing counterparts because this approach to marketing includes additional consulting and reporting. A few benefits of this outsourced marketing team include:
You'll have a dedicated team of marketing experts with the skill sets you to need to plan, produce, and optimize every piece of your marketing plan.
Receive a full, cohesive marketing strategy for your entire business.
Additional consulting and reporting for better insights and decision-making.
Streamlined workflows since the team handle all content creation.
Talk with a dedicated strategist who "owns" your success in all areas of your business.
Consider this strategy for outsourced marketing if you are a Marketing Director who doesn't have the time to oversee several freelancers or a small business owner who wants to see the best growth possible.
Where are your marketing blindspots?
Are leads and sales down, but not sure why? Don't guess- find out with a comprehensive dive into your website and online marketing strategy.
Let's Talk
The Advantages of Outsourcing Marketing
As a business owner or Marketing Director, you always look for ways to save time and money as you grow your business. You know that marketing is vital to a healthy business, but you likely don't know how to produce great content for lead generation to your site.
And that's O.K.!
Your business leader's job is optimizing your systems, nurturing leads, and closing sales. You should spend time writing blog posts, managing your PPC account, or fixing broken code on your website.
Your time is too valuable to work on hands-on tasks instead of building your funnel and closing more sales.
Outsourcing your digital marketing needs instead of hiring in-house employees is a great way to save time and money, as you won't have to worry about hiring and training staff or paying for advertising.
Additionally, outsourced marketing can be a great way to get fresh ideas and perspectives on your digital marketing strategy. When you work with an outsourced marketing team, you'll have access to a team of professionals with a wealth of experience and knowledge.
Your business relies on different channels to reach your audience. Each channel requires a marketing expert who understands the platform and how to get the most out of your marketing budget.
Let's look at a few ways you can utilize outsourced marketing services to grow your business today!
Outsourcing Content Marketing
When you outsource your content marketing, you hire a team of experts to handle all aspects of your content marketing. From planning, writing, and optimizing educational blog posts to publishing high-performing landing pages, your outsourced content marketing team will care for all your content marketing needs.
Considering that the average Content Strategist salary is $64,274, it goes without saying that your marketing department or business could be weighed down if you choose to hire an in-house Content Strategist.
Content is the backbone of any successful business, and you need to work with a Content Strategist who has the skills and experience needed for success. A few skills needed by a good Content Strategist include:
Market research: A good Content Strategist needs to know how to conduct market research to understand the needs of your target market. This information is crucial to prioritize content creation.
SEO: Make sure the Content Strategist you work with understands keyword research, user intent, and on-page optimizations. This information will ensure your content gets found by search engines and resonates with your audience.
Experience with different channels: A Content Strategist needs to have experience with various channels and know how to use each channel to complete a specific goal.
The Content Strategist plays a vital role in any organization. You should outsource your Content Marketing needs to a professional to ensure you get the highest ROI for your investments.
Suppose you are not in a place where you feel comfortable taking on the financial responsibility of a full-time Content Strategist. In that case, outsourcing this aspect of your business is a great option.
Outsourcing Paid Search Strategy
As online advertising costs continue to increase, one of the most popular methods for managing pay-per-click (PPC) advertising is to outsource the service to a white-label PPC provider.
Companies of all sizes have come to find that outsourcing their PPC campaigns in Google and Facebook Ads helps control costs so they can invest more into marketing campaigns.
It's easy to see why Marketing Directors and small business owners love to outsource their PPC marketing needs to an independent contractor instead of hiring an in-house employee. The average salary for a PPC Manager is around $56,582 per year!
Finding, hiring, and training a PPC Manager can be a nightmare because the platforms they work on are always changing. A good PPC Manager needs to have several skills to ensure the success of your company like:
Good with data: A good PPC Manager needs to know how to interpret lots of data in various platforms. If you operate in a competitive market, you need someone who can help guide your PPC efforts to maximize ROI.
Manage budgets: Your PPC Manager needs to know when and where to invest your marketing budget to yield the highest ROI possible.
Reporting: PPC marketing is an investment, and you need to hire a PPC Manager who knows how to report performance to make better business decisions.
Hiring a PPC Specialist is an essential step for any business. Since you pay Facebook and Google each time someone clicks on your ads, you need to ensure that your campaigns are optimized for the best performance possible.
Consider outsourcing your PPC strategy to an outsourced marketing agency if you worry that you might spend too much time training a new PPC Manager or want to spend more money on ad spend instead of paying a high salary to a full-time employee.
Outsourcing Social Media Strategy
Social media marketing is essential to any business marketing strategy because this channel gives you a direct line of communication with your target audience.
Instead of worrying about hashtags and images for specific social media posts, you can hand the keys to your social accounts over to a professional Social Media Manager. This will give you more time to grow your business and close more sales.
Along with the additional responsibilities of hiring, training, and managing a full-time Social Media Manager is the additional costs that your company will incur with the new hire. A recent study by PayScale shows that the average Social Media Manager salary costs a company around $53,085 annually.
Ouch- that's a lot of money to spend on a single employee!
It can be hard to find a full-time Social Media Manager with the skills you need, like:
Creativity: A Social Media Manager needs to know how to use their creativity to create exciting and buzz-worthy posts to help your business stand out on social media platforms.
Highly organized: Your Social Media Manager will need a great organization, especially if they run campaigns on several platforms.
Analytical: Make sure your Social Media Manager understands how to report on different metrics so you understand the effectiveness of your digital marketing efforts.
Hiring a full-time Social Media Manager can be difficult for any business or marketing department. The good news is that you can outsource your social media marketing needs to a trusted outsourced marketing company to help you achieve your goals at a fraction of the cost!
Find A Trusted Outsource Marketing Company Today!
Consider these points if you are on the fence about outsourcing your marketing. Marketing Directors and small business owners typically outsource their marketing needs when they want to limit their financial risk by outsourcing their marketing needs instead of hiring in-house employees.
Outsourced marketing opens up several business opportunities for your marketing department or business that wouldn't be possible if you were to try and do everything in-house.
Here at StrategyBeam, our team works with dozens of companies like yours to deliver predictable results throughout the year. We would love to discuss our outsourced marketing services to help you reach your goals and position your business for solid results!