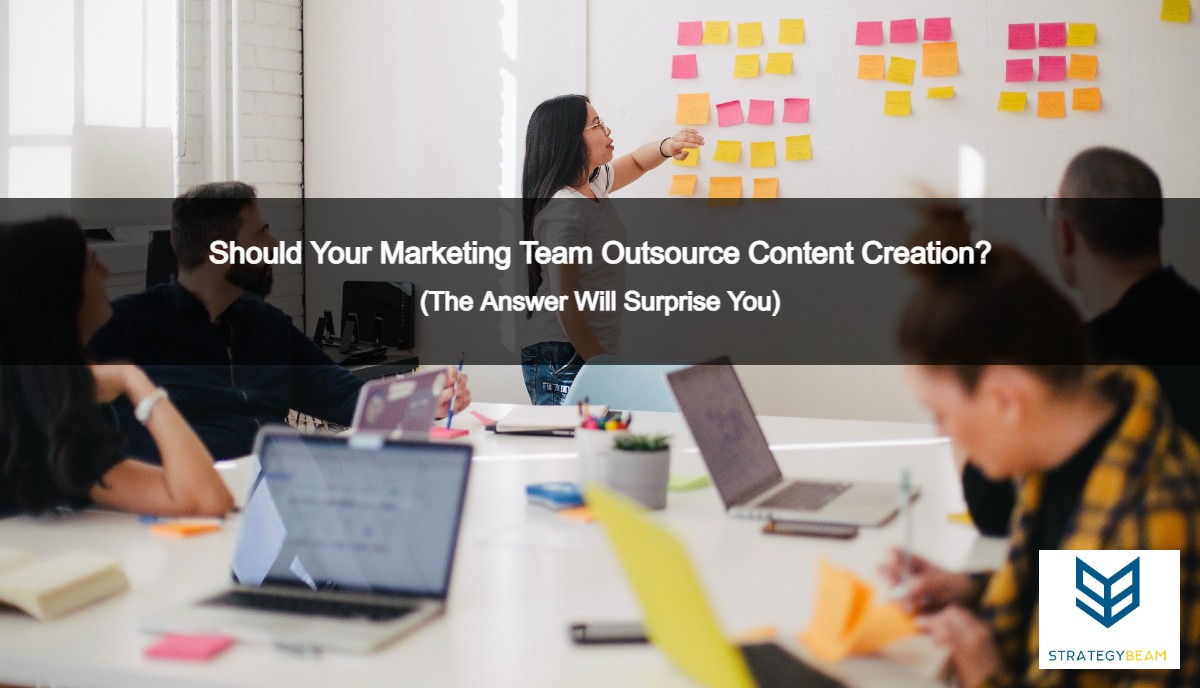 Outsourcing Your Content Writing Needs
Need a little extra support in your marketing efforts? If you are worried about hiring in-house marketers but need to scale your marketing efforts, you should consider outsourced marketing solutions.
But you've probably heard a lot of bad things about outsourcing your marketing. The good news is that there are many benefits of an outsourced marketing firm, so it can be easier and less expensive to outsource your marketing than trying to build a team of full-time marketers.
So, is it still worth your time to consider outsourcing your marketing, knowing all the risks and benefits associated with it?
The short answer is yes if you're a business owner or marketing manager.
The long answer is still yes, but it includes this article to help you navigate the big decision.
Your business is unique, so you need to review the type of outsourced marketing services you need. We will look at steps that you can follow to ensure your marketing service is tailored to your company's needs to take your marketing efforts to the next level and keep you ahead of competitors.
What Is Content Writing Outsourcing?
Content writing creates web content, usually for digital marketing. While most people think content writing is just for articles, blog posts aren't the only thing content writers do.
Email newsletters, landing pages, and social media posts are all forms of content writing. When you think about it, you can't produce good content without good writing!
Blogs are a great way to boost SEO and help your website rank higher in web searches like Google.
Internal linking and keywords will boost your rank and push your reach further.
Social media is an essential tool, too.
Using Facebook and Google ads will help you reach your target audience, and consistently posting to social media platforms will help build trust with your customers.
Why Should You Outsource Your Content Writing?
Interested in the benefits of outsourcing? Outsourcing isn't ideal for everyone, but it's a great option in 90% of cases.
Search Engine Optimization is crucial for digital marketing, and finding an outsourced content writer that knows their way around SEO will do wonders for your company.
But there's more to consider than SEO and social media ads. Would it benefit your brand? Would it give you the boost your marketing department needs?
That's what we'll help with! This article dives into both the pros and cons of hiring an outsourced content writer so you can decide what's best for your brand's needs.
Should You Use a Freelance Writer Or An Outsource Content Agency?
You're the boss; you call the shots, but make sure you're getting what you need for your business.
A freelance writer will be a producer, and that's about it. You can rely on them for content creation and copywriting, but you're still managing and creating a marketing strategy, which can be time-consuming.
Freelance writers will give you the skill set and knowledge you need, but if plans change and you need to add other projects or plans, you might be out of luck.
Outsourced agencies will cost more but deliver end-to-end solutions and take the initiative on the marketing strategy. Their experience speaks for itself and brings better value to the table.
Need a quick change or to stay flexible? Outsourced agencies have a bit more manpower to work with and can help you scale your marketing efforts easier than a single freelancer would be able to.
Outsourced agencies also have experience in all areas of marketing, whereas freelance writers may only have experience in a few or maybe even one. You're covering all your bases and trusting that anything marketing related is covered by an outsourced agency.
What Are The Best Places To Hire An Outsourced Content Writer?
Finding an outsourced content writer can be scary if you aren't sure where to look.
StrategyBeam offers end-to-end services to help you optimize your content and tackle any complex marketing challenges you're facing. We do everything from blogs to website content to ebooks at StrategyBeam!
Deliver high-quality content to your customers with our expertise and take your marketing strategy to the next level.
UpWork is a popular job board that allows you to find different writers for work like content writing and web design. You can see reviews and writing samples of any freelancers you come across, which gives you more control over the hiring process.
Another popular job board is Guru. You can find a freelancer that meets your content needs by looking through writing samples and interviewing candidates before partnering with them.
Job boards like Guru and UpWork come with setbacks as well. Because they're both larger platforms, it's becoming harder to find professional writers that can produce quality content.
Pay close attention to their reviews and writing samples, or even test their work before signing a contract.
On the other hand, ProBlogger has fewer and more experienced writers that have been greeting content for years. This expertise comes at a higher price, too, meaning you have to pay to advertise your projects, and freelancers will charge more for their services than other platforms.
7 Steps To Outsource Content Writing Projects
Outsourcing isn't something you can consider in a day. While it may be more beneficial in the long run, you want to ensure you find the right fit for your company.
Consider what you're looking for in a content writer, what you're hoping to gain, and what you can easily budget without stretching thin.
Think of a freelancer like you would a coworker–you want someone helpful and polite but also someone good at their job. It seems like a lot to ask from a person, but don't settle for less!
Stay true to the values you're seeking and follow these seven steps to find the perfect freelancer for the job.
Determine Your Budget
Each type of content comes with its own cost due to the difference in time, effort, and skill needed. For example, a blog post can cost a few hundred dollars, while detailed documents such as white papers will cost a few thousand.
Google Ads and Facebook ads can cost up to $50 each because you need to hire a freelancer with the skill set and experience needed to help your business succeed.
That's a lot.
But remember that you might not need as many white papers written as another company, or perhaps you're focused more on blog writing and ads. Whatever you're looking for, keep the price tag in mind.
Your budget won't look similar to other companies, but it should keep in line with competitors. Make sure you give yourself a little wiggle room for any changes you may need to make in the future.
Identify Your Needs & Scope
Similarly to budget, keep your company's needs in mind. Don't waste your money on unnecessary expenses, and don't waste your time on unnecessary projects.
Your time is just as valuable as your money. Focus on the things that matter to keep ideas fresh and everyone on the same page.
For example, keeping your brand values too broad could quickly exhaust your resources. Focus on what makes your brand unique and what is needed to support that message.
Again, while your needs will differ from many other companies, it should resemble those of your competitors. Give yourself some flexibility with these plans as things could change, keep things consistent!
Search For Top Outsource Content Writers
Why would you settle for less if you're looking to be the best?
Search for the top content writers and stay true to your needs. Be sure to pay close attention to their samples and test writers as needed to find the best writers possible for your projects.
Freelancers and content marketing agencies will be eager to put their best foot forward when seeking new clients. It should be easy to see what sets them apart from the rest and why they want to partner with you.
Not sure? Just ask!
Reach out to any outsourced writers to learn more and see what makes them great.
Test Several Writers
There are thousands of freelancers looking for work in the United States, so finding one isn't an issue–it's finding the right one for you and your company.
Testing a writer is a great way to see their skills and how well they work. Give them the resources and expectations, and see what they create for you.
Not everyone will be a perfect fit, but this eliminates wasted time and reassures you that you're signing on the right person for the job.
Asking for samples and giving text projects will allow you to compare all potential candidates.
Onboard Successful Candidates
Have you found the right freelancers for the job? Sign a contract, an NDA, and welcome them to the team!
Instead of throwing them directly into a project, treat them like any new employee and make sure they're onboarded correctly.
Onboarding your candidates will get them familiar with your expectations, the company's needs, and the workflow. This is the perfect time to give them any information or resources they'd need to succeed and emphasize how important communication is.
When your freelancer or outsourced agency succeeds, you succeed. Set them up as a great addition to your marketing efforts, and you'll appreciate the payoff.
Introduce The Writer To Your Team
If you have an in-house marketing team, introduce them to your freelance writer. Don't think of them as separate teams but as one bigger team with a shared interest.
If you're hiring an outsourced agency rather than one freelancer, they could even become a great asset to your in-house team.
The agency could offer insight to the team and give them the boost they need to keep marketing ideas fresh. Opening communication gives both sides more resources to succeed and eliminates any internal problems due to miscommunication.
Allowing them to work together lets you rest assured, knowing you have an in-house and outside perspective on your marketing efforts.
Discuss Your Goals With The Content Team
Communication is key! We'll stress an essential point to make sure you're getting the most out of your outsourced marketing.
Discussing your goals with the team gives them a clear view of your expectations. There shouldn't be a doubt about what they're aiming for or what needs to be accomplished.
Doing so will save everyone time and give your team a chance to ask questions to understand the projects at hand better. When questions are asked, and there's a productive conversation about goals, it's easier to come together as a team.
Red Flags to Look for When Hiring a Content Writer
Hiring an outsourced writer may come with a few issues, like hiring anyone. Companies want employees that are easy to work with and reliable.
Keep the same ideas when outsourcing. Ensure you're finding people with experience, a great attitude, and your company's best interest.
They Don't Ask Questions
While you want to ensure you give your freelancer all the resources necessary to help them succeed, it's not unusual for them to ask questions.
Open communication eliminates any possible issues or errors. If freelancers aren't asking questions or discussing project details, they may not work in the company's best interest.
Asking questions isn't a sign of uncertainty–it's a way for a freelancer to show you they're dedicated to your project and its goals. It also shows mutual trust between both parties, and the partnership is going strong.
They Can't Provide Samples of Original Content
Every content writer should have a few different samples up their sleeves.
If a writer can't provide samples, it's safe to assume they aren't a strong writer. Even writers just starting typically have something to show for their skill.
When a writer can't provide samples, you risk hiring blindly. They might not be a good fit or writer, and you're left at square one yet again.
Don't take the risk—look for freelancers and marketing agencies with solid portfolios and great reviews to ensure you get the skills and experience you need for your marketing team.
You Spot Typos in Their Work
Everybody makes mistakes, but auto-correct has come a long way!
Typos are a sign of rushed work or lack of attention. If they can overlook a simple typo, what other factors are they overlooking in their work?
For small brands especially, this could be a huge issue. Blurry images and typos instantly turn away first-time customers and leave a bad first impression.
Any mistakes made by your content writers reflect poorly on the company. Don't let them make simple mistakes—go with a well-reviewed freelancer or agency to ensure each outsourced project gets the attention it deserves.
Outsource Content Creation To Support Your Marketing Team Today!
Looking to take your marketing efforts to the next level? We can help with that!
With 25 years of combined experience, StrategyBeam offers a variety of digital marketing strategies to help you outpace your competition. Let us help you build your brand and meet your business goals.
We're here to help you optimize your content, increase sales, and deliver high-quality content to your customers.
StrategyBeam offers end-to-end content services to benefit you and your company's needs, such as content production and blog writing from expert writers. We're dedicated to bringing great content, from keyword research to revisions.
Still not sure? Check out our free content strategy session to see how we can help optimize your content. No obligation is necessary!