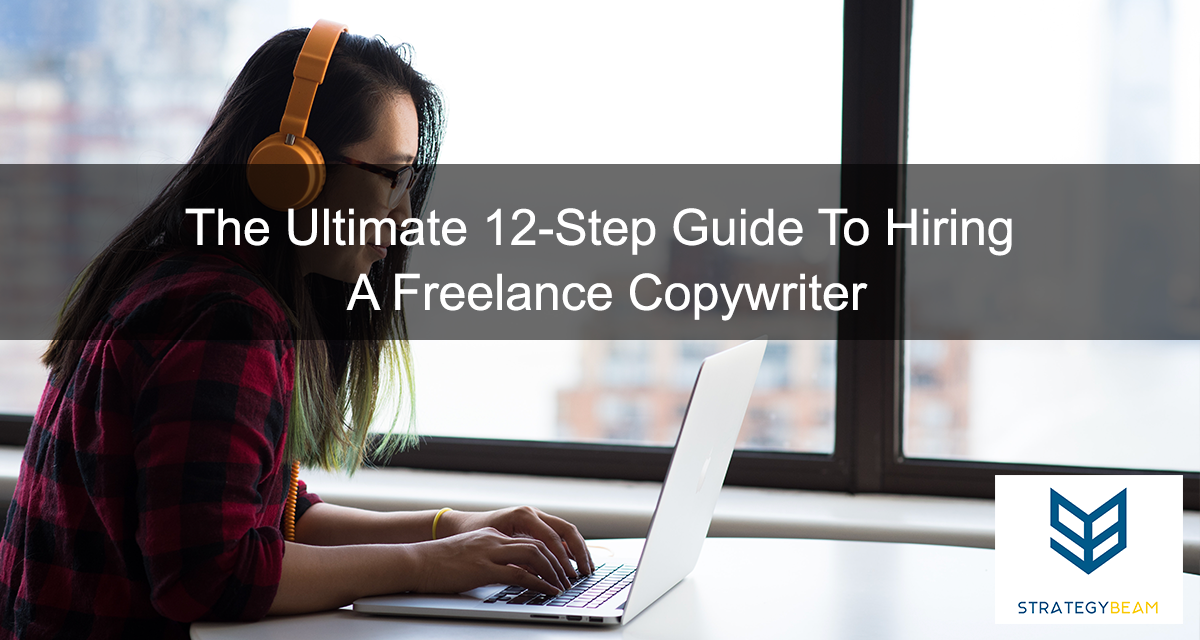 Find & Hire The Freelance Copywriters You Need
Hiring a freelance writer is a great way to ensure you can produce the content you need to drive qualified customers to your site.
This approach to online marketing is advantageous for Marketing Directors looking to "fill gaps" in their team and for small business owners looking to have their websites show up higher on search engines without the financial burdens of hiring in-house writers.
If you've decided that you want to hire a freelance writer, then you are well on your way to a more stable and profitable marketing department.
While outsourced content marketing to a freelance writer is a great way to grow and maintain your marketing needs, many Marketing Directors and small business owners don't take the steps they need to find the right freelancer.
This article will look at each step you need (and some extra tips along the way) to help you find the best independent contractors for your needs.
Let's take a look at the steps you need to take and the things you need to consider to help you find freelancers to grow your marketing department, improve your online visibility, or fill in your in-house team's short-term needs.
1. Understand The Type Of Content You Need
You understand the type of content you need before you begin hiring a freelancer because the type and quality of content needed will have a direct impact on how much you pay.
The content you need will depend on your department's goals, how you are trying to reach your customers, and your target audience. I recommend you speak with an outsourced Content Marketing agency to help you build a marketing plan and strategy if you don't already have one.
For example, if you need to create sales letters or e-mails for your company, then a persuasive writing style may be more appropriate than an informative one.
However, suppose you target a specific demographic with informational content like blog posts. In that case, you will want to hire a freelance writer who knows how to research topics and optimize content for search engines and people.
Your marketing budget will depend on the content you need and your business goals. It's impossible to plan your marketing budget without first knowing what you need to create and how that project will be managed along the way.
Different types of content require that you work with a writer with different skills, so be sure to define the type of content you need before hiring a writer.
Here is a list of content types that you may want to create based on the needs of your marketing department or company. These will vary depending on your goals, but the table below will give you a general sense of what you should expect to pay and deliverables for different types of content.
| | | |
| --- | --- | --- |
| Type Of Content | Description | Average Cost |
| Blog Posts | Articles that are optimized to get found by customers searching for how-to information. | $275 – $400 for a 1,500-word blog post thoroughly researched and optimized for your needs. |
| White Papers | Long-form content educates customers about your company's products and services. | $1,000 – $5,000 depending on the length of content needed and your industry. |
| Website Pages | Show off your company's services with an optimized page that shows up in Google. | $300 – $700 for 800-word pages depending on the type of industry and layout of content. |
| E-commerce Products | E-commerce sites need category pages, product pages, and product descriptions. | $150 for a standard e-commerce product description. |
| Case Studies | Long-form content highlights customer success stories and shows your solutions' value. | $400 – $1,500 for an 800-word case study depending on your specific needs. |
| PPC Ads | Snappy content shows up on Google and Facebook for customers ready to buy. | $50 – $200 for a few fully-optimized sets of ads. |
| Google Business Profile Posts | Short-form content that shows on your Google Business Profile posts. | $100 for a month's worth of GBP posts. |
| Sales Pages | Unique pages to convert customers who click on an email, PPC ad, or social media post. | $700 – $3,000 for 700-word sales page copy. |
2. Determine The Expertise & Experience That You Need
When looking for a freelance writer, you must consider their expertise in your industry and their experience writing the type of content you need.
As we saw in the previous section, different types of content will have different price points. The amount you will pay for a freelance writer will vary depending on their writing skill, SEO knowledge, and how much experience they have in your industry.
Skills: Freelancers with technical skills beyond just writing words on a page will charge you more for their services since those skills produce better content for you. Skills include market research, competitor research, and search engine optimization (SEO). These skills typically demand higher pay than someone who just writes words on a page or writes simple social media posts for Facebook.
Experience: Pay attention to how many years a potential freelancer has been doing their craft. A freelance writer with 10 years of experience may charge more for their work, but those years of experience can lead to higher quality work and better results for you.
Expertise: Finally, you need to consider the level of expertise needed to produce the content you are looking for. You should expect to pay more for a writer with a background in legal, medical, and financial industries since these writers know the terminology and understand the niche topics better than a general writer.
The skillset, experience, and expertise that a writer brings to the table will directly impact the amount you pay for a piece of content. The caliber of writer you need depends on how much management, strategy, and oversight you also want to have over the writing process.
You can probably get away with paying a writer $0.10/word if you need blog content for a general field like lawn maintenance, but you should expect to pay closer to $0.15/word for a writer with experience in the area.
If you are in a technical field and you need a writer with expertise in the area, then you should expect to pay over $0.25/word to meet that specific demand.
Talk through your marketing strategy to determine the quality of work you need and if you require freelance work from someone with specialized knowledge. All of these factors will directly impact your budget.
3. Establish Your Budget for Hiring a Freelancer Copywriter
In the previous sections, we discussed how it's essential to identify the type of content and the caliber of work needed before outsourcing your writing needs.
Outsourcing marketing services to a freelancer will be more expensive than doing the work yourself, but hiring a professional will ensure that your content will support your business and marketing goals while freeing up your time.
Different types of content will cost more, regardless of the caliber of freelance content writers you work with. This is simply because different types of content require different skill sets (as discussed earlier), so you must factor in the type of content you want before establishing a budget for your writer.
Here is a quick list of different types of content and the average price you should expect to pay.
Blog posts: Expect to pay around $275 – $400 for a 1,500-word blog post. This is the typical price point for a professional copywriter to research, write, and optimize content for search engines and people. Before hiring, be sure the freelance writer understands SEO elements like internal linking, keyword research, and topic clusters.
White papers: White papers are long and detailed documents that require the attention of a particular type of copywriter. You should expect to pay around $1,000 – $5,000 for a 3,000-word white paper.
Website pages: This is a little bit harder to define, but as a general rule, you should expect to pay a good copywriter around $300 – $700 for a product or service page on your site.
Ecommerce products: Expect to pay around $150 for a product or category page on your e-commerce site. This price will vary based on the products you sell and the desired length of page copy and product descriptions.
Case studies: Case studies require a professional copywriter to conduct interviews with your customers. Due to the required work required, you should expect to pay a freelancer around $400  – $1,500 for an 800-word case study or testimonial.
Google Ads & Facebook Ads: Some content writers know how to write PPC ads, and you should expect to pay $40-$50 for a few Facebook Ad or Google Ad. Make sure the freelancer you choose has experience with PPC since different platforms require different optimization strategies.
Google My Business posts: These are easy to produce and require a freelance to understand local SEO, but you can usually pay around $10 per post. Check that the freelance writer understands local SEO.
Sales pages & landing pages: Landing pages use short-form copywriting to grab readers' attention, and you should expect to pay around $700 – $3,000 per landing page. Make sure the freelancer understands Conversion Rate Optimization (CRO), and that they have a strong background in SEO.
When building a budget, you need to identify the value of each sale, your conversion rate in specific channels, and how many people you need to reach to make a sale.
The number you come up with will vary based on the channel, but this methodology will help you understand what you can spend on content when looking for qualified freelancers.
Now that you know your marketing budget, you can begin steps in the freelancer hiring process.
 4. Choose the Right Platform & Post the Job
There are countless job boards, freelance marketplaces, and outsourced copywriting agencies that you can use to find and hire a freelancer. While there are many places to find freelance writers, many Marketing Directors, and small business owners quickly realize that this process requires a lot of upfront work, and it can be time-consuming if not done properly at each step.
Finding, vetting, and hiring a freelancer can be time-consuming, so here are a few of the most popular freelance marketplaces you can use to find qualified freelancers for your writing needs.
StrategyBeam: We help business owners improve their online presence with blogging, PPC management, and social media posts. We also work alongside in-house teams and full-time employees to support Marketing Directors as they grow their marketing departments without the overhead of hiring in-house writers.
Upwork: Upwork is a global marketplace for professional services. It's popular among businesses and professionals because it allows users to search for and hire freelance writers from all over the world, in any language, at various price points. The platform offers various features, such as contract management tools and dispute resolution options.
Fiverr: Fiverr is another global marketplace where people can find creative professionals to help with everything from writing proposals to creating social media posts. There are thousands of listings available on the site, so finding the right writer for your project isn't difficult.
Freelancer.com: Freelancer.com is an online freelancing platform that connects talented workers with clients who need their skillset fulfilled. Clients can browse through listings looking for specific types of workers (such as content writers or graphic designers), or they can search by skill category (such as web development or marketing).
Reddit: Reddit is more than a place to look at funny memes because several subreddits let you reach out to writers for jobs. Check out r/HireaWriter and r/forhire to find potential candidates to reach out to with Direct Messages or post on the job boards.
As you can see, there are many platforms and copywriting agencies to choose from, so you shouldn't have difficulty finding writers. You will need to conduct a lot of research throughout the hiring process to ensure you find a freelancer that offers the skills you need, has a strong track record of quality work and has excellent communication.
One thing to keep in mind is that some platforms are easier to work with than others, so you need to do your best to write a great script and job description before posting or sending a message to a writer.
Now that we have looked at a few of the most popular places to find freelance work let's talk about how to write a job description template to find the best writers in the least amount of time.
5. Create A Job Description Template
When looking for a freelance copywriter, it is essential to have an accurate and comprehensive job description to help your listing get found by quality writers. This will help you weed through the many talented writers and ensure that you hire quality freelancers who match your needs.
It's always better to use a pre-made template when writing a job description to find the best freelance content writer for your needs. You can post these job postings on various sites to find the right freelancer for your next writing project.
Here are some tips that you should consider when writing a job description to help you stand out on the various freelance marketplaces and grab the attention of a great freelancer:
Compay information: Include a brief company overview to help potential writers understand your industry and culture. Be sure to include your industry and company background so a potential freelancer understands if they are a good fit before they apply.
Job description: Create a concise and engaging description of the job you need to fill. This information should include the type of content needed, required experience, and general expectations the writer should know about before applying.
Length of project: Include information on whether this is a short-term project, a long-term project, or if the freelancer will be working on going with your in-house team. This information can help the freelancer understand their availability before submitting their application.
Estimated budget: It's always a good idea to include your budget to weed out writers who are out of your price range. This information will save you lots of time in the long run.
Ask for past work: Along with the job description, you should always ask the freelancer to include past work and their portfolio. This can help you quickly find a freelance writer that has necessary experience and skills.
Include a question: Always include a question in the middle or end of the job description. This can be a simple question like "what is your favorite industry
Be sure that the job description for your postings are clear and concise to help you reach the best writers. Including company information, an overview of desired work, and nesting a question in the posting will help you find the right freelancer quickly and easily.
6. Look For Past Writing Samples Online
If you are a busy Marketing Director or business owner, you can't waste time working with freelance writers who don't meet your needs.
You can spend hours writing a great job description and get lots of applicants but only realize later down the line that applicants lied on their responses or don't have the writing chops or skills that you require.
To help avoid this situation, you should always ask a freelance content writer for a few examples of previous work in your industry. It's best to ask candidates upfront about their experience writing the type of content you need, past performance of their content, and examples for you to review.
If the writer can't provide samples of previous work (due to NDAs, etc.), you should ask for their portfolio to review the type of voice they use and how well the content ranks in search engine results.
Always review past content a freelance writer produced to ensure they are a good fit for your marketing department or business. Once you find a few freelancers with the needed skills and experience, it's time to follow up with references from past clients.
7. Ask For References (And Follow Up With Them)
Along with looking at past writing samples to learn more about the writer's tone of voice, you should also ask the writer for references. The value that a freelance writer brings to the table is more than just their ability to research, write and optimize.
You need an independent contractor who is a professional and an expert in their craft. You need a writer with good communication skills to support your team and marketing strategy.
You can learn a lot about freelance writers by talking to companies they have worked with in the past. Be sure to ask about the writer's professionalism, communication style, and if the writer is willing to adjust to client needs on the fly.
Talking to a reference is a great way to learn about the intangible traits of the writer. Past writing samples and portfolios can give you an idea about how well of a writer the freelancer is, but their references can help you understand how easy they are to work with.
8. Ask About Their Writing Process
Every writer has their process of learning when they take on a new copywriting project. If they are an experienced independent contractor, they also have their research, write, and optimize content methodology.
Experienced freelance writers can demand a higher wage because they have a writing process that delivers results.
Not only will this knowledge help you determine if the writer takes the time needed to learn about your business to produce great content, it will also help you onboard your writer before they get started.
You can ask how the freelancer learns about your industry, how they research before writing, and how they optimize content to perform well.
You can also ask how they manage projects, track milestones, and send deliverables to you.
There is more to finding the right freelancer than just their ability to write, so make sure you ask about everything from onboarding to sending the finished content to you.
Depending on the project and your availability, you may need the freelancer to coordinate certain aspects of project management throughout the project. If you need someone to help coordinate the project, you should ask the freelancer what tools they use and if they have experience coordinating between teams (if applicable) to ensure your projects run smoothly.
No matter how the freelance writer submits questions to you, you should expect potential writers to have a writing process that produces great content for projects and marketing efforts.
9. Conduct a Phone Interview With The Writer (Optional)
It's never a bad idea to set up a phone interview or schedule an interview on Zoom before you hire a freelance writer.
There's nothing wrong with using email if that is the only way to communicate with them, but it's usually a good idea to get as much "face time" as possible before hiring a writer.
10. Offer a Paid Assessment
Anyone can lie in an interview and play the system to look good online. But you can always tell the quality of a freelance writer by what they produce, so always give writers a paid assessment to test their skills and abilities before you officially hire them.
These projects should be close to the tasks they will complete for you once you hire them to ensure they can complete projects to your satisfaction. The goal of these projects is to give you a preview of the freelancer's workflow and to fill the freelancer job with someone who will deliver as much value as possible.
For example, if you are hiring a freelance writer to produce blog posts, you should assign several blogs to the freelancer to see how well they write and understand SEO.
Paid assessments give you the ease of mind because you can see the type of work the freelance writer produces before you commit to working with them.
11. Provide Good Feeback To The Writer
When you first start writing with a copywriter, you should ask them to submit an outline to you before they begin on the actual assignment. Asking the freelancer for an outline can help eliminated rework in the future.
Once the content is complete, take time to review the content. Make sure the content is free from grammatical and spelling errors, is formatted correctly, and has the tone you are looking for.
Hiring a freelance writer is never a hands-off engagement, and it's in your best interest to provide oversight and guidance to the writer throughout the entire process. The good news is that you won't have to provide too much insight (hopefully) after a few months when the writer understands the brand and your expectations.
However, you should expect to provide feedback on the initial set of content they create for you with detailed comments and explanations as needed to guide their learning process in the early stages of working with you.
12. Respect Your Writer's Experience
Since you are hiring a freelance writer to help you with your content needs, you should listen to their suggestions and recommendations to get the most out of your engagement with them.
Many freelance writers have years of experience with SEO and online marketing, and you can get a lot of value if you listen to their ideas.
As a result, you will get the same great content you require, but you could get lots of added benefits like additional research and ideas for future marketing campaigns.
13. Introduce The Writer To Your Team 
If you want your freelance content writer to work with your designers or developers, it is always best to introduce your team to each other after choosing a writer for various projects.
Not only does introducing your team to each other help build a sense of community, it will also break down potential communication barriers that will lead to inefficient communication in the future.
Hire the Freelancer!
Last (but certainly not least), you should hire a freelance writer! We are also happy to talk with you on a free 45-minute strategy session where we will review your strategy to uncover ways for you to improve your marketing efforts.
I know it sounds basic, but many Marketing Directors and small business owners get lost in the hiring process that they forget to hire a candidate!
Look at the test projects the writer produced for you, and consider how professional they act and their references/portfolio. Choose the writer that best fits your budget, and you think will deliver the most value for your marketing dollars.
Feel free to reach out if you are looking to hire a freelance copywriter. We would love the chance to talk with you, about how we deliver copywriting services for all of your marketing needs!