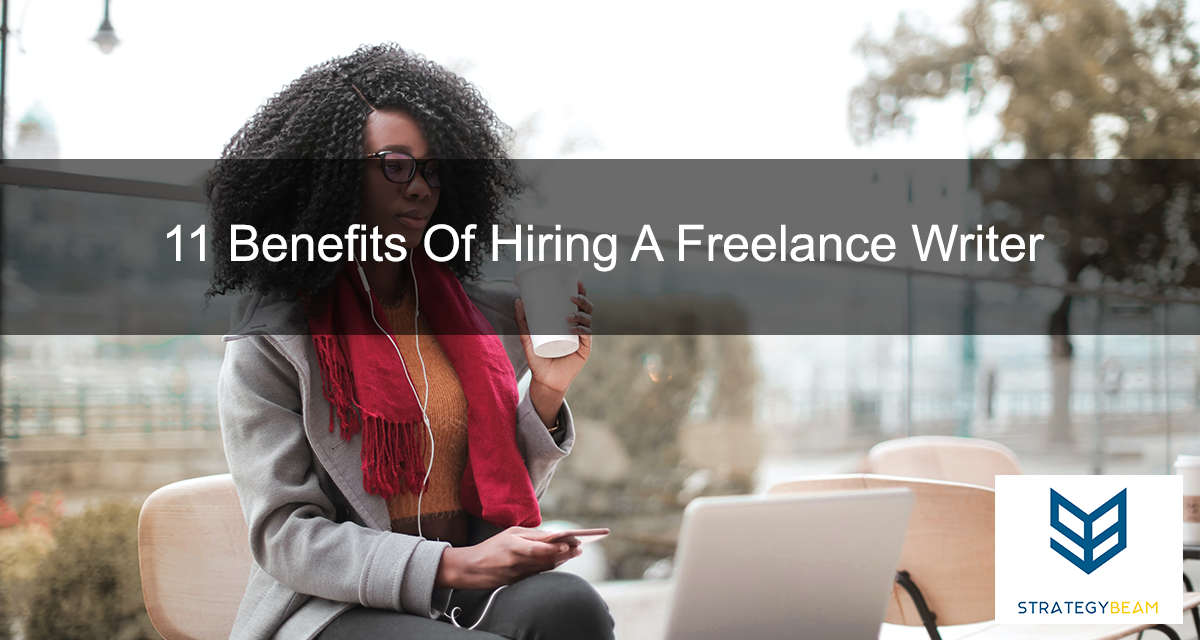 Why Hire Freelance Writers for Your Business?
Companies and marketing departments of all shapes and sizes hire freelance writers to create content to engage readers and rank high in search engine results.
Whether you're a Marketing Director who wants to scale your content marketing efforts without taking on the costs (or headache) of hiring an in-house writer or a small business owner who wants to keep overhead low, hiring a freelance writer is a great choice for any business model.
You can think of a freelance writer as your secret weapon because, as an independent contractor, you won't have to pay them for sick time or their 401k. Instead, you can put that money into building your marketing campaigns and keep your business moving, all while building great content at a fraction that you'd pay for a full-time employee.
A freelance writer works directly with you and your team just like a traditional in-house writer, but a freelance content writer requires fewer resources and oversight to produce the same great content.
Hiring a freelance content writer means you have access to a professional to help with one-off projects, or you can use a freelance writer throughout the year to address ongoing content needs like:
Blog writing: Many business owners and Marketing Managers hire a freelance content writer to produce regular blog posts for their brand. Fill your blog consistently with educational content to help you rank higher in Google and attract qualified leads to your site.
Landing pages: Companies looking to improve Click Through Rate (CTR) and conversions need someone who knows how to write for search engines and people. This is where Conversion Rate Optimization (CRO) writers come in, and a freelancer can fill the need at a fraction of the cost of an in-house CRO copywriter.
On-page SEO elements: Many marketing departments need a writer who understands SEO to help write elements like meta titles and meta descriptions. You can also use a freelance writer to write H2 tags and snippets of text to help rank in search engine results.
Social media posts: Writing for social media networks like Facebook, Instagram, and Twitter requires a freelancer who can write in a playful voice. A freelance writer can help you plan, write, and schedule social media posts for months at a time that meet your brand's voice and engage your readers.
PPC ads: A freelance copywriter who understands Google Ads and other paid platforms can write ads that meet the needs of people looking for immediate solutions. While you might have a PPC manager to test and optimize your campaigns, having a writer who knows how to use keywords in ads while evoking an emotional response from readers can drive more clicks and sales for your business.
As you can see, a freelance content writer is a perfect solution for a small business that doesn't have the budget to hire a full-blown internal marketing team. It's also a great option if you're a Marketing Director who wants great content without finding, hiring, and training a content writer.
One thing I want to mention before we continue is that you need to know how to hire a freelancer to ensure you find the best talent for your budget. You should also know where to find freelance writers to ensure you don't waste time finding the best content writer available.
Now that we know what a freelance writer can do for your marketing needs let's look at the top 11 benefits of hiring a freelance writer.
Looking for freelancers but not sure where to start?
Get free insights, directions, and advice from our 45-minute strategy call. You have nothing to lose!
Let's Go!
1. You Won't Have To Hire an In-House Team
It can be a real headache (and time-waster) to hire, train, and manage an in-house writer, no matter the size of your company or the industry you serve.
Not only that but hiring an in-house writer can add lots of financial strain to your business. In fact, according to Payscale, the average salary for a copywriter in the U.S. is around $54,909/year.

Hiring an in-house writer means that your marketing department or small business will take on the financial responsibility and operational liability to keep that writer working at a rate to justify the investment.
Not only will you need to keep that writer productive throughout the year, but you could also not invest that money into other areas of your business as needed.
But the salary of the in-house writer is not the only thing you need to consider with a full-time writer. You also have to think about the additional time it will take for you to find, interview, train, and manage that candidate once they are hired.
All of this time and financial obligation can add up quickly, and this can be highly stressful for small business owners if you are not able to devote the management time needed to oversee the writer's production throughout the year.
The bottom line is that most small business owners and Marketing Directors simply can't afford to hire an in-house writer due to the steep investments required.
Instead, many Marketing Directors and small business owners hire a freelance writer to take on short-term projects as needed, which can lead to a relationship where the writer works with you for long-term projects throughout the year.
2. Hire The Writing Skills & Experience You Need
Online marketing is constantly changing. Whether you are trying to market your business in a recession or you want to promote your seasonal products and services, you need content creation to meet the needs of your customers to drive more sales.
Writing words on a page is not good enough anymore, and you need digital copywriters who have a strong knowledge of how search engines work while knowing how to write for their human readers.
A successful company depends on the ability to get found in Google and other search engines while also speaking to its target audience.
Your business and Marketing department needs a copywriter who can write for robots and human readers.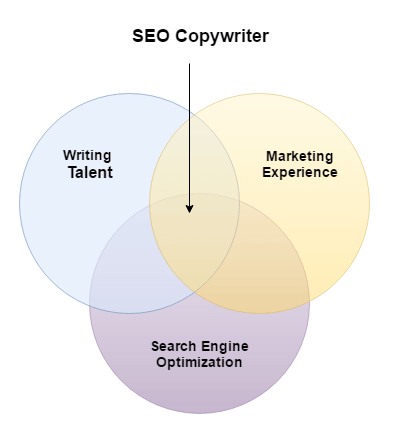 Many businesses struggle to build a content strategy and publish excellent content writing because today's content writers need to know how to balance algorithms with the needs of their users to drive conversions.
As a result, business owners and Marketing Directors with limited time simply can't find the time to train content writers properly, or they don't have the money to hire an experienced writer for their team.
The good news is that you won't have to train a new writer as you would with an in-house writer because a freelance writer typically has a writing methodology that works for them.
The flexibility to work with a writer who brings the type and depth of experience and knowledge you need without hiring an in-house writer is a competitive advantage that Marketing Managers and business owners can enjoy with a freelance writer.
3. Consistent Tone & Voice Across All Content
Sometimes Marketing Directors need to fill skill or knowledge gaps when building a new team or completing campaigns as a solo-leaders. The same is true for small business owners who don't have time to build branding guides or direct writers for their digital content.
In both cases, Marketing Managers and business owners risk diluting their brand "voice" by marketing content to different writing mills or using freelance writers with inconsistent tones.
If you don't have the time or resources to hire and train an in-house writer, I strongly recommend finding a writer who can handle all your content across your site.
At the very least, you should have a single writer responsible for all your blog content and landing pages so all your content sounds like it was produced by a single person.
Having a single freelance content writer work on the same content across your site will help you build a professional look with a consistent tone. This will help build your brand among your audience, and you'll be able to build a relationship with your audience as they begin to recognize the tone of your content.
Don't waste your money or time searching for writers.
Hand-crafted content backed by proven marketing strategy. See what you've been missing!
I want free advice!
4. Make Your Department & Business More Agile
I'll be the first to mention that in-house writers offer many benefits for a marketing team. However, those benefits come at a steep cost for your business or marketing department because you need to factor in salary and other overhead like benefits, sick leave, etc.
All these elements add up and make hiring a full-time employee instead of a freelance writer is pretty expensive.
As we discussed in a previous section, hiring an in-house employee simply doesn't make sense unless you can keep that writer writing content all the time. This is because if you pay an employee by the hour or a set salary, that employee wastes your money if they are not constantly producing.
Hiring a freelance content writer allows your department and business to invest in projects or other investments instead of sinking that money into a full-time writer that could have been used to grow the business.
5. You'll Have More Time To Do Other Tasks
I am speaking to all Directors and business owners when I say that you are wasting your time if you are writing your blog posts, landing pages, or social media posts.
We work with many small companies and always say that you should write your own content if you Gross less than $6,000/month. This is because this type of company needs to streamline all operations, but if you are making more than $7,000/month, your business is large enough to take on more work.
The bottom line? If your business generates at least $7,000 Monthly Recurring Revenue (MRR), you lose money if you write your content.
Full stop. No excuses.
If you want your business to grow, you need to get your nose out of the keyboard and start focusing on sales and growth.
You deserve it, and your family deserves it, so you need to stop trying to learn how to write your website content or blog posts. Instead, you can be better off by focusing on what your skills and gifts are… which, unless you are a marketing company, is likely not copywriting.
Hiring a freelance writer means focusing on your business operations. In contrast, a professional content writer produces content for you that ranks at a fraction of the cost of an in-house writer.
6. A Freelance Writer Has A Proven Workflow & System
Content writers excel at writing content that gets found by search engines and engages your target audience. Achieving these two things is difficult, and takes years of experience to understand how to engage and convert your readers.
Search engines and your audience are more sophisticated than ever, so simply writing content and praying it converts won't work anymore.
To achieve the highest ROI possible for your content, you need to follow a methodology that gets your content found in search engines and encourages your readers to convert to you.
Professional content writers know the tools needed for article writing to facilitate research, writing, and optimizations to produce great content.
Along with the tools, a great writer has a proven workflow to finish your writing projects efficiently.
A freelance writer comes to the table with a unique experience since they work with many industries, and they can offer a unique perspective that can deliver better results.
7. Help Your Business Grow Faster
Whether you are a Marketing Director looking to grow your marketing department or a small business owner who wants to improve your online presence, hiring a freelance writer is an excellent choice at a fraction of the cost of an in-house writer.
We already talked about how a freelance writer can deliver high-quality content at a fraction of the cost in terms of salary. Still, you also need to consider the time and resources it takes to train and manage a full-time employee.
You only have so much time in the day, and every minute that you are not growing your business is time wasted in the long run.
Training a full-time writer and devoting the management time and resources to oversee that writer can add up to a significant amount of sunken cost to your company and marketing department.
Either you will need to manage the in-house writer directly, or you will need to hire a Marketing Manager to oversee the writer. Both options require additional time and resources that you could have invested in other areas of your business.
Hiring a freelance content writer allows you to grow your business faster because it frees up the human capital that you would have needed to invest in a single employee.
This means you can spend time nurturing leads and closing sales instead of managing the quality and output of a full-time writer.
8. Scale Content Efforts In Less Time
High-quality original content in search engines that engages your target audience is the only way to grow your online presence. To keep up with your competition, you need to hire content creators who know how to build great content for your business.
In the previous point, we discussed how an in-house writer could drag your company's growth due to the human capital investment required to manage that employee.
The same concept applies to how quickly you can scale your content marketing efforts because an in-house writer takes time and resources away from your content efforts due to the recessed cost that employee requires.
The struggle of trying to fulfill a comprehensive marketing strategy is real.
Outsourcing your content writing needs to a freelance content writer is a great alternative to a full-time employee if you need to scale your content efforts efficiently.
We have seen firsthand how Marketing Directors and small business owners struggle to scale their content efforts because they don't know how to research, produce, and optimize content for their needs. Building a content strategy that scales under tight budget considerations can be impossible. Hiring an outsourced content creator is a great way to complete short-term and long-term projects in less time and with less budget.
Hiring a freelance writer gives you access to the skills and experience you need to produce great content that ranks high in search results and meets the needs of your audience.
Boost your traffic, drive more sales
Get a second pair of eyes on your marketing strategy. Walk away with new insights for your business!
Click to get started!
9. Get A Fresh Perspective
Freelance writers offer a fresh perspective to companies and marketing departments. They can help you find new ways to talk to your target audience and provide insights that may be overlooked by employees within the company alone.
Many business owners and Marketing Directors find it challenging to understand the needs of their audience because all of their in-house employees start to use the exact phrases and present ideas similarly.
Over time, this can lead to the "echo chamber" and result in content that doesn't resonate with your target audience.
This outside perspective can help you explore different angles and better understand the marketing landscape's complexities.
Additionally, having a freelance writer on board allows you not only for more content but also for additional support when it comes to SEO and social media outreach. Hiring a freelance writer is an excellent way to get ahead of the competition and stay ahead in today's competitive market!
10. A Freelance Content Writer Can't Afford to Let You Down
We already discussed the financial burdens an in-house writer strains on your business and marketing department.
When you think about the financial and operational benefits of hiring a freelance writer, you also have to consider that if a freelance writer lets you down, they can be cut from the project without any loss to you or your business.
Freelancers don't have the luxury of getting "comfortable" with clients because they must continually prove their value to you if they want additional work in the coming months.
Many freelance writers don't write a minimum time in their contracts, but some will require at least a 60-day written notice before an agreement can be void. Either way, Marketing Directors looking to fill in the gaps or business owners trying to boost their online presence can complete their goals while minimizing the headaches of hiring an in-house writer.
Since a freelance writer is not a W2 employee, you can end the relationship with the writer anytime. While this is never the desired outcome of any business relationship, Marketing Directors and small business owners love that you are not tied to an employee if they start to do a poor job.
11. Freelancers Offer Personalized Service
Freelancers are the perfect choice for businesses that need quick, responsive, and tailored content. A freelance content writer needs to provide excellent service and deliver a great product if they want to stay employed with you.
Since the freelance writer is not part of your business, they feel the constant pull to deliver great content and results. While an in-house employee can be dependable, the fact is that a freelancer needs to be on top of their game at every step, or they risk losing you as a client.
They're often agile and able to provide one-on-one personalized services, which makes it easy for them to get to know your needs and deliver high-quality content quickly.
You can't say the same about an in-house writer who might be protected by PR red tape and state/local employment laws.
Plus, since they don't have a lot of clients at once, they're more likely to devote the extra time to each client – resulting in better content that meets your needs perfectly. If you want impeccable content delivered on time without hassle or stress – hire a professional freelance writer!
Enjoy The Benefits Of Hiring A Freelance Writer
Hiring a freelance writer is an excellent choice whether you are a Marketing Director who wants to grow your marketing team quickly or a small business owner who can't take on the financial or managerial responsibilities of hiring an in-house writer.
If you find yourself in either camp, just know that freelance writing services can give you the flexibility and high-quality content you need to improve your online presence.
A freelance writer will work with you to build a plan, write great content, and optimize that content to rank high in Google search results. This means you can drive traffic and boost sales without investing in the overhead (or headaches) that usually come when you hire a full-time employee.
We are happy to chat with you to learn about your needs and how our freelance writing services can help you today!