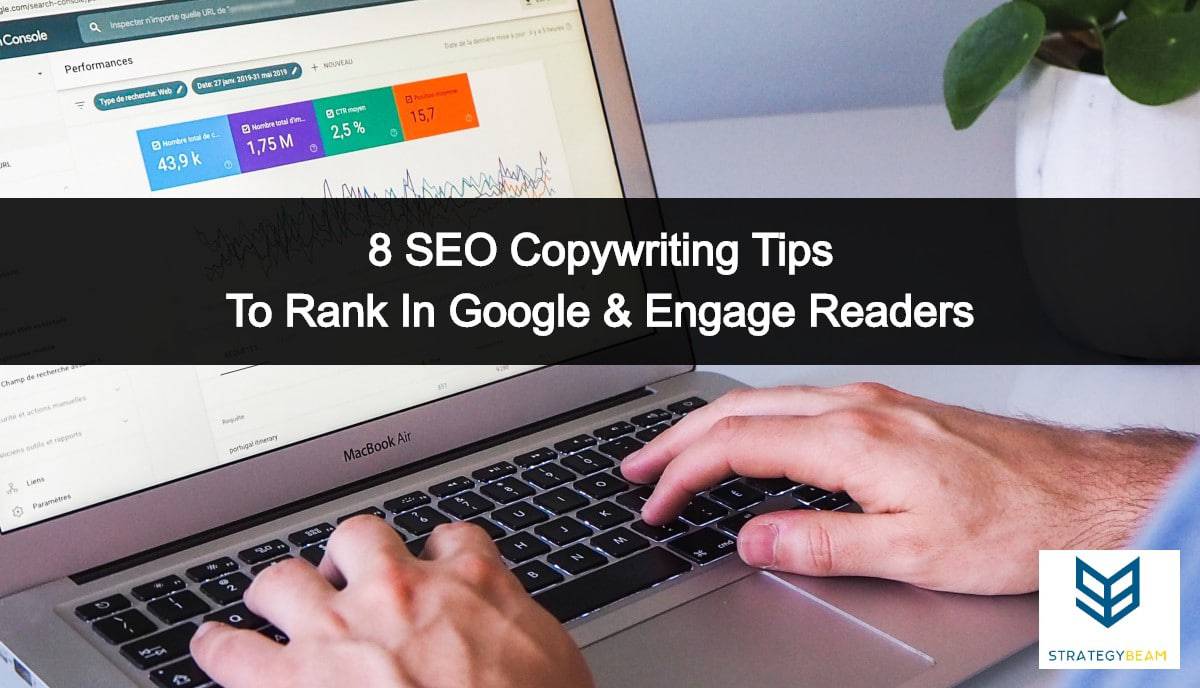 What Is SEO Copywriting?
SEO copywriting is an advanced type of website copywriting that combines high-quality copywriting skills for human readers with SEO best practices. If you want to get found online and boost conversions then your business needs to get found in search engines and engage with your customers to boost conversions if you want to drive sales with long-term success.
SEO copywriting is when you write for algorithms and readers.
SEO copywriting is a  balance between fueling content with SEO factors to get found in search engines while also writing content that sounds natural and engaging for your readers. On the one hand, you need your readers to love your content if you want them to convert. On the other hand, you need to optimize SEO content to show in Google SERPs.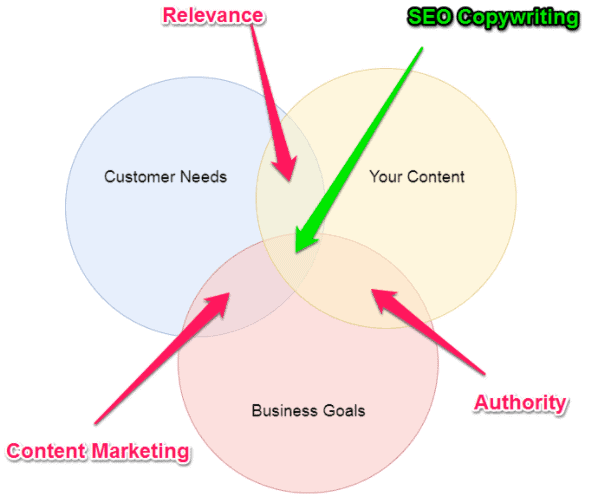 While this may sound like any other web copywriting type, you will quickly find that it's not easy to insert search terms throughout your content while not sounding repetitive or hard to read.
Like many other things marketing, SEO copywriting sounds easy, but in reality, it's an art to producing great content to meet the expectations of Google and human readers at the same time. You'll need to consider a number of variables when writing SEO content like:
Identify patterns in SERPs
Write for your target audience
Weave keywords in a natural manner
Format content to trigger Featured Snippets
SEO writing requires content writers to insert search terms and related keywords while maintaining a conversational writing style. Blending the technical side of an SEO strategy into content while maintaining its readability is no easy feat! Now that we covered what SEO copywriting is, let's take a look at why SEO copywriting matters to your business and how you can benefit from this type of content.
Why SEO Copywriting Matters For Your Business
SEO copywriting can have a big impact on your site's authority and trust because this form of content marketing places your web pages at the top of search results.
People search on Google by using specific keywords, and as your site ranks above your competitor's, people and search engines will begin to trust your brand more than your competitors.
While it can be challenging to balance Search Engine Optimization with readability, SEO copywriters open up a world of possibilities for your business as your content is more accessible to readers through search engines.
You can use a few simple SEO copywriting tips to enjoy seven amazing benefits for your business, like:
More Organic Traffic: You can drive more qualified traffic to your site because your SEO content will live at the top of search results for valuable keywords.
Increases Click-Through-Rate (CTR): Content at the top of search engine results tend to get more clicks than content at the bottom of search results. This means that SEO content can get more clicks per possible impression.
Higher Conversion Rates (CNV): SEO copywriters are obsessed with writing content that human readers love. Crafting meaningful content that resonates and engages your customers will improve conversions across your site as you drive more qualified traffic through Search Engine Optimization techniques.
Generate More Backlinks: Backlinks are a vital part of SEO, and you can build lots of natural backlinks with content that sits at the top of search engine results. As your content gets found, bloggers and other content creators will link your content to fuel your link building strategy!
Reduce Bounce Rates: SEO copywriting tips go hand-in-hand with readability and user experience to craft great content that connects with potential customers. Your optimized content will keep people on your site and click to other pages on your site.
Secure More Featured Snippets: Part of SEO copywriting is formatting your content's intro to trigger featured snippets. Featured snippets help you build even more trust and authority with customers, plus it will boost your site's CTR!
As you can see, SEO copywriting is well worth the time and effort it takes to produce great content. SEO copywriting boosts metrics on your site, expands your reach in search engine results and helps you craft great content that gets potential customers to engage with your pages and blog posts.
You can't go wrong with SEO content that is great for your audience and search engines. Now that we know how SEO copywriting will benefit your business let's look at how SEO copywriters make the best content for robots and readers.
8 SEO Copywriting Tips To Improve Your Content Right Now
Improving the quality of your content is more important than ever before. Search engines are constantly updating their algorithms and your customers don't have the patience to put up with poor quality content. SEO copywriting gets a bad name because there have been lots of SEO writers who have produced spammy content.
In fact, there has been so much poor-quality content that Google and other search engines have had to weed out the content and penalize sites with content that was trying to game the system and forget about human searchers. Thousands of businesses lost rankings and revenue because they tried to trick Google instead of writing content for their customers.
Google and other search engines want to promote content that is helpful for your customers. When done right, SEO copywriting will boost your content rankings and drive more conversions with some basic SEO copywriting tips. Here are the top 8 ways to get the most out of the content on your site today!
1. Understand Your Target Audience
Your target audience is an essential part of SEO content because great content marketing revolves around what, how, and potential customers search for your products and services.
SEO copywriting aims to get your content to appear at the top of search engine results to drive more traffic and stay top of mind. You need to know how potential customers use search engines throughout the Customer Journey to answer their online content questions.
One of the best SEO copywriting techniques is to optimize SEO content around your customers' common questions. There are several tools like Answer The Public, SEMrush, and Ahrefs that help you understand questions related to a specific topic that you want to rank for.
The People Also Ask feature in Google is another useful tool that you can use to identify common questions your target audience ask online. You can create great content that generates lots of traffic to your site by answering your target audience's questions in search engines.

2. Keyword Research To Match User Intent
In the previous step, we looked at why writing content for your target audience is a key part to SEO copywriting, and now we will take that idea one step further by looking at how to apply SEO to your target audience.
Your customers have needs and questions that lead them to search for specific search queries on Google and other search engines. The words they use are clear indicators of search intent, and you need to build each piece of content around your customers' needs.
You can tailor SEO content with quality information expressly for the questions and needs of your target audience. Here's how you can engineer content around the user intent of customers when they reach your site:
Awareness: At this stage, potential customers understand they have a problem but have not defined what they need to solve. Searchers use general search queries to gather high-level information on a topic for a broader understanding.
Consideration: After researching a topic to gather more information, potential customers begin to define available options. Searchers tend to use search terms that are more specific than search queries in the Awareness Stage.
Decision: At this stage, prospects have researched available options on the market and clearly understand what they need to solve their problem. Searchers tend to use keywords and phrases with specific brand terms.
Google doesn't just look at the keywords used in your content because search engines consider various ranking factors to determine what pieces of content fulfill searcher intent.
If you want to generate more sales, you need to engineer an SEO strategy around your customers' needs and then work backward to meet your business goals.
3. Write Useful Content Based On Search Intent
Now that we understand how to write content for the intent of our target audience, we need to start thinking about how to write content that is actually useful throughout the Customer Journey.
Instead of guessing about what content to produce, you should position your online marketing efforts around your clients. Great content takes a lot of time and energy to create, so you need to make sure that each piece of content you publish is better than anything that currently exists. If you don't make amazing content then your efforts can be overshadowed by your competitors.
How do you make amazing content? Well, a cheat code to make epic content is to think about the search intent that your customers have when searching for specific terms.
Once you understand your users' intent, you will be able to choose relevant keywords and publish valuable content that will grow your business. Here are three things to consider when trying to make amazing content:
Keyphrases: Use target keywords to trigger search queries that your target audience will use when searching for your products or services.
Content Readability: Your content needs to sound natural and read well to connect with customers.
On-Page SEO Best Practices: Weave SEO best practices like title tag sections, subheadings, and bulleted lists to stand out in search results.
Content mapping is a great way to see your content marketing strategy from a high level so you can think about the needs of your customers as they engage with your content. Since SEO copywriting begins and ends with the needs of your customers, you will need to map out different types of content to help your customers move towards conversion with your brand.
High-quality content starts with your customers. You can build content that engages your target audience with a content map to ensure you have information to address their needs throughout the entire Customer Journey.
Now that we understand the Customer Journey and user intent, let's take the next step to optimize SEO content with valuable keywords to get found in search engines.
4. Use Target Keywords
Keywords are the central pillar of search engines. Your customers use specific keywords to answer specific questions throughout the Customer Journey.
Since you are producing content to help your customers address their needs, you should always focus on searcher intent. This is because customer intent directs the keywords they use in their search queries.
Keywords are the conduit that customers use to tell customers their needs, and you can reverse engineer how people search to insert target keywords in your content to get found at the top of search engines.
SEO copywriting combines the art of creating content with the science of SEO marketing. This means that SEO content has to drive readers towards the desired action (purchase, sign up, etc.) while also showing up at the top of search results.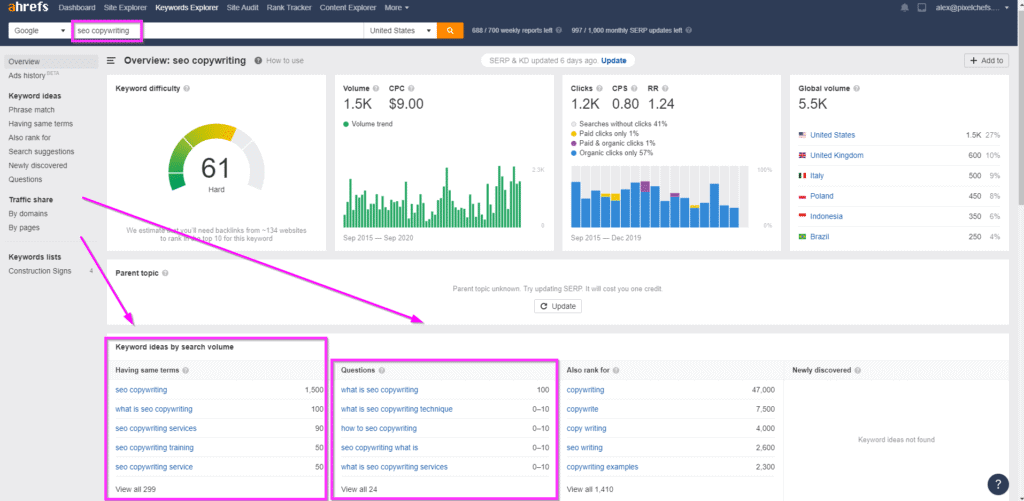 Whether you are a copywriter, business owner, or blogger, you can use some simple copywriting tips to find the right keywords and weave the search terms into your content to drive traffic and boost engagement.
Long-Tail Keywords: Different search queries signal where a searcher is in their Customer Journey. Long-tail keywords are typically used by potential customers who are near the end of their Decision Stage.
Keyword Volume: Your SEO content needs to reach people who are looking for popular search terms. Keyword volume refers to how many times a keyword is used in a given period.
Keyword Competition: There are only ten spots on the first page of Google, so you can't try to rank for target keywords that are too difficult. It would help if you took each keyword's difficulty before trying to rank SEO content because you won't show in SERPs for too competitive terms.
Seasonality: You can write different content types throughout the year to round out a strong content strategy. Think about how seasonality impacts the needs of your customers.
SEO content is based on creating valuable, compelling, and relevant content. The needs of your customers change throughout the year and you can use different keyword research tools like Ahrefs and Moz to understand what people search for throughout the year. Writing content with lots of search volume and low competition means you will have an easy time to rank in Google.
This type of content marketing increases authority, improve your standing in search results, and helps you drive qualified traffic to your site. Using target keywords is important to get your content found, and you need to include related keywords in your content to improve visibility while also making your content sound more natural to your readers.
5. Include Related Keywords
As we talked about in the previous point, keyword research is a natural part of SEO copywriting. Adding related keywords to your content can increase the scope of SEO content while maintaining a natural tone by using related keywords throughout your content. Sprinkling related keywords is a secret SEO copywriting tip to power up your content and get you found in search engines with less work and less time.
Once you choose a target keyword in the previous step, you'll want to insert related keywords to develop tight clusters of related terms to trigger your content in Google search results. Here are three tips to consider as you look for ways to inject related keywords into your content:
Earn Google's Trust: Google's primary goal is to eliminate low-quality, thin content that does not meet searchers' needs. Weaving related keywords into your content provide a connection between searchers' needs, search queries, and Google's relevant scoring system.
User-Friendly Content: Related keywords help Google, and your readers see how the information on a page coincides with their intent. The words you use in a piece of content signal the message's purpose, so readers know if the information is relevant to their needs.
Avoid Keyword Stuffing: Google algorithm updates have started to focus on weeding out over-optimized content because these web pages tend to rely on unsavory SEO tricks that hurt the user experience.
It's important to always think about the needs of your searchers and potential customers. The best way to get your content to stand out in search engines and engage your customers is to produce content that answers the questions and addresses potential customers' pain-points.
Think about how to add related keywords to your content if you want to make your content sound more natural and improve contextual relevance for Google's algorithm. You can add related keywords to your titles to get more clicks, so let's look at some ways to write great headlines with some SEO copywriting tips.
6. Write Headlines That Stand Out
You could be the best copywriter in the world with the best content on the Internet, but if no one clicks on your web pages, your customers won't be able to engage with your brand.
Simple optimizations to your headlines can have a bit impact on the performance of your content. This is because headlines are the first thing people see on Google SERPs, so your headline has to be approachable and pique your readers' interest to get clicked. Here are a few ways to help drive more clicks with a great headline:
Use Numbers: You can help your headlines pop in search results by adding numbers to inform readers about your content and what to expect when reading.
Lean On Emotion: People want to read content that makes them feel something. Think about how your target audience will react to your headline and how that emotion will add to your piece of content.
Be Specific: Custom tailor your headline to speak to what your target audience cares about. Don't make your headline general, and use the headline to summarize the content's core message.
Easy To Read: Your customers have a short attention span, so your headline needs to resonate and connect with your customers quickly.
Use Power Words: You can use different types of power words in your headlines to evoke different emotions and convey a specific meaning.
While SEO copywriting is rooted in getting your content found in search engines, your content needs to be interesting to get clicked. Headlines show up in SERPs and you will see a big boost in Clicks and CTR with a few tweaks to your headlines.
A snappy headline is one of the best ways to improve the Click-Through-Rate (CTR) of your pages and blog posts. A carefully crafted headline and meta description will boost engagement and help you drive more qualified traffic to your site.
Writing a headline is tough, but with a little time, you will be able to brainstorm great ideas and widdle down your options to find the best headlines to drive clicks in SERPs. Meta descriptions are also important for your site, so let's look at how you can write meta descriptions that get clicks and show up in search engines more often.
7. Write Informational Meta Descriptions
A meta description is a short snippet of text that you can add to blog posts and web pages. This informational text shows up in SERPs, and it provides human readers and search engines a snapshot of what your content is before they click on it.
Google has said that meta descriptions do not influence search engine rankings, but you should still use meta descriptions to help your human readers through the Customer Journey. Even if Google and other search engines don't use meta descriptions as a ranking factor, you need to write great meta descriptions to convey meaning and context to your audience to drive more engagement.
Here are four tips that you can use right now to write amazing meta descriptions that will get more clicks and help you drive qualified leads to your site:
Unique For Each Page: You should write a unique meta description for each blog post and web page since you want to provide readers with a snapshot of a piece of content before they click.
Include Target Keyword: People scan SERPs, so you should include the primary target keyword in the description to catch their attention. Inserting the primary keyword in a meta description shows the value of your content.
135-160 Characters: Search engines typically cut snippets off at 155 characters. This means that you should limit your meta descriptions to 160 characters to ensure the description shows the desired information without cutting off your message.
Add CTA & Phone Number: If you want people to click on your content, you need to encourage them to have a strong CTA right in the snippet. You can go one step further with a phone number in the snippet so people can call you right from search results!
While they don't directly influence algorithms, meta descriptions work with your title to inform readers about your piece of content and encourage them to click- all of these metrics are vital for a successful SEO strategy. Some SEO copywriters think that meta descriptions are unimportant because Google and other search engines don't use them as a ranking factor.
Once you understand how to optimize meta descriptions, you will start to see a boost in CTR, engagement, and conversions across your site. You can write great headlines and meta descriptions to get people to click on your content, and once on your site you can use internal links to help people navigate your site and consume more content. Let's take a look at some internal linking strategies to improve your site's authority and grow sales today!
8. Add Internal Links
Interlinking is when you add links between related blog posts and web pages on your site. These links help Google understand your site, and interlinking can help your readers navigate your site quickly and easily.
Adding links between your blog posts and product/service pages is the backbone of a strong website. Still not sold on why internal links matter to your business? Well, a comprehensive interlinking strategy can help your site in several ways like:
Crawlability: Links between content on your site help search engine spiders crawl your site in less time.
Navigation: Website visitors will navigate your site with ease as related content are linked together based on similar topics and themes.
Organization: Your site architecture will improve as your content links between relevant content.
Reduce Bounce Rate: Internal links direct readers to other pieces of content on your site, so they stay on your site longer, and this can reduce bounces from your site.
Your website is a central part of your digital marketing strategy. You can increase the usability and value of the content you produce by adding relevant links between different content types.
These links help search engines crawl your site and they also help readers navigate the site and discover relevant content. As you can see, internal linking is part of the SEO copywriting process because they help your readers and search engines understand your site.
Improve Your Business With SEO Copywriting
SEO copywriting is a process, and you need to invest time and energy to reach the right people with the right message through search engines. Finding a balance between writing for what search engines look for while also writing for your target audience can be tough.
SEO Copywriting FAQs
SEO copywriting is an advanced type of website copywriting that combines high-quality copywriting skills for human readers with SEO best practices. SEO copywriting is a  balance between fueling content with SEO factors to get found in search engines while also writing content that sounds natural and engaging for your readers.
Google and other search engines want to promote content that is helpful for your customers.
Understand your target audience
Keyword research to match user intent
Write useful content based on search intent
Use target keywords
Include related keywords
Write headlines that stand out
Write informational meta descriptions
Add internal links
Keyword research and the use of target keywords in content is a vital part of SEO. Keywords connect the needs of your customers with your business through search engines.