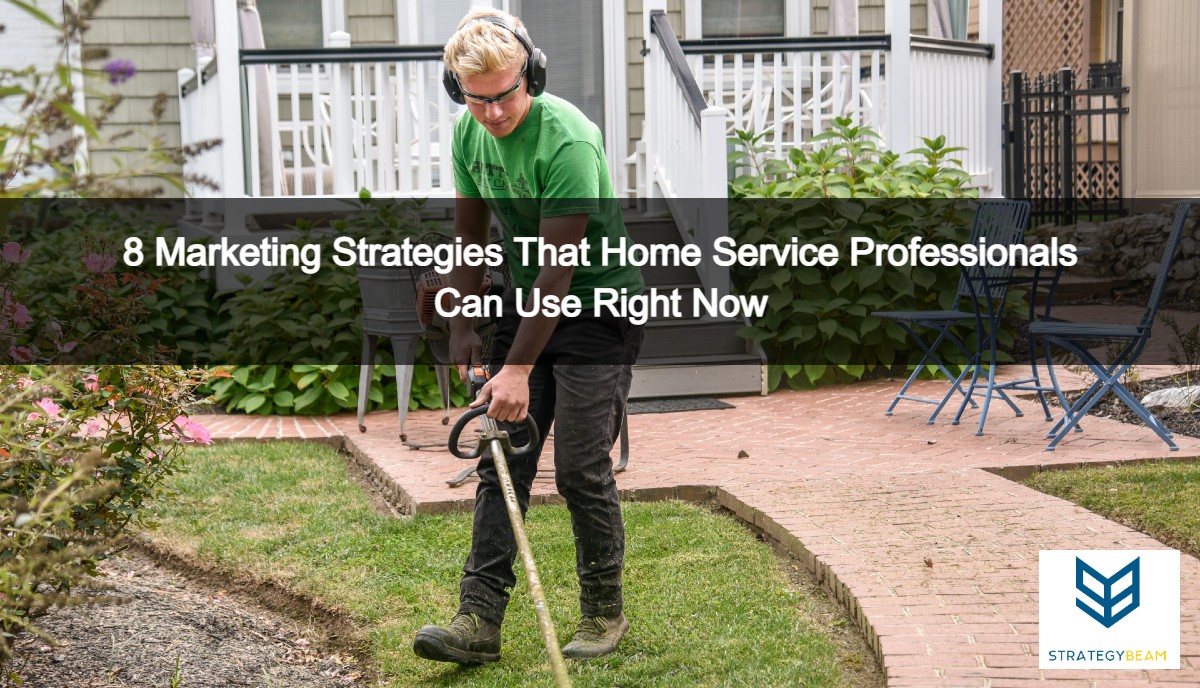 Home Services Marketing Ideas To Generate More Leads
Home service professionals often find themselves with the task of marketing their business online. It can be a daunting task, but home service companies must know how to market their business online to stand out from the competition.
Customers search for home services businesses online, so it is essential that home service professionals use these eight strategies to get ahead!
1. Optimize Your Google My Business Listing
Google My Business is a free service that will allow your home services company the ability to manage your online presence on Google. Unlike traditional search engine optimization techniques, Google My Business helps you get ahead of homeowners who live in your geographic service area.
This means that GMB and local SEO is vital for everyone in the home services industry, from electricians and HVAC to plumbers and roofing professionals. It is essential that you claim and optimize your Google My Business profile with some specific tips:
Add A Compelling Description: Your GMB profile is a great way to share the mission, expertise, and services offered by your home services company. A compelling description of your company with specialties and services can help searchers trust and understand your business, leading to more phone calls.
Add Lots Of Photos: Google My Business is an excellent place for home services providers to add photos of technicians completing a job. You don't need professional equipment either because the phone on your mobile device is good enough to snap some shots and load them to your GMB profile.
Accurate Hours Of Operation & Phone Number: Local businesses need to publish accurate information on their GMB profile. Be sure your hours of operation are accurate, and you can add a trackable phone number to the GMB profile to track who calls you throughout the year.
Include Testimonials & Online Reviews: Your marketing efforts will weaken if your GMB profile doesn't include many positive online reviews. Potential customers look at your GMB profile to gain trust in your business before they call, so make sure you highlight positive reviews from past jobs!
An optimized Google My Business page helps create a positive, trustworthy impression for potential customers searching on an internet search engine like Google. With just these few steps, you can set up an effective strategy to stand out among other businesses competing in your industry.
2. Run PPC Ads For Your Service Area
Home services companies often forget about the potential of running paid search ads for their service area. Google Ads is one of the most powerful digital marketing strategies for home services businesses. You can target your ads to only appear to prospective customers in specific geographic areas.
Running these ads can be a cost-effective method to find new customers and stand out in your local area. The key is finding the best keyword to target prospective customers while being specific enough to rank highly on Google Ads.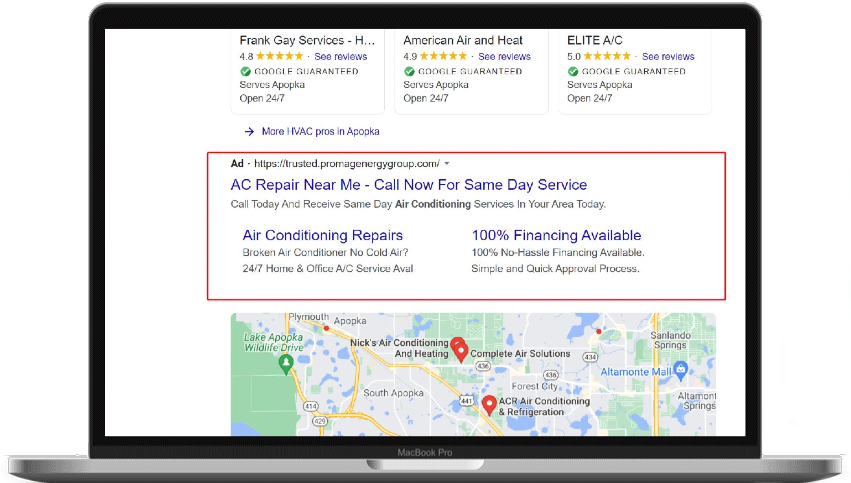 For example, if you offer plumbing services but specialize only in sinks, use the term "sink installation" as opposed to just "plumbing." This way, your competition won't show up on top when people are looking online.
Running PPC Ads creates an opportunity for home service companies who might not have much time or expertise with social media or other marketing strategies to grow their business by reaching local prospects near the top of Google and can help you drive qualified leads throughout the year.
Using PPC Ads is cost-effective and can help your home services business find new prospects near your geographic location with just minutes spent setting up campaigns every few months.
You may want to talk to a home services marketing agency before setting up a Google Ads account because you pay for every click, and you want to make sure your Google Ads strategy is working for you at each step of the way.
3. Use Local Service Ads In Your Paid Search Strategy
Local service ads are an excellent way for home service professionals to increase visibility in their local area. These types of ads can target specific customers and help you rank better on Google's search results page, which can lead to more qualified leads!
Google Local Service Ads are not available for all industries or areas, but these unique ads can drive more calls than other advertising options.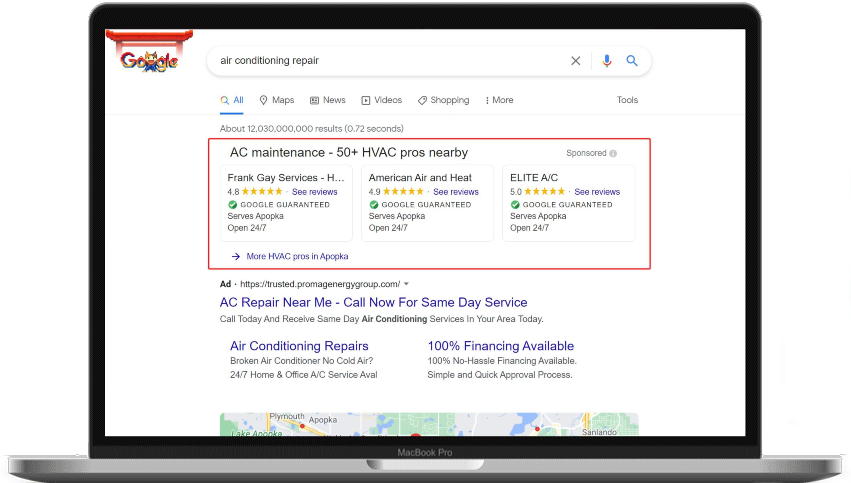 These ads are available for home service professionals in more than 25 countries and can show up at the top of Google's search results page, so they're worth taking a look at.
Local service ads are specific to your company. They offer an excellent opportunity to increase visibility in your local area while targeting prospective customers with just minutes spent setting up campaigns every few months!
The key is finding keywords that will target people looking online from within your functional area, which helps you rank better on Google's SERPs. Local Service Ads are ideal if you operate locally, as these unique ads can drive calls directly from the SERP – no clicks necessary!
4. Implement Paid Facebook Ads
Facebook Ads offers an excellent opportunity for your business in the home services industry who don't have the time or expertise to create and maintain an effective social media marketing strategy.
Paid Facebook ads to let you reach your specific customer base by targeting them based on their location- this means reaching people in specific cities or neighborhoods just as quickly as anywhere else.
Like other forms of paid advertisements, paid Facebook Ads to support your marketing efforts by displaying a highly targeted message at a per-click cost to you. These ads offer a great way to reach potential customers right from Facebook and drive them back to your Facebook page, website, or initiate a phone call right from their browser!
5. Build Location Pages On Your Website
Location pages are an excellent way to increase your website's visibility and rank better in local searches. Like other pages on your site, these pages follow a unique website design with content tailored to people in a specific service area.
Location pages are particular pages on your site with information about specific cities or towns that you serve. While other pages on your site share the services you offer, these location pages are meant to only speak about the local market and how your products/services benefit customers in that geographic area.
For example, you would create a location page with content about Orlando, FL, if you want to reach people in that city. You would also create another location page for Kissimmee, FL, if you wanted to reach customers in that city.
These pages are typically shorter in length and feature information about the area and content relevant to prospective customers in those areas.
Location pages also allow the user to see reviews from other people who have used your services- this leads potential customers towards decisions that they're likely to be happy with.
This is an excellent opportunity for home service professionals who want their business found by more qualified prospects looking online while still ranking well among competitors in a specific service area!
6. Publish YouTube Videos For Your Local Audience
YouTube Videos are an excellent way to improve your visibility on social media and increase conversions. You can use these videos in GMB posts, blog posts and even integrate them into your website design to get the most from your investments.
A home service company can make a series of short, easy-to-watch videos that teach customers how to fix common problems they run into in their homes! This is the perfect opportunity for home service professionals who have more experience with providing solutions than simply advertising themselves.
The best part about YouTube Videos? They're free! You don't need any fancy equipment or expensive software – all you need is yourself and a camera (or phone) capable of recording video footage.
The only additional cost would be if you wanted to hire someone off YouTube's platform to help edit the raw footage together before it goes live online!
7. Gather More Local Reviews
Reviews are essential for home service professionals because they provide social proof to potential customers who may not have found your company otherwise.
Google rewards companies with good reviews by showing them higher in the search results, bringing you more traffic and conversions from prospective customers!
Reviews also help show how committed a company is to its customer base by working hard to meet expectations. These positive comments about your services must remain visible on Google Search since they're valuable for generating new sales leads.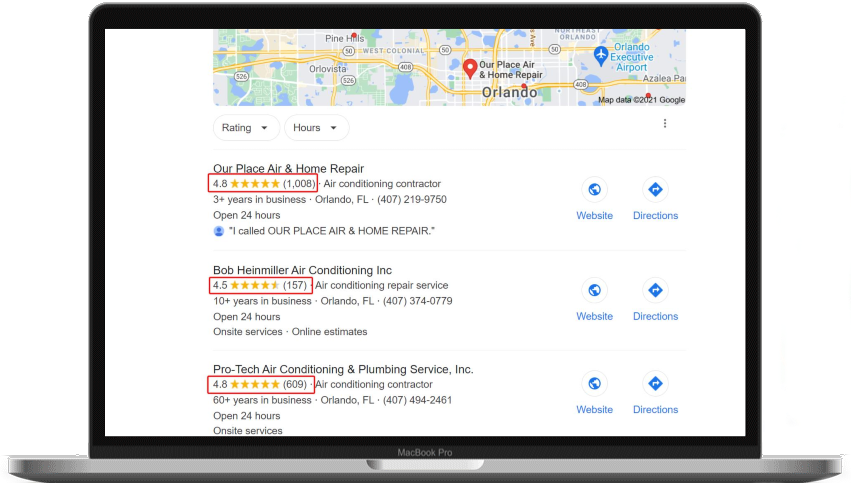 Gathering reviews takes time, but it's straightforward: just ask people if they enjoyed their experience or would recommend your business to friends/family members looking for similar products/services near their area of residence.
It's recommended to reach out to people who have used your services in the past for this type of feedback. These reviews are positive and will help build trust with future customers!
You can even use special emails like "Reach Out For A Review" or something similar- these templates already come equipped with a pre-written message. Home service professionals may add their contact information at the end if they want more testimonials from them, previous clients. This is an easy way to recruit others without asking personally every time you need new content!
8. Publish Blog Posts About Your Industry, Service, And Local Area
Blogging can be a great way to promote the services of home service professionals. Home service pros often find that blogging is one of their most effective strategies for gaining new customers and standing out online from competitors.
It is essential to include keywords to target potential customers with Google searches better and share content about small-business success stories or tips/advice for other home service professionals looking to market themselves online.
Use These Great Tips To Help You Get Ahead Of Your Competition
Use these tips to get ahead of your competition and implement strategies that will help you stand out from the crowd. If you're looking for a way to market your home service company online, contact us today!
We are experts in digital marketing with years of experience helping companies like yours succeed. Our team is ready to partner with you on an SEO or marketing plan that gets results – even if it's your first time using this type of strategy.
Which one of these eight strategies have you already implemented? What do you think has been the most effective so far?