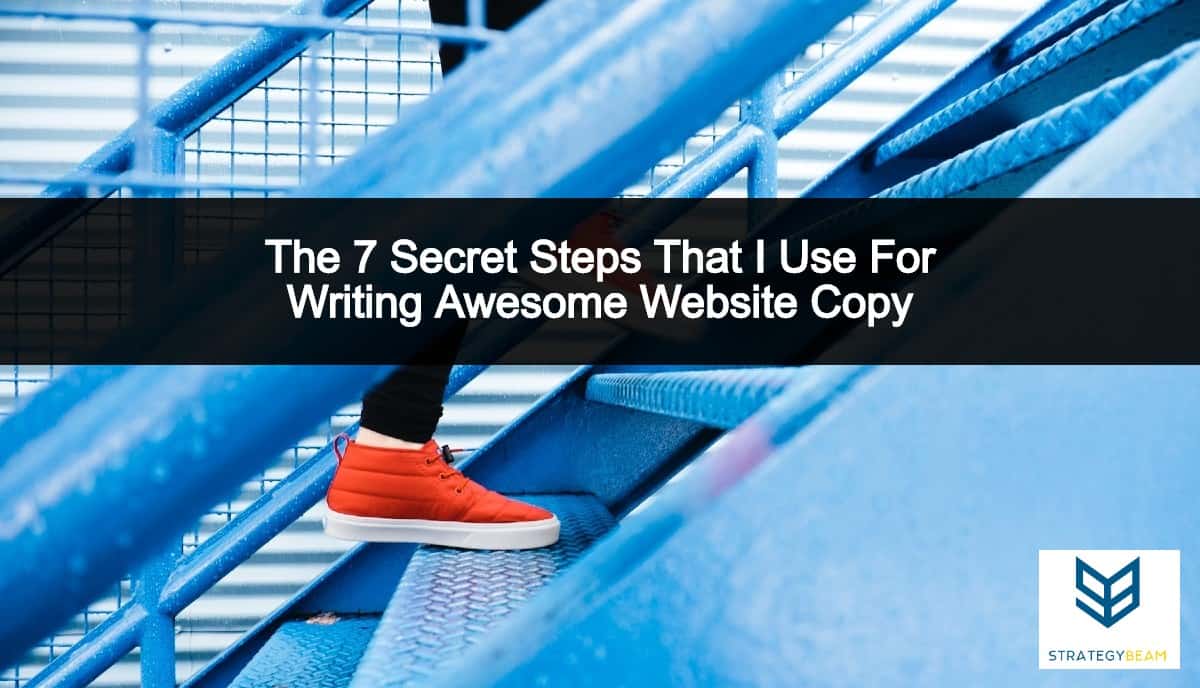 Business Copywriting For Your Target Audience
Are you waiting to update your website or expand your product line because you don't have the funds to hire an in-house copywriter? The good news is that my copywriting services are designed for businesses that are looking for professional content at a price they can afford. Here is a quick overview of the methodology we follow to write copy:
Initial research & discovery
Exploratory research
Market research & competitor analysis
Give your copy legs with a content brief
Write copy based on structure & formatting
Write the copy
Rearrange the flow, edit & expand
A lot of people ask me how I write copy for my clients. The truth is that the actual writing process is pretty quick, but the bulk of time and energy is involved in the copywriting process before and after writing the actual content.
The next question that I get from potential clients is "why should I hire a professional copywriter" or "Hey! $200/page? That sounds expensive, why should I pay that much for you to write content?"
Well, you are correct that I am not the cheapest copywriter on the market. However, the price you pay for the content is not for typing words, that cost is for the years of experience with research, optimizations, and results.
You won't have to hire multiple "cheap" copywriters to finish the project. The best copywriting is from a marketer who understands SEO, competitive research, and how to write for your target audience. Plus, handing the project off to multiple copywriters only adds headache and confusion to the project, and this type of muddle approach can screw up the deliverables of the project.
Times are tough, and even in a good economy, your business needs to do everything it can to drive as much qualified traffic as possible to your site and close as many deals as you can. This means that our content will speak to your target audience with the correct tone of voice, value proposition, and content optimizations.
7 Step By Step Copywriting Process For The Win!
Every copywriter follows a different copywriting process for their clients. My writing process has been refined over the past seven years. During this time I have found a scientific process to break down the competition, analyze how people are searching for your products, and then optimize tasty content to get found in search engines and drive results. Here is a quick overview of how I write copy from start to finish, with full explanations below to outline all the nitty-gritty details.
Stage
Primary Focus
Deliverables
Initial Research & Discovery
– Understand your company goals, products, services & your competition.
– Understand your customer problems, how they find you, and how they talk online.
– 25-point questionnaire
– Emails & calls to discuss details
Exploratory Research
– Piece together your company and customers for product development.
– Review your website, social media to understand your brand.
– Investigate forums and other websites to find questions that your customers ask.
– Record reviews on Google and other platforms to see customer sentiment, needs, gaps, etc.
– Create outlined description of finding from the onboarding process
– A detailed spreadsheet of customer interactions across various platforms.
– Summarize customer fears, challenges & goals.
Market Research & Competitor Analysis
– Research with tools and online platforms to understand your market and competitors.
– Identify patterns used by competitors, reverse engineer their SEO, and online marketing strategies.
– Connect the dots between what your competition is doing online along with their success and failures.
– A spreadsheet with top pages, content structure, ranking keywords, and copywriting focus.
– A document laying out how your competitors get found, how your service/product is unique, customer sentiment to competitors.
Create A Content Brief
– Piece together all notes from previous steps in the copywriting process.
– Identify the type of content needed, length, scope, audience, and content keywords.
– A document to organize, categorize and standardize findings for all pages and pieces of content.
– Build a content brief for each piece of content with pertaining information to ensure copy consistency across the website relationship.
Structure & Formatting
– Expand, format, and early structure of copy from the content brief.
– Insert specific data points to the content outline.
– Look at content from the perspective of your readers.
– Flesh out content using the QUEST formula for writing copy.
– Develop a detailed document based on the content brief with copy outlines, headers, and ideas for potential sections when writing the copy.
Write The Copy
– Start writing the copy.
– Use the content brief to guide copywriting with specific examples from previous research phases.
– Build out all copy to be contained in the various sections of content based on design, formatting, and other elements.
– Develop the first draft of the website copywriting project.
– A detailed document with structure, main sections, value and offer, testimonials, social proof, and Call To Actions.
– Revise content as needed during the early stages to ensure continuity across all content on the website.
Rearrange The Flow, Edit & Expand
– Return to copy after a few days to rearrange the flow, edit content, and expand sections as needed.
– Revise how the content is formatted with bullet points, images, and other design tips to help Google and readers.
– Review original copy I wrote to ensure flow, feel, and consistency fo content.
– Use tools like Grammarly to catch grammatical and spelling errors.
– Read content out loud to ensure the copy reads naturally.
I have spent thousands of hours testing different tools, ironing out the wrinkles with research, and standardizing an approach that drives qualified traffic and ranking in search engines. The copywriting process is not a cookie-cutter approach, but the way I write copy comes from a scientific approach to SEO, copywriting, and online marketing in general.
There is way too much information to share on how I write content, but I'd like to take some time to discuss the general approach to writing copy that I bring to each project. I hope this information will shed some light on what to expect when we work together in the future, or just help you learn how to write better content for your website if you take on the project by yourself.
1. Initial Research & Discovery
The most important part of writing great copy is during the initial research and discovery phase. During this stage of the copywriting process, I dive deep into historical data, look at what your competition is doing online, and uncover how your customers are searching for your products and services.
I use a 25-point questionnaire to facilitate the research and discovery process. This requires a good amount of time and effort to gather all the important information about the project, but it pays off and helps streamline the entire copywriting process moving forward.
The discovery phase of the copywriting process kickstarts the engine that drives the entire copywriting project. At this stage of the copywriting process, I will dive into various resources to learn about your customers and begin to deconstruct the marketing strategy of your competitors.
I go through the scientific approach to copywriting because it can be a real eye-opener to focus on the answers and hone in on the needs of customers. Part of the onboarding process for how I write is to write content based on your business goals. I will ask basic questions to get to know your business a bit more, like:
Your Company: We work with your team to create a complete profile of your business goals. We use a variety of surveys and interviews to make sure we understand who, what, and where your business is going.
Your Products & Services: Our copywriters will gain an in-depth understanding of your products and services. We'll dig into existing sales materials, online documents, and other resources to understand the problems that you solve and how you solve it.
Your Competition: We will begin the vital step to evaluate 2-3 of your competitors to get a better understanding of the market and your business solutions. Together, our teams will review messaging used by your competition to find opportunities to help you stand out.
The only thing that matters to your customers is how your products or services will solve their problems. The Research & Discovery phase of the copywriting process will help us understand what your customers need and how to engage them.
I want to know as much about your customers as I can before I write a single sentence. Understanding your customers gives you an unfair advantage over your competition when ranking in search engines because your content needs to answer questions and provide solutions. Some of the items we use to evaluate your customers are:
Customer Problems: The most important part of the copywriting process is uncovering specific problems customers have when they search for your product or service. Without this information, your website content will be worthless. We will dive into surveys, look through forums, and use other tools to discover the exact pain points of your customers that we will address through the copywriting process.
How Customers Find You Online: Understanding how customers search for you online is vital to create content that ranks in search engines. My step by step writing process blends the technical side of SEO with perfectly crafted content to get your site found in the search engine for specific keywords.
Language & Terms: Your customers use different languages, and your company needs to project a brand that appeals to your ideal customer base. Different industries need to use different language and terms to build confidence and authority. My copywriting process takes into account the unique language and terms that your customers use, and then I inject those terms and language into your content to make your content approachable.
Writing copy that gets found by Google and gets your customers to buy from you means that your website content needs to follow a defined copywriting process. How I write copy begins with your business goals and then moves to the needs of your customers.
Once those factors are addressed, the next writing step will involve researching your competition and diving into analytics to ensure your content gets found in search engines.
2. Exploratory Research
Once the initial discovery phase is complete, I look through the questionnaire to develop an intimate understanding of your business and your customers. I put a lot of time and energy into collecting as much information during the first stage of the copywriting process to make sure we are always moving your business in the right direction.
I reference the onboarding document that we build together often through the copywriting steps that follow because the information outlined in that document is the bread and butter of your website content. This phase is mainly comprised of reviewing your answers and asking questions about outstanding items.
I like to look through my client's website at this time and browse their social media posts to understand their core message. I also look through Google reviews and other online review sources to understand what people are saying about the business. This information is helpful to find nuggets to interject throughout the copywriting process to add polish to the final content.
This step of copywriting also requires me to check out other websites that customers look at, and spend time on sites that they spend time on. Putting time in at this stage of copywriting helps me build a clear picture of customers from the ground up.
During the search, I write down important information like customer fears, challenges, and goals. This information is added to the living document that I keep throughout the seven-step process to deliver meaningful content for your business based on your customer needs.
3. Market Research & Competitor Analysis
The next step in my copywriting process is to understand your market and competitors. Your business operates in a dynamic marketplace where trends, influences, and competitors are changing all the time. In fact, your competitors are actively trying to outrank you in search engines and put you out of business.
It sounds kind of cruel when you think of it that way, but its the truth! You have to outcompete and outsell your competitors if you want to grow and stay in the market. You can't rely on cheap content to get you leads and sales, and the only way to deliver great content is to follow a tried and true methodology to write copy that stands out in search engines to engage qualified leads.
I use a variety of tools to understand your market. This usually involves looking at various Google products and looking at your analytics (if you have been running paid ads, social media, or your website for a while). This information can help me understand seasonality, market shifts, and provide an overview of how your product or service works in the current market.
I love conducting competitive analysis because it provides a vital component to the copywriting process. Sure, you can do all the research and layout the best content structure on the Internet, but if your copywriting process doesn't involve a healthy amount of competitive research then you are missing the mark.
Knowing what your competitors are doing and how they think about the market gives you an inside track on how the message, design, and position their products and services.
In addition to peeling away from your competitor's marketing strategy, our competitive analysis can uncover a treasure trove of messaging ideas, optimizations, and other valuable information. Here are a few questions that a competitive examination will answer throughout the copywriting process:
How are your competitors optimizing content to get found online?
What makes your company unique? How can you stand out from competitors on the market?
How do customers see your competitors? How do customers view your business solutions?
How does your website, content, and messaging stack up to your competitors?
I help you connect the dots by piecing together the needs of your business and customers along with current market trends. Then my seven-step copywriting process ties in what your competitors are doing in the real-world.
No nuts about it- this copywriting process is for winners only! I will use these insights to direct the copywriting process across your entire strategy. There is a great deal of untapped information that your business will gather from a thorough competitive analysis through our copywriting process.
4. Give Your Copy Legs With A Content Brief
OK, whew! At this point, I already put in a lot of research, exploration, and took a lot of notes for your content. The next writing steps revolve around putting these notes into action, and the first stage of this process is creating a content brief for each page that we are about to write.
A content brief is simply organizing all the information we found in the previous steps to organize the next steps. This part of the copywriting process is vital because it ensures your content is concise, focused, and specific to the needs of your business and customers.
Now that we have a strong understanding of your products and services, business goals, and customer needs, your freelance copywriter will put all the pieces together into a single organized content brief.
The brief can be as complex or simple as is needed, but I build a brief for each piece of content before we write anything to ensure we are on the right track. I usually share the briefs at the beginning to show progress, but after we get into a rhythm most of my clients don't require to see each brief as we progress through the copywriting project. Each brief includes several aspects, including:
Type of Content: I identify if the content we are writing is for a blog post, a sales page, a product page, etc. This information sets the stage for the tone, message, and production of your content.
Length of Content: I don't write copy for the sake of writing content, and I will meet the demand of your content length that's needed to rank in Google and address your customer's needs (all based on previous research).
Scope of Content: This part of the copywriting process will identify the context of the content. I outline what you are trying to accomplish, the job that the content is looking to fill, and how the content will appear on your pages or posts.
Audience Focus: I identify how the content will speak to your audience based on the information we found in previous research phases. The copywriting process will include frequently asked questions, pain points, and other hot topics to include in the final content.
Content Keywords: Your content needs to get found by search engines based on specific terms people use. We line up your content to serve a job, and each page will get found for specific terms and phrases to help drive conversions.
The content brief is an important part of the copywriting process because it leads the content writing process because it brings all the moving pieces together into a single go-to reference document. We will present the content brief to you before we start writing a single word, and you will be able to give us input.
Once the content brief is complete, I get started on structuring your website copy. Moving forward with writing copy requires a completed document of research and content brief to guide our journey towards amazing content!
5. Write Copy Based On Structure & Formatting
With the framework of each piece of your website copy laid out in a concise content brief, I get to work fleshing out each page that we are about to write. I use the QUEST formula when writing copy to make sure your content is relatable by including key factors like:
Qualify The Reader
Understand Their Problem
Educate Them On The Solution
Transition Them To A Buyer
At this point, I have not even started writing copy, and I am still processing information from previous steps in the copywriting process. Remember- I follow a methodical approach to write copy, and jumping right into the writing phase of a project can be detrimental to the overall impact.
I use the QUEST formula to give me some guidance about what I need to cover in each section of the content. From inserting a catchy byline to scoping out the estimated amount of copy needed in each section of the page, I use this stage of the copywriting process to streamline copy, headers, and various sections.
This stage of copywriting also helps me look at your content from the perspective of the readers. Many copywriters only think of copywriting from the perspective of the business they are writing for, but Google and your human readers look at content from the perspective of the reader.
This means it's vital that the copywriting process follows a path to writing based on the need of your customers.
We're almost there! We are almost ready to actually write some content! Now let's dive into the process of the copywriting process that most people think of when they think of copywriting- actually writing the content!
6. Write The Copy
Alright, we did it! We are at the copywriting step of actually writing some copy! Now I get to be creative and use the detailed notes I took in the previous steps to craft some delicious, engaging, and enticing content that your readers and search engines will love!
I bring together the market trends, customer needs, competitive analysis, and your business goals at this point. I use notes from the discovery phases to build guideposts to layout how your content. While not always the case, I usually follow general steps when writing and expanding your website copy at this step:
Structure A Skeletal Outline: I use notes to identify key sections that need to be included on each page. I usually write out the length of different sections like the section above the fold, FAQ sections, etc.
Create The Main Sections: Each page on your site has a job, and I write your copy to fulfill that job function. This means that I will use keyword research to build out the main sections of each page and use keywords in the headers.
Build The Value & Expand Offer: I make sure that every section of your website is dripping with value for the customer. I begin writing each section with a basic format, then add keywords, and then expand the value and offer of each section for your reader.
Infuse Testimonials & Social Proof: Nothing speaks to your customers like other satisfied customers. This is why I always write your content to your website's current design and then insert testimonials, ratings, and other social proof to bring out the value of your product or service.
Sprinkle In Call To Actions: You can have the best copywriting process and amazing content on your website, but if you don't give your customers a way to act then you missed the point. I add CTAs in your content that your customers won't be able to ignore, and this will drive engagement and boost conversions!
Those are the five main steps in writing copy that I follow for all of my projects. Of course, there are many other considerations to ensure your content is amazing.
Sometimes the first draft will be the last draft. Other times you will have some recommendations after reading the initial draft, and your copywriter will take the notes to update the content before the final draft is delivered.
The real value of hiring me to write your copy is that I do all the research, writing, and optimizing in a single swoop. I write your content to match your website's design, so you can rest assured that the copy I send you is something that your web designer can copy/paste right into your site.
7. Rearrange The Flow, Edit & Expand
Write first, edit later!
The first round of the copywriting process is often not good enough for my standards. I usually let the content site for a day or two before I head back into the writing studio to rearrange the flow, edit the content, and expand sections as needed.
Rearranging the content is often necessary to keep the flow and general feel of website copy consistent with the research results found at the beginning of the copywriting process. I want to make sure the content flows nicely when read, and looks good from a formatting perspective.
I have found that formatting content can have a big impact on how well your website pages rank in Google. How your content if formatted can also impact what stands out to readers and direct their eye movement through the page. I comb back through your content to add bulleted lists, rearrange sections with headers, and even add styling to the content to make specific words stand out.
At this stage of writing copy, I also run your content through different tools like Grammarly to catch any grammatical or spelling errors. I often write the first draft of content with a focus on SEO and structure, while not paying particular attention to simple spelling or grammatical errors.
This stage of the copywriting process is really about taking a focused and studious approach to reviewing your copywriting project to iron out all the underlying wrinkles. Along with using professional tools, I also read your content out loud. It is amazing how many errors I catch when reading content out loud because I am forced to identify issues by speaking them out loud.
Work With Me To Write Your Copy
OK, you made it! We reached the end of the copywriting process so you now know the exact (almost) steps I use to write copy for my clients. As you can see, I take a detailed and methodical approach to writing content for all my copywriting projects.
Whether I am writing content for a new website, updating existing content, or writing copy for a blog post, I tend to follow the above seven-step writing process.
Are you interested in having professionally written content that follows the proven writing steps for your site? If so, now is the time to act and contact me about how to get your project started. Drop me a line using the contact form below and give me a call.
I look forward to learning more about your needs and to see how we can work together on your next copywriting projects!
Website Copywriting Process FAQs