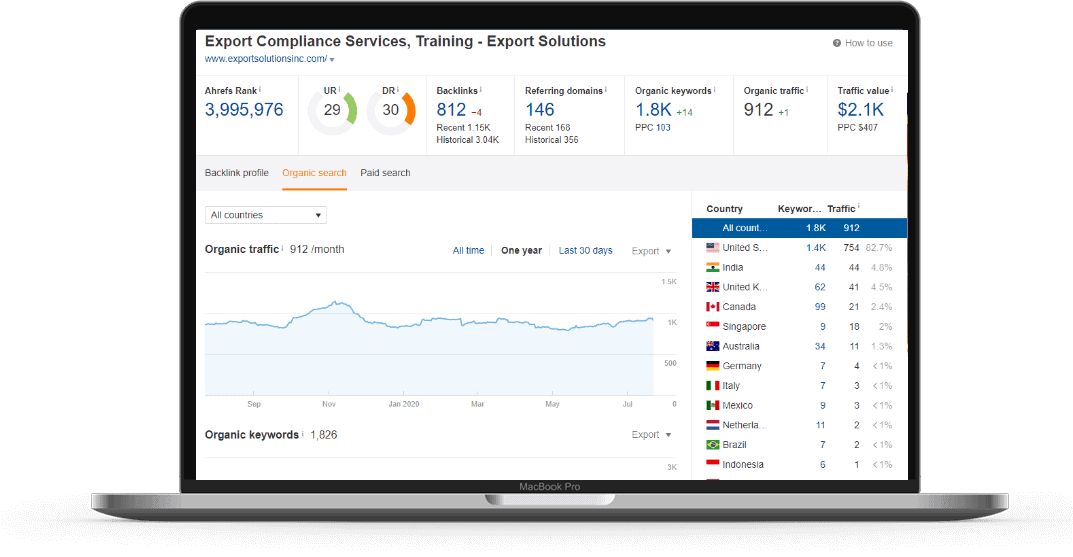 Improved Online Visibility With SEO Marketing
Export Solutions knows that they need to rank above their competitors for specific keywords used by their customers searching online. Their competition is fierce, and they were losing out on lots of qualified traffic because there were not showing on Google for keywords.
Whether looking for specific trade compliance questions or trade consultants, the Export Solutions team needed a sure-fire way to rank above their competitors to drive more traffic through organic search.
We used existing data to understand how Export Solutions was showing up in Google for desired keywords. This process allowed us to evaluate their online presence, and once we understood their needs, we used our comprehensive keyword research tactics to find ways to improve their visibility with customers.
Once we identified the terms to improve on, we got to work building unique content for all their pages. We went beyond content creation and used advance categorizing strategies to develop a wholistic workflow to take customers through the process of asking a question, finding an answer, establishing authority, and then driving conversions.
We offer Export Solutions ongoing SEO marketing services as we monitor their competition, optimize existing content, and lead the technical SEO strategy across their entire site. The result of our SEO marketing efforts has been increased online visibility by 165% and more than 1,377 monthly users YoY. This all adds up to an improved online brand, more qualified leads, and increased conversions and profits!