Export Solutions, Inc.
PPC MARKETING | WEBSITE COPYWRITING | SEO MARKETING
For over 12 years, Export Solutions has been helping companies avoid fines and penalties from trade compliance violations.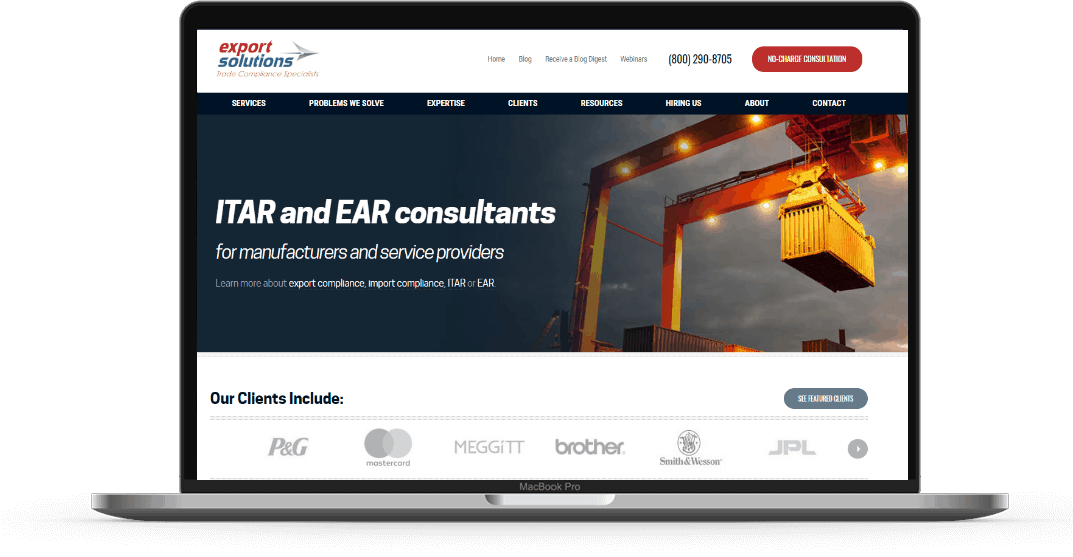 Challenges & Marketing Goals
Export Solutions build valuable relationships with their customers over the past 12 years, but their leadership team knew that they were leaving opportunities on the table. Export Solutions was not driving enough conversions, nor were they showing up on Google for valuable keywords. Even worse- they didn't know what their ROI was for PPC marketing and other online advertising, so they had no idea how their marketing budget was paying off.
Export Solutions worked with an SEO and PPC marketing company in the past. While that team was delivering some results, they were not providing the kind of return that they expected. The leadership team at Export Solutions knew they were missing something, but they were unsure exactly what they were missing or how to address their online marketing issues.
We worked with Export Solutions to develop a comprehensive schedule to roll out, create, optimize, and publish content on its website and other online resources. Our plan started by examining the current marketing campaigns and then moved to make a significant impact on their bottom line based on their business goals.

Increased conversions by 30% for qualified leads.

Improve search visibility by 165% for improved Google results.

Reduced PPC spend by 21% and improved CTR by 73%
PPC Management
Export Solutions was wasting money on Google Ads that were not performing. They needed an expert PPC management company to help clean up their existing campaigns, optimize their ad copy, and improve their landing page experience to improve conversions and make their paid marketing work for them!
+73% CTR & Reduced Spend
Export Solutions works with customers on their import/export compliance needs. Since this is a highly complicated and competitive market, we knew that we had to make every advertising dollar work for them at every level.
The original PPC management company used a bloated and confusing campaign structure for the paid ads that Export Solutions ran. This made it nearly impossible to scale the campaigns, but the structure and scope of the campaigns also made it challenging to optimize without breaking the account.
Our team used historical data to evaluate the performance of Export Solutions PPC advertising and then went to work restructuring their campaign thoughtfully and systematically. Our approach took place over several months because we didn't want to make too many changes quickly. Our adjustments were set on preserving high performing campaigns while bringing new opportunities forward to drive results.
The Google Ads and Bing Ads campaigns have delivered 20% more qualified clicks resulting in 30% more conversions, all with a 15% decrease in spending. We continually find new ways to improve PPC performance by optimizing keywords, ad copy, and landing page designs.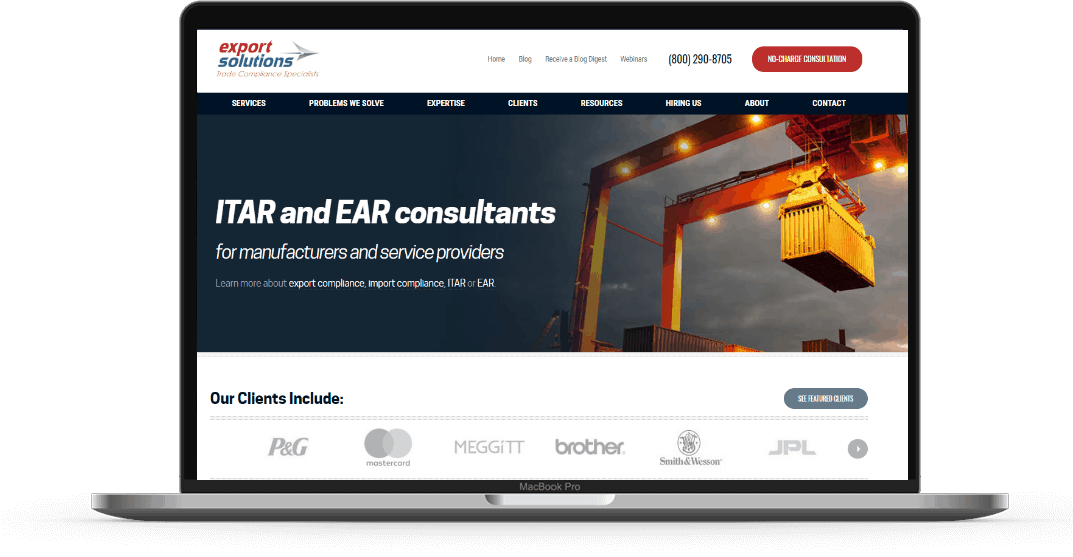 +1,377 Monthly Visitors
Export Solutions needed to show up in Google's top spots for specific keywords that their customers use when searching for their services. The previous SEO marketing company overlooked some aspects of the website that were resulting in poor performance. In addition to technical SEO, we also used existing data in various tools to understand how search engines viewed content on the pages. This information helped us optimize existing content and directed us when building out new material for their website.
We used our 7-step website copywriting strategy to deliver optimized content that Google loves, and their readers engage with. Not only is their website content delivering excellent results and showing up at the top of search results, but the content is also based on real-world problems that customers have and the questions that they are asking.
Our team also works closely with Export Solutions' leadership to direct their team of trade compliance experts when writing blog posts. We provide content briefs and work with their team of content creators to build several blog posts each month. Once completed, our team reformats, rearranges, and optimizes the content so Google and readers will love the material even more!
The result has been an increase of over 1,377 monthly visitors, a 2.35% decrease in bounce rate, and a rise of 165% online visibility.
Improved Online Visibility With SEO Marketing
Export Solutions knows that they need to rank above their competitors for specific keywords used by their customers searching online. Their competition is fierce, and they were losing out on lots of qualified traffic because there were not showing on Google for keywords.
Whether looking for specific trade compliance questions or trade consultants, the Export Solutions team needed a sure-fire way to rank above their competitors to drive more traffic through organic search.
We used existing data to understand how Export Solutions was showing up in Google for desired keywords. This process allowed us to evaluate their online presence, and once we understood their needs, we used our comprehensive keyword research tactics to find ways to improve their visibility with customers.
Once we identified the terms to improve on, we got to work building unique content for all their pages. We went beyond content creation and used advance categorizing strategies to develop a wholistic workflow to take customers through the process of asking a question, finding an answer, establishing authority, and then driving conversions.
We offer Export Solutions ongoing SEO marketing services as we monitor their competition, optimize existing content, and lead the technical SEO strategy across their entire site. The result of our SEO marketing efforts has been increased online visibility by 165% and more than 1,377 monthly users YoY. This all adds up to an improved online brand, more qualified leads, and increased conversions and profits!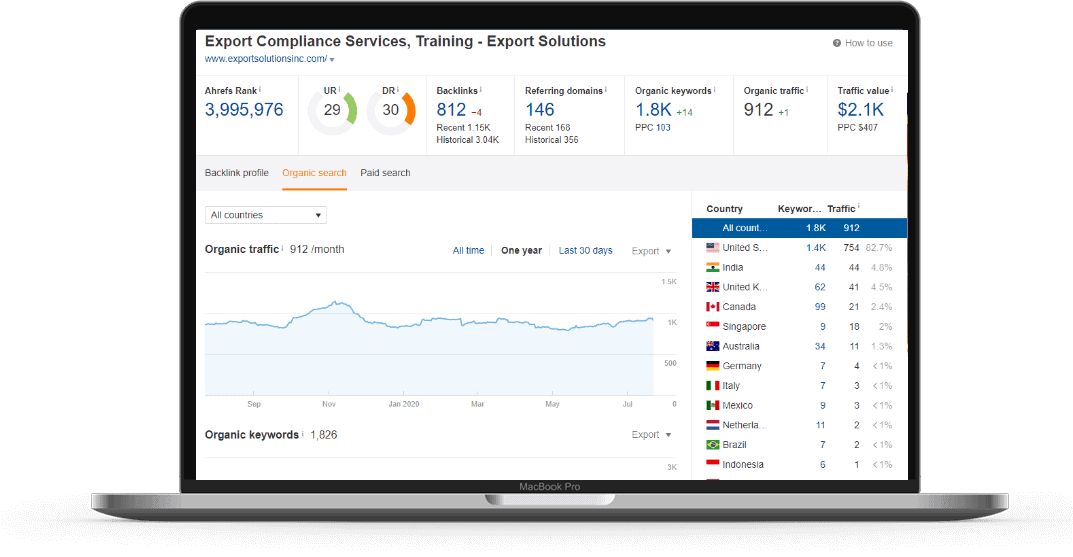 Making Content That Powers The Business
One of the first things to remember when building an FAQ page is that you are trying to provide answers to specific questions that your customers have. Your answers should be educational in nature, but you should also make your answers lean towards getting your customers to engage with you and convert. This is in their best interest, and you can encourage them to interact with you by providing the answers they are looking for and setting yourself up as an authority in the market.
We did this exact thing for Export Solutions with their Import & Export Compliance FAQ page. Prior to our updates, this FAQ page was bare bones and not very helpful to readers. This resulted in low Impressions and nearly zero clicks- neither are good for their business. We took a thorough approach to update the page and here are some elements that we considered when building the page:
We used real questions. Our team looked through contact forms and listened to voicemail messages from actual customers to find out what people were asking about different aspects of trade compliance. In addition to listening to customers, we also used different tools to find other questions that mattered to Export Solutions customers.
We categorized questions into groups. After we got done scouring contact forms and listening to dozens of voicemails, we set out to organize the questions into five large groups. Each of these groups contained questions related to the main topic and each group of questions relating to a service that Export Solutions offers.
We sent the questions to experts for answers. We are not experts in trade consulting, so we sent the questions with direction to the team at Export Solutions. We asked their team to provide a 150-200 word response to each question. This part of the process ensured that the FAQ uses correct information to address customer questions.
We added an intro to each FAQ section. We wanted to help the content get found in search engines so we added a 1-2 paragraph intro to each FAQ section. This information provides general insight to what each section will cover, why it is important, and who the answers are fo.
We added links to blog posts and service pages. We knew that the FAQ page will get lots of traffic, so we wanted to extend the value of the FAQ page for Export Solutions. To do this we added a link to relevant blog posts and service pages when appropriate. Doing this improved the flow of information throughout the site, and these links provided the customer with a way to learn more about the topic and reach out to the Export Solutions team.
Add lots of CTAs throughout the page. Since the FAQ page will get lots of traffic from customers seeking specific answers, we wanted to give customers a great reason to reach out to the Export Solutions team. We added several CTA buttons and forms on the page to attract clicks and engagement.
As you can see, we took great care when researching, directing, and optimizing the content to ensure the Export Solutions team was not overburdened. We helped facilitate the entire process by providing content briefs, direction, and content creation to make sure the FAQ page was perfect. Our team continues to monitor the Export Solutions site every month to make sure all the parts are working together to deliver the results that Export Solutions deserves!