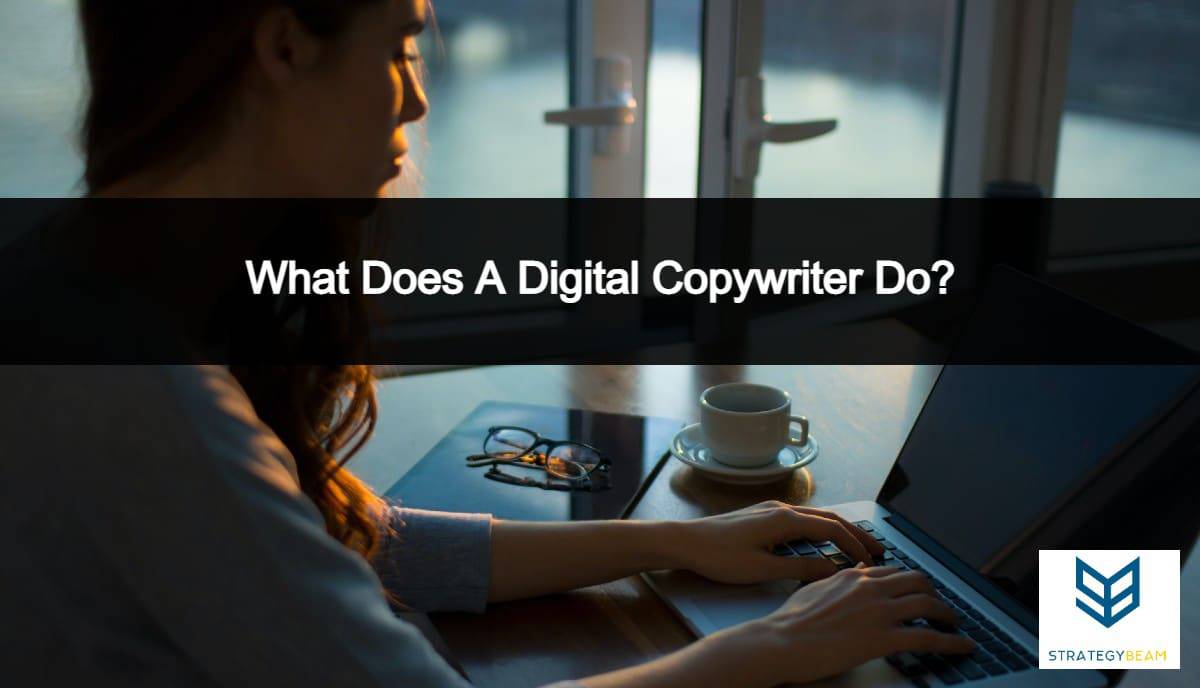 What Is A Digital Copywriter?
You already know that good content makes money. But a well-written blog post or landing page isn't all you need to generate leads.
A digital copywriter produces online content optimized for search engines and people.
They create different types of content for any online project, such as blog posts, landing pages on your website, or social media posts to engage with your target audience.
You might think that a digital copywriter is like any other content creator. However, there is a big difference- because digital copywriters need to be SEO experts with content writing that can capture an audience and convert them into buyers.
Not only this, but an excellent digital copywriter will have knowledge of content marketing strategies and can implement tactics to help your site attract more traffic through SEO.
Whoever you hire shouldn't just write copy. Though tricky and time-consuming, an excellent digital copywriter can blend the science of Search Engine Optimization with the art of evocative and engaging content writing.
Their job is to write copy that sells.
You can imagine that finding and hiring a good digital copywriter who performs these tasks well can be a challenge.
While finding a great freelance copywriter can be difficult, outsourcing your content writing needs is much easier and less expensive than hiring an in-house writer.
Salary.com stats that the average salary range for a digital copywriter is between $45,009 and $60,890/year. That adds up to a lot of money for your business, and you can avoid unnecessary costs by outsourcing your copywriting needs with a freelance copywriter today!
Along with the immediate cost savings that come with a freelance writer, you will also be able to boost your digital marketing campaign to new heights with their expertise and insights. There are many benefits for hiring a freelance copywriter vs. hiring a full-time employee, and we even put together a guide on how to sell the idea of outsourced copywriting to your manager or boss!
So what can a digital copywriter do for you? Here's why you need to hire one:
Never miss out on high-quality copywriting that converts readers into buyers, helping you reach your goals in a fraction of the time.
Get quality content from a professional with years of experience who knows what marketing strategies will work for your unique business.
Produce SEO-focused blog posts, product pages, PPC ads, landing pages, and digital marketing campaigns that will boost conversion rates and ensure your content will capture your target audience.
Save time and energy for more important tasks instead of researching your competition, writing copy, and editing written content for your site.
Scale your business by bringing on an expert who knows how to research and deliver great content without the training required with an in-house employee.
In today's online world, good copywriting skills won't cut it.
You need great content to stand out and drive more qualified leads to your site.
Industry-leading freelance copywriters have an entire toolkit in their back pocket that they can use to help you grow your business. This includes skills like research, editing, and SEO knowledge to help your web pages rank above your competitors.
Hiring a professional is a net positive for you and your business even if you're confident in your writing skills.
Not only will you get great copywriting and conversion-focused content for your social media channels, but you'll also free up time in your schedule.
Let's explore what a professional copywriter does and how they can help your company grow.
What Does A Digital Copywriter Do?
When you think of a copywriter, what comes to mind?
You might think of marketing agencies or ad copy. Maybe even something long-form, like whitepapers used to help guide your audience through the sales process from beginning to end.
While some copywriting jobs are like this, digital copywriting can deviate from this idea because a digital writer's focus is on how to help you rank online and drive more sales.
Digital copywriting is more than just putting words on a page and hoping it sticks out.
A good digital copywriter needs to know how SEO works if they are writing blog posts or landing pages, or how to write compelling ads for various platforms like Google Ads and Facebook.
This means a digital copywriter needs to understand their writing platform, your target audience, and the sales process. That's a lot more than simply understanding how to write content that sounds good!
But what else do they need to provide? Let's take a look:
End-to-end communication with clients via email, phone calls, and Zoom meetings from inception to publication. A good copywriter needs to keep you in the loop at all times.
Proofreading and editing skills to ensure their digital copy is free of grammatical errors and spelling mistakes. A good content writer needs to create content that is free of errors to help build authority.
Transparent briefs so they can capture the needs and wants of your potential clients. You should expect your copywriter to have a methodology that includes briefs, so you know exactly what you're getting before they send you the final version of the content.
Identifying and understanding your target audience and their desired message, since digital copywriters write content not intended for the client but for the readers they want to attract.
Collaborate with creative teams to ensure your visuals complement their words and create cohesive, attractive, and educational digital content. This is especially important when a copywriter builds a landing page since design and content go hand-in-hand to drive conversions.
Perform extensive research on your industry to write copy that targets your readers and boosts your conversions. A copywriter needs to understand how an audience is and the market serve to provide great content.
Write for various types of digital media, including blogs, social media content, e-books, product descriptions, and more. You need a writer who is a master in various platforms to deliver content that meets specific requirements in each platform.
Now that we have a general understanding of what a freelance content writer does let's look at the types of content they produce so you can start thinking about the type of writer you need to hire for your upcoming marketing campaigns.
What Type of Content Does A Digital Copywriter Produce?
Every digital marketing campaign is unique, and your business needs to hire a copywriter with a voice and tone that matches your brand.
The same goes for different types of content like social media content which will call for different writing skills than blog posts and articles due to the type of audience that content tries to reach.
An excellent digital copywriter can balance these styles and adapt their approach based on the target audience and platform they are writing for.
Let's explore the different types of content that digital copywriters can create to help build your content marketing strategy.
1. Blog Articles
Blogging is the hub for driving organic traffic to your website because it stands out in Google as you answer common questions your customers ask.
The right article will engage with potential customers as they search for questions or concerns, and then that content will convert your readers into new customers as they understand your value.
But blogging isn't just about getting lucky. There's no formula for a stranger to become a subscriber.
Every business should have a blog, meaning you'll need an experienced copywriter on your team to help boost your conversion rates as you drive more qualified traffic to your site.
A great digital copywriter needs to know how to optimize a blog post around specific keywords to get found in search engine results while also optimizing that content to engage with your readers.
Finding a writer who can optimize for robots and people is rare.
Still, if you can find an experienced freelance writer who offers proven results, your business will be in a great position to drive qualified traffic to your website.
2. Website Landing Pages
A landing page is the first place potential clients will end up and the first place you need to pin them down and convince them that your product or service is better than your competitors.
A landing page must rank in search engines while establishing trust and authority with your audience. These pages also need to be explicitly designed to drive conversions.
These pages are challenging to get right, so your freelance copywriter needs to understand design, SEO, and Conversion Rate Optimization (CRO) to get the most out of each landing page you produce.
This combination can be hard to nail, so you need an experienced copywriter with professional skills.
3. Google Ads & Facebook Ad Copy
While organic traffic is essential, PPC ads are also vital for your marketing strategy.
You need qualified leads to click on your ads and head to your site. If you aren't attracting the right people, then your PPC ads aren't going to end up a net positive on your budget sheet.
Creating converting ad copy for Google Ads and Facebook Ads is extremely important for your marketing campaign. This is precisely why you need a professional copywriter on your team.
Your digital copywriter will be able to craft copy that captures the right audience from your PPC ads and converts them once they hit your site.
Hiring a copywriter will save you time, energy, and money regarding PPC ads.
4. Ebooks
Today's marketing landscape is much different than just a couple of years ago when you could drive leads with a simple website.
Times have changed, and your audience expects specific types of content to address their news throughout the buying process.
If you want to see success in your marketing campaigns, you need to offer educational content and expertise to gain the trust of your audience.
A great way to do this is through ebooks. If you publish a high-quality ebook that sets you apart as a thought leader, you're more likely to convert potential clients into customers.
You'll need a good copywriter to take your thoughts, expertise, and content and turn it into a valuable ebook that people will exchange their email addresses for downloading.
Whether using this ebook as a lead magnet or selling it to your customers, a digital copywriter with excellent writing skills can ensure it generates leads and fosters brand loyalty.
Make sure you hire a freelance writer with experience writing, optimizing, and publishing ebooks and other lead magnet content. This writer should understand a customer journey and how you can use different types of content to optimize the user experience and drive more conversions.
5. Social Media Posts
You're missing out on many leads if you don't have a social media marketing strategy. Depending on your industry and target audience, you can reach many people ready to buy your products or services on Facebook, Instagram, and other social media sites.
With how fast-paced the online world has gotten, it's hard to break through the digital clutter and get your business seen.
But a good copywriter can easily capture your target audience's attention and start leading them down the funnel.
Social media is another skill set that your copywriter needs to have, so be sure that you're hiring someone who can jump fluidly from one type of content to the next.
What Skills To Look For In A Digital Copywriter
Good digital copywriters will have a toolkit full of skills to help your business reach its growth goals. These skills include everything from market research to content production, to marketing strategies and content optimization.
With such a wide range of skills and a deep understanding of the knowledge necessary to be successful, hiring a digital copywriter is an investment.
But it's a smart investment.
A digital content writer will provide a better, more refined output, which means you'll hit your goals in half the time a less experienced hire would take.
With high-quality copywriting skills and a slew of other trade secrets, a copywriter is a marketing asset for your business that can bring the benefits of an in-house marketing team at a fraction of the cost.
But how do you know what skills to look for in a copywriter? Let's look at the primary skills you should keep an eye out for when hiring a freelance digital copywriter.
1. Planning and Implementing Marketing Campaigns
Normally, content writers are just that—content writers. They work on projects that align with your business but don't stray outside their tasks.
This isn't necessarily bad, but it can sometimes eliminate cohesion within your marketing strategy.
Good content, like blogs or social media posts, should blend seamlessly with the rest of your digital marketing strategy.
To get the most out of your marketing investments, you should seek a freelance writer with experience managing and planning marketing strategies. This will direct your marketing efforts to ensure the content they produce will work in your overall marketing plan.
Digital copywriters have the knowledge and skill set to plan and implement marketing campaigns from start to finish.
This means creating assets that can be weaved together and are connected to other aspects of your marketing efforts. Instead of having a nice blog post, you will have an asset that supports other areas of your marketing strategy.
2. Strong Writing Skills
This skill may seem common sense, but your copywriter needs to have outstanding writing skills. A few elements to look for when evaluating the writing skills of a freelance writer include:
Creativity: Does the writer combine planned ideas and new thoughts together? Do those thoughts offer insights that your target audience is looking for?
Grammar: Does the writer use proper grammar in their writing? This is essential to ensure your brand looks professional and to build your authority online.
Unity: Does each paragraph of a blog post, ebook, or white paperwork together for an intended goal?
Focus: Does the writer focus throughout the piece of content? This is important to keep your audience engaged and move them toward an intended action or conversion.
If your copywriter isn't giving you high-quality digital content that is converting, you might be wasting precious time and money. That's why it is essential to find a freelance writer who knows how to write great content that meets the needs of your audience and aligns with your business goals.
3. Creative Thinking
To rise above the competition and get your business seen in a fast-paced world, you need unique digital content and heads above your competitors in terms of quality.
Your copywriter should have creative thinking skills to find new solutions to capture your audience's attention. This can be writing about a common topic in a new and interesting way, or diving deeper into each topic to provide more information to your readers not offered anywhere else.
The best marketing content doesn't look like marketing, and your call-to-actions (CTAs) must be unique enough to make potential clients invest in you.
Your digital content writer needs to have enough creativity to get your business in front of your audience and turn them into paying customers.
4. Research Skills
It might be a no-brainer, but good writing comes with good research skills.
A freelance writer needs to know how to perform competitor and market research to understand what your target audience looks for online. This information will guide their strategy as they build content around the needs of your audience to help drive more customers and boost sales.
Even if your copywriter is an expert in your industry, there is always something new to learn and places to dive deep with research.
High-quality content needs thorough research backing it to ensure you're educating your readers with the most cutting-edge information.
If not, you could be risking your reputation and losing the trust of your audience.
5. Editing Skills
No writing comes mistake-free, even from the best, most experienced content writers.
However, good copywriters can edit their work and ensure it's in tip-top shape before it goes live.
If your readers see content riddled with grammatical or spelling mistakes, they might start to think that you are producing bad content.
And like we talked about before, with writing skills, you'll start to lose the trust you worked so hard to build with your audience.
If your readers can't trust your content to be polished before publishing, you'll start to bleed traffic.
Many of the best copywriters work with a team of editors.
Still, at the very least, you should expect a copywriter to run their content through Grammarly to catch simple errors before sending you the final content.
Now that we have a good understanding of the types of skills a great copywriter needs to have let's look at the qualities a writer needs to have to produce great content that drives your business forward!
What Qualities To Look For In A Digital Copywriter
We've gone over what skills an excellent digital copywriter needs to add value to your business, but what about their qualities?
What should you be looking for when you start the hiring process?
You want someone professional, skilled, and experienced—but there's a lot more that you should be looking for in a content writer.
Because an expert copywriter is a more significant investment, you must choose your hire wisely. If not, you may find that the investment falls flat, and you don't see the output you should be getting.
Experienced copywriters can refine your content and boost your brand so that you see better conversion and retention rates.
Let's explore what qualities you should be looking for in your next digital copywriter!
1. Writes Content For Search Engines & People
Great copywriting isn't just putting words down on a page and hoping people read them. Good copywriters can blend technical SEO with emotive writing to create content that converts.
Your copywriter should be able to write high-quality content that ranks you on Google while giving life to your blogs, social media posts, or paid ads.
SEO copywriting isn't just a side dish—it's the main plate that needs to be put right in front of your audience.
If your content writer can't nail ad copy, sales copy, or product descriptions with a mix of excellent writing and SEO, they aren't worth adding to your team.
2. Communicates Clearly
Maybe you think this topic should be considered common sense, but you would be surprised by how many writers can't communicate a topic to readers or an idea to their team.
No matter what situation your copywriter is in, they should be able to communicate easily.
If you find yourself reading their content and needing more information to understand what they are trying to convey, you can trust that your audience will need to do the same.
Clear communication looks like easy-to-read blog posts, concise copy, and proofread content. This is especially important if your business works in the medical, financial, or legal industries since Google (and readers) hold those companies to a higher standard.
3. Puts The Reader First
Great copywriting is like reading a story. There's a narrative theme going on that helps lead your potential customers down into the sales funnel.
But copywriting is all about hooking your reader and pulling them to convert them into customers.
To do this well, content writers must always put the reader first. They need to know who the reader is and how to sell to them.
The only goal in copywriting is to hook the reader in the first sentence, guide them into the second sentence, and make them want to read the third sentence. By then, you've got them on the line and can guide them to your call to action.
4. Writing Sounds Natural & Conversational
The fact is, in the freelance world, not every writer isn't going to be a native English speaker. But the problem with that is you'll have a hard time gaining trust from your audience if your content doesn't sound natural.
Even some native English speakers and writers have problems making copy sound casual.
But the best marketing doesn't sound like marketing. It sounds like a conversation between you and your potential clients.
If your copywriter can't make your content sound natural, you might miss out on conversions.
5. Reliable & Timely
Content marketing calls for consistency. You know this, but not all copywriters can claim consistency as one of their strong points.
You need a reliable digital content writer who can submit their work on time. If you don't have consistent marketing efforts, it'll be harder to get things like social media content and paid ad copy in front of your target audience.
Even the best copywriter isn't worth the investment if you can't rely on them for their great content. Make sure your new hire is consistent and on time or you'll lose out on business.
Hire A Freelance Writer For Your Business!
Hiring a freelance copywriter can help take your company to new heights. Whether in charge of a ten-man team or running your business solo, bringing on a freelancer can save you time and energy and make your content stand out.
But a good copywriter doesn't just get words on the page. A great copywriter can blend the science of SEO with the art of engaging content writing to make copy that sells.
Hiring a content writer means gaining a marketing asset with excellent writing skills and a capable SEO toolkit.
This kind of investment in today's digital world is crucial to getting your brand seen.
No matter your business goals, a freelance copywriter will boost your digital marketing campaign and make sure your web pages rank high in the SERPs.
Free up your precious time, save energy for more critical tasks, and get content that converts when you hire a digital copywriter!