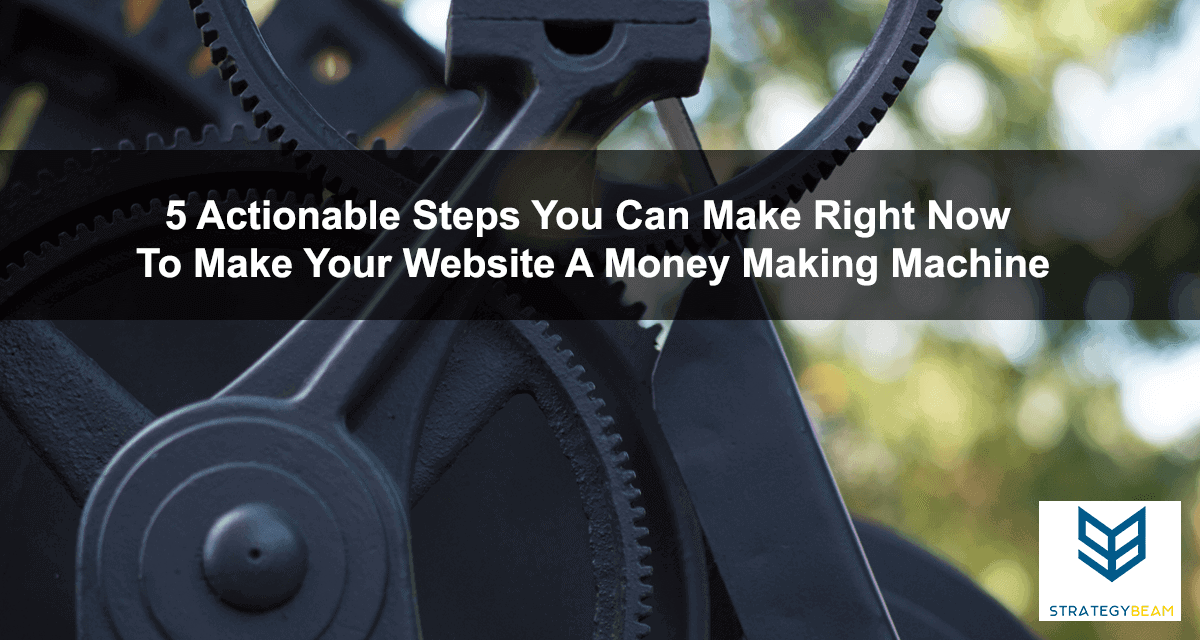 Is Your Business Website Losing You Sales?
Did you know that companies that take a focused approach to conversion optimization are twice as likely to meet their sales goals? As more of your customers search for your business online, you need to take a strategic and logical approach to help your audience understand your products and services by using a well-designed website.
I work with several businesses in Orlando, FL and throughout the U.S. to increase their conversion rates and boost sales. One of the first things I notice for those clients who are failing to reach their goals is that they often have designed websites. I use a number of free small business marketing tools to help my clients and your business can grow and increase sales!
Since your website is the first thing that your customers see, it is vital to ensure that your site design and copy are optimized for your audience. The design and copy of your site affect your reputation, conversion rate, and profits.
Here are some of my favorite tactics to use when reviewing a site to determine what aspects could be blocking conversions. You can use these tips to take a quick snapshot of your website when troubleshooting.
1. Keep the Navigation Straightforward
Your readers have a short attention span, so you need to organize the information on your website in a way that is easy to understand with professional freelance copywriting. The navigation of your website is one of the most important pieces of your User Experience.
Without a clear understanding of how to access your information then your customers will get lost. As a result, you won't convert into paying customers.
While the navigation menu is not something you think about, you should take a moment to look over your website navigation. Try to find if it is your products and services are organized in a way to encourage your customers to buy from you.
Your navigation is the quickest and easiest way for your customers to understand your business. Since readers are on your website, you know they are interested in what you offer. This is why you need to make it as easy as possible for your customers to find the information they need to buy from you.
Place in a familiar location. Some businesses try to be creative and put the navigation menu in the middle of the page. But, since your customers are in a hurry, you want them to find the list.

Use sticky navigation. This helps with usability for longer pages and ensures your clients have quick access to the rest.

Name menu items with prominent names. Don't try to be witty when it comes to the navigation menu. Instead of using obscure names for things use primary names.

Don't have nested drop down menus. These are menus where things pop out of other menus. These types of navigation menus tend to confuse readers and make it difficult to find information.

Limit the number of items in your navigation menu. Try not to have more than 5-6 items in the main menu, depending on size and spacing.
Your navigation menu needs to be instinctive, natural, and user-friendly. Keep your customers in mind as you create your navigation menu. Tailor how you design it and the content you put on the menu around what your business offers and what they are looking for.
Your customers will enjoy having great website copy because it will help your audience find the information they are looking for. At the same time, your business should focus on how your customers will interact with your website. Providing an excellent navigation menu for driving traffic and conversions!
2. Improve Your Call To Actions
Having effective Call To Actions (CTAs) throughout your website is essential if you want to encourage your customers to move towards a conversion.
Your site has a goal, and it is up to you to design your website to help your customers towards that goal. A few of your business goals can include:
Filling in a contact form

Signup for a newsletter

Downloading an ebook

Purchasing from your online store
CTAs are powerful tools on your website to help your customers find the information they need. Some ways you can improve your CTAs across your site is to test five dimensions of your Call To Actions by asking yourself if the CTAs are:
Attention grabbing

Action oriented

Quick and to the point

Descriptive

Designed to stand out
Working with a professional copywriter can help you produce great Call To Actions to help your readers recognize and take action. Your CTAs should focus on the value of your products and services. Produce great website copy around your Call To Actions to maximize their impact.
By focusing on great website copywriting and following the basic rules of Call To Actions, your business will be able to entice your readers to take particular measures. Together, your website copy and CTAs will help increase conversions and boost sales!
3. Give Every Piece Of Content A Single Goal & A Strong CTA
You should approach every piece of content and web page on your website with a specific goal. I find that many small businesses have website pages that don't focus on a particular goal. This type of unfocused content product can confuse your customers and cause them to leave your site before converting.
Always create content for a particular purpose in mind. This approach will help you keep your messaging and tone consistent.
Make sure that your website copy is created in a way that keeps the interest of your readers and is built around the needs of your customers. You should also create your site content based on the goals of your business. Minimizing confusion and keeping a consistent tone and message will help your readers buy from you through your website.
4. Write Compelling Website Copy
Website copywriting is one of the most important things for your online presence. If you want to increase conversions and meet your sales goals, then you will need compelling website copy.
Since your website is one of the last touch points before your customers make a buy, you need to ensure that your site copy is optimized for conversions. Having compelling website copy that your clients will understand and engage with.
Emotional text can have a significant impact on your bottom line. If you can connect with your readers on an emotional level, then you will have a better chance to convert them to paying customers. Use words that provoke urgency and make your customers want to act now!
Using proven conversions techniques, you will be able to use powerful language and advanced conversion techniques to attract your target audience. As a result, your business should see an increase of online conversions and meet your sales goals!
5. Hire A Professional Website Copywriter
As we discussed on the previous point, having a compelling copy that educates and engages your customers can have a significant impact on the performance of your website and online sales.
Many business owners don't have the time or experience to write the kind of copy that they need to meet their goals. Instead of producing compelling website copy, some businesses suffer from poor performance because they don't know how to put the pieces together and optimize for the needs of their readers.
Instead of guessing and risk losing sales, you should hire a professional copywriter because they will:
Help you overcome typical objectives. Powerful website copy will help your customers trust your brand and overcome common goals before your customers lose interest.

Research, identify and showcase the core benefits of your features and benefits. Many business owners focus on features, but it is much better for your website copy to focus on the advantages and results.

Create a message that builds trust between your readers and your business. If your customers don't know who you are or what your brand stands for then, you will need effective website copywriting to gain the trust and respect of your customers.
Since the goal of your business is to make money, a professional copywriter will help you craft content that will encourage your customers to take action. Great CTA and other copywriting tactics will help your business drive sales and increase conversions.
Website copywriting will need to be easy to consume on both desktops and mobile devices. The professional website copywriter will craft copy for your site that will engage your customers, educate them on your products and services, and look great on any device.
Copywriting is an investment for your business, and it is not something that should be pushed to the side or entrusted to an amateur. Since your website copy helps your business get found online and convert your audience into paying customers, you should only trust your time and business to a proven website copywriter.
Professional Digital Marketing Insight For Your Business
If your company wants to increase traffic and boost conversions, then you should use the tips above to troubleshoot your website. A quick review of your site could present you with several areas that should be optimized to meet your business goals.
Checking the website copy is one of the most important parts to ensure you are making the online sales that you deserve.
So give it a try today and test out what could be causing your website to lose sales. If you are ready to hire a professional copywriter for your website content, then feel free to shoot me an email and let's talk about how to make your business more money!