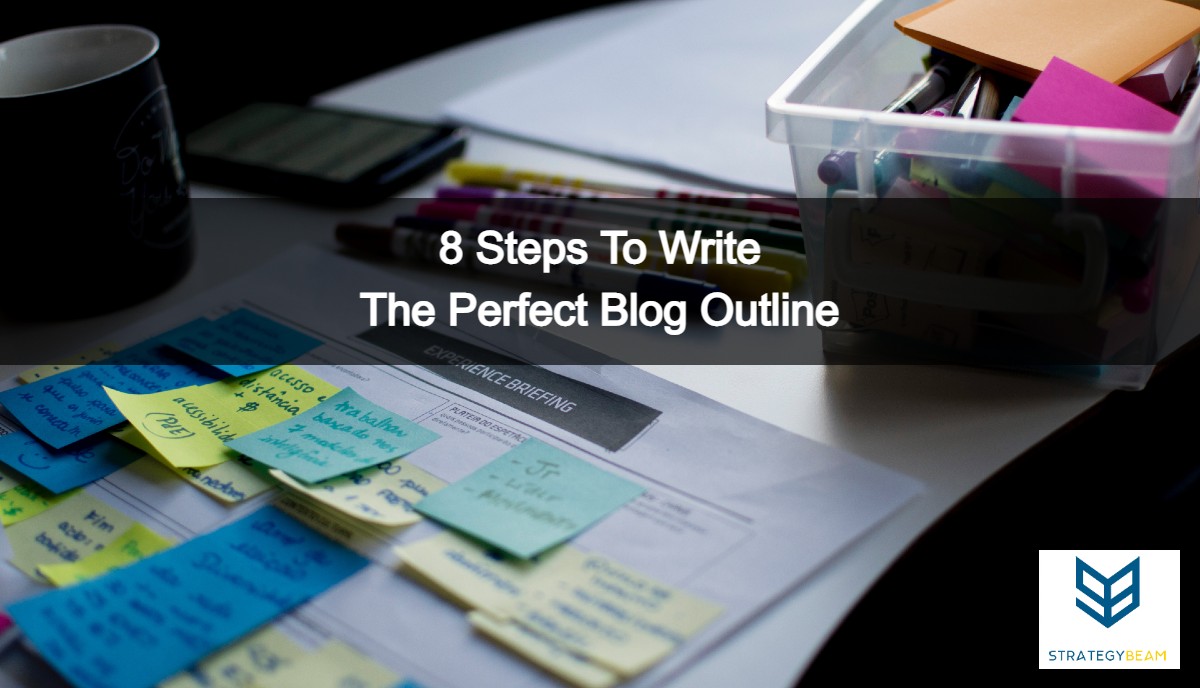 How A Blog Post Outline Can Help Your Business
In order to be a successful blogger, you need to be able to produce high-quality content on a consistent basis. This means not only writing content that answers questions that your target audience is asking online, but also planning each piece of content in a way that incorporates target keywords and provides relevant information for your readers in an intuitive manner.
One of the best ways to do this is by creating a blog post outline to help guide your writing process and ensure you write a great blog post that gets found in search engine results and engages with your audience.
This means that your blog post outline should start with a strong blog post introduction that grabs your audience's attention, following up with sections on how to craft engaging body paragraphs, and closing with a compelling conclusion.
Over the past 8 years, I have been writing blog posts and other great content for clients in a variety of industries. Let me tell you that it is tough to balance hitting key points in your blog posts and including various keywords in an efficient manner without a blog post outline to help guide your writing efforts.
When I first started writing I would routinely just start writing and adjust the content on the fly. However, I quickly realized that this workflow was inefficient and I would often add fluff into the content because my mind was meandering. This resulted in content that did not read well and typically did not perform well from an SEO perspective.
I'm here to help save you lots of time by sharing how to write the perfect blog post outline to help you write better content in less time. If you want to create the template for a perfect blog outline, just follow our eight simple steps to writing the perfect blog post outline!
How To Write A Blog Post Outline
You've probably heard your English teacher tell you once or twice that the key to great writing is an outline. Blogging is no different! The best business blogs in the industry come from an outline because blog outlines let you plan ahead to ensure you hit subtopics before you begin writing great content.
Blogging is an important part of any content marketing strategy because great blog posts provide an educational and entertaining way to hook your audience as they search for specific questions online. Plus, you can use a call-to-action (CTA) in order to boost your conversion rates at the same time that you're building brand loyalty.
Now that we know why a blog post outline is important and how it can help your blogging efforts, let's look at a few items you need to consider as you plan to write a great blog post to drive more qualified traffic to your website.
1. Identify Your Target Audience
Before you start writing quality content, it's important to understand who you are writing for. You can write the best content in the world, but if your content is not laser-focused on the needs of your audience then your content will not get found in search engines since you won't answer the questions your customers ask online.
For instance, if you're writing a blog about fashion, your target audience is likely going to be people who are interested in fashion so you should write about topics that your audience is searching for online like seasonal fashion trends, industry updates, and fashion tips or tricks.
Here are some tips to help you understand who your target audience is so you can craft great blog posts that meet their needs and help you get found in search engine results.
Conducting Market Research
The first step to identifying your target audience is to use various research tools to find the needs and common questions your audience asks online. Building blog content around these needs and questions can help you write great content that gets found in search engine results and drive more sales as you show that you are an industry expert.
Look at your competitors with tools like Ahrefs to find gaps in their content so you can write content that engages with the needs of your audience. You can also use a tool like Google Trends to identify online trends or look for common questions posed on social media to get an idea of what topics are popular and who is interested in your niche.
For example, if you're writing a blog about fashion, looking at different fashion blogs can give you an idea of what topics are being talked about and who your audience is so you can write great content that stands out online and drives qualified traffic to your website. Keep some of these tips in mind as you look at competitors to get content ideas and ensure your content resonates with your readers:
Pay attention to what's trending: Look at social media trends and online search data to see what topics are popular right now in your industry. This can give you an idea of what topics you should focus on in your content, as well as help you understand who is interested in these topics.
Consider your competition: Take a look at other blogs or websites that are competing for the same audience that you are to understand what content is performing well on their end. This can give you some insight into the types of content that your audience consumes, as well as help you identify potential keywords and topics to include in your blog posts.
Think about how your target audience interacts online: Consider how people within your target audience consume content. For example, do they like to watch videos on YouTube, or do they prefer to read articles on a blog? Knowing how your target audience interacts with content can help you choose the right format for your blog posts.
Identifying Your Buyer Persona
A buyer persona is a character that you create to represent your target audience. This person may be based on research of an existing or desired customer base, but they're always made up!
Simply put, a buyer persona is a semi-fictional character that shows your target audience. Creating a buyer persona can help you understand your audience better and make it easier to target your content.
When creating a buyer persona, bloggers should consider things like:
Demographic information: This includes things like age, gender, and location. This information will help you determine everything from the topics you cover to the type of language you should use when writing your blog content.
Interests: What are your buyer persona's hobbies or interests? This information will help you craft more targeted content that resonates with your target audience.
Goals and challenges: What is your buyer persona hoping to achieve with their blog? What types of challenges do they face when trying to reach these goals? This information will help you produce content that will solve the problems and answer the questions that your target audience has about your industry.
Creating a Reader Survey
One of the best ways to understand your target audience is to ask them directly by sending out a simple email survey to your past and current customers. When creating your survey, make sure to include questions about:
The types of content they like: Do they prefer video content, or do they like to read blog posts?
The topics they're most interested in: Are there any specific topics that your target audience is especially interested in?
How often they want to be updated: Do they prefer to get regular updates, or are they happy receiving new content less frequently?
Now that you understand who your target audience is, what they are looking to solve, and their interests you can begin researching how to optimize your content to get found by Google and other search engines.
2. Conduct Keyword Research
Once you've identified your target audience, it's time to start thinking about the keywords and phrases they are searching for to grab your readers' attention through search engines. Keyword research is the process of finding words or phrases that people are searching for in order to find content like yours. Keyword research is a complex process that deserves an entire blog post of it's own, but let's break down some of the most important aspects of the keyword research and some research tools that you can use to ensure you get found by search engines and people.
Use Google AdWords Keyword Planner

Google's Keyword Planner is a tool designed to help you research keywords for your Search Network campaigns. It can be used free of charge and it will show the estimated monthly searches as well as their costs, so that targeting them becomes easier!
This is a free tool provided by Google that allows you to enter a keyword or phrase and see how many people are searching for it. While this is a free tool that you can use for SEO keyword research, it's important to keep in mind that looks at PPC data so the results are not 100% applicable all the time to SEO campaigns. However, if you have a low budget and want to get a start on keyword research then you can use this tool to get ideas for other keywords and phrases that people are searching for.
While using Google AdWords Keyword Planner, make sure to find keywords that:
Have a high search volume: The higher the search volume for a keyword is, the more people are searching for that term.
Are relevant to your niche: Make sure you are targeting keywords and phrases that are relevant to your blog's topic, industry, or niche.
Have low competition: The lower the competition for a keyword is, the easier it will be to rank for that term in search engines.
Use Google Trends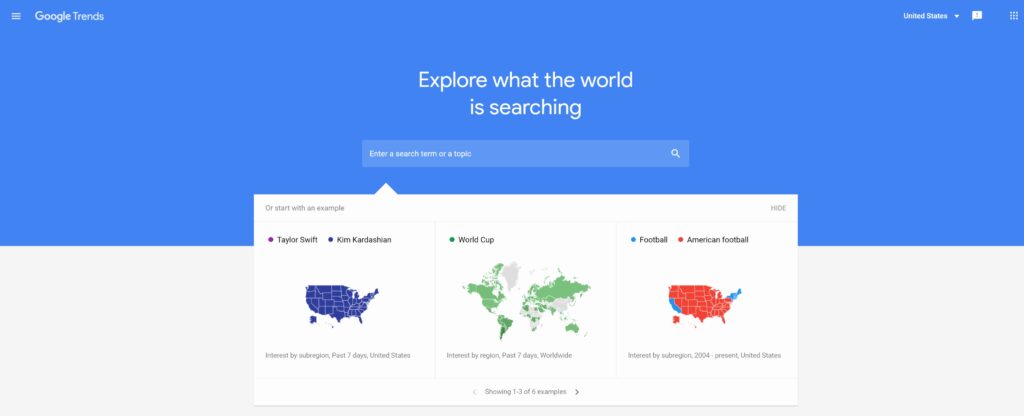 Google Trends is a great way to see what people are searching for and find more information related to the topic. You can explore search interest over time, and region-specific queries in addition to top trending terms on google trends!
Google Trends is a tool that shows you how popular a certain keyword or phrase is so you can plan content around seasonality in your industry and anticipate changes in what your customers search for throughout the year.
Once you see a pattern in what and when people search for specific content, you can start building content a few months ahead of time to ensure you serve the needs of your readers at those specific times of the year. This can help you streamline the outlining process based on the needs of your audience and based on the seasonal search trends that your customers perform on Google and other search engines.
Use paid keyword research tools
If you operate in a competitive market or you just want to get more insight on what keywords and topics to write about, you should consider using paid keyword research tools. Along with keyword research, you can also use paid research tools to reverse-engineer the content strategy of your competitors and find content gaps in the market to ensure you write fresh content that meets the needs of your audience.
There are also many other websites that provide keyword research tools, and it can be a good idea to use more than one to get the most accurate results. Some popular examples include Moz, Ahrefs, and SEMrush.
These SEO tools can help bloggers find:
The monthly search volume for a keyword. This is the average number of people who are searching for a particular term each month. If you are just starting to write blog content you should try to focus on long-tail keywords that have lower search volume but they are also easier to rank for in search engines.
The difficulty of ranking for that keyword. This refers to how difficult it will be to rank for a particular keyword or phrase. The higher the difficulty, the more work you'll need to do to rank well in search engines.
Keyword suggestions. Some keyword research SEO tools will also provide you with other ideas for keywords and phrases that are related to your main topic. You can use this information to plan out other pieces of content to supplement and support blog posts across your website.
Once you've identified some relevant keywords, incorporate them into your blog outline. I like to write the keyword at the top of the page before I begin the outlining process so I can remind myself what I am trying to write. Not only does this help me write more targeted content, it also prevents my mind from wandering during the writing process.
3. List Questions To Answer
Answering a single customer question per blog post can help educate prospects, earn their trust and helps you to establish yourself as an industry expert.
Let's look at a few tools and techniques that you can use to understand what your customers are asking online. This can help you write gerat blog post content because your blog posts will answer specific questions that customers ask online, and this can improve your traffic and leads that come to your website.
Search Forums & Q&A Websites
There are many forums and Q&A websites where people ask questions about a variety of topics. To find relevant questions to answer in your blog post, search for forums and Q&A websites related to your niche.
Some popular examples include:
Quora: Quora is a Q&A website where people ask questions on a wide range of topics. You can search for relevant questions or topics related to your niche to find ideas for blog posts. When looking through Quora, be sure to look through specific topics to see what people are asking in your industry.
Reddit: Reddit is a popular online community where users post and vote on content that they like or dislike. By subscribing to various subreddits (collections of posts on a particular topic), you can find relevant questions and discussion threads related to your niche.
Industry forums: If you are looking for industry-specific questions and topics to write about then you can't go wrong by looking through industry forums. Be sure to keep an eye out for common questions or unanswered questions to cover in your own blog post content.
Social media platforms: Searching social media platforms like Facebook, Twitter, and LinkedIn can be another great way to find questions related to your niche or industry. By using the search bar on each site, you can find relevant questions or group discussions that you could address in your blog post.
Review Your Competitors
Another great way to find relevant topics and questions to include in your blog post is by reviewing the content on similar blogs or websites. Your competitors know how to keep your readers' attention, and so should you!
Often, these posts will be specifically written to answer questions from their readers and you can identify topics and other trends that work well for your competitors and mimic their content for your own success. Here are some tips to help you get the most information from your competitors to help your own blogging strategy:
Go to a competitor's website. Navigate to a competitor's website and take a look at their blog posts. Look for blog posts with lots of comments, likes, or other signals to tell you what content is most popular on their website.
Identify relevant posts. Look for blog posts that are similar to the topic you want to write about and find gaps in their content. These could be posts that answer common questions in your industry or niche with new blog posts on your own website.
Make a note of the questions they answer. Once you've found some relevant blog posts, make a note of the questions they answer. You can then use these questions as inspiration for your own blog post.
Check Google Autocomplete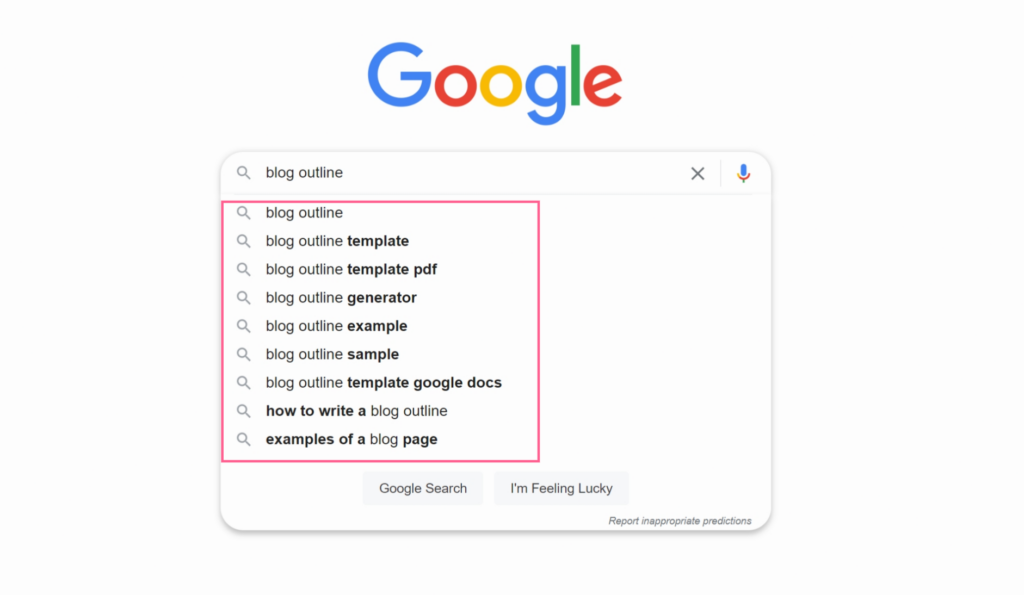 Google Autocomplete generates predictions to help save you time while typing search queries into Google. It's an automated feature within Google Search that makes it faster for people who are searching, and you can use Google's autocomplete suggestions to understand what topics and search terms are popular.
Here's a step-by-step process to use this tool:
Start typing a question into the Google search bar.
Look at the autocomplete suggestions: The autocomplete suggestions will be based on popular searches related to your question. You can use these suggestions as inspiration for relevant blog post topics and questions that you could address in your content.
Review Google's Related Searches Feature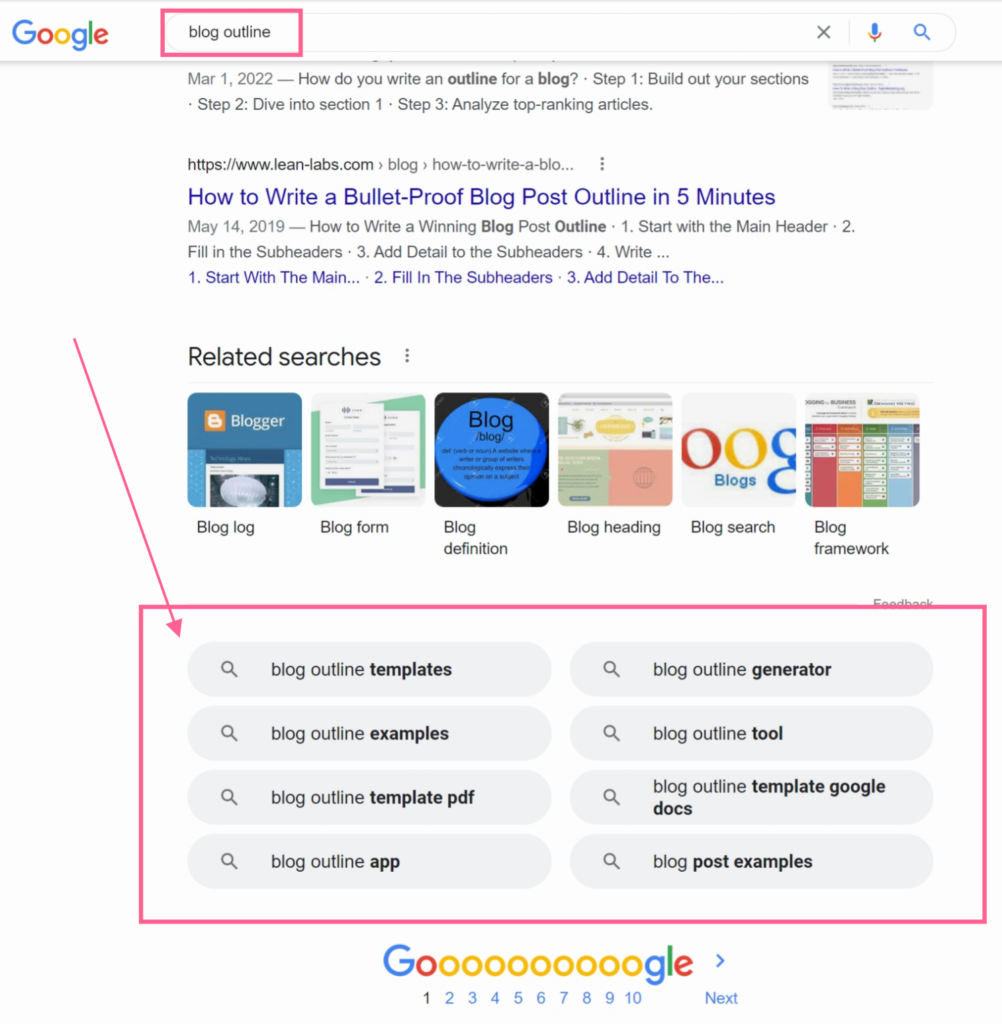 Google's related searches feature is another great tool for finding relevant blog post ideas. This tool displays a list of topics and questions related to the search terms you've entered.
In Google, type in a common search term or question that relates to your blog topic.
Scroll down to see the related searches section: Here, Google will display a list of suggested keywords and questions that are related to the search term you've entered. You can use these suggestions as inspiration for your blog post topics and questions.
Use Keyword Research Tools
Another great way to find relevant content ideas is by doing keyword research. This involves using SEO tools like Google Adwords Keyword Planner or KWFinder to identify popular keywords related to your niche. Once you've found some relevant keywords, you can use them to brainstorm blog post ideas that would be of interest to your audience.
4. Research Competitor Content
When you're writing your blog post, it's a good idea to research what similar blogs or websites in your industry have already written on the topic. This will help you create great content that is both unique and valuable to your readers.
With this in mind, you'll want to do some research on your direct competitors and see what types of content they've written about your topic. Amp up your content creation by:
Go to a competitor's website: First, go to one of your competitor's websites and browse through their content. This will give you an idea of what types of topics they've covered on similar topics, as well as what style and tone they use in their writing.
Review their blogs: Next, take a look at the content on each of their blog posts. What types of questions or topics are they addressing? How are they getting organic traffic? Which posts seem to be the most popular? Are they using internal links to grab their readers' attention or do they make use of CTAs? By understanding what has resonated with your competitors' audiences in the past, you can make sure your own content is relevant and useful to readers.
Check their social media profiles: Finally, take a look at your competitors' social media channels. Do they have large followings on any particular platforms? If so, this could be an indication that those social networks are where their audience spends most of their time, and you might want to focus more energy there when promoting your content.
Make note of their strategies: As you're researching your competitor's content, make note of any strategies or tactics they seem to be using that are working well. You can then use these same strategies in your own content marketing efforts.
As a side note (not a sponsored opinion), I love using Ahrefs to do competitor research and find topics to write about for this blog, and to help create great content for clients.
To do this, I simply copy and paste a competitor's URL into the Ahrefs search bar and then look for Top Pages on the site. Once I am on the Top Pages section, I apply a filter to only include blog posts, and then look for opportunities based on keyword search volume, competition, and general engagement of those posts.
SEMrush and Moz have similar features, so you should be able to find the information you need regardless of the SEO research tool that you decide to use.
5. List The Main Ideas For Your Blog Post
OK, now we know what we want to write about, who we are writing for, and keywords to write around. This seems like a lot, but just know all of this upfront research will help you write great content and streamline the outlining process.
Let's take a look at how to outline the main ideas and subtopics for your blog post by using subheaders and headers in your blog posts.
Now that you've done your research, it's time to start brainstorming ideas for what your blog post will actually contain. You'll want to make a list of the main points you want to cover in your post to ensure you address the questions your customer have and help them solve their problems.
To find these ideas you can talk with your customers to understand exactly what they want to know about specific topics. Another approach would be to talk with your customer support or sales teams to see what issues your customers talk about and break those topics down to multiple subtopics.
If you are short on ideas, you can also look at how your competitors outline blog posts on similar topics that you want to write about. Look at 3-5 competitor posts similar to what you want to write about and take note of common headlines, subtopics, and other patterns used across the reference posts.
You'll want to format the headers as H2 to improve SEO and help readers scan the content. Subheadings are also great tools for boosting your SEO and keeping your audience focused. Subheadings help guide your readers to the exact points of information they're looking for and keep your article moving forward.
Make sure to format your headings and make use of bullet points in your template to make your writing process much easier. Your future writer's block will thank you!
6. Outline Main Points Within Each Subheading
Once you have your list of main points, you can start to outline your blog post by creating subheadings for each point. This will help to organize your thoughts and make your blog post more readable.
When creating your subheadings, make sure:
They are clear and concise: Your subheadings should be clear and concise so that readers can easily understand what each section is about. I like to include keywords in the subheaders for SEO purposes.
They flow well: Your subheadings should flow well from one to the next. You don't want your blog post to feel choppy or disjointed so your readers don't get confused as they scan your content.
Avoid using long, convoluted phrases or sentence fragments: Using long, complicated phrases in your subheadings can make your blog post difficult to read. Try to keep your sentences or phrases short and straightforward to improve the flow of your piece of content. This is because large blocks of text don't look great on small screens, and white space helps readers as they look at your content on their mobile devices.
7. Assign Word Count To Each Section
When it comes to writing blog posts, you'll want to make sure your content is long enough to be valuable when choosing how long your blog posts should be. However, you don't want to go overboard and write too much for the sake of filling space.
To ensure that each section of your blog post is a good length and contains the necessary information, try assigning word counts to each section. This will allow you to gauge how much content is needed for each section and help you keep your blog post at a reasonable length.
I like to aim for at least 1,200 – 1,500 words to cover general topics like home improvement and marketing. However, I typically like to aim for 2,000 words if I am writing in a competitive industry, or writing for markets that require lots of explanation like the finance, legal, or health care industries.
The length of your blog post is similar to the size of a canvas an artist uses when painting. While the canvas dimensions are not important in and of themselves, the canvas size allows artists to include more detail. The same is true with your blog posts, so don't write words for the sake of hitting a specific word count.
Use the space to dive into each subtopic as needed and ensure you speak to multiple angles in each blog post.
However, you don't want to get too hung up on word counts. The most important thing is that your blog post is high-quality and contains the information your readers are looking for.
8. Begin Writing
Now that you have your outline and word counts for each section, it's time to start writing your blog post intro. Begin by filling in the information for each section.
As you're writing, keep your audience in mind and make sure your piece of content is valuable and relevant to them. You should also aim to write in a clear and concise manner that is easy for your readers to follow.
If you're feeling stuck or struggling with any part of the writing process, it can be helpful to refer back to your blog post outline template and make sure you've included all the information needed in each section.
Conclusion
Have you ever tried writing a business blog without an outline? It can be tricky—for both beginners and experts—and it's often difficult to know where to start.
But creating a content outline is an important step in ensuring that your content is well-written, consistent, and helpful for your audience. That's why we recommend using an outline to structure your thoughts and make the writing process easier.
By following our 8 easy steps, you can create the perfect outline for your next business blog post. This will help to keep you on track while writing and ensure that your readers receive the most valuable blog content you can produce.
So what are you waiting for? Get started today and watch your blog traffic grow.