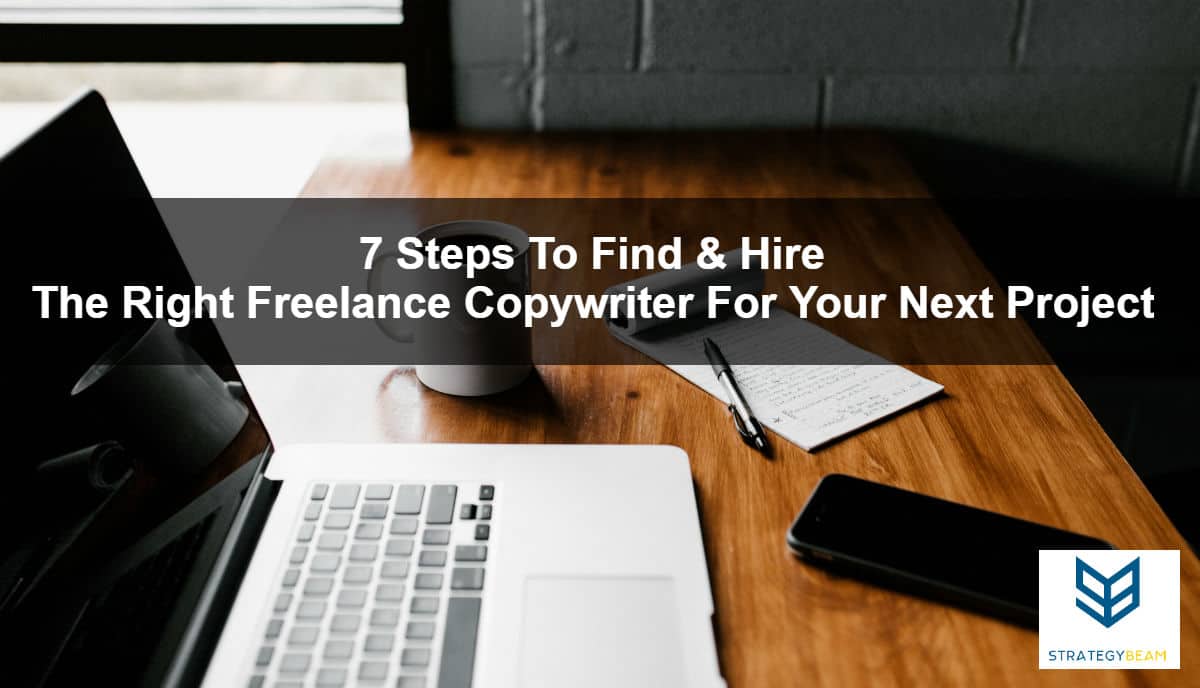 Business owners need a great copywriter to help them get found in search engines and engage their readers. The old days of stuffing keywords into low-quality content is over, and you need professional and optimized content if you want your business to succeed online. Of course, it would be unfair to rely on them for the success or failure of your entire campaign because great copy is just one piece of the giant puzzle.
However, as SEO continues to mature and your customers have more choices, you need excellent copywriting to help your web copy stand out.
Larger companies hire a full-time copywriter to handle all of their landing pages, blog posts, and sales pages. This approach is excellent if you have enough work to support an in-house team member, but if you are trying to keep your costs low while still producing high-quality content then perhaps hiring a freelance copywriter is your best solution for small ongoing projects or if you need help with a one-off project.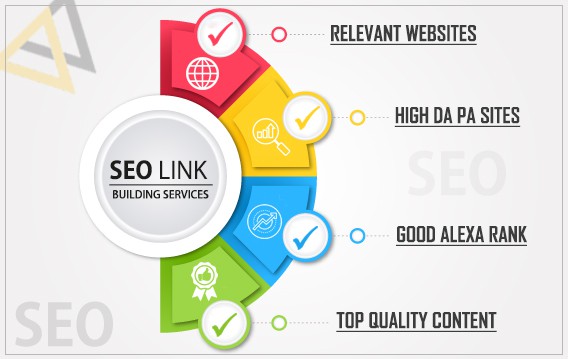 Knowing that you need a good copywriter is the first step towards success, but finding one is a whole other journey.
Today we're going to take you through the 7-step process of finding the right freelance copywriter for your projects so you can save time and resources when searching for the best freelancer who specializes in your industry.
1. How Much Does It Cost To Hire A Copywriter?
The first thing that you need to establish before looking for copywriters is how much does it cost to hire a copywriter?
Shelling out thousands of dollars to hire a top copywriter or the other big names in the industry would be great, but if their prices exceed the funding you have for a specific project, then it simply isn't feasible. This is where you need to find a balance between the projects for a freelance writer and the revenue of that project for your company.
Paying a copywriter who charges peanuts will save you some money in the short-term, but will more likely than not end up costing you more in the long run as their writing skills will be so deplorable that you'll lose customers and have to pay a better writer to correct their work.
When you look at the big picture, you'll see that it's far cheaper to hire a marketing agency that will  get the job right the first time around rather than going through a dozen "budget writers."
2. Find A Copywriter With The Right Skills
Once you have a nice, long list of applicants, you'll need to vet the various candidates so you can narrow them down until you have your ideal copywriter. Before you start actively vetting anyone, you'll want to slim the field down by removing applicants who don't meet your criteria.
If you want to reap the rewards of content marketing, then you need to work with a writer does more than just put words on a page. Your content needs to be optimized for search engines to get found and polished for people who read the content if you want them to engage with the copy. This means that your freelance writer needs to be proficient in several areas of their craft, including:
Keyword Research: Your writer should know how to use tools to understand how people search online. This will help them craft content that gets found in search engines.
In-Depth Research: Your copywriter will have to conduct research on your topic. This is vital to help your content stand out from the competition and drive more engagement.
Marketing Background: A good copywriter should have a few years of experience in various marketing roles. This will help them understand how to format content to improve rankings and results.
Proofreading: Your freelance writer needs to know how to read through their content to make it sound natural. You should not settle for content that looks like it was written by a machine.
A Portfolio: Don't work with a professional who does not have a list of past clients. You don't want to be their test, and if you do go with an unproven writer, then you should expect to spend more time editing the content after it is delivered to you.
Once you have your criteria established, you can start actively looking for copywriters. You find the best copywriter for your project in less time by learning how to ask the freelance writer the right questions during the interview stage.
3. Determine The Right Copywriter For Your Business Needs
Once you have your budget down and a set of skills you need for copywriting, you'll need to figure out what criteria you'll be using to sort out the applicants based on your business goals. You and your team should set a budget for the project, and other targets like hiring someone who has experience writing sales copy has agency experience or someone who specializes in your industry.
While in a perfect world you'd hire everyone who applied, that simply isn't the case for most projects, and it can take a while to find a great copywriter for your business needs. Common criteria that recruiters use include experience in the target industry, portfolio sites, and whether or not the applicant is a native English speaker.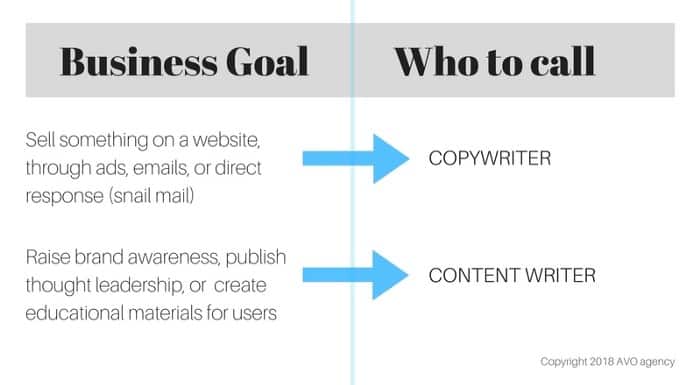 While there are certainly copywriters who learned English as their second language and excel at writing, it's often easier/safer to hire a copywriter who was raised with English as their first language.
It's best to assign easy projects before asking your freelance writer to take on more advanced projects. This will reduce the chances that the writer will waste your time and resources, and it is a great way to gauge their skills if you are on a tight budget.
Once you find a few content writers that have the skills you need at a price you can afford, you can build a long-term relationship with them.
4. Find & Attract The Best Freelance Copywriters Available
If you want to find the right copywriter for your project, then you'll need to start advertising the job opening. There are a number of platforms out there to help you accomplish this task, and each one has their own positives and negatives. Several business owners choose to go through UpWork or Fiverr for their copywriting needs because they are inexpensive and handle most of the vetting process for you.
While these platforms are great for projects that have a low budget, they are not ideal for projects that need high-quality content that attracts more clients and reinforces the brand. This is one of the considerations your team will need to think about, because you can get cheap content fast, but at the risk of quality.
Joining Facebook groups for copywriters and posting about the project could help you find some qualified candidates. Try to target groups that are focused on exchanging information rather than those filled to the brim with spam and ads.
The best way to find a freelance writer who can deliver great content at a reasonable price is to work with a professional who has a history of success.
5. Price Each Copywriting Project Correctly
Once all the trial pieces have been submitted, try to spot the writer that most closely resembles the tone that you're aiming for. When you've identified the candidate with the best writing skills for your taste, the next thing you'll need to do is negotiate a price that works for both of you.
Lowballing the writer likely won't work if they're quality-oriented as they know their worth. Rather, just let them know outright about the budget of the project and how much you're prepared to pay them because honesty can go a long way when working with marketers to build a strong long-term relationship.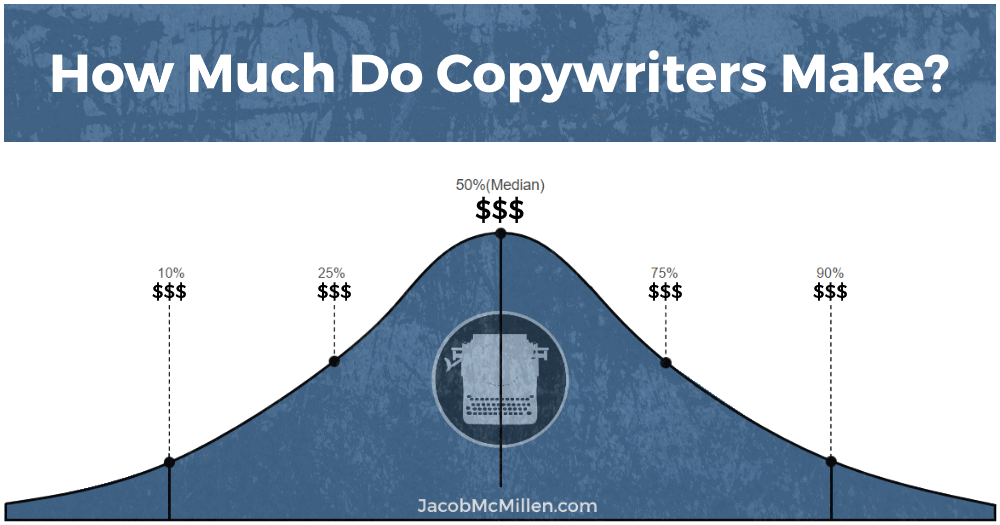 Try to offer a fair price to the best of your ability as paying a larger amount ensures that your copywriter will be able to dedicate enough time to your project and achieve the intended result. Many writers will work on projects for a lower cost as long as they know you will have more projects in the future since this means the writer will have ongoing work to look forward to.
6. Set Up A Regular Writing Schedule With The Freelancer
At this point, you have done a lot of work vetting writers, setting prices, and build a relationship with copywriters. However, the hard work is not done because you still need to schedule ongoing work with the freelance writer to keep your business growing and ensure the freelancer will continue to work with you.
Once you and the copywriter have an agreement that covers the rate, deadlines, and scope of work, you can assign the first project to them. Be sure to build a content calendar with the freelancer so they can prioritize your work towards the top of their to-do list.
Be sure to include any crucial information in the brief that you send them as copywriters aren't psychic and won't know otherwise. Try to be considerate when picking out details like deadlines. Rome wasn't built in a day, so expecting a high-end article to be produced in 30 minutes will mean that you will not get the content you were expecting.
7. Proofreading & Writer Feedback
The first project your freelancer sends back to you likely won't be perfect, but if you've chosen the right candidate, then it should be close enough that you'll be able to tweak it over time.
Provide feedback in a polite manner so that your copywriter processes it properly rather than going on the defensive.
It's important to note that constructive criticism and attacks on their work are two very different things. You're going to be working with your copywriter for a long time, so communicate your thoughts clearly but politely.
You'll find that the quality will improve overtime as the writer gets a feel for your preferences. You might need to request a few revisions at first, but the overall frequency of tweaking will gradually reduce as you and the copywriter collaborate.
How To Bring On A New Freelance Copywriter For Content
Your company needs high-quality content that gets found in search engines and build trust with your audience. As a business owner or marketing manager, you need to find a way to produce web copy that meets your brand's voice, your budget and will help you achieve your business goals.
You take the right steps and sort out candidates in an effective manner then you should have no trouble finding a decent copywriter who'll get the job done right, on-time, and for a fair price.
Use these 7 steps to find the perfect freelance copywriter for your next project today!