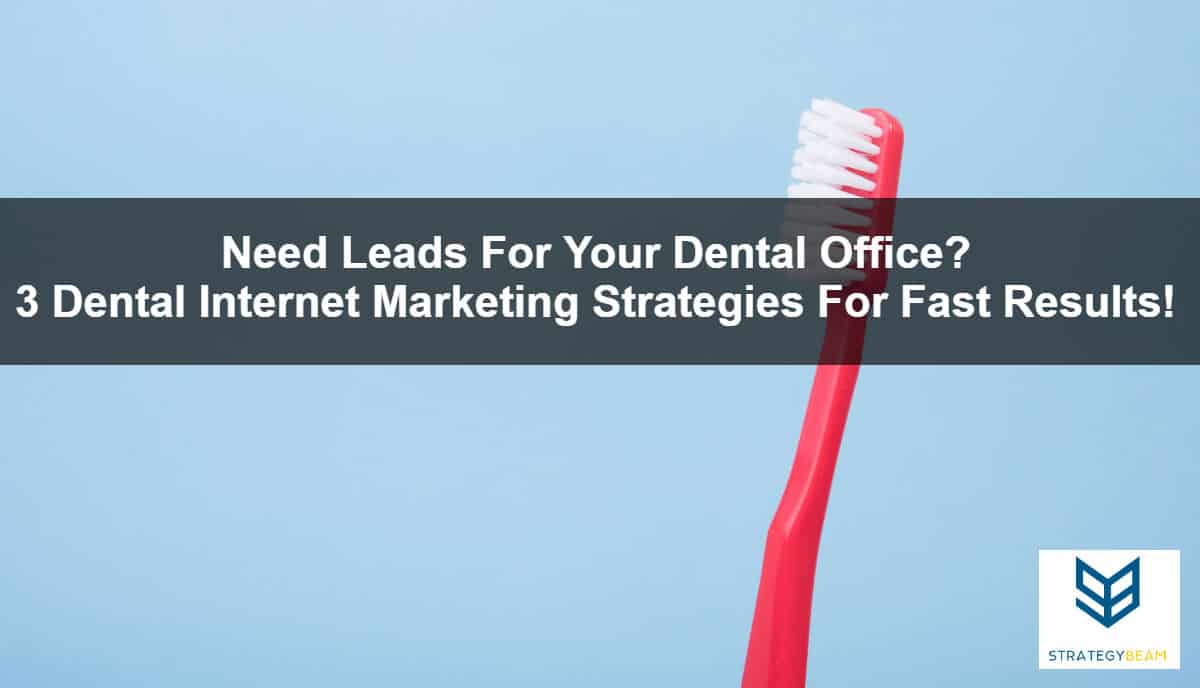 How Can Digital Marketing Help My Dental Practice?
Everyone needs a dentist, but sometimes it is difficult for dental offices to stand out from the competition. As more practices pop up around town, you may start to feel the pinch and stress that comes with needing to drive new leads while building your practice.
Instead of stressing about how you can drive more qualified leads to your office and set more appointments, you can start to think about how your potential patients find your office with digital marketing. When it comes to finding a new family dentist your patients consider things like your reputation, your location, your services, and how many reviews you have.
You can use digital marketing to power your dental office and the Internet is key if you want to grow your practice beyond the success you already have.
There are several aspects of digital marketing that your practice will need to consider to improve your online presence. Here are a few advertising ideas that your dental practice can use to grow and secure more patients:
Local Awareness on Facebook and Google
Facebook Lookalike Ads
Google Local Service Ads
Remarketing Ads On Google & Facebook
Google Maps Ads
Social Media Posts On Instagram & Facebook
Video Marketing On YouTube
If you want to attract new patients, then you need to do everything you can to get found in search engines, drive appointments through Google Ads, and build your brand on social media.
Potential patients have lots of dentists and orthodontists to choose from, and you need an efficient marketing campaign to get found. Along with great content, you also need a dental marketing strategy built around the services that your office offers and the needs of your clients.
All of these marketing strategies will help engage potential patients that your dental practice is precisely what they are looking for in their family.
Creative digital marketing ideas should not be hard for you to plan and implement. However, the effectiveness of a dentist internet marketing strategy is not always guaranteed, no matter how unique or intriguing they might be.
How Do I Market My Dental Office?
If you are someone who leads a dental practice or is working to improve the efficiency of an office, you are probably already aware of what a big difference a good marketing strategy can make. You need a dental internet marketing strategy that engages your customers, builds trust, and leads to more appointments.
There are plenty of marketing strategies that may prove to be useful for your clinic, but not all of them are easy to implementable, or beneficial for your practice. The type of dental marketing strategy you should choose is based on your budget, the amount of resources available, and the amount of time that you and your team can spend developing content.
One of the worst things you can do is take on a marketing strategy for your dental office but not follow through on the plan consistently. You should start small with some basic marketing ideas, then grow the dental marketing efforts as you see more opportunity and availability in the market.
That is why we have put together three of the best dental internet marketing ideas that you can use to improve the online presence of your office. Let's take a look at 3 ways you can quickly and easily grow your dental practice with a few great marketing ideas today!
1. Have A Great Website For Your Practice
Everything you build for your dental marketing strategy will revolve around your website. New patients need to be able to find the contact information for your office and information about your services quickly and easily.
This means that you need to optimize your website with welcoming web design. The design and layout of your site play a significant role in how your patients perceive your brand and whether they book an appointment with your staff.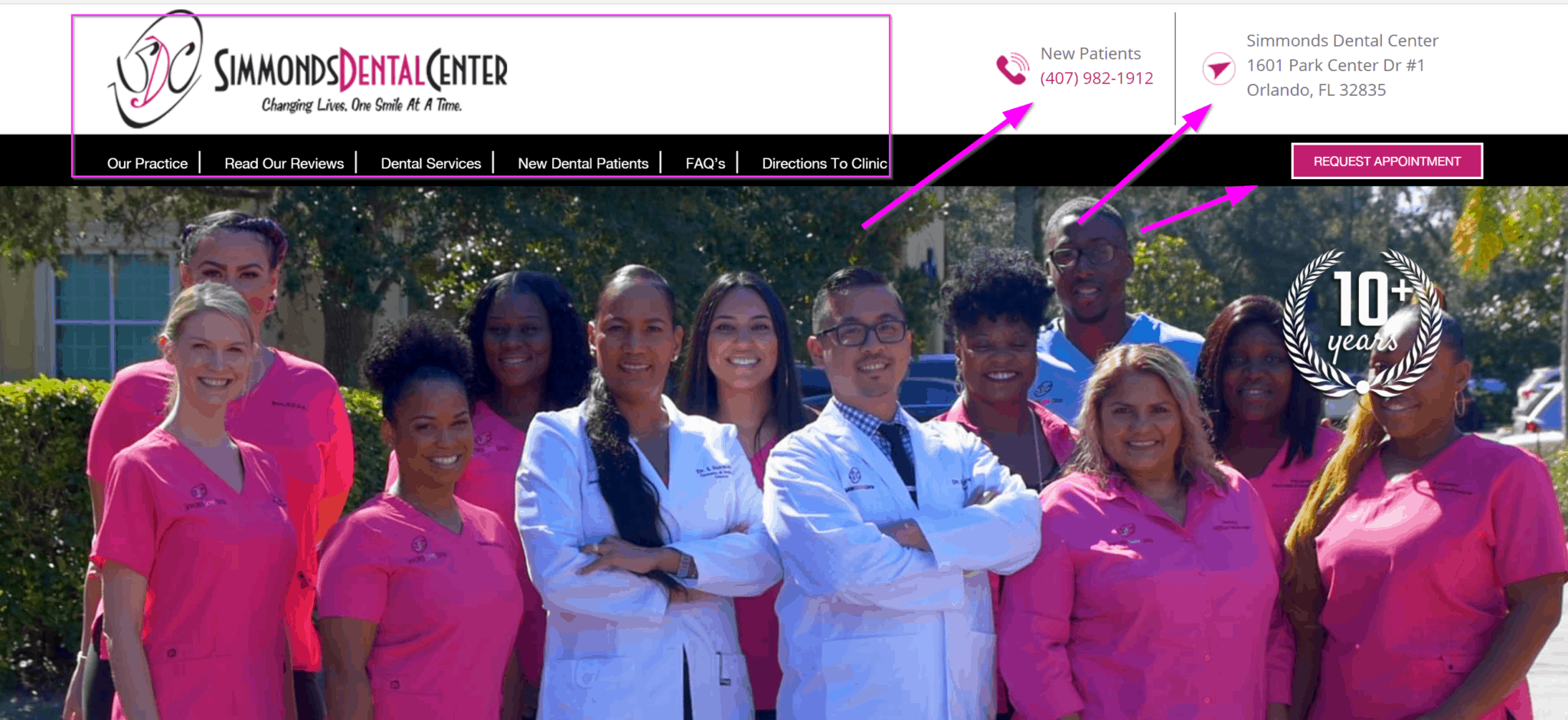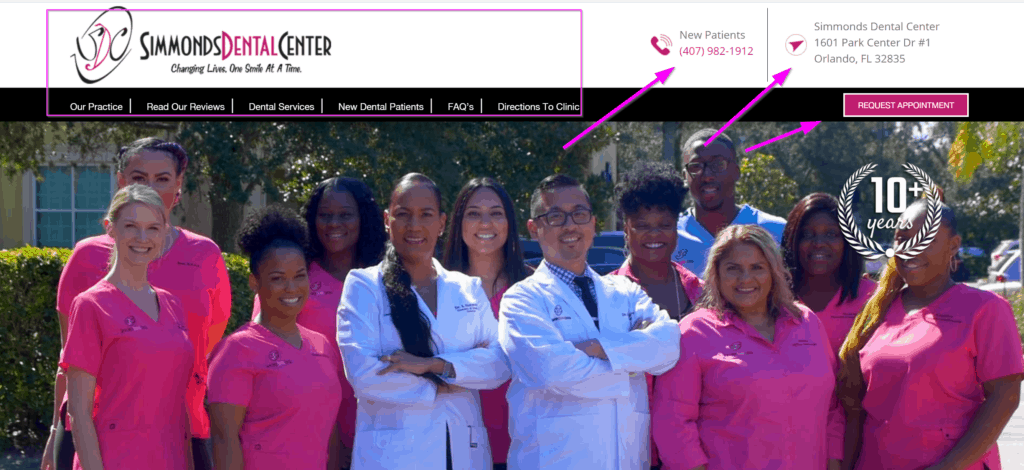 One of the first things that individuals do when they want to find a new dentist is to look online to see if there are any recommendations for dental practitioners online.
You should integrate online reviews into your site to help SEO and gain the trust of potential patients. Here are a few things that will make your website work for your dental practice:
High-Quality Website Photos. Include high-quality images of your staff on the "About Us' page. Many people are scared to visit the dentist, and having images of your staff will help make potential patients feel more at ease.
Have An FAQ Section. Have an FAQ section on your site. An FAQ page is essential to help your site stand out in search engines, plus it is the perfect place to answer the most commonly asked questions so your staff won't have to spend their time answering the same questions.
Clear Contact Information On Each Page. Make sure your NAP (Name, Address & Phone Number) are visible at the top of each page. This information is vital for customers to contact you, and search engines use this information to present the correct information to your potential patients.
Include Testimonials. People tend to trust reviews from other people, and you can include testimonials and reviews on each page to help potential patients feel more confident when reaching out to your office.
Add Multimedia Across Your Site. Pictures are worth a thousand words, but a video is king. You should include quick interviews with your staff to help put parents and loved ones at ease as they search for the right dental office.
Your content marketing strategy should focus on answering questions that patients have about your services. As you build content on your site, you should balance between using keywords to get found in search engines while writing in a voice that your audience will understand.
Think about the needs of your customers and use engaging content to show that your office is the best solution to their problems. Your content should focus on the services of your dental office and drive qualified leads through SEO to your dental site.
2. Build Your Brand On Social Media
Social media is one of the most significant tools for those who are looking for viable ways to be able to carry out online marketing for dentists and who want to reach a much broader customer base. Your practice can post images of your staff on Facebook, Instagram, and other social platforms to help build your brand and develop a relationship with your audience.
Social media can be a tough channel to master, especially for a professional industry like dental offices. However, you can use some general types of content to build a content calendar and fill your social media networks, like:
Quotes. Your team should include inspirational quotes throughout the month. You will find that inspirational quote posts do well with most audiences, and you can cater your quote posts around your target audience.
Thought-Provoking Quotes. Similar to the previous type of content, you can use thought-provoking quotes to engage your audience. You can ask questions like "what's your favorite movie" and "what is your favorite type of toothpaste" if you want to keep the message on dental hygiene.
Fill In The Blank Posts. These are great posts that encourage your audience to engage with your posts. Typically, these posts will have open-ended questions and your audience will provide their answers to your questions.
Visual Tips. You can use graphics along with tips to provide your audience with valuable tips for brushing and dental hygiene. You can also cater to these posts to meet your customers- like information about braces, diagnosing pain, etc.
Series & Themed Posts. You can make a group of posts into a series. This is a great way to diversify your posting schedule. One example of this is around Halloween you can create a series of posts that give helpful information to parents on ways they can keep their children's teeth strong even when they are eating lots of candy.
Data-Driven Infographics. Everyone loves looking at compelling data that is displayed in an interesting way. You can use this type of post content to show trends and interesting information to educate and entertain your audience.
Visual Stats Posts. Similar to the previous type of posts, visually compelling stat posts are a great way to show interesting information in an unusual way. You can use this type of content to address concerns around dental hygiene and compel your audience to take action to improve their health and visit your office.
Short How-To Videos. Your team can showcase your knowledge and help potential patients trust you with quick how-to videos. Topics like caring for braces, flossing, and even denture care can be a great source of content for videos that your audience will find interesting and even share with their loved ones.
Along with Organic Social Media, your dental office can also use paid social advertising to reach a targeted audience. Many social media platforms offer paid ads so you can specify exactly who you want to show your message to. Some of the best ways to reach qualified leads are to target geographic areas near your dental office with relevant advertising through social media marketing.
Social media is one of the major marketing avenues that businesses all over the world are taking to be able to improve their image and appeal to customers. Social media is the answer for any dentist office looking for a strategy to boost web marketing efforts and drive more engagement.
3. Use PPC Advertising To Appear At The Top Of Google
PPC marketing for dentist is a form of marketing that use text ads on search engines to engage with your audience.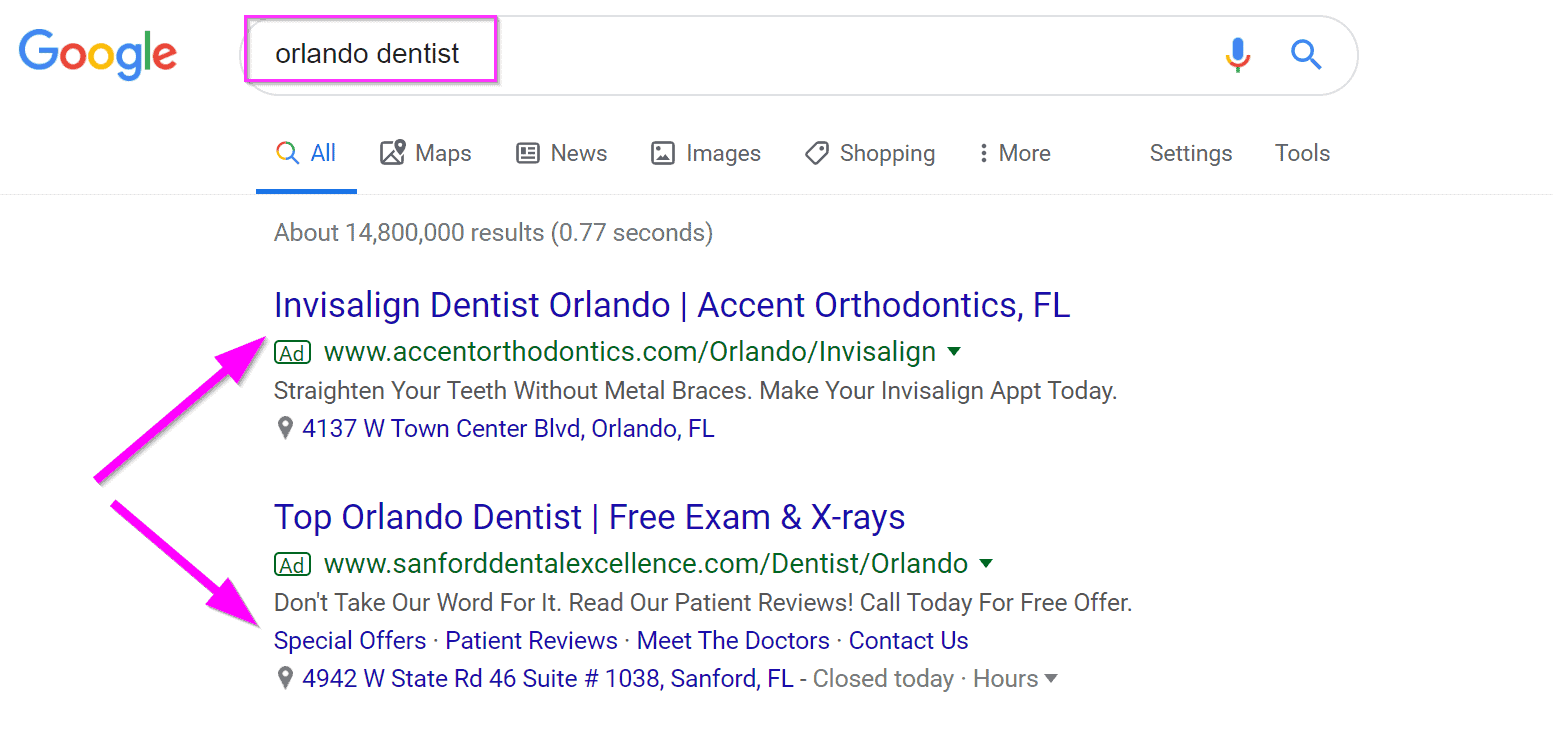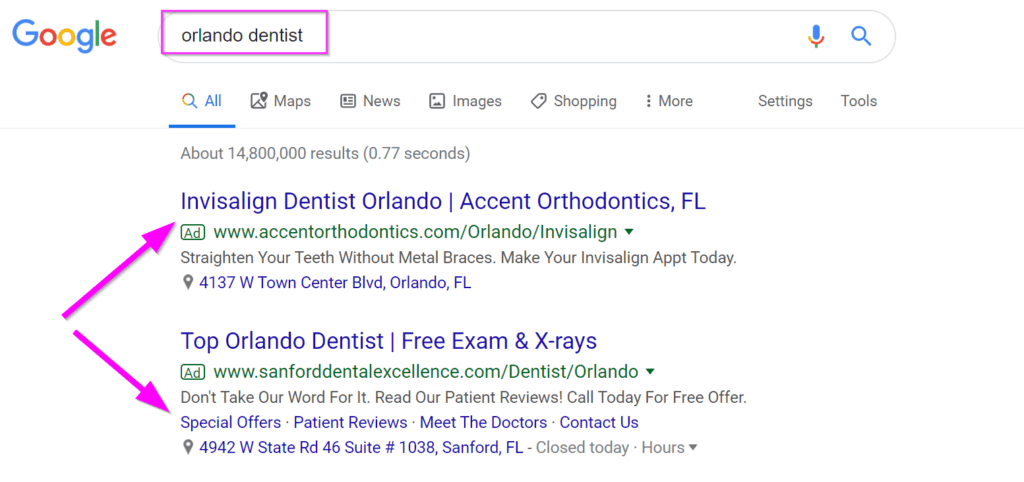 PPC marketing is based on keywords, and you can optimize your dental PPC campaigns around different settings to have your ads only show to people looking for your dental services. Here are some basic tips to get you started with PPC marketing for your dental office:
Choose The Right Keywords. Focus on keywords that matter to your dental office. Use keywords that match your expertise and will drive the best results for your business.
Write Great Text Ads Copy. You need ads that will get clicked once they are found in search engines. Speak to the needs of your customers and include your keywords in the ads to match user intent.
Optimize Your Landing Pages. Search Engines look at your landing pages to understand the context of your ads. Be sure to optimize your landing pages with keywords, and maximize conversions with landing pages that are designed to drive leads.
Include Your Phone Number. Most of your potential patients want to call and talk to your staff instead of filling out a form. You should include a custom phone number to track calls from your PPC ads. This approach will help your patients and increase leads.
Target Your Geographic Area. You should specify the geographic region that you want your ads to show. Only show your ads to people in a 20-30 mile radius of your office. This will limit wasted ad spend since your ads will only show to people who are close to your physical location.
Check out some of our other advanced tips for PPC marketing that you can follow to maximize your dental PPC marketing strategy today!
This is one of the more advanced models of internet marketing that brands are known to use and is something that can significantly improve your online presence for specific keywords. You can use PPC advertising to reach more dental patients since you can drive qualified leads based on user intent.
PPC marketing works well in conjunction with web marketing for dentists and also in coordination with the practice's social media accounts.
Being able to directly lead people who are already searching for something that you offer can be incredibly useful and can help boost the popularity of your entire dental practice.
Start Marketing Your Dental Office Today!
Implementing good web marketing for dentists is not as hard as one might think, especially once you know the first few steps to take. The internet is an incredibly beneficial tool, and using this to your advantage to improve the marketing of your clinic is always a good route to make and can help you enhance the image of the dental practice.