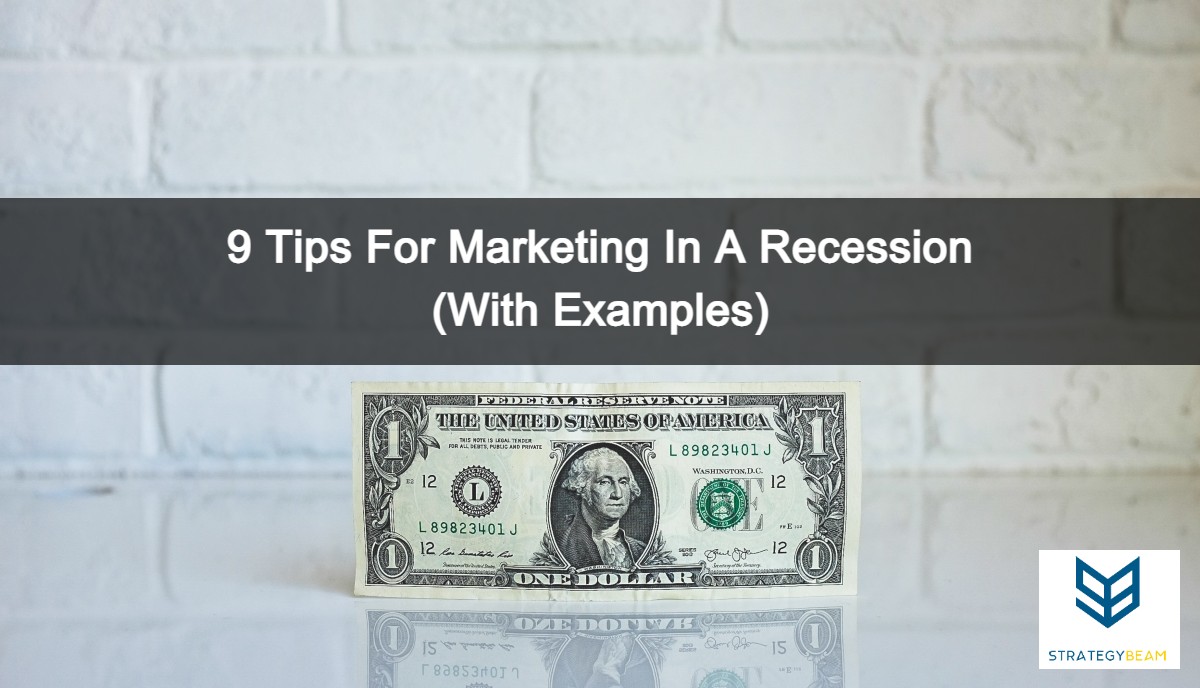 Adapt Your Business In A Recession
Recession.
The dreaded "R" word.
The mere mention of a recession can send shivers down any business leader's spine. Many business leaders are just recovering from previous recessions, so the threat of another recession looming on the horizon can make business owners and Marketing Directors dive into desperation mode.
Since 1945, the United States has experienced 11 official recessions.
Each recession impacts consumer spending in different ways. Businesses typically react to the threat of a recession by cutting as many expenses as possible to improve their financial standing in the short term.
Your marketing strategy is a crucial part of the success of your business, so we must look at ways you can maximize your marketing budget during an economic downturn or recession. It's your responsibility as a business owner to look for ways to adapt to changing consumer behaviors and position your business for growth regardless of the economic climate.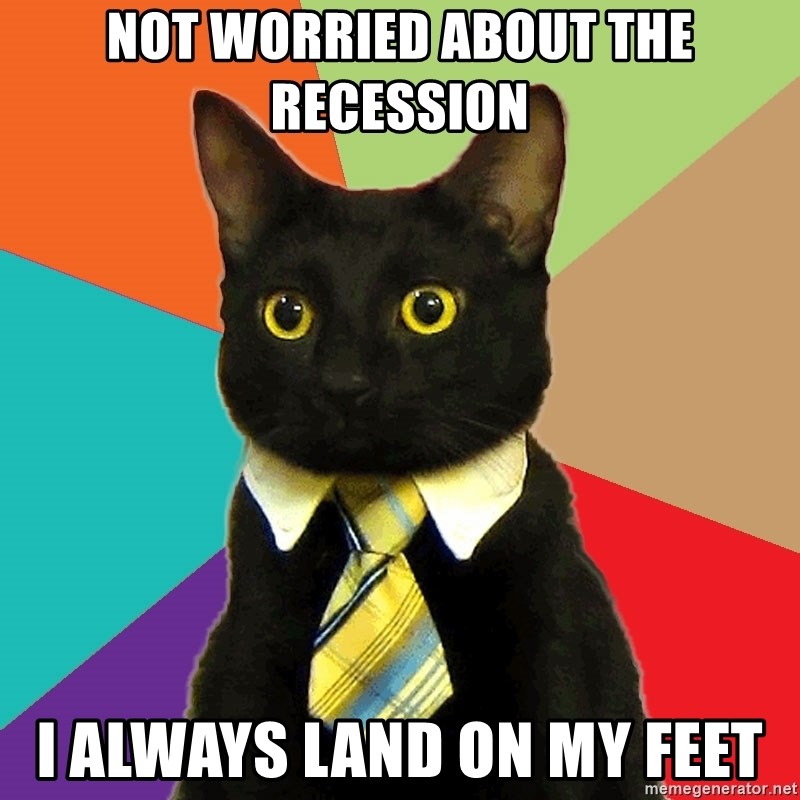 I firmly believe that you should take any action necessary to ensure the long-term viability of your business.
But it is essential to acknowledge that cutting your marketing activities in the short-term can lead to long-term consequences that can impact your business for years to come.
This article will provide an in-depth analysis of what your business can do to market through a recession to help retain your market share and help you thrive through a recession.
Let's look at actionable ways to market in a recession to keep protecting your profits and maximize Return On Investment (ROI) through an economic downturn.
Worried about the future of your business in a rough economy?
Are you worried about the success of your business in a rough economy? Not sure how your marketing efforts stack up? Let us deliver actionable advice that you can use today!
I want to thrive
Should Your Company Market During A Recession?
At its core, marketing is about reaching the right people with the right message at the right time.
The who, what and where of marketing is based on the needs of your target audience. This means how you market, where you market, and your marketing message will need to adapt as consumer patterns change.
Those are the underlying pillars of marketing, but figuring out how to achieve those goals is complicated and ever-changing. The good news is that you can use several recession marketing strategies to cut excess fat from your marketing efforts and boost revenue even during an economic downturn!
Cutting back your digital marketing budget (or cutting it off altogether) can expose your business to several long-term consequences like:
Decreased market share and share of voice: Your marketing dollars are the lifeblood of your business. I guarantee you that your competitors are looking at market trends just like you and positioning themselves to take advantage of you if you cut marketing budgets.
Saturated brand awareness: Potential customers look for the best value during a recession, and if you cut your marketing budget, new customers won't find you online, and they will go with your competitors.
Missed market opportunities: You can miss new opportunities in the market if you dial back your advertising spend as your competitors do the same. You can gain a competitive advantage if you invest in suitable types of recession marketing strategies.
Now that we know cutting your recession marketing budget can lead to long-term consequences let's look at specific ways you can market in a recession and even thrive during an economic downturn.
Proven Recession Marketing Strategies That Work
Every part of your business needs to work together to ensure the success of your business as a whole. From sales and operations to product and marketing, your business needs to adapt to changing customer purchasing patterns from economic uncertainty.
This means that reducing or eliminating advertising spending once a recession hits is not always in the best interest of your business. Instead, your business needs to invest your limited digital marketing dollars into campaigns to help you achieve your business goals.
So, without further ado, let's dive into eight marketing strategies I think every Marketing Director or small business owner needs to take to protect the financial position of their business once a recession hits.
1. Review Channel & Campaign Performance
The first thing you need to do if you expect a recession to hit or you are in a recession is to take a close look at your current marketing efforts. It would help if you looked at what channels consistently hit their desired Key Performance Indicators (KPIs) to understand what marketing activities should be increased, what should be optimized, and which ones should be eliminated.
If you need to reduce your marketing budget, you must invest your limited resources as efficiently as possible. During lean times there is no room for error, so you have to invest in the channels and marketing initiatives that yield the highest return.
The first step is to review your marketing plan and look at various analytics platforms to learn more about how your customers engage with your content. Here are a few ways to understand your marketing activities to market yourself in a recess:
Use Google Analytics to see what sources drive the most traffic, review customer engagement, and see conversion tracking to see what channels drive the most sales.
Look at Google Ads to focus your paid advertising budget on geographic locations and keywords that lead to conversions. Add negative keywords, geotargeting, and other optimizations to maximize your pay-per-click (PPC) budget.
Review Google Search Console to understand where and what people click on Google to get to your site. Optimize content for specific questions and needs that your audience is looking to answer.
If your business runs paid ads on Facebook and other networks, then you should look at the types of ads that perform the best. Similar to other forms of paid advertising, you can target your ads to secure conversions at a lower cost.
As you review these platforms to trim excess fat from your ad spend, you should also look at the performance of channels like email marketing and organic traffic.
We will talk more about these channels later in this article, but the fact is that email marketing and content marketing are your best friends if you want to continue marketing in a recession.
You can adjust various aspects of your email marketing and content marketing strategy to drive more qualified traffic and get those users to convert to your website.
The first thing you should do in economic uncertainty is to audit the performance of all channels and reallocate ad spending to channels that yield the highest returns for your business.
Before we go to the next strategy, I wanted to make sure that I emphasize that you need to work with someone who has experience in many marketing channels to help you understand what is working and what could be improved.
Cutting your digital marketing budget and adjusting your marketing strategy without an in-depth understanding of how channels work can lead to harmful shifts that could hurt your business for years to come.
2. Update Your Messaging Based On Changes In Consumer Spending
Along with reviewing and reallocating your marketing budget to focus on channels that yield the highest return on investment, you should also consider the changing needs of your audience during an economic downturn.
As we mentioned earlier, recessions can significantly impact how your customers spend their money. Consumers tend to reduce spending on different product categories during times of uncertainty, and great copywriting can help you speak to customers looking for more value.
You should pay special attention to how consumer spending habits change in your industry and how that adjustment will impact your business.
If your target audience is price sensitive and you predict they will move to low-cost options in your product category, you should position those products and services you offer on your website. This will establish you as a great solution to their lower-cost preferences and help you drive more sales.
However, if you don't want to focus on price savings, you can promote value-added options within your business offerings.
For example, flexible payment plans give access to a broader audience than traditional one-time payment options.
Payment plans and friendly financing options improve customer expectations and reduce how new customers perceive risk in the purchase. Both factors can make your product or service more enticing, and you can use these approaches to improve your position in the market.
Once you identify ways your business can address customer concerns through low-cost positioning, flexible payment, or friendly financing options, you should feature those solutions on your homepage, sales pages, and ads.
Create a landing page that explains financing options available to your audience. This page should include a breakdown of what customers are eligible for different types of financing and clearly show a breakdown of interest.
Update PPC ads to promote payment plans and other friendly financial options that customers can take advantage of. Whether that is extended no-interest payment options or discounts, you can use paid advertising to convert price-sensitive customers who are ready to purchase.
Create educational content to explain how your products and services can save customers money in the long run. For example, if you are an HVAC company, you can write blog posts explaining how regular maintenance that you offer can prevent costly repairs.
Feature reviews and testimonials on your website to reassure new customers that you are the best option for their needs. You can do this by placing star ratings, reviews, and testimonials on your homepage and sales pages across your website.
Be sure to consider how a recession will impact your audience and adapt your business messaging to address those customers. Once you identify your customers' needs, you can build your value by highlighting your solutions throughout your marketing activities.
How much money are you leaving on the table?
Our free 45-minute content strategy will deliver actionable marketing advice and insights that you need to protect your business during uncertain economic times.
I want to protect my business
3. Market To Existing Customers
One of the most cost-effective ways to grow your business in an economic downturn is to engage past customers to make new sales opportunities or upsells.
Past customers are your bread and butter in economic downturns because they already know and trust your brand, so they are more likely to buy from you again.
You can reach out to past customers to drum up new business by reminding them about the excellent customer experience they had with you and how your products and services can continue to benefit them.
In addition to the advantage of brand awareness, you likely have information about past customers you can use to segment your customers and personalize your message.
For example, you can look at customers who have purchased from you in the past 12 months and reach out to them through an email campaign to schedule regular maintenance appointments.
You can also reach out to past customers to inform them about exclusive offers or promotions. This is a great way to re-engage customers you have not communicated with in a while to remind them about the great experience they had with you and that you are here to serve them through these uncertain times.
A recession will cause consumer spending to shift, and you can use your existing relationships with your customers to boost profitability and reduce overall marketing costs.
4. Hyper-Focus Your Recession Marketing Plan
Even in the best of economic times, Marketing Directors and small business owners want to find ways to maximize every marketing dollar.
Targeted marketing is a great way to make your marketing spend go further because you will allocate your marketing budget to only those campaigns that speak directly to your audience.
Regardless of the industry or the market you serve, marketing in a recession means you must hone in on your audience to ensure your message reaches them as efficiently as possible.
Take time to dive into specific marketing channels to understand what is working in each campaign. As you dig through your campaigns, keep your eyes open for patterns around what geographic locations, day of the week, and time of the day have the best engagement and conversions.
Optimize your ads to speak directly to your target audience to show them that your products or services are the best solutions for their need.
In optimizing each channel, you should also ensure your marketing message positions you as the best value in the market.
Many customers are not as price-sensitive as others, and this group is open to spending more money on a product or service if that solution offers the best value for their dollar.
Optimizing your ads and messaging to target specific audiences based on their physical location, purchasing habits, and pain points can position your business for short- and long-term success.
5. Invest In Educational Content For Extended Buying Cycles
As consumer spending contracts during a recession, consumers tend to take longer to research products and services before spending.
This means that lead time will increase, and customers will take more time to research their options to ensure they spend their money on the best value in marketing.
This shift in the buying cycle means that your business can benefit from publishing more educational content to help customers determine how to find the best solutions for their needs. During a recession, you should invest in Content Marketing strategies like:
Write lots of educational blog posts to help customers define their problems and help them understand what type of solution they need. This type of content can help you get found in search engine results as you answer common questions customers have at the beginning of their research phase. This will bolster your search engine optimization (SEO) efforts and help you build a relationship with your audience as they come to trust your brand.
Build comparison charts to help customers understand the value your products or services offer compared to your competitors. Your customers will spend a lot of time comparing their options, and you can build trust and help them see that you are a great choice by highlighting how your brand beats the competition.
Write case studies to show potential customers how your products or services have helped past customers like them. This content is a powerful tool to help customers near the purchasing decision understand why you are the best value on the market.
Content Marketing is a great recession marketing strategy because the content you create will be an asset for years. You can also use this content to help new customers through the research process and help them understand that you are the best value in the market.
6. Invest In Local SEO
Local SEO is your most cost-effective marketing strategy if you rely on a customer base in a specific geographic area. Local SEO will help you increase calls, leads, and foot traffic at the lowest price, whether you have a law firm, HVAC business, or retail shop.
Many customers use mobile devices to search for products and services. As they search, you can harness the power of your Google Business Profile (GBP) to capture premium real estate on Google search results and engage with local customers looking for you.
As customers look for solutions in their area, your business information will appear at the top of Google search results in local listings. Here are a few things that you can do to improve your presence in local search results:
Set up and optimize your GBP listing with your Name, Address, and Phone Number (NAP). Google uses this information to show your business information to people in your geographic area, so having accurate information will ensure you show it to potential customers.
Upload lots of photos and videos to your GBP listing. Since local SEO targets local customers, you can upload photos and videos to build relationships with your audience and show them the value your products or services deliver.
Ask your customers to leave reviews on your GBP. The number of reviews that a business has is one of the most vital signals Google uses to rank local search results. You should ask your customers to leave a review on your GBP listing. Not only will this help your presence in local search results, but these reviews also show that past customers trust you.
There are countless other factors to consider when building your local SEO strategy. Be sure to talk with a local SEO expert to build a custom strategy based on your business goals and market conditions.
7. Use Video To Show Value & Build Empathy
As new customers look to maximize their spending power, you should do everything possible to reassure them that you are the best solution for their needs.
Video demonstrations, testimonials, and engaging images are great ways to show your products and services value.
Beyond just showing off your products and services, you can use video on your website, social media accounts, and email marketing campaigns to highlight value-added benefits of your company, like excellent customer service and expertise.
As we mentioned before, some customers are not as price-sensitive as others, and you can attract this customer segment by showing that you offer the best value even if you are not the lowest-priced option.
Make video demonstrations to show potential customers how to use your products. This demonstration can help you stand out from the competition as customers see first-hand how a product is used and can help them envision using your product.
Publish videos that show your employees at work. These videos show potential customers the quality of service and care you provide, which can help customers trust your business more.
Produce videos with your staff to answer common questions and introduce your employees. These videos can go a long way to building a relationship with your customers because these videos will introduce your customers to your staff and build trust along the way.
While professional videos are an ideal option, the truth is that you can get a lot of mileage out of video content produced on your cellphone. Once you have the video content, you can hire a video editor to cut the videos into 3-5 minute sections for your website and 20-45 second clips to use on Facebook or Instagram.
Video content can be challenging to produce and edit, but this type of content can go a long way toward building trust with customers. As a result, you can use the video content on different platforms to show the value you offer customers and expand your market share and share of voice.
Free strategy call ($125 value)
We love to talk with business owners just like you about ways to boost traffic and drive more sales. Find out what you could be doing with this no obligation call!
I want my free strategy!
8. Build Remarketing Campaigns On Facebook & Google
To bolster your recession marketing strategy, you need to find ways to drive as many conversions as possible at the lowest cost possible.
One way to maximize your marketing investment is to engage with people who have already visited your website through remarketing ads on Facebook and Google.
Remarketing ads help you reach customers as they research solutions for their needs. Since remarketing ads only show to people who have come to your website, they are more likely to remember your brand, which can increase the chances that they will engage with your content again.
Just because a customer left your website without purchasing doesn't mean they won't buy from you in the future. Here are a few tips to optimize your remarketing ads;
Feature special discounts and specials in remarketing ads to entice people to click back to your website. These remarketing ads should link to a unique landing page to help potential customers convert.
Use images and ad copy that speak to the needs of your audience. This means that you should write ad copy that reminds your audience they have a specific need and that your products or services are of the best value on the market.
Promote educational content like blog posts and comparison guides to help customers as they research options. This approach can yield excellent results because you provide valuable information to customers throughout the research process.
Remarketing is a great marketing tool to engage with customers who have already visited your website but didn't make a purchase.
This marketing channel is also an ideal approach to longer buying cycles, which typically occur as buyers take more time to research their options before making a purchase decision.
9. Outsource Marketing As Needed
A looming recession is not a death sentence for your business, it just means that you have to be more efficient with your financial allocations than ever before. Every dollar needs to be accounted for, and you should invest in marketing initiatives to deliver the best return possible.
Some businesses slow hiring during economic uncertainty to save money, which can put Marketing Directors and small businesses in a precarious position since it means they can't get the marketing support they need to fulfill their business strategy.
Outsourced marketing is a great way to meet the needs of your business at a fraction of the cost of hiring an in-house employee since you won't have to pay overhead like healthcare or sick time.
Not only will you enjoy more excellent financial stability with an outsourced marketing agency, but you will also benefit from the years of experience they bring to your projects. Unlike in-house employees, a marketing agency works with many businesses in various industries. They can bring their knowledge and expertise to your business in ways an in-house employee simply can't.
Another way you can reduce your business's exposure during a recession is by outsourcing specific projects. Outsourcing digital marketing agencies are a great solution to fill skill and knowledge gaps in your current marketing team.
This means that you use a marketing agency to take on short-term projects at a fraction of the cost, and you can leverage that marketing agency to fill the specific needs of your in-house marketing team.
Don't Stop Marketing During A Recession
A recession is a scary time for Marketing Directors and business owners as they navigate uncertain economic conditions. It would help if you considered marketing conditions, competitor position, and long-term success while balancing your company's short-term position.
Some businesses reduce their marketing budget without considering what can be reduced without harming the company's long-term profitability.
In most cases, your business can continue marketing in a recession by focusing your ad spend on channels with the best return and optimizing each channel to maximize your marketing spend.
While times may be challenging, there are still opportunities to market your business and increase sales. I have outlined many different methods you can use to market your business during a recession; now, it is up to you to decide which will work best for you.
Remember, the most important thing is to stay positive and keep moving forward based on your projections and the evolving needs of your customers.
Feel free to contact our team if you want to learn more about how to market your business in a recession. We offer a free 45-minute strategy session where we present recommendations for you to implement in your business to thrive through an economic downturn!