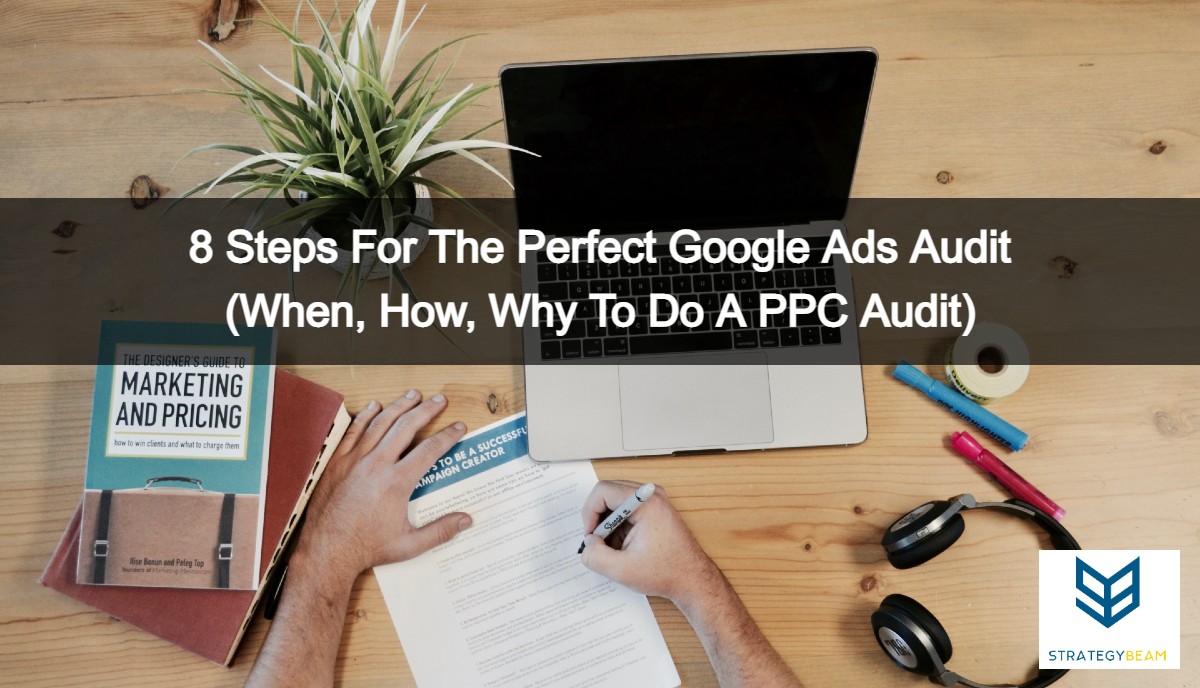 Getting The Most Out Of Your Google Ads PPC Campaigns
The key to a successful pay-per-click (PPC) program is making sure that you're investing your precious ad dollars as efficiently and effectively as possible. You want to do everything you can to only show your ads to people who are going to buy from you. Google Ads and PPC marketing are great ways to drive qualified traffic to your site, but without constant monitoring and optimizations, you could run the risk of spending a lot of money without receiving an adequate amount of sales.
This is where a PPC audit can really help your business since this process allows you to look at your PPC campaigns overall, but also dive into specific details and settings to ensure you can maximize your ad spend dollars.
A PPC audit is a great way to learn how to improve your Google Ads campaigns. When should you do one? What are the key steps for conducting an audit? How can you make sure that it's done right? We will cover all of these questions and more in this blog post!
What Is A Google Ads Audit?
A PPC audit is a systematic process of reviewing and analyzing campaign data in order to glean insights on how to optimize or improve it. The goal? To determine the best way to make your Google Ads campaigns work for you and make specific changes to your PPC campaigns to increase conversion rate and decrease ad spend.
Your digital marketing budget is not unlimited, and you want to drive as many qualified leads to your site as possible. An audit of your PPC accounts can help you improve the overall performance and reduce costs, and a good PPC audit should answer these questions:
What is the purpose of your campaign?
Who are you targeting and why?
How are you measuring success for this campaign (if not already established)?
What goals have been set up to achieve your successes?
Do we need a new goal or objective in order to reach our broader business goals?
What are some trends that affect my campaigns' performance over time or seasonally?
We'll be going over what goes into an audit, why they are important, when should you do one (and some tips on conducting them), as well as some resources for great audit templates that can help get started with yours.
Unfortunately, there is no comprehensive PPC audit checklist that you can run through to improve your performance because different markets and audiences require specific changes. However, you can make adjustments in your campaign settings to boost performance, and typically a professional PPC audit will include:
Reviewing past performance data to determine how well your account is performing in relation to the goals you've set. This can help you find underlying issues on a campaign level that can help improve performance and reduce costs.
Determining what channels are driving conversions and which ones aren't as successful so that you can improve on the former or reduce investment in the latter. For example, if remarketing was driving lots of sales then you would want to put more resources into your display network.
Identifying any conversion opportunities for key services, products, or offers that have not been optimized yet. Sometimes PPC ads don't line up with the landing page they direct to, so you can improve your search campaigns by optimizing the PPC ad copy and the landing page.
Identify areas of opportunity by evaluating ad copy effectiveness or landing pages quality (or both). Paid search is all about getting the right information to the right people at the right time. You need to ensure your PPC ad copy speaks to the needs of your audience and your landing page helps them find the solutions they need.
Reviewing competitor strategies to see if they're winning where you may be losing ground with customers/prospects. Take time to look at what type of ad campaigns your competitors run, and look at their ads and landing pages. This information can help you identify opportunities to improve your ad campaigns.
Analyzing Account Settings to ensure the basics of your ad campaigns are positioned properly. Be sure to look at ad settings like ad rotation settings, location targeting, and bid adjustments to ensure you are reaching your intended audience.
Now that we have a basic understanding of what a PPC audit is and why it's important, let's take a look at specific items to consider during a Google Ads audit.
When Should I Perform A PPC Audit On My Account?
There are many reasons why you may need to conduct a PPC audit on your account, but it's important not to over-engineer this process. You can think of a PPC audit like an oil change because you should get an oil change regularly and based on the needs of your car.
The same is true of a PPC audit because a professional should audit your Google Ads account every few months to ensure everything is running smoothly under the hood. A good time for an audit is when:
There have been some significant changes in the business or campaign structure of your company (a new product launch, change in advertising channels).
If performance metrics have plateaued.
Major updates from Google.
How to Perform a PPC Audit
Before conducting an audit create a document that lists components of your audit, date, findings, and changes. We have found it beneficial to schedule time to audit the campaigns so there are no distractions and to notify team members that work closely with the campaigns.
Below we walk you through each step of the audit process and provide you with tips and best practices.
Check Conversion Tracking
One of the first things to review when performing a PPC audit is conversion tracking. An account could be set up according to all the best practices, but if conversion tracking isn't set up or it's not tracking properly then no optimizations or techniques you employ will matter.
In Google Ads there are a few ways conversions can be tracked. The type of conversion you implement will depend on your business goals. Two common ways to track conversions are directly through Google Ads or to link Google Ads to your Google Analytics account and import conversions. One caveat to performing a PPC audit is that you may need a developer if you don't have experience implementing tracking pixels.
Follow these quick steps to check if conversion tracking is set up and working.
Login to your account
Click "Tools & Settings" in the upper right corner
Click "Conversions" under the "Measurement" heading

This screen will show what conversions have been set up and their status. This is also where new conversions can be set up by clicking the blue "+" button.
Setting up conversion tracking will help you understand how and where customers are converting. With tracking, you can analyze keywords that drive conversions, what time customers convert, what device customers are converting on, and track your return on investment (ROI).
Geotargeting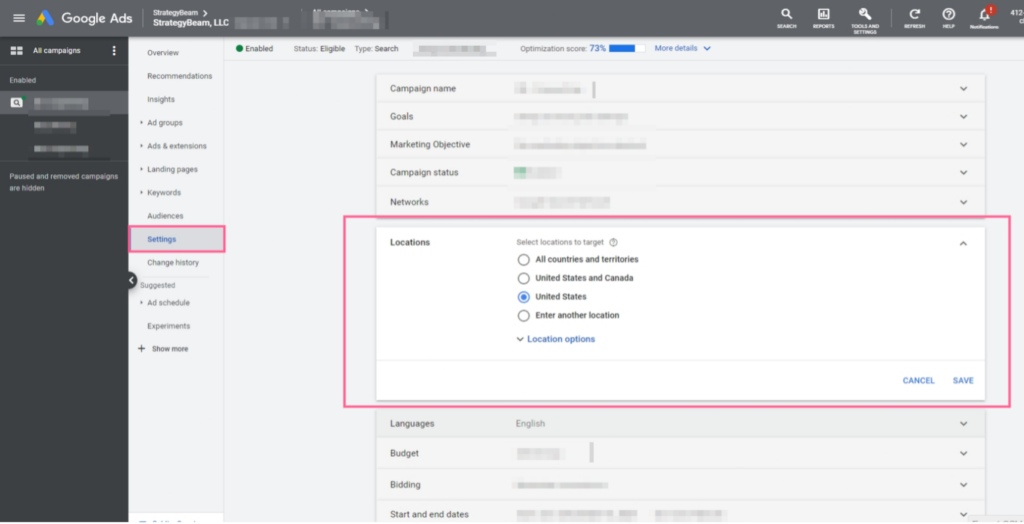 Geographic targeting allows your ads to show to individuals in a geographic location that you specify. Geographic targeting is a basic setting, but should not be overlooked.
Some geotargeting options include countries, regions, states, cities, a radius around a location, and zip codes. When looking at geotargeting, reviewing excluded locations is just as important as targeting locations. The method you choose will depend on your product, service, and customers.
We once audited an account that was supposed to target the state a state, however, the campaigns were targeting the entire Country. This was a simple correction, but one that cost the client thousands of dollars. This is just one example of why checking your location targeting is important.
Bidding Strategy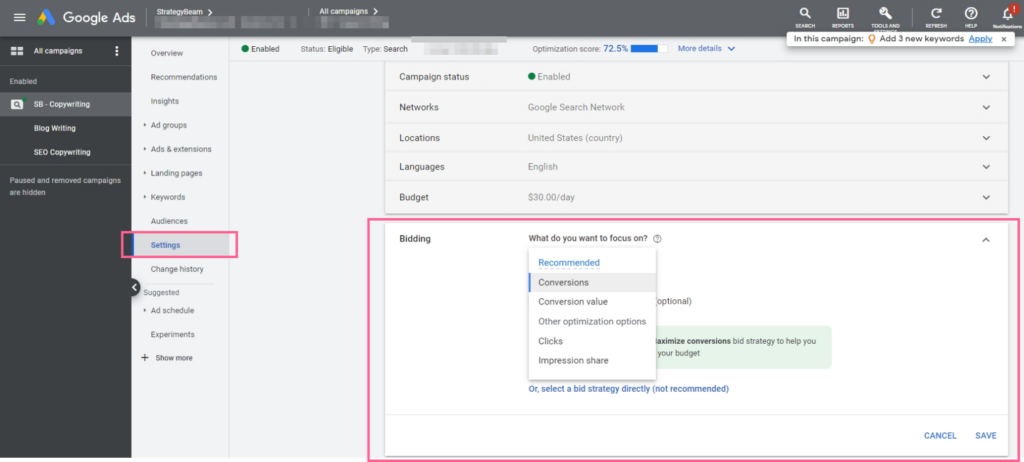 In recent years Google has launched various automatic bidding options to make it easier for users and reduce the hassle of managing manual bids.
When reviewing a campaign, ensure you review the bidding option to see if it aligns with your business objectives. For example, if your bidding is set to maximize clicks, but the client is interested in getting the most conversions they can, you might consider changing to maximize conversions.
Day Parting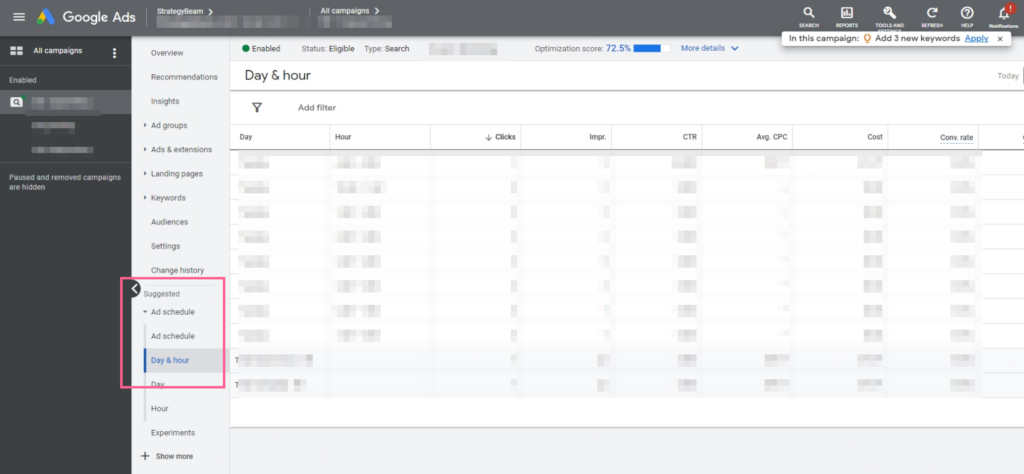 Day parting allows an advertiser to specify the days and times they want to show their ads. For example, say the company you work for has a call center, you have the ability to automatically show ads while the call center is open and turn ads off the ads when the call center closes. Similarly, if your company isn't open 7 days a week you can schedule to have the ads pause when you're closed.
Utilizing the day parting feature helps businesses save advertising dollars by giving the flexibility to not show ads during certain times and days of the week.
Audiences
Google says that "audiences are segments, or groups of people with specific interests, intents, and demographic information, as estimated by Google." Audiences can complement and narrow your existing targeting options.
An example where audience targeting can be used is on a campaign with a limited budget, but there's a large target area, using audiences allows for more specific targeting by showing ads to those in the market or those that have an affinity toward your product or service.
For instance, say you own an online shoe store. You can layer in audience targeting and show ads to people who are actively looking for shoes or based on their online shopping habits.
If your goal is to get granular in targeting because you have a niche audience, review audiences to see if any apply or to see if there are any audiences you want to exclude.
Ad Group Relevance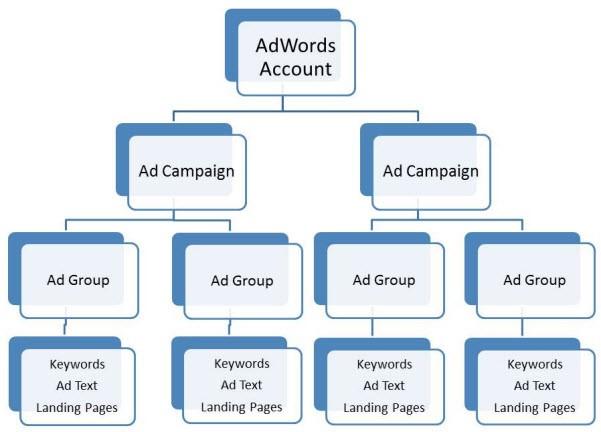 Ad Groups are a way to organize products or services by a common theme. Keeping a tidy account structure allows for better tracking and easier management.
Over time, things can change; keywords can be added, and products and services can be updated. So it's important to review your Ad Groups to ensure they're still relevant. Doing an audit of your Ad Groups ensures themes are still concise, there are no duplicate efforts, or to see if more should be added or paused.
Ad Extensions
Ad extensions allow for additional copy under your main ad text. Our best practice is to utilize any that are applicable. Similar to ad copy, you'll want to check for the following:
Check spelling, punctuation, and grammar
Ensure all the ads are still relevant and active
Check that the landing pages are active
Check that the phone number is still active
Ensure you're following Google's text ad policy
How you analyze performance will depend on your company's KPI. We typically look for low performers or no activity. For example, on the below screenshot there's a sitelink with 0 impressions. One option would be to completely change the sitelink or modify it and monitor performance.
Ad Copy 
With expanded text ads being discontinued June 30, 2022, the ad copy process has been simplified. The old best practice was to create 3 ads per ad group. With responsive search ads only one text ad is necessary.
Ad copy checklist:
Check spelling, punctuation and grammar
Ensure all the ads are still relevant and active
Check that all URLs are still active
Ensure the pages you link to are not a redirect
Review the "Performance" column
Review the "Combinations" tab
Make sure there are no weird combinations
Review Keywords
Keywords are the words someone would use to find your produce or service online. The keywords you choose for your campaigns are just as important as those you decide to exclude and how you use the keyword.
When reviewing your keywords you'll want to take note of:
Match Type
There are 3 match types; broad, phrase, and exact. How you choose to structure your keywords will depend on your industry, budget, KPIs and previous performance (if you have any).
Depending on your goal you may choose to target broadly or narrowly. Review the match type to ensure it aligns with your goals. If it's too restrictive and getting low traffic you may want to broaden the type. Or conversely, if it's too broad you could narrow it down by using phrase or exact match types.
Negative Keywords
Although properly setting match types gives you a lot of control over when your ad shows, sometimes there are still unwanted keywords that slip through. It is a good practice to review the Search Term Report (STR). This report shows the actual keywords people typed in to see your ad. You can review your STR to find any unwanted keywords, then add them ad negative. You can also use this report to discover keywords that are being used, but you are not targeting.
Landing Page
Some may not include landing page reviews as part of an audit. However, our goal is to help our clients receive the best PPC outcomes from their campaigns. For example, you can have an account set up with all the best practices in pace and optimized pristinely, however, if the landing page the ads are pointing to is not optimized, slow, not relevant, or simply poorly designed, the ads won't perform well.
Here are a few areas of a landing page to review for the best performing ads:
Prominent CTAs
Are they noticeable, is the CTA clear, is there at least 1 CTA above the fold, does the CTA post to the correct page.
Contact information: Ensure the form works. Ensure the phone number words. Ensure the chat works. Ensure it's easy to find.
Relevancy: If your ad is talking about Speech Therapy, but the landing page is about Physical Therapy, chances are your visitors are going to bounce because the landing page is not talking about the ad they clicked on and therefore not relevant to their search.
Page Speed: Page speed makes for a poor user experience. People are in a hurry and when a page takes a long time to load they are less likely to purchase from you. And speed is a ranking factor in Google for mobile searches.
Mobile-Friendly: According to SEMRush 66% of all site visits came from mobile devices in 2020. It has become foundational to design with mobile-first in mind. If you're using SquareSpace, Wix, or WordPress themes, most are responsive. However, it's still vital to review your site on mobile to ensure all the elements are favorable to mobile usage. Note: Not all websites have a higher amount of mobile visits than desktop. It just depends on your business.
PPC Audits for Better Performance
PPC audits are time-consuming but necessary. Accounts are dynamic and constantly changing. Whether it be the result of a new beta, a new policy, or best practice; performing regular audits help avoid simple mistakes that have costly consequences.
Having a third party review your account is ideal because it allows a fresh and new perspective on the campaign structure. Looking at accounts every day for years on end can sometimes result in glossing over details that can affect performance. We understand that this isn't always possible and encourage PPC practitioners to perform audits at least biannually.