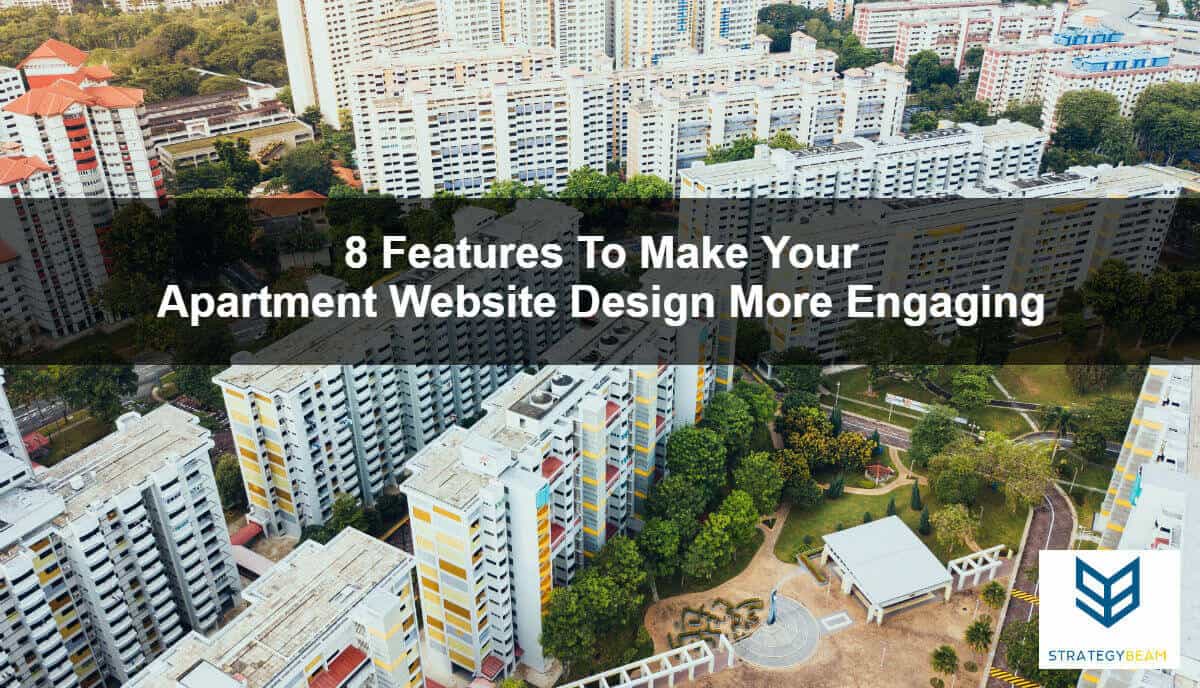 Do you want to generate more qualified traffic to your site and sign more leases? Whether you are a property management company or the apartment marketer for your community, you need to use every marketing strategy that you can to hit your business goals.
Apartment marketing is all about trying to find the most efficient ways to attract, engage, and close new renters proactively. There are many inbound marketing strategies that your apartment community can use to drive more leads, but your website is the most critical part of the apartment marketing strategy.
Not only is your website how people will find out more about your community and how to take action, but it is also the place that you will direct all website traffic from social media, email, and paid search. Too many apartment managers focus on making their website look amazing while forgetting to pay attention to different apartment website marketing tips.
This is a big mistake because apartment communities are seeing a lot of competition, so you should be actively seeking ways to improve the functionality and user experience of your apartment website. Here are the top 10 tips to enhance your apartment website design today!
1. Add Live Chat Capabilities
Many industries have already adopted live chat on websites to handle routine tasks like overnight shipping options in direct or automated customer service information. Research has shown that the average response time for social media requests is up to 10 hours and email response times are around 12 hours.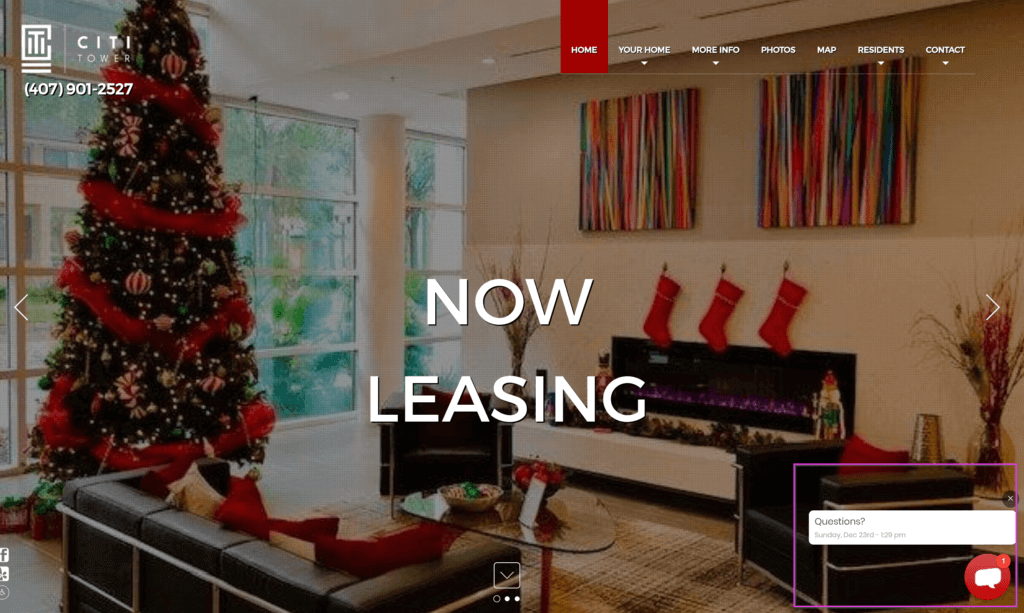 The apartment industry demands quick response times to prospects if they have questions. If people have questions about your property, floor plans, or pricing of multifamily homes, then you need to be able to get your tenants the information that they are looking for. You could direct questions to your leasing office, but in reality, it can be easier to handle common requests over a chat feature on your site.
Your interested tenants have questions, and many people would instead communicate with your staff over text message before they give you a call.
Your team can work with more information since they will be able to see what page prospective tenants are on when they send you a question.
Tenants can receive real-time information about your apartment complex in a way that can save your staff time and energy.
Your team can quickly qualify leads by directly asking qualification questions, and you can automate some of the most frequently asked questions.
Not only is this communication method easier for people on their phone, but it also will not require your team to divert attention from tours or other tasks. You can install a live chat program on your website where your potential tenants can ask questions and your team and quickly and easily provide information.
Better yet, you can program the live chat feature with standard answers to common questions. This is a great way to minimize the amount of time and energy that your team has to devote to answering the same questions over and over again throughout the day.
2. Add Special Offer Popup
Maximizing your online presence is the ultimate goal of your apartment website, and you can outperform your competition by collecting information about potential tenants. Installing a simple popup feature on your site design can help you communicate with your audience while also capturing leads without needing to devote additional time or resources.
The purpose of a popup is to provide a strong Call To Action (CTA) front and center for your audience. You can use an announcement or a sale to grab the attention of visitors and incentivize them to give you their contact information. From there, your team can reach out to your visitors to provide more information and drive more conversions.
While pop-ups are a powerful tool for your website design, you should be cautious that this tactic could have a dark side. You want to make sure that you do not implement popups on your homepage or only allow popups to launch after a specific amount of time. You will also want to make sure that popups will not slow down your website performance or distract your audience if they are looking for more information or sign a lease.
3. Add A Lifestyle Video
Your apartment community is unique, and you offer a range of benefits that potential tenants would love to experience. However, one of the most common marketing mistakes that property managers make when marketing their apartment community is to fail to make their community stand out from their competition.
It is important to "think outside of the box" with any apartment marketing strategy, and this is especially true on your website. Video marketing is one of the best-untapped marketing tactics that you can use for your community, and using lifestyle videos is a great way to make your audience envision themselves living in your apartment.
Lifestyle videos are great at connecting your brand with your audience so you can build a relationship and schedule more tours. Essentially, lifestyle videos create intangible value for your apartment complex as more people see the value of your apartments beyond just a place to live. Whether you show off the social scene near your community or other benefits, then you should always look at the overall environment that your apartment community offers.
4. Showcase Your Reviews
There is nothing more encouraging to a potential tenant than seeing many positive reviews on your website and Google My Business listing. Not only does reading glowing reviews about your apartment community show the reader that your complex is really as good as you say it is, but it also builds social proof as tenants share their positive experiences while living at your apartment.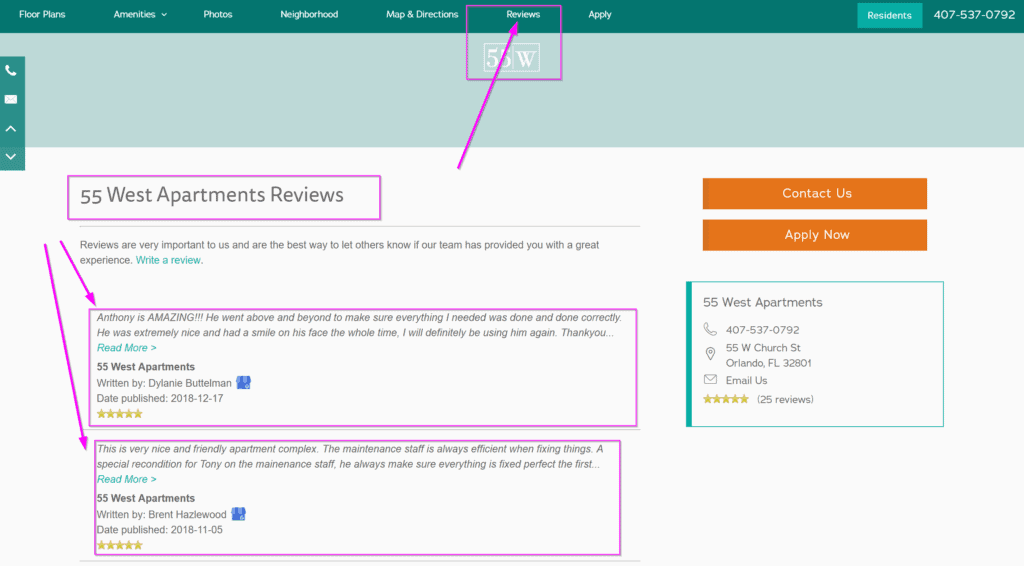 Highlighting positive reviews on your apartment website is one of the best ways to build a positive experience with potential tenants before they even sign a lease with you. Positive reviews are the result of positive experiences, and if you position positive reviews throughout your website, you can position yourself as a leader in your area and drive more tours and close more lease signings.
You should have a page for positive reviews where you store most of the experiences of current and past tenants. Outside of a single Review page, you should include relevant positive reviews throughout your website.
Throughout different pages like the About Us page, and Image Gallery page, you can place blurbs that highlight the positive feedback to support the benefits of each page. You can also use reviews as a way to break up large blocks of text and position reviews throughout your apartment website to optimize your site design.
5. Focus Your Floor Plans
When someone searches for an apartment, they are looking for a few things including the location of your community, the cost of your apartment homes, and the types of floor plans you offer. All of these factors are essential when choosing a new apartment because your potential tenants need to know if your apartments are the size that they need.
You should have a page dedicated to the floor plans that you offer. These floor plans should be easily filtered based on size, shape, and costs. This section of your apartment website is often overlooked, but in reality, the floor plans page is one of the most important pages on an apartment site.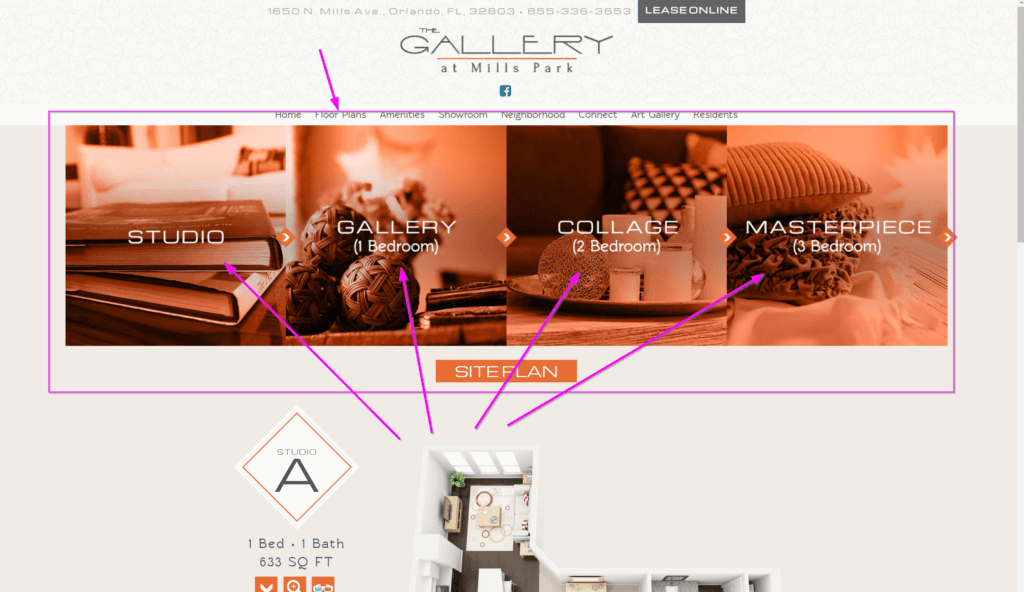 People who are close to making a purchase decision will look at the floor plans page. Unlike other pages like the Photo Gallery, potential tenants who spend time looking at floor plans will indicate that they have already done a lot of research and are close to making a decision.
You can use this information to your advantage by linking other pages like the About Us page to the floor plans page. You can also implement a popup where your audience can insert their contact information, and you should prioritize these readers since they are closer to the point where they are ready to sign a lease.
6. Make Your NAP More Visible
There are many acronyms that you should be aware of when it comes to digital marketing for apartments, but NAP is one of the most important. NAP stands for Name, Address, and Phone number, and you should focus on how to keep this information consistent across all channels like Facebook, local directories, and your website.
Along with making NAP information consistent, you also want to make this information easy to find on your apartment website. Whether your audience is reading your content on their mobile phone or desktop computer, you need to make sure that they can easily find and understand how to contact you when they are ready to schedule a tour or sign a lease.

Many apartment managers have seen success by placing their community's phone number and address in a sticky header on their site. This will ensure that the most critical information about their apartment complex remains in a prominent position at the top of the website so people can contact your office quickly.
In addition to placing your phone number and address at the top of your site, you should also put Call To Actions (CTAs) throughout your site instructing your readers to call your office. You can add these CTAs as blocks between paragraphs and sections on different pages. This not only improves the visual layout of your apartment website, but it will also help direct your readers to take action and close more deals with potential tenants.
While you are at it, you should also put NAP information in the footer of your site. Be sure to use the same NAP information throughout your entire website and use the same data in all local directories that you build for your Local SEO strategy.
7. Build A Lifestyle Blog
Your prospects are looking for a fantastic apartment just like yours, but how do you engage with readers and get found on Google? One of the best ways to get noticed and nurture prospects is to produce fantastic blog content. By developing a blog, you can answer the needs of your residences and create accessible content that people are searching for online.
Starting a blog for your community is a great way to generate content that will build the power of your main website. Creating blog posts about lifestyle, how-to, and answer questions are a great way to introduce new keywords that will attract the right audience and help get you found in search engines.
A maintained apartment website blog will allow your team to produce lots of information about your apartment and the services you provide over time. Google and other search engines like freshness and new content often score better grades than older material. This means you can use blogging to boost rankings in search engines and meet the needs of your prospective tenants. Both of these facts can lead to more signed leases throughout the year!
8. Grow Your Image Gallery Portfolio
When planning your site design, you should make sure that your photo gallery is user-friendly and showcases the lifestyle or benefits of your property.
You can take professional photos of your property, or allow your residents to submit User Generated Content through Instagram contests. Either way, you will want to have a variety of styles to get many aspects of your property. Each photo should provide the context of your property and draw attention to exclusive amenities, intricate details, and evoke an emotion that you are looking to establish in your community.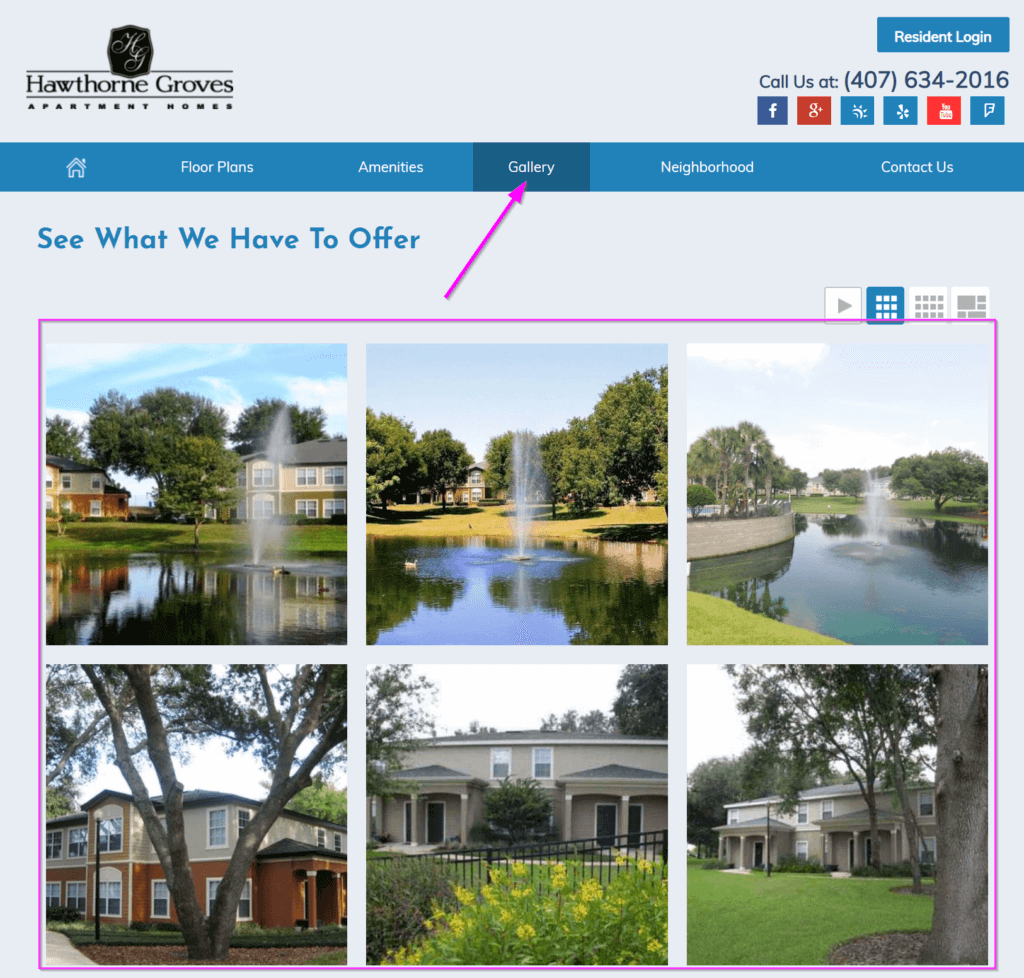 Potential tenants only care about information that's relevant to their needs, so every photo should be created to address a specific requirement of your tenants. If you know that many of your tenants need a pet-friendly apartment, then you should highlight your dog park or other features that will be beneficial to those individuals.