Vacant or available apartments have to be advertised online if you want to get renters to find and lease from you. An empty apartment means that your community is losing money, and it is your job to engage and attract the right renters for your properties.
As an owner, investor or property manager, you may choose to deal with the nitty-gritty on their own or one may hire a professional apartment marketer to chalk out their online marketing strategy.
Regardless of the approach, online advertising is imperative for your apartment marketing success and you should take every chance that you can to improve your online visibility and drive more qualified traffic to your site.
Unless an apartment is in the most sought after location and already has enough people to build a waitlist, then you will face stiff competition from many similar and different units throughout your city.
This means that it is vital for you and your team to learn apartment marketing basics to drive your apartment community goals and ensure that you fill your apartments throughout the year! If you are working with a small team or limited budget then you should check out this list of the best marketing tools that you can use to build your business initiatives.
Here are four strategies that you can use to drive more qualified renters to your apartment complex, and you can beat your competition today!
1. Use High-Quality Imagery
Your apartment complex is beautiful and you want to show off your apartment homes and the amenities/features that you offer tenants. Since your potential renters are visual, having great images to showcase your community and each home available.
Having grainy or low-quality images can destroy your reputation and diminish your online marketing strategy, so you should have high-quality imagery of the apartment you have to advertise as it will determine whether or not a viewer is interested in.
The first impression matters and it is usually more important than the details initially.
When using images on your website and other channels you will want to compress your images to save space and boost site speed. The only downside of a compressed image is that a compressed image will suffer a serious loss of quality will not look good when zoomed in.
You should take that into consideration when you build your apartment website and anticipate how your future renters will see your property based on the quality of images you host on your site.
There are many file formats for images. JPG is one of the most common, followed by PNG and TIF. You should not use JPG if you want lossless compression and conversion. TIF is an excellent choice as there is no loss of quality. The raw image will be compressed to an extent, but the picture will look just as high.
The resulting file format will be compatible with online platforms, and you will have an image that can be zoomed into.
If you can use raw files online, then it is the best possible solution, and you must take steps to ensure any edit or accentuation does not ruin the organic or natural aesthetics of the apartment.
Many people unintentionally destroy great pictures with color corrections, edits, crops, and other enhancements.
2. Google Ads
Online advertising is not limited to Google, but in reality, Google Ads is one of the best ways that you can drive qualified leads to your site and get more leases for your apartment. You can use Google Ads to have your advertisement placed directly in front of your interested renters based on what they search for.
This means that you can customize your message and direct interested renters to your website for a tour or so they can get more information about your property.
While it is possible to use Google Ads for as limited or as comprehensive a campaign you want, you should always focus on the relevance of where you are placing your advertisements. You do not need to place your ads everywhere or on random sites. You can choose where you want Google Ads to show up.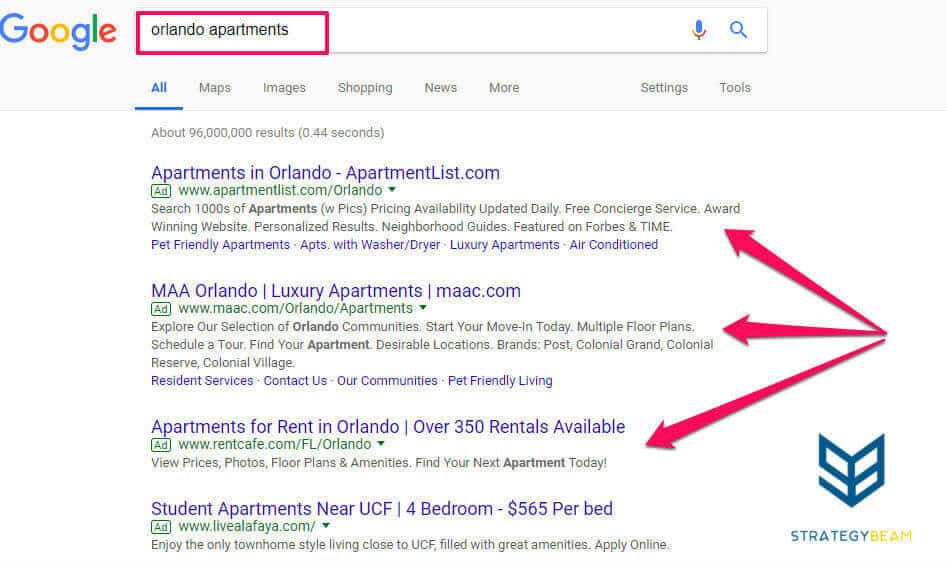 Since Google has a Pay-Per-Click model for apartment Google Ads, the cost to your marketing budget is almost nothing if your audience does not click on the ads. While this is good since you will not have to pay Google anything, if you do not set up your Google Ads properly then you will miss qualified leads and your marketing strategies could be impacted in a negative manner.
This means that you need to start with the needs of your renters first, think about what they are looking for, and then build ads around what people are searching for. This will get your ads to show in Google, and if you direct your audience to an optimized landing page then you will be able to get more leases signed.
If you are not an expert with Google Ads then you will want to hire an expert to help with PPC management. This is because you can burn through a lot of money if you are not careful when choosing the right keywords or building the best ad copy.
Look for professionals with prior experience in sales and advertising because they will need to have enough knowledge and experience to ensure you do not waste your money. You need to have a nice headline, a catchy tagline, perhaps a click-bait description and probably a thumbnail too in some instances.
3. Local SEO
Just as you should make relevant use of Google Ads, you should also rely on local SEO for appropriate traction. This is because you can use Local SEO to get found with Google My Business and other directories to get your apartment complex found based on where your potential renters are.
This is a great approach to get your apartment community found so you can drive more qualified leads to your landing page or calling into your front office.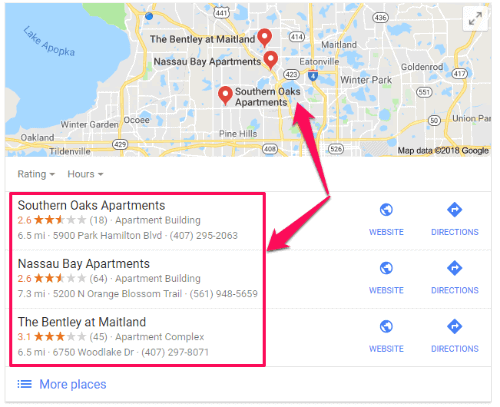 To get the most out of Local SEO apartment listing, your online information must be optimized in specific ways with your address, URL, and phone number. You should use the right keywords, such as descriptive words suitable for your apartment, amenities that people will look for, the advantages of location or other special features.
This means that you need to optimize all aspects of your online listings if you want to get the most out of Local SEO apartment marketing strategies.
Find out what the different keywords are that people are searching for or using in your area to ensure you appear for money-making keywords and search queries. You must optimize your listings using those keywords while ensuring geo-targeting.
Your apartment is at a specific location in a town, suburb or city, county, and state. Use these geographical markers for local search engine optimization.
The purpose of Local SEO for apartment marketing is simple. At its core, you want your apartment listing to show up on search results for the chosen area. You will waste a lot of time and money while also missing out on lots of renters if your listing shows up on results for another city or just randomly when people from anywhere search for an apartment.
4. Optimize Landing Pages
The fourth basic approach to perfect online apartment advertising strategy is to optimize your landing pages. A landing page is not the home page, because you can use landing pages for specific purposes for Google Ads where you highlight specific messages that your audience will read.
At its core, a landing page is basically a sales page, one that is designed to immediately entice the visitors and draw them in. You should look at each page on your site as a landing page, and optimize the content and message of each page for a specific purpose.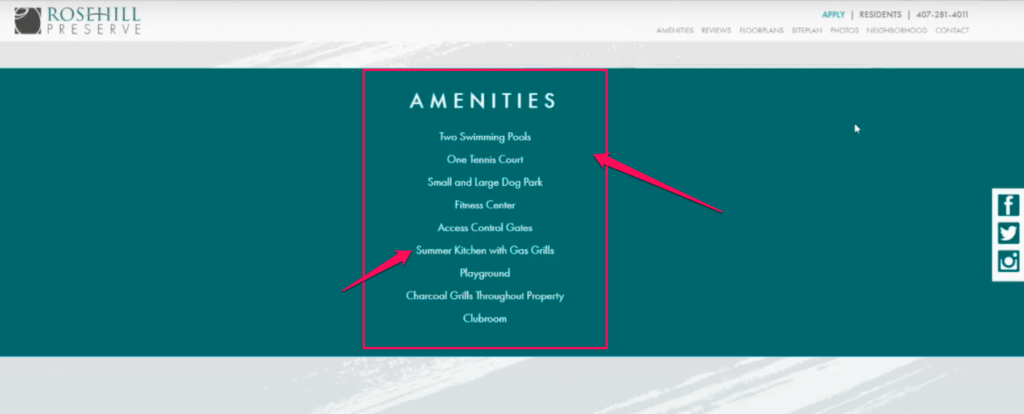 You should optimize each landing page with SEO copywriting tactics for your website content so you can attract more qualified leads without the need for paid media. SEO copywriting is a difficult task to take on, but with the right SEO marketing expert or time and patience then you will be able to grow your apartment and reach your goals!
A landing page can provide your renters with a lot of information that they need to know about unique attributes and features about your apartment quickly and easily. This means that you can use landing pages to drive more qualified leads, and on each page, you should follow some basic steps to optimize your content and create a better user experience.
A landing page should be engaging, easy to read, and easy for your audience to take action.
It should be of top-notch quality in regards to the visual design and the content should be optimized based on the devices that your audience will use.
The landing page should not slow down the website or further loading of the apartment listing. When building landing pages you should always think about the time it takes content to render.

You should not expect your audience to wait longer than two to three seconds for a website to load. Not only will your renters leave your site before they take action like booking a tour or calling your office, waiting for an extended period of time will also cause your audience to form a poor perception about your apartment community.
Thinking About Additional Apartment Marketing Ideas
There are of course many other ways to make your online apartment advertising more effective. You may use video tours. You can host videos of immediate surroundings if they are fantastic. You can provide additional information that can serve as guides. You should focus on the needs of your renters and the benefits that your apartment complex offers your renters.
Regardless of how you want to reach your potential renters, you will need to think about why your renters are looking for your community and why they will choose your apartments over your competition.
The steps mentioned above are the fundamentals of an effective online apartment advertising strategy. If you can perfect these, then you are on the right path to beat your competition, since others are likely to make one or more of these mistakes!