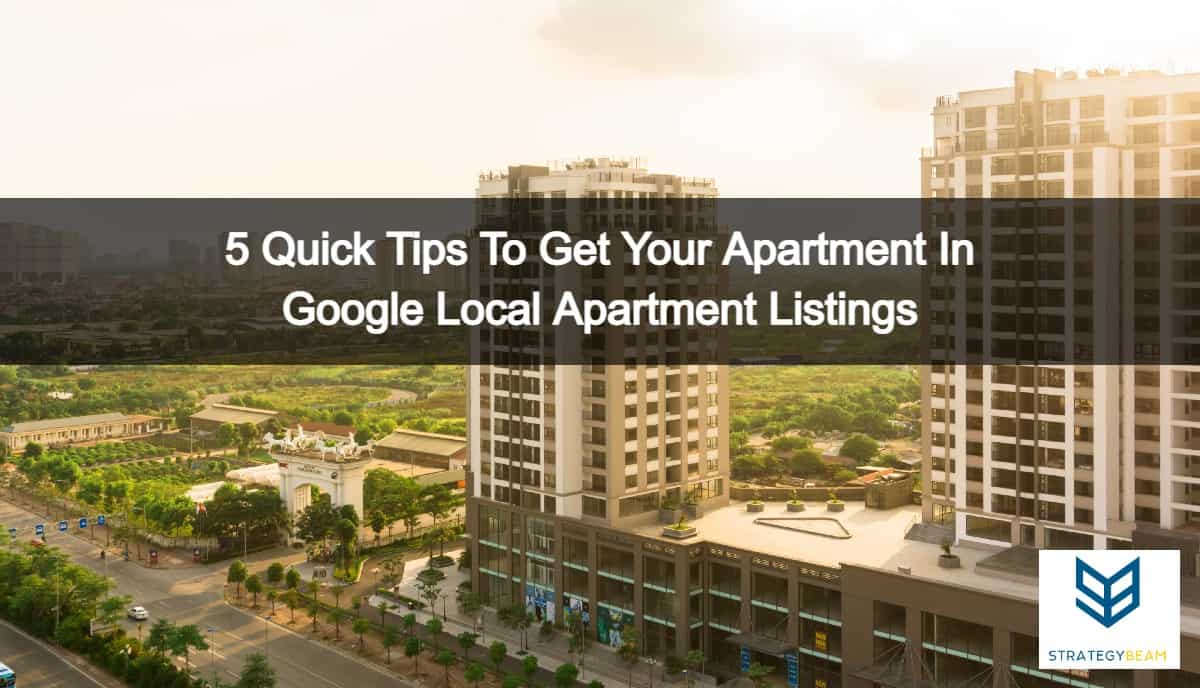 How to Get Your Apartment Business Showing Up In Google My Business… And Why You Need It!
The real estate market is highly competitive, especially when it comes to apartment rentals. Whether it is a strong economy or a weak economy, apartments tend to keep consistent occupancy and this is especially true if you have solid apartment marketing ideas to keep current tenants and drive more qualified local leads. As an apartment complex manager, you already know the best way for renters to find your property is through an online search engine.
When apartment hunters search for an apartment rental, they will turn to Bing or Google with their questions and comb through the local apartment listings looking for the best fit for their needs.
You need your apartment complex to rank high enough that users are inspired to contact you first. 
But to achieve this, you need to optimize your local apartment SEO to ensure it ranks highly. With so much responsibility, how can property managers do all their daily tasks while improving the SEO of their apartment community website?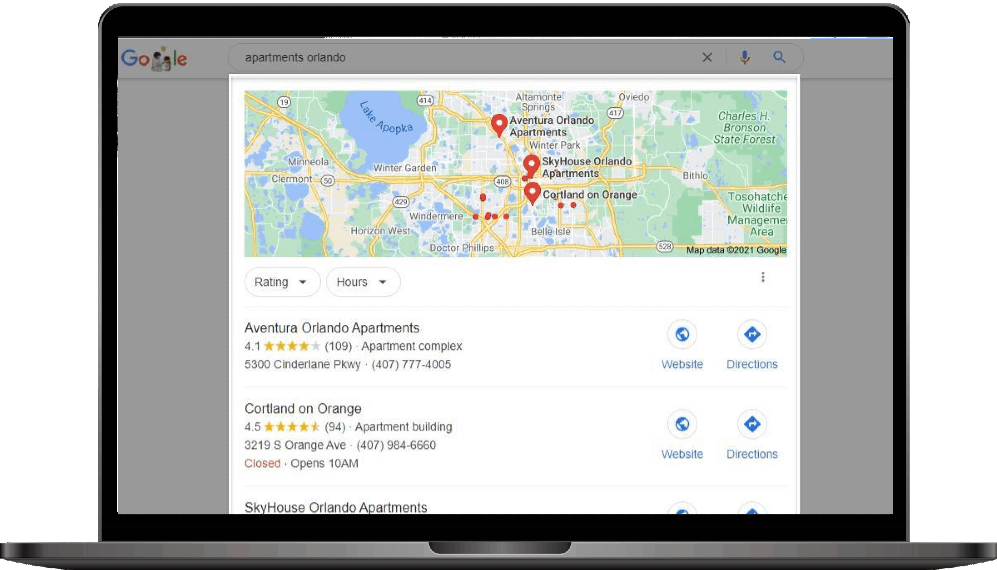 Google My Business (GMB) is an excellent tool for local businesses and will enhance your apartment marketing strategy. It offers many ways to advertise your property and draw in potential renters looking for apartment leasing options.
Additionally, it can potentially give you extra exposure with a prominent listing on the user's apartment search results on the right-hand side on the Search Engine Results Page (SERPs).
Let's take a look at the ins and outs of GMB, how Google determines your local ranking, and how you can leverage Google My Business to improve your conversions today.
What Is GMB?
Google My Business, or GMB, is a cost-free tool that lets you promote your Business Profile and website on Google Maps and Google Search. GMB pulls in lots of information about local businesses (including apartments) to create a comprehensive layout of local companies. You can use this tool to your advantage as you improve your local online presence and visibility for apartment searches.
Your GMB account allows you to identify and connect with your customers, observe how your customers are interacting with your business on Google, and update your Business Profile.
There are several key benefits to using GMB:
Increases Your Site's Visibility.
Allows Users To See Important Business Information At A Glance.
Helps Improve Local SEO
Increases Website Views
Shows What Customers Think About Your Property.
Because it's a free tool, Google My Business is an excellent method for property managers to improve their website's performance and local ranking. You can even link it with Google Ads to attract even more attention to your apartment complex website.
But how exactly does Google determine local ranking? Let's find out.
How Does Google Determine Local Ranking?
Local search results are based on distance, prominence, and Relevance. These three factors get pulled together to help users find the best match for their search results. This means that your website's SEO needs to be on point for local users.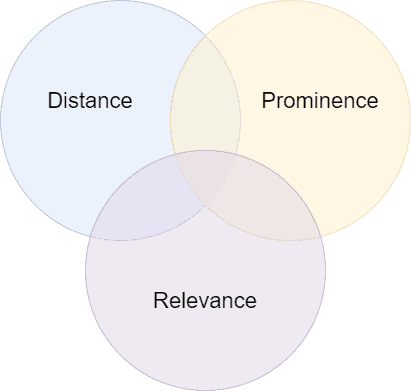 Here is how distance, prominence, and relevance play a role in search results.
Distance
This factor determines how far each potential search engine result is from the location term a user puts in the search engine bar.
If the user doesn't list a direct location, Google will calculate distance using known location information. This means your SEO needs to include keywords that help Google hone your area for more accurate results.
Prominence
Google uses prominence to determine how well-known your apartment complex is. It's based on information that Google already has on your business from different areas of the web, such as articles, directories, and links.
A review count and rating score from Google reviews are factored into the local search ranking. The more reviews and positive ratings your apartment community has gathered, the more likely your building will rank higher in search results.
To master this category, you'll need a plan on how to gather and respond to reviews.
Relevance
When something is relevant, it directly relates to the topic at hand. Relevance refers to how your local listing connects with what a user is searching for.
Adding detailed information about your property will help Google better understand your apartment complex offers and match your listening to the right searches.
All in all, much like with organic search listing, how well you rank comes down to the trustworthiness of your content. This is primarily based on your site's usability and how well humans trust your site. Never enlist cheap SEO services, as they will inevitably harm your business's ranking.
Let's talk about ways to make your local listing appear trustworthy to search engines like Bing and especially Google.
How To Optimize Google My Business For Apartment Complexes
Before you can optimize your Google My Business information, you'll need to claim your listing. This process takes some time. Google will send a postcard to verify your physical address, and you cannot move forward in the process without it.
Once your business is verified and claimed, you can start following this advice to ensure your Google My Business listing is successful.
Remember that everything you add to the listing needs to be aligned with the information on your main website. Any inaccurate information can and will hurt your listing and any local SEO benefits you may be getting.
Let's look at some ways to optimize and track your GMB listing for your apartment listings.
1. Use The Correct Category
GMB categories are crucial to your listing's success. You choose these essential fields for your Google My Business listing to describe what your brand is to search engines, as well as people.
You can even set primary and secondary categories on your listing to expand your property's chances of ranking high on the search engine. The best categories to choose for your apartment GMB listing are:
Apartment Complex
Apartment Building
Apartment Rental Agency
Condominium Complex
Furnished Apartment Building
Student Housing Center
Community Center
If you choose the wrong category for your apartment complex, you run the risk of being excluded from relevant searches and losing out on qualified leads. You'll be off to a great start if you choose the right categories for your apartment GMB listing to ensure the right people find your listing as they search for a great place to live!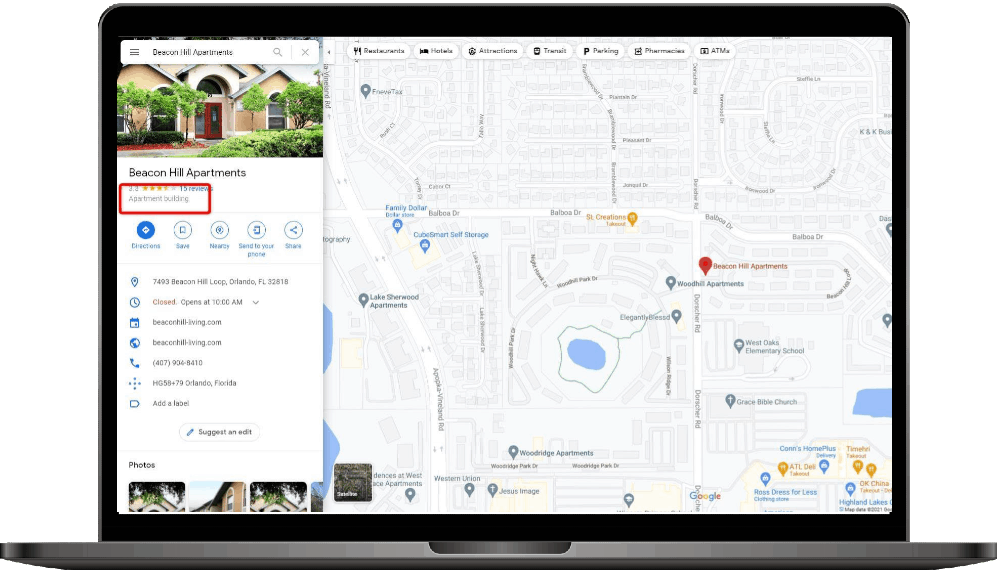 2. Make Sure Info Correct Contact Information
Incorrect information doesn't sit well with searches or Google. Obviously, incorrect contact information will cause users to be unable to contact you and hurt your bottom.
More than that, potential tenants may become frustrated that the information is outdated and move on to your competitors.
Your contact information needs to be up to date and include the following information:
Apartment Complex Name
Address
Phone number
Property Managers' Hours
If your information is showing up incorrectly, you will need to fix it through the INFO section of Google My Business. It may take up to 60 days to delete existing information, so the sooner you can rectify the issues, the better.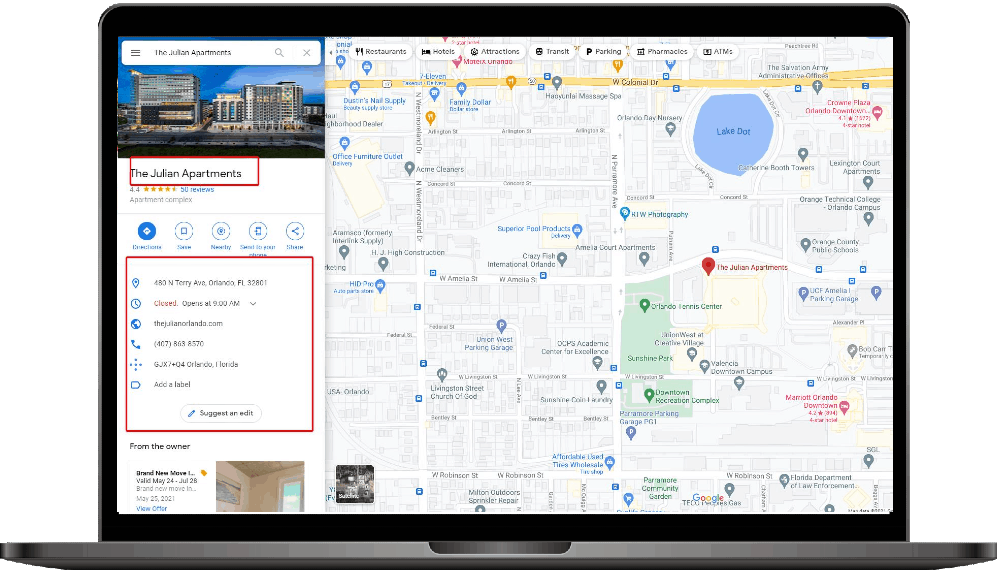 3. Launch With 6 Q&As; Add 4 Per Quarter
When you include common questions with answers related to the searches your potential tenants are performing on a search engine, you'll show up in more of their inquiries.
Think about common questions potential residents ask before they come to view your apartment complex. They may want to know about floor plans, pricing, whether your complex is pet-friendly, or what amenities are available at your apartment buildings.
The more questions you can answer upfront, the higher you will display on user queries. This also helps build trust with your potential tenants because it shows you have already thought about their needs.
4. Add 3 Images Each Week
When users are apartment hunting, pictures are typically the first thing they look for. Amazing photography is critical for attracting future residents.
Adding photos to your profile will help build trust, engage potential tenants, and offer convenience to searchers looking to know more about your apartment complex.
Ensure the optimization of your GMB profile by adding at least three interior photos of a model unit. Display images of any common areas, like dog parks, playgrounds, and laundry facilities.  Finally, add pictures of the apartment building management and maintenance staff.
Ask residents to pose for pictures to use in your digital marketing campaign to make it more authentic. When choosing your images, keep the following in mind.
Always Choose High-Quality Images
Keep An Eye On User-Generated Photos
Leverage User-Generated Photos To Your Advantage
Make Photo Posting An Ongoing Process
Keep in mind that the more photos you post on your business page, the more trustworthy you appear to users. Make sure your photos align with the brand you are promoting for your property. You can even use these images across platforms on your social media pages.
For example, if your apartment building has a family vibe, use images of real families paying. If your property is geared more towards young professionals, their images should be front and center.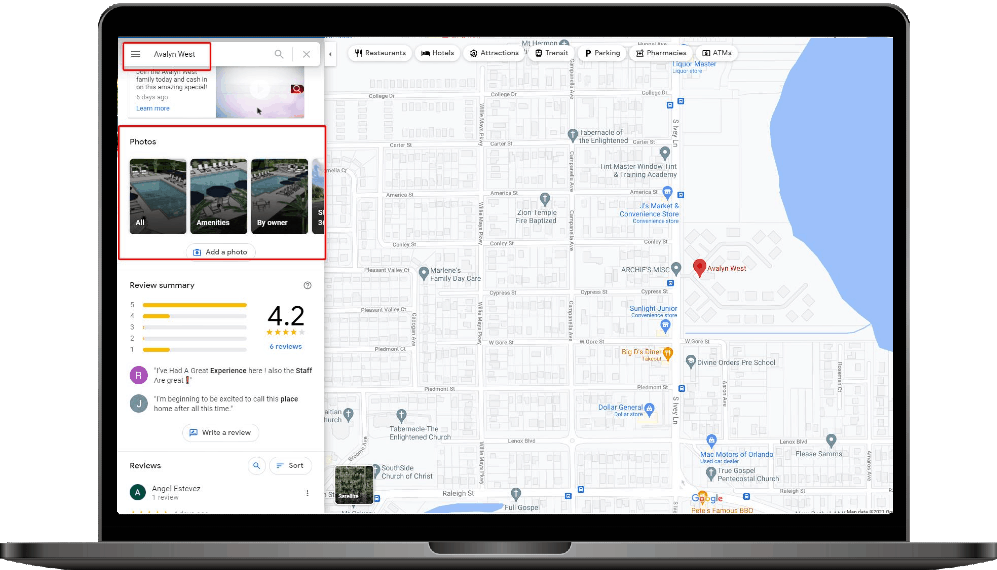 5. Create 4 Posts Each Month
Google My Business allows you to make short, simple posts that act to communicate with users who are actively searching for information about properties like yours.
GMB posts are so important because Google prioritizes high-quality data within its search results. If you make sure you give your customers what they are looking for, you can improve your ranking.
You can choose from several different options for GMB posts.
Events: Promote your online or live events with a start and end date/time.
Products: Feature one or more units that are available or a new feature that has been installed on the property.
What's New: Make announcements and produce general property information.
Offers: Announce discounts, move-in promotions, or coupons that new tenants can use.
Posting consistent fresh content to your GMB page, as well as your main website, shows Google that you are relevant, trustworthy, and the best overall choice for your clients.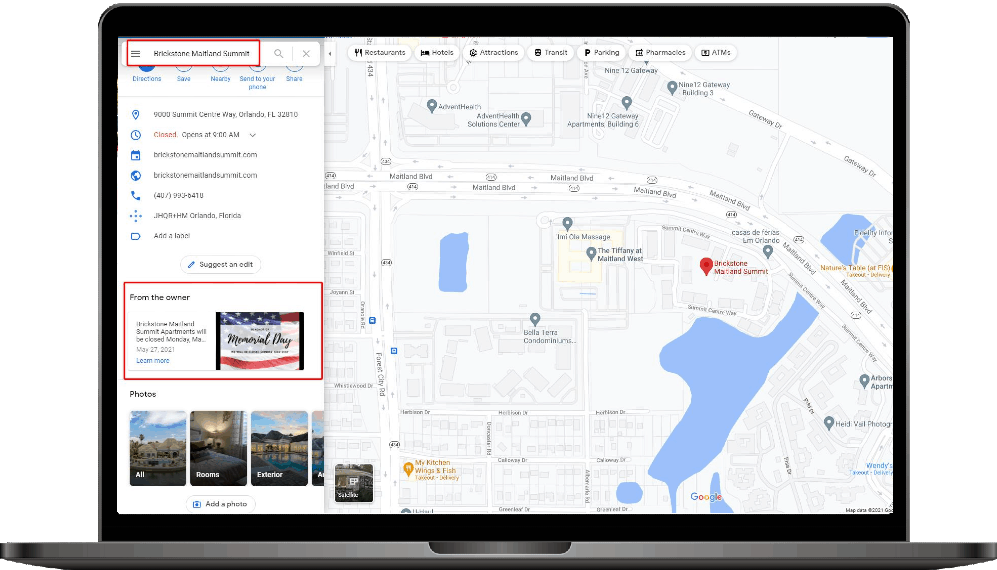 Optimize GMB To Benefit Your Apartment Complex
Never underestimate the importance of your property's online presence. When you use Google My Business to promote your apartments, it's not a one-time deal.
With GMB, your content remains evergreen and can be reposted weekly. You will need to keep every component active, stay on top of reviews, and monitor posts' performance.
Feel free to experiment with these Google My Business tips to see what works best for the needs of your property. If you are still confused about making GMB work best for you, consider enlisting local SEO services to improve your apartment building's online presence.