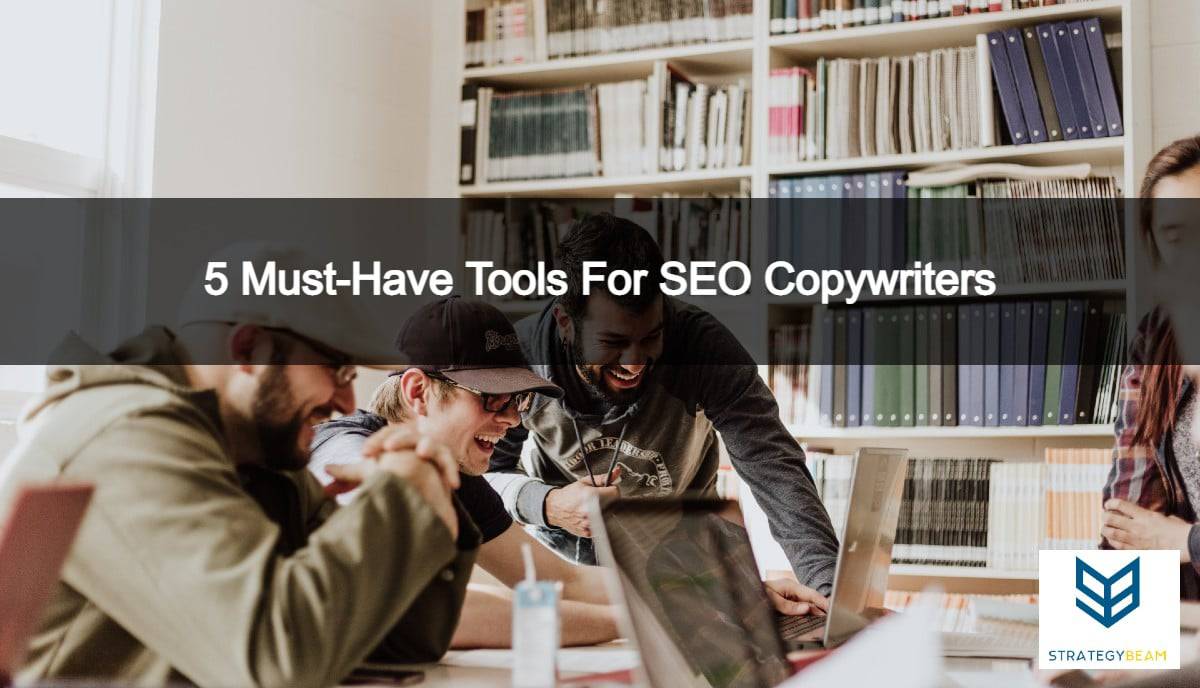 I test a lot of tools, and I want to share my findings with you to save you time and money. Throughout the years, I have developed relationships with several companies, and as part of our agreements I earn commission and incentives for people who signup for services based on my recommendations. This means that some of the links below are affiliate links, so I earn commission and incentives (free credits) if you signup. I only represent tools that I have used and think you will enjoy.
SEO Content Writing Tools To Rule Them All!
No matter your business or industry, great content is a pillar for online marketing. Whether you need to optimize existing content on your site or write new content to cover a topic, you need content that engages, educates, and energizes your readers to take action.
Since there is so much content on the Internet, you need to use every advantage to understand what your audience is looking for and the right tools to get found in Google.
SEO copywriting combines the technical aspects of keywords and entities with the art of writing great content for your human audience. This discipline brings together several quantitative and qualitative considerations to produce content found by Google and entices your readers to take action.
In the past, packing keywords into blog posts and ad copy was enough to fuel an SEO strategy, but this method often sacrificed the reader's experience. Google understands that poor content produces a poor user experience. The search engine only rewards content creators who can deliver relevant information uniquely to their online audience.
As a copywriter, you know your audience, what they like, and what appeals to them. The phrases, sentences, and headlines you use need to persuade your readers and inspire them to take action.
While SEO copywriting is difficult, you can use a set of tools to help you identify the suitable topics for your audience and optimize your content to get found in Google.
From grammar checking to copywriting, we put together a great list of the top SEO copywriting tools you can use to bridge the gap to build great content that drives reader engagement and helps you get noticed by search engines.
Why SEO Copywriters Need The Right Copywriting Tools
Artists need the right tools to do their job well. SEO copywriters are no different, and this type of specialized copywriter needs the right tools to help them produce content that is valuable for their audience.
You already know about free tools like thesaurus.com and the Hemingway App that help you find dynamic synonyms, antonyms and act as a sophisticated spellchecker. However, digital copywriters need tools that dig deeper to enhance their technical writing and also support SEO.
Luckily for the modern SEO copywriter, each step in the copywriting process can be made easier and more efficient by utilizing these five fantastic writing tools.
1. Keywords Everywhere
Every marketer knows how tedious keyword research is, and this phase of SEO copywriting can take a lot of time as you compare data across several platforms. We've all juggled countless tabs while trying to import the data found over numerous websites into a centralized location for team review.
Fortunately, the SEO tool Keywords Everywhere can streamline that process. This tool is a must-have for anyone looking to power their copywriting process with SEO.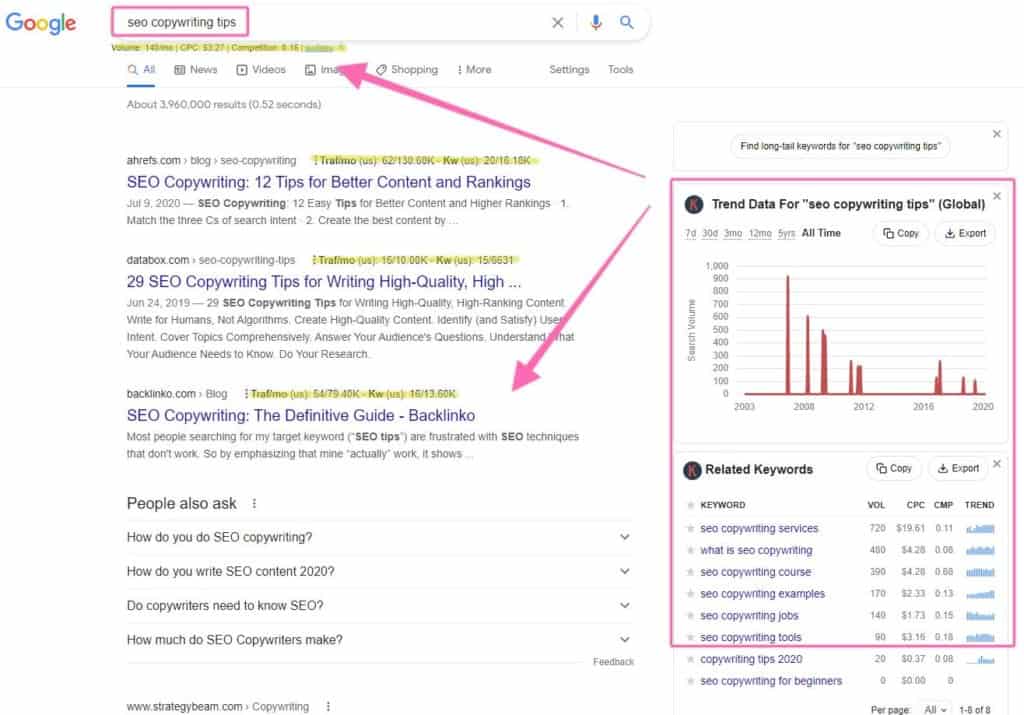 This tool puts a wealth of SEO metrics and trends right at your fingertips, and unlike other tools that are complicated to use, this SEO tool does all of the hard work for you!
This browser add-on can be easily installed on Firefox or Chrome. Keywords Everywhere inject lots of SEO metrics right into the SERP so you can assess different keyword opportunities and conduct keyword research without having to jump between programs.
Why SEO Copywriters Need This Tool
Typically, SEO copywriters spend a lot of time gathering keywords and search data from multiple platforms while identifying search volume from another. This process is time-consuming and tedious, and Keywords Everywhere streamlines the keyword phase of SEO by offering vital information right in SERPs like:
Search Volume
Monthly traffic
Trend data
Long-tail keywords
Related keywords
People Also Ask For
Gone are the days of juggling 20+ tabs needed to gather data. Keywords Everywhere allow you to find long-tail phrases with accurate search volume, CPC, and competition data on a singular platform and compile it on your document of choice.
This tool allows you to see relevant search volume data in real-time while you are on Google, YouTube, Amazon, Google Analytics, and more, so it is one of the most versatile tools on the market for a wide range of digital marketing projects.
How This Tool Helps SEO Copywriting
Keywords Everywhere help SEO copywriters create data-driven content by identifying the exact keywords their audience is searching for over multiple popular websites. Even if you don't have a strong background in SEO, you will supplement your content with keywords and questions that your customers are looking for in Google.
Keywords Everywhere save countless hours typically spent on researching and data comparison across multiple platforms. Now you can use that time to tackle other tasks to improve your efficiency and turnaround times.
2. Conversion.ai
While robots won't be taking over the world any time soon, artificial intelligence is available to help smooth and support the writing process. Even the most seasoned copywriters hit writer's block, and I've experienced several points where Conversion.ai helped springboard my content forward.
Developed and trained by conversion experts and copywriters, Conversion.ai is an artificial intelligence service that has the skills to write unique content that captures your audience's attention and guarantees converts.

Copywriters can filter the hundreds of templates available to use cases to find the best outline to fit their company's needs. Some of the tools available through Conversion.ai are:
AIDA Framework
Blog Post Outline
Sentence Expander
Perfect Headline Analyzer
Review Responder
And more!
Conversion.ai allows you to input product data and give its unique algorithm-specific directions, which prompts their AI, Jarvis, to generate spectacular copy.
Why SEO Copywriters Need This Tool
This tool is a professional copywriter's dream because it is an interactive tool that SEO copywriters can use to jumpstart content ideas and expand the copywriting process's ideation stages.
With the push of a button, you can add powerful additions to any SEO copywriting project like landing pages, blog posts, and product pages. Go through the simple process to define your content, determine the tone of voice, and with a press of the button, you will have several excellent recommendations that you can use in your next marketing campaign.
How This Tool Helps SEO Copywriting
Conversion.ai is another time-saving tool, only this time it will supercharge your copywriting. Not only will you save time, but the advanced AI ensures that all copy produced is not only readable but solid SEO content.
I love using the Blog Post Introduction Paragraph tool to help me get going on a new section of a blog post. I've also had a lot of success with their Creative Story feature that will write an engaging story to begin the narrative element of a piece of content.
Test Conversion.ai Today!
3. Clearscope
Clearscope is another AI-driven platform that makes it super easy to get the most out of your content. The magic happens in Clearscope's text editor, which integrates seamlessly with tools you already use, like Google Docs and WordPress.
As you type, Clearscope will be analyzing your writing in realtime to determine if it fits the preset industry criterion. It also provides you with a suggested word count, character count, and reading level to ensure your copy is appropriate for your target audience.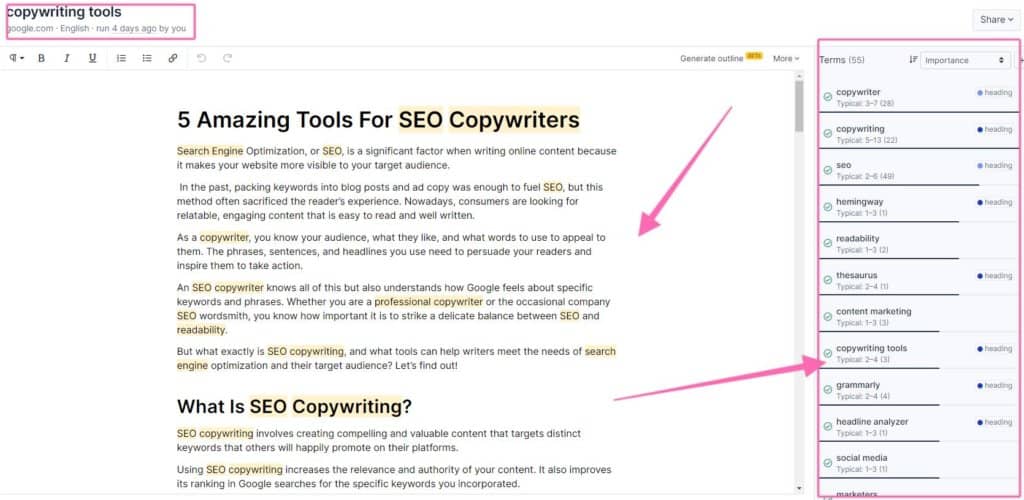 Why SEO Copywriters Need This Tool
Clearscope will help you maximize your writing potential by suggesting keywords and concepts proven to be high-ranking search items.
SEO copywriters can sort these words by importance and use the data to strategically place keywords throughout their content while ensuring the text has engaging readability for humans
Clearscope helps you visualize what's essential in your SEO content. This way, you can optimize the words that make a difference in search engine optimization. SEO copywriters will appreciate the easy-to-use interface that allows the user to sort the terms by importance, as well as which need to appear in headings.
How This Tool Helps SEO Copywriting
Clearscope helps businesses produce explicit content that drives traffic and conversions. Copywriters face the challenge of blending the artistry of good writing with the analysis of SEO terms. The Clearscope SEO and copywriting plugin will make your site a lot more accessible to search engines. It's also effortless to use, so you'll be able to improve your website within minutes!
Test Clearscope Today!
4. Grammarly
Grammarly is the perfect SEO copywriting tool because Grammarly helps you spell, find and catch grammar mistakes. Not only does this make your content grammatically correct, but it also means that you can focus on the content you write instead of the grammar or spelling.
This SEO copywriting tool connects to Google Docs and Microsoft Word so you can correct grammar mistakes on the fly. Grammarly's features go beyond the basic spell checker and grammar suggestions, with features that identify the dreaded passive voice and suggest stronger adverbs.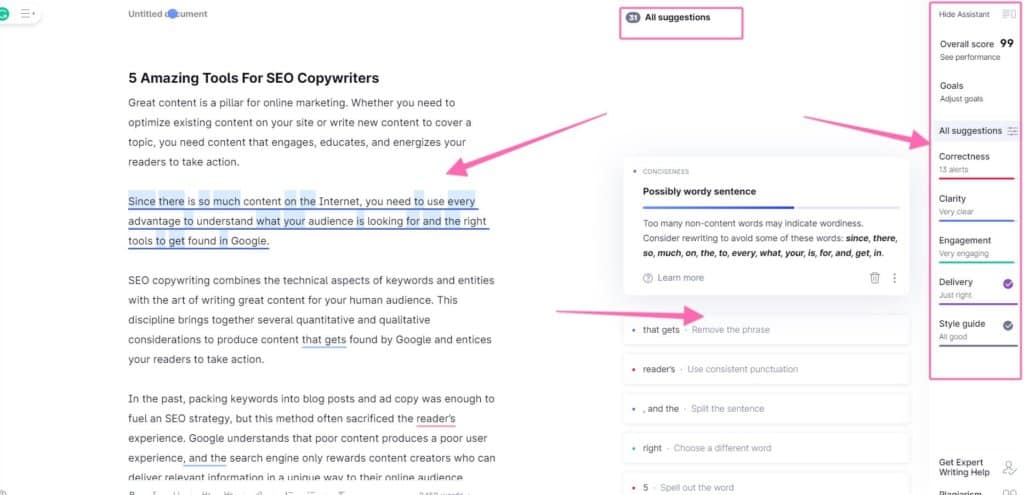 The in-depth writing feedback supports even the most seasoned copywriter. This tool highlights words as you go and offers an easy-to-use menu on the right-hand side of your screen that displays how many errors you have, as well as which categories need improvement.
Why SEO Copywriters Need This Tool
Proofreading is one of the essential parts of copywriting. You have to take your time and check every word. Otherwise, you'll end up with some very embarrassing typos. SEO copywriters know that they need impeccable grammar to keep clients happy and engage online readers.
Grammarly is a copywriting tool that acts as an on-demand proofreader with a solid algorithm that not only catches subtle spelling errors but offers suggestions on sentence structure, tone, and word choice.
Having this tool at your fingertips will ensure your writing reputation has a strong reputation and your copy performs well. It also helps copywriters improve their grammar and writing skills by training them to improve upon the discovered errors.
How This Tool Helps SEO Copywriting
I like Grammarly because it is so easy to use. I don't have to look at a manual every time I need help with my writing. It learns from my mistakes and corrects grammar issues on the spot, which saves me a lot of time and ensures I remove grammatical mistakes that will hinder my ability to reach my audience. Its algorithm also helps ensure your tone is appropriate for the topic and that your intended message is communicated well.
Test Grammarly Today!
5. Reddit & Quora
While Reddit and Quora are not commonly connected with SEO copywriting, they offer a wealth of benefits for your SEO content marketing. With a combined 380 million users monthly, you can't afford to ignore these tools.
Websites with user-generated content are goldmines that can boost your brand authority, drive traffic to your website, and reach your niche audience. Users post common questions and interact with popular posts on specific topics.
Marketers can find a wealth of important information and casually answer questions with content marketing, so long as it follows the strict code of marketing conduct both Reddit and Quora enforce.
Why SEO Copywriters Need This Tool
SEO copywriters can use the information found on Quora and Reddit to build briefs, identify content strategies, and quickly sort through topics to find your niche audience.
This user-driven forum also allows you to define your brand as a trusted industry leader. SEO copywriters can answer questions posed by users to build trust and strategically angle their brand as the solution.
The more you post, the more your presence will be sought out by your target audience. This leads to organic traffic increases that will improve your bottom line.
How This Tool Helps SEO Copywriting
Once you find a natural way to link back to your website as you answer, Reddit and Quora provide a platform for your SEO copy and the opportunity to rank higher on Google searches.
The more places your message appears, the more likely your target audience is to find your brand and purchase your products or services.
Use Copywriting Tools To Enhance Your SEO Copy Today
Writing doesn't have to be complicated. These tools will speed up your writing process, add a layer of strategy, and quite possibly make it more enjoyable.
Utilizing tools in your copywriting process may sound intimidating and cumbersome, but they're are designed to make your life easier. Not only do they provide support for your writing, but they save time and improve your marketing content as a whole.
Make sure to use these five valuable tools on your next SEO copy, and you'll separate yourself from the pack as an SEO copywriting expert.
SEO Copywriting Tools FAQs
There are three types of SEO: on-page SEO, technical SEO, and off-page SEO.
There are different types of content marketing, and blogging is one of the best ways to answer questions and build authority around your photography business.