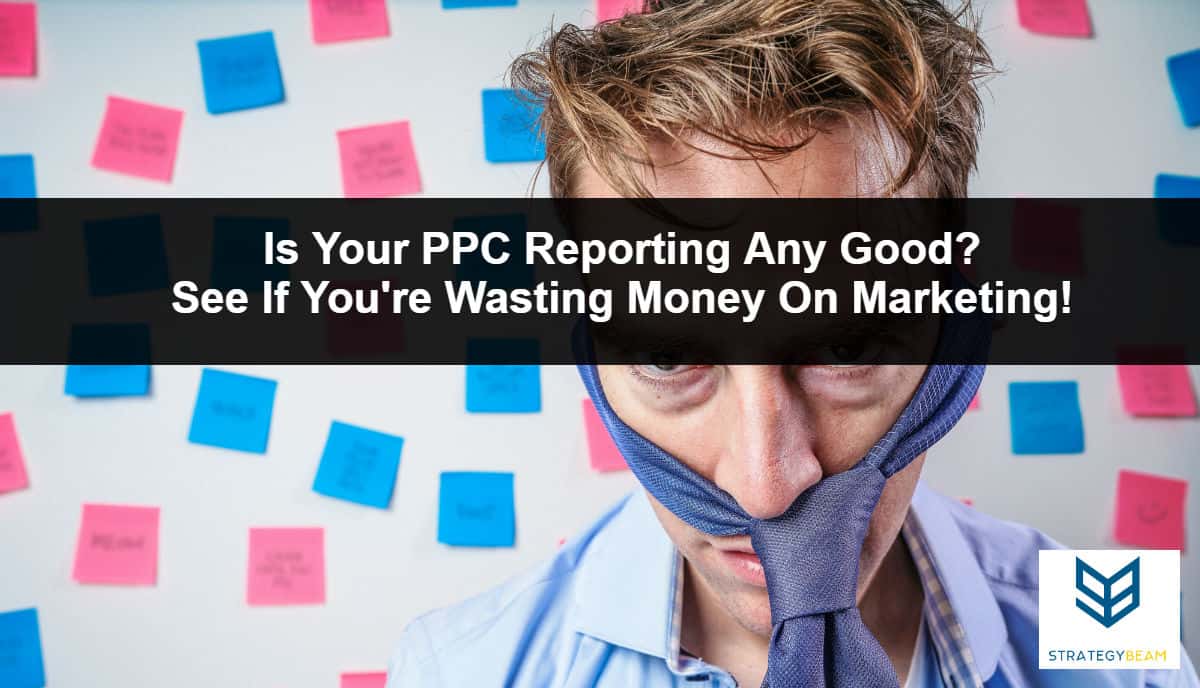 Why Is PPC Reporting Important For Your Business?
If you invest in Pay-Per-Click advertising then you need to clearly define the metrics that you want to hit and your budget for each channel. It is essential to outline these expectations because you need to make sure that your paid advertising channels drive the results needed to generate a positive ROI.
A report is a final presentation of the results of a campaign. It lays out what was accomplished, what marks might have been missed, and what benefit the company got from that campaign. It acts as a piece that business owners and PPC managers can refer back to when they need to.
If you are a manager or the owner of your business, you need to understand what goes into a good PPC report and what makes that reporting valuable. It's important that you include specific insights that can help them do their job better, as well as personalized information that helps move the business along.
Let's take a look at the metrics that you should expect to see in each report to ensure your marketing strategies are returning the results you need to hit your business goals.
What Business Owners Should Expect From A PPC Report
If you run any kind of paid advertising then you need accurate reporting to understand what is working and what should be improved. PPC Reports provide key metrics so you can see if you are hitting your business goals.
While reporting will vary based on your industry, customers, and business goals, you should expect your reports to clearly layout details and actionable recommendations from your PPC agency or in-house marketing team.
A PPC report is one of the most important parts of a campaign––but only when done correctly. There are different types of PPC reporting tools to choose from. Whether you are looking for an all-in-one solution or a real-time dashboard, you need to define the metrics you want to track and how you want the data laid out.
A good PPC report should break down the ins and outs of a campaign in a way that is easy to understand and allows a business to make strategic decisions with the information they're given.
PPC reports are like a report card that you'd get in elementary school. It grades how well your campaign is doing and gives you ideas of how your business can improve.
We work with a number of clients to drive conversions through Google Ads, Bing Ads, Facebook Ads, and other paid marketing tools. It never ceases to amaze me about how sloppy some account managers are when it comes to conveying PPC data to customers, and we wanted to provide some insight for you to follow when evaluating PPC reporting for your paid media strategy.
1. Each Report Should Display The Right Metrics That Matter
PPC reporting is vital for the health of your business because you can't fake results.
A report can tell a business owner what they need to do to succeed and get better returns on their PPC investment. I can also shine light on areas where they might be missing the mark, helping them better understand why they might be struggling to make meaningful connections with some customers.
Since you need data to help guide your marketing efforts and budget, you should expect your reporting to focus on the metrics that matter, like:
Return On Investment (ROI): This is the most important metric to track when looking at PPC data. You need to know exactly how much revenue you are generating for every dollar you spend on PPC marketing since you pay Facebook, Microsoft, and Google each time someone clicks on your ads. At the very least, you should require all SEM reports to include this metric.
Keyword Performance: If you are in a competitive industry then you should have keyword performance in your PPC reports. This information can help the decision-makers and even other departments understand the questions and needs that your customers have.
Cost Per Click (CPC): This metric is not as important as the others, but it can help you understand how to invest your PPC marketing budget throughout the month. If you see the increased competition on less valuable keywords, then your PPC strategy should shift to other opportunities based on market trends.
Click-Through Rate (CTR): This metric in PPC can tell you a story about how engaging your ads are and how the health of your keyword grouping. A good CTR will vary based on your industry, but you should always look for ways to improve the CTR since that will result in more traffic to your landing pages (and sales if your landing pages are optimized).
Conversion Rate: Looking at Conversion Rates is a good way to understand the impact that your PPC marketing has on sales and revenue. While this metric can help you improve the PPC campaigns, you need to have a clear understanding about where tracking breaks in PPC marketing.
Customer Actions: Another metric that should be included in your PPC report are how many actions customers took on your site after clicking on an ad. You should look for data like sign-ups, calls made, and forms completed. While these metrics don't point to direct revenue, you can track customer engagement and define the value of each action on your site.
These are just a few metrics that you should expect in each one of your reports. PPC reporting metrics should also help shape future business strategies.
We like to use Google Data Studio to build PPC reports for all of our clients because it is a free option that connects Google Analytics, Google AdWords, and other PPC channels in a visually appealing real-time dashboard.
2. A Good PPC Report Keeps Your Business Proactive
While a great report will display predefined metrics, you should also look for other elements to gain valuable insights about your PPC campaigns and ad spend.
You have goals set that you need to meet, and reporting can help you understand the nuances about PPC marketing. You should look at the report as a way to proactively determine what is hitting the desired KPIs and what should be optimized or cut from the marketing budget.
Your business has unique objectives that you're trying to achieve through their Pay-Per-Click marketing. You need to make sure that your reports include a high-level review of actions taken during the past month to understand how your PPC campaigns work in the larger marketing strategy.
This information can help you and other decision-makers understand if slight tweaks need to be made to your marketing strategy based on how your customers engage with your ads and market trends.
Good PPC reporting should focus on your business objectives while also providing insight into the overall strategy with an Executive Summary. This summary will provide more insight for the reasoning and context of the metrics.
However, it shouldn't just list stats and numbers from the campaign. Instead, it should measure how well the goals established before the campaign were achieved.
In the previous section, we looked at the metrics that your reports should include. Along with these metrics, your report should also have additional insight to show how the PPC campaigns contribute to the overall success of your business. This additional insight includes:
Form Sign-Ups
Lead Forms Completed
Calls Received
Free Trials & Consultation
A good PPC campaign report should outline how these metrics play into the goals. It's easy for marketers to list metrics, but you should expect your reports to define what those metrics mean and how they impact your business goals.
3. Good PPC Reporting Is Concise & Easy to Understand
As a business owner, you have a lot on your plate. I can't tell you how many of our clients show us reports from past PPC agencies that are difficult to understand. You can't spend a lot of time reading through loads of worthless information just to get a decent understanding of how your PPC campaigns are performing.
You should expect your reports to be delivered to you with accurate information and the right metrics to tell a story about your marketing strategy in a way that meaningful and easy to understand. Each report should be no longer than 5 pages, and every aspect of the reports should get straight to the point and deliver value to you.
For example, if your in-house marketing team or outsourced PPC agency just says in a PPC campaign that you had 3,000 impressions in one week, you might think this is the same as website visits.
These terms are closely related, and since they do not mean the same thing, this misunderstanding could cause complications for your business if incorrect information to make future decisions.
You need to make sure the metrics you report are easy to understand and are well explained. Make sure your PPC marketing team give definitions for your metrics and explainers about what they mean.
Whenever you receive a PPC report be sure to ask plenty of questions and don't leave anything to chance. You are paying for the marketing campaigns and you should expect the marketing agency to walk you through any difficult to understand sections or let you know that they're available for discussion as needed.
4. Good PPC Campaign Reporting Helps You Make Business Decisions
The PPC reporting metrics a business owner is given should give them insights into how their campaign is doing, but it also should let them know how well they're connecting with audience members and customers. These insights can help make better business decisions.
If a PPC report tells you that your current campaign is missing the mark, you will need to work with your marketing agency to reassess the overall marketing strategy. The report can show that your campaigns just need a little bit of adjusting, or that the plan misses the mark completely.
For example, say a PPC campaign didn't reach as many audience members as you wanted in your brand awareness strategy. However, you might just find that you were close and you need to invest a little more money to help your campaign reach the finish line.
On the other hand, if your campaign was very far from reaching your final goal, your PPC plan might have been poorly designed. If you're not getting any attention or substantially lower than you expected, your campaign might do better on a different platform.
These insights can lead to immediate decisions, but can also influence the future of your business. If a particular PPC campaign reporting doesn't do well, you'll know to avoid some of those strategy decisions in the future. If they do well, you'll know what your audience likes and can mimic that style in other campaigns.
When the PPC report is created, it should also layout advice that helps business owners understand what to do next. It can give recommendations of what they believe went wrong during the campaign or how future campaigns can be improved.
Use PPC Reporting To Guide Your Business To Success!
PPC reports are incredibly important for business owners, but knowing what to expect out of a good report is also important. When creating PPC reports for business owners, they need to relate back to the company's overall business objectives, be well though out and explained, and help the business owner make decisions.