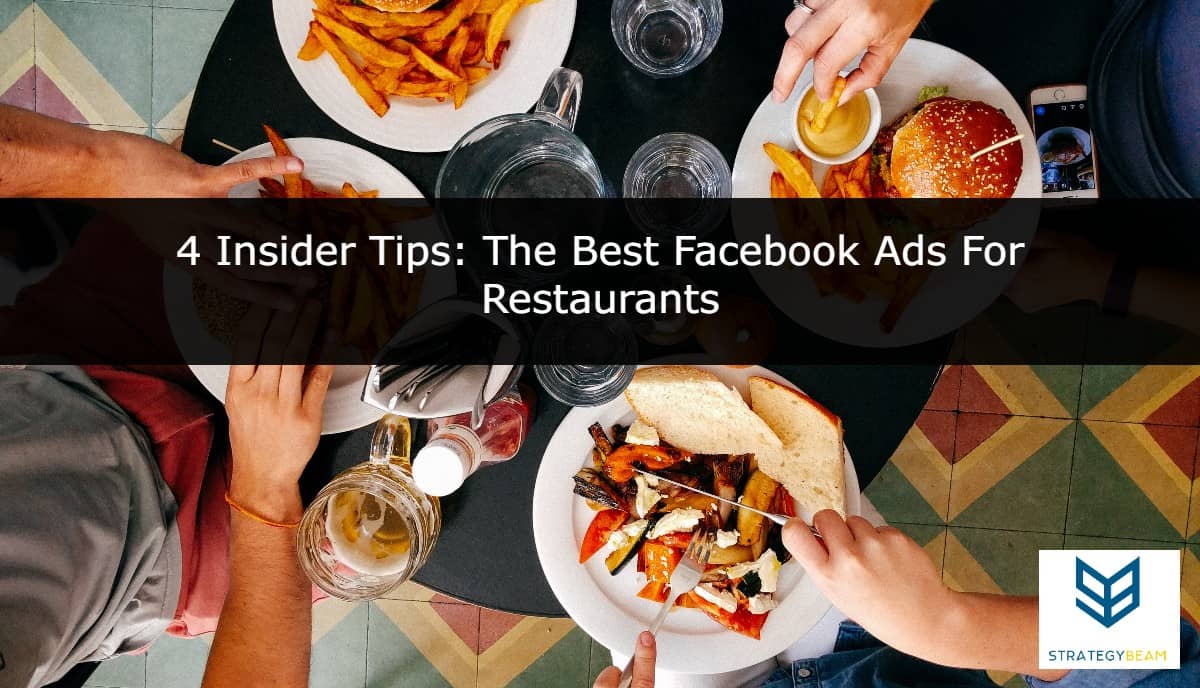 The restaurant industry has always been competitive, especially in an area with higher populations and more dining options.
This is even more true as potential guests can turn to the Internet to view dining options, compare entertainment, and check out menus right from their smartphones.
Using digital marketing for your restaurant is no longer an option because you need to think about how you can incorporate email marketing, local SEO, Reputation Management, and social media marketing.
These channels all work together to ensure your restaurant stays at the top of mind for local searchers looking for a local restaurant.
As your restaurant marketing strategy evolves, you need to stay at the forefront of digital marketing ideas to keep your restaurant successful.
One way that you can build a robust online presence is by spending your time and resources on producing effective Facebook ads for your restaurant.
There are many options that you can choose from to promote your restaurant, but one of the best platforms to drive your restaurant marketing strategy is the use of Facebook ads.
Facebook has proven itself as the best social media network to attract qualified local restaurant guests at a low price, and you can tap into the wealth of knowledge Facebook has in its database to build the best Facebook ads to engage with your target audience.
You can use Facebook marketing through either Organic Facebook Posts and Facebook ads. Both of these approaches are a great way to gain followers, attract more business, and boost your brand's online presence.
However, for this discussion, we will cover how you can use Facebook ads for restaurants to drive new diners to your location while also maintaining a high level of repeat local searchers.
As you work to keep your restaurant successful, we wanted to provide you with some answers to common questions about Facebook ads for restaurant marketing.
With that said, let's look at some of the four ways that you can drive more business with effective Facebook ads for restaurants today!
How To Use Facebook Ads For Restaurants?
Using social media and Facebook ads for restaurants is way different than using paid Social Media marketing for other industries.
Industries, where retailers sell physical goods online, have an advantage because they can attribute sales with a high degree of accuracy. Since they are selling products, they can customize their message based on the target audience.
Restaurants are different because, as a restaurant owner, you are selling an experience that can be difficult to track through traditional analytics.
Since you are not selling physical goods online like a shirt or other items, you need to use effective Facebook ads for your restaurant to acquire leads and drive more bookings.
You can also use Facebook ads to sell restaurant gift cards or other items that you are able to track and helps solidify your restaurant's bottom line.
If you are like many restaurant owners, then you may not know how Facebook ads can help your restaurant. As you focus on growing your restaurant, you may be asking some common questions about Facebook ads for restaurants, like:
Do Facebook ads work for restaurants?
How can I reach more local customers using Facebook ads?
How do I market my restaurant on social media?
How do you create a good Facebook ad for my restaurant?
While some marketers will lie to you and say that Facebook ads are always right for your restaurant, we want to let you know that the real answer is "maybe." You need to look at your restaurant's goals, your budget, and your expectations.
Most restaurant owners think that Boosting posts are enough Facebook marketing for their business. However, boosting a post is merely putting more fuel in the tank of the job.
If your post is not targeted correctly or has poor messaging, then the impact of the post will be diminished.
We know that your time is limited, and we don't want to bore you with a bunch of worthless information about Facebook ads for your restaurant.
Instead, we want to offer you four kick-ass Facebook marketing strategies that you can use today to drive more patrons to your restaurant.
1. Use Facebook Ads To Promote Restaurant Seasonal Dishes & Specials
Your restaurant needs to encourage new diners while also engaging with regular patrons throughout the year, and one easy way to promote your changing menu is to market a dish that makes sense each season.
Your team should plan out each month throughout the year and identify a dish or seasonal special that you want to promote throughout the month.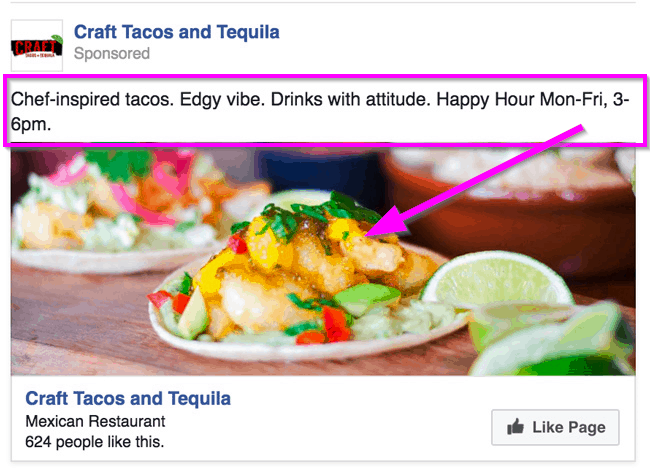 Once you have a full year's worth of seasonal specials, you can use Facebook ads to showcase your restaurant's fantastic food, fun atmosphere, and other qualities throughout the year.
This approach can be challenging to pull off from a logistics standpoint because your team will need to know how to set up and optimize Facebook ad campaigns. Still, once you have the system down with ongoing optimizations, you should be on your way to maximizing returns.
In addition to specific seasons and monthly specials, you can also promote your restaurant for holidays and special events. You can use Facebook ads for advertising your restaurant for Mother's Day, Father's Day, and Valentine's.
At the same time, you can use Facebook ads to establish your restaurant as the go-to for special occasions like birthdays and other celebrations.
Facebook ads allow your restaurant marketing strategy to hone in on your ideal customer for specific occasions.
Since different people will want to use your restaurant for various events, you can use Facebook's advanced targeting features to reach your target audience.
For example, if you are trying to reach patrons interested in Mother's Day celebrations, you can target parents or siblings of a particular age group within a specific geographic region.
In addition, if your restaurant serves mainly high-end patrons, then you can focus your Facebook ad spend on people who have higher income brackets.
2. Reach Local Searchers With Targeted Facebook Restaurant Ads
Patrons who frequent your restaurant are the backbone of your continued success, and you should do whatever you can to drive as much repeat business as possible.
While you can use Facebook ads to attract new patrons to your restaurant, you can also use Facebook ads to market exclusive specials to people who frequent your establishment.
You can use advanced geofencing Facebook ads to target people who physically visit your restaurant.
This is possible because Facebook can tell when someone visits your restaurant and tag them within the Facebook app from their mobile device.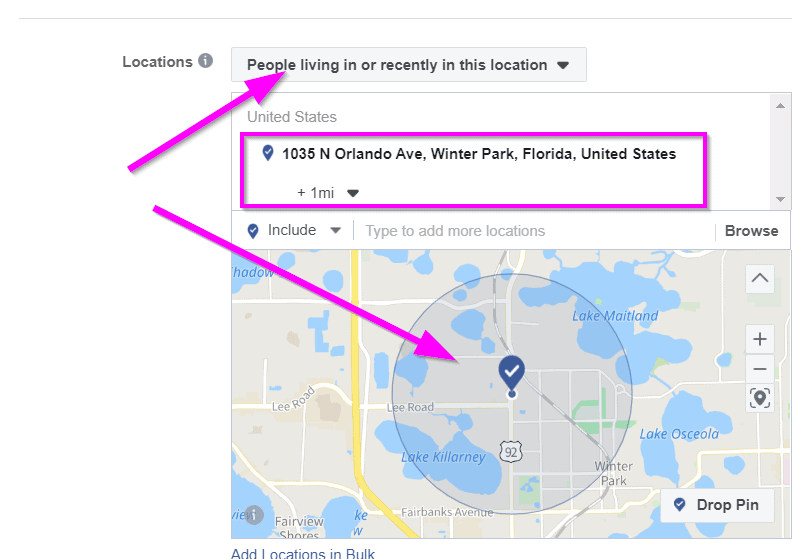 Since Facebook knows if one of your customers visited your restaurant, you could use that information to send specific messages or specials to those patrons.
In addition to Facebook ads with geofencing capabilities, you can also market to local customers who search for local restaurants by using their email address or phone number.
This is an excellent option if you collect the email address or phone number of people visiting your restaurant with unique messaging to entice patrons to check out upcoming specials or inform them about new events your restaurant will be hosting in the coming week.
Once you have an email or phone number, you can upload the information into your restaurant marketing strategy to laser focus Facebook ads to specific people.
This approach to Facebook ads for restaurants is an advanced approach to restaurant marketing, so be sure to discuss your needs with a professional social media marketer- or else you could be leaving a lot of money on the table or wasting your marketing budget.
3. Highlight Live Entertainment In Restaurant Advertisements
Entertainment at a restaurant can be a crucial advantage, and you can use Facebook ads to propel your restaurant's standing in the community.
Everyone loves listening to live music, and if you have live music or other entertainment, then you should use Facebook ads to reach people who may be looking for a good time.
You can use different targeting options like geographic location, preferred music genres, and favorite types of food/drink. All of these targeting options can help you build the best Facebook ads for your restaurant.
If you know who your target audience is for specific events, then you can use the advanced targeting options offered in paid Facebook ad campaigns to show your message to that demographic.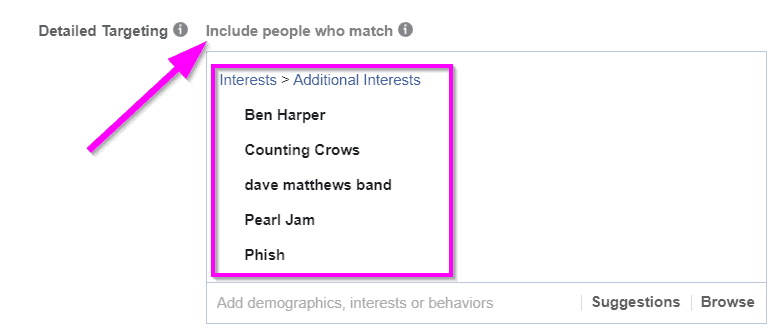 For example, if you are hosting a rock band, then you can optimize your Facebook ad campaign to only show to people who like specific groups similar to the band you are hosting.
At the same time, you can also limit your audience to only people near your restaurant since you can assume people won't want to drive several hours to enjoy the entertainment.
These are all great ways to maximize your Facebook ad campaign spend while also driving more qualified traffic to your site or signup forms.
4. Remarket To Website Visitors Through Paid Facebook Ads
Remarketing is a great way to reach a highly engaged customer segment. The reason that Facebook remarketing is a great restaurant marketing strategy is that you can target people who have visited your website with specific messages to keep the conversation going.
You can install a Facebook pixel on your site, and this pixel will identify people who come to your website. Once tagged by the pixel, you can create specific Facebook ads to talk about your restaurant and engage interested patrons once they log into their Facebook account.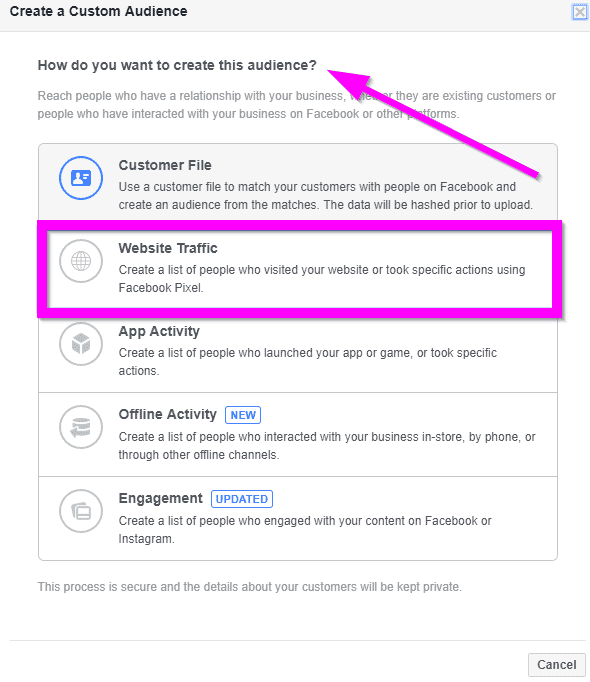 Facebook remarketing is an inexpensive and highly targeted option for many restaurant owners. Since people came to your website, you can assume that they are interested in your brand or know about your restaurant.
Whether individuals took action on your site or not, one of the best approaches to online marketing for restaurants is to remarket to your online guests through Facebook remarketing campaigns.
Be sure to set up the remarketing campaign so you can position your restaurant as the trusted source for the type of entertainment and dining experience that your guests are looking for.
Drive ROI With Effective Facebook Ads For Restaurants
As you can see, your restaurant has a wide array of options when it comes to marketing with your ideal guests.
You should look at who your audience is, what they are looking for, and build Facebook ads for your restaurant to speak to your patrons.
Since you have to pay Facebook each time someone clicks on your Facebook ad, you should take every precaution to ensure you only generate valuable clicks.
Be sure to use the above tips to build the best Facebook ads for your restaurant today!