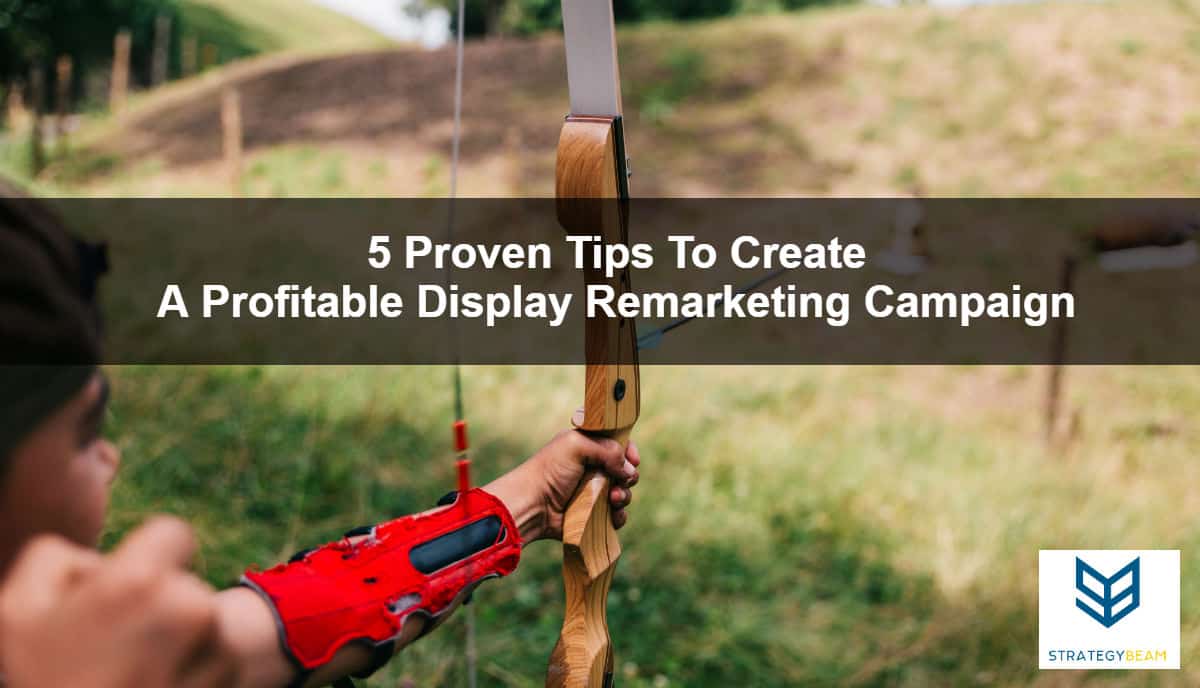 Using Google Display Remarketing For Your Business
What is remarketing? How does it help you to get better exposure? If you have been looking for an inexpensive and easy way to drive more sales, then you should continue reading!
Remarketing enables you to deliver ads to visitors who previously engaged with your website but did not complete the desired goal. All your visitors will not prefer to convert.
Instead of wasting the advertising spend on non-converting customers, you can use remarketing to interact with the people who visit your site with professional remarketing services to ensure your company's marketing success. This is an essential part of your marketing mix because it allows you to provide a unique message to specific demographics as your customers visit other websites.
You will find different types of remarketing platforms like Twitter, Facebook, Instagram, and Google's various remarketing channels. In this article, we will focus on Google remarketing with Google AdWords and Google Display Remarketing.
Today we will focus on remarketing on Google channels and how you can create your first display remarketing campaign to boost sales. When people visit your website, Google remarketing tool tags them and retarget them with your ads later.
The key benefit is that it will boost traffic and allow your visitors to come back to your site again with something interesting.
The audience of remarketing can be easily customized using Google Analytics and the Google Display Network. These tools allow you to categorize previous customers as high-duration visitors, visitors to specific land pages, and non-buyers.
Do you want to know how to create the first display remarketing campaign? Are you looking for some tips to make it easier and more effective? If yes, then the following article is written for you only. It will help you to design a powerful remarketing campaign!
Create Engaging Ad Copy & Images
You do not need to spend a lot to create engaging ad copy and images. If you are not comfortable using Photoshop, then you can use several websites with templates for remarketing ads, or you can hire a freelance designer to get the ads you need at a reasonably low price.
All you need to do is to plan the images and ad copy around the needs of your customers and set up a remarketing tag on your site to engage with customers through remarketing channels. Set a clear goal in your mind to connect with your potential buyers and create your remarketing banners based on that goal.
It is essential to target your visitors while writing your ads and use images that reflect your products/services. At the same time, your pictures should be relevant based on seasonality, demographics, and other considerations.
Your ads should be designed in such a way that it can raise your customer's interest and attract their attention. A first remarketing ad needs to be simple, convincing, and straight forward, so make sure you use creative and ad copy to reinforce your desired goal and brand's image.
If you are looking for design inspiration, then you should check out a great tool called Moat.com. This site has a wide range of remarketing banners from different companies that you can use as a starting point when creating Google remarketing ads.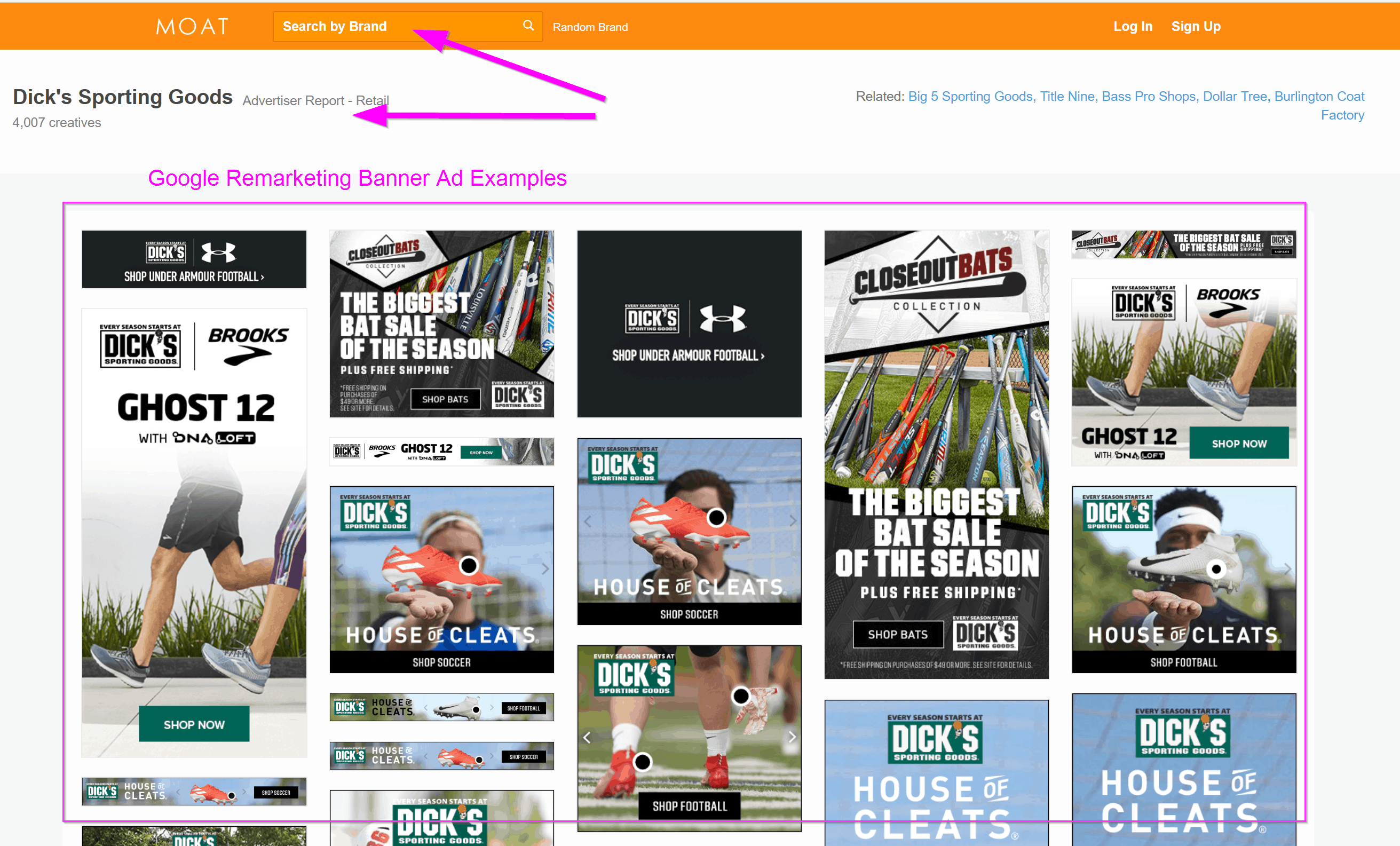 While creating ads, you should focus on specific devices based on how your customers interact with your website, including mobile users. If your ads are not mobile-friendly, then a considerable percentage of people will not be able to access them.
Create variations of each remarketing ad and then observe which one is getting the best Click Through Rate to determine what ad copy and images resonate the best with your customers.
While Google remarketing is an inexpensive and relatively easy marketing channel, it is not a 'set it and forget it" marketing channel. You should monitor the performance of your remarketing campaigns at least once a week to ensure delivery, spend, and performance are running correctly.
1. Segment Your Audiences
All the visitors do not come to your website with the same reason, and you should customize your remarketing banners based on the pages that your audience visit. When some are interested in your product, others might like the content of your blog, and you can use this traffic to build a remarketing audience list to deliver more relevant ads to your customers based on different landing page visits.
You can get a good idea about the intent of people who come to your site based on the pages they visit. If people spend time on your blog, then you can assume that they are looking for more information about your industry.
Display ads are a great way to follow-up with website visitors who showed interest in your products and services in a cost-effective manner.
If a visitor spends time on a product or service page, then you can consider them to be a qualified lead since they are looking for a specific solution. You can use this information to re-engage with your site visitors to move potential customers to pay customers even with a limited budget.

Your remarketing banners should reflect the intent and needs of your customers, and you should never use generic messaging or images. If you do not personalize your remarketing tactics, you will find that your performance will drop in the long-run.
Set different criteria or use specific pixels on various pages to segment your audience in Google Analytics and the particular platform. Also, create unique and different content to target that specific segment like audience segmentation, it is easy to influence all visitors since you will be addressing their specific interests. You need different sets of ads for different parts to convert your visitors into buyers through Google remarketing.
2. Choose How Often Your Ads Will Show
You can adjust the frequency that Google remarketing banners and text ads will show to your customers. This is controlled with the Frequency Cap in the platform of your choice, and it is a great way to limit your advertising spend and reduce the chances that your audience will develop "banner blindness."
3. Google Remarketing Frequency Cap
You can decide the frequency depending on your visitor's last visit. You can show more ads in the first week of their stay and reduce the number in subsequent weeks as they will start losing interest.
You should customize the amount of time each remarketing ad will show based on cart abandoners, time on page, and other details of your target audience.

It is always suggested to show your ads for at least 30 days, but that timeframe varies based on industries and the customer journey of your audience. Visitors of a page had to search for specific keywords, click on your page, and spend time on your site. You should use retargeting ads to ensure you do not waste any marketing dollars on wasted site visitors and help remarket to high-value customers at the same time.
4. Set View-Through Conversion Windows
Your retargeting campaigns should have an achievable goal that you can choose as you build the remarketing search campaign. You will have to create brand awareness and then measure the impact as well.
To track your brand awareness, you can try the set view-through conversion windows. It will enable you to link with your visitors even if they never click on your remarketing ads. You can set up remarketing banners through Google Ads as a quick and easy process to retarget in-market customers.
You can set the view-through windows for different time durations depending on your platform. It is suggested to keep the conversion windows one week or less. A good ad can inspire your customers to revist your site even if it has been a long period of time since they originally visited your website.
But banners will not be valid for long durations since they can lose power if they are not regularly updated. Adjusting this setting will have an impact on your reporting, and you should adapt the view-through window based on your business goals from the time someone leaves their shopping cart without a conversion.
5. Rotate Your Ads
"Banner blindness" is a real concern for remarketing campaigns, and it happens when your audience is served too many ads. If your viewers see the same advertisements too many times, they will become blind to the ads and will begin to look right past the banners.
While remarketing banners in Google Ads is a fairly passive marketing strategy, this approach to online marketing can have a significant impact on your conversion rate and boost your bottom line.

As stated by a recent Smart Insights study, the clickthrough rates usually fall by fifty percent in the first five months. You need to change things in a couple of months. Otherwise, you might miss tons of conversions. You can run A/B tests often on the Google remarketing to avoid this condition. It will help you keep things new and fresh.
Google remarketing can be useful to get the best exposure for your business. It will allow you to keep your business in front of those people who do not convert on the first visit. They will see your ad again and again and then they might return!
Improve Your Online Sales & Performance With Remarketing
If you are looking to improve your online presence and drive more qualified customers to your site then you should consider using Google remarketing tactics for your online marketing strategy. Retargeting potential customers is a great way to drive more traffic to your site in a cost-effective manner to boost your ROI. Take the dive and invest in Google remarketing services today to build a better brand and grow your online sales today!