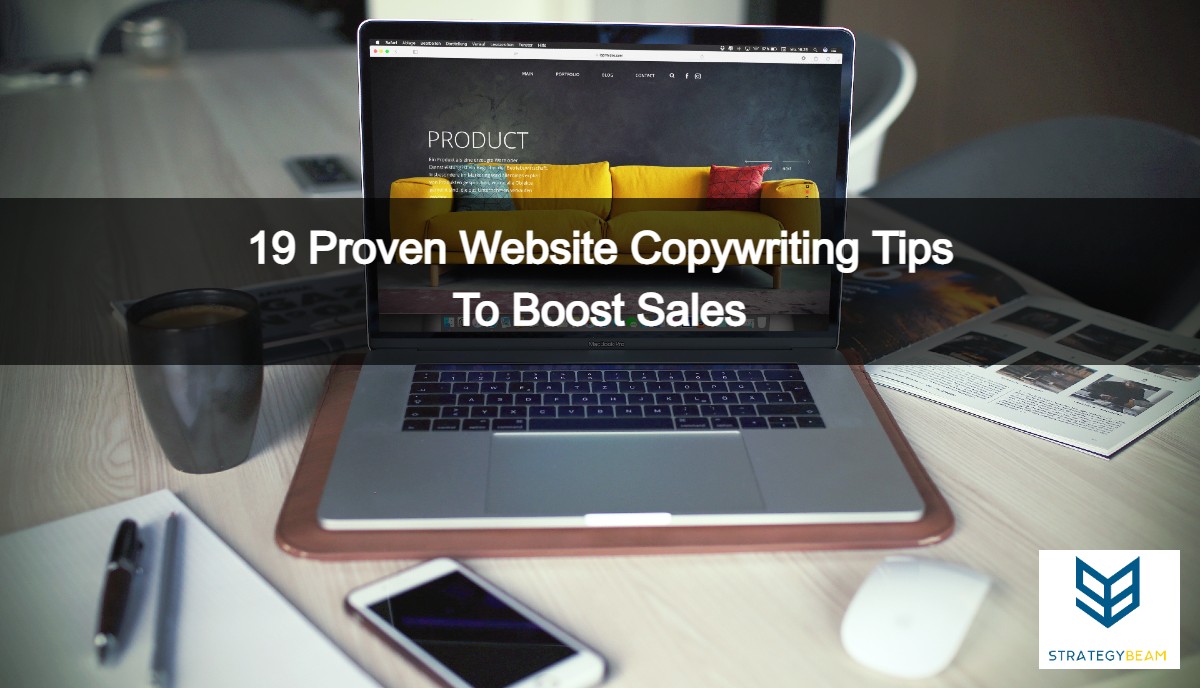 Ready to transform your website into a powerful conversion tool? Website copywriting is one of the most important parts of your online marketing strategy. Still, many business leaders lack the skills or knowledge to write content that gets found and drives conversions.
Today we will take a deep dive into the "nuts and bolts" of great website copywriting so you can understand what you need to do to get your website to the next level.
You'll learn how to plan an effective website, craft persuasive copy from scratch, and ultimately drive more leads, subscribers, and sales.
What is website copywriting?
Website copywriting is the art and science of crafting compelling text for your website. The persuasive dialogue engages your audience, communicates your value, and inspires action.
Your website is a collection of pages, and each page has a specific purpose. Whether connecting with your audience on a personal level on the About Us page or explaining your products or services, each page needs to be crafted with a specific purpose in mind and utilize various copywriting techniques to help engage your audience.
Great website content is not just about sounding impressive—it's about resonating with your audience and guiding them toward desired actions. It's the driving force that transforms visitors into customers, directly impacting your bottom line.
Website copywriting best practices
Great website copy connects with your audience deeply, conveying your unique value proposition and driving action.
Great website copywriting requires you to think about who your audience is and gain a deep understanding of their needs. This means you have to use the best strategies and tactics to help your content rise above your competitors.
Understanding the importance of website copywriting is one thing, but mastering the craft is another. It requires a strategic approach and a keen understanding of your audience's needs and preferences. But fear not—we will guide you through this process.
Below are my 19 favorite website copywriting tips that you can use to write great content for your website. Let's dive into these copywriting techniques so you can build content that gets found in search engine results and drive qualified leads to your website.
1. Define the objective of your website
Before you put pen to paper, or fingers to keys, you need to define the objective of your website. This may sound strange, but the fact is that different types of companies have different goals, and your goals will determine the type of website you build for your business.
For example, if you're a local service provider aiming to generate calls or inquiries through contact forms, you will need to build your site to push people to call or email you. On the other hand, if you're an eCommerce platform seeking to drive direct sales, you will want to position your products to encourage people to buy from you as quickly as possible.
The objective of your website is based on your goals, and your goals will determine the design and content you build for your website. Take time to think about your business goals so you can build a strategy to write amazing content and lead people through the customer journey to drive more sales.
For example, FreshBooks clearly defines what its objective is on its homepage. Not only do they have a "Buy Now & Save" button, but they also have a "Try It Free" button in the top-right of the navigation. Their business model is to sign up more users; their content supports this goal.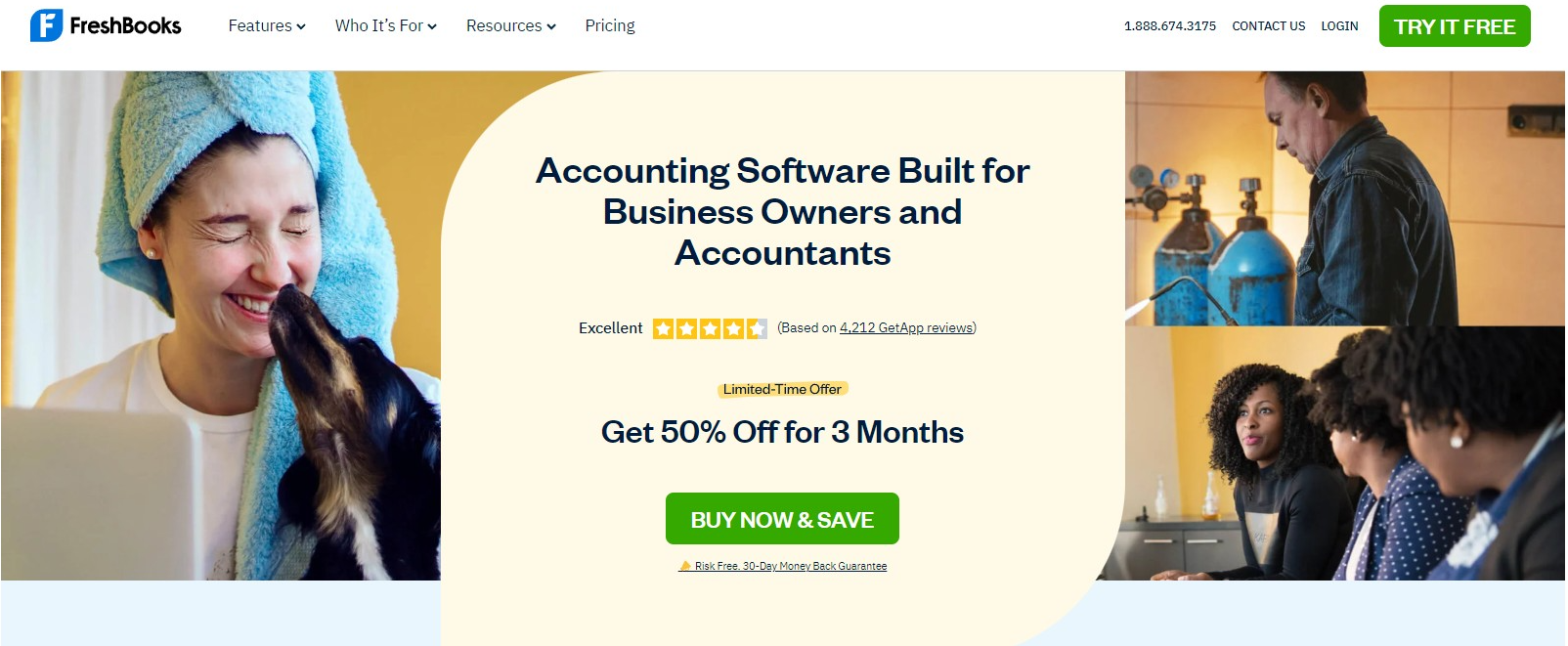 2. Know your audience
Your business exists to solve your customers' problems, so everything you write on your website needs to address their challenges, desires, and questions.
Once you understand who your audience is, you can cater your message to grab their attention and build trust. You need to write website content that speaks directly to your audience instead of general content that speaks to a general audience.
Pixelgrade is a leading WordPress theme developer, and they know how to speak directly to the needs of their target audience. Instead of writing content about WordPress development in general, they focus their attention on how to create WordPress themes to help people make a modern website. The language and position speaks directly to the needs of small business owners who don't want a cookie-cutter WordPress site.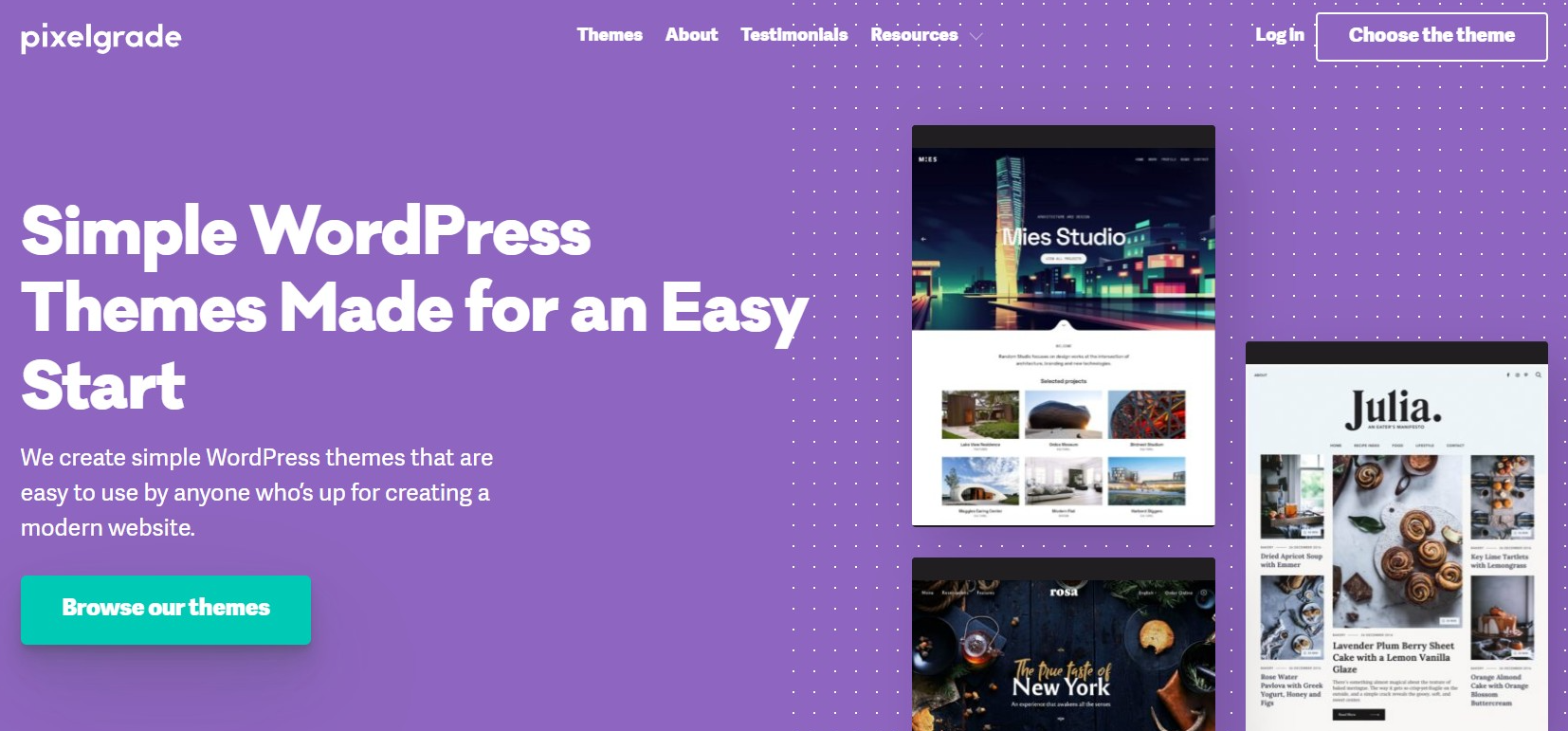 3. Always focus on the needs of your audience
As a business owner, it's easy to get caught up in the details of your brand or product. However, the key to effective website copywriting lies in addressing your audience's needs and desires.
Your business exists to solve your customers' problems, and since you are the best option for their needs, you need to write content that shows your audience that you understand their needs and have the best solution.
Each line of your copy should connect to your audience's needs and desires. This approach ensures your copy is customer-centric, resonating with your audience on a personal level.
Dropbox, a file-sharing tool, knows its customers want a simple, reliable, and secure solution to share files. They show their audience that they know their needs by putting these benefits at the top of their homepage.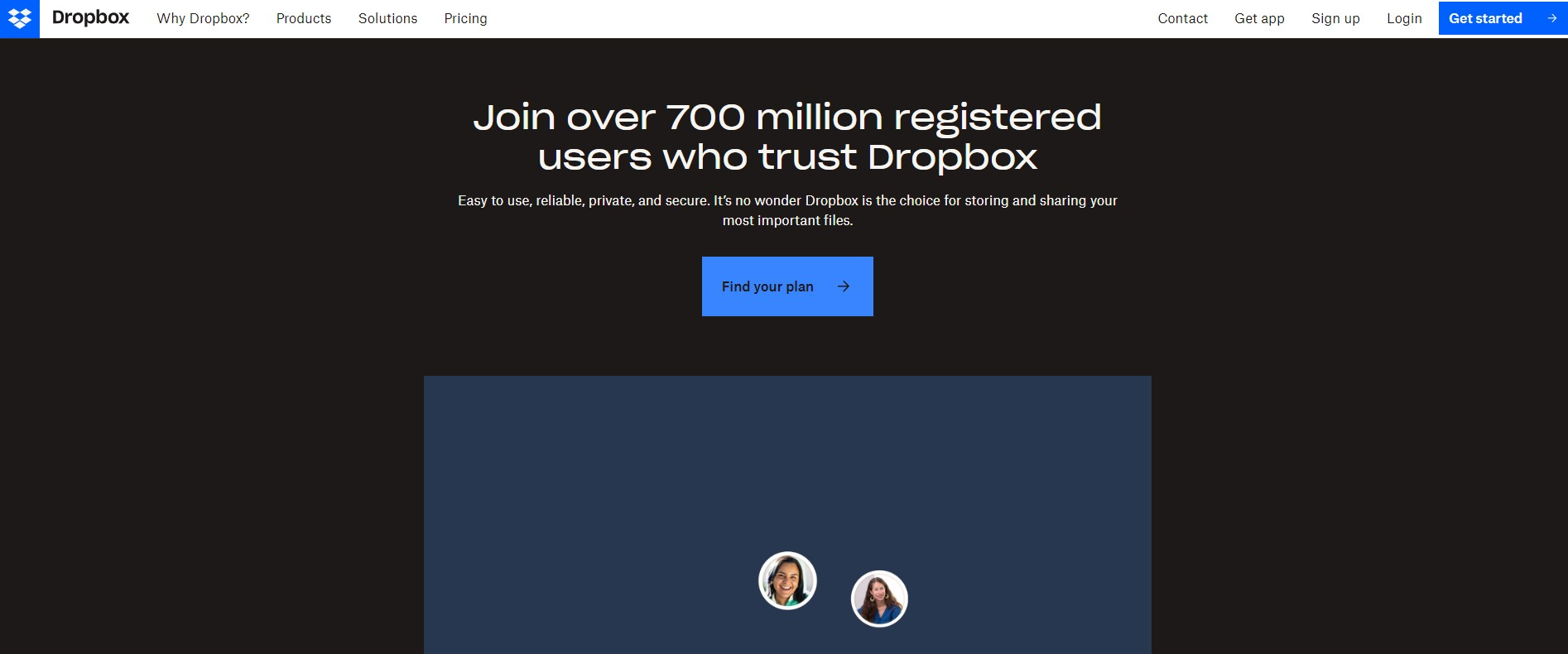 4. Determine the purpose of copy on each page
Every page on your website serves a unique purpose, so the copy of each page needs to be unique.
The homepage might captivate and direct visitors, while the 'About Us' page builds trust and establishes your brand's story.
Product pages aim to persuade and sell, while blog post copywriting is meant to inform and educate your audience. Determining the purpose of the copy on each page aligns your content with your audience's expectations and enhances their journey through your site.
It's important to note that if you choose to outsource your content writing needs, you should expect to pay higher rates for website copywriting if your freelancer helps you with strategy and writing.
We will discuss each type of page in more detail later in this blog post, but here is a quick outline of different types of pages you need on your website and how you can accomplish a specific purpose with great copywriting.
| | | |
| --- | --- | --- |
| Website Page Type | Purpose Of This Page | Copywriting Tips |
| Homepage | The homepage serves as the first impression and gateway to the rest of the site. It should communicate who you are and what you do. | Keep it clean and uncluttered. Use clear and concise language. Highlight your unique selling points. Include a clear call to action. |
| About Us Page | This page provides background information about the company and team, building trust and connection with visitors. | Compellingly tell your story. Highlight your values, mission, and vision. Include photos or videos of your team. |
| Service Pages | These pages detail your services, explaining what they are and why visitors should choose you. | Break down each service in detail. Explain the benefits and why you're the best choice. Include case studies or testimonials if possible. |
| Product Pages | Product pages showcase your products, providing detailed information to persuade visitors to purchase. | Include high-quality images and videos. Provide detailed product specifications. Highlight benefits, not just features. Include reviews or testimonials. |
| FAQ Page | The FAQ page addresses common questions or concerns that visitors may have, reducing barriers to engagement or purchase. | Address common questions thoroughly and honestly. Logically organize the questions, making the page easy to navigate. |
| Contact Us Page | This page provides visitors with various ways to contact you, making it easy for them to reach out with questions or comments. | Include multiple contact methods (phone, email, physical address, social media). If possible, include a contact form for convenience. Make sure all information is accurate and up-to-date. |
5. Focus on what makes your solutions unique
Your customers have many options, and you need to show why your solutions are the best option for their dollar. Each page should highlight the distinctive qualities of your offerings and how they solve your audience's problems in ways that others can't.
You can do this by moving beyond simply listing the features of your products or services and focusing on the unique benefits and value you bring. This distinct narrative should resonate throughout your entire website and speak directly to your audience (as discussed in the previous sections).
It can be difficult to plan a wedding, and eWedding has built a management tool to help make this process less painful. The company showcases several unique solutions, and even displays that over 912,470 couples have used the loved using the platform to plan their wedding.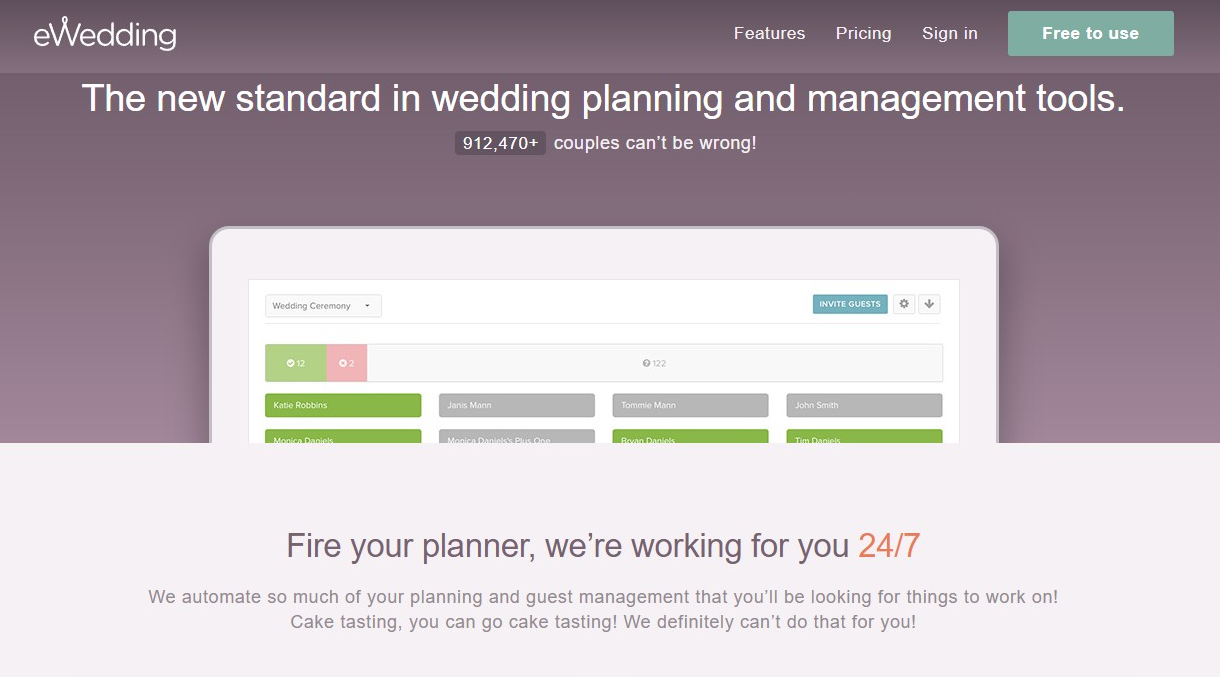 6. Write for human readers first
Writing for search engines will help get you found, but if you don't write for human readers, you cannot close sales. People buy from you, so you must write your website content with your human readers in mind.
As we discussed, you need to understand your audience and write tailored content to match their language and preferred language. This will help you connect with your audience on a human level, and sounding robotic will make your brand sound uninteresting and inauthentic, decreasing sales and conversions.
The copywriters at Evernote know how to speak to their audience in an engaging and natural way. Everything on their website is written with the needs of their audience first, with keywords and other SEO elements sprinkled in. This is a good example of how your website copywriting needs to sound authentic.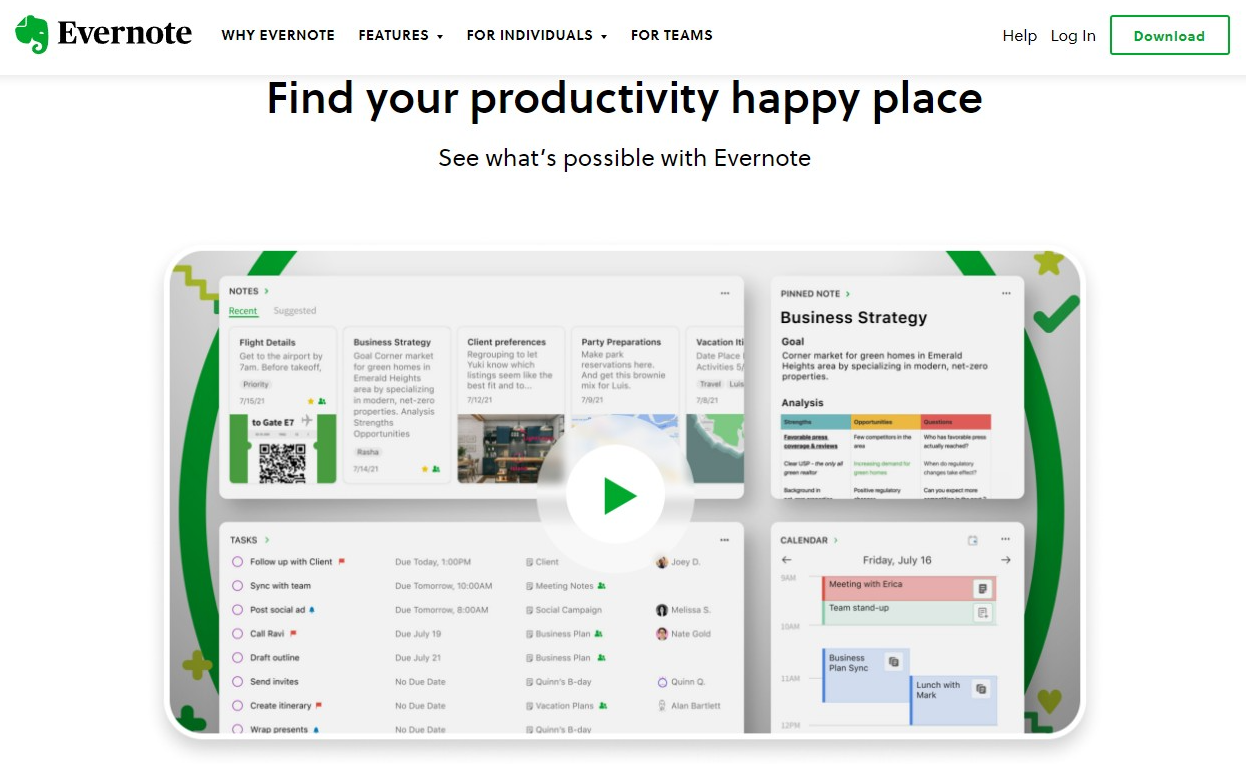 7. Prioritize clarity
Your audience doesn't have time to waste reading drawn-out language or fluffy content. You need to make your messaging clear and concise to show that your products and services fit your customers' needs.
I have found that concise language is the best type of website content because you can avoid confusion or misinterpretation among your audience. The primary goal of your business is to drive qualified leads, increase sales, and boost revenue.
You can support these goals by writing clear and concise content that connects with your audience as quickly as possible. Outsourcing copywriting needs can help you deliver great content for your audience.
Charity: water is a non-profit organization that works to provide clean drinking water to people around the world. Since clean drinking water is a difficult issue to cover, the organization uses clear and concise messaging to explain the problem, provide an over of issues people face, and explain how their organization solves these problems. This approach helps to build trust with potential donors and quickly explains why the organization exists.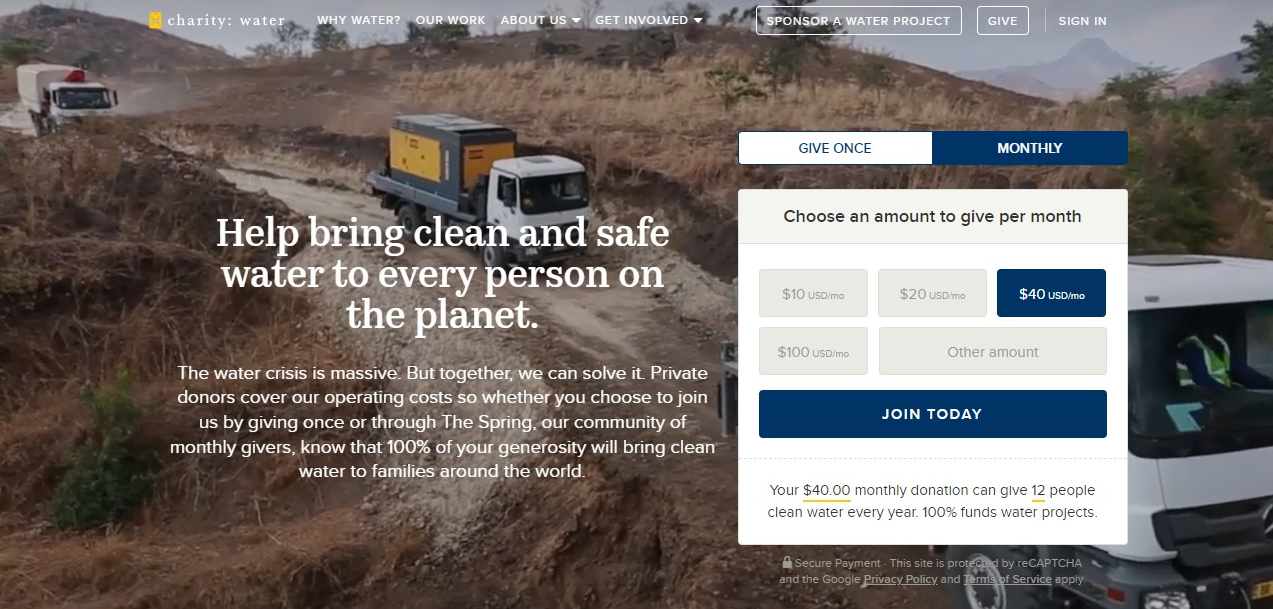 8. Optimize your content with relevant keywords
Your customers use specific words and phrases when they look for products and services online. You can help search engines understand what you offer by strategically adding keywords throughout your website content.
Once identified, these keywords should be naturally woven into your copy, optimizing your content for search engines without compromising readability for your human audience. As we discussed in the previous section, write your content for human readers and not just for robots.
Basecamp is another popular project management tool, and they use lots of keywords on their homepage to help their content rank. Near the middle of the page includes a large section with written content that talks about what makes Basecamp special and who uses the program. This is a great way to improve rankings in search engine results while also providing lots of information to their users.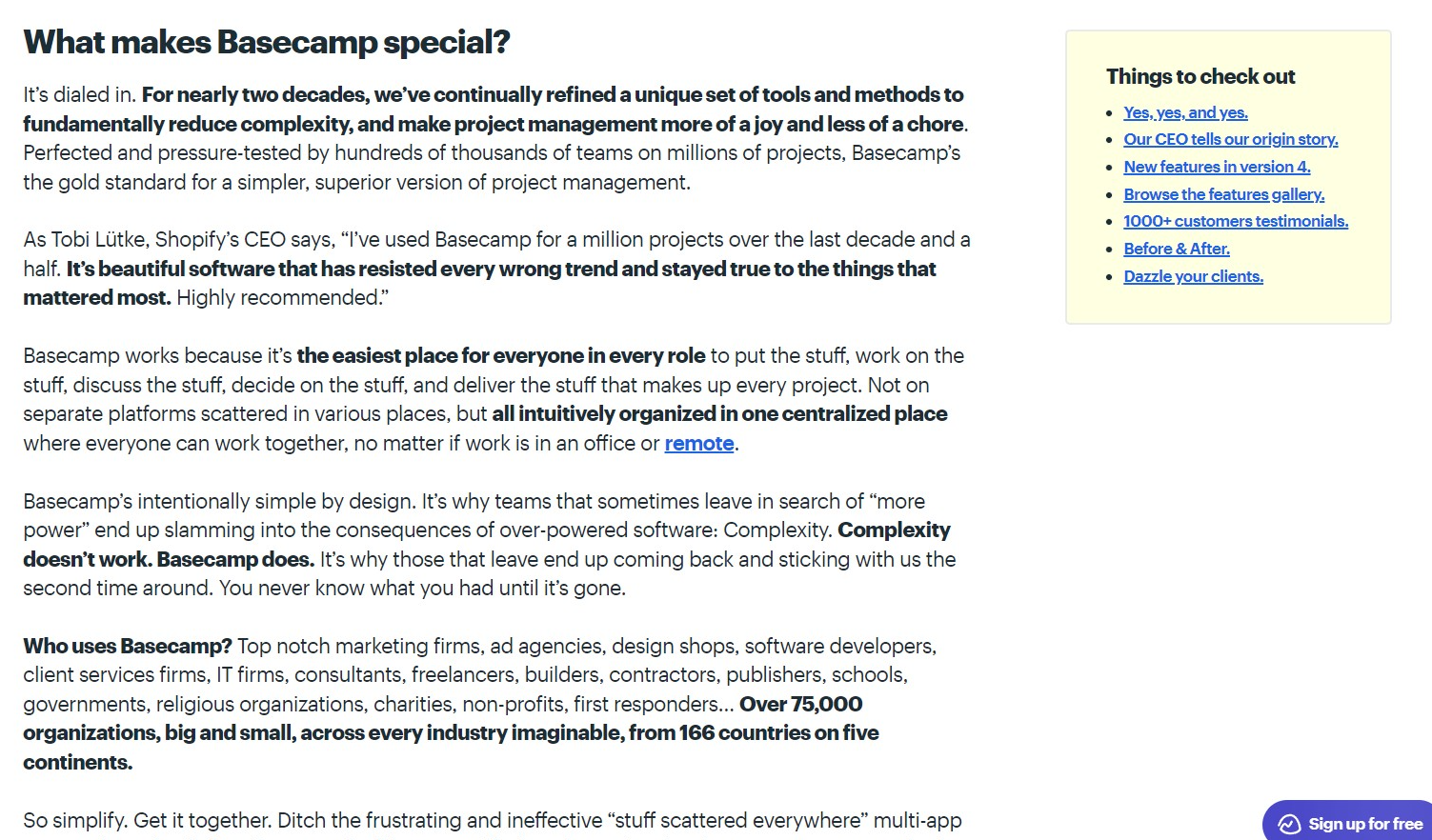 9. Write like you're speaking to a friend
Think of good website copy as a conversation with a friend—casual, straightforward, and honest. It gets to the point without rushing yet maintains a relatable and engaging tone. After drafting your copy, take a moment to read it aloud.
Does your content sound natural? Does it roll off the tongue? If not, you should rewrite your content to sound like you are speaking to a friend and not trying to check boxes for search engines.
KIND is a healthy snacking company that offers a range of snack options with natural ingredients. Their About Us page does a great job of connecting with their readers by using words and phrases that connect with their audience. Instead of using big words that no one can pronounce, KIND uses words and phrases that people can understand and resonate with.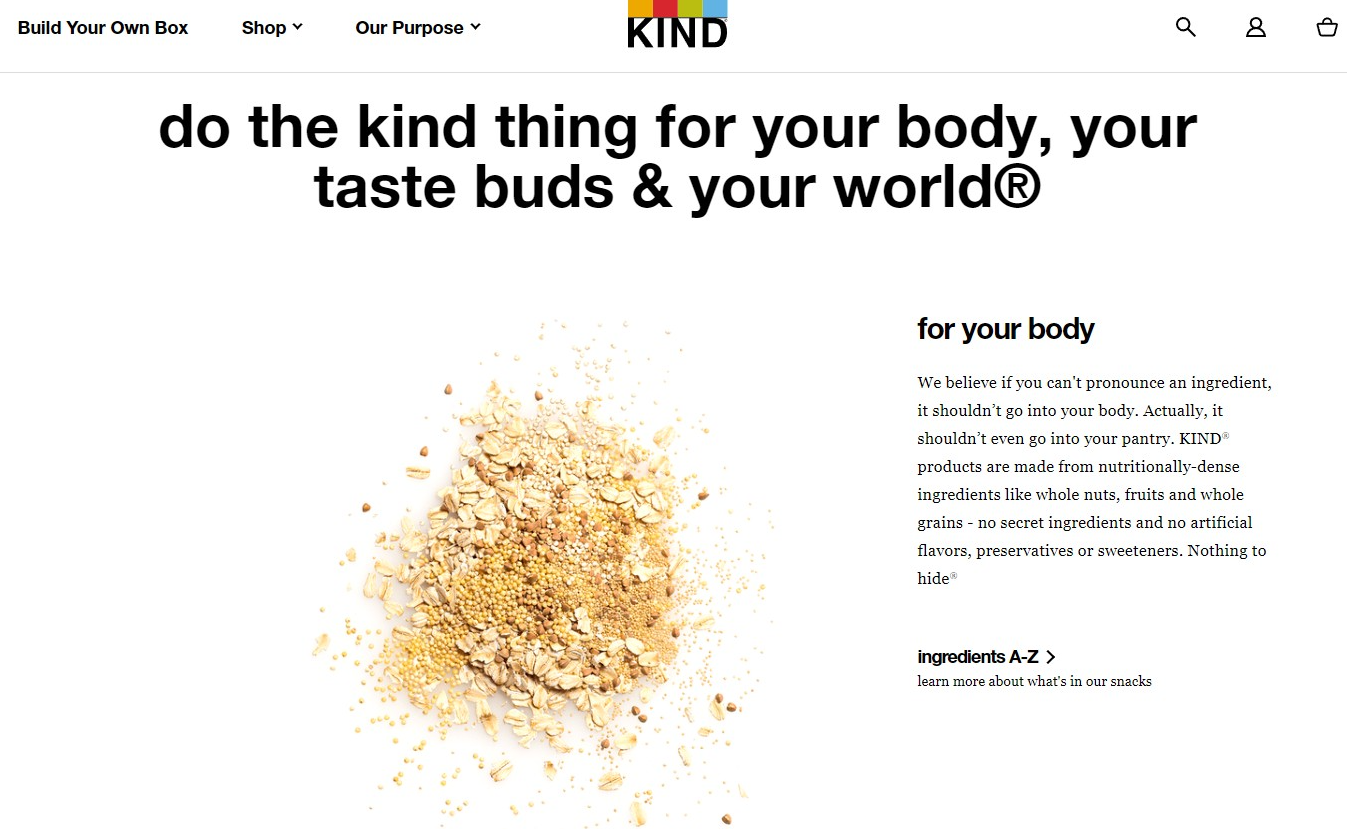 10. Use a conversational tone and active voice
As you write like you are speaking to a friend, you can write great content by using a conversational tone and active voice. A conversational tone makes your message feel like a dialogue with your audience, which makes your readers feel valued and understood.
Writing in an active voice also makes your content feel more organized, which can help you connect with your audience and drive more sales.
Investing can be scary, but Ellevest uses a conversational tone throughout its website content to build trust with its audience. Plus, they use an active voice to keep their message organized and on-point for their readers.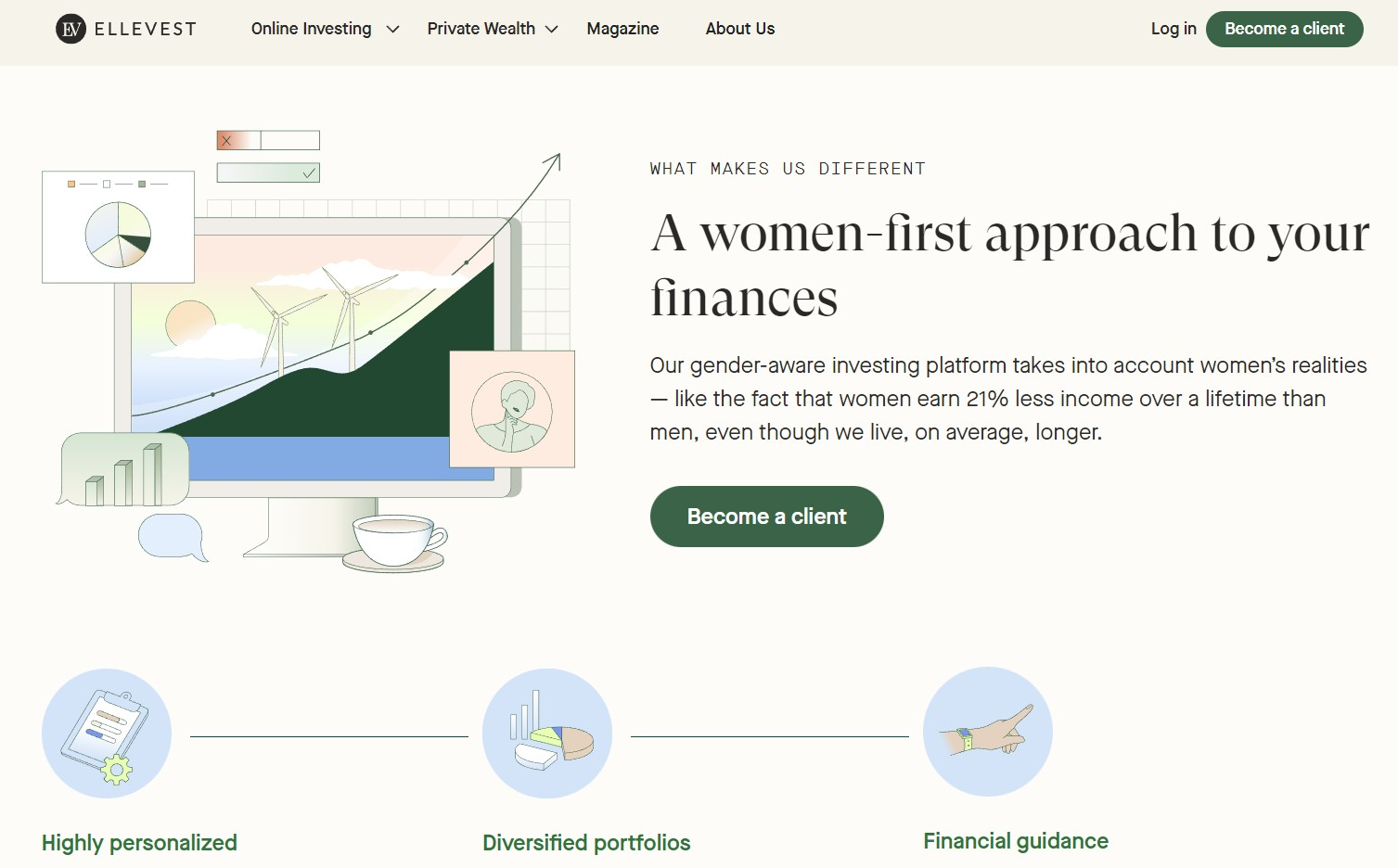 11. Write for scanning and skimming
The majority of your readers will scan your website content before they take the time to read through the entire content. This is because your readers want to make sure the content is what they are looking for, so you should write your content in a way that makes it easy to scan and skim.
You can do this by breaking up large blocks of text with engaging headings and subheadings, using bullet points or numbered lists, and highlighting key points throughout the content.
12. Write in short paragraphs and use bullet points
As we just talked about, you want to format your content to help your audience scan your content before they read it in its entirety.
Writing in short paragraphs and using bullet points is a powerful approach to enhance the readability of your website copy. This format breaks down information into digestible chunks, preventing your content from becoming a daunting wall of text.
This clear, concise format improves readability and increases the likelihood that your message will be understood and remembered.
Techvalidate has lots of educational content on their blog, and the copywriters on the site do a great job of breaking down complex issues into bullet points and short paragraphs. Not only does this help readers understand the content more, it also makes it easier to read on mobile devices.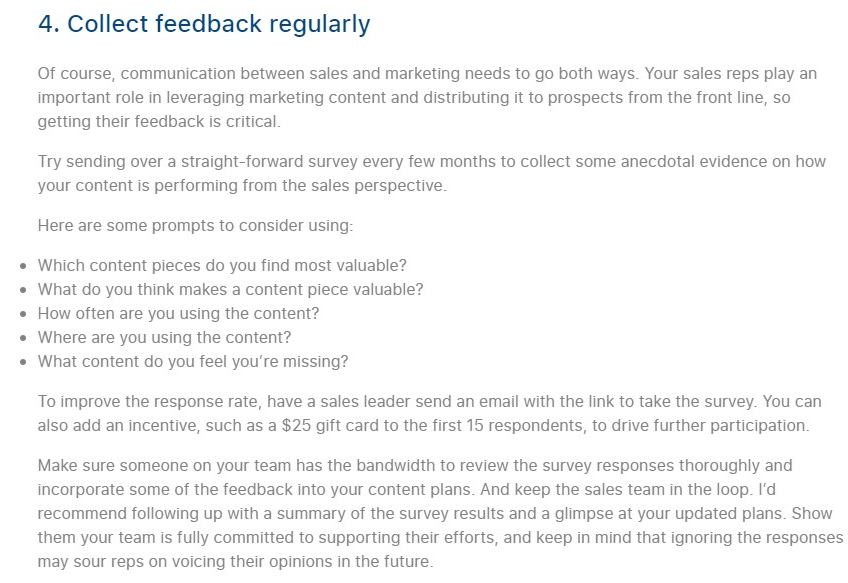 13. Include persuasive headlines and subheadings
Headlines and subheadings are the first things your readers see—they set the tone and often determine whether the rest of your content gets read. Crafting persuasive headlines and subheadings is key to capturing and maintaining your audience's attention, plus they are great for SEO.
Headlines and subheadings are your first opportunity to sell your content, so make sure each one is descriptive and engaging to grab your readers' attention.
4Rivers, a popular BBQ restaurant, knows that its audience is on its website to learn more about a delicious BBQ meal. The site features enticing images of their food, and the written content across the site uses descriptive headlines like "The Art Of Smoking" to describe the process all of their fresh meats go through before they are served to customers.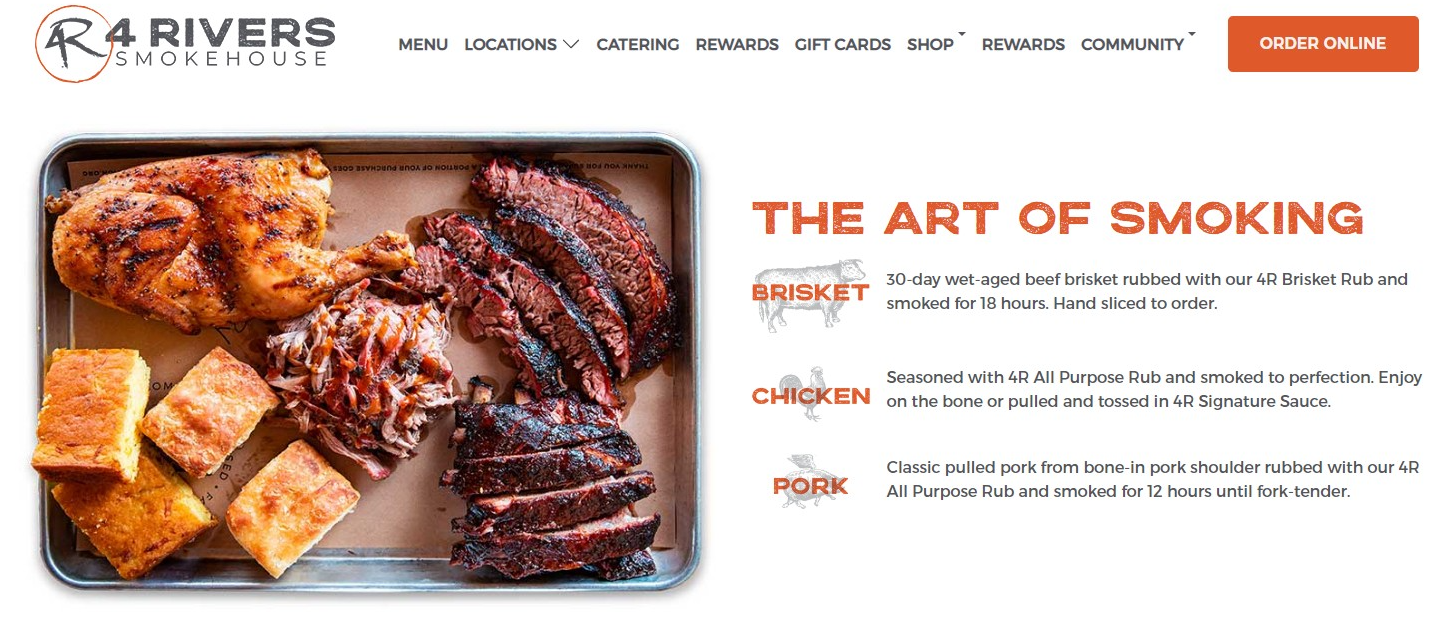 14. Use specific and concrete language
Your audience doesn't want to waste their time, so you can use specific and concrete language in your website copy to speak directly to your audience in a precise and tangible way that leaves little room for misinterpretation.
Specificity lends credibility to your copy and makes your claims more believable. It helps your audience visualize your product or service in action, making your message more relatable and persuasive.
For example, instead of saying, "our product is popular," say, "over 10,000 customers trust our product." This approach not only enhances the credibility of your copy but also makes it more compelling to your audience.
Mint is a popular money management app. Since their product ties directly into the bank account of their users, Mint does a great job to build trust by featuring that they are the #1 most downloaded personal financial app on the App Store and Google Play Store. Plus, Mint ads that over 30 million users love their app. All of this builds trust with potential users to increase downloads.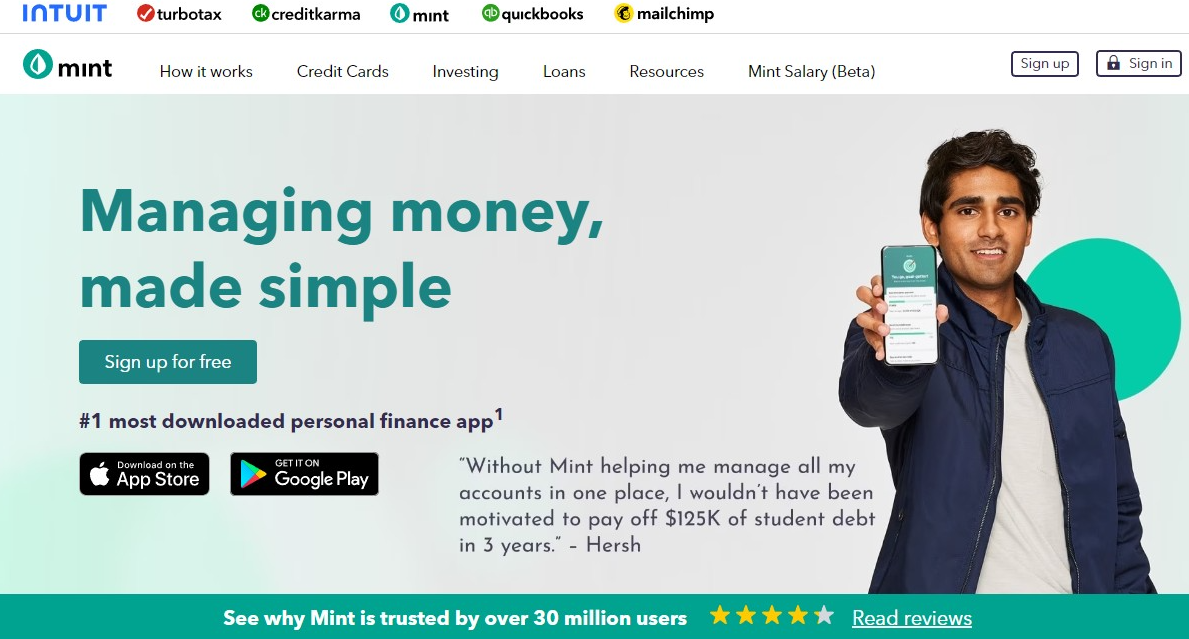 15. Avoid jargon and buzzwords whenever possible
Jargon and buzzwords can throw your readers off when they consume your content, leading to your audience leaving your website without engaging or converting.
Strive for simplicity and clarity in your writing. Use plain language so your target audience will easily understand and stay focused on delivering value with every sentence.
Sometimes you need to use jargon in your content, but you can ask yourself: "Is this term necessary? Is this sentence adding value?" Prioritize clarity and value, and your copy will be more compelling, understandable, and engaging to your audience.
16. Show empathy and build trust
Your customers want to buy from someone who understands their needs and can help answer their questions. You can do this by adding empathy in your content because it shows your readers that you understand their challenges, desires, and needs.
Empathy-driven copy communicates that you're not just in it for sale but that you genuinely care about your customers. This builds trust, a vital component in converting visitors into loyal customers.
Place your audience's experience at the forefront of your copy to foster a stronger connection with your customers, build brand loyalty, and drive more conversions.
WeightWatchers, a popular health program, helps people regain control over their weight and health. WeightWatchers knows that many people who need their services have struggled with diets in the past, so the copywriters have crafted content that shows readers the struggle is real and that WeightWatchers has the tools needed for success.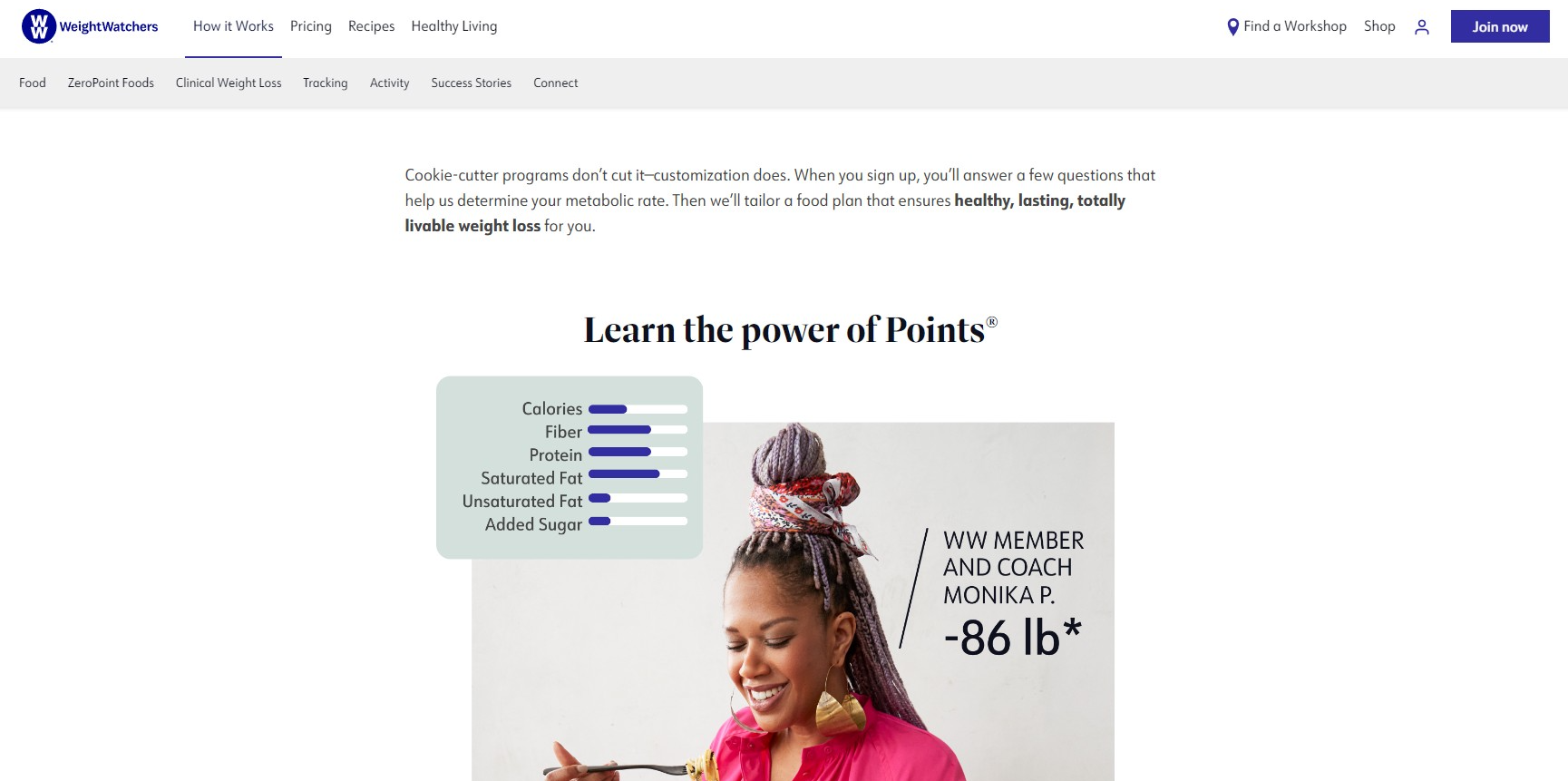 17. Add numbers and statistics for credibility
Your customers have a limited budget to solve their problems, and you can show that your products or services are the perfect solutions for their needs by adding statistics that show how your business can help them.
This is because precise figures and data prove your claims, making your message more believable and persuasive to your readers.
For example, stating that "9 out of 10 users recommend our product" is far more compelling than simply saying "most users recommend our product."
Whether it's customer testimonials, product usage stats, or industry data, figures can lend authenticity to your claims and demonstrate the value you deliver, making your copy more persuasive and trustworthy.
Nine Lives, a nonprofit organization that helps find homes for cats and kittens. Instead of talking about the organization's great work, the website features lots of statistics that prove their work has meaning. These stats show potential donors the value that contributions make to the foundation.

18. Incorporate social proof
Your customers want to know that your products or services work, and the best way to show this is by adding social proof on your website pages like testimonials, reviews, and case studies that demonstrate other customers' approval of your products or services.
Social proof works because people trust the opinions of others, especially those similar to them. It reduces perceived risk and uncertainty among potential buyers, making people more likely to purchase.
Telerik offers simple solutions for developers to create modern experiences on the web. Instead of saying they are the best in the market, Telerik adds lots of social proof throughout its website to show how many companies trust their products. Along with logos of companies they work with, Telerik also adds awards to prove further how great their solutions are.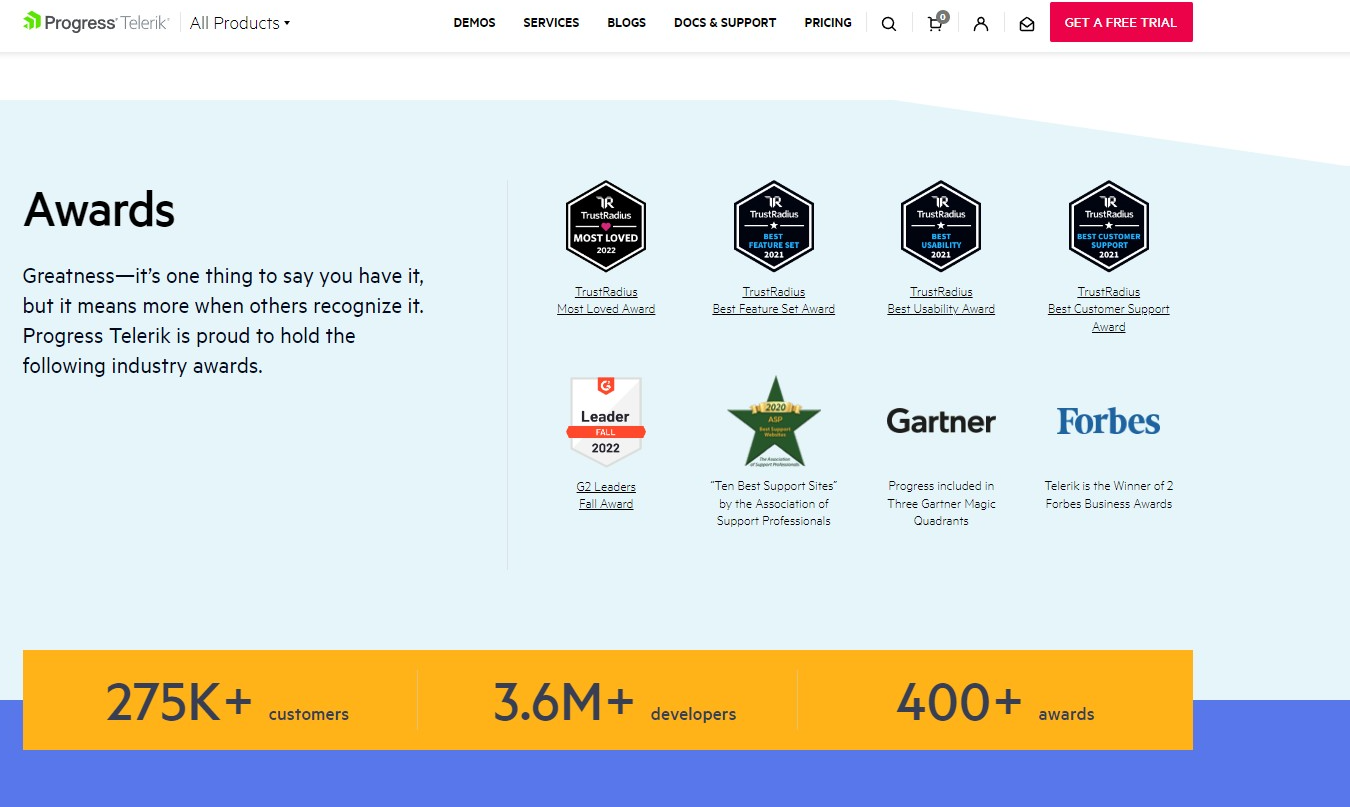 19. Include several CTAs throughout your content
Calls to Action (CTAs) are crucial elements of effective website copy. These are direct instructions guiding your audience toward a desired action, whether it's to "Buy Now," "Subscribe," or "Learn More."
CTAs are a roadmap for your customers by clearly indicating your readers' next steps. They are pivotal in guiding your audience through the buyer's journey, leading to increased conversions.
Each page should have a primary CTA aligned with the page's purpose and your overall business goal. While crafting CTAs, keep them concise, persuasive, and action-oriented. Compelling CTAs can make the difference between a visitor and a customer.
Pages that you will need to write for your website
Your website is a collection of individual pages. Each page of your website needs to be crafted with a specific purpose in mind because each page needs to accomplish a specific goal.
You can make different types of pages for your website, and the exact pages your site needs will depend on your business type and goals. Some pages are virtually ubiquitous.
For example, the Homepage serves as your website's front door, offering a broad overview of your business, while your About Page shares your business's story, values, and team, fostering trust and connection.
Remember, every page is a chance to communicate with your audience, so each should be carefully crafted to engage, inform, and guide visitors toward desired actions. Let's take a look at the six pages you can consider for your website.
Homepage
The Homepage is your website's virtual storefront. Often the first page visitors land on this page, so you need to write content on the homepage to help guide people to other pages on your site.
This page is a concise snapshot of your business, presenting a clear, engaging summary of who you are, what you offer, and how you can help the visitor.
Here are some of my favorite website copywriting tips you can use as you write the homepage of your website.
About page
The "About Us" page is an essential component of your website, offering a glimpse into your business's story, values, and the people behind it. You can build your About page to build a personal connection with your audience to build trust and humanize your brand.
Content for your "About Us" page should be personal and engaging, providing details about your company's history, mission, and team. Share your journey, motivations, and what sets you apart from the competition.
A well-crafted "About Us" page can turn visitors into loyal customers by fostering a sense of familiarity and trust.
Here are a few website copywriting tips that you can use to write an incredible About Us page on your website.
Service page
A service page on a website is a dedicated space that outlines the services or solutions a business offers. It's a crucial website element, acting as a bridge between your company and potential clients.
This type of page provides detailed information about what you do, how you do it, and how it can benefit the customer, helping to drive conversions and build trust.
Here are a few websites copywriting tips that you can use as you write your service pages.
Product page
A product page is a website section dedicated to a company's specific product. It typically includes detailed information about the product, including its features, benefits, pricing, and user reviews.
Product pages are crucial for any business selling goods or services online, whether a small start-up or a large e-commerce giant.
Your customers want to purchase a product that addresses their needs and has worked for other customers with a similar problem.
Here are a few website copywriting tips you can use as you build product pages on your website.
FAQ page
An FAQ (Frequently Asked Questions) page is a section on a website where businesses answer common questions about their products, services, or policies.
It serves as a central information hub that addresses customer queries, doubts, and concerns about specific elements of your products or services. There are many benefits of an FAQ page, and these answers can help increase trust with potential customers and drive more sales.
Here are a few website copywriting tips you can use to build an FAQ page.
Contact Page
A Contact Us page is a vital section on a website where businesses provide information on how to contact them. This usually includes phone numbers, email addresses, physical office locations, and sometimes a contact form for visitors to fill out directly on the page.
Companies add a Contact Us page to their website for several reasons. Primarily, it facilitates communication between the company and its customers or prospective customers, making the business accessible and approachable.
Here are a few fantastic website copywriting tips to implement as you build your Contact Us page.
Website copywriting formulas
Do you have a difficult time writing great content for your website? It's easy to get overwhelmed when writing website content, but I have found that using a copywriting formula can help make this task more straightforward to accomplish.
Copywriting formulas provide a blueprint for presenting information and crafting narratives that captivate and convert audiences.
Writing great website copy can be challenging, but using these formulas simplifies the process and saves significant time. They can guide you on how to structure your message, when to introduce key points, and how to craft a powerful call to action.
Here are some of my favorite website copwyriting formulas that you can use to streamline your writing process and drive more conversions.
AIDA
The AIDA copywriting formula stands for Attention, Interest, Desire, and Action. It's a powerful strategy for crafting persuasive content. You start by grabbing the reader's Attention, then spark their interest in your product or service, followed by kindling a Desire for the benefits you offer.
Finally, you prompt them to take action, like purchasing or subscribing. It's particularly effective for sales pages, product descriptions, and promotional emails.
PAS
The PAS copywriting formula, standing for Problem-Agitate-Solution, is a powerful approach to crafting persuasive content. You start by identifying a problem your audience faces, then Agitate by emphasizing the pain or inconvenience it causes.
Finally, you present your product or service as the Solution. This formula is especially effective for product pages or sales letters, where you must demonstrate how your offering can address and alleviate a specific customer pain point.
FAB
The FAB copywriting formula stands for Features, Advantages, and Benefits. It's a framework used to present a product or service in a way that highlights its value. 'Features' describe what your product is or does, 'Advantages' explain how it outperforms competitors, and 'Benefits' convey how it improves the customer's life.
This formula is particularly useful for product descriptions or service pages, which aim to persuade potential customers of your product's value.
Conclusion
You have a lot to consider as you build great website content.
Whether it's through persuasive headlines, informative product descriptions, or a well-crafted "About Us" page, the power of words on your website should not be underestimated.
By understanding your target audience, aligning your copy with their needs, and implementing best practices, you can create a website that attracts attention and delivers results. Invest in quality copywriting, and watch your website thrive.
Ready to transform your website into a persuasive powerhouse that drives conversions and boosts your online presence? Don't miss out on the opportunity to work with StrategyBeam's expert copywriters!
Contact us today and unlock the potential of captivating website copy that grabs attention and gets you found online. From compelling headlines to irresistible calls-to-action, we'll craft persuasive content that resonates with your target audience and leads to measurable results. Take the first step toward digital success.
Reach out now, and let's create a website that leaves a lasting impression!
Website copywriting FAQs