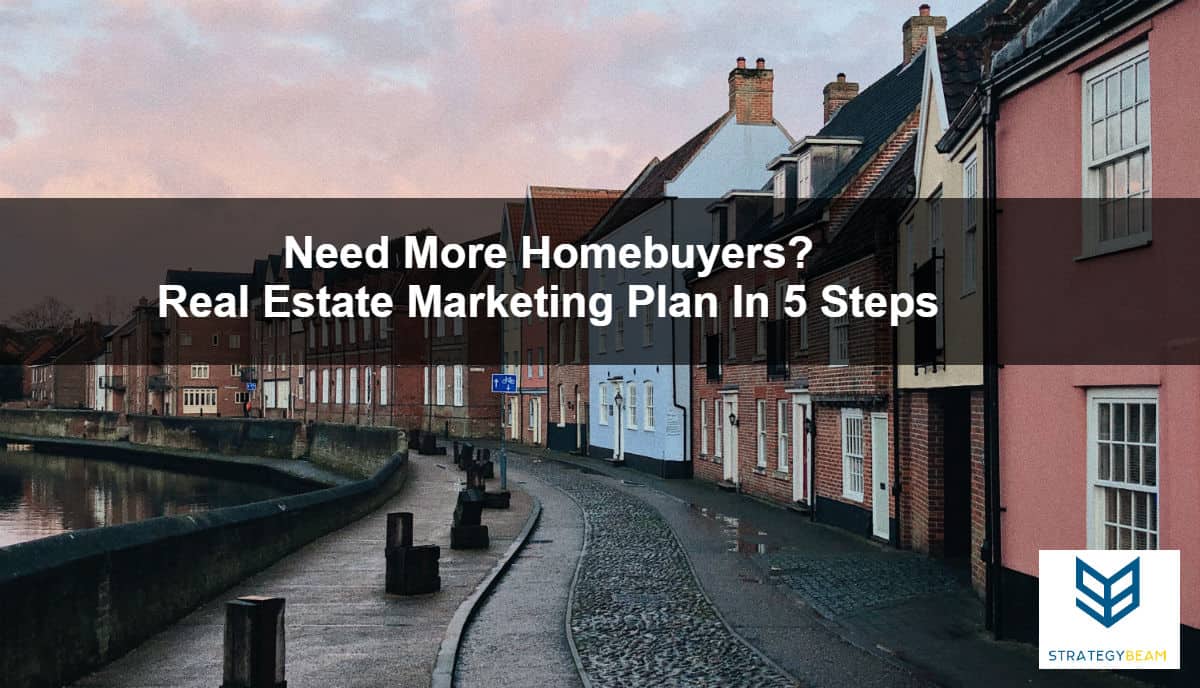 As the real estate industry continues to become more competitive, you need a real estate marketing ideas that will drive more qualified leads to your door.
Building the perfect real estate marketing plan for the specific goals of your real estate business becomes a whole lot easier once you have a foundation to build your marketing strategy from.
Many real estate agents fail to reach their full potential because they jump right into real estate marketing without having a thorough marketing plan.
Your real estate marketing plan needs to start with your buyers then work backward to your real estate business.
Technology is not a strategy, and you need to identify who your potential buyers are so you can create a long-term marketing strategy to reach your target market.
While the world of real estate (in every area) is far more competitive than it's ever been before, there's a lot of room and opportunity for real estate agents to use a smart strategy to rise above the rest of the pack and dominate their region.
This five-step blueprint that you can use to help you establish your brand and see the results of your real estate marketing strategy today!
1. Define Your Objectives & Goals
The only way that you can build an active real estate marketing plan is if you know what you are trying to accomplish. These metrics will look different for every real estate agent, but you can think about growth, income, or how many clients you want to reach in a given year to start this process.
These objectives and goals can't be "fuzzy," either. They must be definitive and tangible.
You can use items from your business plan to help you understand the broader strategy that you need to take on as you grow your real estate marketing strategy.
Your real estate marketing goals need to be crystal clear, razor-sharp, very specific, and – ideally – time-sensitive.
This is the only way you are going to know precisely what you are shooting for, as well as the only way to tell whether or not you are progressing towards or away from these objectives and goals as you go forward.
2. Identify Your Target Audience
This step of the process is vital to your success because you need to use your limited time and resources to reach homebuyers who are likely to do business with you. As you build out your customer base, you should consider using referral marketing software to help you grow your network and attract more leads.
Instead of trying to reach all buyers in your region, you should think about specific traits that make them unique. You should take several aspects of your ideal customer into consideration, like:
General demographics of your potential clients- so you can use the right marketing channels and message.
Household income- so you can feature homes that are within their price range.
Size & Location of their desired home- so you offer homes that meet their family needs.
Social preferences- so you can cater to the type of communication style that they prefer.
Age of your potential clients- so you can engage with them on the right social media networks and other channels.
Whether your homebuyer has owned a home in the past or if they are a first-time buyer.
Working from your business goals (previous step), you can identify who your target audience is in the market. This means that you can speak directly to them (and ONLY to them) with each and every one of your marketing messages.
Many times you will need to focus on local SEO for real estate marketing to reach qualified homebuyers in your region.
Consider who they are, what they are interested in, what kinds of life experiences they have had, and what they really want to get out of this kind of transaction. Then (and only that) will you know how to market correctly to them.
This isn't the most natural thing in the world to do, to be fair, but it's the most critical part of ANY marketing effort.
3. Set A Marketing Budget
Now that you know your business goals and know who your target market is, it is time to start engaging with potential clients. This is where the rubber meets the road, and you will be required to put a lot of time and resources to create content around a content calendar so your message gets found by homebuyers.
Whether you have a large real estate agency or you are independent, you need to create content that meets the needs of your target audience.
Creating marketing ideas that stick can take a lot of time and money, so you need to create a budget to ensure that you do not spend your way to failure.
The big mistake too many real estate operations make is not having enough money on hand for marketing, with the second biggest mistake is having absolutely no idea how much money they have available and then blowing it all.
You should look at your finances and weigh the cost of different marketing channels with the potential gains to see what is sustainable for your real estate business. Reaching different buyers will require the use of various channels like social media, blog posts, and paid media for your real estate agency.
Each strategy of your marketing plan will demand different amounts of financial and time investment. For example, you should expect to pay a professional a right amount of money to create high-quality videos for your luxury real estate listings.
In many cases, real estate agents can use free or inexpensive tools to get their marketing plan started, then move to outsource marketing jobs in the future.
By setting a concrete marketing budget (and deciding where you are going to funnel particular resources as your market), you gain a lot more control, a lot more leverage, and a lot more clarity over every aspect of your marketing operation.
4. Differentiate Yourself
People like to do business with people they trust and can relate to. This is especially true in the real estate industry as homebuyers are looking to make a significant investment in their future.
The only way to attract potential buyers to open houses and face-to-face meetings is if they know and trust you. You can take some proven steps to drive more qualified buyers to your real estate website and listings through targeted marketing and personal brand development.
Real estate is a robust industry, and the majority of real estate agents who are successful have a strong personal brand.
Instead of being a forgettable name, you can establish yourself as the go-to expert for different topics in your community. You can also build an active community around things that you enjoy, like cycling, working out, or fishing.
Integrating your passions with your real estate business will give you the opportunity to identify with your target audience (previous point) and grow your referral network.
Your prospects are bombarded with marketing messages every day, and once they start searching for a home, they are inundated with information that can make the home buying process difficult.
You can grow your real estate agency while also boosting referrals by being unique and memorable. Plus, you can help your clients by making it easier to do business with a name that they can trust.
Building a personal brand that you can market makes you a better agent and increased the perceived value of your properties. You can create marketing ideas from your own brand, and help connect with buyers on social media and in real-life events.
Building a personal brand and differentiating yourself is difficult, but it is also the cornerstone of a solid marketing plan.
You can break apart from the or agents in your area as you establish yourself as someone valuable – you're immediately able to hook the attention of your perfect prospects and should enjoy a lot more success because of it.
5. Create An Action Plan & Stick To A Schedule
Now that we have discussed the steps that you need to take to develop a robust real estate marketing plan, it's time to get down to business. Moving from ideas to action is difficult, but you have all of the basics that you need for success!
Lastly, you need to create a plan of action for your marketing efforts that you are going to execute consistently and then you need to stick to the specific timeline you give yourself to see what works, what didn't, and what needs to be improved.
At this point, you know your goals, who you need to reach, and how much you can spend on marketing. Many real estate agents jump into real estate marketing with a lot of passion but fizzle out over the course of a few months.
You will need to set a schedule and follow through on your plans if you want a successful marketing strategy.
There's no such thing as an instant home run in the world of marketing. It is challenging to drive qualified leads to your real estate agency, and you will need to drive a lot of people to your listings if you want to schedule more open houses.
Every single campaign is a test, every single drive can be improved and optimized, and every single decision you make may or may not be the right one that that specific point in time – but the data will tell you whether or not it resonated with your market.
Create action plans, stick to them, and then review whether or not they were the right decisions later down the line. Then, and only that, will you be able to optimize your campaigns for improved success better!