Real estate marketing is challenging throughout the year, and this is especially true during a slow economy. Google AdWords can be used by realtors to build their business plan and drive high-quality homebuyers through Google SERPs.
Never before has the competition been higher or the need greater for real estate agents to drive qualified traffic to their site with a solid marketing plan.
There are always going to be a lot of moving pieces involved in Google AdWords management – particularly a local campaign that you're setting up for your real estate business.
Due to the complexities and intricacies of Google AdWords, many real estate agents are intimidated by this marketing channel. As a result, many realtors either ignore the benefits of Google AdWords, or they build a campaign that yields low returns.
In either case, real estate agents tend to miss the opportunities that Google AdWords offer when working to drive potential home buyers to their real estate website or local listings.
Why You Should Use Google AdWords For Your Real Estate Business
If you want to reach potential buyers in your geographic area, then you need a real estate marketing plan that focuses on getting in front of the right people at the right time with the right message.
Google AdWords provides you with a powerful platform to craft a compelling message and optimize how and when your ads appear so you can target buyers in a specific market.


You can start seeing results pour into your real estate website immediately after you set up your first few Google AdWords campaigns. This means that Google AdWords is an investment for your real estate business, and you should follow specific tips to optimize your Google AdWords campaigns since you have to pay Google each time someone clicks on your ads.
You can follow these 5 Google AdWords marketing strategies to ensure that you don't fall into these traps and build a profitable Google AdWords campaign to drive qualified leads from your target market.
1. Set Geo-Targeting To Your Region
Potential homebuyers are looking for homes in a specific geographic area. You can use this to your advantage and optimize your real estate marketing plan with Google AdWords to only show your ads to people looking for homes in an area or only to people who are in a specific geographic region.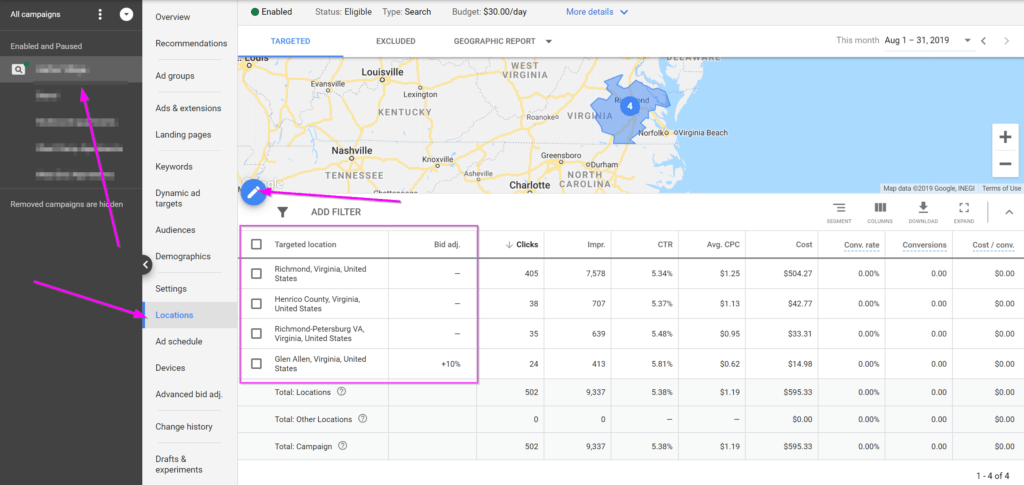 It doesn't make a lot of sense to spend money on paid advertising for more generalist keywords, keywords that aren't ever going to be able to bring in the kinds of prospects you need to turn a profit with this marketing methodology.
If you are running a real estate marketing plan on a limited budget, you can reduce ad spend by excluding people who are not interested in buying a home in your market by setting the Geographic Targeting in the Locations settings.
2. Choose Longtail Niche Keywords
The second tip that you should use when building a Google AdWords account for your real estate business is to focus on longtail keywords. Longtail keywords are search phrases with 3 or more words that people use to find homes in your area.
Longtail keywords are an excellent option for Google AdWords marketing in the real estate industry for several reasons, including:
Trigger ads to show for highly qualified leads.
Trigger ads less often since they are specific search queries.
Target home buyers who are more likely to buy from you in your market.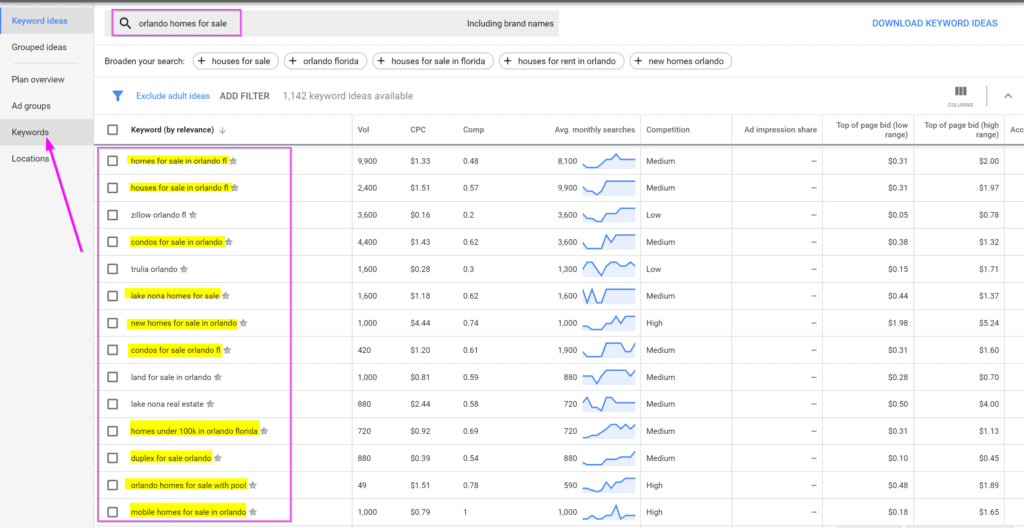 If you want to get the most out of your Google AdWords marketing strategy, then you need to zero in on who your ideal prospect is, what they punch into Google to find the kinds of properties you have to offer, and then create a long list of longtail niche keywords that you can aggressively go after.
A few factors that you should consider when choosing longtail keywords to reach potential home buyers include:
The location of your homes (like "Orlando homes for sale").
The size of homes featured on specific pages of your real estate website (like "Orlando homes for sale five bedrooms")
Home price ranges based on your clientele budget. (like "Orlando homes for sale $500,000).
Amenities & additions that your target audience are interested in (like "Orlando home with pool")
As you can see from the examples above, you can home in on your ideal buyers by adding a few modifiers to your keyword list. Instead of trying to battle for "homes for sale," you can drive more qualified leads by only bidding on keywords that matched your listings and desired home buyer leads.
A solid longtail keyword strategy starts with thorough keyword and market research since you need to understand the keywords that people use to find your ads.
While this is vital for your success, these steps are often overlooked by otherwise savvy and strategic realtors, and this can result in thousands of wasted real estate marketing dollars.
Instead, focus on creating longtail niche keywords that can help you succeed by digging deep into how your prospects use search engines to find the properties you have to offer and then carefully crafting your campaigns around those strings of text.
3. Choose The Right Negative Keywords
As we discussed above, keywords are the driving force behind your Google AdWords strategy. However, did you know that you can use negative keywords to limit who sees your ads?
Negative keywords give real estate agents a powerful tool to exclude people who use specific words and phrases when searching for real estate listings.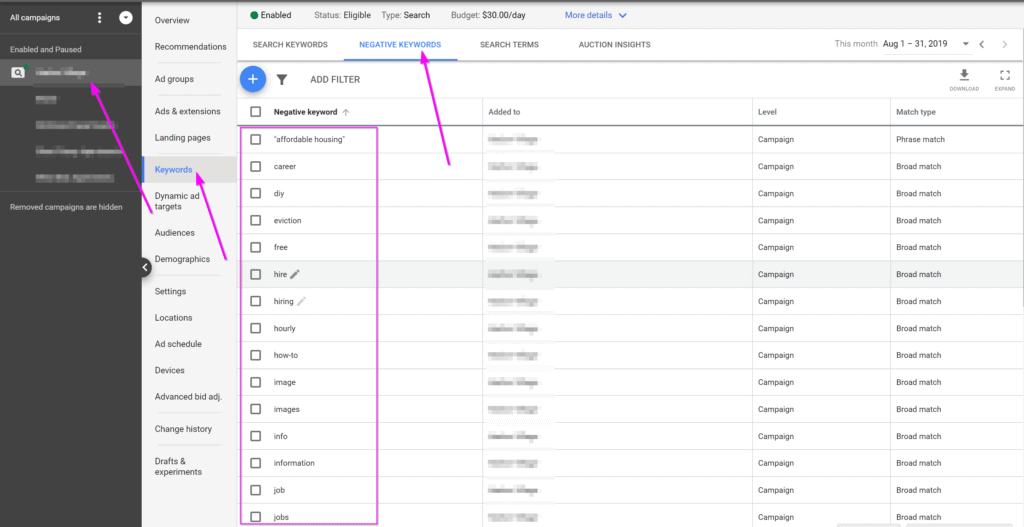 Once you know who you are trying to engage with, you can use negative keywords to define further who your ads are served to. Instead of wasting Google AdWords marketing budget on unqualified leads, you can limit your audience and focus your marketing strategy on people who are more likely to contact your real estate agency.
Homebuyers are looking for homes based on their needs, and sometimes their needs do not match your specialty. For example, if you are involved with luxury home sales, you can add several negative keywords like a cheap, bargain, and retired to your negative keyword list to ensure that your ads do not appear when those terms are used in search queries.
4. Write Hyper-Targeted Ad Copy
If you want people to engage with your real estate Google AdWords text ad copy, then you need to write amazing Google AdWords ads. These ads need to stand out in SERPs while also tapping into psychology to get homebuyers to click on the ads.
Driving qualified potential buyers to your real estate website and local listings is the first step to a successful Google AdWords campaign. The next step that you need to consider is how to improve conversions once home buyers contact you.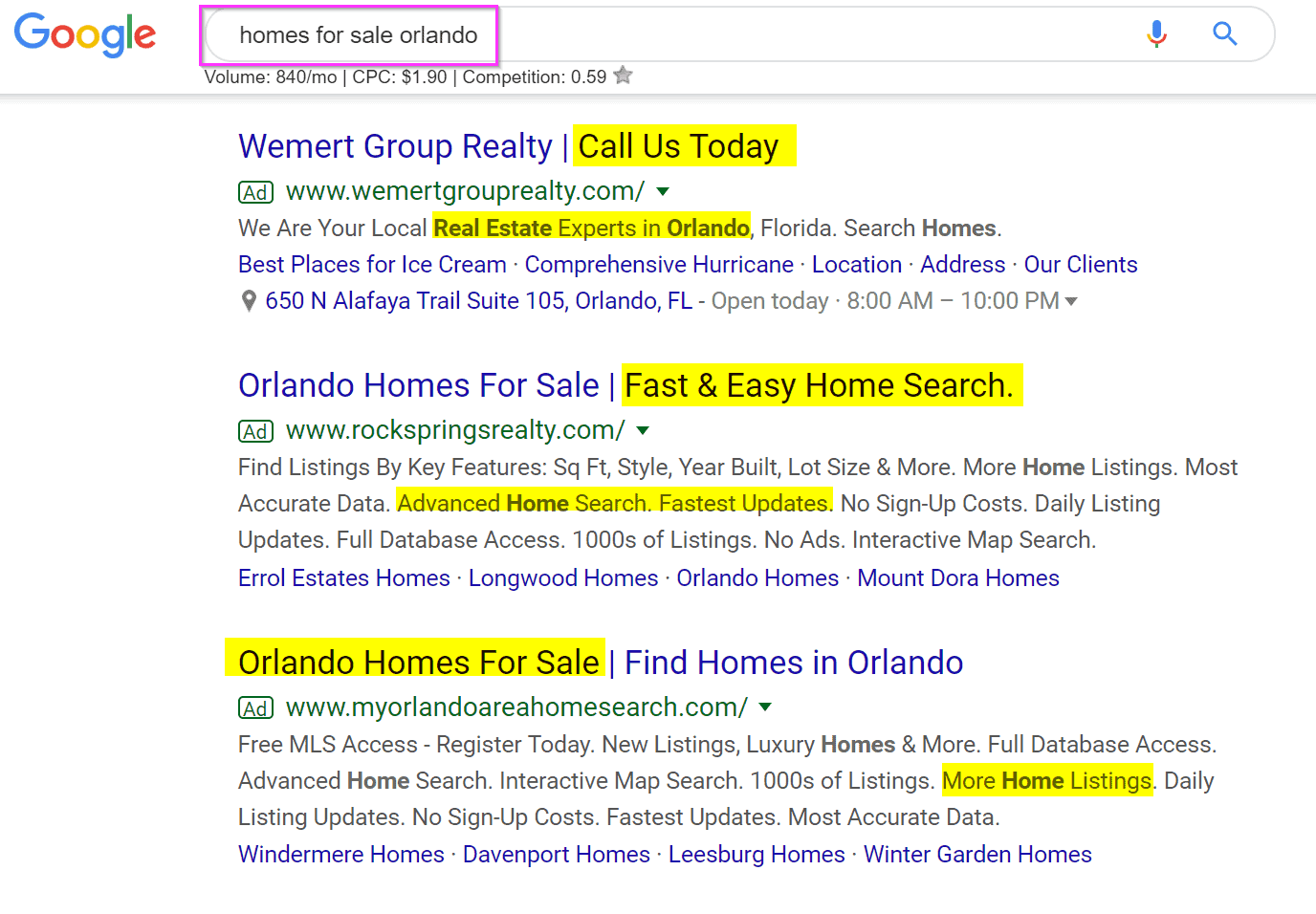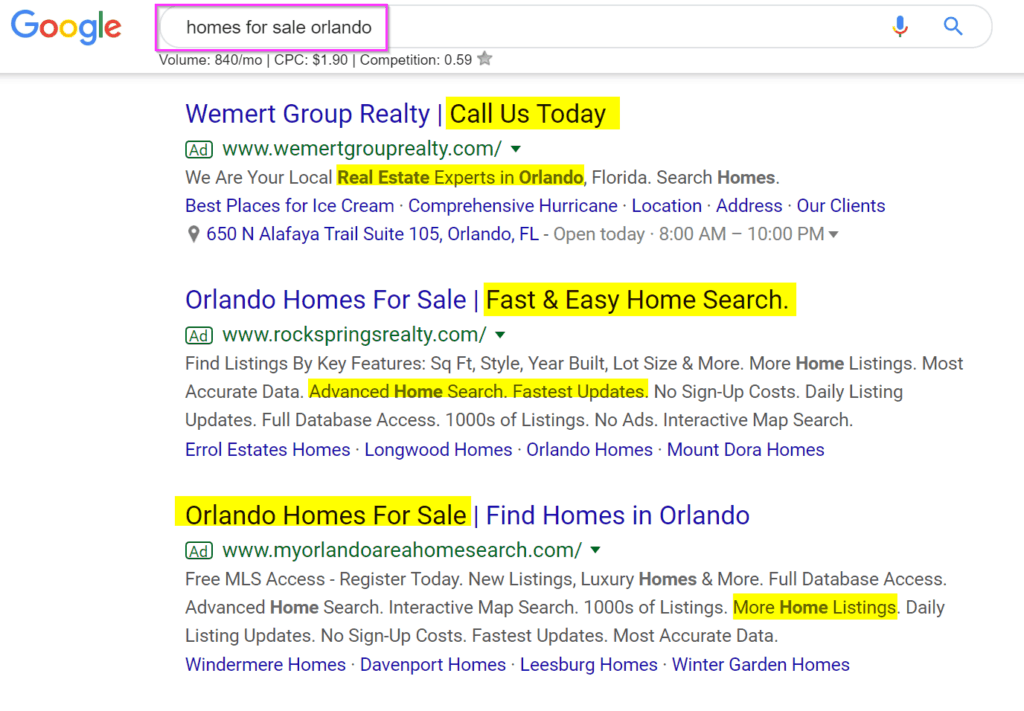 This is where hiring a top-tier professional copywriter can help you punch up the copy you have on your landing and sales pages, help you design marketing funnels that allow you to squeeze more ROI out of your Google AdWords campaigns, and help you craft the rest of your marketing messages to make sure everything is "on brand", laser-focused, and blends seamlessly into each of your different marketing medias.
Think about what your audience needs and help them make the right choice by including emotional headlines and features/benefits of your homes. You should also customize ads based on ad groups and keywords that you are using.
This tactic will ensure that your Google AdWords text copy is relevant and matches the needs of your target audience.
5. Use Ad Extensions To Get Found
Along with writing excellent ad copy, you should also use various extensions in your real estate ads. Ad extensions offer several benefits, including:
Help your ads to stand out in SERPs.
Provide additional information and value to your audience to entice them to click on your ads.
Drives your competition further down SERPs.
Offers you other ways to express the features and benefits of your real estate agency.
Some of our favorite Google AdWords extensions for real estate agents include:
Location Extensions: You can add additional information and target potential buyers based on their geographic area to you.
Sitelink Extensions: Add this Google AdWords extension to link to other pages on your site like customer reviews, types of homes, photo gallery, etc.
Callout Extensions: Use this Google AdWords extension to showcase different benefits of your real estate agency.
Price Extensions: You can direct your audience to different pages on your site through a highly visual and engaging extension based on featured homes.
Call Extensions: This Google AdWords extension places a big button on your ads so homebuyers can click to call when they view your ads on a mobile device.
Now that you have the best tips to grow your real estate marketing strategy with Google AdWords, you will be able to drive more qualified homebuyers to your real estate website and local listings today!