How Will Your Marketing Plan Support Your Business Goals?
If your business wants to get found in a highly competitive market then you need to create a marketing plan around your business goals. Far too many companies look at marketing as a task that will "take care of itself." Marketing can take a lot of time and resources, so your company will need to build a marketing plan around your company's goals to ensure your investment does not go to waste.
Knowing how to conceptualize goals, objectives, and KPIs is vital to beginning to set a marketing strategy for your business. Here is a simple image that sums up each part of the equation. To help make the terms less abstract we will look over some ways that you can build a marketing plan that will support your business goals including: 
Start with SMART marketing objectives
Build a marketing plan
Write down specific KPIs
Align your goals with strategic objectives
Create content based on goals
Publish content on social media, blogs, and YouTube based on tactics
Track content performance and improve as needed
Marketing goals have to start from the top and move down toward objectives. Goals that are thought out and executable are SMART Goals. Let's take a look at how SMART Goals and how they can help your business move toward objectives.
SMART Marketing Strategy Objectives
Goals are the "Why" of a marketing plan. Starting with your business vision and purpose, your goals are the broader results you want to accomplish.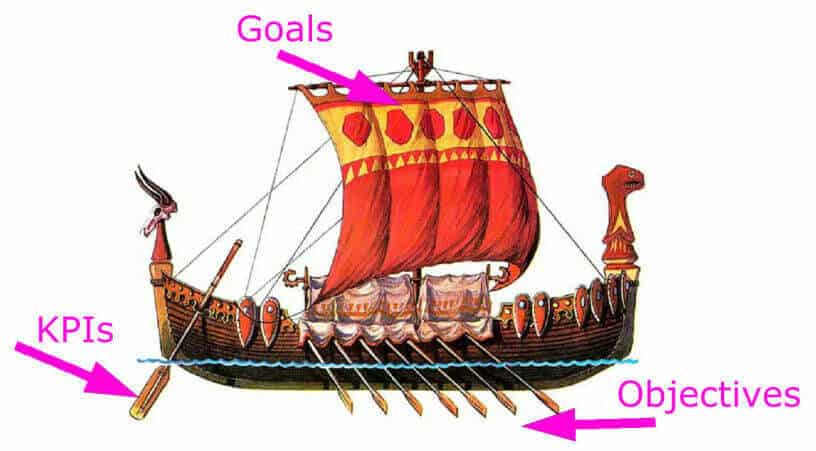 An important thing to remember when it comes to setting goals is that it takes a lot of time, resources, and energy to execute goals. This is why planning ahead is vital because it's difficult to redirect a plan once the goals are in motion.
Claim Your Free Local SEO Consultation
Optimize your Google My Business Listing & boost your Google Maps ranking with a quick, no obligation 20-minute consultation.
Robust strategies start with specific goals. Don't waste time or energy by setting a weak goal that serves no purpose. Use the SMART goal method to ensure your strategy gets started in the right direction!
Specific – Need to be real numbers or deadlines. Don't use abstract or vague terms like "engage customers" or "increase visitors to the site."
Measurable – Goals should be tracked through some form of analytics system.
Attainable – Make sure the goal is difficult but not impossible. Use historical data to ensure your goals are both enough and achievable.
Realistic – Planning is easy, execution isn't. Make sure you have the workforce, resources, and produce the goals.
Time-bound – A goal should always be set for a particular time. Choose a realistic date and begin pushing toward completion by that time.
What Is The Purpose Of A Marketing Plan?
The next step to set up a great marketing strategy is to align your objectives with your goals. Objectives are the "How" of the planning process. Instead of focus on marketing, you can hire a freelance writer to help you craft great content that ranks so you can build your customer service and pay more attention to your purpose!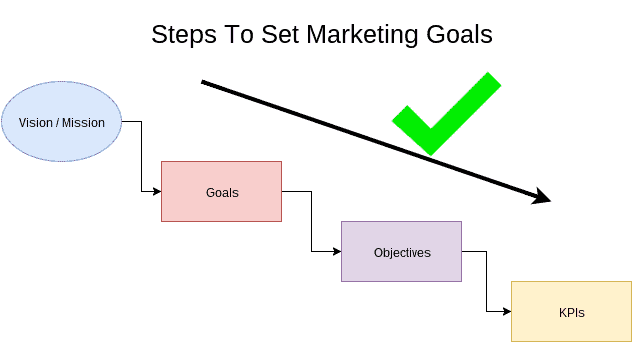 Objectives are steps that you need to take to achieve the goals you set in the previous step. Your objectives should detail your next steps in some specific areas, including:
What you will do.

Who will do them?

Date of delivery.
Objectives back up your goals and map out the direction your business must take to achieve your goals and fulfill your mission and value. You can judge objectives by their efficiency and effect on the mission.
KPIs Ensure Alignment With Strategic Direction
A KPI is a metric that you can use to help you understand how well you are meeting your objectives at each step. KPIs are the "What" of the planning process because they show you how well you are doing on a micro-scale.
Claim Your Free Local SEO Consultation
Fix your rankings in local SEO and walk away with actionable steps to improve your rankings.
KPIs should inform your business decisions on the go. It's important to know what not all KPIs are equal, so be sure you track the right KPI for your needs. Each marketing channel will leverage different KPIs to gauge the strength of each objective. Among your marketing channels, SEO marketing is one of the most difficult to optimize for but with time and careful research, you can succeed and see long-term growth. 
KPIs are a lot like the rudder of a ship because they show the course you are on and can help you identify how to steer your objectives.
How Do You Set Business Goals With A Marketing Plan? 
You can harness the power of KPIs once you know which KPIs are most important for each channel of a marketing strategy.
This is where data collection and analytics come into play, but that is a discussion for another time.
Each channel plays a particular role in the success of a campaign. Think of each channel as a different position on a football team, and KPIs are the stats and roles of those players.
You wouldn't judge the performance of an offensive lineman by how many touchdowns they throw because that is not part of their role on the team.
Here is a brief list of the top KPIs for each channel in your marketing strategy.

What Is The Main Goal Of A Blog In A Marketing Plan?
Blogging is an excellent way to establish yourself as a thought-leader in your industry. A blog allows you to speak to your customers in a natural and meaningful way.
Do you think a blog is just a place to rant about your emotions? Nope!
A well-crafted blog provides your business with a unique outlet to reach your audience. A great blog also positions your brand as a go-to source for consumers looking for information that you are an expert on.
Your blog is an interactive channel to deliver information to your customers in a fun way. Your blog is a place to produce content that speaks to your audience throughout their personal audience journey. Let's take a look at how to start blogging for your business!
You can start thinking about all the details once you have a solid body of work to show your readers. Trust me; this is tough. I am the first person to get caught up on the fonts, colors, sidebars, etc. of a blog.
You need to focus on the value you are delivering to your audience through your blog. Think about the content and why they want your information and less on the blog itself.
As you focus on your audience, your blog will become a valuable resource for your content strategy. Don't let the blog hinder your ability to help your audience. Always benefit your audience.
Use your content through content mapping strategies and build your blog into knowledge that your audience will love!
So get out there, stop making excuses and give your audience the information and insight they need to engage with your products and services!
Bring Different Marketing Strategies Together Today!
It's not easy to put together a business marketing strategy, but it's not impossible. The first thing to do is think about your vision and mission. Then create SMART goals based on your mission. Once goals are set you can create objectives that will help you reach your goals. The next step is to identify KPIs for each channel to meet your objectives.
By following these steps, you will be on a great start to a winning marketing strategy! There are plenty of free small business marketing tools that you can use to understand your market, analyze your competition, and optimize your content to drive more sales!
Now it's your turn. What process do you go through to create winning marketing strategies? Let us know in the comments below!