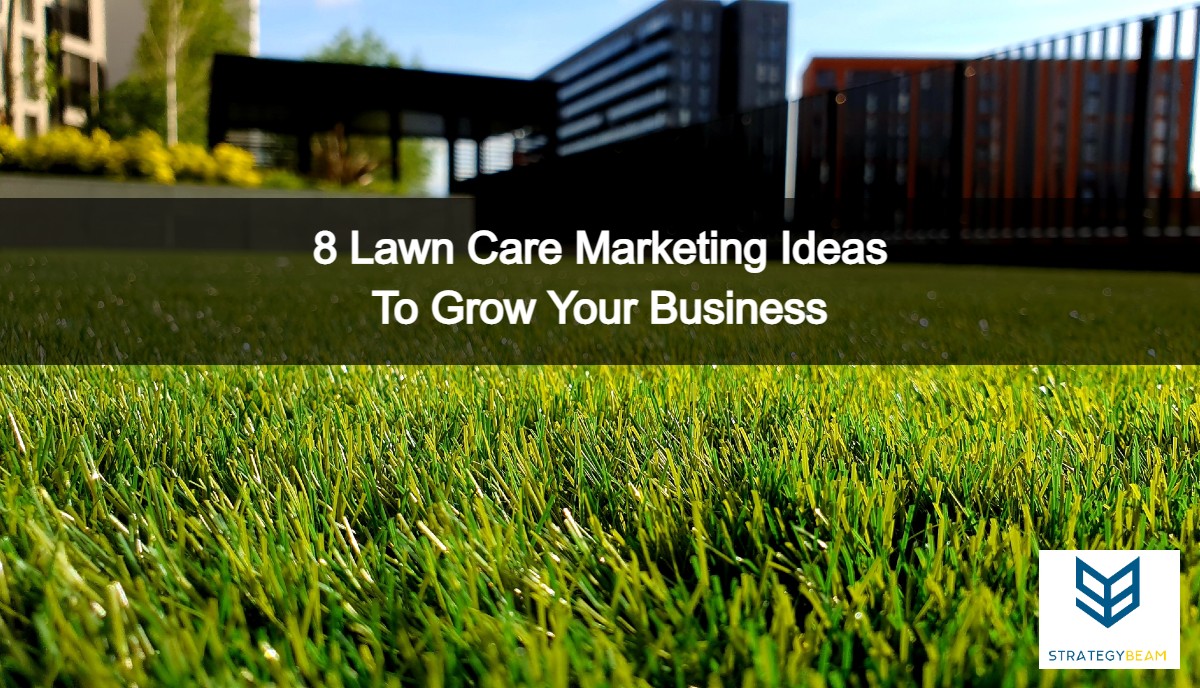 Grow Your Customer Base With These Lawn Care Marketing Ideas
You might think marketing a lawn care business is as simple as advertising your business, and customers will come. That's not always the case. To grow your customer base and get new jobs, you need to market in creative ways that stand out from the competition.
That's why we created this blog post that has eight awesome lawn service marketing ideas for landscaping companies like yours. With these strategies, you'll be able to start attracting more customers!
1. Build A Powerful Lawn Care Website For Your Lawn Company
It's no wonder why landscaping companies spend so much money on website development. It's the foundation for your marketing efforts!
That being said, you need to create a site that is easy to use and navigate, has plenty of information about your lawn care services, and includes lots of images or video content for prospective customers.
A great website can help grow your lawn care business because it will allow your lawn care company to speak directly with new customers, plus it will act as the "hub" for your entire marketing plan. Here are some tips to help you build a great lawn care website:
Business Name & Phone Number: Add your business name and phone number in the header of every page. When you place this information in a clear spot on your website, you help existing customers, and new customers reach out to you for more information. Plus, this information on your website will help you rank higher in Google searches.
Transparent Pricing: You don't want to make it hard for potential customers to find your services or prices.
Add Testimonials: New customers might be hesitant to choose your lawn care services, but you will increase trust when you add testimonials to all pages of your site.
High-Quality Images & Videos: A great advertising strategy that you can use is to add engaging images and videos across your site. This content will connect with your customers and help drive people to call your team.
Your lawn care website needs to focus on the needs of potential customers. As you build content around SEO, you will show up in search engines as new customers look for your services.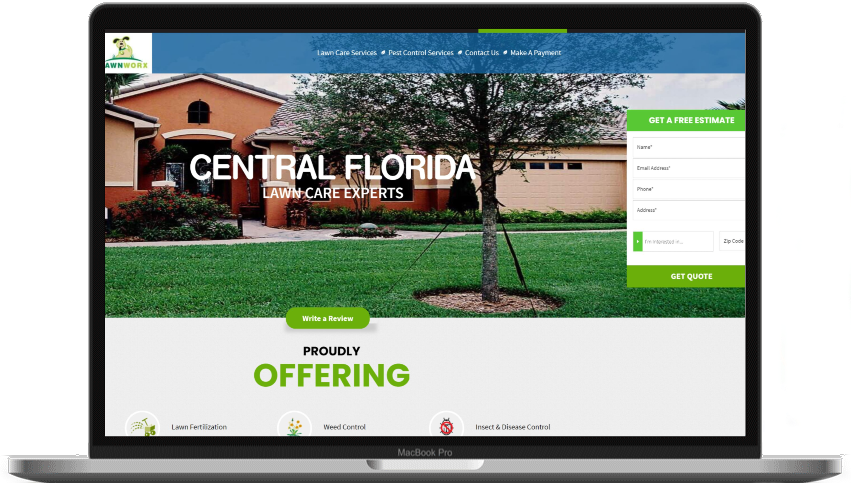 Your company should have a clear call-to-action at the top of every page as well as some "offers" section where people can see what deals/discounts you're offering right now.
This is one of the best marketing tips that you can use because strong CTAs on every page will help potential clients move forward in purchasing decisions. Plus, promotions and discounts can help you close more jobs as potential customers look for deals and savings throughout the year.
The bottom line? Make sure your website reflects professionalism, trustworthiness, quality workmanship, and reliability to attract more clients.
2. Create Educational Content On Your Site
Content marketing is one of the best marketing strategies for a small business. You can help homeowners find your lawn care company by publishing engaging content that answers the questions your target audience asks online.
Offer educational resources that teach people about essential lawn care tips. You can offer professional lawn maintenance ideas to help build your online presence and get found by people who need your services.
While it might seem like you are giving away your best information, the truth is that your educational content will help search engine optimization efforts, so you get found by homeowners in your service area.
When it comes down to it, every client is looking for ways to save money without sacrificing quality workmanship by hiring another company.
This may include offering landscaping tips and tricks that are easy to use or posting lectures on lawn care via video.
If you provide valuable information for your visitors, they will be more likely to purchase something from your site – even if it's just a subscription to one of the landscaping services you offer!
3. Develop Seasonal Promotions
Local businesses need a way to grab the attention of potential clients, and there is no better way to do this than with seasonal promotions. You can use a simple template to make seasonal specials to fuel your digital marketing efforts.
You can link your PPC and Facebook Ads to these specials, so you are not only powering up your SEO and customer acquisition efforts, but you are also supporting your paid lawn care advertising efforts.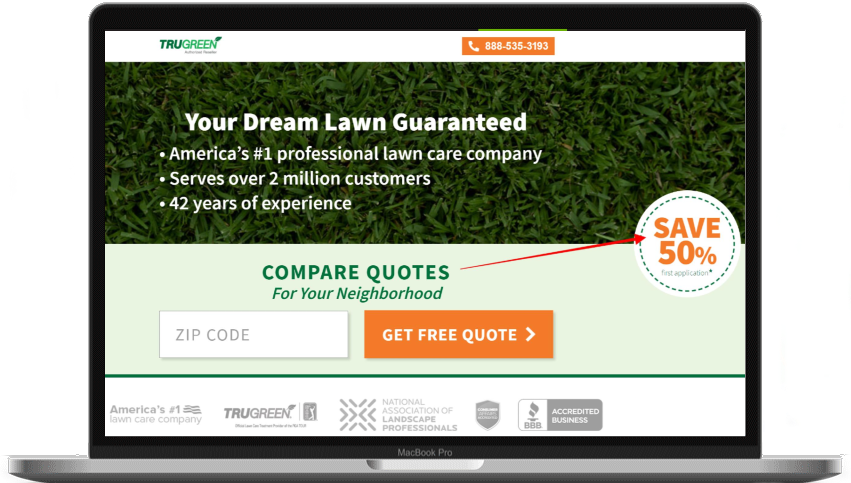 Give your landscaping company a boost by planning special promotions for different times of the year. You may want to offer discounts at specific parts of the season when you expect a slower business, or you might come up with a deal that targets customers who have just bought new homes.
Consider hosting an event where potential lawn care customers can learn about your services and giveaways!
It's also important to choose promotional items carefully to reflect what type of customer would be interested in taking advantage of these offers (e.g., if you provide landscaping packages, think about giving away gardening gloves as one example).
4. Publish Google Ads & Facebook Ads For Lawn Care Needs
Google Ads and Facebook Ads are great tools for landscaping companies to reach more potential customers and bring in higher profits.
It's essential to make sure the ads are targeted so that you're only reaching people interested in landscaping-related items instead of all Google users.
The best way to do this? Implement geo-targeting based on your service area.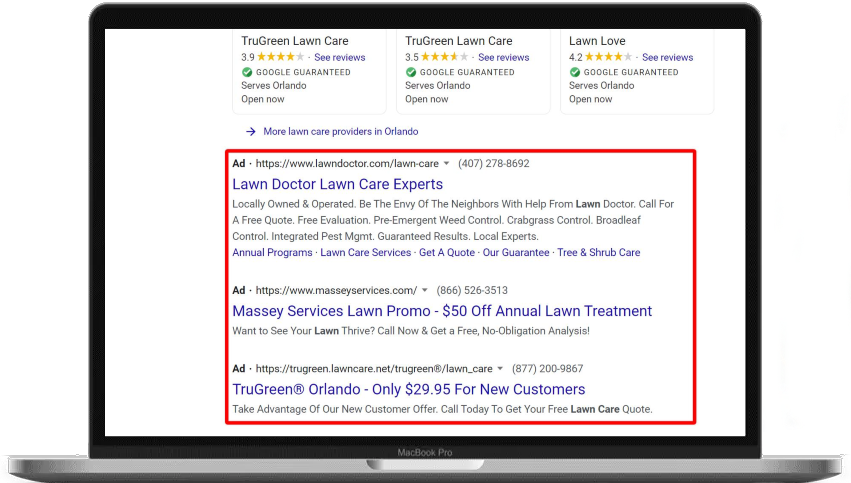 Make sure your ad campaign is set up with zip code or city preferences, so it doesn't go out across the country when you may not have any business there. Ads should also be relevant – meaning they reflect what type of landscaper services you offer (e.g., lawn care).
You can display information about the best lawn care services that your offer customers and these platforms can help you reach a wider audience at the same time. The only thing to remember is that you are paying for each click on these platforms, so you need to have them set up and managed properly throughout the year.
5. Post On Facebook
Facebook is one of the most popular social media sites, and it's also an excellent marketing tool for landscaping companies.
Posting photos and videos that are relevant to what people are searching for (e.g., if someone searches "lawn care" or "landscapers near me," they'll see these posts pop up as a suggested post)
Facebook is a great platform to post updates about your business, photos of past work, and videos of your crews in the field. Unlike other marketing channels, Facebook is best used for visual elements and you want to post content that speaks to the social needs of your customers.
6. Publish 2-3 Google My Business Posts Each Month
As a landscaping company, you should be attempting to take advantage of Google Maps by creating posts for your business. For example, the page might have a post about landscaping tips and tricks that are easy to use or videos on lawn care lectures. The more content you can share with potential customers who may need your services to make their lives easier, the better!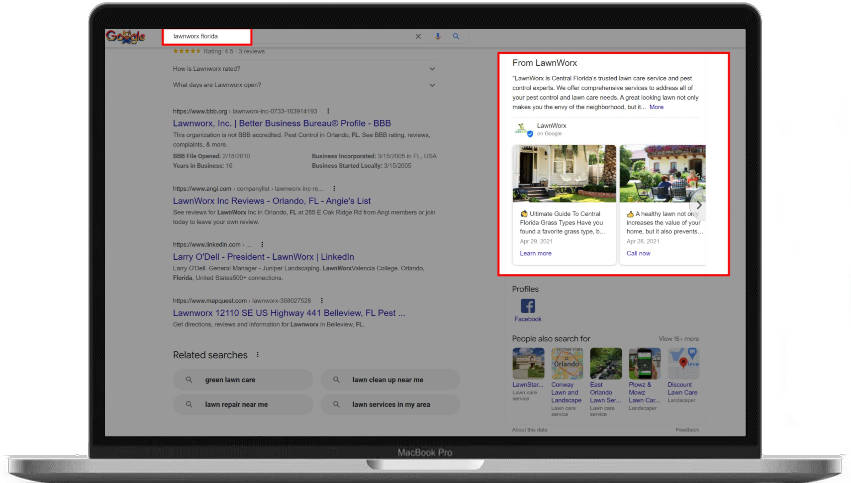 The best way to do this? Post two or three Google My Business updates each month, so it's not overwhelming for visitors; these updates could include pictures from recent jobs as well as landscaping advice (e.g., "how often should I water my plants?")
GMB posts are a great way to share specials and discounts with customers, and these posts keep your GMB profile relevant in Google's algorithm. Be sure to publish a few posts to your GMB account each month to remain top of mind and help boost your local SEO efforts!
7. Wrap Your Trucks For Maximum Exposure
To stand out from the competition, landscaping companies should consider wrapping their trucks for maximum exposure. These moving billboards can help you increase visibility and grab the attention of potential clients as you drive through neighborhoods.
Truck wraps are an excellent way to provide potential customers with information about your company – without any hard work!
Wrapping a truck can be done quickly to save time (e.g., if you need help with marketing strategies). The process should only take a day or so, and it's also relatively inexpensive.
Truck wraps are an excellent way to increase revenue with landscaping companies because they can advertise in areas that may not have enough foot traffic for them to do landscaping services.
8. Make Professional Business Cards
Landscaping business cards should be an essential part of any landscaper's marketing campaign. One good way to make your landscaping company stand out? Make professional, personalized business cards that include the services you provide (e.g., "lawn care") and then the contact information for how customers can get in touch with you.
While business cards are not the newest or flashiest advertising ideas, they are an excellent way for you to convert more word-of-mouth, help with follow-ups, and can even help generate more referrals if you leave a card at each of your jobs.
The landscaping business cards you make should be professional, and they shouldn't include any text that isn't essential to the card.
Some landscaping companies like to use both color printing and black-and-white printing on their lawn care cards, but it's up to you if this is something you want!
Landscaping and Lawn Care Marketing Ideas
There are many other online marketing strategies landscaping companies can implement, but these are some of the most important ones that will get you started. The next step is to start using them!
Remember: Marketing is a marathon – not a sprint, so be patient and don't give up after your first week or two have gone by without any new clients coming in.