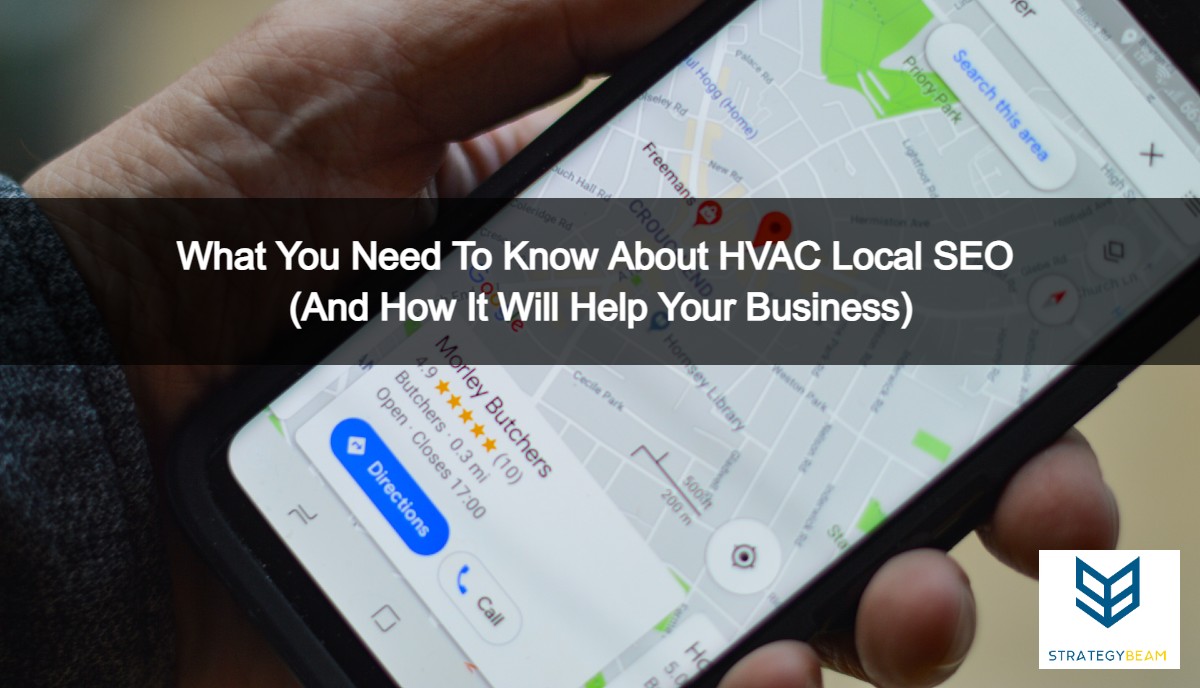 HVAC SEO is complicated, but if you want to even out the peaks and valleys throughout the year, you will need to have a strong SEO strategy to ensure you generate leads and book more jobs throughout the year.
HVAC contractors need a solid online presence with HVAC marketing, and that starts with local SEO to help you reach your target audience faster and for less money.
Aside from generating an increase in traffic, local SEO also has the potential to improve your conversion rate by driving local customers directly on search engines.
Along with HVAC Google Ads, Local SEO considers many ranking factors, and all good SEO campaigns need to be built around the needs of potential customers if you want to outrank your competitors.
Let's dive into how you can dominate your local HVAC industry and reach new homeowners with local SEO marketing campaigns today!
What Is Local SEO?
Local SEO is the process of optimizing your website for search engines to rank higher geographically. This marketing strategy requires lots of tactics like local citations, a robust Google Business Profile page, and an optimized HVAC website to rank high on the first page of Google Maps.
Local SEO can help HVAC businesses like yours get found and land more jobs by dominating the Google rankings for potential customers in your service area.
The key here is ranking high in localized searches so that customers will know where they need to go if they're interested in HVAC work.
Local SEO not only improves your online presence it will also help you capture more "near me" searches that are essential for a successful HVAC company- essential if you want to generate more revenue from customers in your geographic area.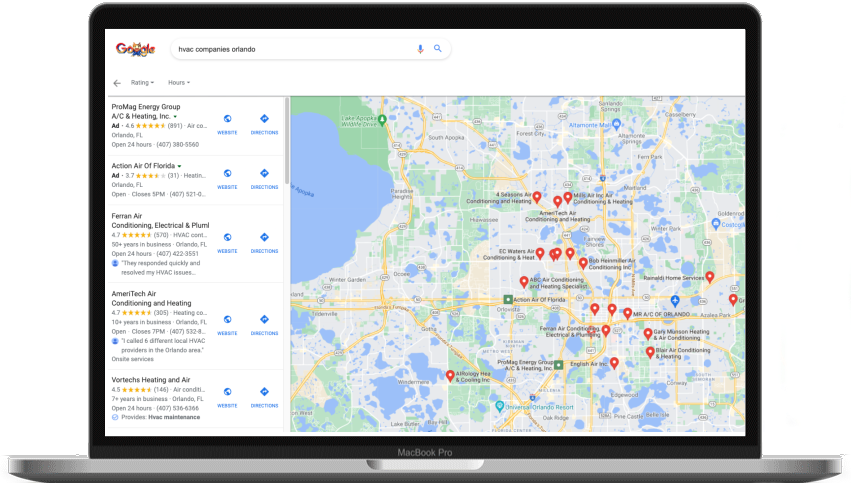 The Difference Between Google Maps & Google Organic Results
Google maps will show you your location on the map and allow you to search for businesses nearby. This is called the "Google Map Pack," and this area is prominent on mobile and desktop devices.
You might be saying to yourself that there's no point in ranking high in a localized search engine since people can find me through their maps – but it turns out this isn't true at all.
If someone searches "HVAC services" or "heating installation," they're not necessarily looking for HVAC work near them- they may want to know about those types of services period (and how much they cost).
By utilizing local SEO and keeping up with new technology trends like Google Business Profile, HVAC companies can rank higher online, so more customers can find your business near their homes.
Why Google Maps Matters For HVAC Companies
The Google Map Pack is an excellent way for customers to find an HVAC company near them – but what about those who are looking for something else? Most people will Google search "heating installation" or "HVAC services."
Traditional Google results will return lots of information about a general topic. These results are essential for your overall HVAC SEO strategy, but the truth is if you are looking to get the most "bang for your buck," then you need to get found in Google Map Pack.
SEO for HVAC contractors needs to combine traditional SEO and local SEO tactics to generate more leads and sales.
How To Increase Your Google Maps Rankings
It's essential to keep up with the latest technology trends to generate more traffic and improve your conversion rate. One of those is Google Business Profile, which allows you to rank higher on local search engine results pages (SERPs).
Google Business Profile connects all business listings across Google so that users can find them no matter what they're searching for. It also helps businesses like yours get found and land more jobs by providing answers directly on SERPS.
Here are some steps that HVAC companies should take to ensure their success when utilizing this strategy.
1. Geographic Proximity Matters In Local SEO
Local SEO is, well, local. This marketing tactic is based on the location of your customers about the location of your business. Local SEO depends on your customers' proximity, so you need to focus your attention on those customers who are in your area of operation.
Geographic proximity is one of the most critical steps for HVAC companies who want to rank higher on localized search engine results pages. It's not enough to be close- you have to make sure that your services are relevant and provide what people in a particular area are looking for.
This means ensuring that keywords like "air conditioner repair" or "heating installation" appear prominently throughout your website, social media accounts, and Google Business Profile profile. These "triggers" will tell Google and your customers that you offer the services people are looking for in the area that they are looking for.
2. Optimize Your Google Business Profile Listing
Once you have a Google Business Profile account set up, it's essential to optimize this listing so that people can find your HVAC company when they search for things like "air conditioner repair" or "heating installation."
This means including all the keywords and phrases relevant to your business to rank higher. This also helps users who want more information about an appliance, such as what models are available- which is helpful because most customers don't know where these products come from! Here are some tips to optimize your GBP profile to standout in local results:
Primary Category: Select "HVAC Contractor" as your primary category.
Secondary Categories: Choose relevant secondary categories based on your services.
Service Areas: Choose relevant "service areas" to clarify areas of your region that you operate in.
Phone Number: Make sure your phone number in GBP is the same number that is on your website.
Website URL: Add your website to GBP, and add UTM tracking to ensure you can tell how many people come to your site each month through your GBP listing.
Services: Add the services that you offer to your GBP listing to help describe your business to Google and potential customers.
Optimize Your Business Description: Make sure you use keywords in your description. Try to use all the space provided to get the most out of the GBP profile.
Make sure that SEO experts put together detailed descriptions with plenty of keywords (and content) on the page so visitors can get easy access to information without having to click through multiple pages. You need to build out your GBP profile to include all information necessary to improve your ability to rank against your competitors and make sure you give a good overview of your business, services, and value.
3. Make Sure Your NAP Is Consistent Online
One of the most important things to do when ranking higher on Google Business Profile is ensuring that your NAP (name, address, and phone number) is consistent. This means updating all listings with accurate information so customers can find you no matter where they search- including online, like:
Place your NAP in the header and footer of your HVAC website.
Your Facebook business page.
Yelp and other local services that you are listed on.
Other online citations that mention your business.
It's also a good idea to include this in any marketing materials or advertisements. It helps ensure local SEO success by connecting what people are looking for with your company.
Doing these few simple steps will help maximize your chances of generating more traffic and getting found when potential clients search through Google maps – which has never been easier thanks to technology trends like mobile devices!
4. Gather Lots Of GBP Reviews
A few things can help your HVAC company rank higher when it comes to local SEO for Google Business Profile. One of those is gathering lots of reviews because this helps businesses get found and land more jobs by providing answers directly on SERPs.
Reviews also show up prominently in searches, so before you know it, they may be one of the top search results! Reviews not only tell Google that you are a trustworthy business, but reviews also help customers trust your brand before they pick up the phone to call you.
Having good reviews will give customers confidence in your business- which means they'll feel like their needs will be taken care of after hiring an HVAC contractor who has plenty of positive feedback online or from testimonials.
There are plenty of ways to get more positive reviews for your GBP listing. One of the best ways to do this is to include a link to your GBP profile to customers after you complete a job. There are also other Reputation Management tools out there that can help with this automatically.
5. Publish GBP Posts & Images Each Month
Another way to ensure you rank higher for local SEO in the Google Map Pack is by publishing posts and images each month. This means adding new content or promoting something helpful for customers in your area- so they know what they can do if their air conditioner breaks down, etc.
It doesn't take a lot of effort on the part of an HVAC company owner- just some time! By adding just 2-3 GBP posts and 2-3 images a month, you will let Google know that you are active, and you will improve the relevancy of your listing compared to your competitors.
This is also an opportunity for you to show off what your company does. It's important because customers are more likely to trust businesses that have proof of the high-quality services they provide!
HVAC companies should always be on the lookout for new posts and images, which can help generate a steady flow of traffic from people who want information about heating installations or air conditioning repair in general and those looking specifically for HVAC contractors in their area.
It doesn't take much time at all – just some effort! And it will result in higher rankings on Google Business Profile listings with benefits like increased revenue and better customer retention rates.
Need Help From An Experienced HVAC Marketing Company?
If you're looking for help with your HVAC marketing efforts, our team at StrategyBeam can provide the strategies needed to build your reputation and attract new customers. To learn more about turnkey integrated digital marketing packages, contact us today!