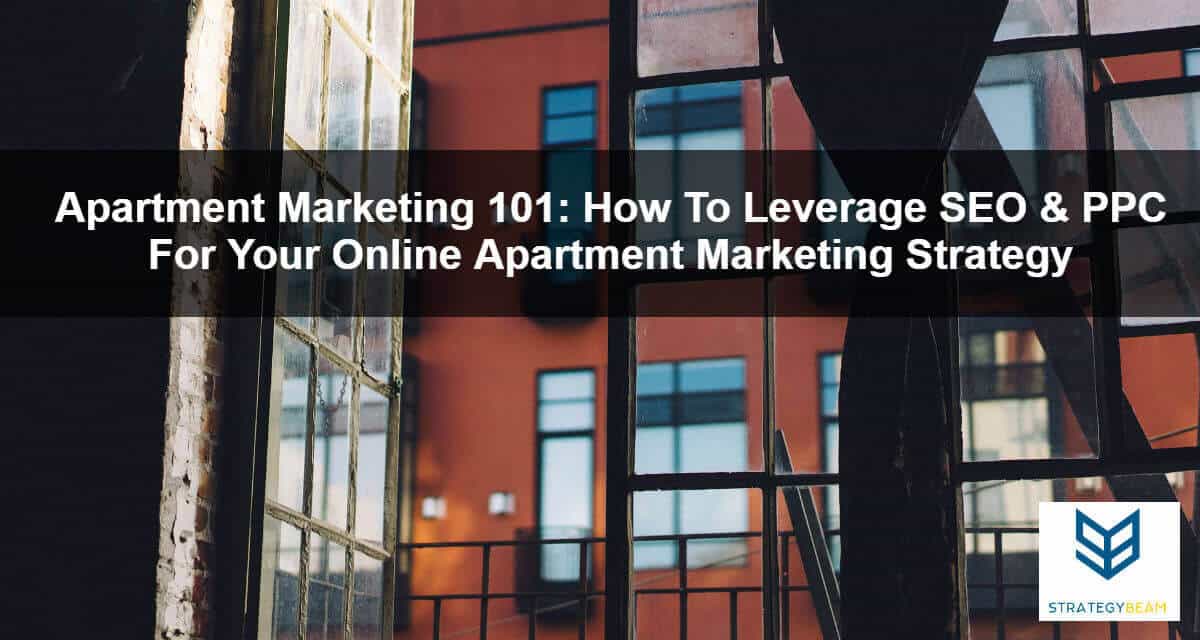 Apartment Marketing: One Piece Of The Puzzle
While managing an apartment complex can be a lucrative business decision, apartment marketing is not a walk in the park. Not only is it difficult to market an apartment complex in a way to ensure your brand remains strong, but it can also be extra nerve-wracking as leases are coming up for renters.
How do you ensure that your apartments have a robust Internet marketing strategy that boosts your online presence and drives more leasing opportunities with online apartment complex marketing? The best way that you can be sure that you are reaching the right audience and filling your pipeline to ensure that your multifamily complex has the best business operations possible.
For all apartment complex managers, the lease up is the most critical time of the year. This is the period where tenants decide on whether they should search for a new apartment or if they should say with you. New tenants are also continually looking for an apartment in your city, so your apartment marketing strategy needs to be focused on the needs of potential tenants and current residents.
What Matters Most For Apartment Marketing?
Internet marketing is focused on sales and driving your bottom line. As an apartment marketer, the most exciting aspect of marketing multifamily properties is how personal and diverse the needs are for tenants searching for your property.
This is because the needs of your residents vary, and it is your job to align your services and amenities with the requirements of your customers. Some of the elements you need to consider when building your apartment marketing strategy with digital marketing are:
Location of your property
Unique Value Proposition of your community
Family sizes and relevant amenities
Your community reputation and reviews
Important local surroundings and opportunities
Since your apartment has a range of amenities, you should think about what is necessary for your residents and how your community meets their needs.
We will discuss some ideas and the exact process you should go through when building your online marketing strategy, but let's first talk about some key terms that matter for your online presence.
The Basics Of Apartment Marketing SEO & PPC Strategies
Figuring out how to attract, engage, and sign the necessary amount of leases each month is an ongoing struggle that keeps many apartment managers up at night. Along with needed to run the business, ensure current tenants are satisfied, and dealing with day-to-day issues as they come up, apartment managers also need to market their apartment complex efficiently.
Instead of searching endlessly for tips and tricks to market your apartment complex, we will look at the tried and true tactics of SEO and PPC for your apartment marketing needs. These tips are valuable for any apartment marketing initiative, but they are even more vital if your apartment complex has a small apartment marketing budget.
If you want to get the most out of your apartment marketing budget, then you should know the basics of SEO and PPC marketing and how your apartment complex will benefit from these two Internet marketing strategies.
Start At The Beginning: What Are Your Keywords?
Keywords, also known as "search queries," are what potential renters type in the search box when looking for something. Keywords are leveraged by Google and other search engines to connect the needs of your customers with your apartment complex. This is why keywords are so relevant- because they are how customers find you through an online search or paid marketing.
Not only can you leverage keywords for SEO marketing, but you also need types of keywords for Google AdWords management. Just like organic SEO marketing, your apartment complex will need to think about the needs of your customers if you want to engage in PPC marketing.
Before you begin optimizing your online content around your apartment marketing strategy you should think about the needs of people, unique amenities of your community, and what makes your multifamily complex unique.
The best way to do this is to build a simple spreadsheet that shows what people will look for online and the keywords you will highlight on your website landing pages and PPC ads.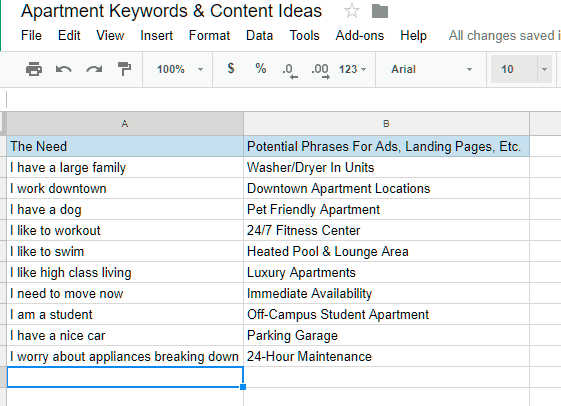 Take time to think about factors that are important to your potential renters. These can vary, but you can look at the amenities and features of your apartment complexes to start thinking of what your potential renters want.
If you want to attract tenants with dogs, then highlight your pet park and other amenities that are important to dog lovers.
If you want to entice high-end luxury tenants, then you should base your message around luxurious amenities and other features that meet their needs for luxury apartments.
If you have heated or covered parking options that your competition does not, then you should include content about this feature and why it matters to people searching for your community online.
The Goal Of Keywords
The goal of your apartment marketing keyword strategy is to attract the best leads for your apartment based on the solutions you offer. The value of your apartment strategy should center around overarching themes based on the amenities and unique features of your community.
As we discussed above, your online apartment marketing strategy will revolve around keywords that are relevant to your customers and valuable to your apartment business.
Think about where your apartment is located and the type of renter you are looking to attract. You can focus on the amenities you provide and the needs you are looking to fulfill for your customers. Here are some ideas that you can focus on for your website content, PPC ads, Ad Groups, and other online content to help your apartment complex appear in search engines:
Pet-Friendly
Luxury
Student Housing
Location
Near By Attractions
The Difference Between High Target and High Traffic Keywords
Since your apartment complex is located in a physical location and your qualified renters will likely be searching for an apartment in a specific area. To help your property rank for particular keywords and attract your target audience you should focus your keywords around your community, city, or other qualifying terms around your complex.
Instead of wasting your time or money ranking for generic terms like "luxury apartments," you should spend your marketing efforts to rank for "luxury apartment in Orlando" if your apartment complex is in Orlando, FL.
If you use your apartment marketing efforts to focus on keywords that include your city and other local qualifiers, then you will be able to capture more local traffic and your leads will be highly qualified. Here is an example of difficulty to rank for "Luxury Apartments In Orlando."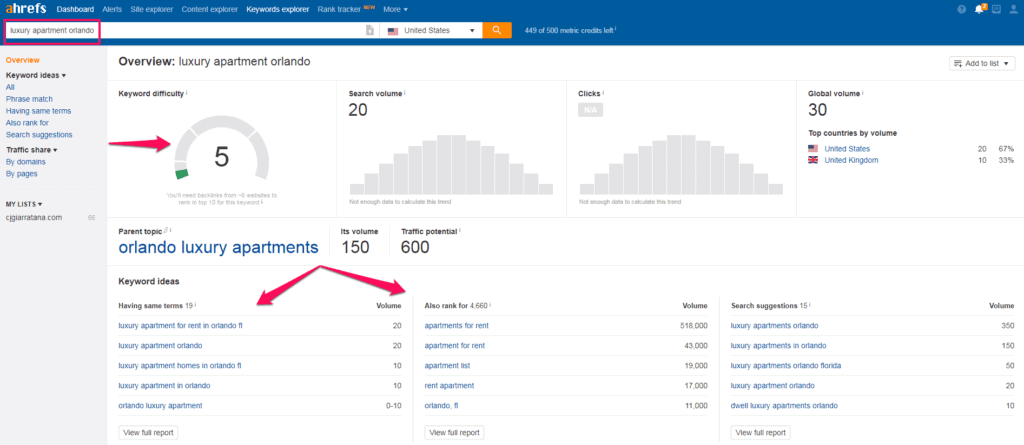 In this screenshot from Ahrefs, you can see that your luxury apartment complex has an excellent chance to be efficient to rank and capture good traffic for this term. You should use this time and other related terms in your website content and paid marketing initiatives.
How to Utilize Google AdWords to Lease Apartments
One of the best ways to attract renters to your new apartments during lease up is with targeted apartment marketing with the help of Google AdWords. Adwords is a form of advertising service offered by Google for those who want to display ads for their products, services, or properties on Google and its advertising network.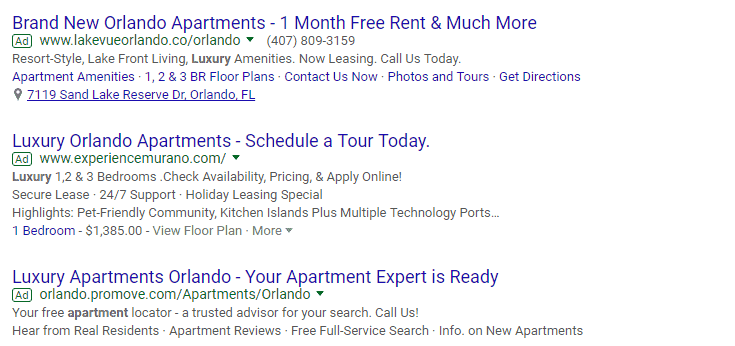 As you can see in the above are some examples of Google AdWords ads that appear for the search term "Luxury Apartment In Orlando." These are highly relevant because they only show for people searching for the keyword. This means that these ads just appear for someone who is interested in a luxury apartment in Orlando, FL.
See more real-world examples of how to implement the above tips & tricks for your apartment community:
This is where keywords are vital for apartment paid search marketing. While PPC can be an expensive cost for some apartment complexes, if you set up the settings and other factors correctly then your complex will see highly focused and relevant traffic from this online marketing strategy.
The AdWords program allows the property, or property management company to set a budget for the campaign, and it's only charged when someone clicks the ad. This type of advertising focuses mainly on keywords and your apartment can tailor how, when, and what will show for your apartment marketing PPC campaigns.
How To Use Keywords On Apartment Landing Pages
If you are leveraging PPC marketing campaigns for your apartment marketing strategy, then you need to ensure that your landing pages contain similar keywords and phrasing as is seen on your PPC ads. Even if you are not using PPC marketing right now, you still need to use specific wording on your website content based on the tenants you are trying to attract.
Here is one example of a landing page from Lake Vue, one of the PPC ads we saw from above for "luxury apartments."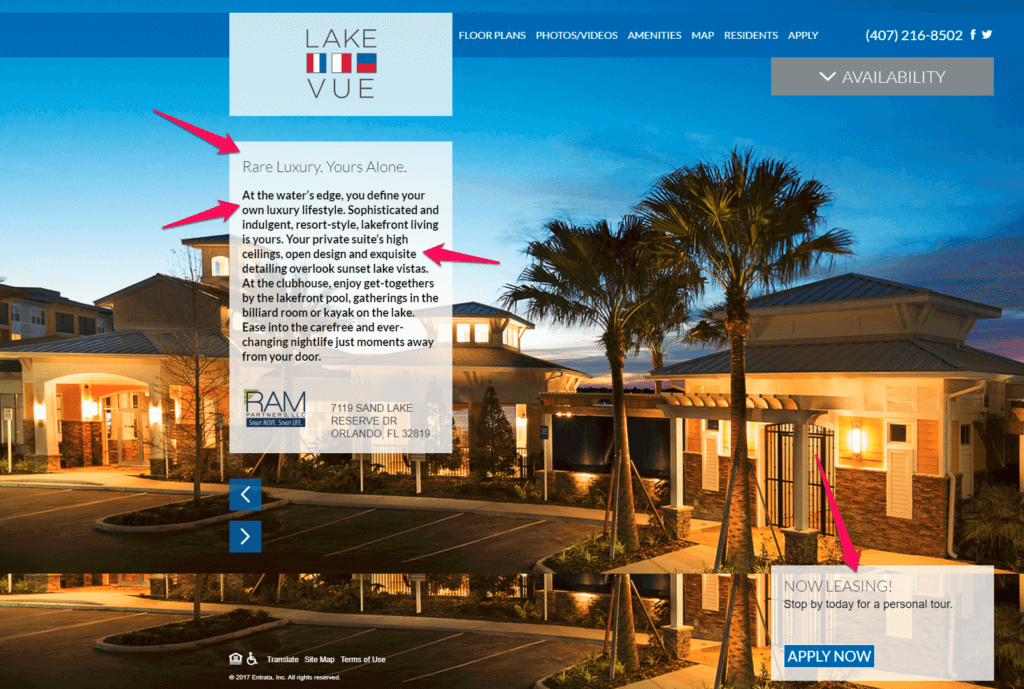 Since we were searching for "luxury apartments" online, Lake Vue knew that their customers are high-end tenants who demand high-end amenities. Based on the PPC ad URL, we can see the landing page their apartment marketing team uses to reinforce their luxury apartment message.
Right at the beginning of their text, they use the term "luxury" several times, and other phrases like exquisite to define their community. These words and their message lend to the idea that they are a high-end luxury apartment. Not only does this phrasing help their website rank online, but it also makes their PPC marketing campaigns more effective since Google takes the words on landing pages into consideration when calculating the Quality Score.
How to Utilize Organic Search to Lease Apartments
As we talk about renters looking for an apartment via Google, the organic search would be the first thing to come to mind. Organic SEO marketing is an essential piece of your overall apartment marketing strategy because organic content helps your apartment establish your online presence and drive more traffic.
If you are part of a small marketing team for your apartment complex, then you should optimize your web pages with the keywords you want for each section of your site. This will help you not only rank for organic SEO terms, but your PPC marketing will also be more efficient because Google AdWords considers the consistency between your PPC ads, the keywords you are using, and the keywords on your landing pages.
To ensure that your apartment is established as a community leader, you should consider maintaining professional blog content that covers specific elements that are important to your potential renters. Things like moving tips by seasonality, local events, and other topics that are focused on prospective renters.
Proven Apartment Marketing Strategies For Your Business Success!
If you are struggling to attract and close the number of leases you need each month, then you can use the above suggestions and steps to help you reach your goals.
Using PPC campaigns in conjunction with Organic SEO marketing will help you market your apartment to great success. Focus on your website content as you build out your tactics, and remember that online marketing is just one piece of your apartment marketing strategy.
If you are tired of trying to market and run your business, then consider hiring a professional apartment marketing professional. I will work with you to identify your target audience, customize your messaging around what your ideal tenant is looking for, and deliver the results you expect. Contact me today if you are ready to help your apartment reach its goals and relieve the ongoing stress of apartment marketing today!