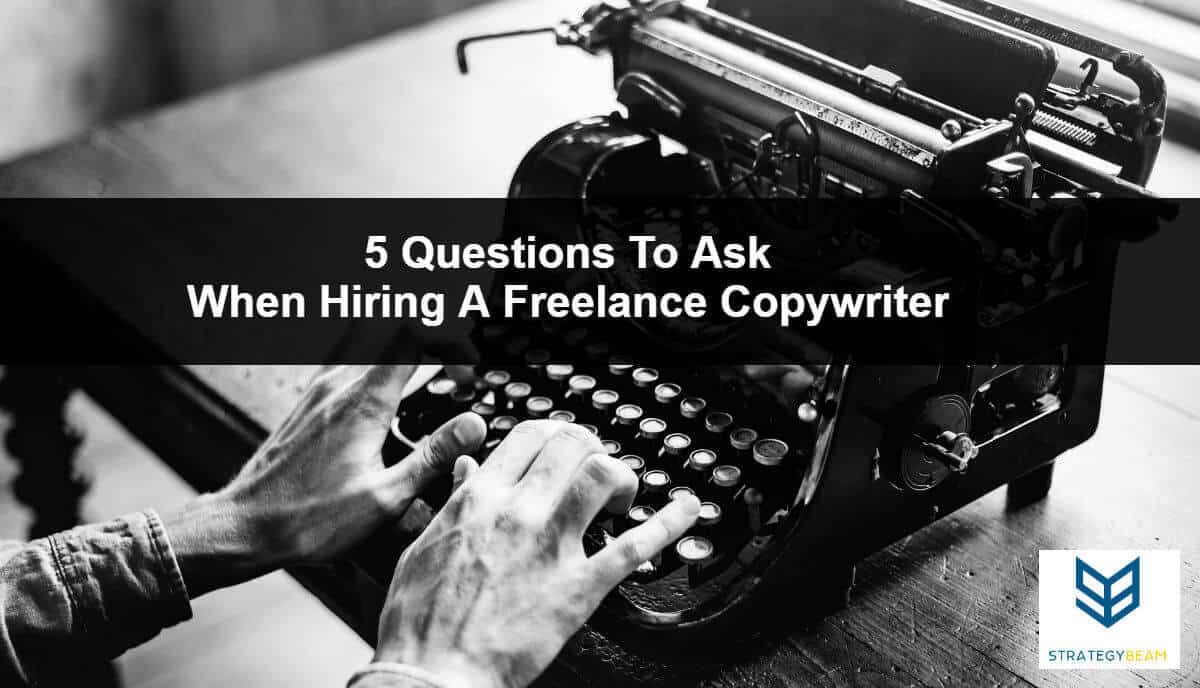 How Can A Freelance Copywriter Help Your Business?
Content is the bloodline of your online presence because the material is how you answer your customers' questions. Since your website and blog offer your business an outlet to speak directly to your customers, you can use the content as a way to attract customers to your business through search engines.
Not all businesses are the same because not all customers are the same.
The type of content that your business will need to gain a competitive advantage will vary based on your industry, target market, and customer base.
While you should not rely on a single type or form of content to reach your customers or increase sales, the written word is still the most important type of content that you can use for your online marketing strategy.
Even though the tide of customer preference and SEO is turning to video and interactive media, the copy is still the vital pillar for your website, sales pages, landing pages, and blog posts.
Understanding what people are looking for, how search engines process information, and how you can use copywriting projects to position yourself in your industry is a vital part of building a vibrant online presence. You should also look for a great freelance copywriter who knows how to write content based on the devices that your audience will read the information on.
This is where SEO copywriting for mobile devices comes into play, and you should make sure that you are confident that a writer will make effective content that works across different devices.
Hiring freelance copywriting services can help you gain a competitive edge without taking on the risks and overhead of having a full-time copywriter on your payroll.
Why Hire A Freelance Copywriter For Your Business?
Since writing engaging content, especially compelling written content is vital to the success of your business you can't risk leaving money on the table or losing sales due to poor copy. The main reason that a potential buyer does not do business with your business is that either they can't find you online as they use search engines to find solutions to their problems, or your online content does not compel your audience to take action.
The first thing that you should do to help your company drive more prospects to your site and close more sales is to hire a freelance copywriter.
As a for-hire partner, your copywriter will work with your leadership to evaluate your content needs and set up publishing guidelines to guide your team through the steps to build a profitable online marketing strategy. There are many writers online who are marketing themselves as the perfect solution for your copywriter needs. Many promote services as a freelancer, and this can make hiring the right writer for your needs difficult and can turn the hunt for a great freelance copywriter into a frustrating process.
Your company could face three main issues that can cause friction as you try to find the right copywriter for your content marketing needs:
Your team may not be knowledgeable about the qualifications that a freelance copywriter should have to fulfill your business needs. This can lead to you not asking the right questions to ensure you hire the right individual.
Some copywriters only focus on their ability to write copy for a website or blog but fail to show their process to research, optimize, and distribute that content to proper channels. This means copywriters do not cover the procedures the most essential steps to help your business reach your goals.
Your company may not have an established methodology for screening freelance writers. The lack of a standardized process can make the hiring process random and lead to unreliable results.
Choosing the right freelance writer is more important than ever because search engines and your customers have become more sophisticated in how they want the correct information to trust. At the same time, the hiring process can be expensive because it takes valuable time and resources to accomplish.
Your business could be wasting time and money if you choose the wrong freelance copywriter, plus your content marketing strategy can't risk having content that does not perform.
One approach that you can take to find the best copywriter is to ask the right questions during the interview process. Here is a list of items that you can ask when hiring a freelance copywriter.
1. How Familiar Is The Copywriter About Your Industry?
Freelance copywriters have a set of skills to help them write great content for a range of businesses, and part of this skill set is the ability to learn and write about a wide range of topics. Even though copywriters know the right tools and process to discover great information, most writers will specialize in a limited number of industries and subjects.
Specialization is a valuable quality for you to look for since your freelance copywriter will be able to talk address the needs of your customers at a more detailed level than a generalist.
However, niche copywriters can be hard to come by, and these copywriters often demand more for each piece they write for you. This difference in price becomes more apparent in more industrial markets that require specific knowledge to communicate clearly with different audience segments. A strong freelance copywriter will also have a background in content marketing and have experience as a Content Strategist.
2. How Excited Is A Writer About Your Industry?
When a copywriter is excited about your company or industry you know, they will do a better job researching and writing your content. Even in dull sectors, a great freelance writer will be able to be motivated because they love the entire process of research, write, and optimize content for your business.
During your interview, you should be sure to probe to see if your potential writer is curious and enjoys learning. These qualities will equate to better copywriting that gets found by search engines and converts your readers.
3. What Is The Writer's Availability?
While your business needs great content to get found online, you also need a dependable writer who can deliver content on a regular schedule based on your company needs. If your writer is not available or overworked, then you may not be a priority as deadlines come up. This can result in late delivery, or poor communication as urgent projects come up throughout the year.
Not only should your writer be available based on your needs, you should also make sure that your freelance copywriter knows how to prioritize marketing tasks to help your business accomplish your marketing strategy.
One way to screen for writers with limited availability is to ask what their average response time is for emails or other communication methods. You should usually look for writers who will respond to emails within 24 hours and ask the writer for references that you can call to ask about their dependability.
You may also want to consider the Time Zone that your potential writer lives in. There should be no issue if they are in a time zone with a few hour difference, but if you are looking for a writer in a time zone that is 5+ hours different then you could experience communication issues regardless of how reliable that copywriter is.
4. What Quality Is Their Content?
The most import part of hiring a copywriter is to review how well they can actually write content. During the interview process, you should discuss sample work, and the writer should be able to produce examples that show material that has limited grammatical errors.
Asking freelance copywriters for samples of past work is a crucial step in the hiring process that some businesses overlook. Skipping this step where you check past work is a big mistake because hiring a copywriter is all about evaluating the type of content they produce to see if it fits your brand's voice and tone.
Along with the message they provide, you should only hire a freelance copywriter who can research and produce content that addresses the needs of your content. Your freelance writer should know how to look at data when building SEO content, and you will need to make sure that the writer understands how data is changing the world of marketing.
5. How Much Does The Write Know About SEO?
Search Engine Optimization is a quality that is baked into great copywriting. While your company may not want your content to be overly optimized for search engines, you do need your copywriting projects to get found in search engines. The reason that SEO is a core feature of copywriting is that your company needs to reach your audience based on how they search for your products or services.
During your interview, you should ask your freelance writer if they can show you their process to understand search intent, keyword research, and how to align keywords with specific pieces of content. You can also ask the writer to explain how they identify customer journey, but that is an advanced question and is not essential for a writer.
In general, it is better to hire a copywriter who is a great writer first and knows about SEO than it is to hire an SEO expert who knows how to write. While this is not an absolute guide, you should look for a copywriter who knows how to produce content for your audience first and search engines second.
Hire The Perfect Freelance Copywriter
You have a lot riding on finding, interviewing, and hiring the right freelance writing for your company's marketing needs. Not only do you need to produce great content to get found online and drive qualified traffic to your site, but you also need a professional copywriter who knows how to work with different industries to deliver value at each step of the way.