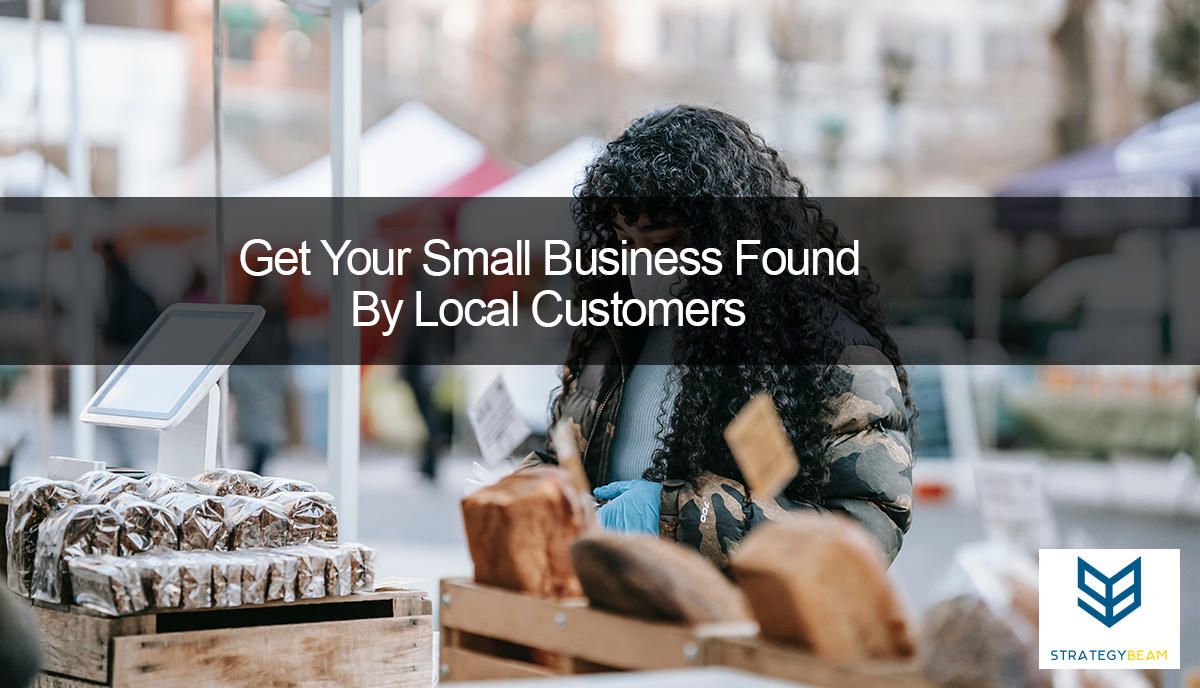 Get Your Small Business Found By Local Customers
Thanks to the internet, marketing a business has become both easier and more daunting than ever before. As a business owner, you have to think about getting potential customers to buy from you, and part of the strategy has to include digital marketing channels based on the needs of your audience with local SEO marketing.
However, if you are like most small businesses then you don't have the SEO budget to compete against the largest industry players. The fact is that large companies with large marketing budgets have the ability to build brand awareness and buy marketing tools that small business owners can't afford.
In these cases, you will need to use creativity to build a marketing strategy around your target customer base, while leaning into local search to ensure you get found by people in your geographic area.
While this might seem like less of an issue at the local level, it's still part of marketing. Fortunately, local marketing is easier than larger-scale efforts, and it does come with some unique quirks you can use to your advantage.
Why Is Local Marketing Important?
If you rely on potential customers who live near your business or you work in a specific service area then local marketing is an essential part of your digital marketing strategy. Instead of competing against your large competitors on traditional SEO and content marketing, you can use your marketing dollars to get your business online and found by local customers.
If you help local customers or you want to build a larger customer base in your local market, then local marketing is for you. You can grow your business by getting found in Google Maps, publishing your business in directories, and optimizing your Google Business Profile (formerly Google My Business) to ensure you get found by your ideal customers without needing to spend lots of time or resources.
What Marketing Strategy Can You Use To Dominate Local Search?
Ranking for specific keywords is a basic part of SEO, and your local business can bring your digital marketing strategy to new levels by focusing your time and resources on local marketing strategies.
Instead of thinking of all customers around the world, you should think about specific customers based on their needs and proximity to your business. You can use social media to build brand awareness, run contests to grow your email list, and invest in your local SEO marketing strategy to get your business found by potential customers as they look for your products and services.
Now that we have a basic understanding of what local SEO and local marketing are, let's take a look at how you can reach a local audience and drive more sales today.
1. Focus Your Online Efforts
Your marketing campaign is a vital part of the success of your small business. You need to focus on marketing tactics that will yield the greatest results possible as efficiently as possible. It's easy to get distracted with the latest social media platforms when the best answer is typically the tried and tested marketing tactics.
Local businesses rely on local customers calling their phone number and visiting their storefront. The good news is that local marketing strategies can help you achieve both of these goals and more!
With the right online work, online traffic can flow from local customers looking for your products and services. Include keywords local customers may use to find businesses like yours. This will help direct local traffic toward your site. This includes publishing your business Name, Address, and Phone Number (NAP) in business directories and even local newspaper websites.
This approach will help you appear in Google search results whenever a potential customer searches for something you offer in your geographic area.
2. Localize Social Media
A lot of social media sites have local sub-pages for towns and cities, and you can leverage these social media network sites to help drive qualified traffic to your site.
Reaching out with localized social media is a great way to garner local interest from the local market. For example, you want to make sure you have an optimized Facebook page with your NAP.
Consistency is key with local marketing, because Google and other online tools use your Name, Address, and Phone Number to verify your business listing and get you found in search results.
Along with optimizing your social media network pages, you should also post high-quality images of your products and services, publish customer reviews, and upload other content from existing customers to help you build trust with new customers. You can also use this content to grow your customer loyalty and drive new business throughout the year.
3. Look Local for Reviews and Support
Local reviews and testimonials can make or break your small business. Testimonials and reviews can help build a relationship with potential customers as they research whether they should do business with you or a competitor.
Google Business Profile and other online platforms use reviews as a way to indicate that your business is trustworthy. Not only do reviews help your business from an SEO standpoint, they also support your business as customers learn about you and look for a solution to their needs.
A successful local business with wide local approval from the community is more likely to get new and recurring customers. Not only that, but you can obtain wider local support as people work to support local businesses over national chains.
4. Localized Ads
Depending on your business model and local competition, you may want to consider running local search ads for your business. Different channels like Google Ads and Facebook offer targeting options so you can show ads based on where your ideal customers are located.
Not only will these ads show relevant content based on the needs of your audience, you will also reduce wasted ad spend because you can show your ads to only people in a specific location.
Along with social media, any ads you put out for marketing should be localized in focus as well. This may seem obvious, but it can be tricky with online ads. It's easier with paper ads, but those can tend to be expensive, and their use in the digital age is questionable.
Whether physical or online, locally-focused ads help steer traffic to local businesses. For example, if there are local events, ads can be generated in reference to them to help build interest for the event and direct your potential customers to a landing page where they can buy tickets.
5. Support Local Organizations For Your Local Marketing Strategy
A key part of local marketing is to stay active in your community. You can do this by sponsoring local events, charity drives, and even local sports teams. Not only will this build brand awareness in the local community, but it could also lead to backlinks and other benefits that will improve your local SEO results.
Local businesses getting together to support each other makes for a stronger community and a better fight against national chains, and you can start that process by researching opportunities in your local community or partnering with your local chamber of commerce.
Reach Your Target Audience Today!
Marketing can be difficult and time-consuming for anyone, so as a small business owner you need to invest your time and resources in a marketing strategy that will produce the biggest bang for your buck.
Focusing marketing on local efforts does take a bit more effort and attention. For a small, local business, though, that local support is what keeps the business afloat. Even with an online presence, its people coming through the front door keeps business operational.
Thanks to the digital age, it's easier than ever to market locally. At the same time, there's something to be said for a coupon in the mail or a local event sponsorship. Look at your fellow local businesses; engage with them and the community, and work to build keywords and reviews that attract local business.
Digital resources have made it easier than ever for small businesses to offer perks like reward programs, coupons, or event support. If you focus and support locals, locals will support you and your business. It will take some marketing focus, but the work is well worth the effort!