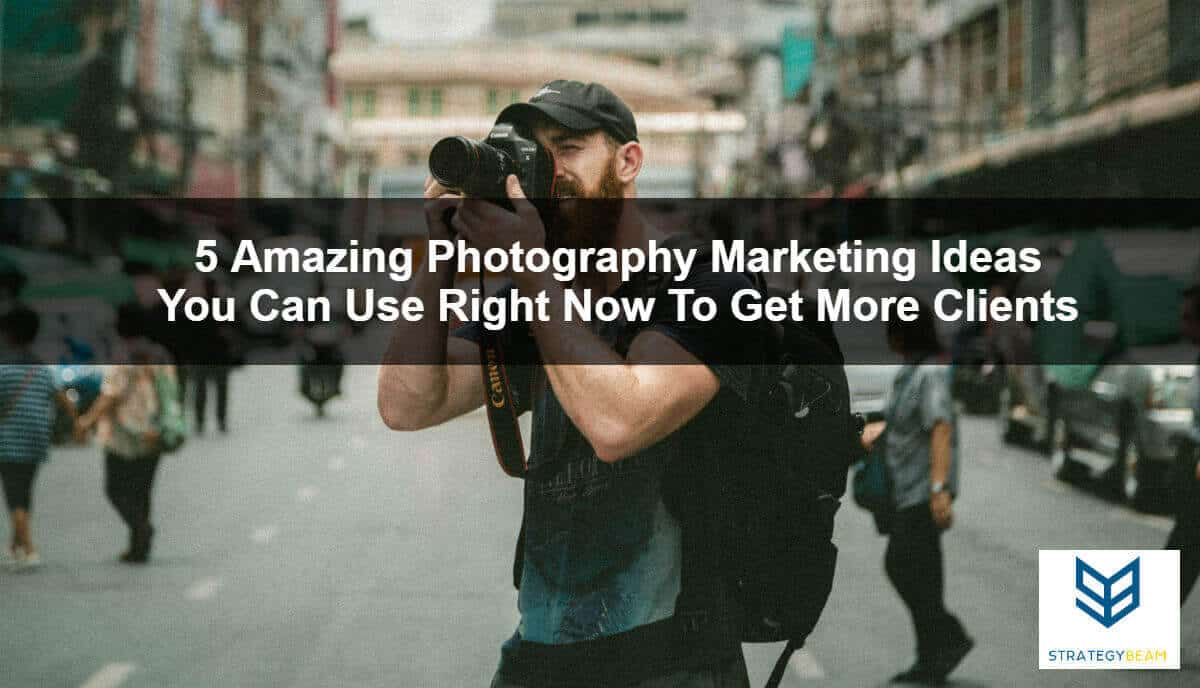 Starting a photography business is easy since most photographers are simply hobbyists who love the creative side of taking amazing photos.
However, where many photographers lose their footing in the market is when they are not able to grow a client base to support their passion. Let's face it, photography is a very creative craft that demands upfront costs (camera, gear, lighting, etc.) and requires you to spend time building a reputation in your community, so you should do everything that you can to grow your photography business with great marketing strategies. You will need to work hard if you want to be seen as the go-to photography expert for a given niche and drive more paying customers to your services.
You can use a number of free small business marketing tools to help you save time and energy each day. There are specific tools to help small business owners save up to 9 hours each week, so you can definitely see the benefits that come from using the best tools before jumping into marketing and advertising your small business.
If you are a new photographer, or an experienced expert looking for ways to grow your presence and land more photography jobs then you should focus on the best ways to drive qualified traffic to your site. We have developed 5 of the best photography marketing ideas, based on local HVAC marketing ideas, that you can use today to start building your business brand and drive more clients to your site!
1. Optimize Local SEO & Google My Business
In this internet-dominated age of ours, most people rely on Google whenever they need an answer to a question. It started with informational queries, but now Google has become an essential part of the process that consumers use to find products and services that are in their area. You can use Local SEO tactics to drive more business to your site, and you can also use Google My Business as a powerful way to build our brand in your local community and market.
Google My Business, which is often shortened to GMB, is an excellent way for small businesses to advertise themselves online without having to spend too much. Seeing as most photographers depend on local clients, getting their GMB listing optimized is an absolute must.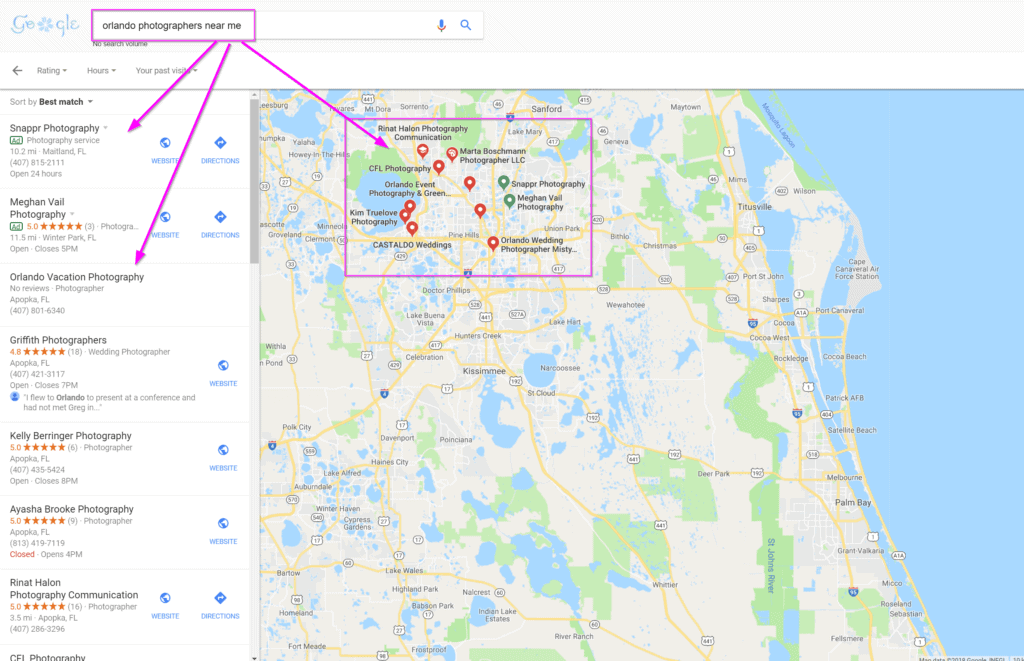 Whenever someone goes to Google to search for a local photographer, you can claim a prominent position on the Search Engine Results Page (SERPs) with a GMB listing.
If you manage to optimize your GMB listing effectively, whenever a client searches for "photographers in my area" they'll be greeted by your website, email address, and other invaluable information. It's crazy to think how much visibility you can gain without paying a single cent.
Customers can also leave reviews on your GMB listing which will serve as social proof later down the road. Having your customers leave reviews on your GMB page is one of the best ways to boost the position of your listing and grow your influence through social proof!
2. Make Your Website Personal
One of the most valuable weapons of any photographer is not only their camera but also their portfolio website. Your portfolio website makes it easy for anyone to look at your work, regardless of where they might in this wet planet of ours. Since the competition for photographers is growing, you can prove your skills and value before clients even hire you by showcasing the best work on your site. This is a great way to grow social proof and build your reputation as the go-to photography for the needs of your clients.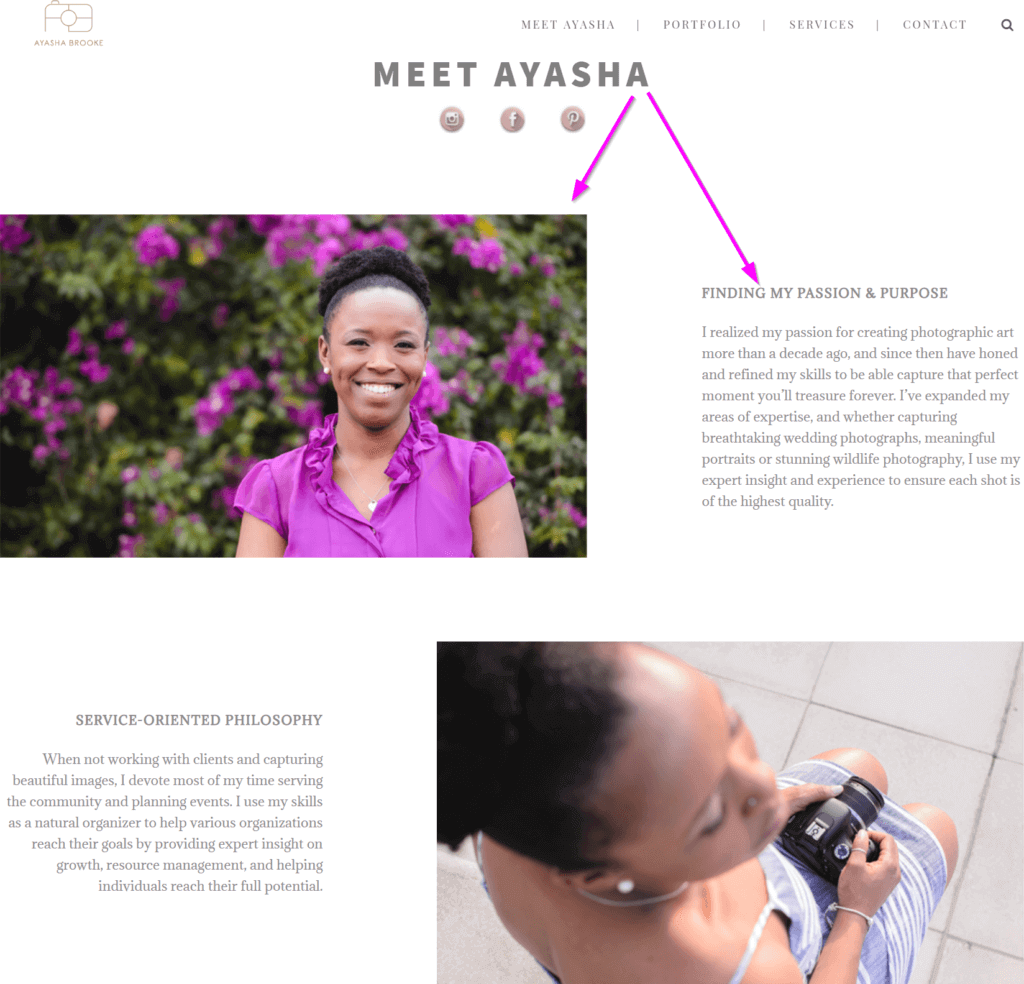 Whenever you're building a portfolio website, there are a few things that you have to remember if you hope to be successful. The first thing to bear in mind is that you have to establish equal representation for your work and your services. You should post the best pictures that highlight your skills and organize those photos based on the needs of your customers. Before building a website you should make sure that you understand how to write great copywriting for your business website so you can drive qualified traffic to your site and convert your customers.
Showcase all your best photos, but also clearly explain how your service works. A picture is worth a thousand words, right? You can use the portfolio of your website as a quick and easy way to communicate with your clients and build a reputation before you even talk about an upcoming photo shoot! If you already have a website then you should consider conducting a comprehensive website audit to find ways to improve the structure and optimizations of the site.
Another critical thing to keep in mind while building out your site is that it needs to serve as a central hub for all your marketing efforts. There are many ways for photographers to showcase their work and try to generate leads. This includes places like Flickr, Pexels, Shutterstock, and countless other platforms. Your website should serve as the glue that holds all your different channels together.
Whenever you're talking to a prospect, be sure to lead them toward your website. You can build a portfolio practically anywhere on the web, but your site is one place that you'll always have total control over.
3. Focus On Website Speed
Most business owners strive to offer a positive customer experience regardless of which niche or industry they're in. When talking about customer experience in the context of your website, it's imperative that you factor in the load speed.
The portfolio websites of photographers are often filled with high-quality images. Be sure to compress all your images so that the site loads fast enough to satisfy any leads and prospects. Think about it, what do you do when you navigate to a website that takes forever to load?
If you're like most people, you'll likely get frustrated, close the tab, and take your business elsewhere. The same applies to any prospect that might be looking to hire a photographer. Let's face it, humans have short attention spans. This is especially true for people on their mobile phones, and you should work to always improve the speed of your site if you want your photography business to benefit from a high-quality and professional looking website. All of these aspects are connected to optimizing your photography website for mobile users, and this is part of your overall marketing strategy.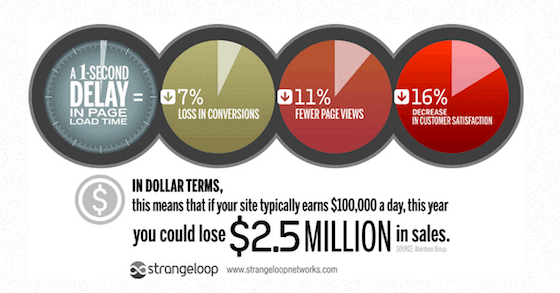 Your next potential client isn't going to wait until the website loads patiently, they want to get the information they need right now. The longer they wait, the lower your chances of getting a new client.
Google conducted a study in 2012 showing that most users that browsed websites on their smartphone were willing to wait for around five seconds before they decided to move on and close the tab. It's likely that the attention span has only decreased since then.
4. Showcase Photos On Photo Sharing Sites
Being a photographer in this day and age is far more comfortable than it would have been at any other point in history. With the power of the internet, sharing photos online has become a breeze. You might be reluctant to post your images at first. Here are a list of the 8 best photo sharing sites that you can use for your photography business:
The main concern that most beginner photographers fear is the possibility of someone stealing your work. That said, there are lots of reasons why you should be putting your photographs on the web for everyone to see.
When you make your work easy to access, there's a higher chance that an author or publisher will stumble upon it, take an interest, and then contact you.
Many photographers have reported success in using platforms like Flickr to find new clients. Some get their photos published on the covers of books or used in marketing material of large companies.
One photographer, Rosie Hardy, ended up getting her photo used on the cover of a Maroon 5 album after she posted it on Flickr. Could you imagine the exposure these photographers get with the mainstream exposure they receive? All because they chose to share their images with the public and reap the rewards of their great work!
Sharing your work online doesn't just help you find new clients, it also makes it easier for you to grow as an artist seeing as people will be able to offer honest feedback.
5. Engage On Social Media
It's often a significant investment for someone when they hire a photographer. That being the case, it's essential that you establish a relationship with your prospect to help you close the deal.
Building a strong brand for your photography business is a must, whether you're looking to reach a Silicon Valley corporation or a small flower shop. No matter who your target audience is, it is vital that you know how to build a relationship online that will keep your customers looking for you and build trust from the first steps to secure a sale.
When you build a social media strategy you should also look for ways to incorporate User Generated Content (UGC) for your pages. Not only does this approach help your organization generate great content, it also helps you connect with your customers on a deeper level.
If you are building your business with a limited budget then you should focus on how to build traffic to your site through organic social media strategies. However, you can use paid social media photography marketing strategies if you have the budget and knowledge. Be careful though- Facebook, Google, and other channels could burn through lots of cash so be careful before you jump into this option.
When it comes to engaging, there's really no better way to do it in today's world than to utilize the power of social media marketing. When you use social platforms, you'll be able to not only increase your visibility but also engage with your customers.
There are over three billion social media users across the globe (nearly half of the total population) which means you'll get an insane level of exposure without spending a single cent. Platforms like Pinterest or Instagram can help you build interest in your work.
No one can hire you to do work for them if they haven't even discovered you yet, so becoming visible to a large number of people is paramount if you want to succeed as a photographer. Social media marketing is a low-effort, high-yield proposition that gives you the benefits of traditional advertising at a fraction of the price.