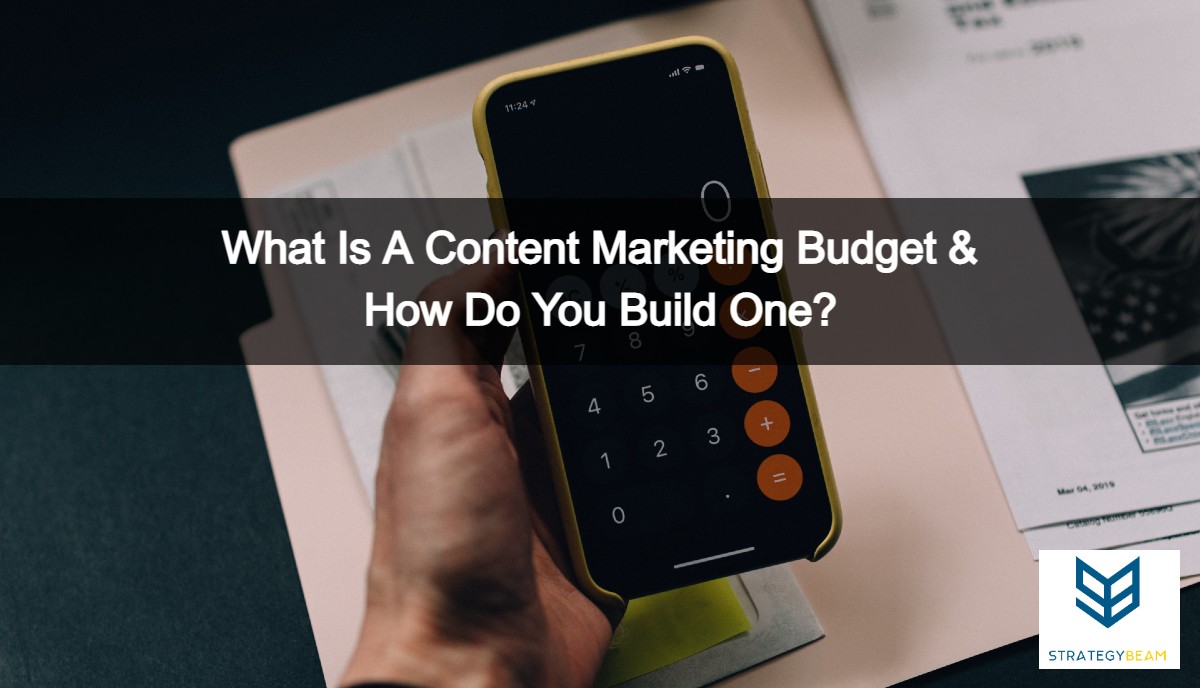 Content Marketing Planning & Budgeting
As a small business owner, you know how important marketing is for your bottom line. While it costs capital to formulate a stellar marketing plan, the ROI makes it all worth it. Still, it can be difficult for marketers to get executives to agree to bulk up their marketing budget.
Each day, consumers are exposed to over 5,000 ads. Offering quality content helps cut through the advertising clutter by providing valuable content. So it's a good idea to invest in it to help your brand stand out.
That being said, content marketing is one of the most powerful approaches you can use to build up your business. It's proven to contribute to brand awareness, web traffic, and customer acquisition growth.
Whether you are just starting to formulate your content marketing budget or looking to improve your existing one, identifying the best budget for your content marketing strategy will help you target your marketing efforts, maximize ROI, and grow your business.
Why Invest In Content Marketing?
Traditional marketing methods are slowly becoming outdated. Television commercials and radio ads no longer pull the same amount of interest as they once did. So marketers must look to new approaches to increase traffic to their site and boost conversions.
Content marketing involves creating and sharing online materials, such as blogs, videos, and infographics, to attract your target audience to your business website. This means it's an excellent way to connect with your ideal customers and draw them into the sales funnel.
You must build your content marketing budget based on your company's unique strategies and goals. Since lead generation is the primary goal of content marketing, you'll want to budget accordingly. Your audience will organically seek out your content via their search engine, so it's an excellent investment for any B2B marketers looking to increase leads.
Don't designate a budget if you don't have the resources to spend on execution. It's better to invest heavily in one area rather than spread your budget too thin.
Let's examine the specifics of designing a content marketing budget that will attract the right people to your site.
How Do You Build A Content Marketing Budget?
Your content marketing spend is more than just a number on a spreadsheet. You may become frustrated if you just think about what you can afford to spend at the moment.
You may be wondering if you should keep your marketing strategy cost-effective or invest more in technology and expertise. But the answer is that the best content marketing budget is the one that will give your business the best chance at growth. Here are some things you must consider as you build your marketing budget.
Take Account Of What Content Marketing Can Do For Your Brand
Target Specific Metrics Connected To Your Digital Marketing Campaign
Consider Your Company's Size
Research Average Content Marketing Budgets For Your Industry
Make The Most Of The Budget You Have
As you build your content marketing budget, start with a plan based on the KPIs you wish to target. This will help focus your budget on benefiting your company and set your teams up for success. Take a look at your total marketing budget and plan to allocate about 25%-30% towards content marketing.
Prioritize YML Content In Budget Spend
Of course, some content requires higher Some industries require unique, informative content that offers reliable value to their potential clients. Google refers to this type of content as Your Money or Your Life, or YMYL. In a nutshell, it's content that can directly impact customer happiness and satisfaction if inaccurate. It can take the form of:
News And Current Events
Information On Groups Of People
Financial Advice
Shopping
Law And Government
Health And Wellness
This type of content encourages people to take a specific action, make a decision, or could otherwise impact their lives. Inaccurate or low-quality YMYL content will negatively impact your customers' lives, making it more high-stakes than other types of content, so it's normal to devote a higher budget to YMYL content.
Let's look at some essential content marketing costs you need to budget for to design the most robust digital marketing campaign possible.
Must-Have Items To Include In Your Content Marketing Budget
There's no one-size-fits-all approach to creating a content marketing budget. But there are specific things you need to account for to ensure your budget is realistic and practical.
A Strong, Skilled Content Marketing Team
One area of your content marketing spend you never want to cut is the part that funds your content marketing team members.
A stellar piece of content doesn't just happen. It requires excellent creators with knowledge and expertise in search engine optimization (SEO) and intelligent content creation. If you recruit an employee to generate content with no training, you run the risk of spending your marketing budget on poor-quality content that doesn't get results.
Content creators have a particular set of skills that enhance your content to help your business meet its marketing goals. Here are just some of the roles you need to invest in as part of your new content marketing budget.
Role
What They Do
How Much You Can Expect To Spend
SEO Writers

Use SEO best practices, like targeting keywords, to enhance your existing blog content.
Helps your content rank highly on search engine results pages, or SERPS

$100-$1000 per post, depending on word count and experience level
Social Media Manager

Develops a social media posting strategy.
Sets a content calendar to ensure the right posts show up on your followers' feeds at the right time.

$300-$5,000 per month, depending on experience and the nature of your campaign.
Website Copywriters

Highly trained professionals who write quality marketing content that performs well.
Can also write website copy designed to enhance the ranking of your web pages.

$75-$500 per page, depending on experience level
Web Designers

Ensure your website is visually pleasing and functional.

$75 an hour, on average.
Graphic Designers

Take your digital and print content to the next level by making it appealing to your target audience

$15-$150 per hour, depending on experience.
These are just some of the roles and commonly required skills you'll need for a robust content marketing strategy. If you assign these roles to in-house team members who may not have the appropriate experience, you risk generating content that underperforms.
You may consider outsourcing your content creation to a content marketing agency. These agencies have the experience, expertise, and resources to create consistent content. They are also well versed in best practices, proven strategies, and performance reporting, which helps you focus on other aspects of your marketing strategy.
These partnerships may be a sizeable investment, but in the long run, outsourcing your content creation is more cost-effective and gives you confidence in your content marketing approach.
Technological Tools
Good content marketing requires the right tools. And while investing in your
Between data analytics, social media optimization, and automation, your capabilities will only be as extensive as the tools that support these efforts.
Technological tools offer essential insights and let you scale your digital marketing strategy to reach more significant portions of your target audience. Let's look at some content marketing tools you need to consider in your content marketing approach to increase ROI and enhance your business's workflow.
Content Marketing Tools You Can't Live Without
What They Do
Average Pricing
Keyword Research Tools

Helps to focus content creation on relevant topics your ideal customers are searching for.
Works to capture your audience's attention at different points in the customer journey

$90-$500 a month, depending on the number of queries needed
Email Marketing Software

Allows you to store data, email, and track content subscriber lists.
Offers templates to create visually pleasing messages for email marketing

Free-$300 a month, depending on the plan
CRM Platforms

Helps your business keep customer details updated
Tracks every interaction
Offers consistent customer account management.

$12+ per user for small businesses

$50-$150 per user, per month for larger businesses

PPC Advertising

PPC can amp up your content marketing campaigns and give you an edge over the competition

About $1-$2 per click
As you formulate your content marketing budget, consider the tools that will simplify your team's content marketing efforts. Invest in the people and technology that make sense for the size of your business.
Remember, if you invest wisely, these decisions will allow you and your team members to focus on other aspects of your business, which will facilitate growth.
Tips To Maximize Your Content Marketing Budget
Once you have an idea of your content marketing budget, you'll still need to take steps to maximize your marketing spend. Here are some tips you can use to make the most of your marketing budget.
Leverage In-House Talent
Whether your business is a startup or an established brand, there is a good chance that you have in-house employees who can help produce content.
Ask around to see if anyone is experienced in writing blog posts or has an SEO background. This is a great way to utilize the talent you have already hired to help reduce your content marketing budget.
Hire Freelanders And External Agencies
On the other hand, hiring experts for a short period of time can help you create excellent content at a fraction of the cost of internal hiring.
For instance, you may pay a freelance blog writer $100-$200 per piece of blog content or an external agency a flat fee to optimize your website for technical SEO.
Once the job is done, you'll have a better supported content marketing strategy and will no longer have to pay that person or entity, saving you money in the long run.
Keep An Eye On ROI
Every piece of content you generate will not be the cornerstone of your marketing strategy. Since you used desired key performance indicators to formulate your marketing budget, you'll need to revisit them to ensure you're on the right track.
Monitor KPIs and metrics for your content and do some A/B testing to see what works. This will ensure your budget is being used to its maximum potential. You can compare two pieces of content to see which one is generating more web traffic, leads, and user engagement.
Once you highlight the content that offers the most ROI, you can phase out or optimize underperforming pieces. As you create new content, you can focus on adding the elements you found successful to other areas of your content marketing strategy.
Optimize Existing Content
You put a lot of time and effort into your existing content. Instead of removing it from your website completely, consider optimizing it.
For instance, look for underperforming blog posts that address customer pain points or help people new to your niche understand essential terms. These pieces of content have the potential to enhance your content marketing strategy and can be made new again with a few simple adjustments.
This approach can help boost ROI since you already have historical data to reference. Identify content that isn't performing well or has lost popularity and use content optimization tools to make them fresh and enhance its performance.
You can use free tools like Google Search Console to better understand how to improve your existing content to attract the right people. You can also use SEO tools like Clearscope and SEO Testing to refresh your keywords to help your current content rank better.
Remember to update old statistics, correct any errors, and add new research to help breathe new life into your existing content. This is a great way to stretch your content budget while enhancing your digital marketing strategy.
Conclusion
How successful your content marketing approach is primarily centered on budget. But even the tightest content marketing spend can yield fruitful results.
The most engaging and successful content has been carefully designed, optimized, and marketed using best practices and tried-and-true marketing strategies.
No matter your content marketing budget, quality content will always stand out. The more money you can assign to this purpose, the better your ROI will be moving forward.
Check out our comprehensive list of free marketing tools for small business owners to help add some wiggle room to your content marketing budget and take your business to new heights.