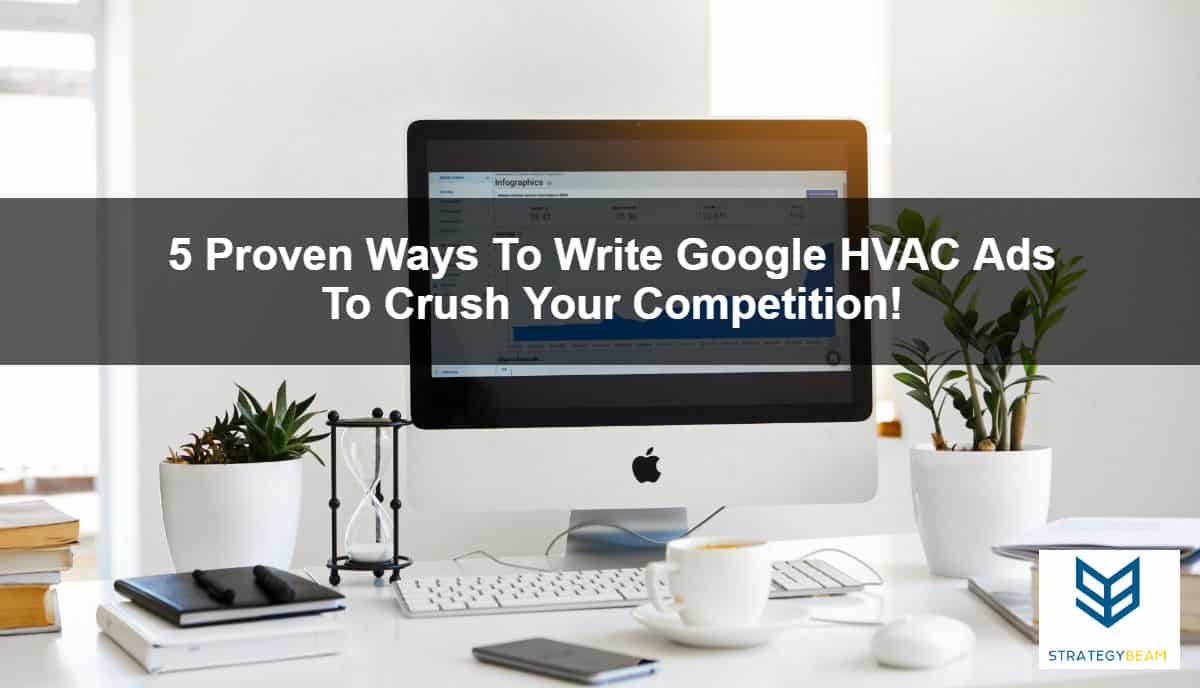 Writing Great HVAC Google Ads For Your Business
No matter where your HVAC company operates, you know that you need to generate more HVAC leads and calls to keep your company growing. Whether your community needs heating in the bitter cold of Montana, or the sweltering heat of a Florida Summer day, local customers are looking for HVAC services.
While you know people are actively looking for your services, you may be struggling to find the right HVAC marketing strategy for your business. Perhaps your recent newspaper ad or radio commercial fell flat. Even worse, you may be struggling to attribute calls and leads to traditional marketing campaigns.
The good news is that you can use Google Ads to market your HVAC company, cost-effectively. Assuming you set up your Google HVAC ads campaign correctly, and you have optimized all the settings, you will need to write excellent ad copy that gets found and drives engagement with your customers.
What To Focus On When Writing Google HVAC Ads
In many ways, running a Google Ads campaign for an HVAC company is similar to maintaining an AC unit. While it is not a physical unit, each Google Ads campaign has several moving parts and variables that need to be maintained to allow maximum output.
One factor that HVAC contractors need to optimize in their PPC campaign is the copywriting side of things. Google Ads show up at the top of SERPs, and your ads need to engage with qualified leads.
While there is no exact template for writing great HVAC ads, we wanted to provide some general tips so you can write better ads to drive more leads and calls today!
1. Your Unique Selling Point
Every Google HVAC ad that you write needs to share the unique offer that helps you stand out from your competition. Your Google Ads should address the immediate need of your customers- whether this is AC repair, furnace install, or air quality products, you need to put the product or service at the center of your Google Ads.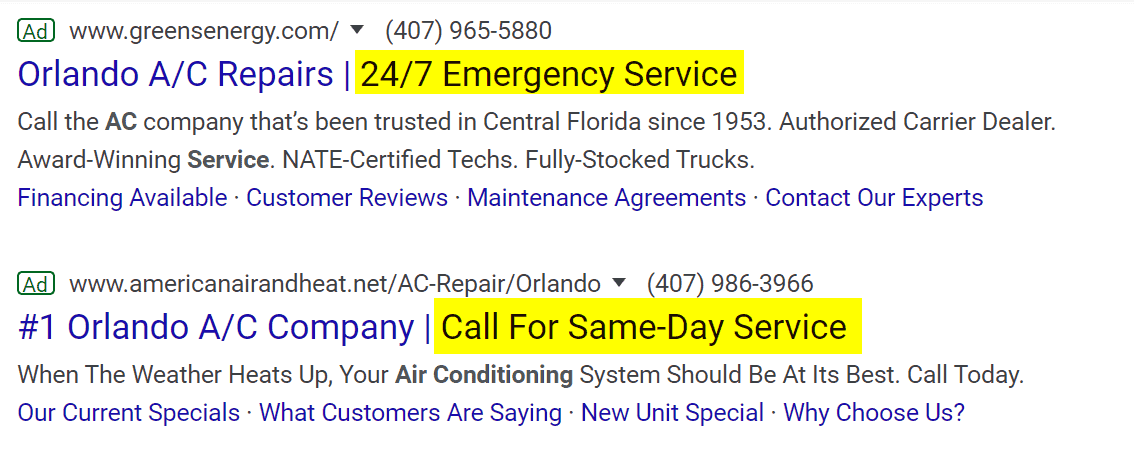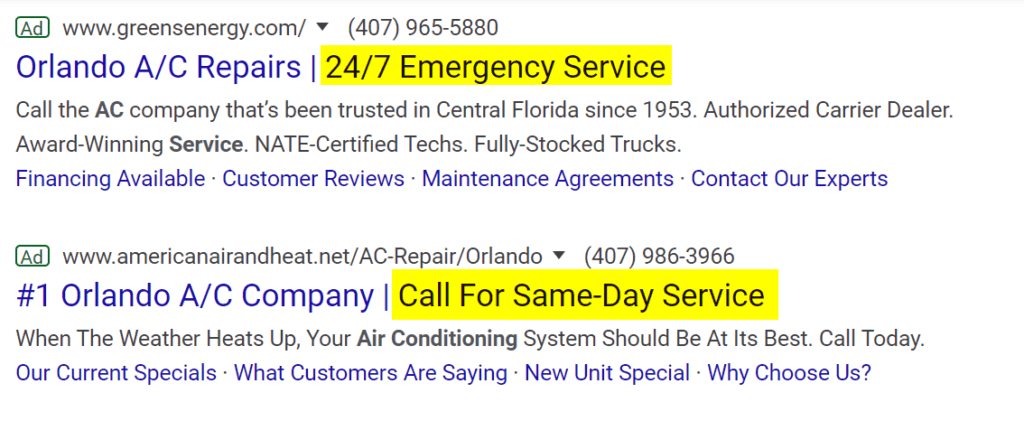 2. Use Numbers & Special Text In Your Google Ads
Writing great content that addresses the immediate need of your customers is a must-have for all Google HVAC ads. However, you can also add numbers and special text characters in your ad copy to help your ads stand out from the competition and drive more engagement.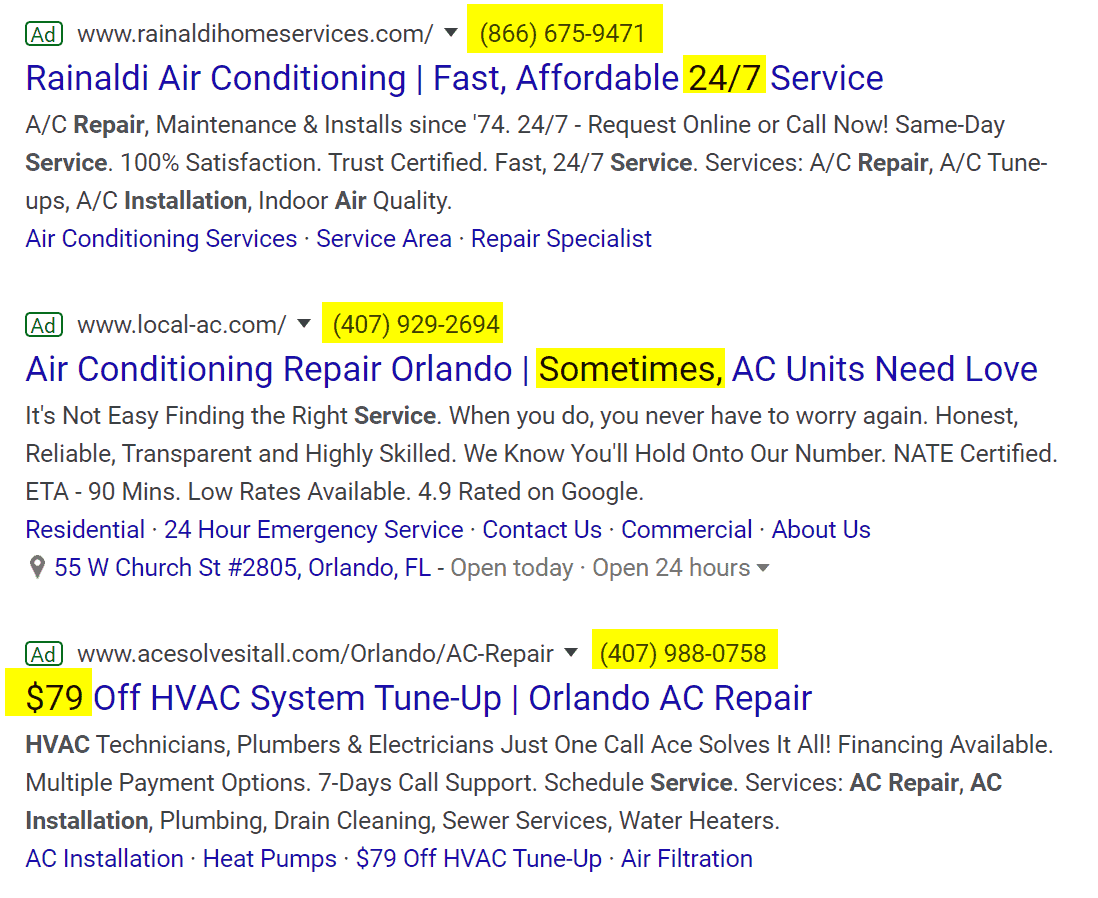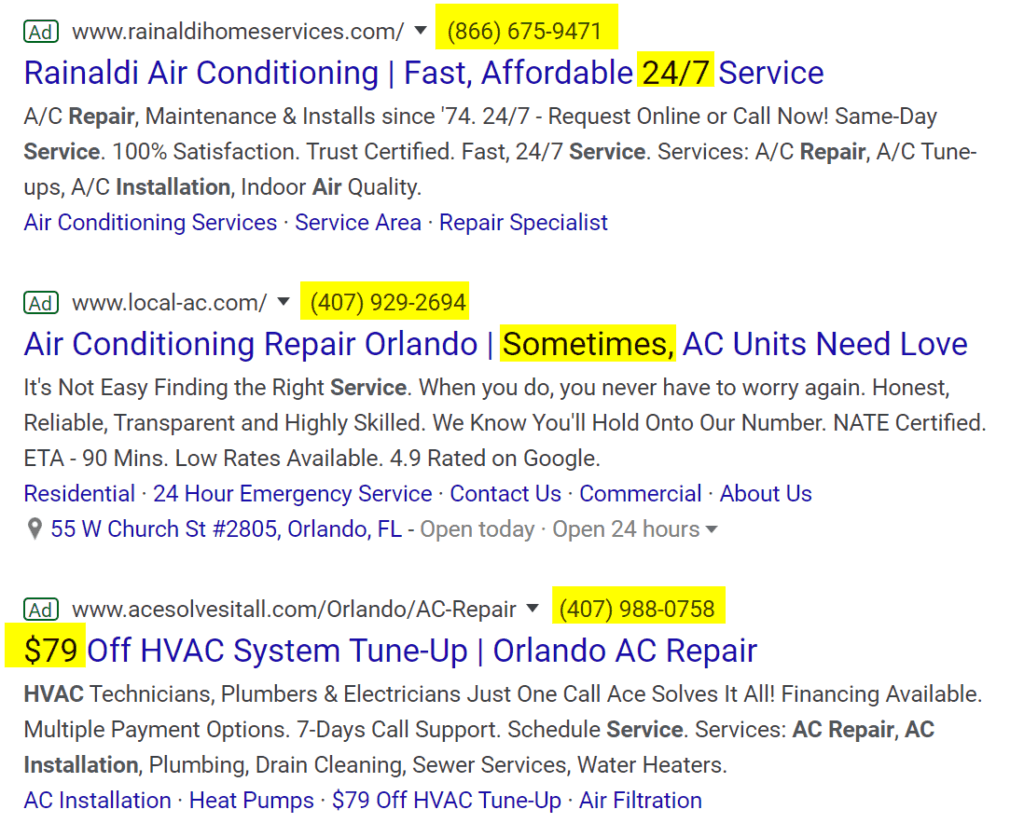 3. Integrate Keywords Into Each Ad
Using Google Ads lets you specify when you want your HVAC ads to appear based on the keywords customers type into Google. The Google algorithm takes many variables into account when choosing what ads to show, and keywords are one of the main elements used.
You already know that you need to use keywords in your account on the backend, but did you know that you can improve your HVAC ranking and frequency by using keywords in the ads that you use in each campaign and ad group?
Integrating keywords into your ad copy is a great way to drive engagement with your ads because this approach helps Google and your customers understand the context of your ads based on their needs.


4. Ask A Question In Headlines
People go to Google to ask questions, and you can include questions in the headlines of your HVAC ads. You can use a well-placed question to transform a general keyword into an opportunity to speak directly to your customers.
Instead of using "AC Repair" in the description, you can use a question like "Looking For AC Repair?" The difference between the two examples shows that questions force a subconscious response that makes your customers think about their needs based on the question you ask.
Be sure to use questions sparingly, because using too many questions in your HVAC ads will create confusion. As a general rule of thumb, we recommend only using a single question in one ad per ad group.


5. Use Call To Action Whenever Possible
HVAC ads are meant to drive engagement with your customers. This means that you should use every opportunity to encourage your audience to click or call you from the ad copy.
We have found that including a strong call to action at the end of your ad copy is a great way to complete the ad. A few of the best CTAs that you can use in HVAC ads are:
Go Now!
Learn More!
Free Consultation!
Exclusive Deals!
Save Today!
You should customize the CTA (and all ad copy) based on the ad group that you are writing your ads for. We like to include CTAs throughout ad copy, and we sometimes leave a CTA out if we think an ad is strong enough to stand up on its own.


Write Powerful HVAC Ads With Google Ads
Google Ads is one of the best ways for HVAC contractors to generate more HVAC leads and calls. Solid copywriting follows a scientific formula to drive engagement and help you reach your business goals.
Be sure to always address the immediate needs of your customers while also including emotional triggers to drive action. If you are unable to write an engaging copy that meeds the needs of your audience and triggers and emotional response, then you will struggle to high your conversion and business goals!