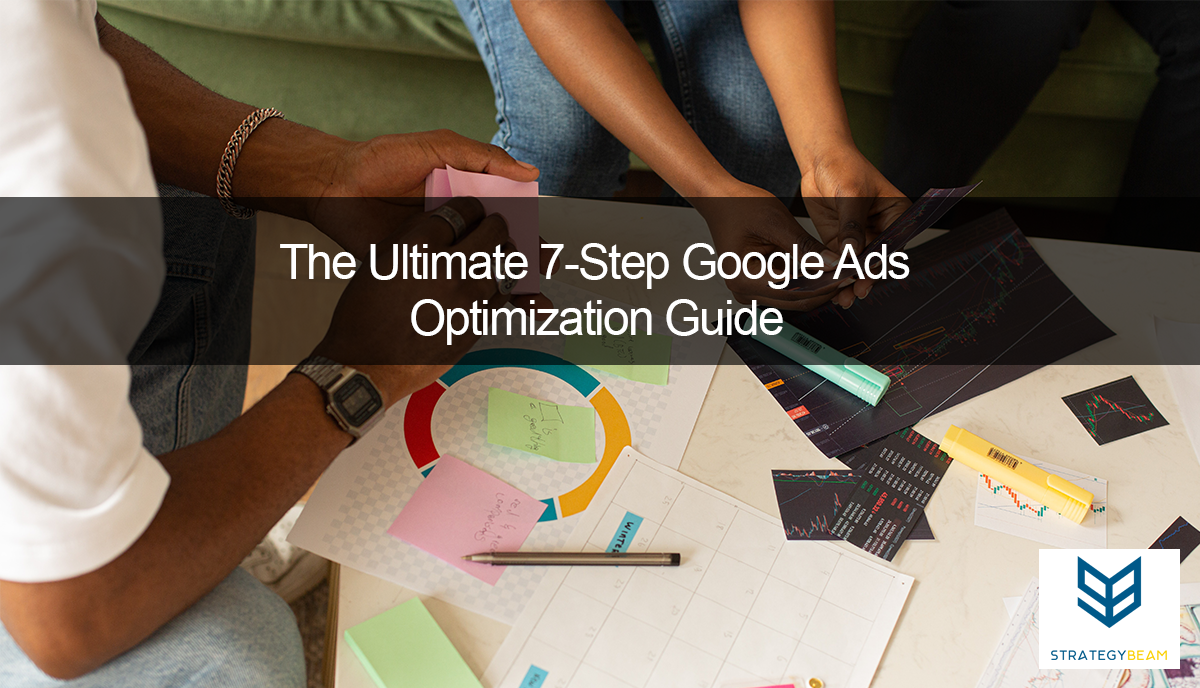 Get Found, Make Money With Google Ads
By now, you probably already know the benefits that Google Ads marketing offers your business and online sales. Google makes it very easy to set up a Google Ads account, which has helped them dominate the paid search space.
Along with the broadest reach and huge customer base, Google Ads is also arguably one of the best advertising platforms in terms of ROI. However, with great power comes great responsibility.
The same reasons that make Google Ads a fantastic marketing tool also makes it one of the riskiest options if you don't know how to position your campaigns to make as much money as possible.
Can Simple Google Ads Mistakes Cost You Money?
You can have a Google Ads campaign up and running in a few minutes. The truth is that you need to know nuance details to get your ad's performance as high as possible.
It's easy to make mistakes that will smother your ROI, force you to spend lots of money, and kill your marketing budget. A few optimizations that you will need to make on your Google Ads account to ensure you maximize results and minimize spend:
Optimize for relevant keywords. Your ads only show when someone types in a specific keyword or phrase into Google. This means that you need to specify what you want to show for, and if you don't do proper keyword research, you will not appear in Google SERPs for the right terms.
Select the right keyword match types. Keyword match type refers to the parameters you tell Google to show your ads on for specific keywords. There are three types of keyword match types: broad match, phrase match, and exact match keywords. If you use broad match keywords, you will open your PPC campaign up to lots of irrelevant impressions, which can destroy your Click Through Rate and rack up your marketing spend.
Add the right negative keywords. You can use negative keywords to specify the types of search phrases you don't want your ads to show. This is a powerful way to differentiate yourself from common misspellings or other factors.
Use dedicated landing pages for your ad groups. You should never send customers to your homepage when they click on your PPC ads. Not only does this kill your customer's experience, but it can also cripple the performance of your campaign and drive up costs. This is because Google uses something called Quality Score to determine how relevant your ads are. Connecting your ads to a relevant landing page can improve your Quality Score and lower costs.
Write ad copy that engages and connects. How you write your ads can play a significant role in whether someone clicks on the ad. If your ad copy is boring and does not get your customers' attention, then no one will engage with your message.
Use location targeting to target geographic areas. If your business relies on customers in specific areas, then you should use geographic targeting only to show your ads to specific customers. This comes in handy for companies who sell winter wear and only want to show in cold climates or service companies with limited service areas.
Implement the right bid strategy. There are different bid strategies that you can choose from when setting up your campaign-level settings. I like to use Maximize Clicks for the first few months of a campaign because this will drive more clicks to the landing page and does not require lots of data.
The truth is that Google Ads is pretty easy once you have a handle on the different ad extensions, bidding strategies, and AdWords optimization tactics for your industry.
Now that we know why you should take time to optimize your Google Ads account, let's take a look at some of the ways to do this in a timely and effective manner.
7 Simple Google Ads Optimization Strategies That You Can Use Right Now!
If you are like most business owners, you have a tight Google Ads budget, and your time is stretched thin so you can't spend lots of time A/B testing your ad groups or test different bid strategies.
When it comes down to it, you need to ensure that your campaigns are set up and running efficiently, without wasting any money to maximize overall value for your online marketing efforts.
There is a lot of competition out there to attract and convert the same customers you want to engage with. Since you work in a competitive market with a limited budget, small staff, and limited time, you need to make sure that your Google Ads campaigns generate the most leads possible at the lower costs possible.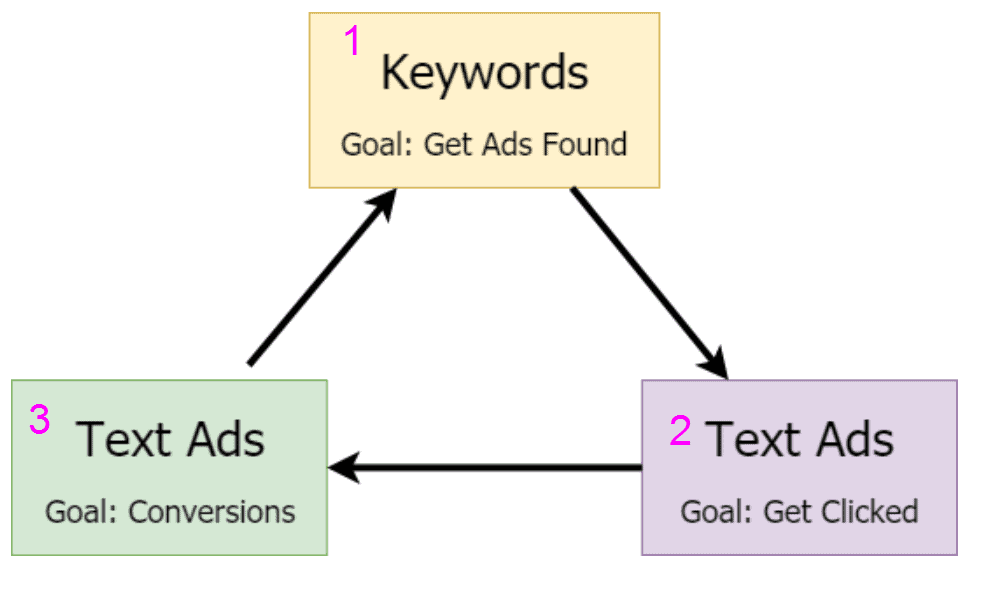 It would be best to remember that people who interact with PPC ads are usually close to a purchasing decision. This means that you can follow basic search campaign optimization strategies to maximize your budget and reduce wasted ad spend.
Below are 5 AdWords optimizations that you can use to fine-tune your search campaigns to drive more business regardless of the economy or your marketing budget!
1. Keyword Research Based On User Needs
Your ads show whenever someone types in a search query into Google that matches the keywords you want your ads to show for. This means that keyword research is one of the easiest ways to optimize your Google AdWords campaigns.
If you bid on the wrong keywords, then your ads won't show.

Keywords are how you help Google connect your products and services with your customers since your audience will use specific keywords based on their search intent.
Different types of keywords signify different levels of intent throughout the entire Customer Journey. This means keyword research is a critical aspect of PPC advertising.
It's best to optimize the keywords in your PPC campaign to ensure your ads are showing to relevant search queries. This optimization step will deliver lots of campaign improvement, like:
Restrict wasted ad spends by using negative keywords. Add negative keywords by reviewing your Search Query Report and add keywords to your negative keyword lists if you see low conversions or irrelevant searches.
Delete any keyword that has less than 1% CTR after 200-300 Impressions.
Build particular ad groups for keywords that are converting. This reduces competition among lower-performing keywords, so your lucky keywords can help increase conversions.
You can use the Google Keyword Planner to find valuable keywords. Be sure to assign keyword buckets to different ad groups in your account. Once in the Keyword Planner, you can let Google recommend keywords based on your website, or you can manually pick and choose keywords to use in your ad groups.
2. Use The Right Keyword Match Type For Your Campaign
Keyword match types are another tool at your disposal to focus your PPC budget toward qualified customers. There are three types of keyword match types: broad match, phrase match, and exact match.
You can use the Keyword Planner to estimate the Cost Per Click (CPC), impressions, and clicks for different keyword match types. You will notice that broad match keywords deliver the most impressions but often result in the lowest Click Through Rate (CTR). This is because broad match keywords will trigger your ads to show whenever someone types in specific keywords anywhere in their search query.
On the other hand, exact match keywords will often have the lowest impressions and have the highest CTR. This is because exact match keywords will only trigger your ads to show if someone types in Google's exact keyword phrase.
You can typically expect more qualified customers to click on ads using exact match keywords. In contrast, customers are often in the research phase of their customer journey when they click on ads triggered to show by board match keywords.
As a general note, I like to include broad match keywords in an ad group for the first 2-3 months. This strategy helps generate lots of data (since the ads are showing more often), and then switch the campaigns over to phrase and exact match keyword sets.
After the first few months, each ad group will have 15-20 keywords and a mix between phrase match and exact match pairings.
3. Use Negative Keywords To Focus Campaign Performance
Negative keywords are terms at you can use to restrict where your ads show up in search results. Since Google charges you each time someone clicks on one of your ads, you can use negative keywords to avoid irrelevant clicks from customers who find your ads for similar-sounding terms.
For example, if you offer gardening supplies, you may want to add negative keywords for:
Garden State
Better Homes & Garden
Gardening Magazines
Madison Square Garden
As you can see, none of these terms are very relevant to the products and services offered at a traditional garden supply store. This means that you would want to add terms like "magazine" or other indicators to improve each search's relevancy and maximize your spending power.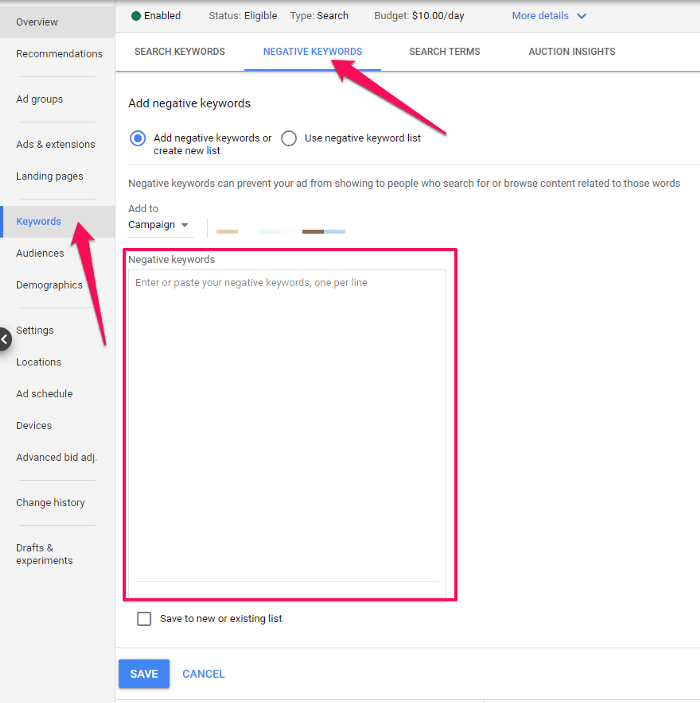 No matter what industry you are in or your target audience, you will always have irrelevant terms that are similar to your products and services. These irrelevant clicks often occur when searchers click on your ads, but they are looking for educational content.
You should build a list of similar terms to the products and services you offer whenever you launch a new AdWords campaign.
Once your Google AdWords account is running, you can look at your search term report to see what your customers search and use this information to refine your negative keyword list.
You must exclude irrelevant search terms from your campaigns, or you could end up spending lots of money on clicks that will never convert.
4. Continue Landing Page Optimizations
You can have your keyword list refined and showing for the right search terms, but if your customers land on an irrelevant landing page, then they won't convert. Landing page optimization is a crucial optimization tip to keep in mind, but it is also important to remember where ads in different ad groups link to your site.
It's your job to optimize your PPC landing pages to tell your readers about your products or services to drive conversions. PPC ads can influence how your landing pages are designed because you want to keep messaging consistent across your keywords, PPC ads, and landing pages.
There are many ways to optimize your landing pages, but there are a few tips specific to PPC campaigns.
Try to keep the ad headline the same as the landing page headline. This will keep messaging consistent for your audience, and Google will know that the keywords are relevant to your campaign.
Make sure that anything you promise on your PPC ads is fulfilled on your landing page. For example, if your PPC ad offers a free trial, you should include the same text at the top of the page.
Adjust PPC copy and landing page copy at the same time. Since the landing page and PPC ads are essential elements for Google to determine the Quality Score, you want to ensure your message is consistent.
Keep an eye on your Conversion Rate, because you may need to A/B test landing page content. If your ad groups consistently have a low Conversion Rate, then it may be time to look at how your ads and landing pages match up. At the same time, ensure your page content and CTAs engage your customers and drive them to convert!
5. Create Ad Copy That Engage & Connect
Ads are the "human element" of a PPC advertising campaign because this is the content that your audience will read.
Optimizing PPC ads will help you not only produce more engagement, but optimized PPC ads will also drive more qualified searchers who have a higher chance of converting to your website.

Continual ad optimization will ensure you accomplish your business goals through relevant content for your audience.
Here are a few quick ways to optimize responsive search ads and test what messaging engages your target audience:
Include keywords from your ad groups in the Headline and description copy. I also recommend using your keywords in the Paths when possible.
Always Duplicate ads and pausing the original ads when updating ad copy. This will retain historical data for how the original ads.
Each ad group should have 2-3 ads in each, with text variations at all times. Rework the lowest performing ad in each ad group to continually find ways to improve the ad copy.
Include your keywords throughout your ads in a natural manner to help Google understand how your keywords and ads are related, so your PPC ads will show to searchers interested in your products and services.
Fill out all information on your ads. Google loves data, and you can make your ads more relevant for the users and Google by filling out all sections on the ads. This includes Description, Headline 1 & 2, Path 1 & 2, and URL.
Optimizing ad text is difficult, and it can be challenging even to experienced marketers.
One of the best ways to write great ads is to look at what your competitors are creating. Type a keyword into Google and look for results outside of your market (in another state or city that you don't operate in).
Once you have a few examples, sit down and compare your ads to your competitors. Make adjustments to your ad copy, include keywords, and find ways to make them speak to your target audience.
Finally, when you optimize your ad copy, make sure you write benefit-driven ad content to connect with your audience. People go to Google to ask questions and find answers, and you should always include the benefits of your products or services to ensure you engage qualified searchers throughout the entire Customer Journey.
6. Use Geolocation Targeting To Show Ads In Specific Areas
Another AdWords optimization strategy that you can use to ensure your ads only appear to qualified customers is Google's location targeting tools. Google Ads location targeting is not perfect, but it a powerful approach to reach the right demographic.
For example, if you sell winter apparel like gloves and hats, you will only want to show your ads to customers in cold climates. You would not want to show ads in Florida or other warm climates because customers do not need your services in these types of areas.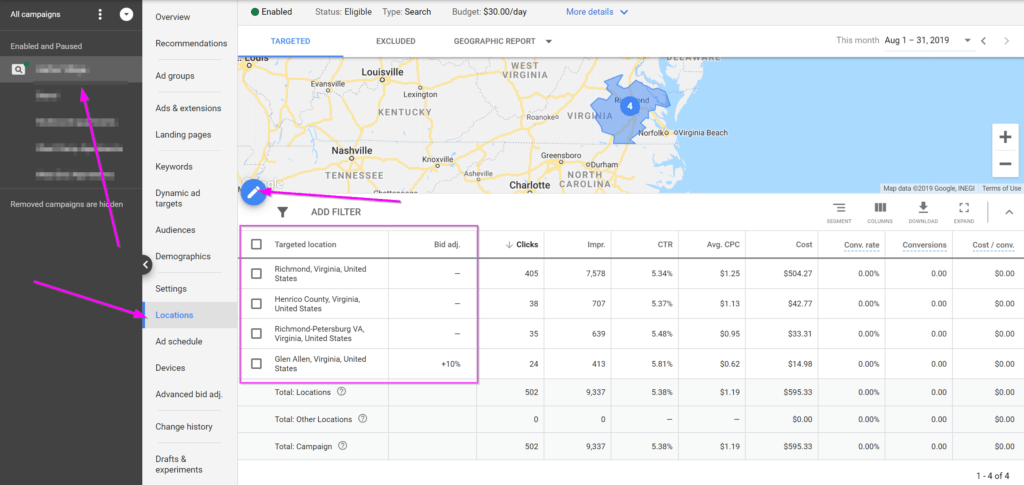 Also, you will want to use location targeting to optimize your Google Ads based on service location. If you are an HVAC company that services customers within a 40-mile radius from your store, then you will want to limit your ads to only show in that 40-mile service area. Customers looking for HVAC services and click on your ads but live outside that 40-mile radius will drive up costs and lead to many missed leads since you can't work with them.
It's easy to specify the locations that you want your ads to show. Click through the campaign level settings and type in zipcodes, states, or city names to cater to who will see your ads throughout the day.
7. Choose The Right Bid Strategy For Your Budget
Google uses a highly nuanced bid auction system to choose which ads show when. One of the factors this system considers is the bidding strategy at the campaign level of your account. Since it is a setting that impacts your entire campaign, you can direct the impact of your budget by selecting different bid strategies.
You can handle bidding manually by setting CPC for different keywords, but this is a very technical and inefficient way to handle bid modifiers. Instead, I recommend you use Maximize Clicks or Maximize Conversions.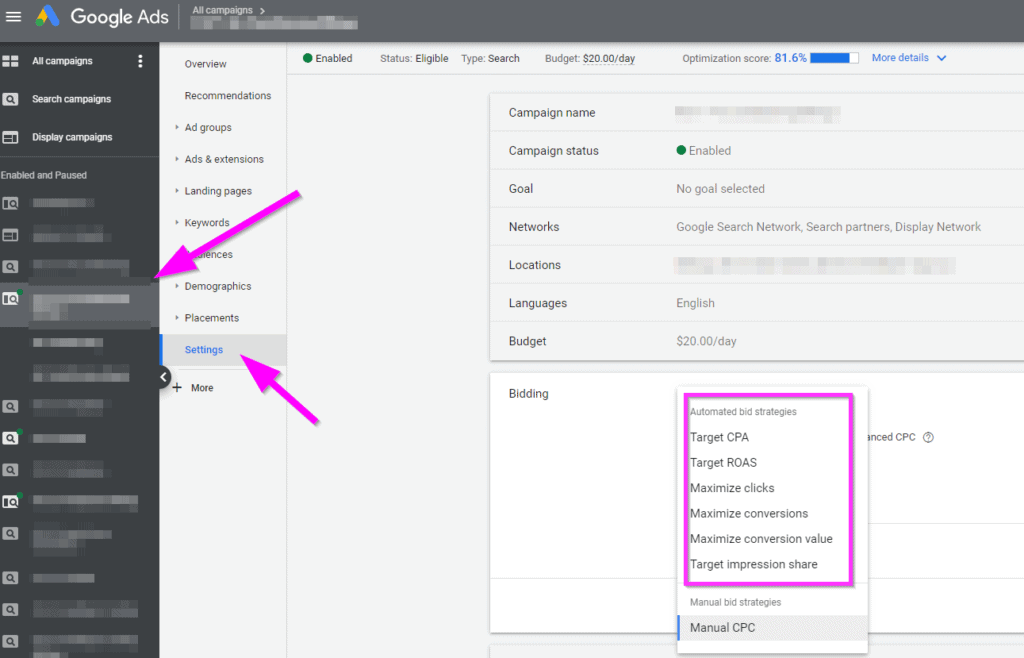 You can use Maximize Clicks for the first few months of a campaign, and A/B test other bid strategies as needed. I like to work with Maximize Clicks because it puts most of the weight of a campaign on the landing page, and this is the best way to test landing page copy along with ad copy.
Supercharge Your Google Ads Performance Today!
When it comes down to it, if you are running a Google Ads account, you need to pay special attention to the details. This is because Google Ads is a powerful tool. After all, it can reach millions of people.
It's also because of this power to reach millions of people that you need to use specific optimization strategies to reduce your ad spend and maximize the number of qualified customers you reach.
Here are some final recommendations to ensure your Google Ads campaigns are optimized and running as smoothly as possible:
Review keyword performance once they hit 200 page impressions.
Use broad match keywords for the first few weeks of a campaign, switch to a mix of exact match keywords and phrase match keywords.
Search terms report for ad groups to see what customers are searching for when your ads are shown.
Assign specific landing pages to your ad groups, and never direct an ad to your homepage.
Always test ad copy by modifying the lowest performing ad in each ad group.
Use geolocation targeting to make sure your ads only show to people in specific geographic areas.
Remove keywords from your ad groups that have a 1% CTR or lower.
Let's talk if you are ready to bring your business to the next level through professional PPC management. Our team of experienced PPC managers will work with you to drive sales and online conversion through optimized Pay Per Click ads for your business.