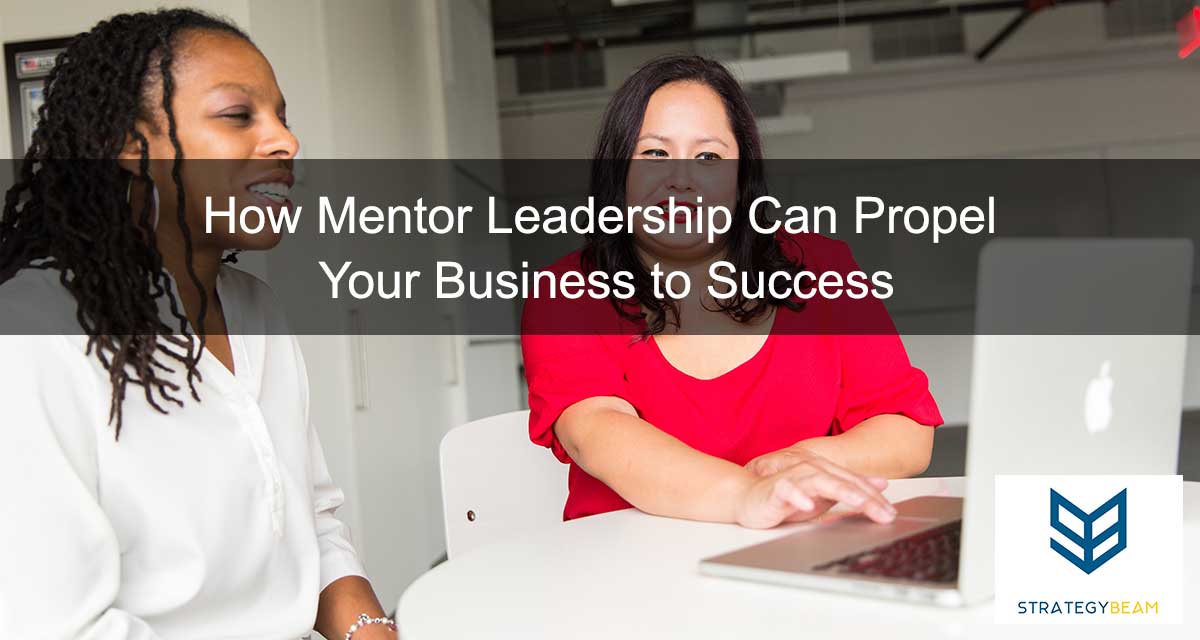 What Is Mentor Leadership?
Have you ever met a natural-born leader? I'm sure you have! They often exude confidence and have automatic know-how towards motivating others around them.
Well, what if I told you that you could learn to become a better leader while mentoring and investing in your team members? There are three types of mentoring that you need to consider if you want to mentor your team and build new leaders in your organization:
One-on-one mentoring: This is a traditional and individualized approach to mentoring, in which the mentor and mentee meet regularly in a one-to-one setting to discuss the mentee's goals, challenges, and progress. One-on-one mentoring can be very effective for building a close, personalized relationship between the mentor and mentee and for addressing specific issues or concerns. However, it can also be time-consuming and may not be feasible for mentors who have a large number of mentees or who are working with mentees who are located at a distance.
Group mentoring: In this approach, a mentor works with a group of mentees, rather than just one individual. Group mentoring can be an efficient and cost-effective way to provide mentorship to a large number of people, and it can also provide an opportunity for mentees to learn from and interact with one another. However, group mentoring can be less personalized than one-on-one mentoring and may not be as effective for addressing specific, individualized needs and concerns.
Transformation/rapid result mentoring: This approach to mentoring is designed to help mentees make significant and rapid changes in their lives or careers. Transformation mentoring often involves intense, focused work over a relatively short period of time and may involve specific techniques or methods, such as coaching or action learning. This type of mentoring can be very effective for helping mentees to overcome specific challenges or to achieve specific goals, but it may not be appropriate for all mentees or in all situations.
First, we'll look closely at a unique feature of one-on-one mentoring: Leadership mentoring. Leadership mentoring is when senior executives, or senior leaders, mentor more junior employees.
Reports show that 59% of millennials say opportunities to learn and grow are extremely important when applying for a job. If you want to up your company's retention numbers while shaping emerging leaders, mentor leadership is great professional development—for both parties.
This leadership style reaps great benefits by prioritizing a mentoring relationship over a toxic micro-manager or an aloof boss.
3 Elements To Establish Before Mentoring Your Team Members
Because of the potential high stakes of this type of work environment, it is imperative that you lay solid groundwork for effective mentoring.
You can consider your mentee as eager clay to be molded but refining your own personal development is vital to the success of the mentoring experience. Being a good mentor is one thing, but we aim for exceptionalism here.
We see time and time again how businesses crumble without great leaders. Here are the traits to cultivate for a successful mentorship program.
1. Trust
In all thriving relationships, trust is always present. A business relationship is no different.
Trust is when someone comes to rely on another's character, ability, or strength. Because mentoring includes investing in another's life and pouring into them, trust will be a non-negotiable for your mentoring program.
Personally speaking, I trust approachable, kind, and competent leaders in my career experience.
But not everyone has these traits ingrained in them. Many key characteristics that nurture trust in your leadership mentoring will require stretching your comfort zone.
Lead with authenticity and transparency. Your team members will be able to see through insincerity.
Also, consider saying less and listening more. By genuinely showing interest and considering your team members' opinions, they may feel more committed to the leadership mentoring program.
2. Respect
Among thousands of employees worldwide, respect tops the list of their most important leadership behavior.
Feeling valued for what you bring to a business and who you are can change a worker's attitude and instill loyalty. Respect is also a great virtue to impart to future leaders.
You can take steps towards mutual respect in successful mentoring by giving more praise than critique.
Aim to show that you value them by listening to what your team members say.
This will take some self-awareness but not making the extra effort to build up your leadership team can be detrimental. In fact, the culture of disrespect in the workplace is shown to be simply bad for business.
3. Context
Self-awareness also comes into play when considering the different contexts in the workplace.
It's important to survey the landscape of your particular organizational culture and see where change needs to happen or not happen. Is bureaucracy or excessive red tape a factor?
Does an 'Us' and 'them' mentality rule the work environment? Establishing a concrete, healthy, and unified atmosphere for leadership development to thrive is important.
7 Reasons To Mentor Your Team Leaders
You should get a sense of the significance of leadership mentoring by now and begin to grasp how this unique approach to locating leadership potential can have lasting ramifications for your business.
Even if you're not equipped to have sophisticated training programs or an extensive development program, that doesn't mean you shouldn't invest in your company this way.
Leadership mentoring is known to lead to positive business outcomes, including job satisfaction and increased retention rates. This will only drive loyalty and a strong commitment to your organization's ideals and mission statement.
1. Encourages Continual Learning Across The Team
Consumer trends and global economic markets fluctuate; they ebb and flow. Throw in the ever-advancing state of digital technology, and you will find that there is much to keep up with and much to learn.
So why not ride this endless societal wave with like-minded colleagues in your field? Leadership mentoring encourages sharpening existing skillsets; it has a high potential to improve competencies.
But it will also help buoy support and unity among your team, especially when the company needs to teach and implement new software or a streamlined process.
Unfortunately, reports show that time is the biggest obstacle to employee learning.
Because employees feel like they don't have time, workplace learning and leadership training fall to the back burner.
This problem could be solved if your organization prioritizes these aspects of business success. Consider implementing paid training in-office and during work hours.
2. Build Strong Relationship With Team Members
A typical workday is different depending on your work environment and organization. Most of the time, a team member allocates 7+ hours of work. Execs or small business owners can spend even more hours working.
This is a significant amount of time away from home and one's family. How can an organization make this unavoidable aspect of work more bearable?
Instead of simply waiting out the work clock, people could enjoy their days by having solid relationships that give them a joyful expectation to get to work. Leadership mentoring can give you that.
When team members gel well, bond, and work together harmoniously, it can cement lasting and healthy relationships.
This can only be good news for your company. You can corporately encourage this with team-building exercises, retreats, and downtime.
You can incorporate team events centered around work topics to avoid unproductive results. Still, we believe that all efforts to build strong relationships with your team members will be beneficial.
3. Make All Team Members More Proficient
It is important to note that leadership mentoring will not be one-sided, tilting toward the mentee relationship. If done correctly, there will be quite a bit of reverse mentoring. Reverse mentoring can be defined as "seeking the perspective of less-experienced employees."
Senior execs and members of your team would be gleaning insight, knowledge, and skillsets from junior employees and members who have been onboard for less time than them.
All members of your staff will be in the process of learning and developing, which will only enrich your brand or organization.
This can also mean that there will be a continual cycle of better leaders, those with sharp communication skills and emotional intelligence who can engage with all staff, regardless of seniority or rank.
This is invaluable as consumer trends and technology constantly need to shift under our feet.
4. Help Leaders Build Soft Skills
Soft skills have increasingly become coveted during the recruiting and interview process, though they've been in use since the very beginning of the concept of work.
Soft skills are personal traits that help colleagues interact with each other and succeed in the workplace.
We can all agree that how well you treat others is crucial for career success. Some examples of soft skills touch on decision-making, stress management, communication, and problem-solving.
You can see how these core traits are beyond beneficial for a leadership role. You carry these skills into any position or conference room, an invaluable trait in a job market that often calls for a jack of all trades.
5. Improve Personal Fulfillment For Team Members
A person being satisfied in their career is a worthwhile goal to aspire to.
Leadership mentoring is a vehicle toward this. A team member who feels a sense of personal fulfillment at work comes in with a purpose that leads to the drive to perform well.
This mentoring also gives senior leaders a sense of joy while witnessing how their mentee's career positively grows while also being present to help when the pitfalls inevitably come.
Both parties can enjoy doing life with one another, further solidifying strong relationships that will strengthen your company culture. Not only will this result in effective leaders, but it will also enrich the work-life balance that is so dear to global workers.
6. Leads To Positive Business Outcomes
We touched on it above, but let's now expand on the idea that leadership mentoring leads to positive business outcomes. Because this approach usually results in job satisfaction in team members, this undoubtedly will lead to a lower turnover rate.
It will boost retention rates in your workplace.
A study shows retention rates are 50% higher in mentees than those not mentored. How extraordinary! It doesn't stop there. The same report says mentors also experience a "69 percent retention rate."
This is great news in an inflation-prone economy where finding, recruiting, and training/onboarding new employees is expensive.
The right mentorship experience can also lead to opportunities for advancement and promotions.
The workplace culture this leadership mentoring will produce will motivate the right people to enter leadership positions in your organization. This shift will only improve the future of your business which is our next point.
7. Improve The Future Of Your Business
There can only be good things from this degree's quality mentoring. First, the investment is worthwhile as you invest in your business through human capital. Second, Harvard Business Review reports, "your industry may look very different five to 10 years from now."
Upon hearing this news, your first instinct may be to put your money into more marketing or into ways to cut supply costs.
Still, the smartest and most business-savvy thing to do is to devote your resources to leadership mentoring.
Doing so will create a cycle of qualified and loyal leaders with sharp decision-making abilities that will drive your business to success.
Some Final Thoughts on Mentoring at Work
Leadership mentoring will propel you to positive progress if your business seems stuck or needs revitalization. If you need clarification on some aspects of this approach or believe you need an extra oomph, we are here to help.
At StrategyBeam, we aim to support business owners and marketing directors with outsourced marketing services. With years of experience and various clients served, we can partner with you to ensure this unstable economy doesn't claim another victim.
Are you looking to break through barriers that are keeping your business back? The worst problems are the ones that you can't see… which is why we are here to help! Our free 45-minute consultation will help you uncover what is keeping your business back so you can drive more qualified leads to your site today!